Road Trip from Houston to San Diego
This action-packed road trip from Houston to San Diego will take you from the glittering Gulf of Mexico to the sunny coasts of the Pacific Ocean. This scenic trip is the perfect way to explore this border region and the melting pot of cultures that have shaped it over time.
The 1,580-mile road trip from Houston to San Diego will take over 23 hours to complete, passing through San Antonio, El Paso, Tucson, Phoenix, Palm Springs, Joshua Tree National Park, Franklin Mountains State Park and Coconino National Forest.
Read on to discover what awaits you on this incredible adventure across deserts and mountains, which crosses four states and three time zones.
How far is San Diego from Houston and how long the road trip will take?
Comparison of road trip route options between Houston and San Diego

| Route | Distance | Driving Time |
| --- | --- | --- |
| The Direct Route | 1,470 miles | 21 hours 30 minutes |
| The Phoenix Detour | 1,580 miles | 23 hours |
The most Direct Route from Houston to San Diego is 1,470 miles and will take roughly 21 and a half hours of solid driving.
If you have time, we'd recommend adding to the mileage slightly to let this route take you through Phoenix and Joshua Tree National Park as well. This Phoenix Detour will take around 23 hours and cover 1,580 miles.
Doing this trip without stops is something we wouldn't advise. With such a wide variety of culture and history to be discovered, you're going to want to take your time to experience some of the fantastic locations along this route. We would recommend breaking the trip up over 5 days.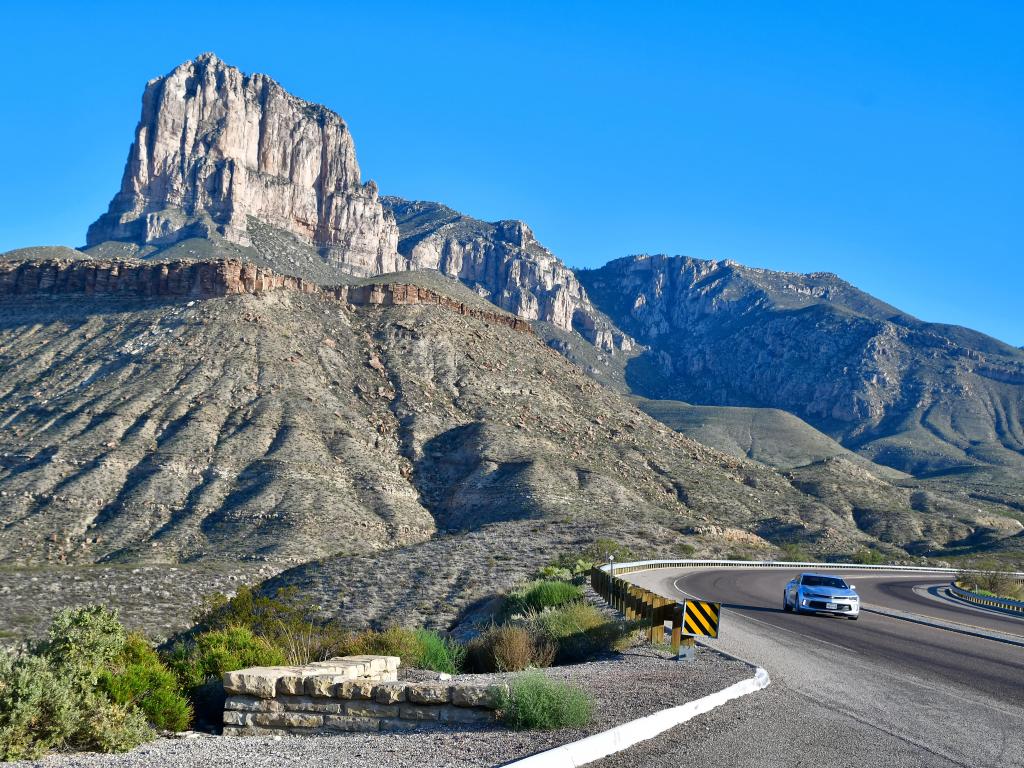 Best road trip route from Houston to San Diego
The best route on this mammoth road trip from Houston to San Diego will depend on how much time you have and whether you'd like to reach your destination as fast as possible.
The Direct Route will ensure that you reach San Diego faster than our second suggestion, the Phoenix Detour, but this would mean missing out on visiting iconic landmarks and places like Phoenix, Palm Springs and Joshua Tree National Park.
To experience the best of both worlds, we recommend taking the Phoenix Detour on your way to San Diego and then following the Direct Route on your way back.
The Direct Route
The route for our road trip from Houston to San Diego is fairly long but also relatively straightforward.
Set out on Interstate 10 (I-10) going west and keep going for 1,120 miles. The interstate will take you past San Antonio, El Paso and Tucson: all cities that are worth spending more than a few hours in.
At Arizola, just south of Phoenix, switch to the I-8, and continue going west for another 338 miles, to Grossmont, California.
Then, with the bulk of your journey behind you, leave the Interstate and take State Route 125 a short way south before changing to State Route 94, which will take you to your destination, San Diego.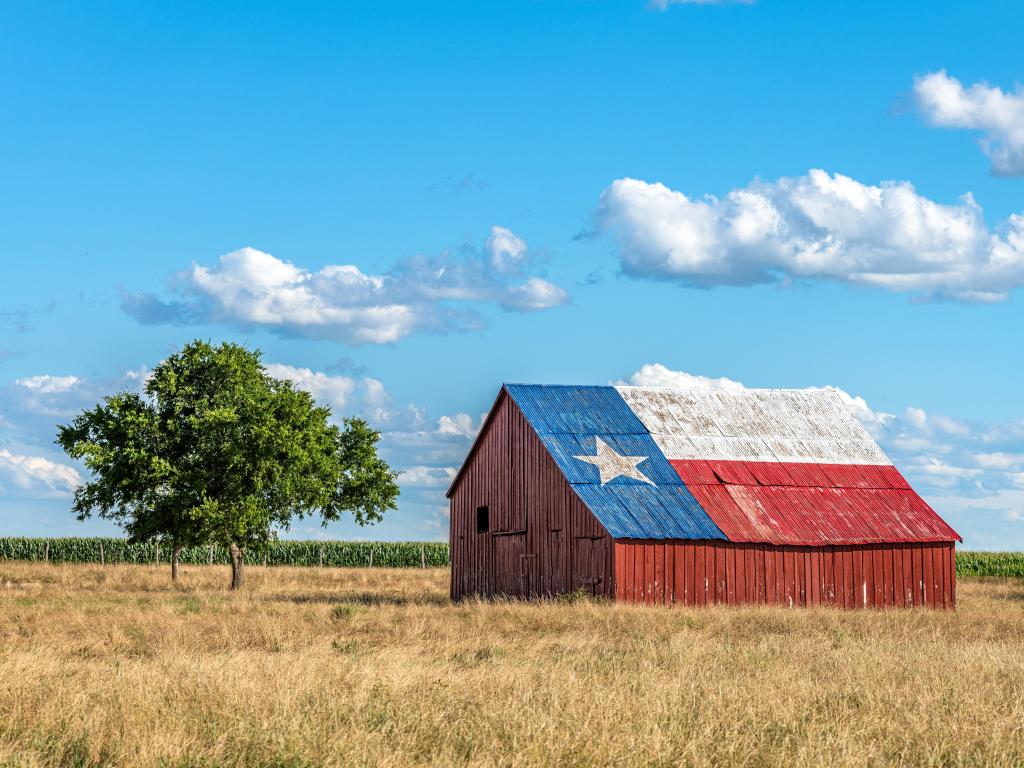 The Phoenix Detour
If you want to extend your trip, stay on the I-10 into Arizona. This will take you into Phoenix and then on to Joshua Tree National Park, which is a spectacular place for hiking. From there, continue on the I-10 past Palm Springs and San Bernardino National Forest.
Join Route 60 just after Beaumont and follow it until you reach Sycamore Canyon Park. You can stop to explore Sycamore Canyon or join the I-215 heading south. At Murrieta the I-215 merges with the I-15 which takes you into San Diego.
Best places to stop between Houston and San Diego
With a road trip from Houston to San Diego taking you so close to the US-Mexico border, it's the perfect opportunity to soak up some of the culture and history of the relationship between these two great nations.
The cities on this route offer exactly that, as well as being vibrant and entertaining places to spend a day or two.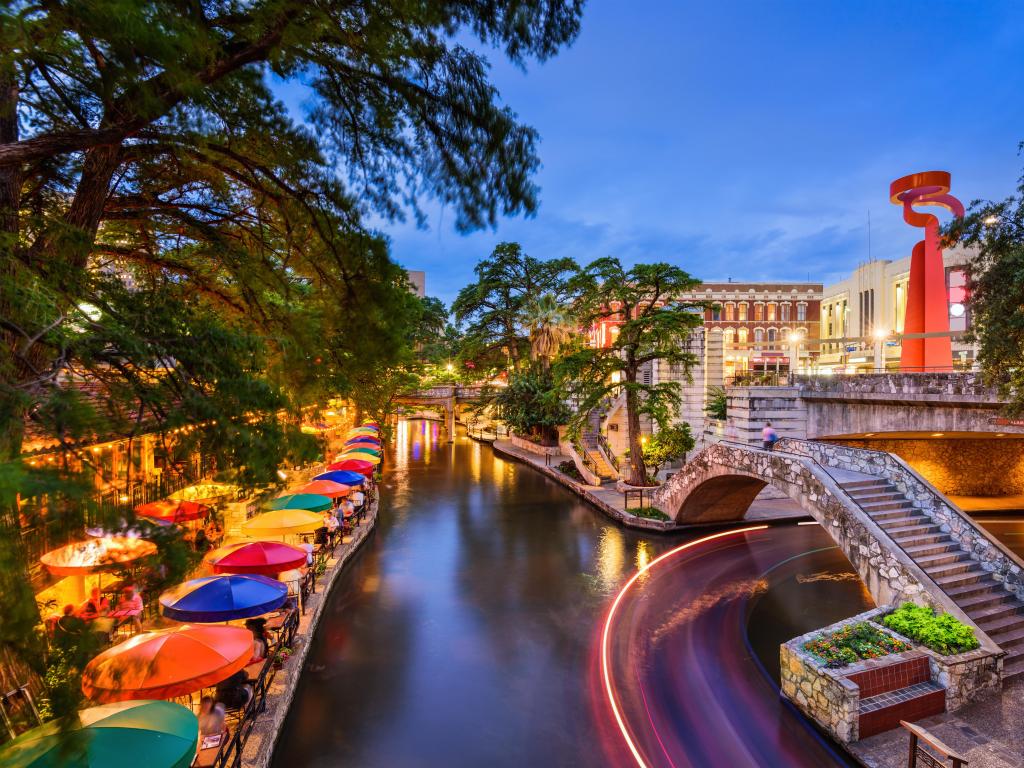 Learn about the rich history of Texas in San Antonio
The second largest city in Texas, San Antonio has something for everyone to enjoy, from museums and galleries to bars and restaurants. The famous River Walk city park connects many of the sights, as well as being a great place to enjoy the local cuisine.
The Alamo, the legendary mission where Davy Crockett made his final stand, lies at the heart of modern-day San Antonio. Here you can learn about one of the most famous battles in Texas's fight for independence from Mexico.
When it comes to accommodation, the beautiful Hyatt Regency San Antonio Riverwalk has you covered. A beautiful, historic building located just 100 yards from the Alamo, this hotel puts you right in the city's culinary heart. It's just a short walk from all of San Antonio's top attractions, so you can focus on enjoying your stay at your own pace.
You will also be located a stone's throw from the beautiful San Antonio Riverwalk. If you are looking to spend more time outdoors, then you can visit the Japanese Tea Gardens.
After your exploration, take a dip in the hotel's fabulous pool for the ultimate relaxation, followed by a delicious Texas-style meal at the fantastic restaurant located on-site.
Stand at the crossroads where two nations meet in El Paso
Right on the international border, El Paso sits directly across the Rio Grande from the Mexican city of Ciudad Juarez. This charming city is accessible on both routes.
As you might expect from its location, Mexican and American cultures come together here. From the architecture and local businesses to the people and the legendary cuisine, Hispanic culture dominates El Paso.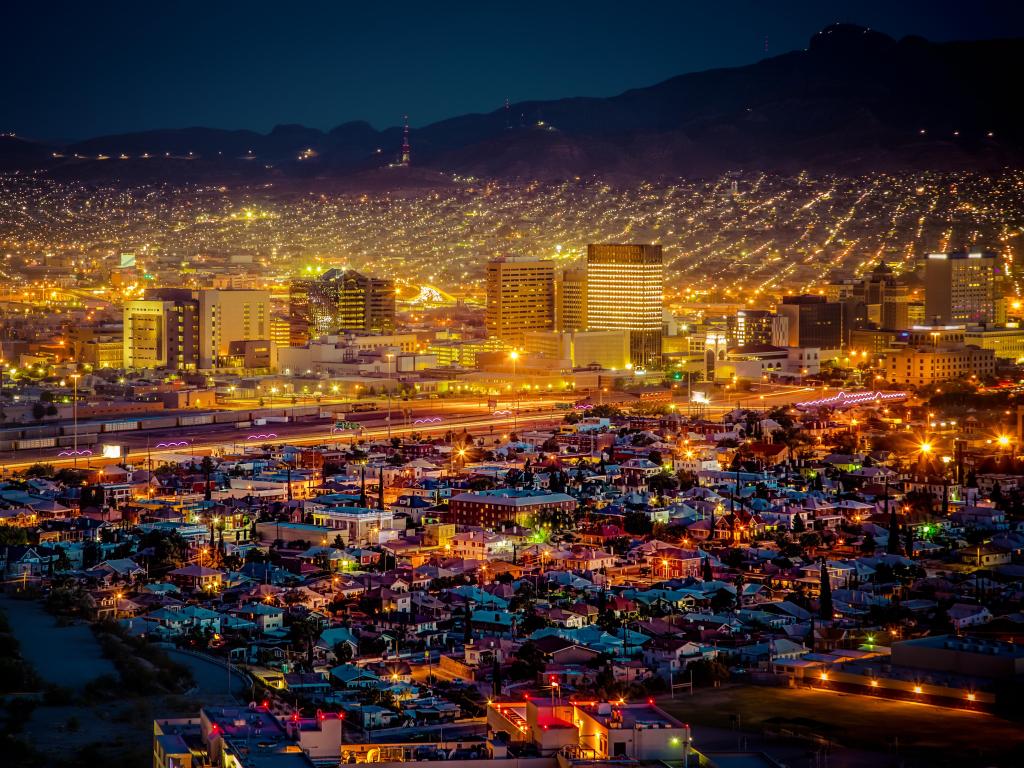 You can learn more about the history and culture of this border region if you visit one of the city's museums or visit over Labor Day weekend to immerse yourself in the colorful Fiesta de las Flores.
If you want to learn more about the city's history, visit the El Paso Mission Trail. Alternatively, if you are a lover of the arts, you can visit the El Paso Museum of art and admire the works of artists from all over the world.
A perfect way to enjoy your trip here is with a stay at The Plaza Hotel Pioneer Park. With its traditional architecture and an on-site restaurant serving the food the city is famed for, this hotel allows you to make your accommodation an extension of the city itself and really live El Paso while you're in town.
Roll on to Tucson
The second largest city in Arizona, Tucson changed hands between the US and Mexico several times before the Gadsden Purchase of 1853 eventually designated it a part of the United States.
The Arizona History Museum is a great place to learn about the city's frontier history, or get to know some of the region's varied plant life at the excellent Tucson Botanical Gardens.
Alternatively, if you want to strike out further you can use the city as a base to explore the iconic landscapes of Saguaro National Park or Mount Lemmon Scenic Byway.
We would suggest staying in Tucson's oldest neighbourhood to really soak up the history of this fabulous city. The DoubleTree by Hilton Tucson-Reid Park is a beautiful hotel with lush grounds, swimming pools and a fabulous restaurant serving local cuisine. This is the perfect choice to make your stay in Tucson one to remember, for all the right reasons.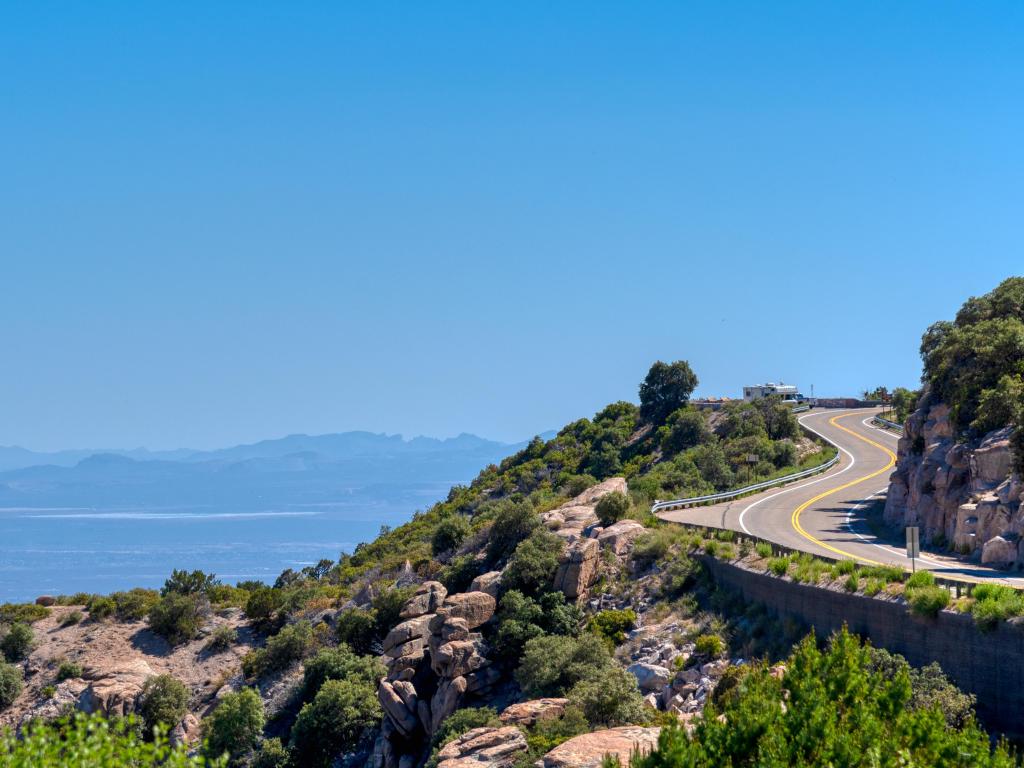 Things to see on a road trip from Houston to San Diego
Although a road trip from Houston to San Diego can take up to 23 hours, there are plenty of things along the way to keep it interesting.
With historic sites and national parks to explore, this varied route has something to offer every traveler.
Attwater Prairie Chicken National Wildlife Refuge - Home to a protected flock of the unique, yet critically endangered, Attwater Prairie Chicken.
San Antonio - The second most populous city in the state of Texas, located an hour south of the state capital.
The Alamo - 18th century mission located at the heart of modern-day San Antonio, which was the site for one of Texas's most important and famous battles.
Fort Stockton - A town built on the site of the civil war fort of the same name, the remains of which can still be seen today.
El Paso, Texas - The only major Texan city located in the mountain time zone, in the far west of the state on the Mexico and New Mexico borders.
Las Cruces, New Mexico - The second most populous city in the state of New Mexico, behind only Albuquerque.
White Sands National Park - The newest national park in America, famed for its almost 230 square-miles of white sand dunes, located in southern New Mexico.
Tombstone, Arizona - The oldest wild west town still in existence anywhere in the United States.
Tucson, Arizona - The second most populous city in Arizona and home to the legendary film studio and theme park.
Saguaro National Park - A national park in southern Arizona, made up of over 140 square miles of desert, filled with rare cacti, birds and animals.
Coconino National Forest - A day trip out of Phoenix, be sure to visit the red sandstone rocks at Sedona.
Yuma, Arizona - The 11th most populous city in the state of Arizona but the 3rd largest outside of those included in the Phoenix and Tucson metropolitan areas.
Jacumba Hot Springs, California - A hot spring and town, located right on the US-Mexico border in southern California.
Cuyamaca Rancho State Park - 70 square mile state park in southern California, with forests, meadows and streams, full of a wide variety of animals and birds.
Joshua Tree National Park - With impressive rock formations, stunning views and great hiking, this large national park is the perfect place to stretch your legs.
Palm Springs - A glitzy last stop on this trip offers a contrast to previous stops, a great place for people watching and relaxing before you reach the end of your trip.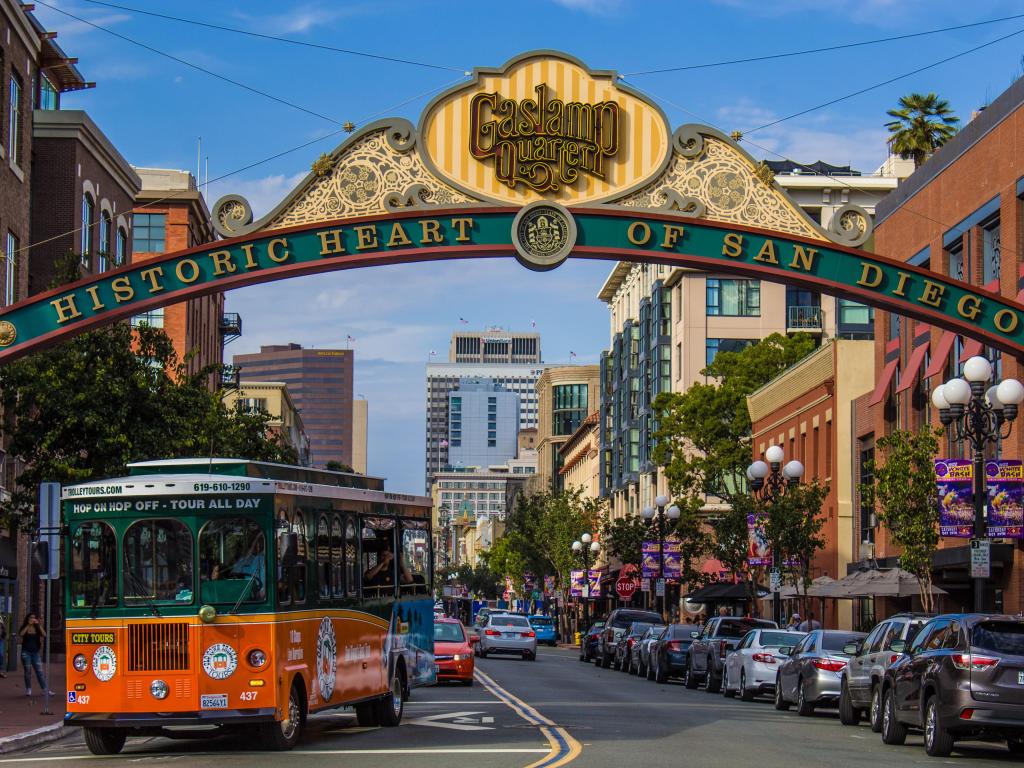 Best time to go on a road trip from Houston to San Diego
Being located in a part of the country that generally sees great weather throughout the year, there isn't really a specific time to make this trip, as you should have a fantastic time whenever you choose to go.
Although this route will take you down long, quiet stretches of the I-10, expect congestion around major cities. This route passes through the highly populated Arizona Sun Corridor, around Tucson and Phoenix, and traffic might be busier in these areas around popular travel periods.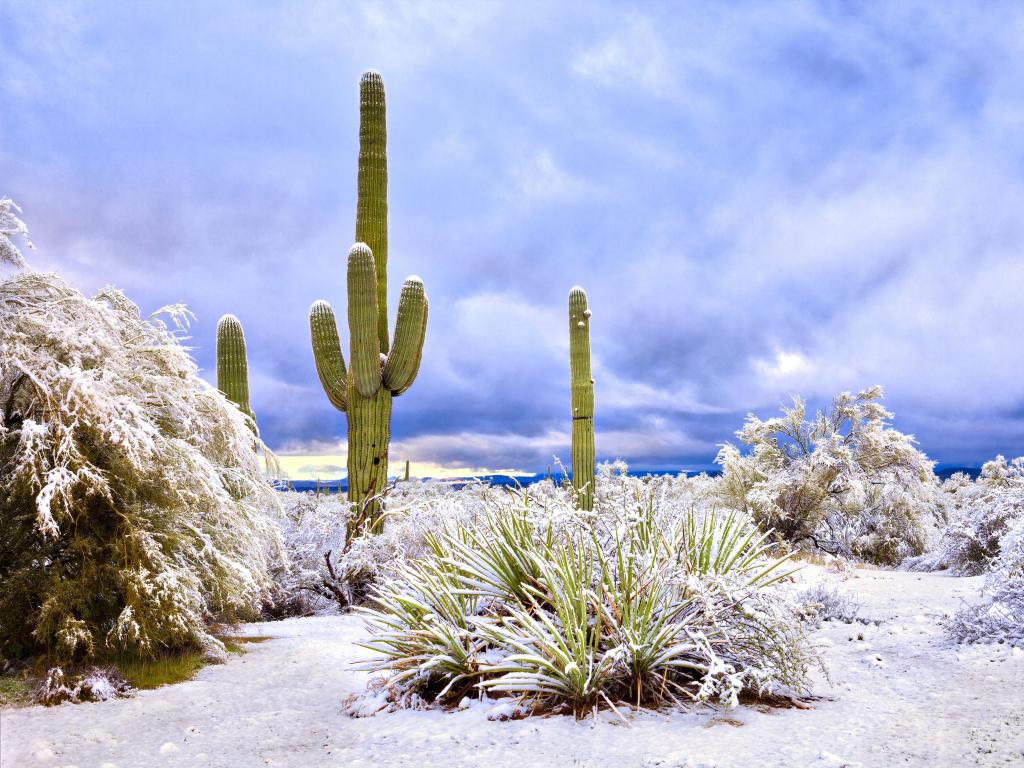 Winters are generally mild so you can still enjoy many of the activities we've recommended, and you will find prices and crowding at lower levels, too.
Temperatures are highest from June to August - not so much that they'll stop you enjoying this trip, but make sure you're ready for some long, hot drives. In dry weather conditions wildfires can occur, so keep an eye out for local information when you make your trip.