Road Trip from Las Vegas through Death Valley National Park
Take a road trip from Las Vegas to discover Death Valley National Park: the hottest, driest, and lowest national park in the United States. We've mapped out a loop through this diverse natural landscape that takes you to Mojave and back around to Las Vegas, with plenty of recommendations for cool arid attractions to catch along the way.
A road trip from Las Vegas through Death Valley is 540 miles long and will take 9 hours 20 minutes to drive. You will get to see the iconic Death Valley National Park, Searles Valley, the Mojave Desert, Wildrose Charcoal Kilns and Las Vegas.
We've created a super looped road trip that makes the most of the unique natural landscape of this area. This article will step you through the route from start to finish and includes some suggested overnight stops and a comprehensive list of activities you can do along the way.
How long is a round trip route from Las Vegas through Death Valley National Park, and how long will the road trip take?
At 540 miles, our looped route isn't very long. You can complete this loop in a day (just make sure to get up early and expect to be home late) or you can stay a night in Mojave, near the Mojave Desert, before getting back on route to Las Vegas in the morning!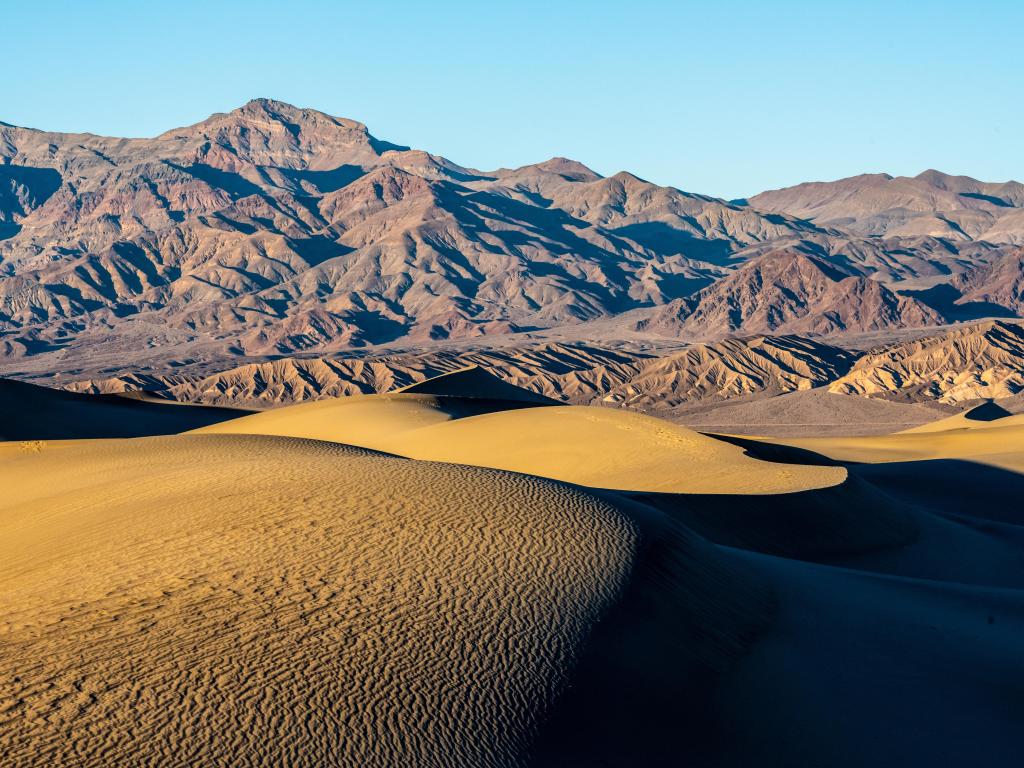 This is also a perfect long weekend trip, easily achievable between a Friday and Sunday evening.
You could make 2 overnight stops and cram in as many of the below activities as you want, or you could simply turn back at Searles Lake if you don't feel like making the loop!
Best road trip route from Las Vegas through Death Valley National Park
This looped road trip takes you from Las Vegas through the various natural landscapes of Death Valley National Park. You'll pass through this unique park and visit Searles Lake before looping back to Las Vegas via the town of Mojave, California.
Truly spectacular rock formations and stunning wildflowers await you in Death Valley National Park, and you get to witness the unique dry lake that is Searles Lake.
Road trip route from Las Vegas through Death Valley National Park
Start your trip by heading north on Highway 95, heading west out of Las Vegas to get there. Charleston Peak and Red Rock Canyon National Conservation Area will be on your left. When you get to Beatty, go southwest, following NV-374 to Death Valley National Park.
Drive south through the fascinating 3.4-million-acre park with its unique and rugged landscape. Soon, you will spot Telescope Peak on your right. Continue on Emigrant Canyon Road into Searles Valley. From here, head southwest into Mojave, CA.
The next part of your journey will be the bottom part of the loop back to Las Vegas. Follow I-15 N back up northeast. You'll pass Mojave National Preserve on your right.
Just before you get back to Las Vegas, Sloan Canyon National Conservation Area is a nice stop to get the last of the rural air and landscape before you get back to Sin City.
Best places to stop on a road trip from Las Vegas through Death Valley National Park
Even though this loop can be done in one day, to really appreciate it, you will need at least one overnight stop along the way. So why not spend some more time in Death Valley or take a break midway in Mojave. Or maybe both!
Delve into the depths of Death Valley
Conveniently located just 2 hours and 30 minutes into your trip, Furnace Creek is in Death Valley itself. It offers one of the best spots to enjoy the national park, as it will be on your doorstep in this town.
The Inn at Death Valley is a beautiful hotel that reflects the atmosphere of the valley perfectly, with its sand-colored façade and décor. Bedrooms are beautifully styled, balancing modern comfort with traditional furniture.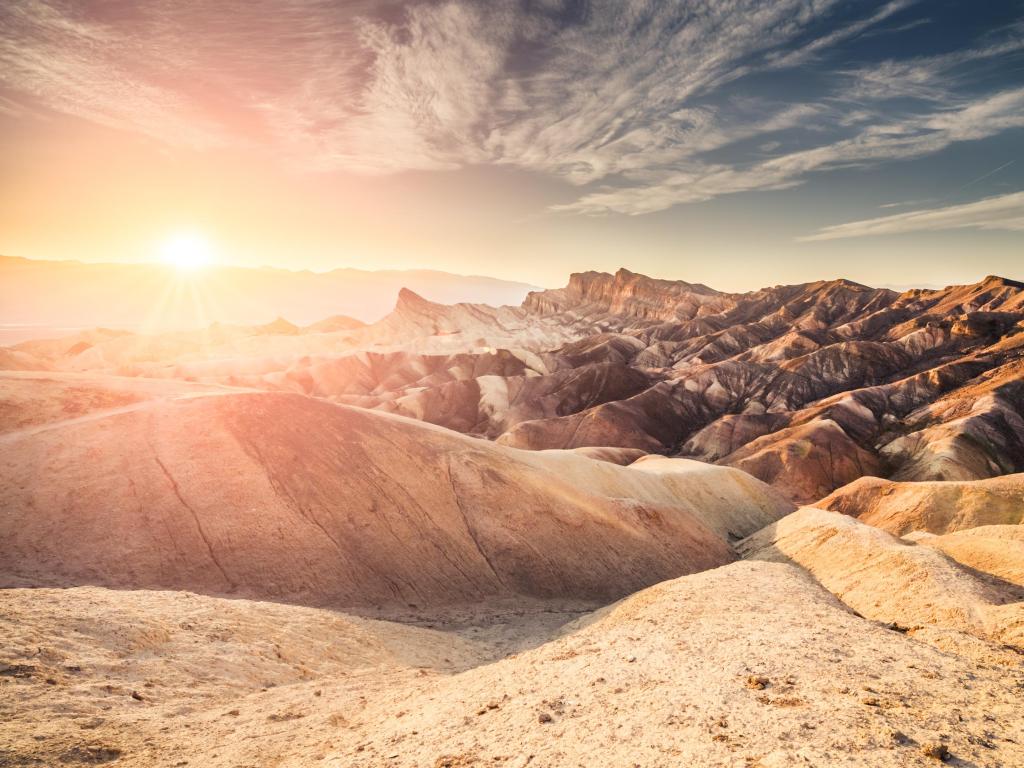 As well as a beautiful garden, there is an outdoor pool, a sauna and a fitness center - an excellent way to relax and recharge after a day's driving. An upscale restaurant serves American cuisine alongside vegetarian options and the hotel has a bar that offers the perfect spot for an after-dinner drink.
Due to the hotel's excellent location, everything Death Valley National Park has to offer, including the beautiful vistas, are at your doorstep. Hiking, biking and golfing opportunities are abundant here, all with spectacular views to enjoy.
Midway in Mojave
Mojave, CA is located right in the center of this loop from Las Vegas, through Death Valley National Park and then back to Las Vegas. It's a great spot to stop overnight before completing the rest of your journey in the morning.
This small community is a fairly modest stopover location, without any specific attractions to visit. What you will experience here, however, is the nearby Mojave Desert that boasts the hottest air temperature and surface temperatures recorded on earth.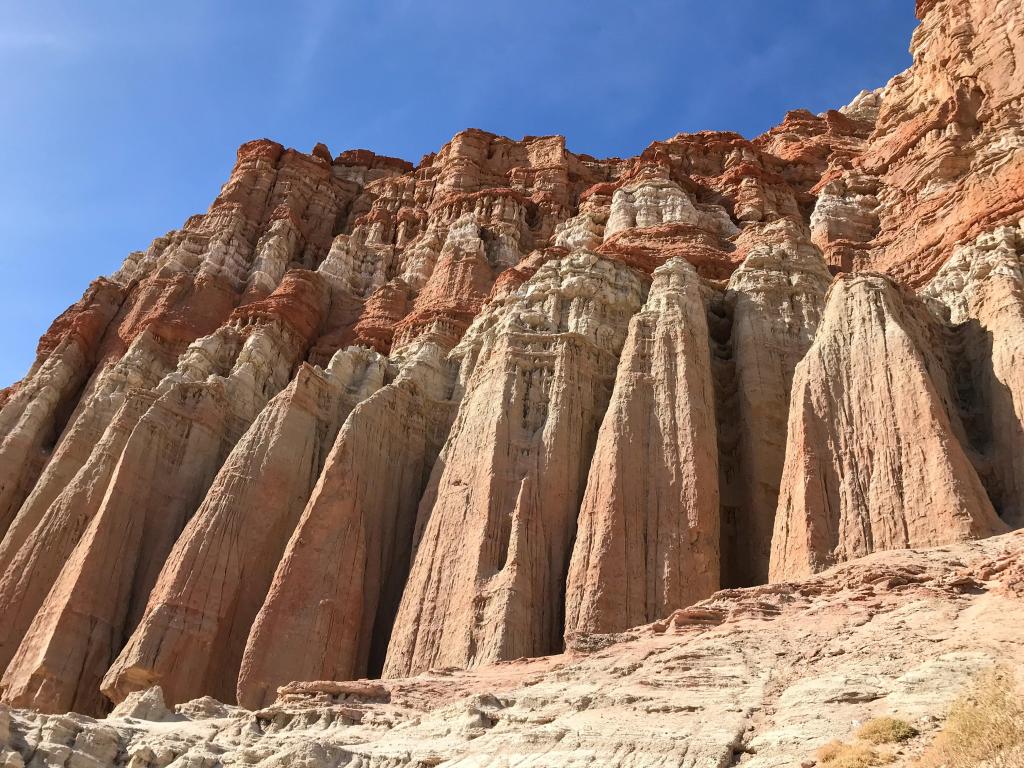 The highest-rated hotel in this area, Best Western Desert Winds, features an outdoor pool and free daily hot breakfast. Through their use of muted browns, yellows and oranges, they bring the desert feel into the rooms themselves, which are spacious and comfortable.
Located close to the Route 66 Museum, Red Rock Canyon State Park and, of course, Death Valley National Park, The Best Western is very well situated to explore your surroundings. A good variety of restaurants are all located within walking distance as well. It's also in close proximity to the highway, allowing you a quick return to your road trip the next morning.
Things to see on a road trip from Las Vegas through Death Valley National Park
Movie famous churches, beehive shaped kilns and countless museums and monuments adorn this route. Here's our hand picked list of activities you'll find along your drive.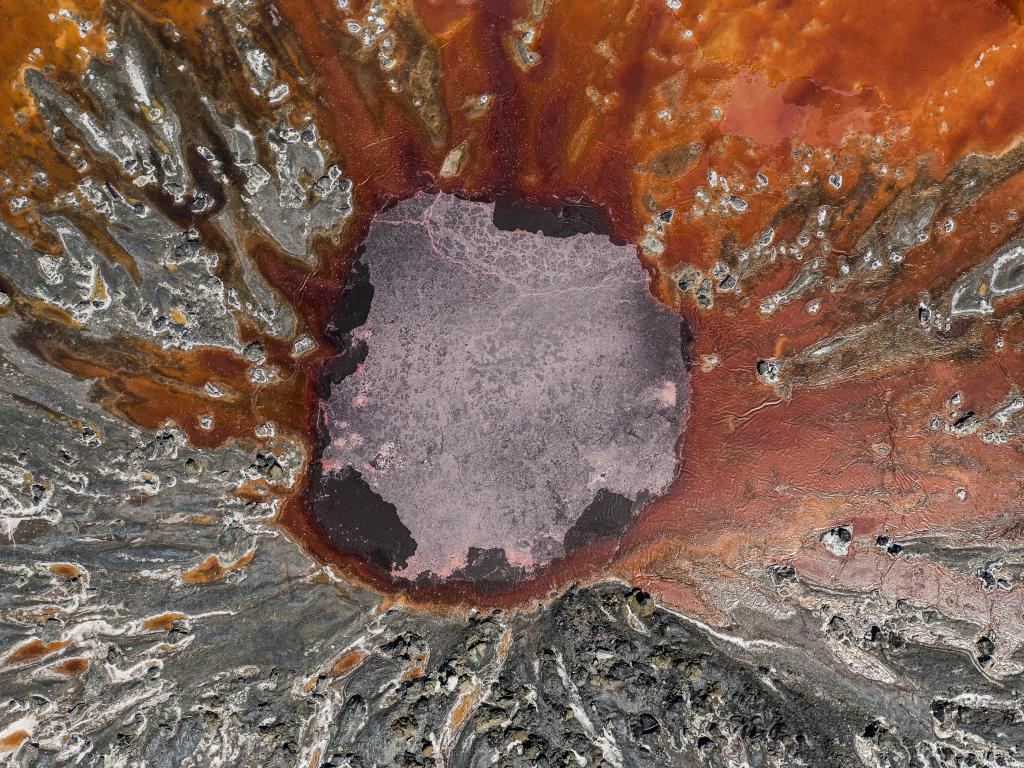 Searles Lake - almost like a mirage in the desert, this vivid lake an endorheic dry lake in the Searles Valley of the Mojave Desert. This dried up lake's vivid and unique colors come from the mineral deposits (many of these very rare) from years ago.
Tule Springs Fossil Beds National Monument - on your way out of Las Vegas, take a tour of this stunning valley boasting prehistoric mammoth fossils, lions and camels, and rare Las Vegas bear puppies
Area 51 Alien Center - visit this kitschy convenience store, which takes inspiration from extraterrestrials and Area 51, boasting tons of space-themed paraphernalia on sale
Wildrose Charcoal Kilns - visit these beehive-shaped kilns, originally used in the 19th century to create charcoal for local mining operations
Fish Rocks - hop out of the car and grab a picture at Fish Rocks, a unique attraction mixing street art with desert rock formations
Air Force Flight Test Museum - for the aviation-heads out there, this museum has spent more than 75 years teaching the public about flight tests, aerospace and technological advancements
The Kill Bill Church - on your way back to Vegas, you can visit this Hollywood-famous church featured in one of Quentin Tarantino's best-known flicks
Borax Visitor Center - take a tour through this active borax mine, boasting one of the biggest and richest deposits of borax on the planet
Mojave Desert Lava Tube - one of the most popular attractions in the Mojave Desert, this lava tube is a little hard to find but well worth it for the photo op alone
Seven Magic Mountains - on your way into Las Vegas, you'll find this unique desert art installation featuring 7 painted boulder totems. Great for a photo op as well!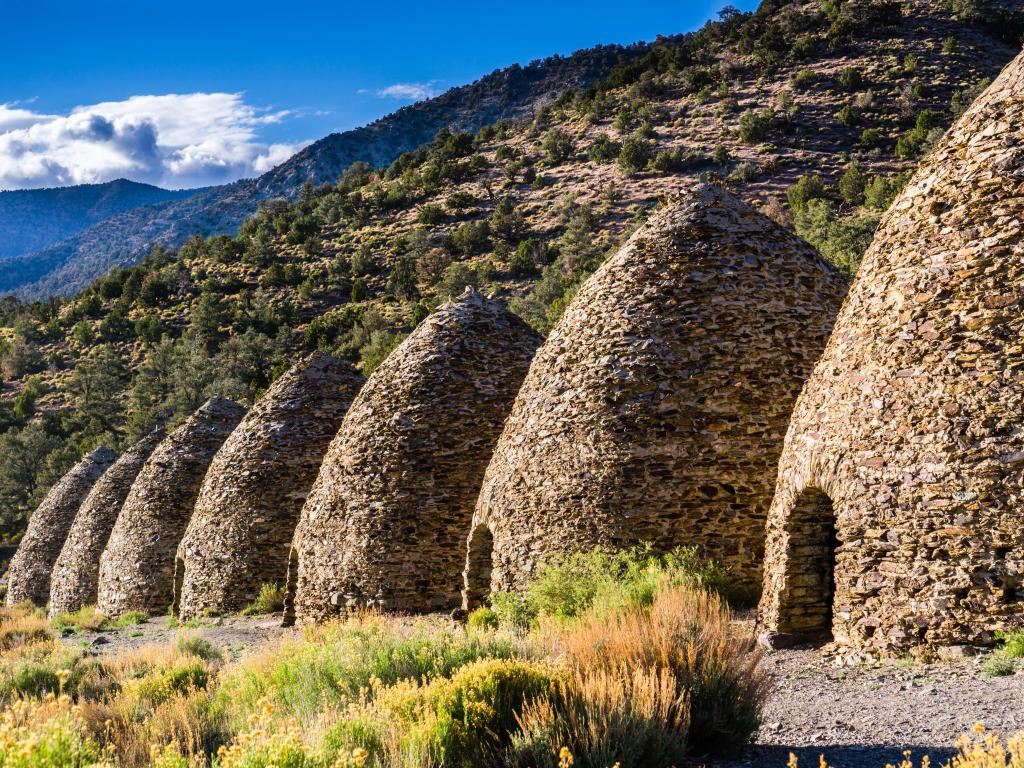 Best time to go on a road trip from Las Vegas through Death Valley National Park
While Death Valley National Park has a lot to offer year-round - especially given the changing landscape as the seasons shift - we recommend avoiding the summer. It's best to plan your visit for the winter, spring or fall.
This is because summer sees temperatures soaring to as high as 116 degrees Fahrenheit! This sort of weather is simply too hot for most of us to handle, and can even endanger your health—it's not called Death Valley for nothing! It is best to stay cautious and visit when temperatures are a little lower.
Winter is a great time to visit this National Park. Temperatures range between the high-thirties and mid-sixties Fahrenheit, so you won't have to worry about the scorching hot heat! Winter sees less tourism as well, so if you're looking for a solitary experience without crowds, this is the best time to visit!
Spring and fall are both great times to visit Death Valley, as the temperatures are quite comfortable, ranging between 55 and 90 degrees Fahrenheit.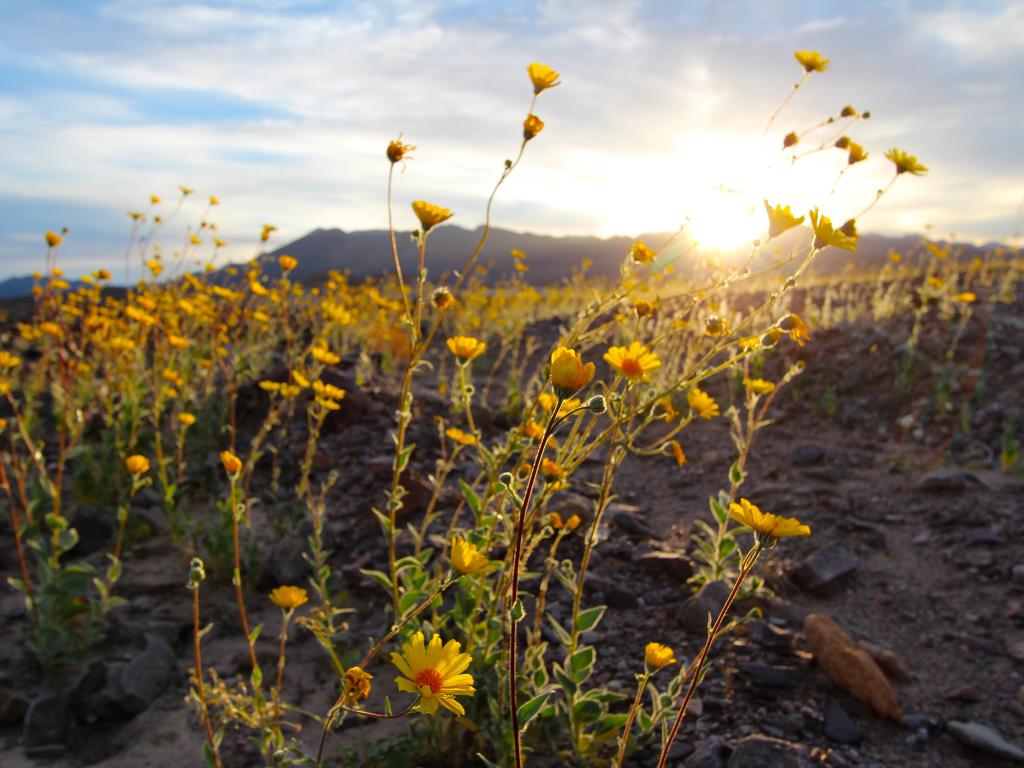 Spring is also the period during which Death Valley's signature wildflowers are in bloom. If you're looking for a once-in-a-lifetime wildflower experience, check Death Valley's website, which will tell you precisely when these stunning flowers start showing their colors.
Death Valley's main draw is its stunning variety of landscapes. The only event you can really plan your visit around is the blossoming of the wildflowers in the Spring - but what an event this is!