Road Trip From San Francisco To Las Vegas
A road trip from San Francisco to Las Vegas is quite a big undertaking as the drive is rather long and spans several terrains ranging from plains to mountains to desert.
Most people would opt to travel this route by plane. But by doing so they would miss out on the amazing adventures, detours left and right and some of the most stunning landscapes you're ever likely to see.
The road trip from San Francisco to Las Vegas can be done in just 8 hours 30 minutes following the interstates through Bakersfield. Instead you should take 2 to 3 days taking the scenic route through Yosemite and Death Valley National Parks.
To help you plan your trip, I've put together a guide of everything you need to know before embarking on this journey.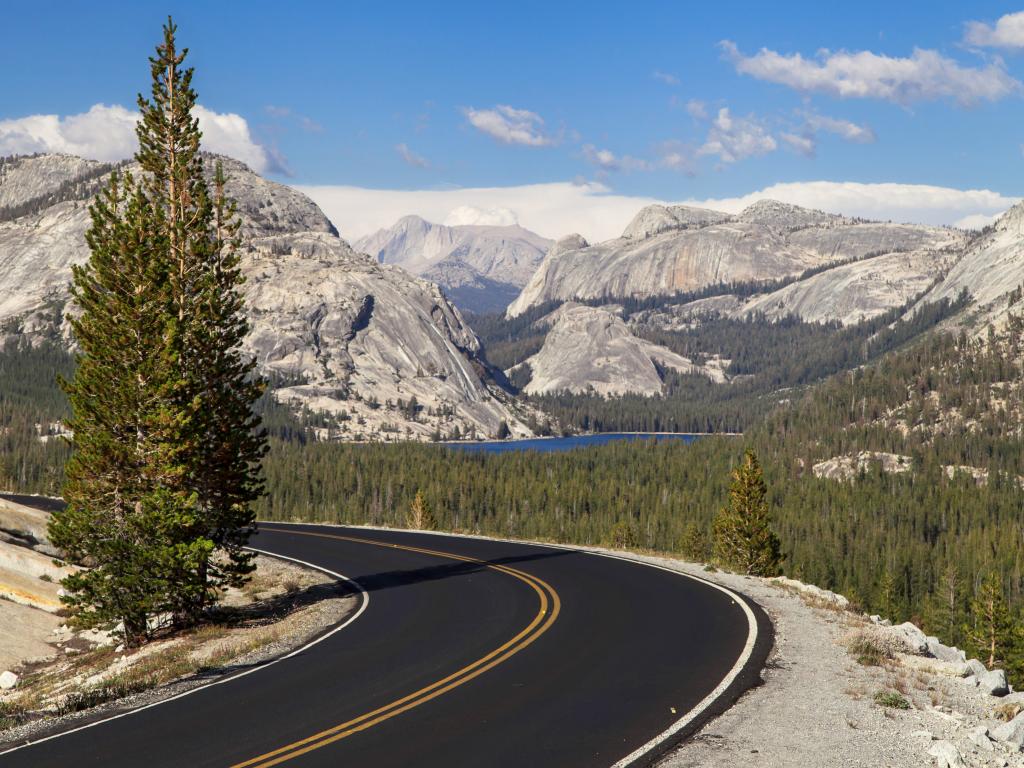 How far is Las Vegas from San Francisco and how long will the road trip take?
Whether you're taking the scenic route or getting to Las Vegas as fast as possible, the route will be about 560 miles long.
The fast route along interstates bypassing the Sierra Nevada will take a little over 8 hours of pure road time - you'll need to add stops for fuel and food on top of that.
If you plan on taking the more scenic route, you'll need to add a couple extra hours of driving on top, but you won't want to do that route in one day.
Technically you could do it if you set off early, but what's the point of just driving past all the amazing sights between San Francisco and Las Vegas without taking the time to actually explore them?
Remember that your road trip may take an hour or two longer than normal if you're traveling on a Friday or Saturday, as lots of people visit Las Vegas over the weekend and head out of San Francisco headed for the mountains and national parks.
But if you set off early and get out of the city at 7am, making two or three pit stops along the way, you can theoretically get to Las Vegas in time for a night out.
I would strongly recommend breaking up your trip from San Francisco to Las Vegas into 2 days or more. Below, you can see some of the amazing places and landmarks you'll encounter along the way – the route I propose has plenty to offer in the way of views and accommodation, so you'll be thankful you drove instead of flying after visiting them!
Best road trip route from San Francisco to Las Vegas
The best road trip route from San Francisco to Las Vegas passes through the Sierra Nevada Mountains driving the Tioga Pass through Yosemite and past the Death Valley at a mere cost of 2 more hours on the road than it would be sat on the boring straight interstates through Bakersfield.
There are a number of great detours you can make off the route depending on the time you have and what kinds of places you want to spend time in.
Road trip route from Denver to Las Vegas
Head out of San Francisco along the Bay Bridge to Oakland before following the interstate past Oakland Zoo and Lake Chabot to the I-580. You'll eventually reach Highway 120 as you cross over the San Joaquin River and this road will take you all the way to Yosemite.
The same Highway 120 crosses right over the Sierra Nevada through the Yosemite National Park with this section being known as the Tioga Road - check before you travel as this road gets closed from time to time and remains closed during the winter only reopening in late spring.
US 395 runs south past Mammoth Lakes and later reaching Kings Canyon and Sequoia National Parks. Take a left at Lone Pine to reach State Route 190 which will take you right across the heart of Death Valley before joining Highway 95 for the drive down to Las Vegas.
Fastest road trip route from San Francisco to Las Vegas
If you absolutely must get to Las Vegas as fast as possible and don't care about seeing anything on the way, ignore everything above and jump on the southbound I-5 a few miles after passing Livermore.
You'll need to come off to pass through Bakersfield and along Tehachapi Pass before joining the I-15 at Barstow which will take you all the way to Las Vegas.
This road trip from San Francisco to Las Vegas should can take as little as 8 hours on the road if you set off early or 9 to 10 hours if you allow for a few stops. It won't be the most scenic route you've driven, but you can comfortably get there in time for a night out.
Best places to stop between San Francisco and Las Vegas
To make the most of the incredible scenery and to break up the road trip from San Francisco to Las Vegas, you have some great places you can stop for the night on the way.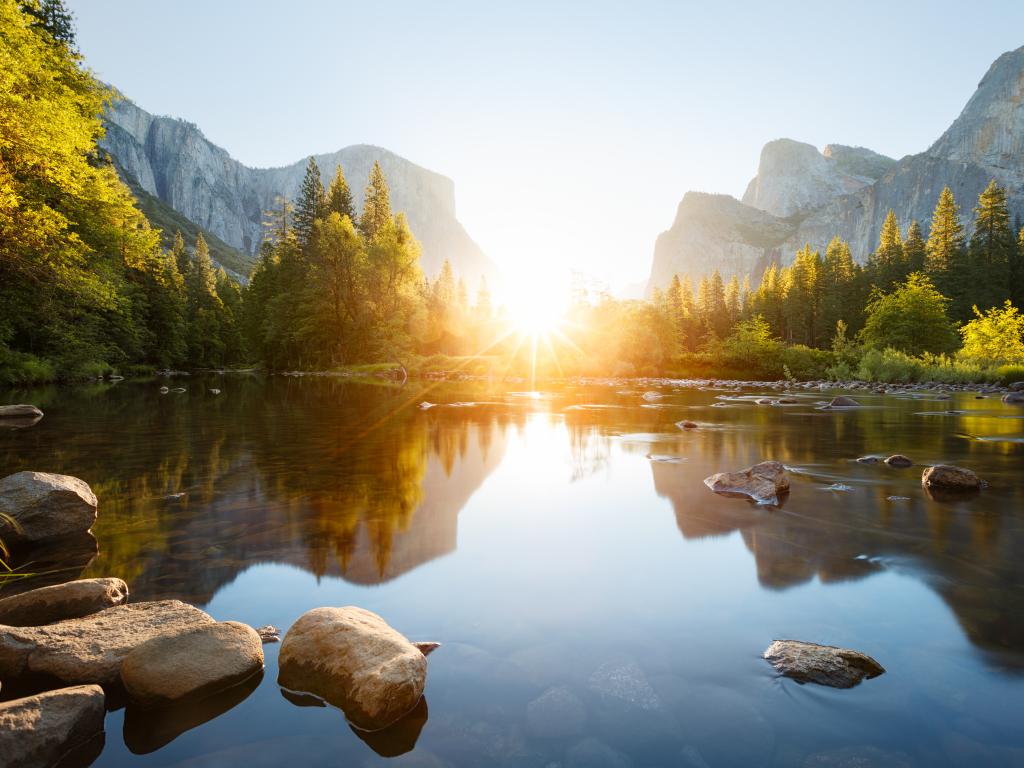 Spend the day at Yosemite
The waterfalls, mountains, and sequoias make Yosemite National Park one of the most beautiful places in America. This is an incredible place to get in touch with nature by exploring the countless hiking trails and stargazing at night.
There's no shortage of great rentals in Yosemite, and wherever you wind up staying, you'll be surrounded by natural wonders and more picture-worthy locations than you can count. If you want to spoil yourself, Evergreen Lodge at Yosemite is the perfect luxury option in Yosemite.
Set right in the forest with stunning views of the surroundings, the lodge is just a mile outside the National Park and only a 15 minute detour off the Highway. You'll get to stay in one of the 88 luxury cabins spread around the 20 acre site and experience everything from relaxing in a pool to sitting around a camp fire.
All the sights and activities of Yosemite are on your doorstep with everything from fly fishing to snow shoeing on offer depending on the season.
A Unique Stay In Death Valley
If you want to make more progress on day 1 or just want a different kind of scenery, you might consider staying in the Death Valley National Park instead.
Many of the Valley's most luxurious resorts are further south, and you'll be relatively close to Las Vegas by the time you reach them, but it still offers you the option of spending some time exploring this unique.
Famous for being the getaway of choice for Hollywood royalty from Marlon Brando to Matt Damon, the Inn at Death Valley is the perfect place to unwind right in the heart of the Death Valley.
From the pool and natural springs to the palm tree gardens and walkways, this resort truly feels like an oasis in the middle of a vast desert. The rooms are vintage, yet sleek and fashionable, and the bar and lobby area feel like a movie set. There are plenty of physical activities to be enjoyed here, thanks to the ample sports courts and exercise rooms.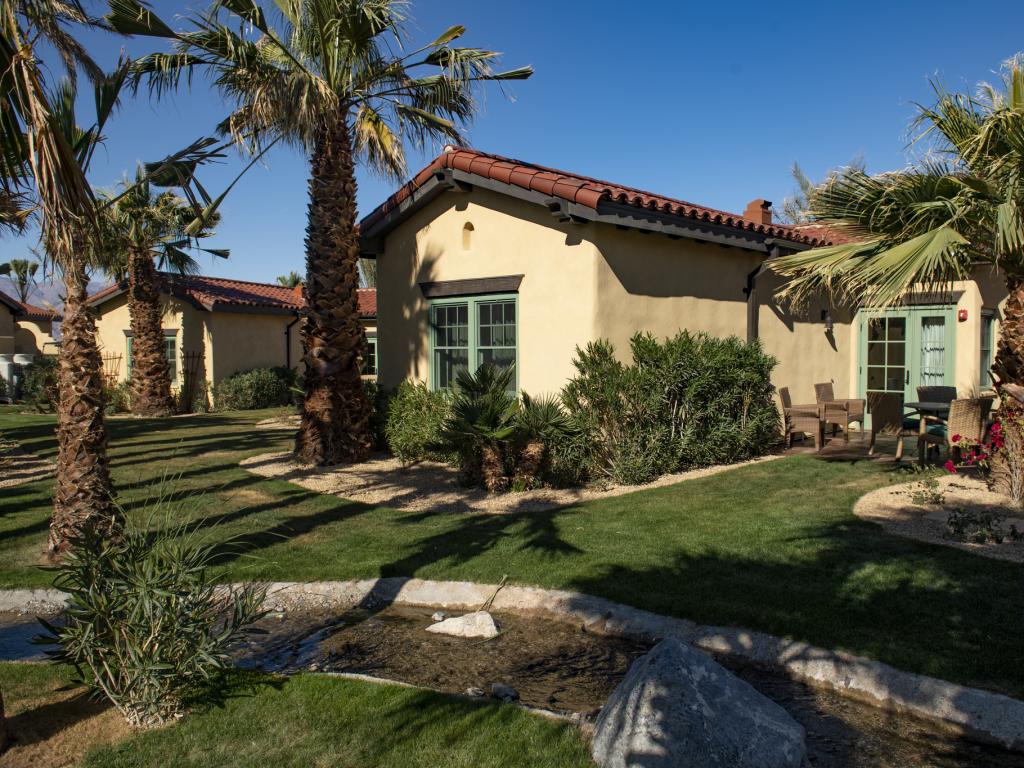 Just walking around the premises, you'll get a great view of the Panamint Mountain range, as well as dunes and salt rock formations. The grounds are covered in greenery which is an impressive feat and the perfect antidote to the arid desert all around.
Things to see on a road trip from San Francisco to Las Vegas
The main reason to take a road trip from San Francisco to Las Vegas is the abundance of great stops – there are so many, in fact, that you'll be tempted to visit as many as you can on your way back from Vegas too (and maybe even revisit ones you already saw!)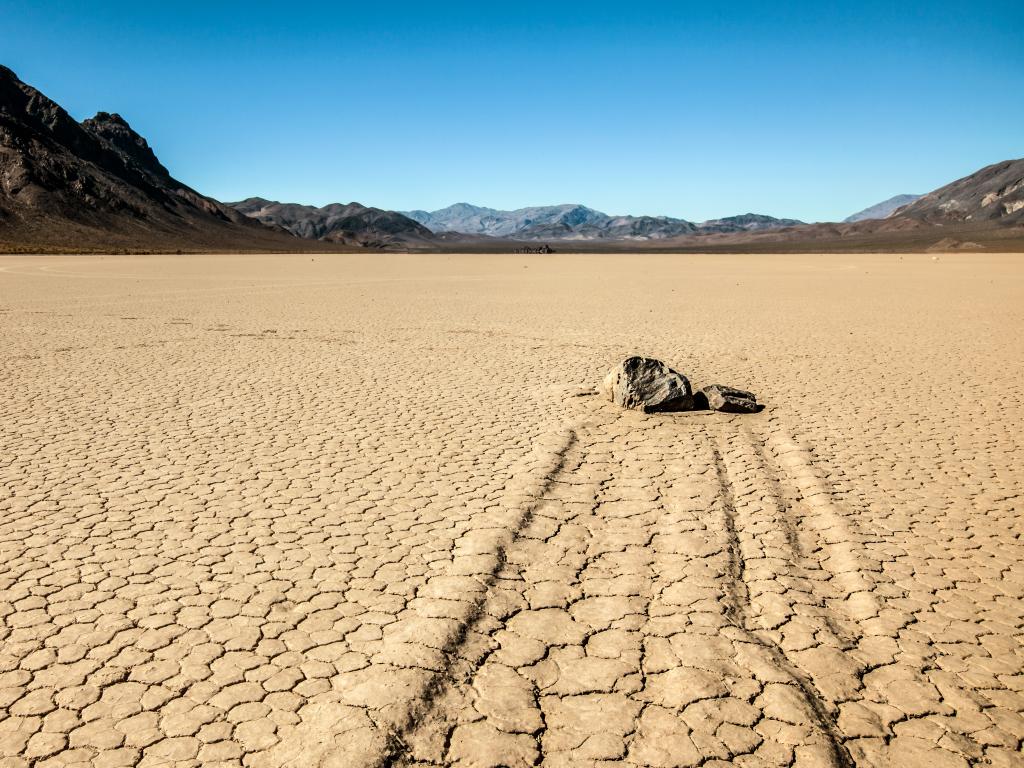 Here is a relatively comprehensive list of places worth looking out for while driving from San Francisco to Las Vegas, in order:
Rainbow Pool (Groveland) – an all-natural pool and a small waterfall – a beautiful location for a picnic and great for jump dives, but tends to be crowded
Tuolumne Grove – a sparsely visited location that makes for a great hiking spot and is home to gigantic sequoias
Mariposa Grove – somewhat of a detour, but definitely worth considering – another beautiful marvel of nature full of giant sequoias
Yosemite Valley – the heart and soul of Yosemite National Park, home to the Merced River, Half Dome, Yosemite Falls, dense pine forests and the infamous El Capitan rock
Tuolumne Meadows – gorgeous meadow by the riverside with a beautiful view in literally every direction. Also great for hiking
Mammoth Lakes & Devils Pospile National Monument - great ski resort in the winter & perfect hiking in the summer to Devils Postpile to see unique column-shaped rocks
Kings Canyon National Park - although the main entrance is from the west, you can still access one of the most stunning national parks in the land with sequoia forests and tall mountain peaks
Sequoia National Park - again, most of the sights including the world's largest tree are accessed from the west side but you can still drive in and hike through giant sequoias on your way
Death Valley National Park - The hottest place on earth with otherworldly scenery needs little introduction
Ash Meadows National Wildlife Refuge – east of Death Valley NP, this nature reserve is home to unique flora and fauna on the verge of extinction
Red Rock Canyon National Conservation Area – located in the Mojave Desert, this national park near Las Vegas is home to the Keystone Thrust and a slew of red/sandstone cliffs. You might need to make a reservation for a timed-entry slot, so check the official website before traveling.
As great as these places are, this is only scratching the surface of what the route has to offer. Pack up some additional supplies and get ready to take some detours off the beaten path - you will be surprised at how much there is to discover!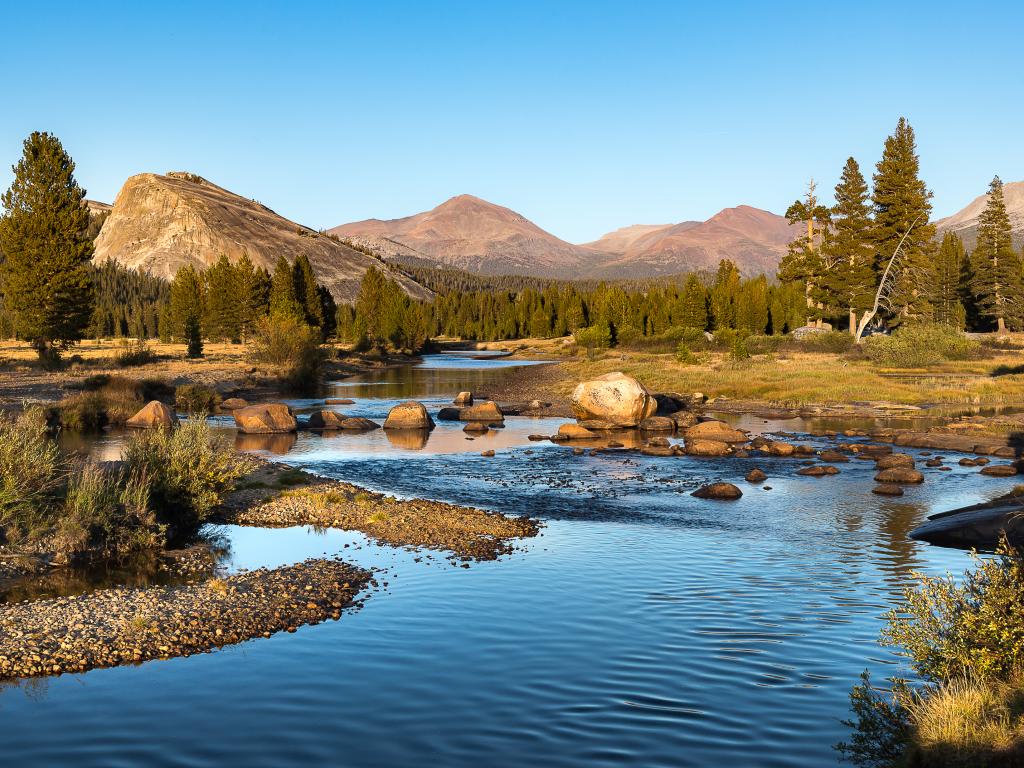 Best time to go on a road trip from San Francisco to Las Vegas
In many ways, there's no wrong time to take a road trip from San Francisco to Las Vegas, as the weather in Vegas doesn't impact most of the indoor casinos and activities.
However, two important considerations are both weather-related. The Tioga Pass through Yosemite is closed throughout the winter from some point in November/Early December (depending on when snow starts) to whenever the road gets cleared (usually May).
This is the same for most other passes over Sierra Nevada including the nearby Sonora Pass so if you're driving in the winter, you'll need to adjust your route and head further north to cross over the Carson Pass (CA-88) or Echo Summit (US-50). Both cross just south of Lake Tahoe so you can add another amazing stop, but your journey will take a few hours longer.
The other consideration is the temperatures you will experience in Death Valley. This National Park is famous for hitting the highest ever recorded temperature. Whether you believe the 134° F (56.6° C) set in 1913 or the 130° F (54.4° C) recorded in August 2020, both put the Death Valley as the hottest place on Earth.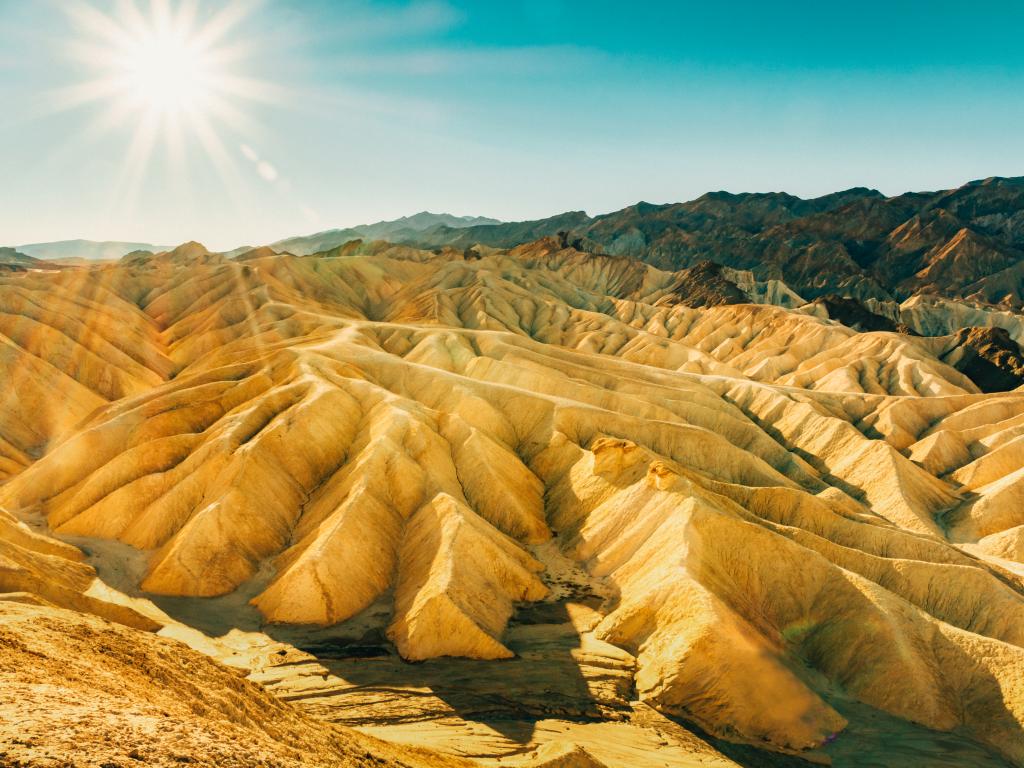 If you plan on driving at the peak of the summer, bring plenty of water, make sure your aircon is working well and avoid spending time outside during the middle of the day as it will be unbearably hot.
Also note that as it's a hugely popular destination, Yosemite Valley can get congested over the summer months. If you're looking to avoid crowds, late spring and early fall might be the best time to take the trip.
Although you'll have to take a detour in the winter due to road closures (see more in the Route section above), daily highs in the Death Valley in December are a balmy 40 to 65°F, and the view of Wildrose Canyon this time of year is absolutely gorgeous. Nighttime lows can get pretty cold so bring blankets and warm clothes!