Road Trip From Las Vegas To Lake Tahoe
If you live in Las Vegas and want to escape the Nevada heat for the cooler climes of a pristine lake surrounded by mountains, Lake Tahoe on the border with California is the perfect place and the route there is a whole experience in itself.
The 480-mile road trip from Las Vegas to Lake Tahoe takes 8 hours of driving through the Death Valley and along US-395. Explore Sierra Nevada along the way in Yosemite National Park, Mammoth Lakes and Inyo and Stanislaus National Forests.
With inhospitable deserts, otherworldly rocky terrain, redwood groves, snow-capped mountains and even ski resorts all along the way, this might just be the best road trip route from Vegas.
How far is Lake Tahoe from Las Vegas and how long will the road trip take?
The route from Las Vegas to Lake Tahoe covers about 480 miles, which equates to about 8 hours of driving, before adding on stops and breaks.
You can feasibly take off right around breakfast time and make it to Lake Tahoe in time for a late-afternoon or evening dip, but you will sit in the car for the whole day and see nothing on the way.
Google and your GPS system will tell you that you should drive up US-95 instead which will cut your journey by 30 miles and save 45 minutes, but you will miss out on all the amazing nature and sights along the way so feel free to completely ignore that route.
With so much to see on the way, you can easily spend a week or longer driving one-way so however much time you have on your hands for the road trip, there will be more than enough to occupy your time.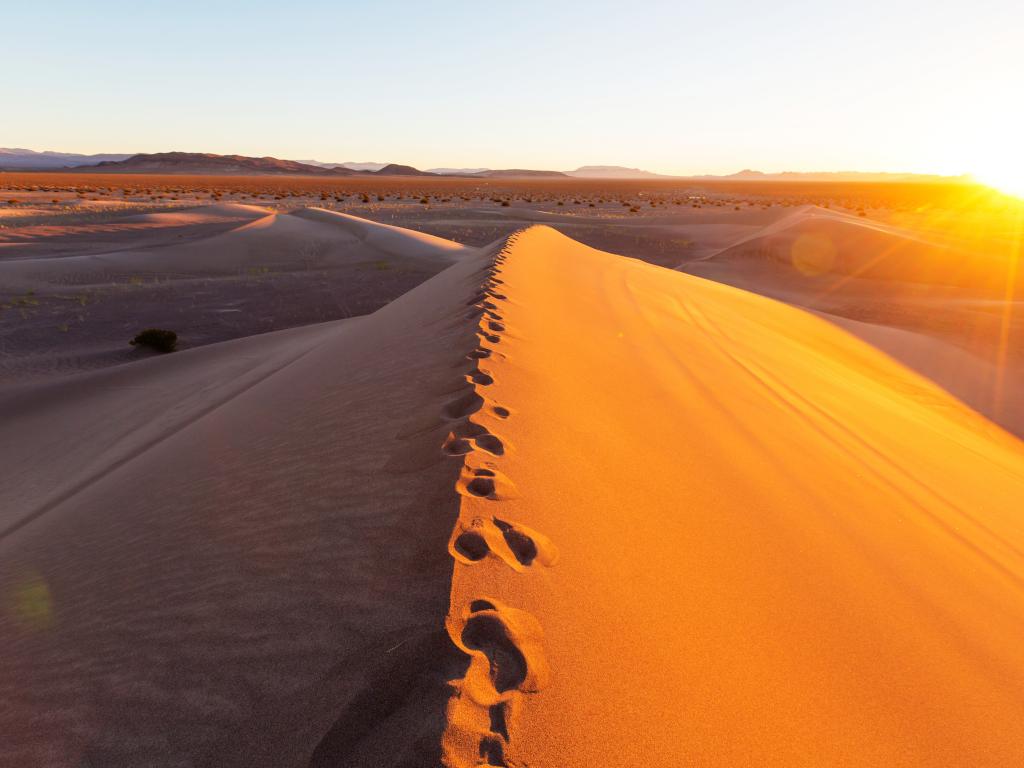 There are also some pragmatic issues with trying to power through this route. For starters, if you're interested in checking out the ever-so-scorching Death Valley (which, for the record, you absolutely should), chances are you'll be too tired by the time you've reached Bishop or Mammoth Lakes to even think about driving.
Another thing worth keeping in mind is that, once you make it to California, you'll be driving along the Sierra Nevada up the US-395 highway to Lake Tahoe.
Seeing as the weather and road conditions on the high-altitude roads can be unpredictable, you may or may not end up going a bit slower than you might have hoped.
Best road trip route from Las Vegas to Lake Tahoe
By far the best way to get from Las Vegas to Lake Tahoe is to follow the Sierra Nevada range north. You'll mostly just be following a single highway once you cross over to California, making the drive both scenic and straightforward.
Road trip route from Las Vegas to Lake Tahoe
First, head north from Las Vegas along U.S. Route 95, following it past Red Rock Canyon. At Amargoza Valley, take Highway 373 towards Death Valley Junction. This will take you right into the heart of Death Valley and into California.
There is a lot to explore in Death Valley but after seeing the sights, Route 190 will cut right across the desert and past some of the best sights before reaching US-395 in the foothills of the Sequoia National Park.
From there, the road will head north through Bishop with the stunning Sierra Nevada mountains to your left. Make sure you check out Mammoth Lakes before cutting through Inyo National Forest and Mono Lake.
If time is on your side, you can make detours through Yosemite National Park or Stanislaus and Eldorado National Forests on your way up to Lake Tahoe.
For most destinations around Lake Tahoe, you'll want to follow Route 207 towards the lake - South Lake Tahoe and Heavenly ski resorts are right on the border between California and Nevada and you can loop around the west part of the lake along Route 89 for some scenic views.
Best places to stop between Las Vegas and Lake Tahoe
Stopping between Las Vegas and Lake Tahoe is practically mandatory, considering the varied road conditions and abundance of places worth checking out. In a vast sea of tourist traps along this route, these are genuinely some of the best places to stay:
Enjoy the royal treatment in Death Valley
If you're truly set on exploring everything in as much detail as possible, Death Valley is bound to eat up a day or two of your time before you can move on towards Lake Tahoe. By any conceivable metric, the best resort in the entire park is the Inn at Death Valley.
If you've ever wanted to know what a celebrity vacation is like, look no further than this amazing resort. Featuring everything from a gigantic garden area and an outdoor swimming pool with a fireplace to an all-American restaurant and fitness center, you'll find it hard to say goodbye to the Inn.
Chances are you'll be quite sore after a tiring hike in the heat, so the on-site sauna is a great place to spend the evening. If you have a surplus of energy, you can try your hand at golfing or cycling in the immediate area – there truly is something for everyone here.
As you might expect from a hotel that Oscar winners have frequented, the stay isn't cheap, but it's also not overpriced to the point where it feels too exclusive. In fact, it could probably get away with costing much more, considering you'll be waited on hand and foot for the duration of your stay.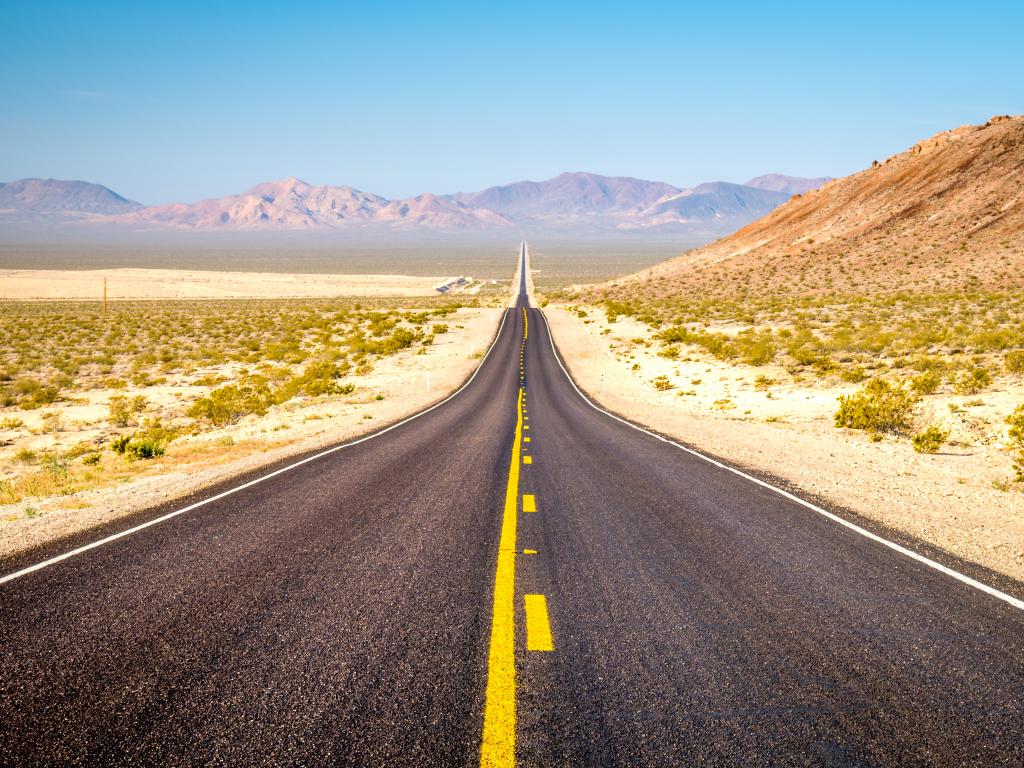 Experience the very best of Lake Tahoe
After long hours of exploring the lakeside and mountains of Lake Tahoe, you'll want a luxurious place to lay your head for the night. One of the very best hotels around Lake Tahoe is the luxurious Edgewood Tahoe Resort.
With its spacious, colorful lobby and beautifully decorated rooms that come with a terrace and fireplace, this resort is the most elegant you can hope to find near Lake Tahoe by a wide margin.
You don't have to stay in your room to unwind here, though – you can enjoy a massage at the spa center or get a workout in at the fitness center.
You wouldn't think that a large swimming pool right by a lake would be so great, but it really is – you can marvel at Lake Tahoe and the beautiful mountain backdrop from the comfort of the pool, then dry off at the outdoor fireplace.
For those visiting during the chilly season, you'll also have access to an amazing hot tub.
With so much to see near South Lake Tahoe, the hotel shuttle is handy if you don't want to bother with parking or want to have a drink when you're out.
All these things, in conjunction with the private beach and amazing location, are more than enough to justify the relatively high price of the hotel.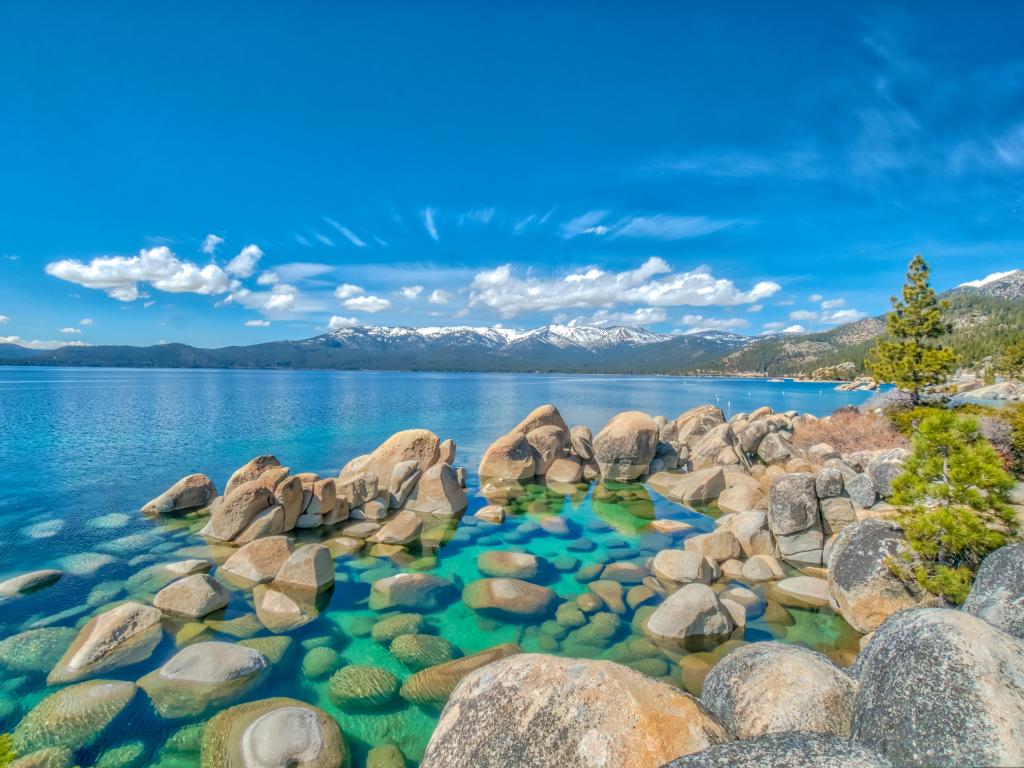 Things to see on a road trip from Las Vegas to Lake Tahoe
With a bit of an adventurer's spirit and one or two weeks to spare, you can turn this road trip into one of the most scenic of your life. Every landmark along the way offers countless hours of scenic exploration – these are the places you should definitely check out:
Red Rock Canyon National Conservation Area – visible from the Las Vegas Strip, this area is a testament to the often-underappreciated beauty of the desert. You might need to make a reservation for a timed-entry slot, so check the official website before traveling.
Death Valley – although it's best avoided in the summer, the badlands and sand dunes are a must-see for spring or fall travelers
Ancient Bristlecone Pine Forest – this forest is home to the Methuselah Grove, which features one of the oldest trees known to man
Bishop – located not too far from Death Valley, this city is one of the major stopovers in the Inyo County area
Manzanar – this concentration camp held thousands of Japanese-American prisoners in WWII and is a must-see for history buffs
Inyo National Forest – home to both the tallest peaks in the area and some of the oldest trees in the world, this is truly a forest of extremes
Mammoth Lakes – if you're visiting Lake Tahoe in or near wintertime, you have the opportunity to see this beautiful town in its snowy prime
Mono Lake – this saltwater lake is an incredibly important cog in a complicated ecosystem involving various water bird species
Yosemite National Park – beautiful no matter the season, this park features valleys, rock formations, and skiing spots for an amazing year-round experience
Bodie State Historic Park – this gold-mining-town-turned-ghost-town makes for an interesting visit, as it has hardly been retouched at all since its abandonment
Stanislaus National Forest – featuring the Stanislaus River and a whole slew of others, this is a great spot for recreational activities like kayaking
Eldorado National Forest – this beautiful forest is a popular camping spot, due in no small part to its wide variety of gorgeous flora
Emerald Bay State Park – this beautiful park is known for the Vikingsholm mansion, as well as for housing Lake Tahoe's only island
Carson City – the capital of Nevada technically extends all the way to Lake Tahoe, giving you an urban setting for your lakeside trip if you want it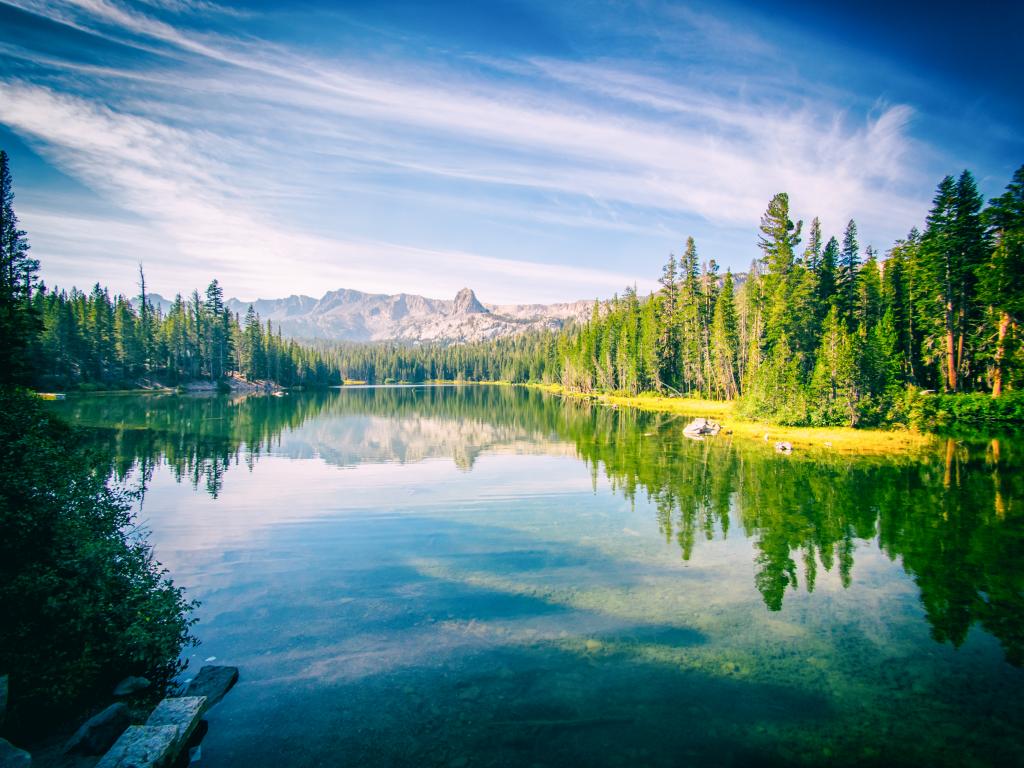 Best time to go on a road trip from Las Vegas to Lake Tahoe
The best thing about going on a road trip from Las Vega to Lake Tahoe is that it is amazing no matter what time of year you go although there's some important things to note if you're driving in the middle of the summer or winter.
Lake Tahoe is not particularly known for having long or hot summers – in fact, the peak temperatures in July are below 80 degrees, and the water averages a somewhat chilly 65, with quite a rapid decrease in temperature as you dive deeper in.
Besides the water, though, the area thrives in terms of natural landmarks – you'll have a wide array of hiking trails to check out throughout most of the year, and the thick layers of winter snow make Tahoe's Squaw Valley one of the most popular ski resorts in the States.
When it comes to stops along the route, exploring Death Valley in the summer can range anywhere between unpleasant and unbearable. Seeing as this is one of the most scenic parts of the trip, you'll definitely want to find a sweet spot when the temperatures are more hospitable - spring and late fall are by far the best times to go.
Also, it's very difficult to just pass by Yosemite National Park without at least a brief visit. The problem is that Tioga Pass will be inaccessible between November and May, so doing the trip this time of year comes with a huge trade-off.
Although it remains largely open throughout the year, US-395 itself can and does get hit by snowstorms so make sure your car is well prepared and you bring plenty of warm clothes with you.
Taking everything into consideration, going in the fall, especially around late September, might be the best time for this trip. Death Valley should be quite pleasant by its standards, Tioga Pass is guaranteed to be open, and all the hiking trails around Lake Tahoe will still be accessible.