Road Trip from Las Vegas to Monument Valley
If you're looking for the ideal trip that takes you through all of Arizona, Nevada and California's most trip-worth natural spaces—as well as its most iconic monuments—look no further than this stunning trip from Las Vegas to Monument Valley.
The 500-mile road trip from Las Vegas to Monument Valley will take about 9 hours to drive. The amazing stops include Flagstaff, Torrey, the Grand Canyon, Hoover Dam, Zion, Bryce Canyon and Capitol Reef National Parks as well as Dixie National Forest.
So what are you waiting for? Read on to find out all that awaits you on this ideal long weekend or week-long trip.
How far is Monument Valley from Las Vegas, and how long will the road trip take?
Comparison of road trip routes between Las Vegas and Monument Valley

| Route | Distance | Driving Time |
| --- | --- | --- |
| The Grand Canyon Route | 500 miles | 8 hours 45 minutes |
| The Zion National Park Route | 560 miles | 11 hours |
The Grand Canyon Route is reasonably shorter than the Zion National Park Route, taking about 8 hours and 45 minutes to travel the 500 miles from Las Vegas to Monument Valley. This time doesn't include overnight breaks, toilet breaks or any other pause you might make while travelling.
The Zion National Park Route, at 560 miles, will take you about 11 hours to travel in total. While you could feasibly make either of these routes in as little as a day, we definitely recommend setting aside at least four days to get the most out of this trip.
Best road trip route from Las Vegas to Monument Valley
To get to Las Vegas from Monument Valley, we offer two fabulous routes, each with their own unique national wonder as highlight to explore.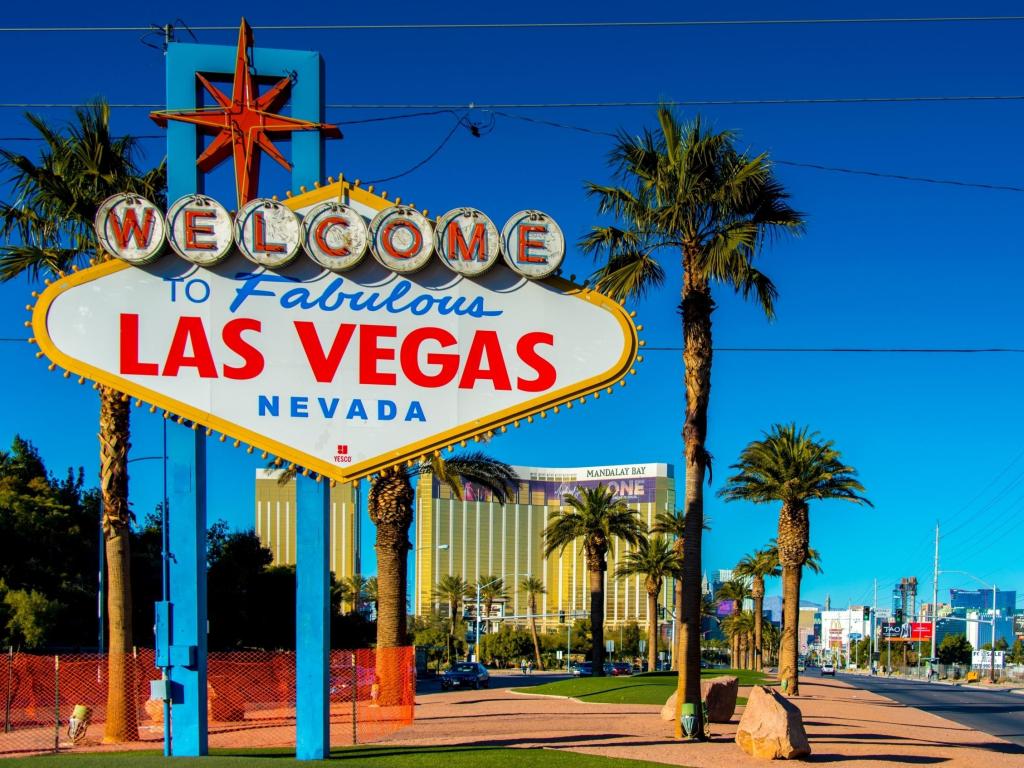 The Grand Canyon Route offers a diverse range of scenic drives, from desert highways to winding mountain roads. You'll stop at two iconic National Monuments: The Grand Canyon in Arizona, and the Hoover Dam in Nevada.
You can also add an optional detour to the Coconino National Forest or the Prescott National Forest.
The Zion National Park Route is park-forward, including stops in an amazing four National Parks and Forests: Zion National Park, Bryce Canyon National Park, Dixie National Forest, and the Capitol Reef National Park.
This route is a little bit more leisurely and nature-forward than the Grand Canyon Route, though both favor outdoor attractions over cities.
The Grand Canyon Route
Starting from Las Vegas, Nevada, take US-93 S/US-95 S towards the Hoover Dam, an impressive engineering marvel that spans the Colorado River. From there, head to Flagstaff, Arizona, by taking US-93 S and Interstate 40 (I-40) E.
Once in Flagstaff, take a detour to explore the stunning natural beauty of Sedona, known for its towering red rock formations and vibrant art scene.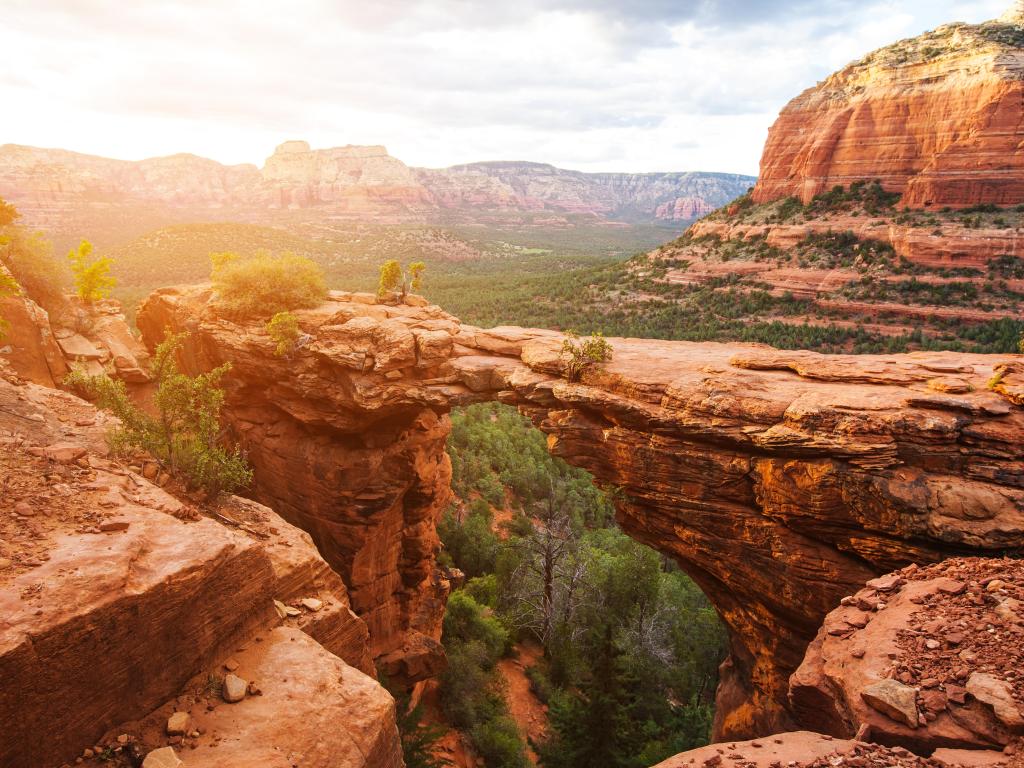 From Flagstaff, head north towards the Grand Canyon, taking US-180 W and AZ-64 N. Be sure to take your time exploring the various viewpoints along the rim of the canyon, including Mather Point and Desert View.
Next, drive to Monument Valley, located on the Navajo Nation Reservation, by taking US-89 N and US-160 E. This iconic natural wonder features towering rock formations and sweeping desert vistas, as well as the opportunity to learn about Navajo culture and history.
The Zion National Park Route
Starting from Las Vegas, Nevada, head northeast towards Zion National Park, located in Springdale, Utah. Take a scenic drive through the park and explore the stunning canyons and rock formations.
From there, continue northeast to Bryce Canyon National Park, where you can hike among the park's famous hoodoos.
Next, head north to Dixie National Forest, where you can hike, fish, or simply enjoy the scenic beauty of the area. From there, continue to Capitol Reef National Park, located in Torrey, Utah. Here you can hike among stunning rock formations, explore the park's many canyons, or take a scenic drive through the area.
Finally, make your way to Monument Valley, located on the border between Arizona and Utah. Take in the area's stunning sandstone formations and enjoy a guided tour of the park.
Best places to stop between Las Vegas and Monument Valley
You'll definitely have to stop for at least one night on this journey, though we recommend a couple more to get the full experience. Here are a few of our favourite stopover options:
A scenic stay in Flagstaff
Located towards the middle of the Grand Canyon Route, Flagstaff is an ideal point—and even base camp—for exploring the Grand Canyon.
Flagstaff is a charming small town steeped in history and is an ideal base for exploring the Grand Canyon. It offers a convenient location for visitors to either start their journey to the Grand Canyon early in the morning or to explore the area after settling into their hotel.
However, you should be aware that the town's high elevation means that it can experience heavy snowfall in the winter, so it's important to pack accordingly.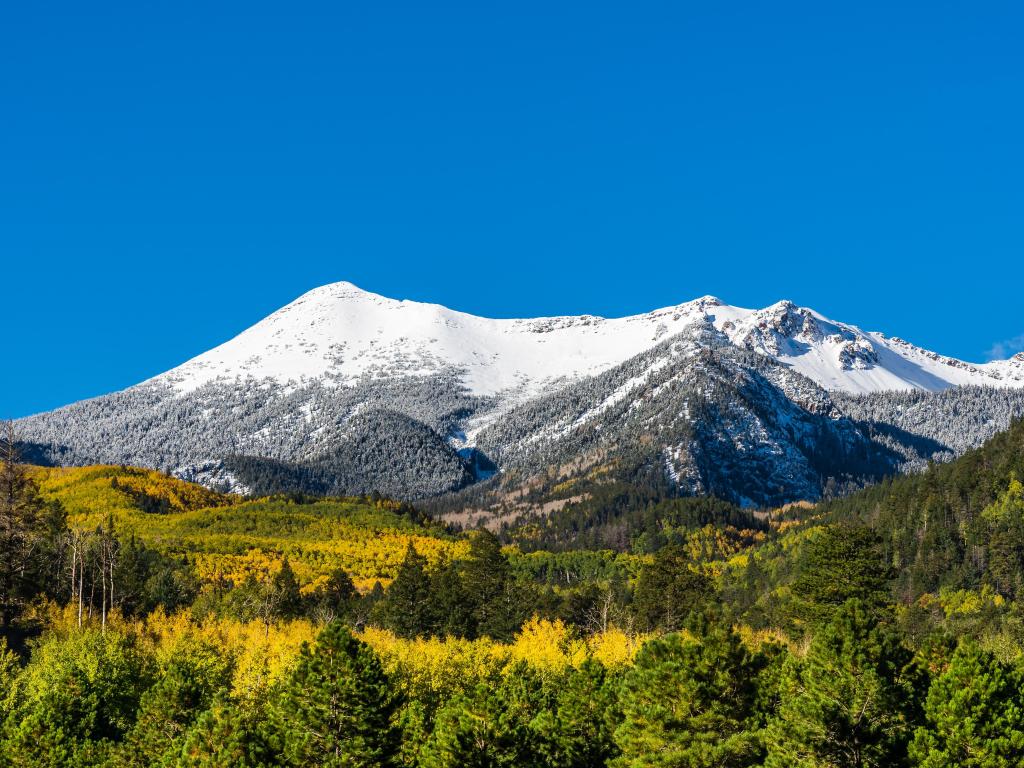 While Flagstaff itself doesn't have many notable attractions, it's a popular stopover for those en route to the Grand Canyon. Visitors can find several interesting sites in the surrounding area, which are detailed in the "Things to see along this route" section below.
When it comes to accommodation, we recommend the High Country Motor Lodge. This centrally located hotel in Flagstaff offers a variety of amenities to make your stay comfortable and convenient.
Guests can enjoy an on-site restaurant and bar that provides evening entertainment, as well as a shared lounge and garden. The 24-hour front desk ensures that guests have access to assistance at any time.
For those looking to unwind after a long drive, the fitness center, outdoor swimming pool, and hot tub are perfect options. The hotel also offers free private parking, allowing guests to relax and explore Flagstaff on foot.
Being centrally located in town, it's easy to leave the car behind and enjoy the area's charm. Plus, it's just a short drive from the Grand Canyon, making it a great place to stay before heading out to explore the natural wonder in the morning.
Enjoy rustic vibes in Torrey
Nestled in the heart of Southern Utah lies the charming town of Torrey. With its close proximity to Capitol Reef National Park, Torrey is an ideal base camp for visitors on the Zion National Park Route to explore this stunning natural wonder.
The park offers visitors breathtaking views of towering red rock formations, a range of hiking trails, and plenty of opportunities for stargazing at night.
In addition to Capitol Reef National Park, visitors to Torrey can explore nearby attractions such as Boulder Mountain, Fish Lake, and Goblin Valley State Park. The area is also home to several art galleries, museums, and unique shops that are worth a visit.
When it comes to finding a place to stay, our top recommendation for accommodations is Austin's Chuckwagon Motel.
This cozy and rustic lodge offers a variety of amenities to make guests feel right at home. Guests can enjoy a complimentary breakfast to start their day off right, and the on-site restaurant serves delicious meals throughout the day.
For those who want to relax after a day of exploring, the lodge features an outdoor pool and hot tub. The Chuck Wagon Lodge's central location in Torrey makes it easy for visitors to explore the town's many attractions on foot. It's just a short drive from Capitol Reef National Park, which is a must-visit for anyone in the area.
Where to stay when you reach Monument Valley
When it comes to choosing a placed to stay near Monument Valley, we recommend the stunning Bluff Dwellings Resort.
The Bluff Dwellings Resort is an excellent choice for travelers looking for a comfortable and convenient stay near Monument Valley National Park and the picturesque San Juan River. This resort provides on-site parking, making it easy for guests to explore the surrounding area.
After a day of adventure, guests can unwind and relax by the outdoor pool and hot tub. The resort also offers on-site dining options, including a restaurant and bar, so guests can enjoy a delicious meal or a refreshing drink without having to leave the property.
Whether you're in the mood for an intimate dinner or a casual meal with friends, there's something for everyone at this resort. Additionally, the spacious and well-equipped rooms provide guests with all the necessary amenities for a comfortable and enjoyable stay.
Things to see on a road trip from Las Vegas to Monument Valley
There's a wide range of road-side and nearby attractions on both routes for this trip. Keep reading to discover some of our favorites.
The Grand Canyon Route
Hoover Dam - This marvel of engineering, a colossal dam holding back the mighty Colorado River, is a must-see attraction along this route.
Lowell Observatory - Founded in 1894, this research center offers fascinating insights into the cosmos and is located right in Flagstaff.
Grand Canyon National Park - One of the world's natural wonders, this vast canyon is a must-see for any traveler, and the highlight of this route.
Bright Angel Trail - Discover this popular hiking trail which offers stunning views of the Grand Canyon's sheer cliffs and valleys.
Desert View Watchtower - Designed by architect Mary Colter, this 70-foot tower offers panoramic views of the Grand Canyon and is a brilliant way to take this monumental natural space in.
Horseshoe Bend - A breathtaking natural feature, this horseshoe-shaped bend in the Colorado River is a photographer's dream.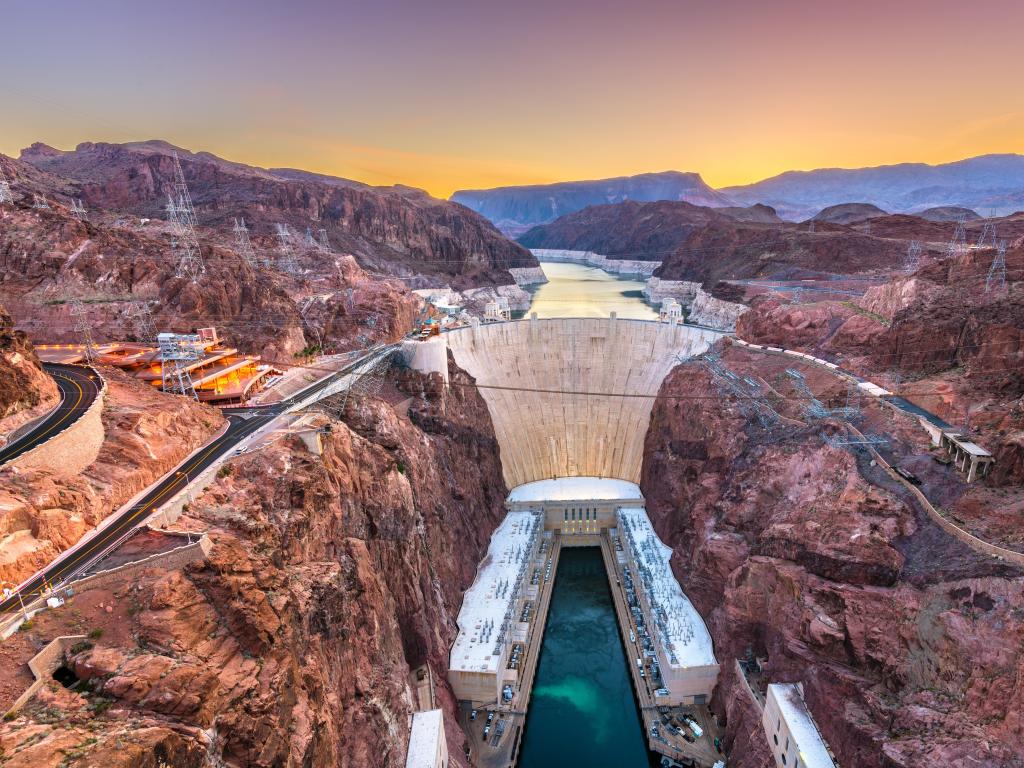 The Zion National Park Route
Temple of Sinawava – Inside Zion National Park lies a natural amphitheater with a paved trail along the Virgin River, offering visitors the chance to witness waterfalls and flower gardens.
Parowan Gap Petroglyphs – These Native American Petroglyphs are free to visit and are believed to be nearly a thousand years old.
Moqui Cave – Moqui Cave, once a speakeasy, now serves as a natural history museum and features an impressive rock collection and gift shop.
Lone Rock Beach – Located about an hour off-route, a popular sandy beach is surrounded by desert plains and provides the perfect spot to watch the sunset.
Hole in the Rock – Carved into a sandstone boulder, a historic 5000 square foot home with a fireplace, 14 rooms, and a gift shop awaits visitors.
Giant Soda Cans - Check out this quirky roadside attraction featuring giant tanks painted to resemble popular soda drinks.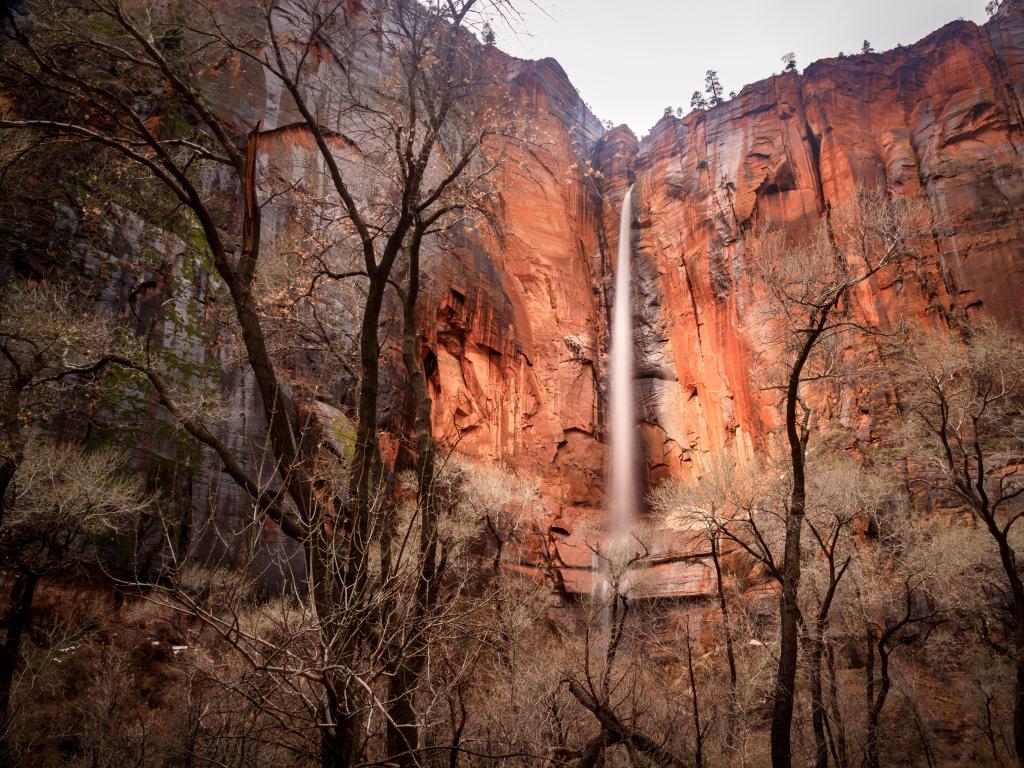 Both Routes
Antelope Canyon - Known for its swirling, colorful sandstone walls, this slot canyon is a photographer's paradise.
Monument Valley Navajo Tribal Park - A sacred site for the Navajo people, this stark desert landscape has been featured in many Western films and is a highlight of this valley.
Four Corners Monument - Right by your final destination, this unique geographical landmark shows where four states (Arizona, Utah, Colorado, and New Mexico) meet.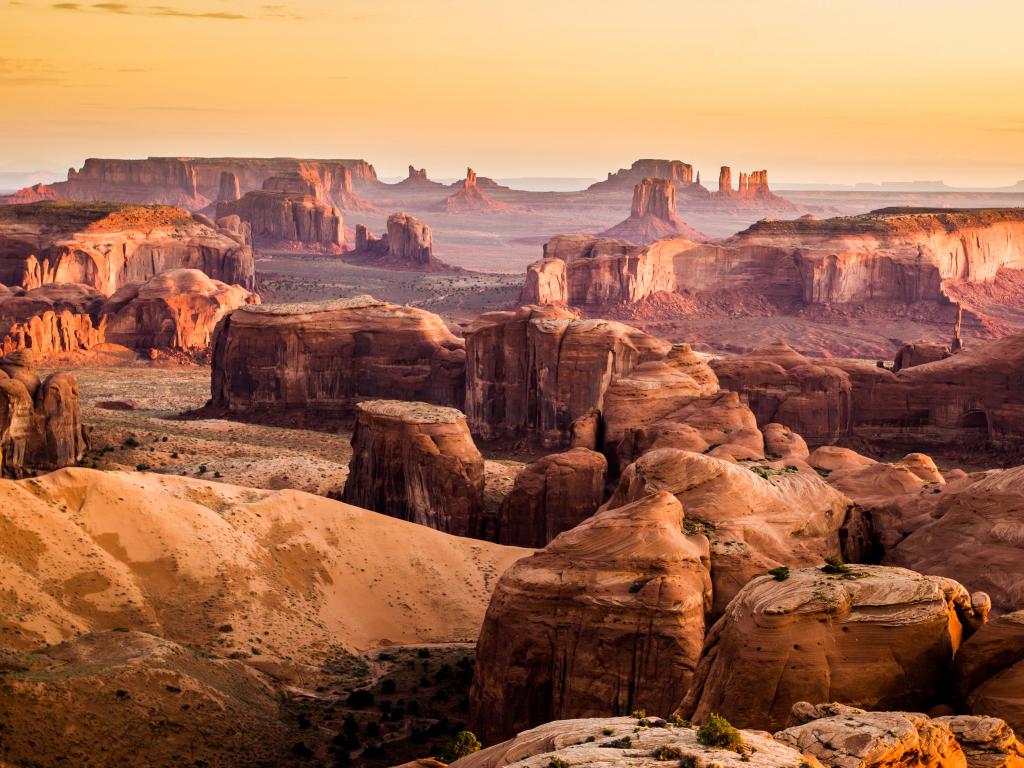 Best time to go on a road trip from Las Vegas to Monument Valley
Monument Valley is a popular destination for tourists throughout the year, with each season offering its own unique experiences. While you could visit any time of year, we recommend trying to plan your trip for the spring or fall when you can enjoy the stunning sites of the valley without large crowds.
Summer is the peak season for the valley, with visitors flocking to the area to take in the stunning landscapes and natural beauty. However, high temperatures ranging from 70-95 degrees Fahrenheit and occasional thunderstorms mean that visitors should pack accordingly and book accommodations well in advance.
In contrast, winter is the off-season for Monument Valley. With lower tourism, visitors can experience the valley in a more peaceful and secluded setting.
The milder temperatures ranging from 20-50 degrees Fahrenheit make it a comfortable time to visit, although some facilities may be closed during this season. Visitors should check ahead of time and come prepared for occasional snow and icy conditions.
Spring and fall offer milder temperatures and fewer tourists, making them the ideal times to visit Monument Valley. Temperatures in spring range from 40-70 degrees Fahrenheit, while fall temperatures range from 50-80 degrees Fahrenheit.
Visitors can enjoy the valley's natural beauty and explore the area without the crowds that are present during the summer months. These seasons offer better accommodations and lower rates, though visitors should still book in advance to secure their desired lodging.
Monument Valley hosts several annual festivals and events that allow visitors to experience the Navajo Nation's culture and traditions. The Monument Valley Balloon Festival takes place in January and offers a unique view of the valley from the air.
The Navajo Nation Fair, which features a rodeo, powwow, and carnival, takes place in September and is a celebration of Navajo culture. Visitors can also experience the Navajo Nation's holiday spirit during the Annual Monument Valley Christmas Lighting in December.