Road Trip from Las Vegas to New York
This epic cross-country drive from Las Vegas to New York takes you through iconic landscapes, fabulous cities and stunning natural wonders. It might be long, but there's nothing quite like this trip from one metropolis to another, so buckle up and get ready for the ride of your life!
The 2,600-mile road trip from Las Vegas to New York takes 39 hours to drive. Key stops include Chicago, Cleveland, Pittsburgh, Philadelphia, Washington DC and Baltimore, as well as Grand Canyon, Zion National Park and Rocky Mountains National Park.
To help you make the most of your trip, we've set out the best routes and places to stop along the way, as well as our favorite things to see and the best time of year to make this exciting drive from Las Vegas to New York.
How far is New York from Las Vegas, and how long will the road trip take?
Comparison of road trip routes between Las Vegas to New York

| Route | Distance | Driving Time |
| --- | --- | --- |
| The Northern Route | 2,600 miles | 39 hours |
| The Southern Route | 2,685 miles | 40 hours |
There's no avoiding the fact that this epic drive from Las Vegas to New York is a long one. The quickest of our two suggested routes will still take 39 hours of non-stop driving and will cover a distance of 2,600 miles.
An alternative option, taking your further south and through desert landscapes and world-famous music cities, spans a distance of 2,685 miles and will only keep you slightly longer on the roads at 40 hours.
Given the sheer distance of this trip - and the number of incredible attractions, views and cities you'll be passing through - you would ideally spend between two and three weeks completing the drive.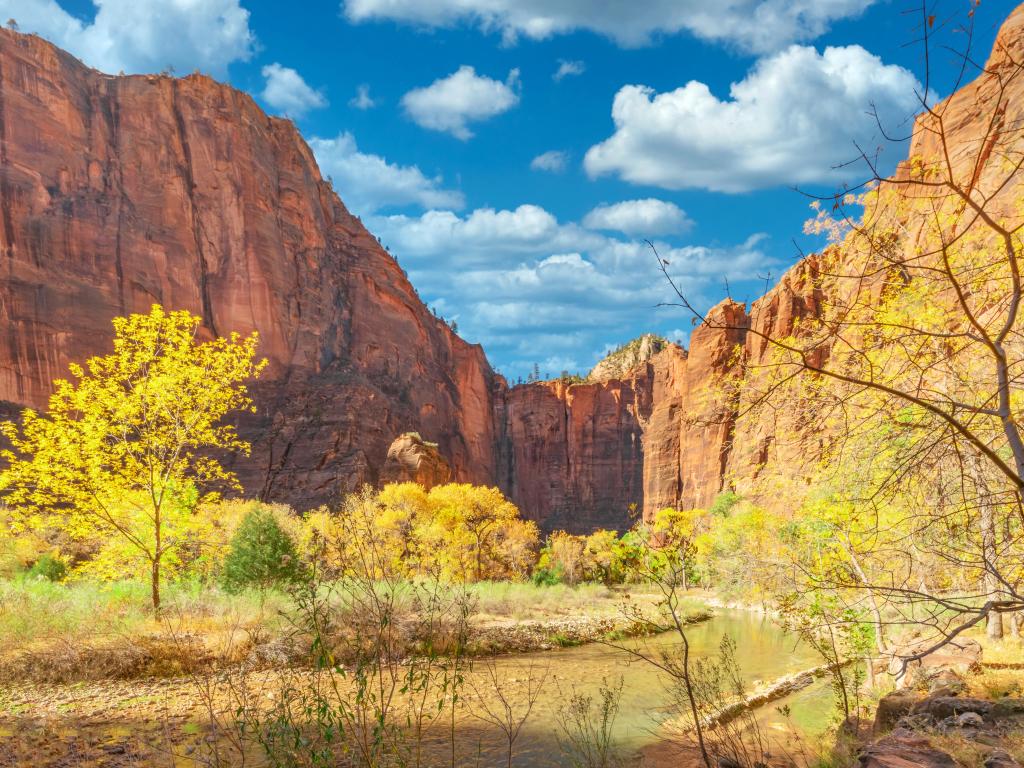 Best road trip route from Las Vegas to New York
With very little between the two route options in terms of distance or time spent on the road, you'll be choosing between our two route options depending on your preference for views, cities and attractions along the way.
Our Northern Route is all about variety. You'll pass deserts in Nevada, stunning mountains in Denver, Great Lakes and the Atlantic Ocean. Passing through a total of 10 states, you'll also get a great choice of cities to explore, including Philadelphia and Chicago.
If you choose to head south from Las Vegas, you'll experience a truly iconic American road trip. Picture long, straight roads through scenic desert landscapes, stunning mountain passes and incredible views from some top tourist spots such as Grand Canyon and Albuquerque.
The Southern Routes gives you the chance to pass through 13 states and, despite being fractionally longer on paper, this option takes in a larger number of major cities at the end, including Washington DC and Baltimore. This does mean that there's more likelihood of congestion.
The Northern Route
For the Northern Route, begin by leaving Las Vegas on Interstate 15 and head north. You could take an optional detour to visit Lake Mead National Recreation Area, before continuing on the interstate and passing alongside Dixie National Forest.
When you reach Exit 132, leave I-15 and continue on Interstate 70 heading east and passing alongside the stunning Monroe Peak and Manti-La Sal National Forest. Just before Thompson Springs, you can take a short drive to Arches National Park.
Continue on I-70 towards Grand Junction where you'll begin to drive through the stunning national forests of Colorado, including White River National Forest. Continue through this scenic stretch to the city of Denver, a great overnight rest option.
When you leave Denver, take Interstate 76 East, passing Pawnee National Grassland and through the towns of Sterling and Ogallala. Continue on I-80 for the next stretch as you drive through Nebraska and pass several more interesting towns.
Past Omaha, you'll enter the state of Iowa and the city of Des Moines, before taking Exit 4B to join Interstate 88 all the way to Chicago on Lake Michigan. This amazing city is another fabulous overnight stop option, which will really give you the opportunity to explore.
Leave on Interstate 90 East as you drive past Lake Michigan and towards another, this time Lake Erie. Continue onto I-80 before changing to I-76 south to Pittsburgh in Pennsylvania.
From here you can take a short detour to explore Allegheny National Forest, or simply follow I-76 where you can either stop at Philadelphia or follow I-276 to drive along the outskirts of the city.
Next take I-95 north before taking Exit 13 to merge with I-287 which will take you the rest of the way into New York.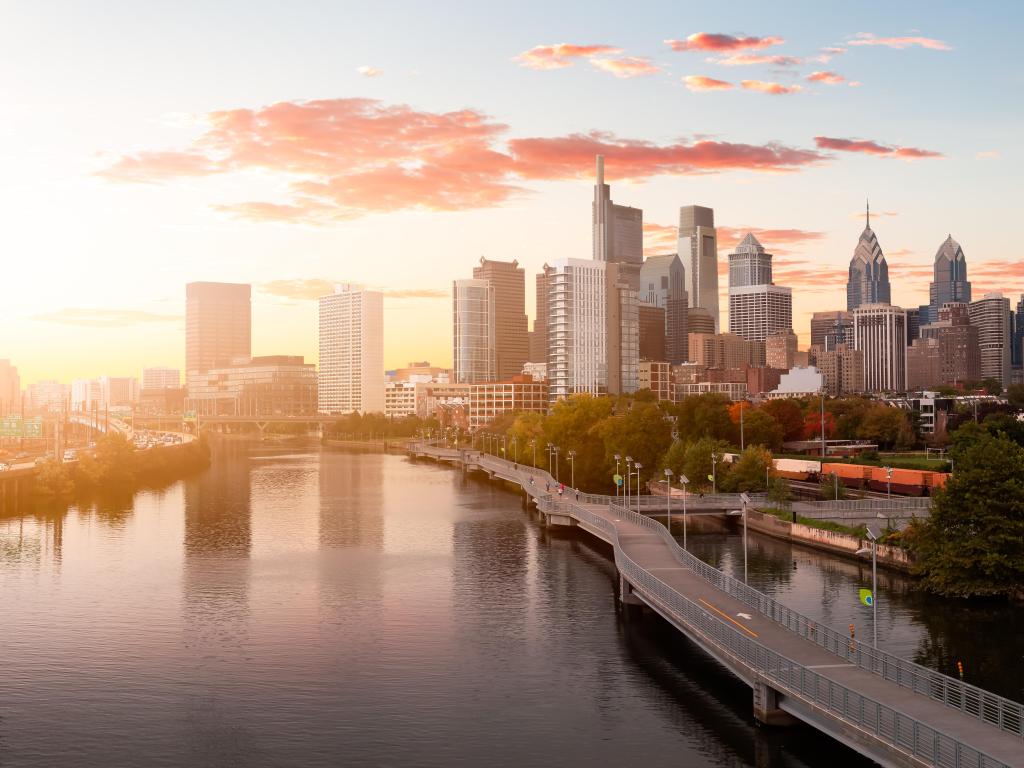 The Southern Route
The Southern Route option takes you from Las Vegas on Interstate 515 south and joins Interstate 40 which you'll follow east to Kingman. Continue on this road as far as Flagstaff, known as the gateway to the Grand Canyon.
Here you can add an optional detour to visit the canyon or Coconino National Forest, though both visits will add miles and time to your already long trip.
Back on I-40, continue heading east through Arizona. The landscape on this stretch of the interstate is rustic and beautiful with mountains and stunning views across the state towards New Mexico.
The landscapes continue to impress as you drive into Albuquerque, an ideal stop on this route to enjoy the surroundings and have the chance to explore Santa Fe National Forest.
Continue on I-40 through the beautiful Santa Rosa, before crossing into Texas and passing Amarillo. Still heading east, you'll pass several towns before arriving at Oklahoma City.
Further east on the same interstate, you'll pass into the state of Arkansas, where you can take a short detour to visit Ouachita National Forest before reaching Little Rock.
The next short stretch on I-40 will bring you to the music city of Memphis, an ideal rest before continuing on your road trip. After taking in this great city, you will then continue your music journey to Nashville, also in Tennessee.
Continue east on I-40 to Knoxville, before changing to join I-81 north. Follow this road through lots of towns and consider a stop at Monongahela National Forest to stretch your legs before arriving at Exit 300.
From here, take I-66 east to Washington DC, one of your final major cities before you arrive at your destination. Spend some time in this wonderful city, full of political history, before following the Baltimore-Washington Parkway to Baltimore.
Continue on I-95 north to just below Wilmington and follow I-295 where you can either take a longer drive to pass through the city of Philadelphia or continue on I-95 north all the way to New York.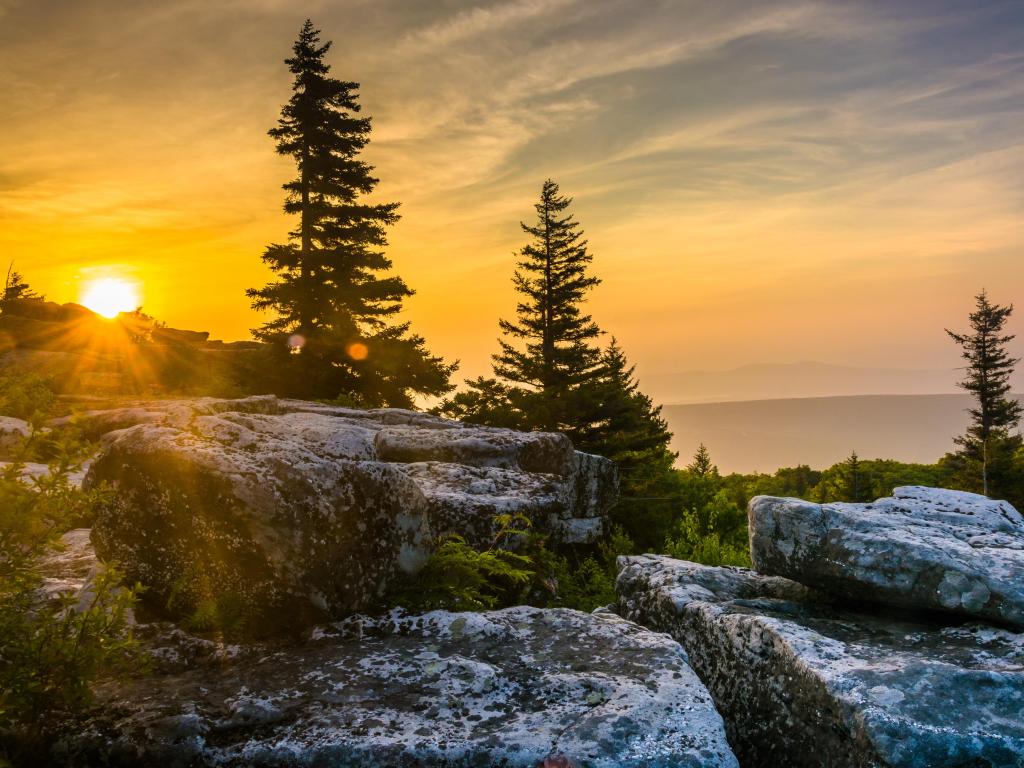 Best places to stop between Las Vegas and New York
The road trip between Las Vegas and New York is a long but exciting one. Taking you around 40 hours to drive, you'll want to include plenty of overnight stops to rest and explore more of your surroundings.
There's plenty of choice, from bustling cities to quaint villages. Here's just a selection of some of our recommended hotels which we think you'll love.
A mountain stay in Denver
Set just under 12 hours from Last Vegas on the Northern Route, the city of Denver could be your first overnight stop. Although in reality, you'll probably want to make between two and three stops before you get here.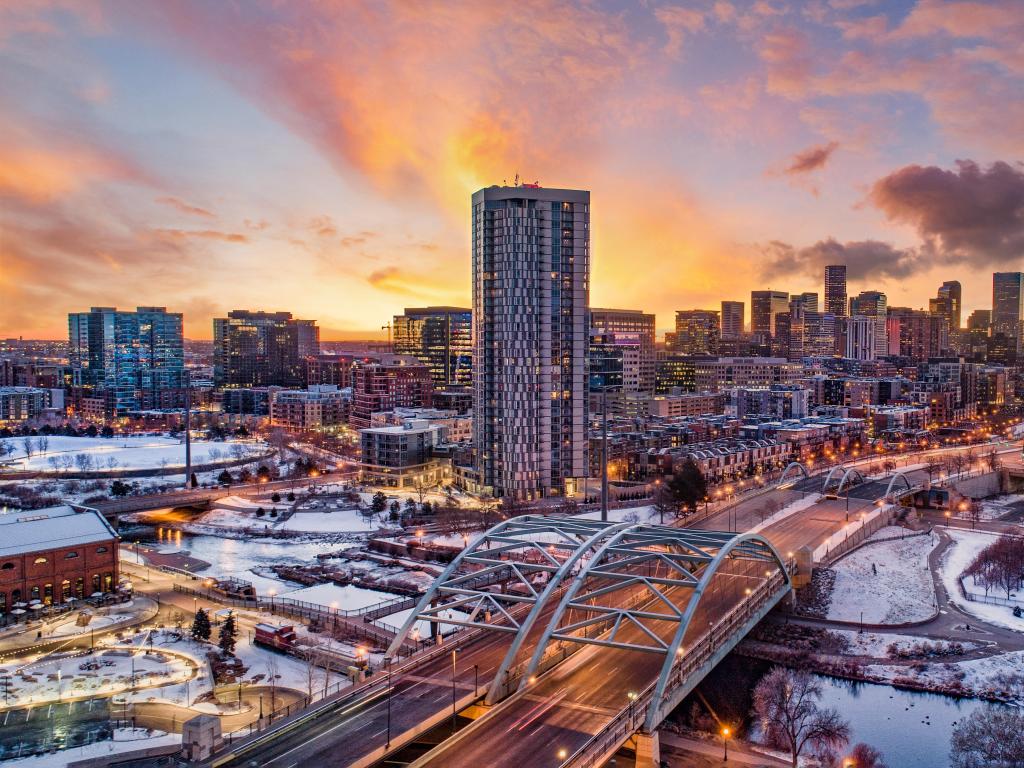 Denver itself is a great place to base yourself for a couple of nights (or longer) if you want to explore the surrounding area – the Rocky Mountains, Medicine Bow-Routt National Forests and the nearby cities of Boulder and Fort Collins, for example.
Being a city nestled in the stunning Rocky Mountains, you won't be surprised that a lot of the attractions around here are outdoors including the beautiful Botanic Gardens.
Though if you wanted to venture inside, the Museo de las Americas offers a fascinating insight into Denver's large Hispanic population.
If you're looking to set yourself up in the center of Denver with plenty of its best attractions surrounding you, then a stay at The Rally Hotel at McGregor Square is a great option. This stylish hotel features modern interiors with city views and is only a short walk to Denver Art Museum.
To recharge your batteries after an already-long trip, why not take a dip in the outdoor pool or enjoy a drink at the onsite bar. Private parking here is a bonus when you arrive in the city after a day on the road.
The city on the lake, Chicago
Continuing your Northern Route, just two-thirds to New York, lies the iconic city of Chicago. One of the country's biggest and most vibrant cities, Chicago is a must-see while you're passing through.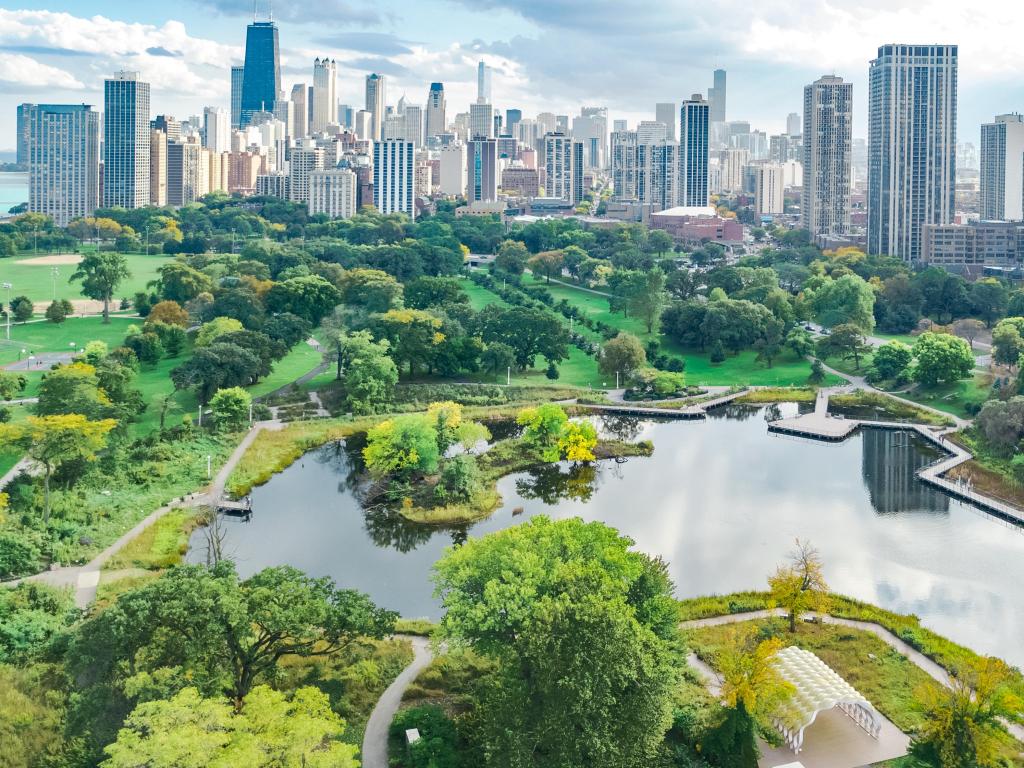 With its views over Lake Michigan, there's so much to see here including Willis Tower, Millennium Park and the Field Museum of Natural History. To stretch your legs after a long drive, you can get a real sense of the city and its architecture with a walk along the Chicago River.
It doesn't get much better than a stay at Nobu Hotel Chicago. The design at this 5-star hotel is absolutely first class, guaranteeing you a luxurious and relaxing stay.
Relax in the daytime and enjoy fabulous views out over the city or relax in the hotel's indoor pool before heading out to enjoy the sights and sounds of Chicago, including the United Center, Chicago Symphony Orchestra and the shops at Northbridge which are just a short walk away.
After an incredible day in Chicago, there's nowhere more perfect to enjoy stargazing than from the Nobu Hotel's rooftop bar lounge - a truly magical way to complete your stay.
Explore the music city, Memphis
If you've chosen the Southern Route for your epic road trip, then an ideal halfway point is the city of Memphis. With its epic music scene, you haven't really experienced Memphis if you haven't spent an evening in the city and caught a performance or two.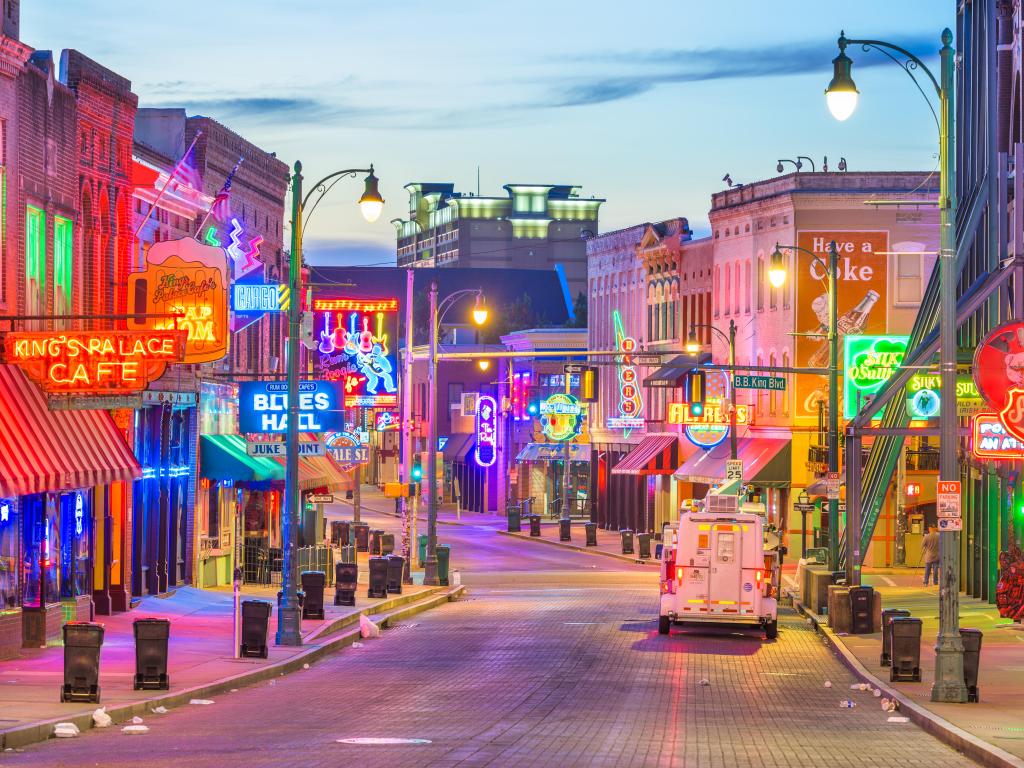 Set alongside the Mississippi River, this city is known for being the home of Elvis Presley and the birthplace of Rock & Roll (depending on who you speak to).
For an authentic experience, we'd recommend stopping at Peabody Memphis. A local institution in a historic building, you'll find Southern charm aplenty when you check in here.
The bedrooms in this hotel are spacious and elegant and the public areas of the hotel retain their own classic style. There's a pool, a spa and fine dining on-site and it's only a minute away from Beale Street, which you'll be ready to explore after a day of relaxing.
Don't miss a visit to Graceland, home of Elvis Presley, or the famous Memphis Rock N Soul Museum and Sun Studio, the legendary recording studio which hosted big names in rock and roll, and now offers tours.
A culture hit in Washington DC
Just 4 hours from New York, a great final overnight stop on the Southern Route is the iconic city of Washington DC. Given the sheer number of museums and monuments in the nation's capital, this is a city that really warrants a day or two to explore them fully.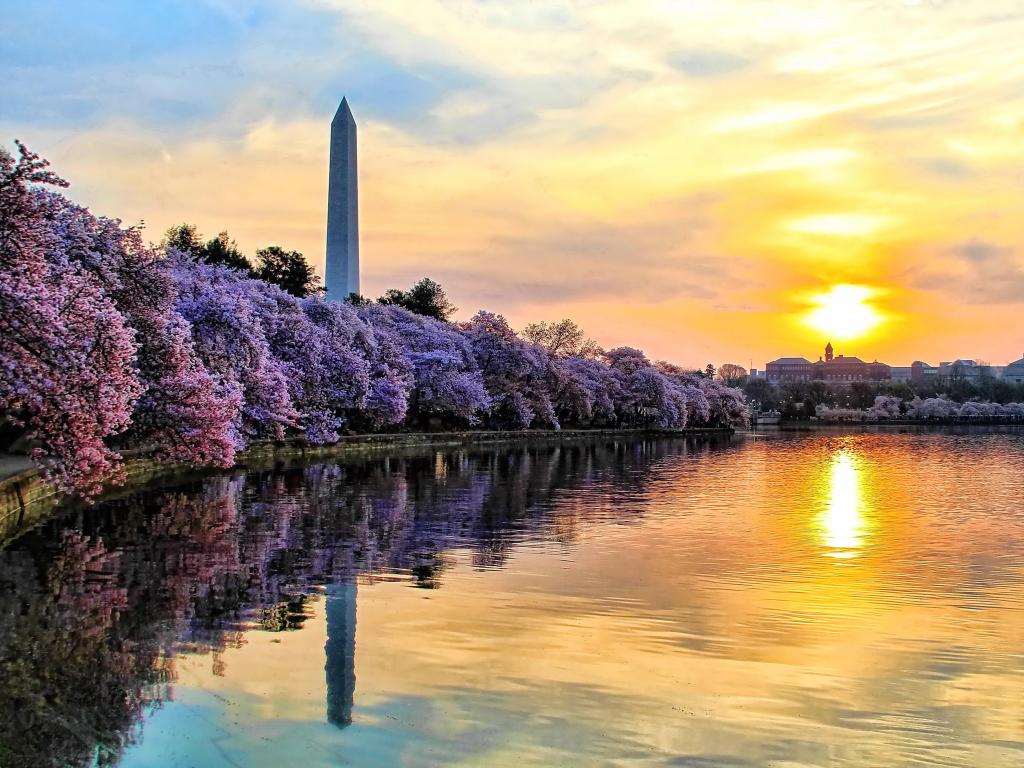 Best known for being the US capital, plus home to world-famous monuments such as the White House, and the world-class Smithsonian museums, this is a great place for history and politics enthusiasts.
To be able to visit them all, you'll definitely want to spend at least one night here and on top of our list is the citizenM Washington DC Capitol. The sharp, modern design of this hotel doesn't skip any of the comforts you'd expect during your stay.
Expect to get great views from the outdoor terrace and many of its bedrooms, as well as parking, an onsite restaurant and a bar. The National Mall is nearby and there's even a subway station, making the rest of the city easily accessible.
You won't want to miss seeing The White House, plus the famous monuments including the Washington Monument, Jefferson Memorial, FDR Memorial, MLK Jr Memorial, the Lincoln Memorial and the Vietnam Veterans Wall.
There's also a huge choice of museums to visit, including the National Museum of African American History & Culture and the National Air & Space Museum.
Things to see on a road trip from Las Vegas to New York
Given the long drive and the sheer number of states you'll pass on either route, it's not surprising that the road trip from Las Vegas to New York will offer a huge choice of attractions, stunning scenery and fabulous cities to explore.
You could easily spend a month visiting them all, but if your time is limited, here are some of our favorite things to do: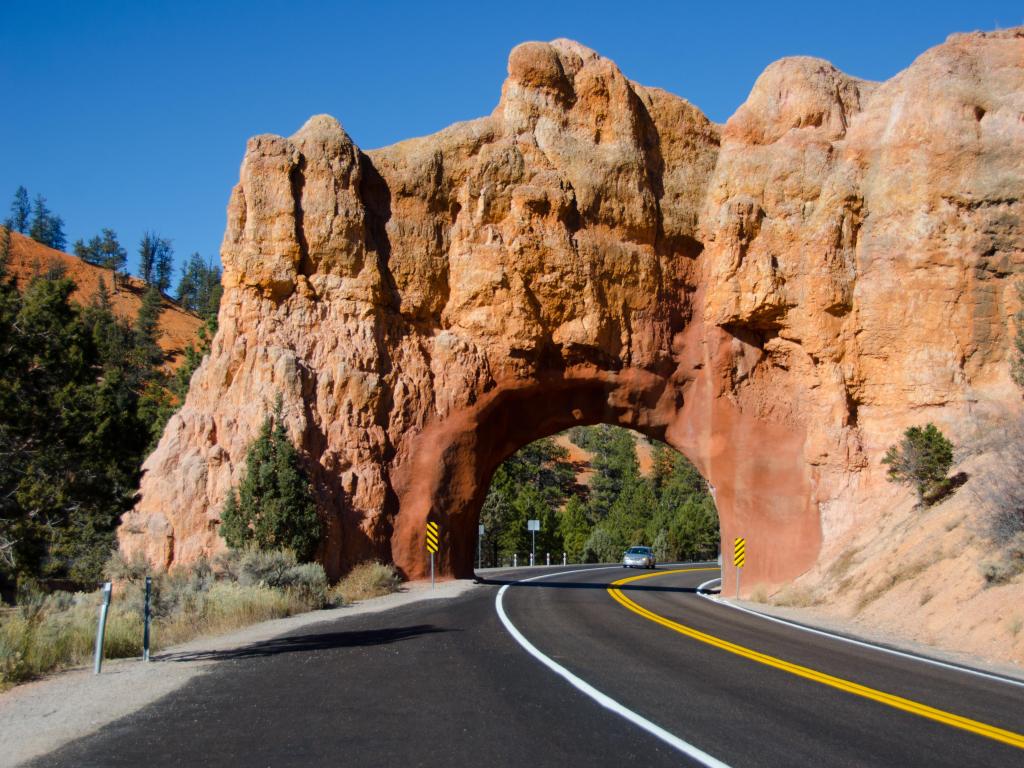 Both Routes
Philadelphia - The Birthplace of America is full of history – start off at Independence National Historical Park and see where the rest of your visit takes you.
Northern Route
Dixie National Forest - The ultimate contrast to Las Vegas, strike out to explore the beautiful sandstone landscape of Utah's biggest national forest.
Zion National Park - You'll find another chance to get out in the fresh air here, at this stunning national park centered around the Virgin River. If you'd like to hike up to Angels Landing, you will need a permit and will need to make a reservation. Check the Zion National Park's website for more details.
Cedar Breaks National Monument - Somehow, nature and geology have combined to shape the rocks here into a stunning natural amphitheater where you can hike and even camp.
Manti-La Sal National Forest - This national forest is actually a series of forest 'islands' spread over a vast area approaching the Utah/Colorado border.
White River National Forest - If you haven't gotten tired of hiking by now, take some time in this national forest for trails which take in mountain peaks and a crystal-clear river.
Denver - The first major city on this long route offers fabulous art and culture attractions, including Denver Art Museum, Museo de las Americas and Wings Over the Rockies Air & Space Museum.
Boulder - In this lovely city at the foot of the Rockies, we'd suggest heading to a museum or two before chilling out with a local craft beer and enjoying a fabulous meal – this is the perfect place to recharge your batteries after a few days in the national parks and forests.
Rocky Mountain National Park - The name says it all for this national park – head up into the Rockies to enjoy stunning views, scenic drives, hiking, and skiing through the winter season. This national park uses a reservation system so book ahead to avoid disappointment.
Pawnee National Grassland - As you leave the Rockies behind you'll move from one iconic landscape to another – these grasslands will conjure up images of wagon trails and settlers in times past.
Omaha - The Old Market historic district has been reinvented and now houses a great choice of food and drink venues – perfect for a stop on your long drive. You might also like to enjoy a performance while you're here at Omaha's Symphony Orchestra and Opera.
Des Moines - The state capital of Iowa hosts Des Moines Arts Festival every summer, making this a great place to check out the creative scene.
Chicago - Head out for a boat tour on Lake Michigan so that you can really appreciate the fabulous setting of this buzzing city, before taking in all that Chicago has to offer.
South Bend - Notre Dame University is a dominant presence in the city, so maybe take a campus tour or head to the Basilica of the Sacred Heart for a moment of contemplation before you hit the road again.
Cleveland, Ohio - Enjoy beautiful lake views and take a trip to the Rock & Roll Hall of Fame at this up-and-coming city on the shores of Lake Erie.
Pittsburgh - There's art aplenty here, including the Andy Warhol Museum for lovers of modern art, and the Frick Pittsburgh if you prefer your canvases more traditional. Also worth a visit is the Phipps Conservatory & Botanical Gardens.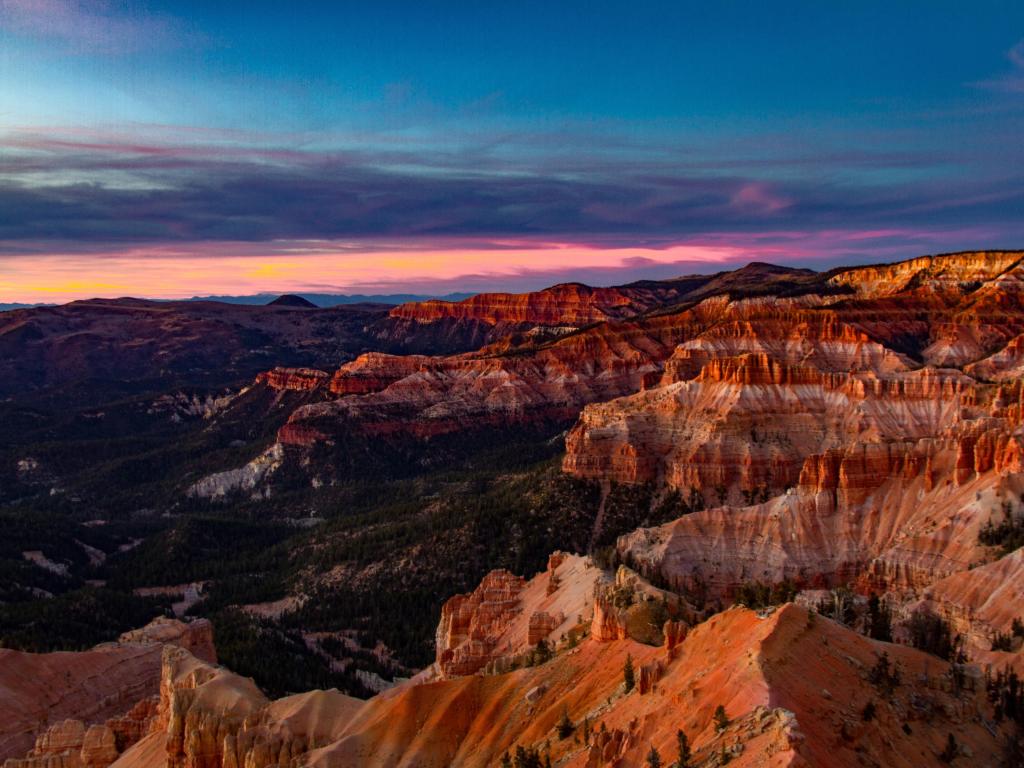 Southern Route
Grand Canyon - This amazing natural monument is world-famous for a reason – and definitely not something you should drive past without a visit!
Coconino National Forest - Arizona's vibrant red sandstone landscape is probably at its best here – take one of the scenic drives through the forest to capture the magic for yourself.
Petrified Forest National Park - A real contrast from Coconino, the dry semi-desert landscape here is home to the fossils of many ancient trees that give the park its name.
Albuquerque - The Sandia Peak Tramway is the superstar of Albuquerque, offering incredible views down over the city and the surrounding area.
Santa Rosa - Home to the Route 66 Auto Museum, which is surely a must-see for any road trip enthusiast, you can also make like the locals and cool off in beautiful Blue Hole Lake.
Amarillo - Another city with a history that wraps around the legend that is Route 66, Jack Sisemore Traveland RV Museum and Texas Air & Space Museum are both great places to head when you pass through. Cadillac Ranch art installation is in easy reach too.
Oklahoma City - Spend a quiet moment at the Oklahoma City National Memorial & Museum, or maybe visit the National Cowboy & Western Heritage Museum.
Little Rock - After admiring the State Capitol of Arkansas, take to the water to explore the city by kayak. There's also a Presidential Library and Museum to explore and the Old State House Museum.
Ozark St Francis National Forest (detour from route) - This stunning area of forests and lakes is a short detour from the route, but worth the extra drive if you're ready to hike through lush forest and take a dip in cool lake water.
Memphis - Catch a live show on Beale Street, visit Graceland, or head to the Memphis Rock 'n' Soul Museum – this really is music city, so immerse yourself in the rhythm and see where it takes you.
Nashville - Even if you're not an expert in country music, we'd recommend a trip to the Country Music Hall of Fame, which is a fabulous celebration of performers and their stories.
Great Smoky Mountains National Park - This route doesn't take you through quite as many national parks and forests as the northern route, so you should definitely leap at this chance to lace up your hiking boots and hit the trails in America's most popular national park.
Dollywood - Dolly Parton's very own amusement park enjoys a fabulous setting, some awesome rides and a great atmosphere – the perfect detour for a fun day out.
Roanoke - Virginia's State Transport Museum is likely to be a draw if you're a road tripper who's as enthusiastic about the driving as the places you'll see along the way. Look up to the mountain top to see the famous Roanoke Star lit up at night too.
Shenandoah National Park - Follow the stunning Skyline Drive through this national park, which tracks a ridge of the Appalachian mountains for many miles. You will need an Old Rag Day-Use Ticket if you are planning to visit the Old Rag Mountain. Please check the national park's website for details.
Washington DC - Hit the Smithsonian Museums – there's one for almost every interest across all fields of art, culture and science – then take a walk past the White House and the Capitol Building as you explore the nation's capital.
Baltimore - Don't miss the National Aquarium here, home to thousands of underwater residents in a lovely harborfront setting, as well as fantastic restaurants.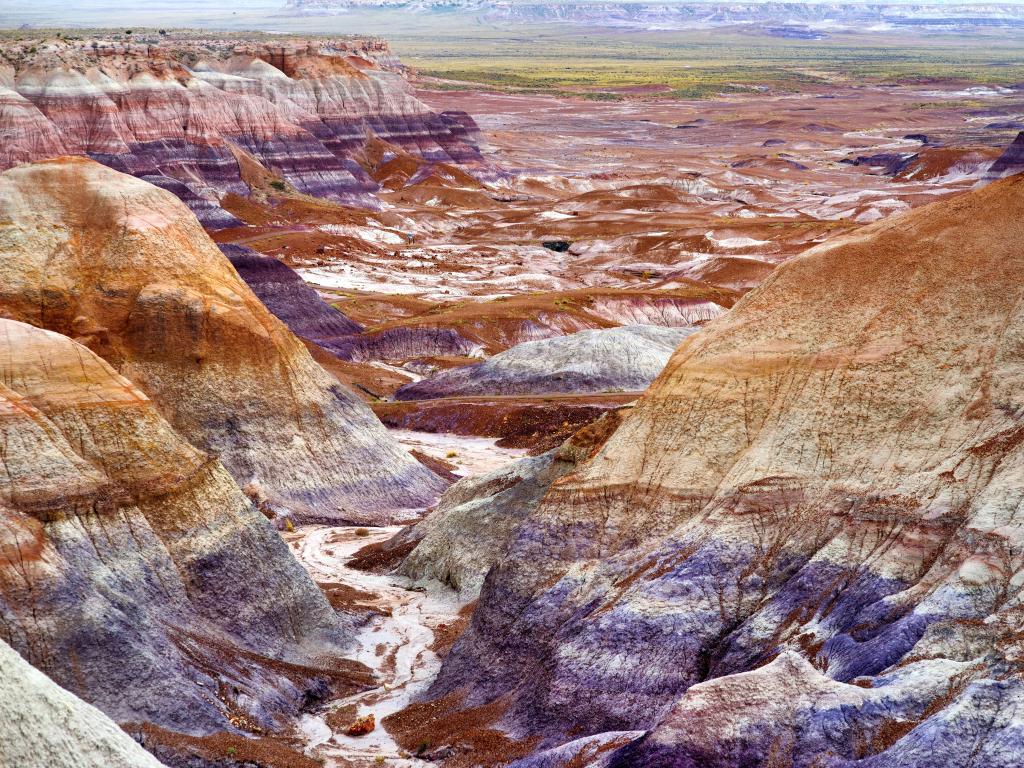 Best time to go on a road trip from Las Vegas to New York
While you can enjoy time in New York all year round (if you don't mind high summer temperatures or snowy winters), the routes to get here are so varied that you'll have a really different experience depending on when you travel.
While summer is often a popular time to embark on a road trip, you'll find there is quite a range of temperatures in both the Southern and Northern Routes. For example, while Denver can reach highs of 80 to 90 degrees Fahrenheit, Illinois can experience uncomfortable humidity.
In contrast, the Southern Route will experience very warm weather through Arizona, New Mexico and Texas with temperatures in Albuquerque in the 90s from June to August.
Given the huge range in temperatures in the summer months on both routes, and the fact that summer in New York can be extremely busy with tourists and the weather can get humid and uncomfortable, you may want to avoid travelling during these peak months.
Both routes will experience some snow and ice during the winter months, including Denver, Chicago and Cleveland. Brace yourself for a winter trip to Chicago, for example, where temperatures dip as low as 40 degrees Fahrenheit
Similarly, the Southern Route will experience cold weather, with the road through Flagstaff notorious for icy conditions in the winter and snowy conditions likely if you detour into the Appalachians.
For a more comfortable drive, a better option would be to travel in either spring or fall. Earlier in the year will present changeable weather but the cooler temperatures make this a comfortable time to travel and you'll be able to catch wildflowers bursting back into life.
Similarly, the fall will bring both routes bursting with color, especially if you detour into the Blue Ridge Mountains on the Southern Route. Temperatures will also remain mild into October, with the southern route staying warmer for longer.
Finally, if you're up for catching a festival or two, why not plan your trip around the St Patrick's Day Parade in New York, or the famous New York Marathon in November? Just make sure you plan ahead with hotel bookings as these events will see the city crowds return.