Road trip from Las Vegas to Salt Lake City
Any epic journey through Utah should be done by car to soak up the views, and the road trip from Las Vegas to Salt Lake City is no exception. Driving this beautiful route will take you through stunning National Parks, jaw-dropping deserts, lush forests, and sky-piercing mountains.
The 420-mile road trip from Las Vegas to Salt Lake City takes 6 hours. Be sure to visit Zion and Bryce Canyon National Parks, explore Dixie and Fishlake National Forests, or go off-road to Grand Canyon and Grand Staircase-Escalante.
Read on for the ultimate Utah experience with places to stop, things to see and do along the way.
How far is Salt Lake City from Las Vegas and how long will the road trip take?
Getting from Las Vegas to Salt Lake City takes around 6 hours minus breaks, and it involves a 420-mile drive along the Great Basin of Utah.
While this means you can make the drive in a single afternoon and still get to do something in Salt Lake City at night, that would defeat the purpose of going there at all – if it was just about Salt Lake, you could very easily catch a plane from Vegas at a negligible price.
Instead, try to take at least a week to explore everything Utah has to offer in as much detail as possible – you never have stray from the freeway unless you're interested in any of the (admittedly compelling) detours, so you can expect a smooth ride despite the varied terrain.
Another thing that's great about this route is that traffic is relatively light, even as you approach Salt Lake City – coming in from the south, you can expect to dodge much of the congestion of the state routes that cut through the city from the north and east.
Best road trip route from Las Vegas to Salt Lake City
The best road trip route from Las Vegas to Salt Lake City is an obvious one – sticking to Interstate 15 the entire way, you can get to Salt Lake City reasonably quickly or make countless scenic stops along the way if you so choose.
Road trip route from Las Vegas to Salt Lake City
Take Interstate 15 out of Las Vegas, following it along Lake Mead, Valley of Fire, and Grand Canyon-Parashant National Monument, briefly entering northwestern Arizona. Once in Utah, go through St. George.
This is a key part of the drive - once you're here, you can choose to deviate from the route and visit the Grand Canyon or continue your way north past Zion National Park, as well as Dixie, Fishlake, and Manti-La Sal National Forests.
Before reaching Provo and Utah Lake, you'll begin to see Utah's dramatic mountain peaks closing in on you from both sides. Forty minutes past Orem, you'll arrive in Salt Lake City, with the Great Salt Lake and Uinta-Wasatch-Cache National Forest on your left and right, respectively.
Best places to stop between Las Vegas and Salt Lake City
Although none of the cities on the road trip from Las Vegas to Salt Lake City are as large as your starting and ending points, the abundance of natural wonders and attractions means there are plenty of places to stop along the way. These are some of the hotels you should definitely consider booking:
Marvel at your surroundings at St George
Surrounded by breathtaking parks and desert rock formations, St George is an obligatory stop during your trip. To experience some of the most scenic stretches of the Mojave Desert, book yourself a room in the Red Mountain Resort.
This amazing hotel features spacious rooms with a fireplace and a beautiful window view, not to mention a spectacular outdoor swimming pool. Also, you can enjoy 3 mouthwatering meals a day at Canyon Breeze Restaurant.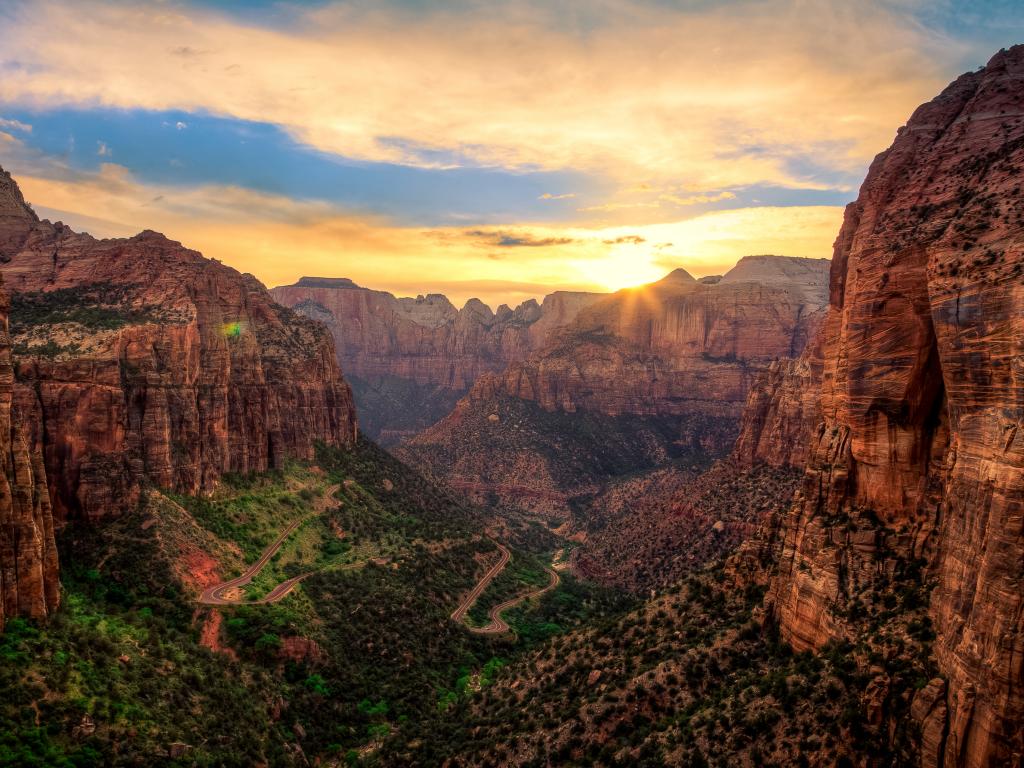 The hotel features a spa and wellness center, where you can relax with a massage, or you can enjoy a tranquil afternoon with yoga classes. Better yet, go outside and explore the beautiful property, shrouded in green and accentuated by gorgeous red rocks off in the distance.
This hotel is very cheap, especially when you consider what you're getting for the price. Located close to Red Cliffs National Conservation Area, Zion National Park, and Dixie National Forest, this is the best base of operations you can hope to find along this route.
Enjoy the nightlife at Salt Lake City
You can find some incredible hotel deals in Salt Lake, especially if you visit during what passes as an "out-of-season" period. If you want to stay in one of the most impressive buildings in the city, pay a visit to Grand America Hotel.
With a lobby to die for and rooms that feature some of the best views of Salt Lake, you'd be hard-pressed to find a more alluring hotel. After exploring the city, you can walk around the hotel premises and take in the beautiful greenery around the fountain.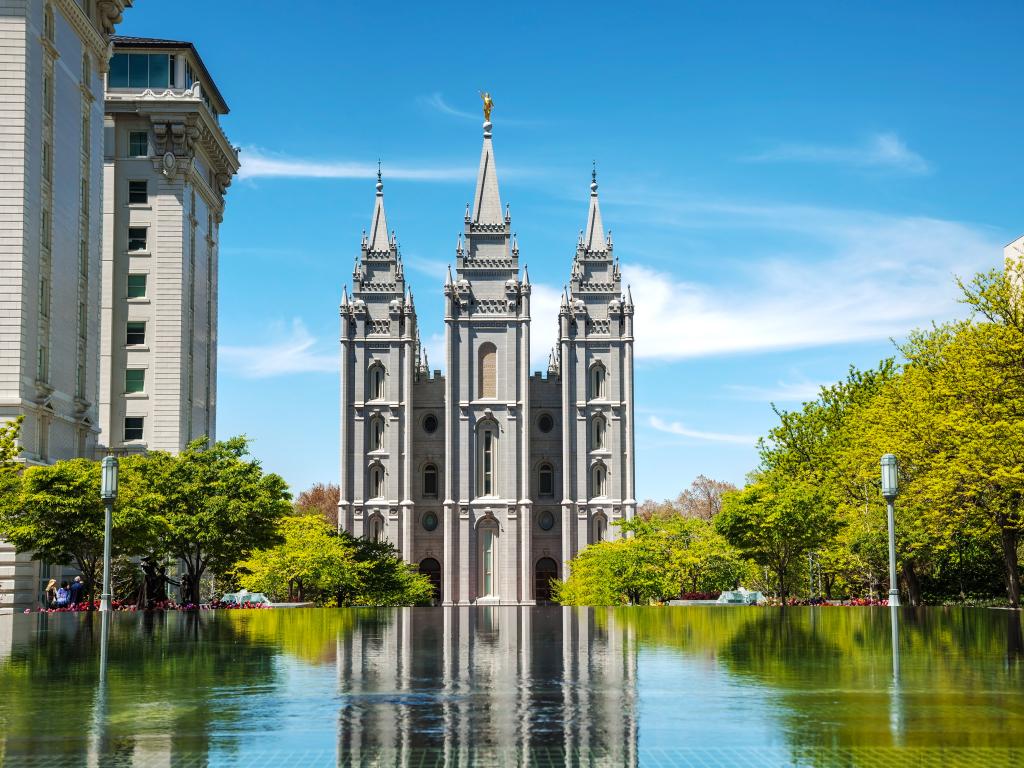 The hotel also features an indoor and outdoor swimming pool to beat the heat, as well as a hot tub to rest your bones. For an additional fee, you can enjoy a relaxing massage at the spa and wellness center, or run to the fitness area for a proper workout.
The price of this hotel is very generous – even if it weren't for all the amazing amenities, its central location in Salt Lake City alone would make it more than worth its price tag.
Things to see on a road trip from Las Vegas to Salt Lake City
For the most part, this itinerary is a glossary of the most scenic spots in all of Utah. Although there are plenty of hidden gems along the way, these are some of the more obvious landmarks that you'll want to devote a couple of weeks to if you can:
Lake Mead National Recreation Area –The States' largest reservoir features the incredible Hoover Dam and is a great spot for recreational activities.
Valley of Fire State Park – Characterized by beautiful sandstone formations, this park constantly looks like it's on fire during sunrise.
Grand Canyon-Parashant National Monument – A remote segment of the Grand Canyon featuring no conventional roads and dramatic changes in elevation.
Red Cliffs National Conservation Area – Home to extremely unique geological formations, this area is living proof of just how scenic a desert can actually be.
Snow Canyon State Park – Home to several dozen scenic campsites, this park gets its name from Snow Canyon, a formation made of Navajo Sandstone.
Zion National Park – Featuring every terrain type under the sun and the impossibly scenic Zion Canyon, this park is an obligatory stop for anyone passing through Utah. If you'd like to hike up to Angels Landing, you will need a permit and will need to make a reservation. Check the Zion National Park's website for more details.
Bryce Canyon National Park – The incredibly unique rock formations at this park create so-called "natural amphitheaters", and anyone visiting Zion is encouraged to continue to Bryce.
Grand Staircase - Escalante National Monument – The park is named for the Escalante River and the innumerable cliffs and canyons that get progressively taller and taller, almost like a natural staircase.
Grand Canyon National Park – Although it's a bit of a detour along this particular route, one can very easily justify the visit thanks to the park's unparalleled beauty.
Utah Forest Stretch – A chain of beautiful, green forests that will bring color to your trip almost the entire way to Salt Lake City.
Provo and Orem – Some of the largest cities along this itinerary, these places contain some beautiful exhibits, resorts, and mountain views from practically all sides.
Uinta-Wasatch-Cache National Forest – Shared by Utah, Idaho, and Wyoming, this forest features beautiful lakes, amazing greenery, and mountain landscapes that are impressive even for Utah standards.
Great Salt Lake – The Western Hemisphere's largest saline lake is a must-see for anyone visiting its namesake city (be sure to check out Antelope Island State Park!).
Ashley National Forest – A gigantic forest spanning 3 states that features amazing lakes, foliage, and the tallest peak in all of Utah.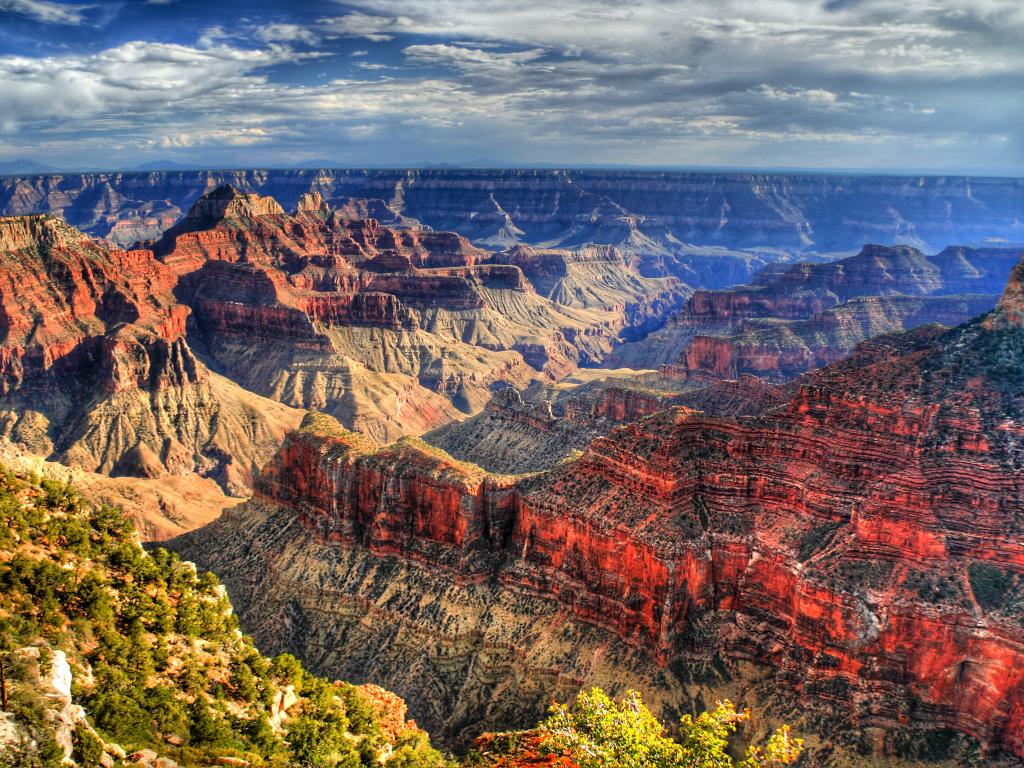 Best time to go on a road trip from Las Vegas to Salt Lake City
There are several great windows of time for doing a road trip from Las Vegas to Salt Lake City – with so much to do in the city and on the drive there, you can make a strong case for any season being a good time to do the trip.
Whatever the time of year, Salt Lake City has plenty of events worth your time – with festivities like the Utah State Fair, the annual Greek Festival, and the iconic Sundance Film Festival, the city is bound to keep you fulfilled and entertained.
If you're not a fan of 90-degree temperatures, you might want to avoid this trip in July or August. Still, it has to be said that the route is impossibly scenic in the summer, and access to all the parks and forests is as open as it gets.
A great time to visit Salt Lake City is winter - the mountainous terrain in and around the city makes it a popular skiing spot this time of year, which makes it a great time to visit.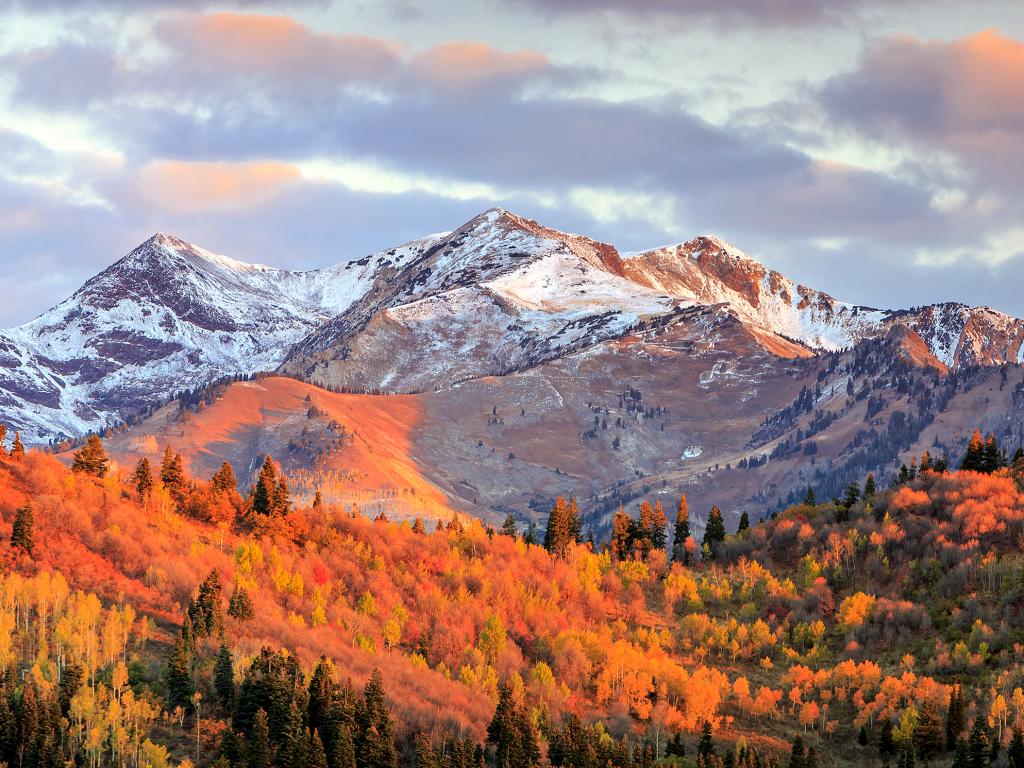 The lower-altitude parts of town aren't quite as cold, so you'll be able to walk around without much of a problem. The issue here is with the drive – you'll only be able to access fractions of the scenic routes and vistas on your way there.
An amazing grace period for the trip is also September/October. It's a little too early for the skiers to start pouring in this time of year, and chances are you can get a great deal on a hotel room to boot.
Finally, spring is a little trickier since it tends to rain a fair bit, especially in March, but the city looks amazing covered in a spring palette.