Road Trip from Las Vegas to Sedona
If you're looking for a city break, an escape to Arizona, dotted with gorgeous scenery, is just what you need. This short but action-packed road trip from Las Vegas to Sedona is full of adventure – and is also a mental, emotional, and spiritual reset that we all need sometimes.
The 390-mile road trip from Las Vegas to Sedona will take just under 8 hours to drive nonstop. The notable stops are the Hoover Dam, Lake Mead, Grand Canyon, Peach Springs, Flagstaff, Prescott, Zion National Park, Red Rock State Park and Route 66.
For nature lovers, this Red Rock Country trip is a dream of desert and mountains. There's something for everyone, as you'll discover when you visit the beautiful, vibrant towns along the way. Buckle up and read on to learn more about this exciting road trip.
How far is Sedona from Las Vegas, and how long will the road trip take?
Comparison of road trip routes between Las Vegas and Sedona

| Route | Distance | Driving Time |
| --- | --- | --- |
| The Prescott Valley Route | 390 miles | 7 hours 50 minutes |
| The Grand Canyon Route | 550 miles | 10 hours 40 minutes |
The Prescott Valley Route is the most direct one out of the two best driving options and takes about 7 hours and 50 minutes, covering about 390 miles. This doesn't account for any stops you may want to make on the way.
The Grand Canyon Route covers 550 miles, with a drive time of about 10 hours and 40 minutes. It's an indirect path with stops at national parks that adds about 3 hours to the trip.
Both routes pass through awe-inspiring scenery, with chances to check out charming cities. We suggest putting aside at least three to five days for this drive.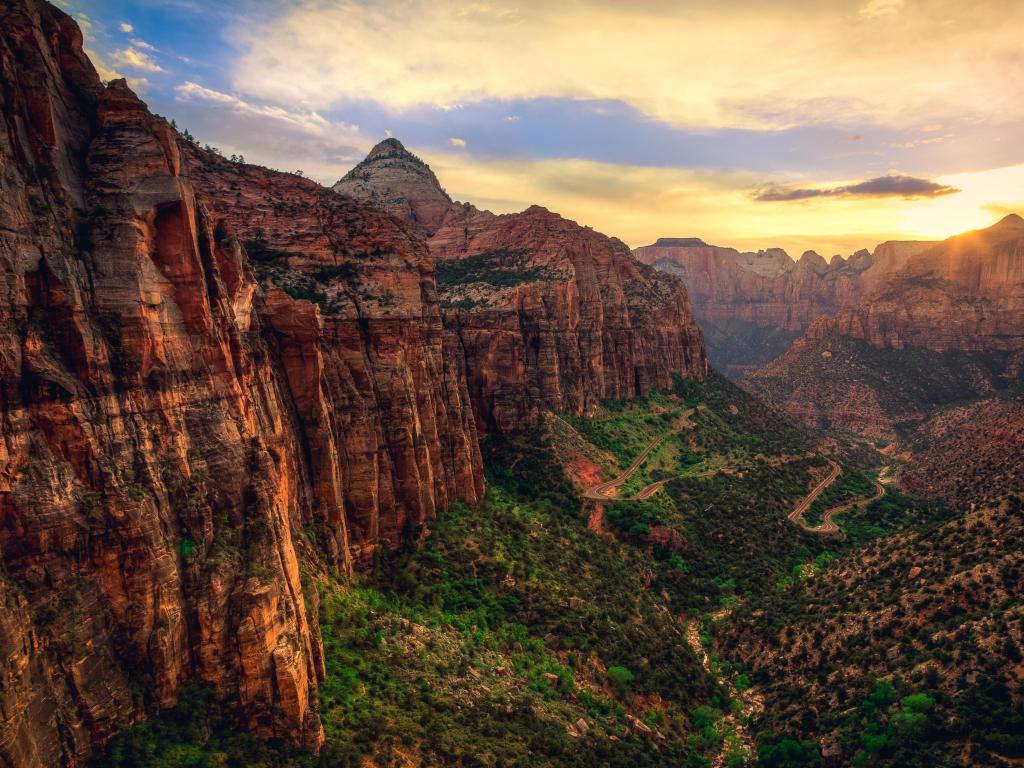 Best road trip route from Las Vegas to Sedona
Driving from Las Vegas to Sedona will mean witnessing a geological wonderland. It's a treat for outdoor lovers who get to see and explore some of the most beautiful landscapes in the American West, no matter which route you choose.
On the Prescott Valley Route, you will drive through historic Route 66 before getting to Arizona. There's a reason it's so iconic: miles of beautiful desert with quaint towns and quirky attractions. Stop at the Hoover Dam before leaving Nevada.
From here, explore historic counties like Peach Springs and Cottonwood in Arizona. The Red Rock State Park is a highlight, with striking rock formations surrounded by cacti, meadows, and lakes.
The Grand Canyon Route is an outdoor retreat. Visit key state parks like Valley of Fire, Zion National Park, the Grand Canyon, Kaibab National Forest, and Slide Rock. You will drive through dramatic rock country before getting to mountainous pine forests. There is a smattering of charming small towns to see.
If you want a more direct drive and want to explore small-town Arizona, try the Prescott Valley Route. Nature lovers looking for a hiking holiday will enjoy the Grand Canyon Route.
How to drive from Las Vegas to Sedona
The map above shows our suggestions for the best road trip routes between Las Vegas and Sedona. Keep reading for detailed descriptions of both routes, where to stay on either, and the best things to do on the way.
The Prescott Valley Route
From Las Vegas, get on Interstate 515 (I-515) S and stop at the Hoover Dam, an iconic example of American architecture with stunning views.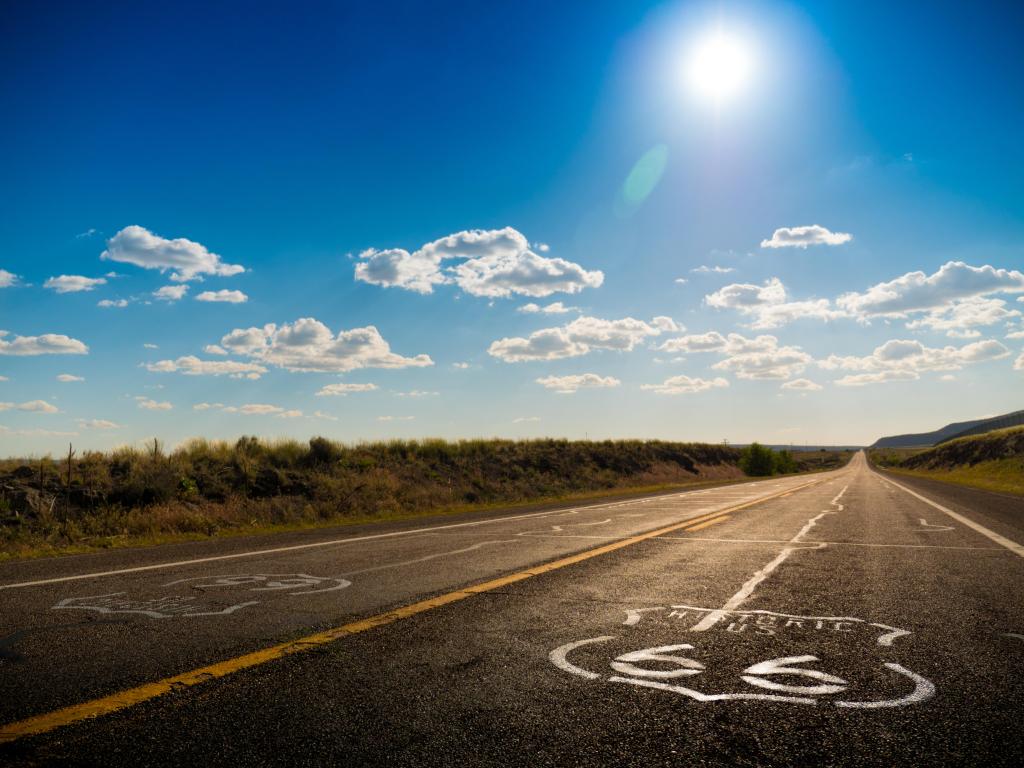 From here, get onto US-93 towards Kingman, Arizona. This city is your entry into historic Route 66 and has a neat little museum celebrating its history.
Head onto Route 66 when ready and enjoy the beautiful stretch of road to Peach Springs. Explore and enjoy before hitting Route 66 again. Make a detour to Prescott Frontier Days, a rodeo, and enjoy a show or two.
Otherwise, head on over to Prescott City and stay overnight. There's a lovely mix of history, culture, and nature, so explore the museums and lakes here.
Soak in the views, then follow the AZ-89A S to Jerome. This mountain city has a charming art scene with galleries. The Jerome State Historic Park is next to the city and has stunning views of the Verde Valley.
Once ready, make your way to Cottonwood on the AZ-89A N. Surrounded by red rocks and mountains, this is the heart of Arizona wine country. Visit the local vineyards and sample the wine here.
Get on AZ-89A towards Red Rock State Park. Enjoy hiking or mountain biking in the spectacular natural beauty of this area. When ready, head onto the AZ-89A N to your final stop, Sedona.
The Grand Canyon Route
Get on I-515 N from Las Vegas and head to your first stop, Valley of State Fire Park. This gorgeous mountainous area is renowned for its acres of bright red Aztec sandstone.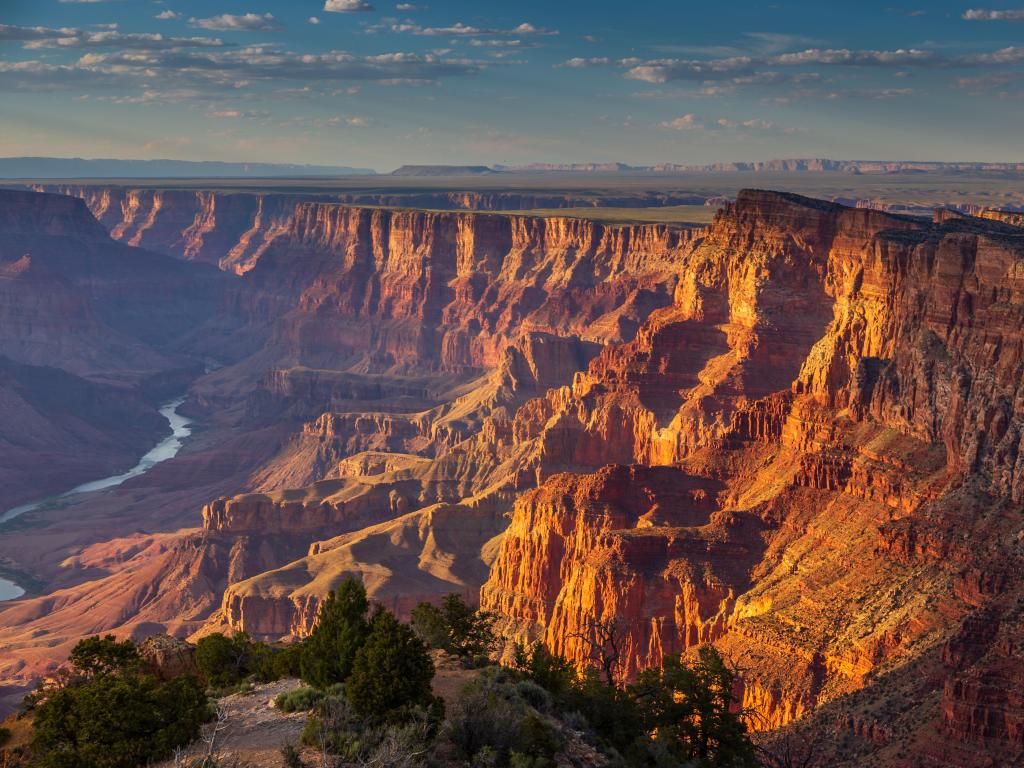 Follow I-15 N into Utah, pausing at St. George. It's a gateway to major state parks - Zion National Park is about an hour away. It's hard to describe the breathtaking views at this national landmark, so head there to see it for yourself.
When ready, head to Page, Arizona, on US-89 S. Stay here overnight and explore. The beautiful Lake Powell and Glen Canyon National Recreation Area are nearby. Make a detour to see the stunning Vermillion Cliffs and Monument Valley.
From here, head to Grand Canyon Village by following US-89 S. A natural wonder of the world, this UNESCO World Heritage Site is a region of deep valleys and mountains that stretch out into the horizon. The Kaibab National Forest is next door and is a beautiful, lush oasis in the middle of the desert.
Take lots of pictures and hit the road to Flagstaff on the AZ-64 S. This mountain town is a cool reprieve from the heat of the desert and is as picturesque as a postcard.
Enjoy the warm hospitality and sites, then head to Slide Rock State Park on AZ-89A S. It's an underrated natural recreation spot with scenic hiking and walking trails and beautiful viewpoints. Breathe in the fresh air before heading to your final stop, Sedona, on AZ-89A S.
Best places to stop between Las Vegas to Sedona
America's wild west is enthralling and beautiful. The diverse natural landscapes and open roads are so inviting that you may make more detours to enjoy this retreat into nature.
Here are some great overnight stop recommendations to keep you fresh for the drive.
Experience the tranquility of Prescott
About 280 miles into the Prescott Valley Route, stopover in beautiful Prescott, Arizona. This area is much cooler than the desert and is surrounded by lush ponderosa pine forests, making every season as distinct as the last.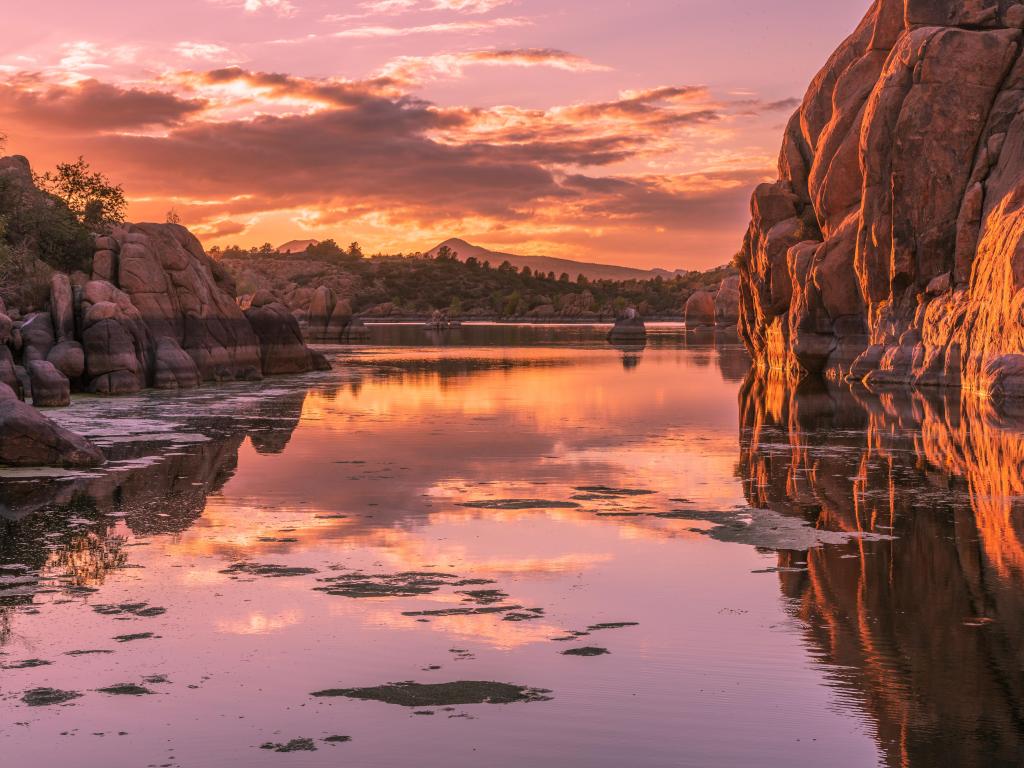 Start your exploration at Watson Lake. There are rugged mountains and cool streams for hiking, canoeing, and kayaking.
Prescott itself has a fascinating history, so learn more about it at the Phippen Museum and the Museum of Indigenous People. The Sharlot Hall Museum celebrates the life and work of the prominent American journalist.
The delightful Whiskey Row has a lively nightlife with old-fashioned saloons and restaurants. Make a detour to Prescott Frontier Days to catch a rodeo show.
Prescott has some great hotels, and we suggest staying at the Hilton Garden Inn Prescott. There is free parking for guests, and the hotel is in a central location.
The rooms are contemporary, with lovely views of the grounds and city. It's in a quiet area, so you can rest well and enjoy meals at the onsite restaurant and bar. There's a refreshing outdoor pool area, open year-round.
The Hilton Garden Inn is less than a mile from Whiskey Row, Sharlot Hall Museum, and the Museum of Indigenous People. Watson Lake and Phippen Museum are both short drives from the property.
Discover the paradise that is Page
In Southern Arizona, take a break to recharge in Page. It's just over halfway on the Grand Canyon Route and is a gateway to the southwest's national parks.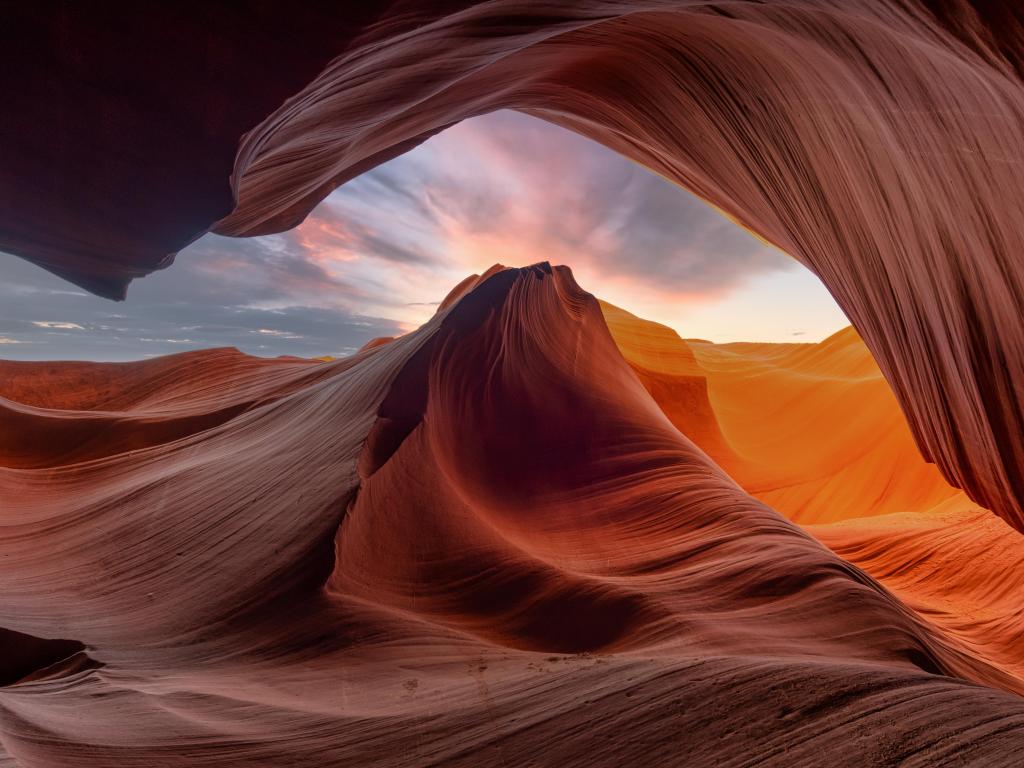 Page may be a base camp city, but it has its own natural attractions. The magnificent Lake Powell is here and is a beautiful oasis surrounded by striking rocks and mountains. Rent a boat or book a tour to explore.
Head to Horseshoe Bend, a large rock formation near the Colorado River. Antelope Canyon is another must-see natural site with a challenging hike lower down. The Waterholes Canyon requires a guide, so visit this breathtaking area to see the valleys go on for miles.
Page is popular with road trippers, and we suggest staying at Hyatt Place Page Lake Powell. This modern hotel has free parking and is central.
The rooms are comfortable and spacious, with beautiful views of the mountains on the horizon. Enjoy delicious meals at the onsite restaurant. Have a drink or two at the bar and watch the sunset from the outdoor terrace. The hotel has a fitness center and a seasonal outdoor swimming pool.
Hyatt Place is about a 10-minute drive from Horseshoe Bend, Antelope Canyon, and Waterhole Canyon. Lake Powell is about 14 minutes away from the hotel.
Where to stay when you reach Sedona
Sedona is a spiritual place for Native Americans, who regard the area as a healing space. When you get to this beautiful city, you will have a chance to experience that firsthand.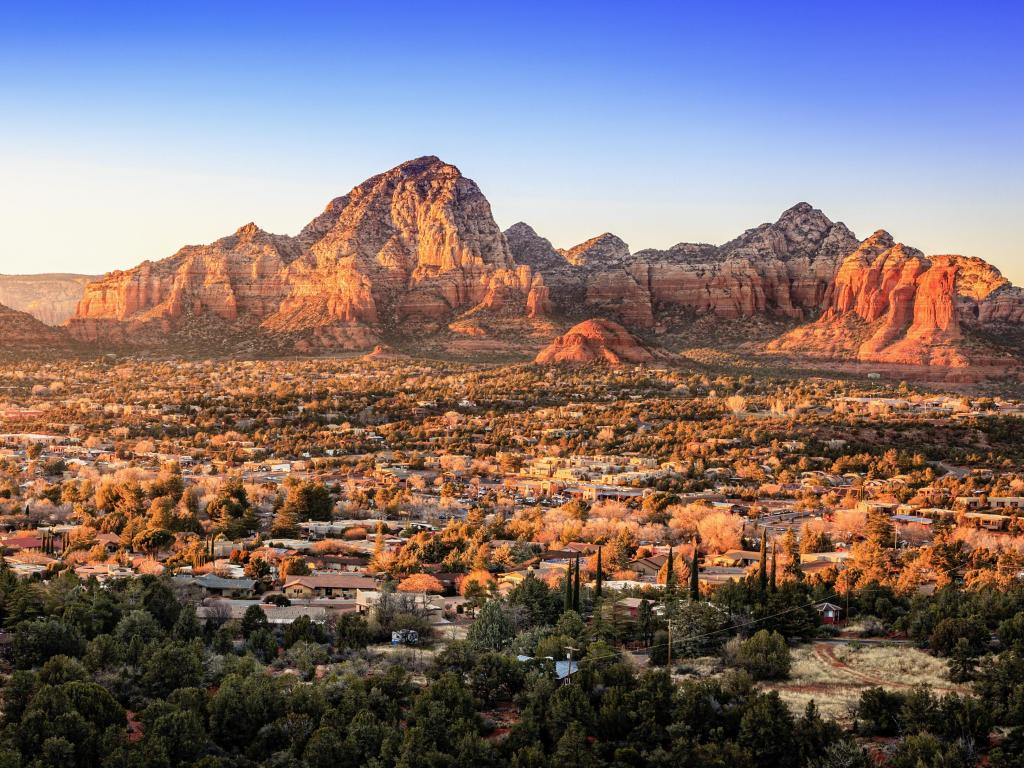 The views are breathtaking in Red Rock Country. Nestled in Verde Valley, there is so much natural beauty for visitors here. Get a guided tour of the Sedona Secret 7 – a set of trails only locals know about. Visit Thunder Mountain and enjoy the overlook from the cliffs.
Go hiking, backpacking, and trekking into the mountains. Sedona has a lovely art scene, so visit some galleries and enjoy the local cuisine at the city's dining spots.
As a popular destination for nature lovers, Sedona has some great hotels. We suggest staying at the Adobe Grand Villas. It's a rustic boutique hotel, centrally located, with free parking.
The rooms are unique, with stunning décor. Some rooms have private hot tubs – perfect for relaxing after a long drive. Enjoy fabulous views of the crimson mountains from your window. The hotel has a gourmet breakfast for guests, with private dinners at the onsite restaurant.
Slide Rock State Park is 20 minutes away from Adobe Grand Villas. Thunder Mountain is within walking distance.
Things to see on a road trip from Las Vegas to Sedona
A road trip from Las Vegas to Sedona is truly an escape into nature, with wild west countryside from Nevada to Arizona. As you climb the altitude, you'll find breathtaking views of the mountains, canyons, forests, and lakes.
This road trip is a great way to explore smaller towns across Nevada, Utah, and Arizona. Here's a list of unforgettable things to see and do on each route.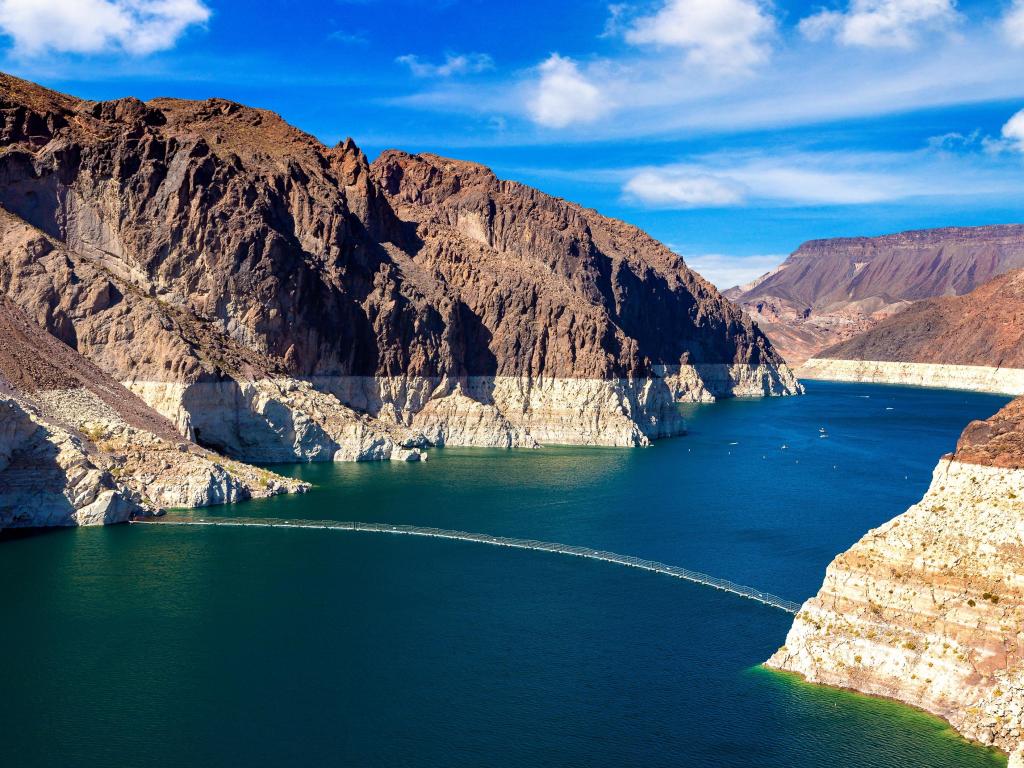 The Prescott Valley Route
Boulder City, Nevada –This city is known for its outdoor activities and vibrant downtown district, offering visitors the best of both worlds.
Hoover Dam, Nevada – Visit the 726-foot engineering marvel and learn more about its historical significance at the museum.
Kingman, Arizona – This little town is the entry to Route 66. Visit the Historic Route 66 Museum to learn more about the Mother Road.
Historic Route 66, Arizona – The Prescott Valley Route goes along Route 66. See if you can spot the quirky general stores, vintage gas stations and iconic signs on the way.
Ash Fork, Arizona – This small town has a lot of history, so visit the Ash Fork Historical Society to learn more about it. Check out the Zettlers Market and get some souvenirs.
Jerome, Arizona – Known as "The Wickedest Town in the West", this mountain community has art galleries and historical landmarks. Go wine tasting on the Verde Valley Wine Trail.
Cottonwood, Arizona – A quaint town full of old southwestern charm. There are antique shops to explore and local wineries to visit here.
Red Rock State Park, Arizona – The famous red rocks of Arizona are a stunning sight, and some trails take you up close to them.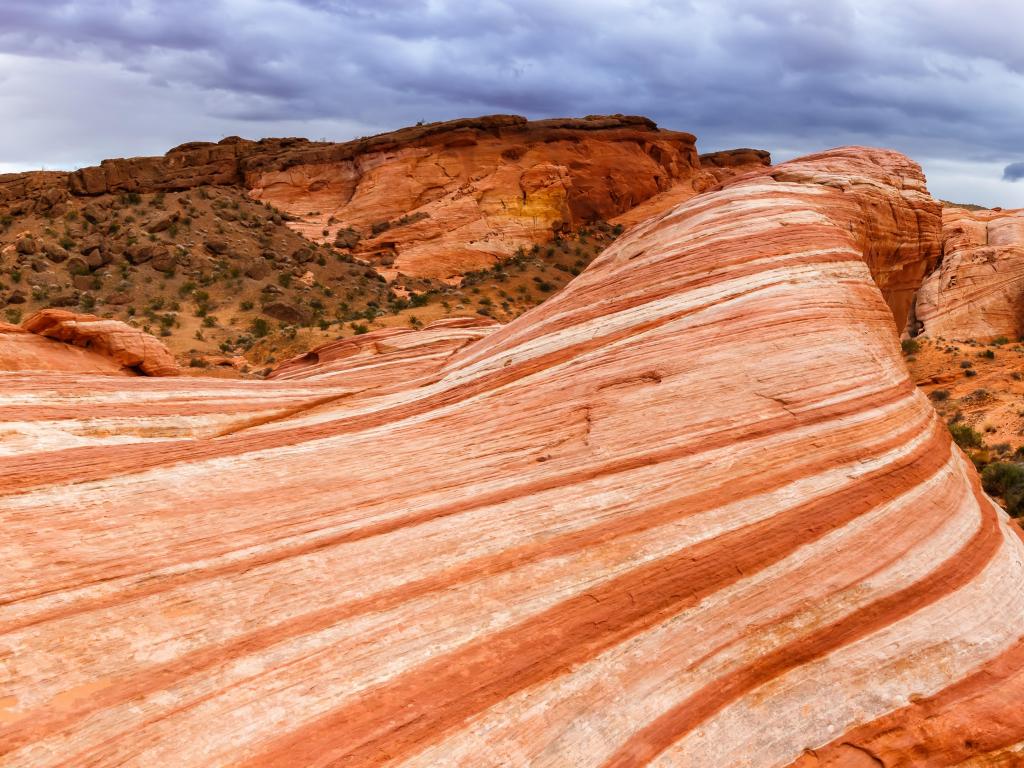 The Grand Canyon Route
Valley of Fire State Park, Nevada – This beautiful area is home to 2000-year-old petroglyphs carved into red sandstone. It's a popular hiking, camping, and picnicking spot.
St. George, Utah – Make a quick stop to enjoy this scenic town. Go hiking in Snow Canyon State Park or stroll in Pioneer Park.
Zion National Park, Utah – Adrenaline junkies love this national park, and it's a popular spot for canyoneering and climbing. There are also hikes with different difficulty levels.
Lone Rock Beach, Utah – A waterside retreat, these sandy beaches are the perfect place to swim, relax, and tan.
Little Colorado River Gorge Overlook, Arizona – A hidden gem along the famous river, be sure to stop here for stunning views of the valley without the usual crowds.
Grandview Point, Arizona – Located near the Grand Canyon, this hideaway gives travelers unique views of the natural wonder.
Grand Canyon, Arizona – Head to the South Rim to enter this UNESCO World Heritage Site. Prepare to be awestruck by the canyonlands.
Kaibab National Forest, Arizona – Filled with juniper and pine trees, this dense forest feels like a lovely escape into the tranquility of nature.
Flagstaff, Arizona – This small mountain town has a lovely mix of urban and natural attractions. Explore the city and take a trip to Walnut Canyon.
Slide Rock State Park, Arizona – The stunning rock formations are just the tip of the iceberg in this gorgeous region, where you can cool off in the natural water slide.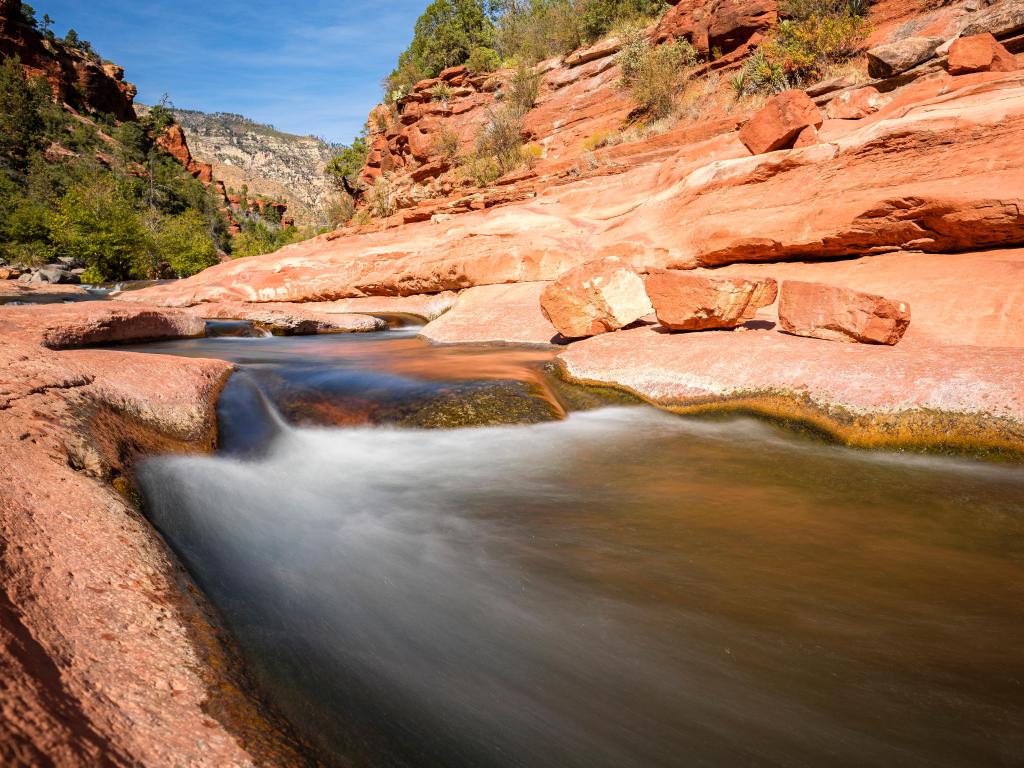 Best time to go on a road trip from Las Vegas to Sedona
A trip from Las Vegas to Sedona is doable year-round, as the weather is warmer on this side of the States.
Summers are hot, with temperatures exceeding 90 degrees Fahrenheit – especially around the Grand Canyon region. Monsoon season is between late June and August, so prepare for wet weather. Summer can get busy, so expect crowds and higher rates at state parks and attractions.
Winters are colder from November to February. Temperatures average between 30-60 degrees Fahrenheit during these months. There is some light snowfall. Winter is not a peak time for visitors, with fewer crowds and better rates.
Spring and fall are the most popular times to visit. March, April, and May have pleasant temperatures, between 50-70 degrees Fahrenheit, going up to 80 degrees in May.
Fall has temperatures between 60-70 degrees. September is warm, with temperatures of about 85 degrees Fahrenheit. Expect crowds in spring and fall, especially in warmer weather. Rates may be higher around this time.
Sedona has a variety of events throughout the year.
The Sedona Marathon takes place in February. The Sedona International Film Festival runs from the last week of February into the first week of March. Enjoy the St. Patrick's Day Parade around March 17th.
The Red Rocks Music Festival is in September, and the Sedona Arts Festival takes place in the first week of October. In early December, visitors can enjoy the Festival of Light.