Road Trip From Las Vegas To Yellowstone National Park
The landscapes of Las Vegas and Yellowstone could not be more different and a road trip from the desert to lush forests and mountains is the best way to see the views change as you drive north. You will embark on a cross-state drive along one of the most scenic chains of landmarks the States have to offer.
The 740-mile road trip from Las Vegas to Yellowstone National Park takes 10 hours 30 minutes. On the way, visit Zion, Bryce Canyon, and Grand Teton National Parks, explore Fishlake and Dixie National Forests, or take a detour to the Grand Canyon.
This route features some of the States' most epic inland attractions - you won't want to miss a thing, so read on to get a taste of what you can expect.
How far is Yellowstone National Park from Las Vegas and how long will the road trip take?
The road trip from Las Vegas to Yellowstone National Park clocks in at a hefty 10 hours and some change, and it covers around 740 miles.
Following Interstate 15 for much of the trip, you'll be driving along the edges of the Great Basin in Utah, the easternmost parts of Idaho, and a sliver of Montana before reaching the park, which is shared by Wyoming and the latter 2 states.
What this means for you is that you'll drive along a string of some of Utah's most scenic landscapes for over half of the trip. If you count the brief dip into Arizona and assuming you visit the Montana part of the park, the trip will take you through 6 states.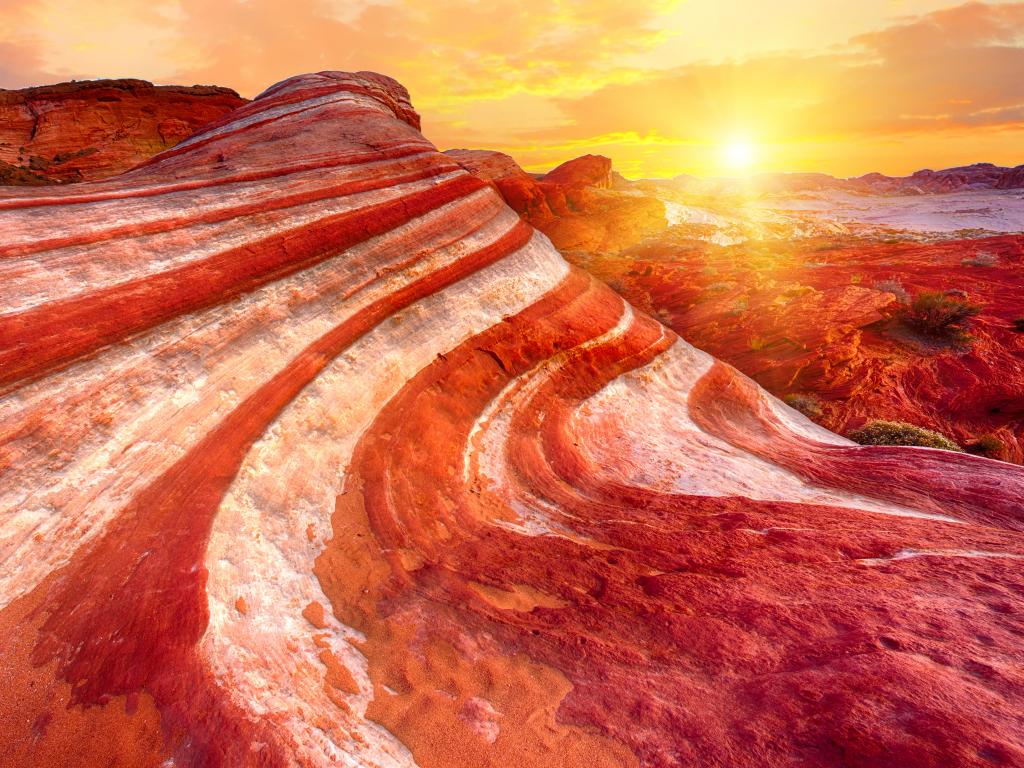 In theory, you could do the drive in a couple of days, but there are plenty of amazing landmarks that deserve your attention. Your best bet would be to pick a few cities and use them as checkpoints for lunch & hotel breaks before exploring the surrounding parks and forests.
Best road trip route from Las Vegas to Yellowstone National Park
The best road trip route from Las Vegas to Yellowstone follows the I-15 for most of the drive – besides the impossibly scenic parks and forests, the route incorporates key cities into your trip, making the drive both scenic and urban.
Road trip route from Las Vegas to Yellowstone National Park
Take I-15 out of Las Vegas, driving along Lake Mead and Grand Canyon-Parashant National Monument, then quickly pass through Littlefield in Arizona before reaching Utah.
From St. George, either detour to the North Rim, or continue north past Red Cliffs National Conservation Area, Zion National Park and Dixie, Fishlake, and Manti-La Sal National Forests.
In northern Utah, you'll pass through Salt Lake City, with the Great Salt Lake to your left and Uinta-Wasatch-Cache National Forest to your right. In Idaho, either detour to Twin Falls via Interstates 86 and 84 or continue to Idaho Falls.
From here, join U.S. Route 20 and follow it north past Caribou-Targhee National Forest and into Montana. Not long after passing Henrys Lake State Park, follow U.S. Route 191 from West Yellowstone to the Wyoming stretch of Yellowstone National Park.
Best places to stop between Las Vegas and Yellowstone National Park
What's great about this route is that there are plenty of great cities and hotels along the way, each swankier than the last. These are some of the very best hotels you can hope to book a room at:
Enjoy a magnificent stay in Salt Lake City
Salt Lake City makes perfect sense as an overnight stop, as it gives you heaps to explore and is near the very center of your route. Whenever you're not out and about exploring Liberty Park or checking out Temple Square, you can and should be relaxing at the Grand America Hotel.
The hotel features quaint, appealing rooms with some of the most impressive views Salt Lake City has to offer. You won't be spending much time here, though – even more impressive are the beautiful Lobby Lounge, the gorgeous outdoor area, and the two swimming pools.
Enjoy a meal at Garden Café, then hit the fitness center or sweat it off with a relaxing spa. Before you get back on the road, you can check out the on-site gift shop and buy something to remember Salt Lake City by – there really is nothing this hotel can't offer you.
Located in the very center of the city, the hotel also happens to be within walking distance of all the happenings in town. The best part is, it offers you all these amazing perks and amenities for a very generous price.
Explore the Grand Tetons in Jackson
As you head north past Salt Lake City into Idaho and Wyoming, you may want to check out the town of Jackson, home to some iconic ski resorts and located just north of Grand Teton National Park.
Unsurprisingly, this tourist magnet has plenty of amazing hotels and rentals, but none can match the all-inclusive services at The White Buffalo Club.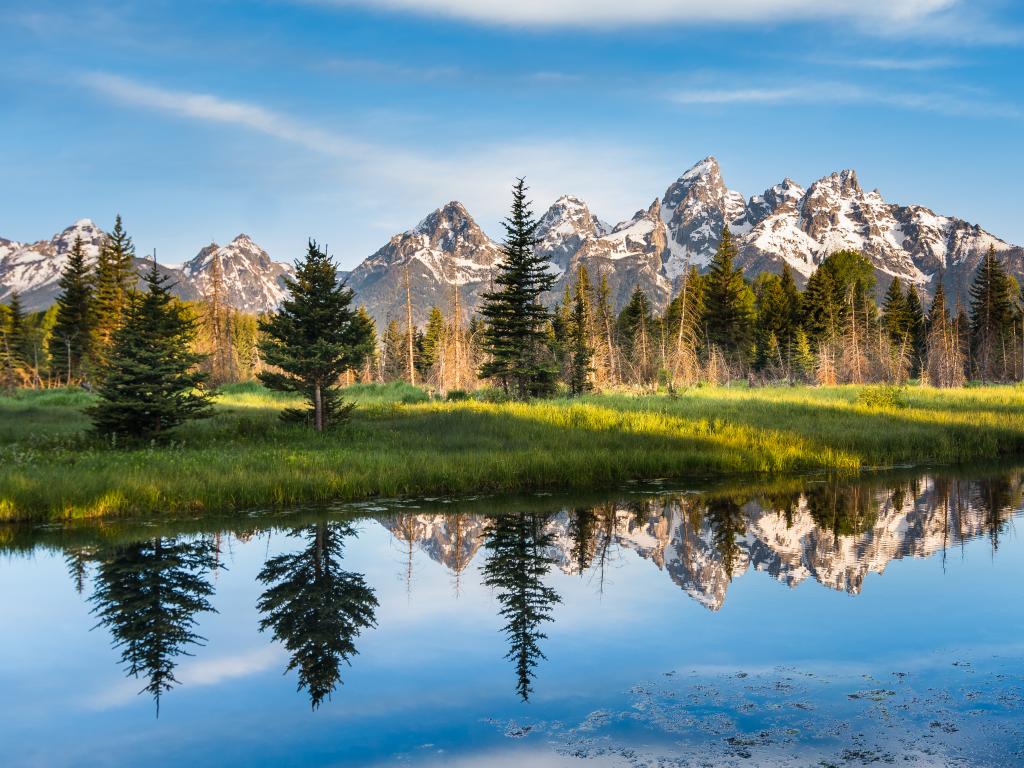 Besides the incredible on-site restaurant, the hotel boasts one of the finest spa centers in the Intermountain West, as well as a wine cellar with a slew of amazing selections to wash down a long day of exploration.
The interior design can't go unmentioned either, as the wooden finishes go a long way in making this place feel both luxurious and quaint at the same time. Not to mention, the bright and airy rooms will have you up nice and early to go sightseeing.
As amazing as this place is, you'll want to grab an on-site bicycle (free of charge!) to pedal down to Grand Teton and do some sightseeing. The location of the hotel couldn't be more convenient for checking out everything west Wyoming has to offer, and it's affordable to boot.
Things to see on a road trip from Las Vegas to Yellowstone National Park
Trying to list everything there is to see on a road trip from Las Vegas to Yellowstone National Park is next to impossible. With that said, you should do your best to take a few weeks and explore all of the following places as thoroughly as you can:
Lake Mead National Recreation Area – The States' largest water reservoir is the perfect hub for water-based recreational activities, a rarity in both Nevada and Arizona
Valley of Fire State Park – This park is home to a slew of petroglyphs and sandstone formations that appear to be burning under harsh sunlight
Zion National Park – A breathtaking park that combines forests, rivers, gorgeous hiking trails, and the unforgettable Zion Canyon. If you'd like to hike up to Angels Landing, you will need a permit and will need to make a reservation. Check the Zion National Park's website for more details.
Bryce Canyon National Park – The park's standout feature is its gigantic complex of reddish hoodoos
Grand Staircase - Escalante National Monument – An extremely remote stretch of land that features dramatic canyons and even dinosaur fossils
Grand Canyon National Park (via North Rim) – The fact that this park is often considered one of the natural wonders of the world tells you everything you need to know. The North Rim is closed in winter, so check before you visit to avoid disappointment.
The Utah Forests – An incredibly scenic and long chain of forests, not to mention a drastic change in tone and color from Nevada's desert terrain
Uinta-Wasatch-Cache National Forest – One of the most scenic forests in all of Utah (and that's saying something), this is a very popular spot for camping and other outdoor activities
Salt Lake City – A city renowned for its vigor and diversity (and who can forget those amazing mountain backdrops?)
Twin Falls – A beautiful city on Snake River Canyon, and a great vantage point for exploring Shoshone Falls Park, Perrine Memorial Bridge, and Snake River Canyon Rim Trail
Craters of the Moon National Monument & Preserve – A string of volcanic eruptions have made this unique area resemble the surface of the moon
Idaho Falls – This gorgeous city features a variety of parks, museums, and scenic vistas along the Snake River
Caribou-Targhee National Forest – This gorgeous forest is the meeting point between Teton and Yellowstone and is perhaps best known for its beautiful caves
Grand Teton National Park – The Teton Range, beautiful greenery, and abundance of lakes make this park an obligatory visit for anyone traveling to Yellowstone National Park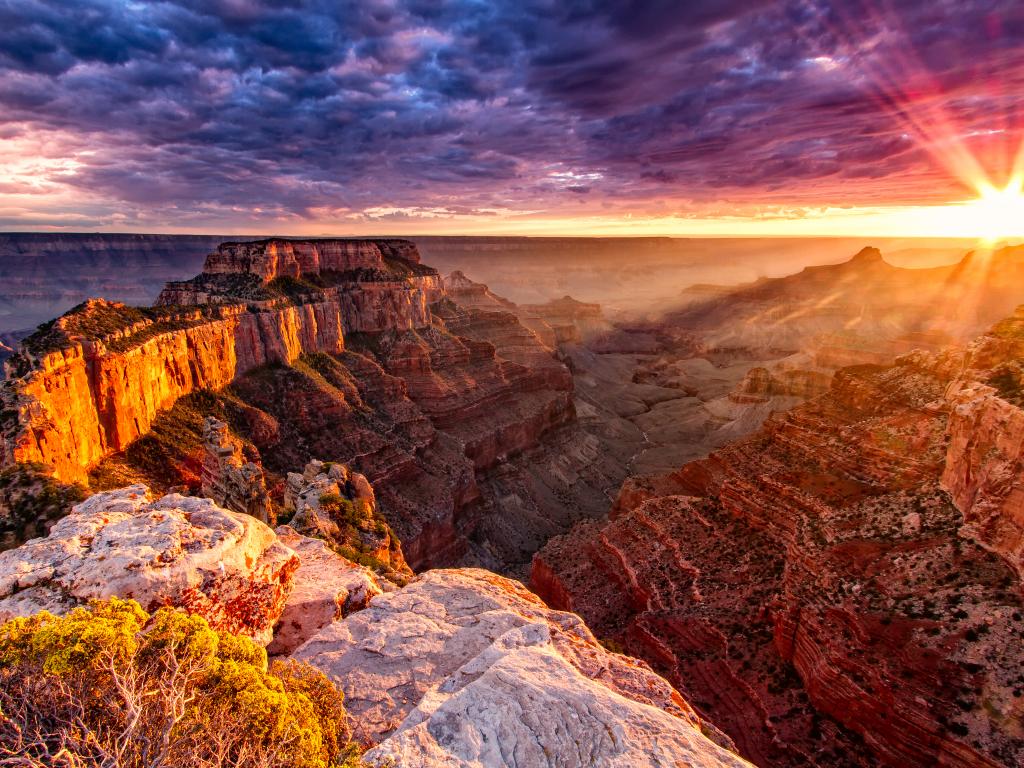 Best time to go on a road trip from Las Vegas to Yellowstone National Park
It can be a bit tricky to find the perfect time to do a road trip from Las Vegas to Yellowstone National Park. For starters, you won't want to miss out on the parks and forests, but you can expect certain sections to be closed off in the winter due to snow.
The same can be said of Yellowstone itself – on top of the below-freezing temperatures, plenty of sections are inaccessible in the winter. If you're set on seeing a different side of the park, though, you can stay in West Yellowstone and explore with a snow vehicle.
Yellowstone attracts massive crowds every summer, making it the park's peak visitor season. Although temperatures are generally a perfect 70 to 75 degrees, you should steer clear if you don't like noise, as most of the 3 million annual visitors come in the summer.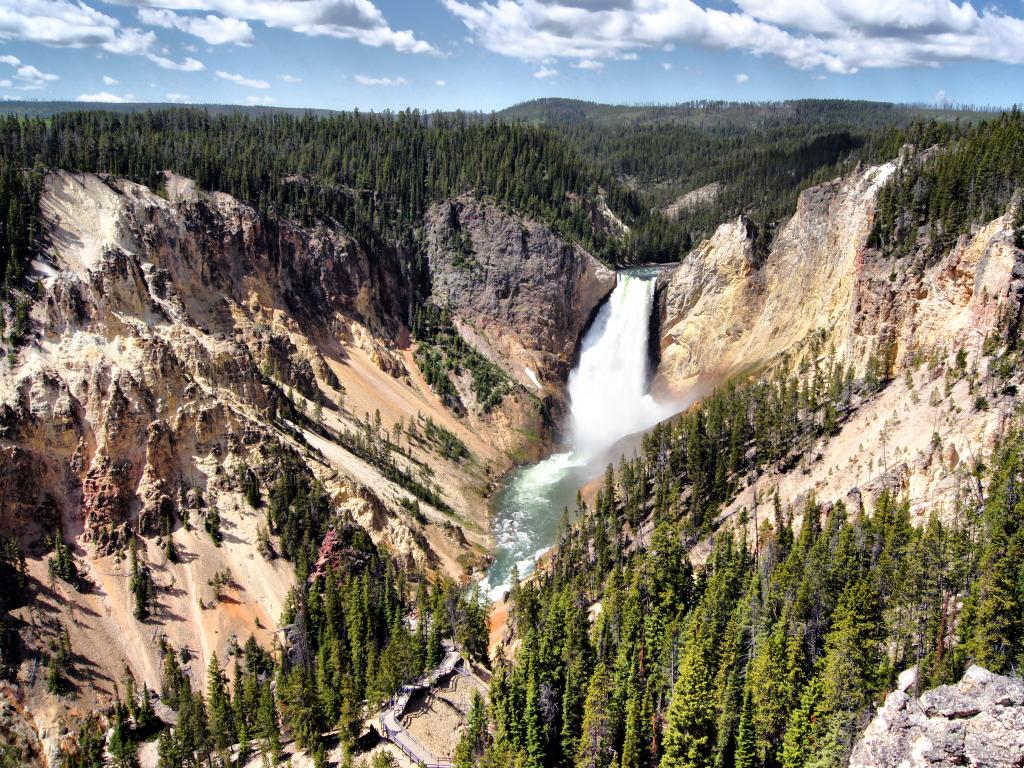 Ultimately, the best time to visit Yellowstone would be spring or fall, with fall being the safer option. Due to the elevation, you can expect a lot of winter-esque weather in early-to-mid spring.
September, on the other hand, offers temperatures comparable to those in June, and you'll have a lot of time in the park before the resorts start closing down in mid-October.
Fall is also a great time to enjoy the countless attractions the route has to offer. For instance, Grand Canyon's temperatures are much more tolerable this time of year, and the forests' fall palette is out of this world.