Road Trip from Las Vegas to Zion National Park
This epic road trip from Las Vegas to Zion National Park might be one of our shorter adventures but it's packed with unforgettable scenery. Perfect for lovers of the outdoors, this trip offers excellent opportunities for hiking and for exploring some of the US West's most dramatic landscapes.
The 300-mile trip from Las Vegas to Zion National Park takes around 5 hours to drive. Highlights include the Valley of Fire State Park, Elephant Rock, Dixie National Forest, Hoover Dam, Bryce Canyon National Park and the Grand Canyon National Park.
To help you plan your travels, we've put together the best routes and main highlights, as well as offering our suggestions for a couple of great overnight stops. So, continue reading to leave the glitz of Las Vegas behind and head for the natural beauty of Zion National Park.
How far is Zion National Park from Las Vegas, and how long will the road trip take?
Comparison of road trip routes between Las Vegas and Zion National Park

| Route | Distance | Driving Time |
| --- | --- | --- |
| The Direct Route | 160 miles | 2 hours 40 minutes |
| The Forests and Parks Route | 300 miles | 5 hours 20 minutes |
| The Grand Canyon Route | 530 miles | 9 hours |
The shortest route for an amazing road trip with unforgettable sightseeing is our Forests and Parks Route. This covers 300 miles and has a drive-time of 5 hours and 20 minutes. The route takes you to the Valley of Fire and Red Cliffs National Conservation Area, among other highlights.
Alternatively, our Grand Canyon Route covers 530 miles and takes around 9 hours to drive. It includes a detour through Arizona, with a stop at the Grand Canyon.
All our routes could be driven within a single day. However, we recommend spending between three and five days enjoying the Forests and Parks Route or Grand Canyon Route. This is due to the number of places to walk, hike and discover en route to Zion National Park.
Of course, if you have the time, our routes can be combined to make the perfect round trip.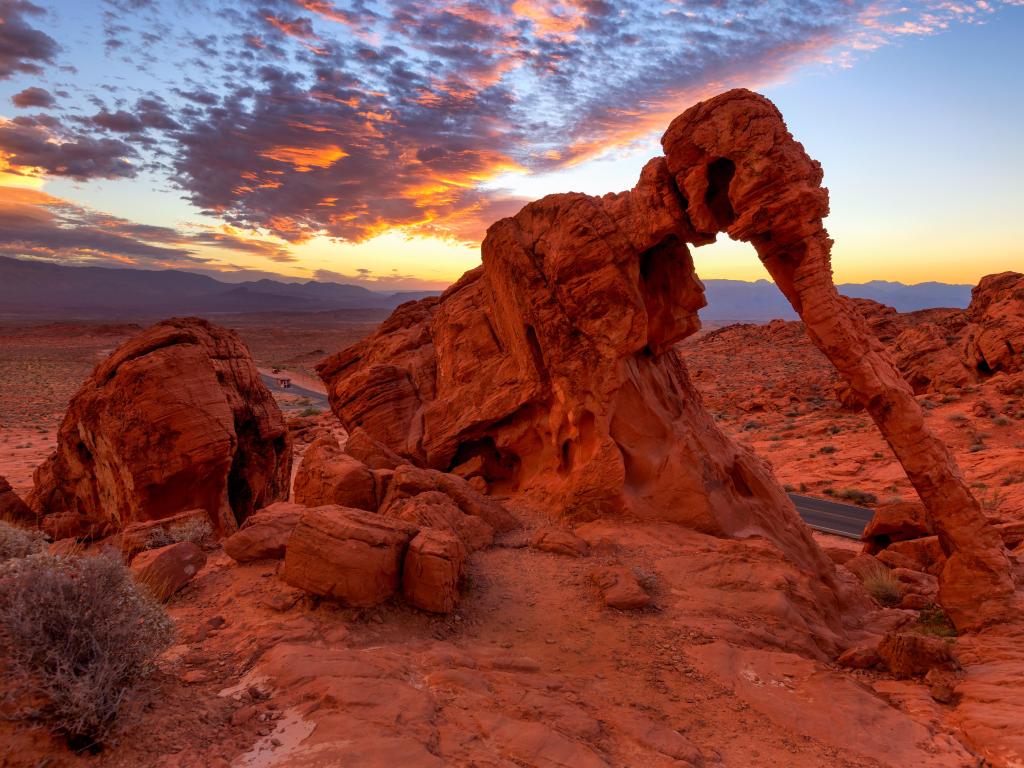 Best road trip route from Las Vegas to Zion National Park
Both our longer routes offer ample opportunities to enjoy a spectacular landscape encompassing lakes, canyons, deserts, rivers, forests and mountains. The main difference between the routes is length, so which one you choose will depend on how much time you can didicate to this epic road trip.
The shorter Forests and Parks Route comprises a lengthy stretch of interstate driving. However, it includes a drive through Valley of Fire State Park and a detour once you reach Utah into Dixie National Forest. There are stops along the way at the Red Mountains and Cedar Breaks National Monument.
Meanwhile, the Grand Canyon Route can certainly be described as the "scenic route", as it extends through Nevada and into Arizona before reaching Utah.
However, it's definitely worth the extra miles to see Lake Mead, the Hoover Dam, and the Grand Canyon. You can also enjoy stops at towns including Boulder City and Kingman.
If you'd like to hike up to Angels Landing, you will need a permit and will need to make a reservation. Check the Zion National Park's website for more details.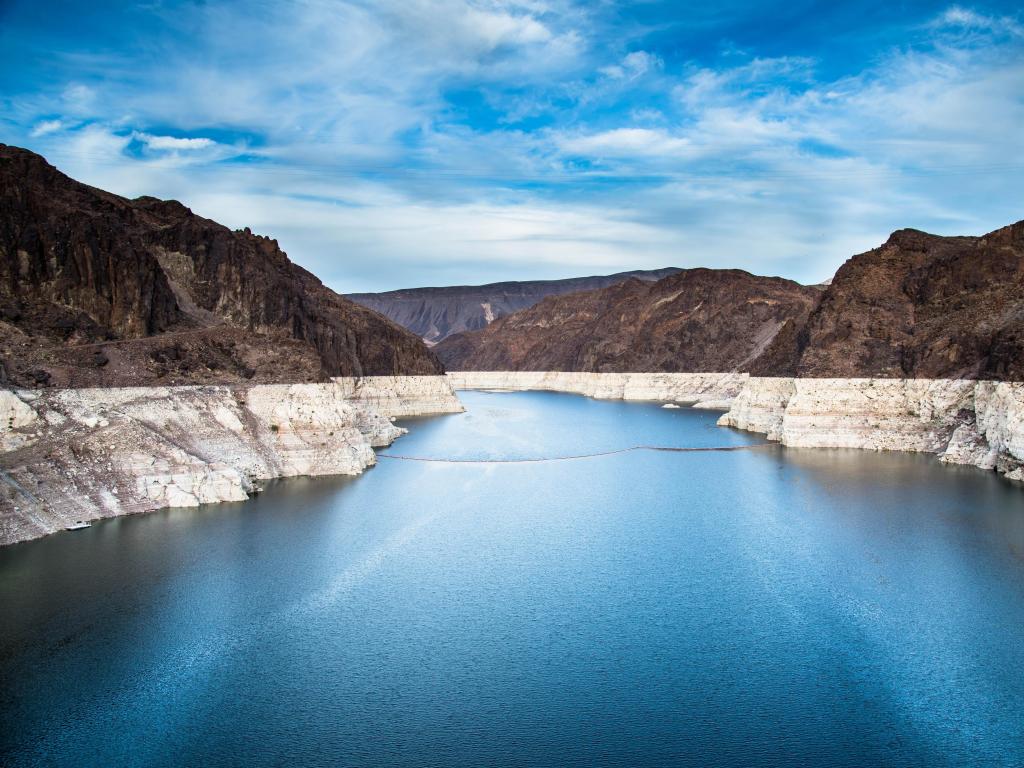 The Forests and Parks Route
Begin this route on Interstate 15 (I-15) North out of Las Vegas. When you see the sign for Valley of Fire State Park, take the next right off the interstate and pick up the Valley of Fire Highway.
This will take you on a scenic loop through the park, passing by such sites as Fire Cave and Elephant Rock. At the end of the Valley of Fire Highway, pick up the interstate once more and continue north.
Just past Mesquite, cross the state line for a brief stretch in Arizona and enjoy the views of Mount Bangs. Cross into Utah and, shortly after, you will reach the Red Mountains and Red Cliffs National Conservation Area.
From Red Cliffs, continue on the interstate, passing through Cedar City on your way to Parowan. At Parowan, leave the interstate and drive south. This will take you to Cedar Breaks National Monument and Dixie National Forest.
Finally, enjoy another stretch of scenic driving as you continue south to Mount Carmel Junction and on to Springdale. This is the gateway to your destination, Zion National Park.
The Grand Canyon Route
For this route, take I-515 South out of Las Vegas. At the town of Henderson, pick up I-11 South. Continue on past Boulder City as you make your way to Lake Mead and Hoover Dam, crossing the Arizona state line on the other side of the Colorado River.
From here, continue south for the town of Kingman, where you pick up I-40 East towards Williams, on the edge of Coconino National Forest.
At Williams, head north for Kaibab National Forest and the Grand Canyon. Once you've finished exploring the Grand Canyon, drive north once more for the town of Bitter Springs and Vermillion Cliffs National Monument. You can also enjoy time at Wahweap Overlook, which offers views over lovely Wahweap Bay.
Cross into Utah and continue on US-89 North towards the town of Kanab and the Mount Carmel Junction vacation area. From here, it's a short drive to Springdale and Zion National Park.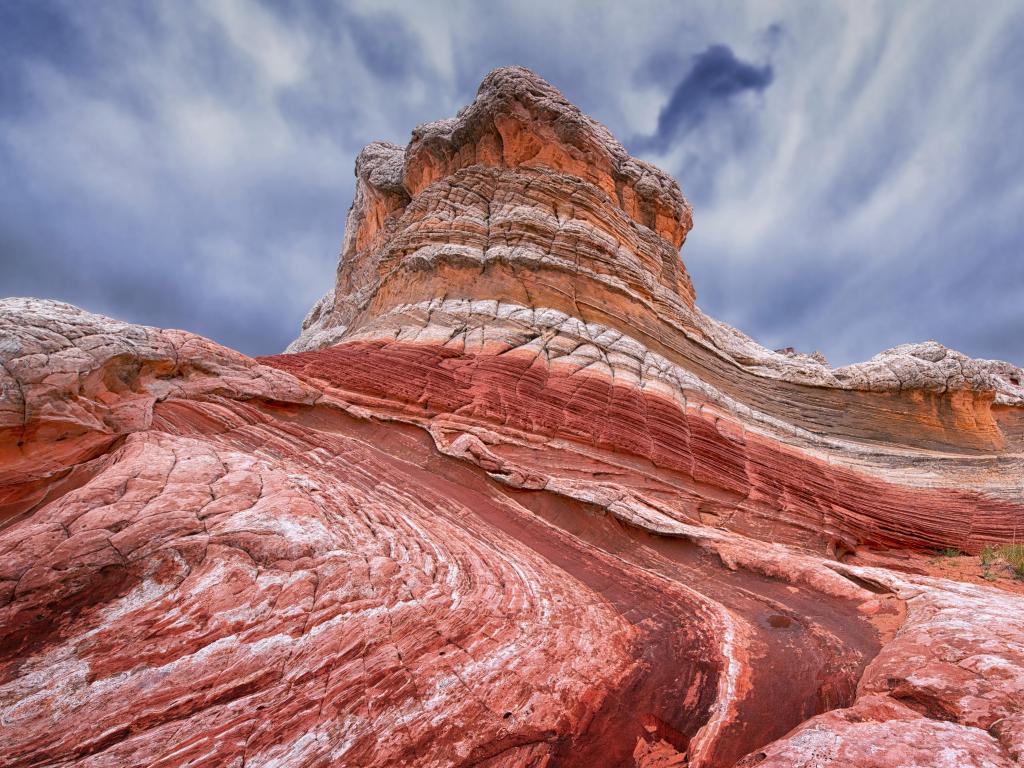 Best places to stop between Las Vegas and Zion National Park
While this is quite a short road trip, there are still some wonderful places along the way which are worthy of an overnight stop. We've picked one on each of our routes that offers the perfect excuse to take a longer break from the road.
Luxury and comfort at the Red Mountains
Around 2 hours and 40 minutes into the Forests and Parks Route, you'll reach Utah's Red Mountains. The area around the stunning canyons and cliffs makes an ideal place to rest for the night and explore. It's also a convenient overnight stop after leaving Valley of Fire State Park.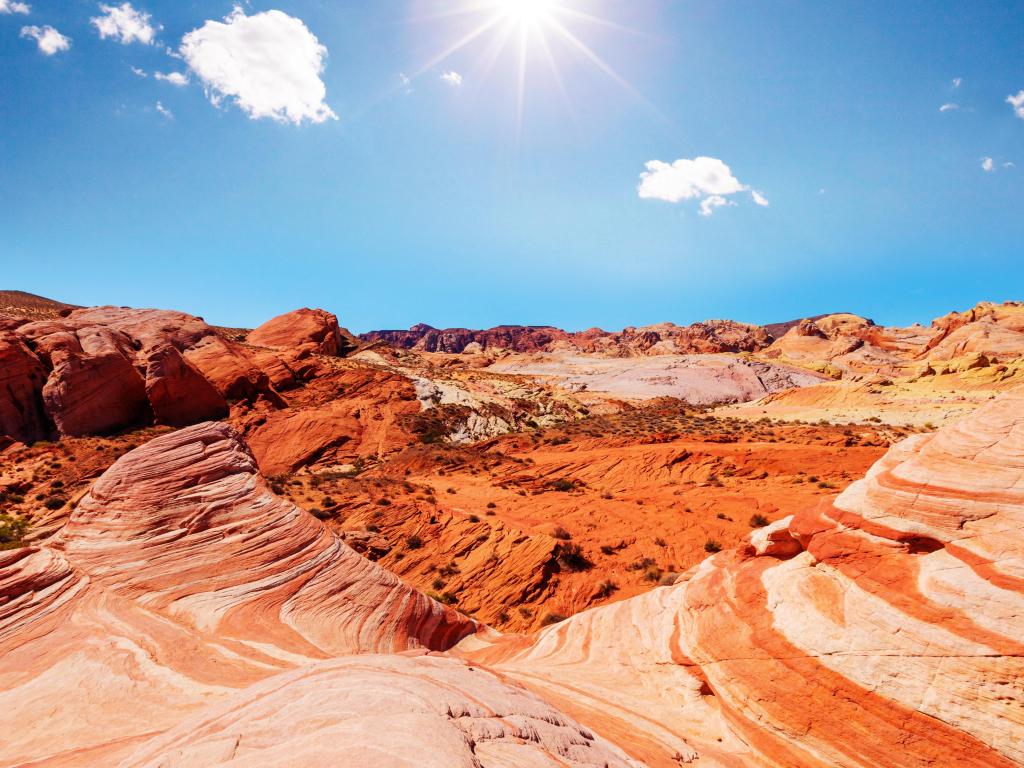 At the Red Mountains, you can take a scenic drive along Snow Canyon Road, hike one of the many trails, such as Jenny's Canyon, or simply take a walk to see the fossilized trees and plants and dinosaur footprints.
When you're ready for a break from all that driving and hiking, our choice for an overnight stop is the luxurious Red Mountain Resort. Located a couple of miles off the route, this fantastic hotel has all you need for a restful night.
With spacious rooms, fabulous views, and a fantastic outdoor pool, you are guaranteed a relaxing stay. There is also an impressive on-site restaurant and ample guest parking.
As well as being a great base for enjoying the Red Mountains, the hotel is convenient for exploring nearby Snow Canyon State Park and Red Cliffs National Conservation Area, which is great for mountain biking.
A grand stay at the Grand Canyon
On our Grand Canyon Route, our recommended stop is, of course, at this famous natural wonder. You'll reach the Grand Canyon about halfway along the route.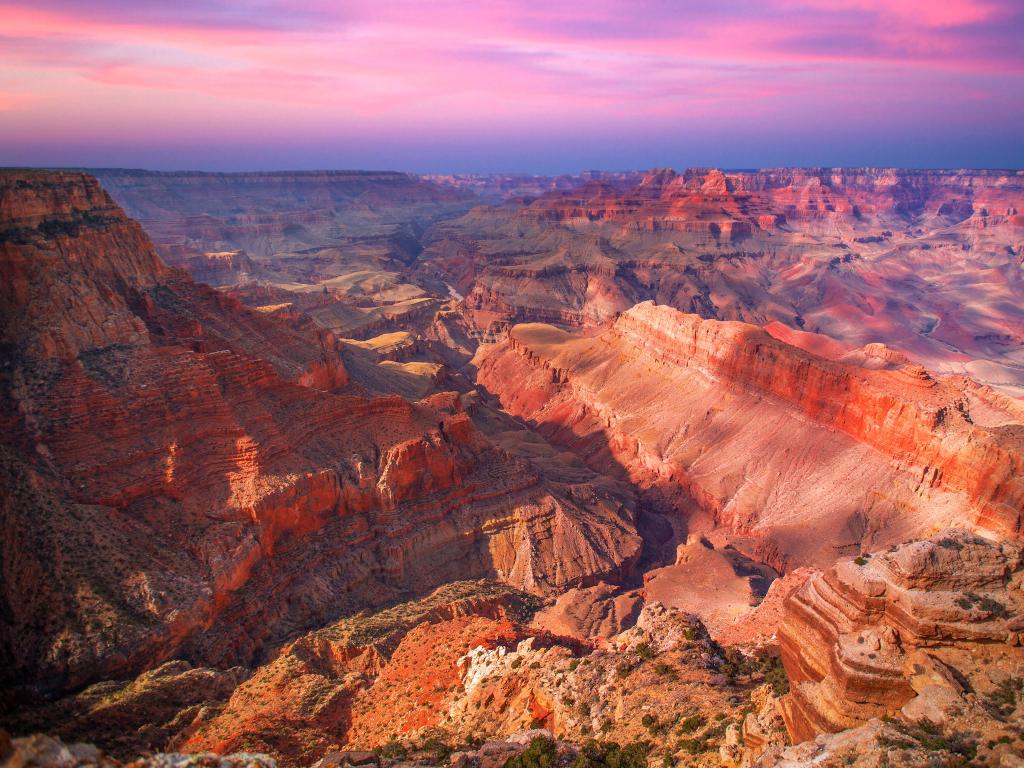 Over 200 miles long, the Grand Canyon follows the Colorado River and offers stunning views and amazing hiking opportunities. If you don't like to hike, there are plenty more ways to experience the natural beauty.
You can follow scenic Desert View Drive by car, experience the canyon on a mule or horseback, enjoy a nail-biting rafting trip on the Colorado River, or take to the skies and see the canyon by helicopter.
Once you've finished exploring, a great place to stay for the night is The Grand Hotel at the Grand Canyon in Tusayan. This luxury hotel is located close to the canyon, which makes it the perfect place to base yourself in as you explore the world-famous canyon.
You can relax in the spacious rooms or enjoy the heated indoor pool, hot tub and fitness center. There is also an on-site restaurant and bar serving a selection of meals, drinks and snacks. Also offering free parking and great service, a night at this superb hotel will certainly be a highlight of your road trip.
A room with a view at Zion National Park
Located just a mile from the park's entrance, the comfortable Bumbleberry Inn in Springdale is the ideal base for exploring.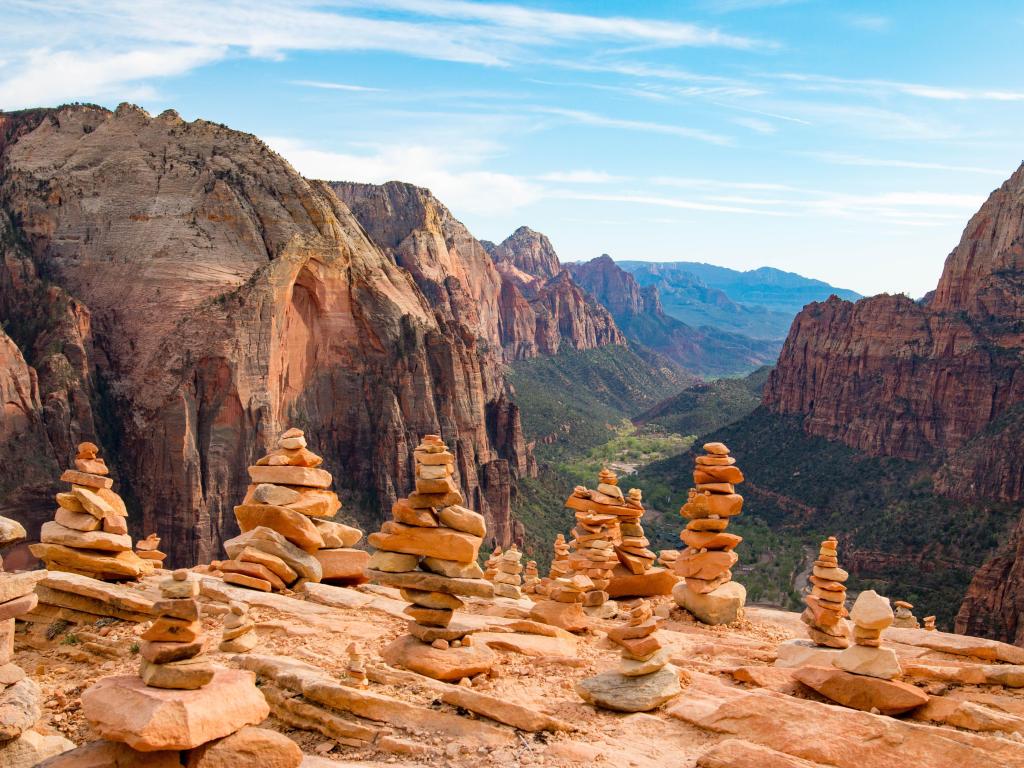 The hotel boasts stunning mountain views and spacious rooms with balconies or patios. You can also take a dip in the outdoor pool or hot tub and enjoy the daily complimentary breakfast. There are lots of additional dining options within a short walk of the hotel.
If you want a real break from the road, take advantage of the hotel's free car parking and use the free (seasonal) shuttle service into Zion National Park and around the town of Springdale.
Things to see on a road trip from Las Vegas to Zion National Park
To help you put together the best itinerary for your road trip, we've picked out some of the highlights along each of our routes.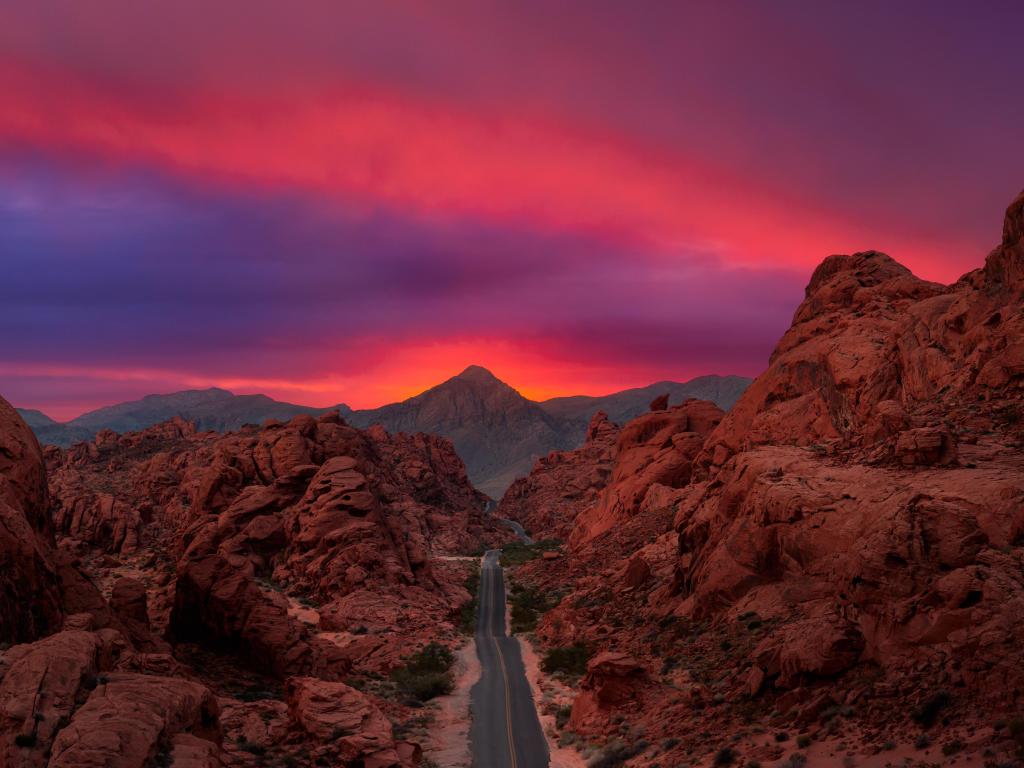 The Forests and Parks Route
Valley of Fire State Park, Nevada - Here, you can hike through stunning Aztec sandstone to visit Fire Cave and to view ancient petroglyphs.
Valley of Fire Highway, Nevada - Enjoy amazing views of the state park from the scenic byway that runs through it. You'll see impressive Elephant Rock just before you reach the end of the byway.
Lost City Museum, Nevada - At this Overton Museum, you can discover artefacts and information on the ruined towns and prehistoric sites that were flooded when the Hoover Dam was built.
Mesquite, Nevada - The town is known for its excellent golf courses, while you can get a glimpse into the town's past at the Virgin Valley Heritage Museum.
Red Cliffs National Conservation Area, Utah - This reserve on the edge of the Mojave Desert features hiking trails through striking red rock gorges and along the Virgin River.
Parowan, Utah - The oldest town in the region, Parowan was settled by Mormons in 1850. Just outside the town you can see petroglyphs at Parowan Gap, or take a guided horseback ride out into the hills.
Cedar Breaks National Monument, Utah - Take a walk around the rim of this impressive natural rock amphitheater to enjoy the amazing views.
Dixie National Forest, Utah - Hike or follow a scenic drive through Utah's largest national forest to enjoy fantastic views of the vibrant green forest and vivid red sandstone landscape.
Bryce Canyon National Park, Utah - A short detour off the route will take you to Bryce Canyon, where the sandstone rock has been shaped by the elements into amazing hoodoos (tall, thin rock spires).
Mount Carmel, Utah - Here, you can visit the Thunderbird Foundation for the Arts, housed in the building where artist Maynard Dixon had his studio (open May to October).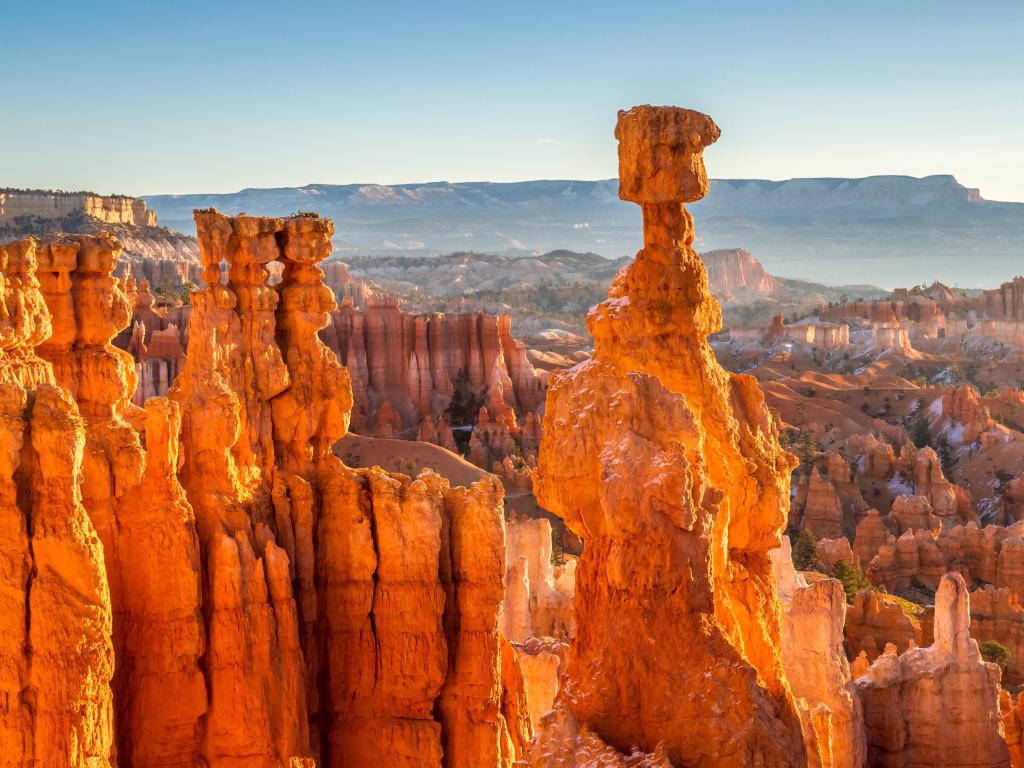 The Grand Canyon Route
Boulder City, Nevada - Spend some time in this charming small town, which offers helicopter tours of the Grand Canyon. You can also visit the Boulder City/Hoover Dam Museum.
Lake Mead, Nevada/Arizona - Enjoy watersports and swimming off the rocky beaches of this huge reservoir or end the day at Sunset View Scenic Overlook.
Hoover Dam, Nevada - Built in the 1930s, during the Great Depression, the dam has a rich history. Find out more by taking a tour through the inspection tunnels and visiting the museum or take in the views from the viewing platforms.
Kingman, Arizona - The city is on historic Route 66, and you can find out more at the dedicated museum. Also worth a visit is Mohave Museum of History and Arts.
Williams, Arizona - Also on historic Route 66, Williams is home to buildings dating back to the mid-20th century heyday of this route. Hop on the Grand Canyon Railroad to enjoy a different view of Arizona.
Vermillion Cliffs National Monument, Arizona - This remote natural wonder is home to unique sandstone formations, including the Wave and Coyote Butts. It's great for experienced hikers but visitor numbers are extremely restricted to preserve the fragile environment, so check ahead.
Glen Canyon Recreation Area, Utah - At this large recreation area, you can enjoy the fantastic views over Lake Powell, take a boat ride to see Rainbow Bridge National Monument, or simply explore the area's many trails on foot.
Kanab, Utah - For decades, filmmakers have used the area around Kanab as a backdrop for the Wild West. You can visit Little Hollywood Movie Museum to see some fascinating memorabilia.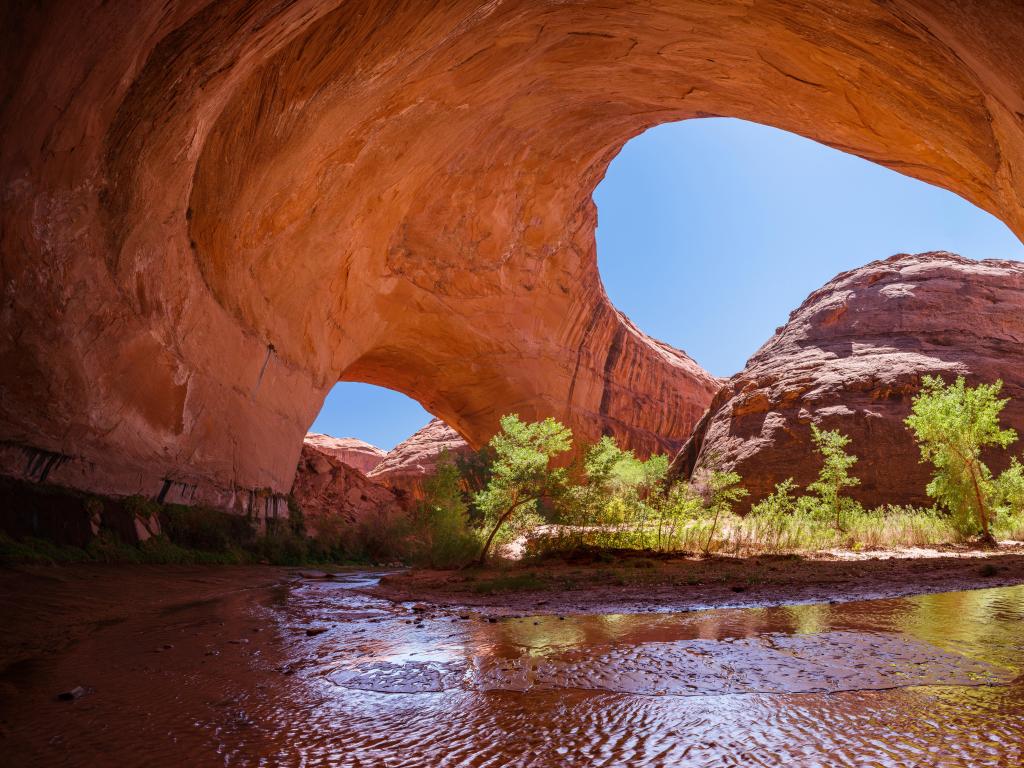 Best time to go on a road trip from Las Vegas to Zion National Park
While this is a year-round road trip, it's important to note that average summer temperatures on our routes reach around 100 degrees Fahrenheit.
This might be an issue if you plan to do a lot of hiking. Indeed, some trails at Valley of Fire State Park are often closed for safety reasons, as temperatures can exceed 120 degrees. The Grand Canyon and Zion National Park are also at their busiest during this season.
Winters in Zion National Park can experience snowfall, as well as frequent rain, with freezing nighttime temperatures along our routes. Daytime temperatures hover around 50 degrees.
Springtime in Zion National Park is beautiful, with displays of wildflowers and temperatures of 50+ degrees, as the park comes back to life following the winter.
Fall brings the colorful foliage and chillier weather, even dropping near freezing during the dark evenings. This is a great season for hiking, especially during the middle part of the day. Wearing layers is recommended to account for the variable temperatures and conditions.
Come in April to enjoy free admission to Zion National Park for a few days during National Parks Week. Meanwhile, June brings the annual Grand Canyon Star Party, where you can enjoy the wonders of the night sky alongside other stargazers.