Road Trip From Los Angeles to Carlsbad
What a road trip from Los Angeles to Carlsbad may lack in mileage, it certainly makes up for in points of interest and beautiful scenery. If you want to escape the city for a while and go on a short but epic adventure, then this is the perfect drive for you!
The 90-mile road trip from Los Angeles to Carlsbad takes 1 hour 30 minutes of driving. Notable stops along the way include San Clemente, Huntington Beach, and Oceanside, as well as Disneyland, Crystal Cove State Park, and Lake Mission Viejo.
There is so much to see and do along this phenomenal journey. So be sure to keep on reading until the very end to find out all about it.
How far is Los Angeles to Carlsbad and how long will the road trip take?
A road trip from Los Angeles to Carlsbad covers a distance of 90 miles. If you are driving non-stop, the route will take about 1 hour and 30 minutes to complete. However, you are bound to want to stop at least a couple of times along the way.
This journey incorporates a string of beach locations, many of which rank among the best in the USA. You will experience some traffic along the way, but the tremendous coastal views you get should more than compensate for that.
The road trip is based predominantly around Interstate 5, though stop-offs and detours will take you along many other routes of the Pacific coastline, as well as various forests and national parks that reside inland.
You can definitely drive from Los Angeles to Carlsbad in a single day. But doing so means you will barely scratch the surface of all there is to see and do on this journey.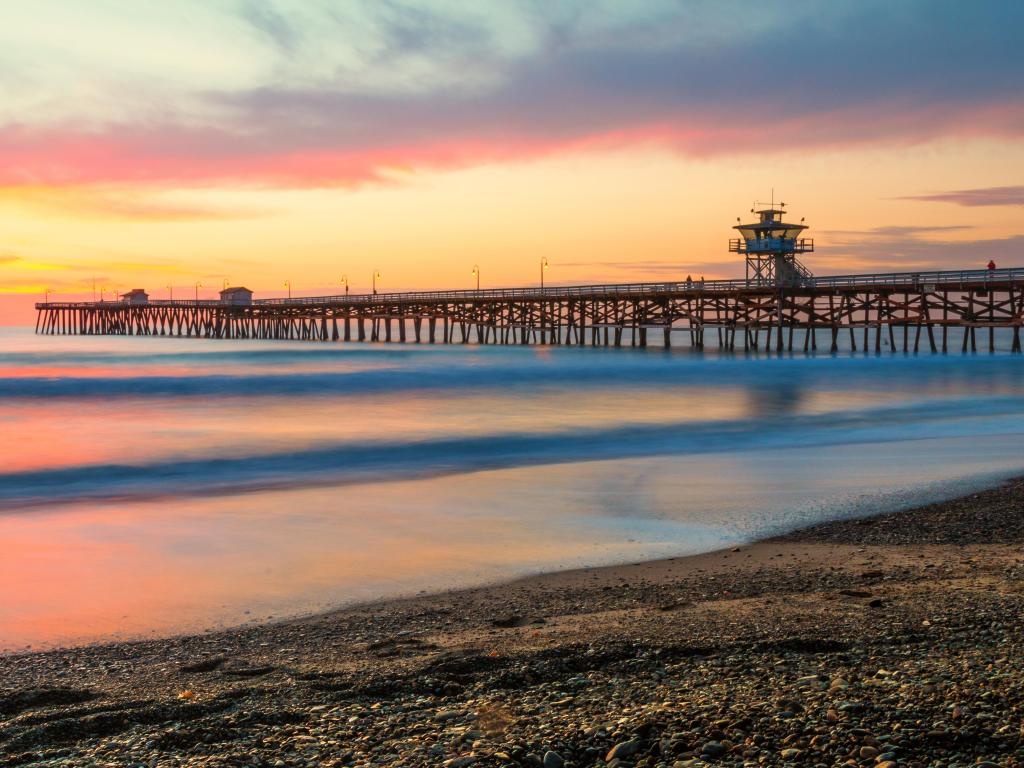 If you can, a better move would be to take the time to enjoy at least 3 or 4 detours and stop-offs. One region that's especially ripe with things to see would be the area between San Onofre State Beach and Oceanside.
Best road trip route from Los Angeles to Carlsbad
The best road trip route from Los Angeles to Carlsbad is via Interstate 5. It is an easy, straightforward drive that takes you past many of the main points of interest in Southern California.
Road trip route from Los Angeles to Carlsbad
Taking Interstate 5 out of Los Angeles, you will eventually make your way past the turnoffs for Anaheim, Huntington Beach, and the Balboa Peninsula. Continue on the highway, past the roads that lead to Laguna Beach and Dana Point.
At this point on the drive, you will begin to hug the coast, passing San Clemente and the San Onofre State Beach. Carry on past Oceanside, before eventually arriving in Carlsbad.
Best places to stop between Los Angeles and Carlsbad
The road trip from Los Angeles to Carlsbad offers an excellent range of places to stay the night. If you have the time, you should consider booking yourself a room at one of the following resorts:
Visit Disneyland and explore the beautiful Anaheim
There are so many awesome sights and attractions at Disneyland that you practically have to stop at Anaheim to make the most of this trip. If you decide to rest here, The Viv Hotel, Anaheim, a Tribute Portfolio Hotel is an excellent choice, combining luxury and a perfect location.
Just a short drive away from Disneyland, this 5-star hotel features an outstanding restaurant, as well as an excellent outdoor swimming pool, a well-equipped fitness center, and a great bar.
The rooms at this hotel are everything you'd want them to be - comfortable, well-equipped, and extremely easy on the eyes. You'll find yourself falling asleep in no time, your batteries fully charged for your Disneyland adventure!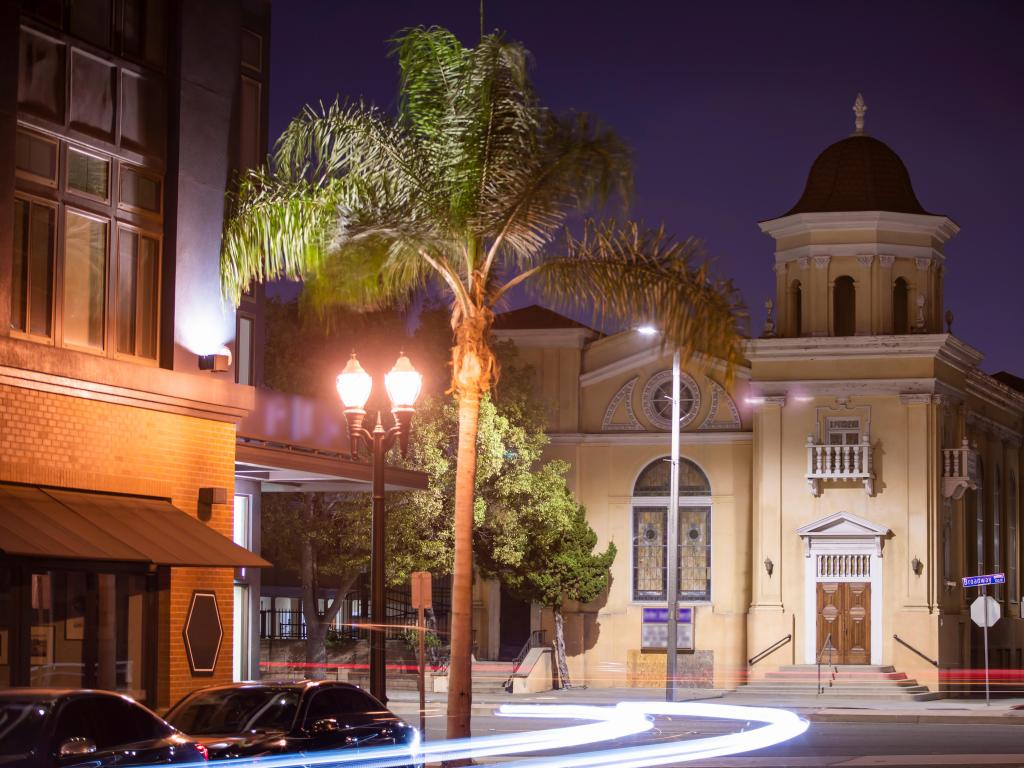 Best of all, you'll find that the prices are incredibly generous for what the hotel has to offer. Add to that its proximity to the world's most iconic amusement park, and you have a hotel that's hard to top.
Enjoy a beautiful sunset at Laguna Beach
Situated directly on the beach, the Montage Laguna Beach offers supreme comfort on top of one of the finest views along the entire West Coast.
A deluxe, 5-star resort, this hotel boasts an ocean-facing pool, with a sun terrace and poolside cabanas. In addition, all rooms feature a deep marble soaking tub, the perfect place to end the day after hours of exploration.
Three great restaurants are located on-site, and the hotel also offers a world-class range of spa services. If you're looking to kill some time, you can marvel at the beautiful art at the on-site galleries or check out the hotel's various boutiques.
One thing to keep in mind is that this is one of the more expensive resorts in the region, but if you're going to be spending money on anything during this trip, it might as well be this world-class beach resort!
Please check our comprehensive guide out to learn more:
READ MORE - Our Guide to Laguna Main Beach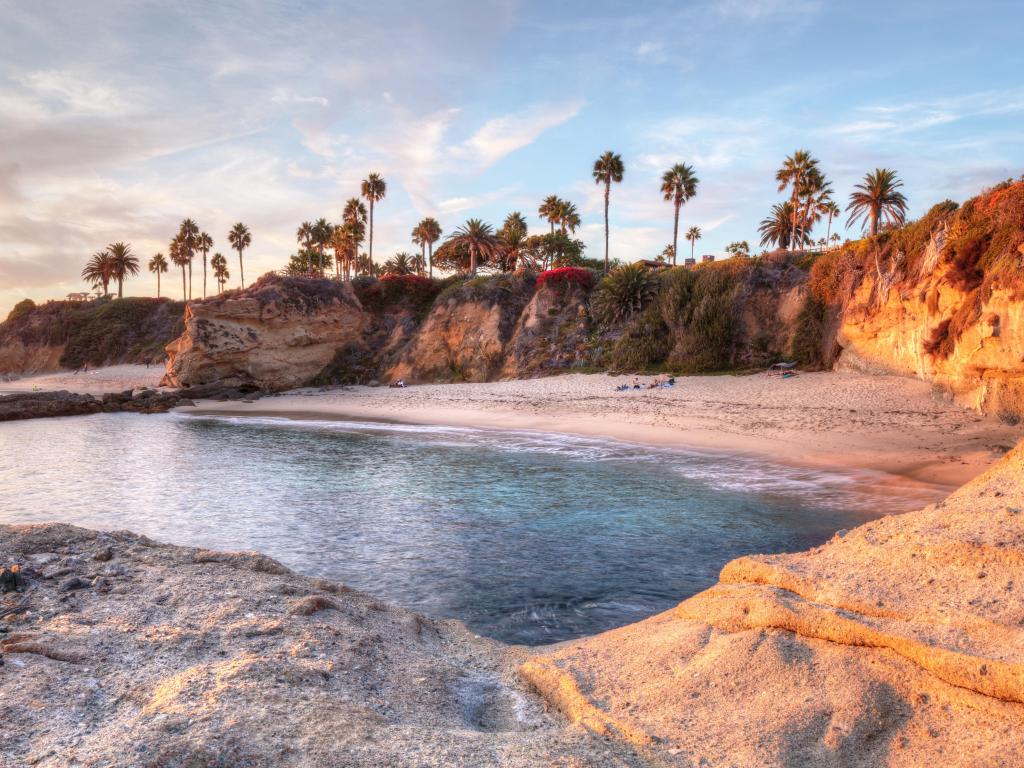 Live it up in style in Dana Point
Despite being on the shorter side, the road trip from Los Angeles to Carlsbad has amazing hotels around every corner. If you're aiming for luxury, you'd be hard-pressed to find a more visually stunning hotel than the Waldorf Astoria Monarch Beach Resort & Club.
Beautifully situated on a hillside overlooking the Pacific Ocean in Dana Point, this luxury resort treats guests to the choice of three swimming pools (including a children's pool), a championship standard golf course, and an on-site spa.
It also provides private beach access and houses two fantastic restaurants and five on-site bars and lounges. If you want to feel fancy, step out into the outdoor area and soak in the beautiful exterior of this top-of-the-line resort.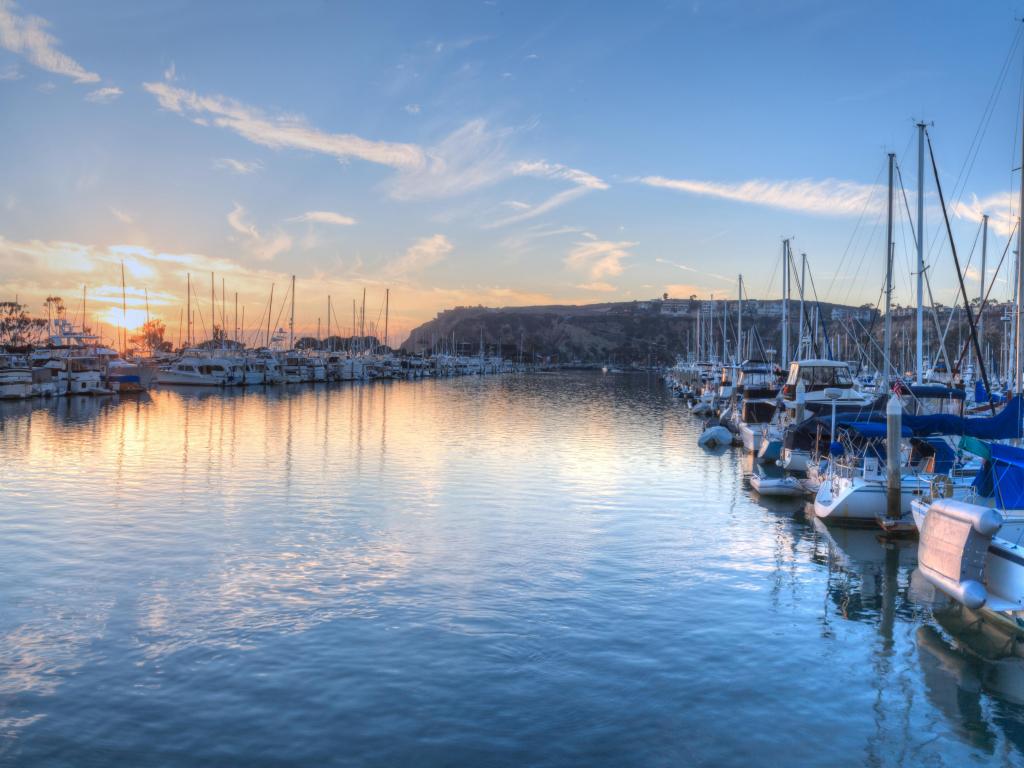 Obviously, this place is more expensive than your average hotel, but that's more than justified, given just how incredible it is in every aspect.
Things to see on a road trip from Los Angeles to Carlsbad
They might only be a short distance away from each other, but there are so many exciting places to see on a road trip from Los Angeles to Carlsbad, you could easily spend two or three days visiting them all.
If this is something you would like to do, check out this overview of some of the route's highlights.
Malibu – Stunning city best known for its golden beaches, gorgeous hiking trails, and for being the home of numerous A-List celebrities.
Santa Monica Mountains National Recreation Area – Hundreds of miles of spectacular mountainous scenery that is perfect for hiking. Home to Sandstone Peak, which stands over 3000 feet high, and the magnificent Escondido Falls.
Disneyland – Legendary amusement park that still brings out the big kid in everyone. Features rides and attractions that showcase some of the best-loved television characters of all time.
Long Beach – City best known for its waterfront attractions such as Peninsula Beach and including the unique and permanently docked RMS Queen Mary ship/hotel and the Aquarium of the Pacific.
Huntington State Beach – Iconic surfing spot famous for being the place where George Freeth, the 'father of modern surfing,' first showcased his skills in 1910. This 121-acre state beach is a popular destination for water lovers to swim, surf, fish, or sunbathe.
The Reptile Zoo – Based in Fountain Valley, this excellent educational entertainment facility houses more than 100 exotic species of reptiles, amphibians, and arachnids from all over the world.
Balboa Peninsula – Well-known for the impressive boats moored in its harbor and for its two piers - Newport Beach Pier and Balboa Pier. It also boasts an amusement park called the Balboa Fun Zone, which features a Ferris wheel.
San Clemente – A Spanish Village by the Sea, San Clemente is known for its excellent beach, great for camping and surfing, and its pier that stretches for 2.5 miles into the Pacific Ocean.
Limestone Canyon Regional Park – 4,000-acre park that features a geological formation called the Sinks which has often been compared to a mini-Grand Canyon. It also features lush canyons with thick oak woodlands and year-round springs.
Crystal Cove State Park – Terrific state park that houses over 3 miles of stunning Pacific coastline, much of which is fronted by historic beach houses. Beyond that, it is known for its tidepools and inland chaparral canyons.
Laguna Beach –Lively coastal city that boasts fabulous art galleries, a cool boardwalk, and spectacular views of the surrounding ocean from its main beach.
Lake Mission Viejo –Large reservoir created for recreation in Mission Viejo. It features two large beaches and picnic areas. Great for fishing and water sports.
San Juan Capistrano – An old Spanish mission that dates back to 1775, this historic landmark and museum is located in a quaint town that is known as the birthplace of Orange County.
Ronald W. Caspers Wilderness Park – Situated among the sandstone canyons and flowing rivers of the western coastal Santa Ana mountains, this fabulous 8,000 acre protected wilderness preserve is great for camping, wildlife sightings and nature walks.
San Onofre State Beach – 3,000-acre state park with a great surfing beach. Notable for its craggy rocks and for being a lovely spot to view the sunset.
Historic Las Flores Adobe at Camp Pendleton – National Historic Landmark dating back to 1864. This two-story adobe hacienda is an example of California's Monterey style of architecture.
Oceanside – Charming coastal city known for its palm tree-lined Harbor Beach and the Oceanside Harbor which is noted for its cool marina and eclectic shops.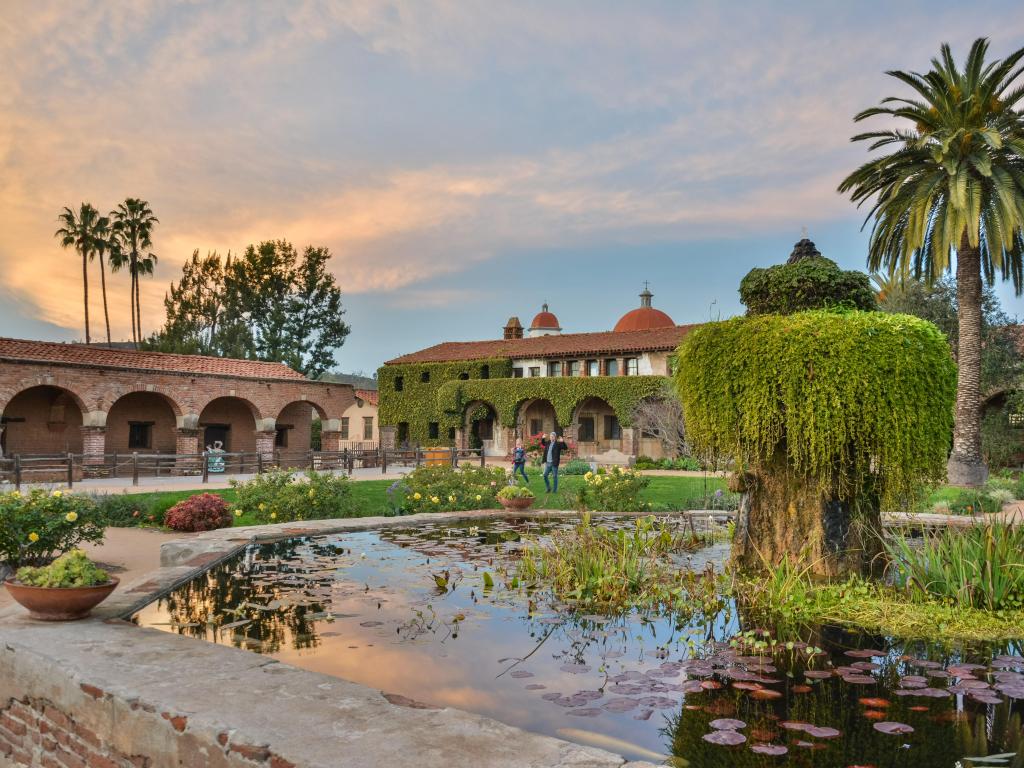 Best time to go on a road trip from Los Angeles to Carlsbad
The road trip from Los Angeles to Carlsbad can be done no matter the season. With that said, the route incorporates a lot of the coastline and some pretty amazing beaches, so you will probably want to go in the summer.
It will be busier at that time of year, not to mention more expensive and hotter, with temperatures often touching 90 degrees Fahrenheit. Still, the opportunity to soak up the sun and splash around in the water is one that you will probably want to take full advantage of.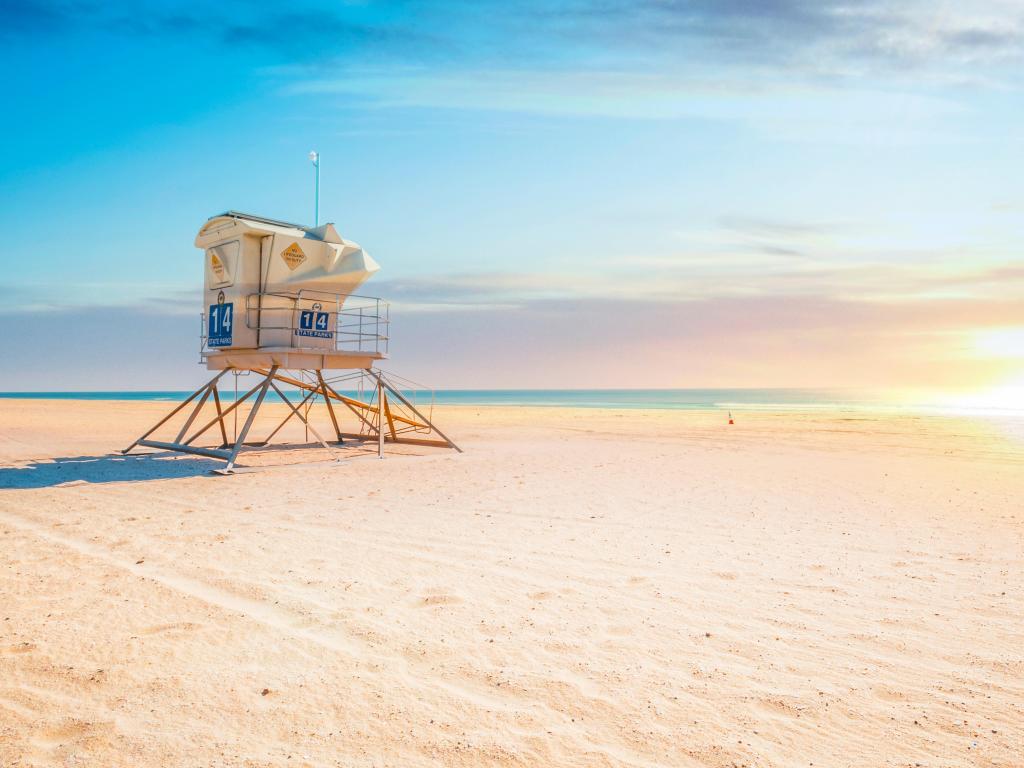 Winter is not a great time to undertake this trip unless you are happy just to look at the beaches, but spring and fall make for fantastic shoulder seasons. This is especially true if you plan to go hiking or to a major theme park along the way.
As a general rule, there will be far more traffic on the road during peak rush hour time, on the weekend, and during holidays. With that in mind, for a clearer run, you might want to avoid these times if possible.