Road Trip From Los Angeles To Joshua Tree National Park
California is known for its wide variety of landscapes, cities, and national parks, so if you want to visit the Golden State, one of the best drives you could do would be the road trip from Los Angeles to Joshua Tree National Park.
The 130-mile road trip from Los Angeles to Joshua Tree National Park takes 2 hours to drive. Key landmarks include Angeles and San Bernardino National Forests, Chino Hills and Mt San Jacinto State Parks, as well as Riverside and Palm Springs.
There's a lot to unpack with this road trip despite its short length, so be sure to read on until the end to learn the ins and outs of the drive.
How far is Joshua Tree National Park from Los Angeles and how long will the road trip take?
The road trip from Los Angeles to Joshua Tree National Park takes just over 2 hours to drive without accounting for breaks. This makes it a fantastic day trip if you are looking to get out of the city and enjoy a whole different atmosphere for a few hours.
If you leave in the morning, either before or after the well-known rush hour traffic in Los Angeles, you can theoretically get to Joshua Tree National Park well before lunchtime.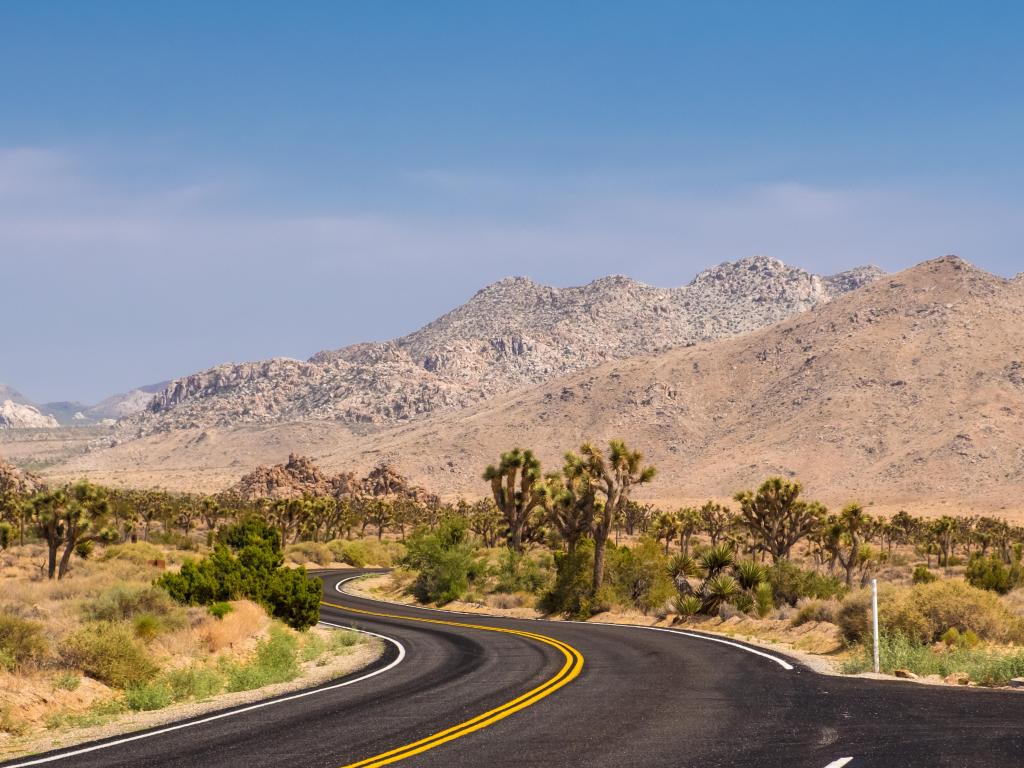 With that said, a better course of action would be to make as many stops along the way as possible to do some sightseeing. The general Los Angeles area is filled to the brim with spectacular forests and tourist attractions that all deserve as much attention as Joshua Tree itself.
Along the route, you will see the terrain change from an urban city to barren land filled with the famous rocks people from all over the world flock to see.
Best of all, you get to see all these spectacular landmarks without straying from the interstate at any point. That said, given how short the drive is, there's no excuse not to take the time to do some meandering to explore Southern California's most iconic attractions.
Best road trip route from Los Angeles to Joshua Tree National Park
The best route for the road trip from Los Angeles to Joshua Tree National Park is an extremely straightforward cruise along the interstate, but it also happens to be attraction-packed and filled with plenty to see and do.
Road trip route from Los Angeles to Joshua Tree State Park
Although you have several options for leaving LA, your best move would be to take Interstate 10 eastward through West Covina, passing Angeles National Forest to the north and Chino Hills State Park to the south.
Just north of Riverside, be sure to stop at San Bernardino National Forest, then detour south to Hemet, Mt San Jacinto State Park, and Temecula before getting back to the main route.
Not long after passing Cabazon along the interstate, you'd be wise to hop onto Route 111 to pay a visit to Palm Springs. Once you've done your share of exploring, get back to the interstate and get onto Route 62, taking it through Morongo and Yucca Valleys and into Joshua Tree.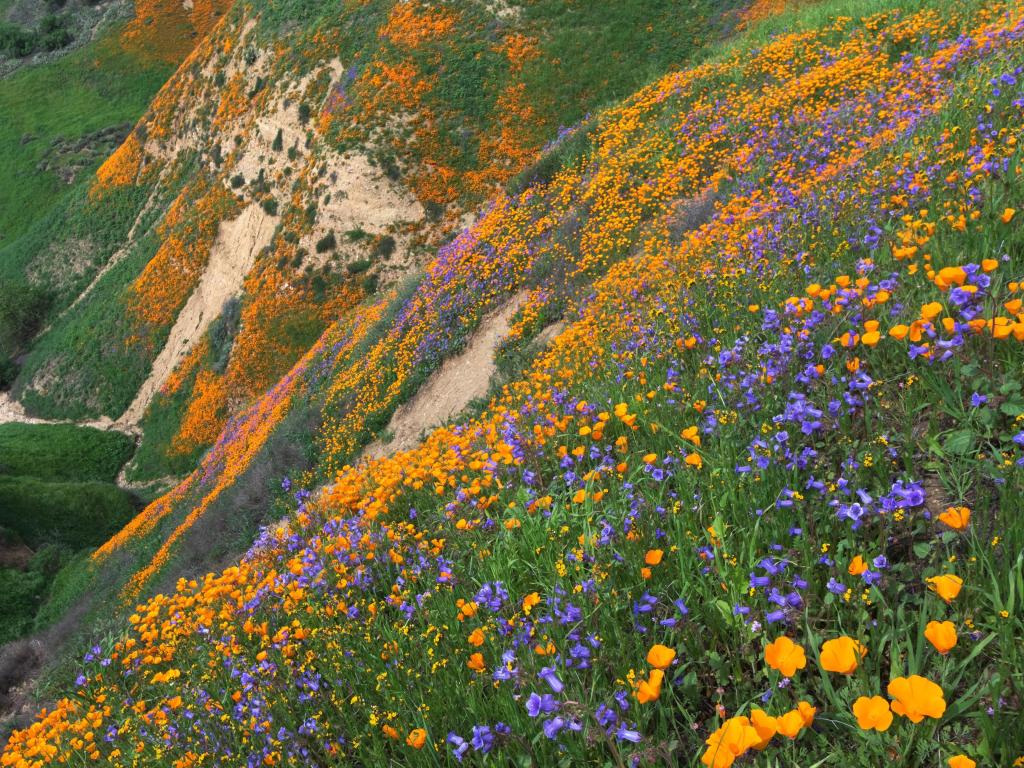 Best places to stop between Los Angeles and Joshua Tree National Park
Even though the road trip from Los Angeles to Joshua Tree National Park is not very long, you can take the drive to the next level by making frequent stops, including some overnight breaks. These are some of the resorts you won't want to miss out on:
Marvel at the Santa Ana River in Riverside
You may not think you need to split a trip this short into two halves, but there's so much to do in the LA area that you'll definitely want to spend a few nights in a hotel, and Riverside is one of the best cities to call home during this time.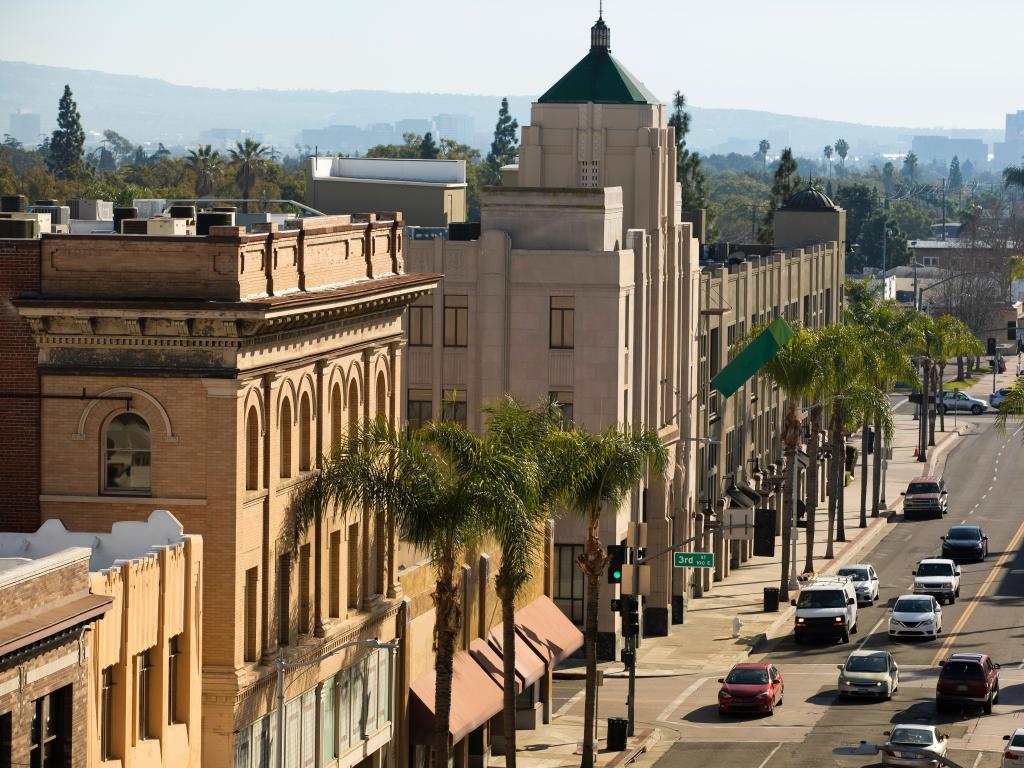 Whether you're a solo traveler or you're looking to go on a romantic getaway, Hampton Inn Riverside Downtown is guaranteed to leave you impressed with its welcoming decor and that home-away-from-home feeling.
After enjoying a hearty meal at the incredible restaurant, you can unwind for a few hours at the lovely outdoor pool. We highly recommend making use of the barbecue facilities to treat yourself, your friends, and family traveling with you to a delicious meal.
If feeling pecking at any point, there is an in-house snack bar, so we recommend getting a few bites here before you head out to go museum-hopping and visit Mission Inn Museum and Riverside Art Museum, both within walking distance of the hotel.
Explore the beautiful city of Palm Springs
Although the city is technically not part of the 'main' route, it's so close to Joshua Tree that it's essentially your best option for a resort near the park - besides, any city that's frequented by America's biggest stars must be doing something right!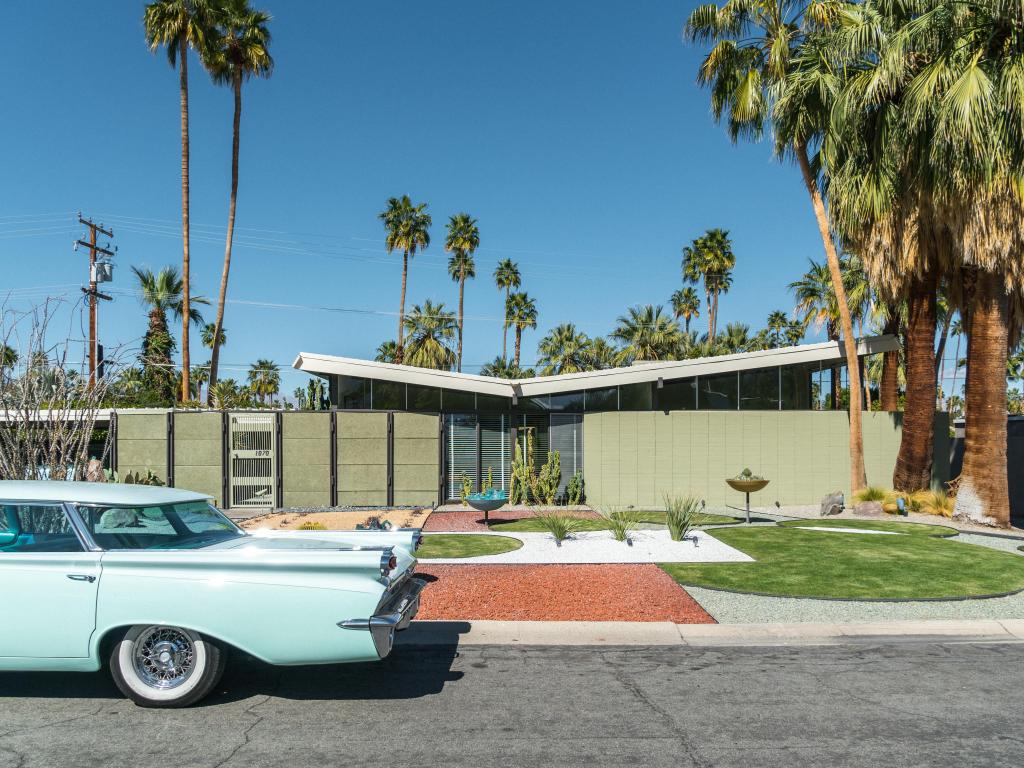 If you're looking to get a taste of the celebrity lifestyle, if only for a couple of days, La Serena Villas will woo you with one of the most impressive swimming pools in all of California.
Striking the ideal balance between contemporary and vintage, the rooms at La Serena Villas bring Cali's beach vibes to the edges of the desert, offering comfort and style at a reasonable price.
You're likely to work up a sweat in Palm Springs, especially in the summertime, but the spectacular pool has got you covered if you decide to cool off. Few things are as relaxing as a beautiful communal area and a spectacular view of the mountains from your sunbed.
The streets of Palm Springs are some of the most exciting in all of California, so to really make the most of your visit, be sure to grab a bicycle from the hotel and pedal far and wide until you've explored everything.
With so much to do on-site and in the immediate area, it's no surprise that this is one of the most expensive resorts in the city. With that said, if you're going to be spending time here, you might as well enjoy the best service and location that Palm Springs has to offer.
Things to see on a road trip from Los Angeles to Joshua Tree National Park
The sheer amount there is to see on a road trip from Los Angeles to Joshua Tree National Park is staggering, so you should take at least 3 or 4 days to do some exploring.
Since there is no need to rush to Joshua Tree National Park, you can live it up by visiting as many of the following places as possible:
Angeles & San Bernardino National Forests - These scenic 'twin' forests act as the northern gateway into Los Angeles.
Chino Hills State Park - Arguably the most scenic picnic spot in all of Southern California.
Santa Fe Dam Recreation Area - Located in Irwindale, this dam provides an unprecedented view of the beautiful San Gabriel Mountains.
San Bernardino - This historic California city offers plenty of fun for travelers of all ages and sensibilities.
California Route 66 Museum - Slightly off-route in Victorville, this museum is one of the ultimate tributes to the iconic Route 66.
Riverside - This city is distinguished by its iconic Mission Revival architectural style.
Mt San Jacinto State Park - A scenic park that houses one of the highest peaks in Southern California.
Desert Hot Springs - Natural hot mineral spas where you can relax and soak at the end of a day of driving; be sure to visit the beautiful Cabot's Pueblo Museum while you're here.
Cabazon Dinosaurs - If you are driving with kids, or you are just young at heart, visit this attraction featuring the largest dinosaurs (don't be scared - they are not real).
Integratron - A unique building created for exploring time travel, science, art, and magic.
Indian Canyons - Stunning hikes through canyon featuring massive trees.
Palm Springs Aerial Tramway - An iconic city frequented by celebrities that's home to the world's largest rotating tramcar.
Desert Hills Cabazon Outlets - If you're looking to go thrifting, these outlets are renowned in the region for their extremely generous prices.
Salton Sea - Often referred to as an 'inland sea', this lake boasts a rich and complex geological history.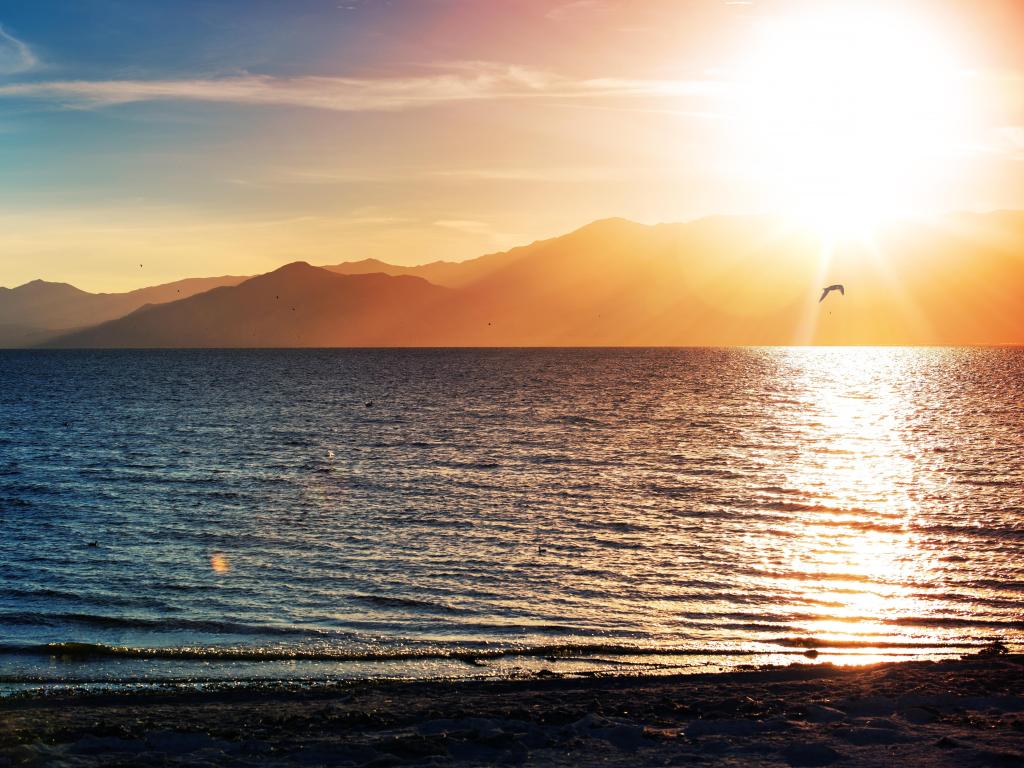 Best time to go on a road trip from Los Angeles to Joshua Tree National Park
Because it's so short, the road trip from Los Angeles to Joshua Tree National Park can be done virtually any time. That said, there are definitely benefits to doing it during certain seasons over others.
The first thing to keep in mind is that Southern California's temperatures can be on the scorching side in the summer - this may not be a big issue if you cruise directly to Joshua Tree, but if you make plenty of stops (which you should), be prepared to work up a sweat.
Because of the unforgiving heat, summer is actually not a particularly strong season for Joshua Tree. Still, the rest of the route's attractions are bustling with activity in the summer, and if you don't mind the heat, you should have no trouble snagging a cheap spot at a campsite.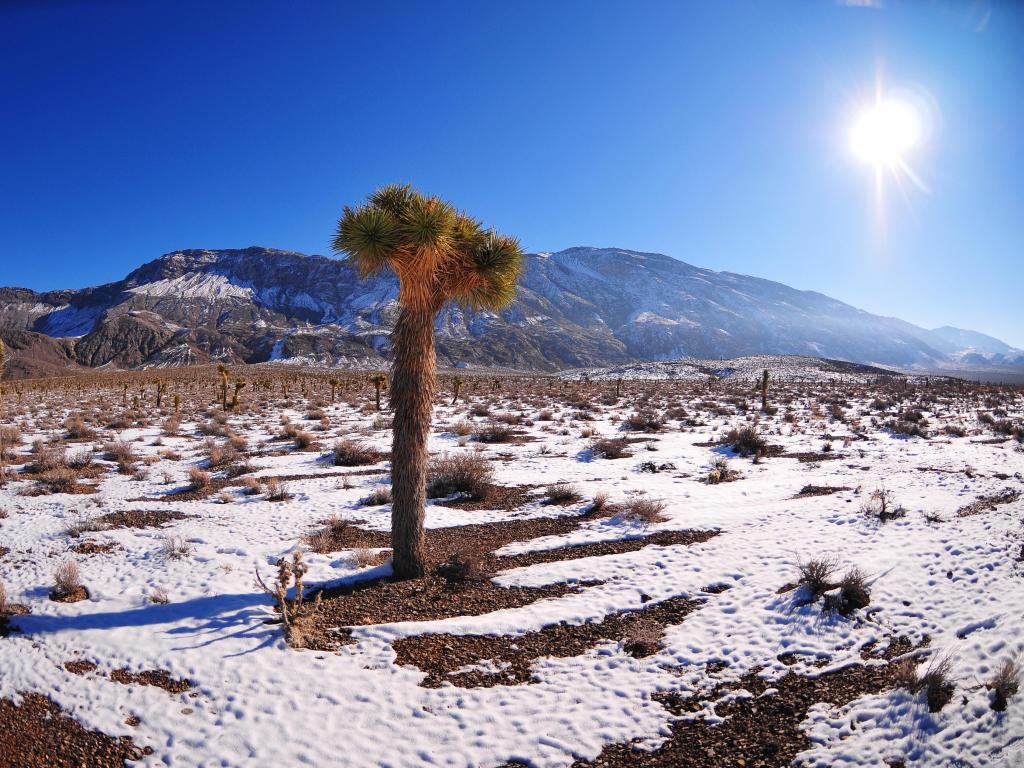 The novelty of seeing snow in the desert will occasionally bring visitors to the park in wintertime, so if you know for a fact it's going to snow and you want to see the park's titular trees covered in white, a winter visit to Joshua Tree is one of the most unique journeys you could go on.
For a more conventional experience, your best bet would be to visit the park in spring or fall. These seasons are fairly similar as far as crowds and outdoor activities go, although spring is probably the prettier option as this is when the desert flora begins to bloom.