Road Trip From Los Angeles To Lake Tahoe
If you live in the hustle and bustle of Los Angeles or just visiting the city of Angels, you might want to go on a road trip to unwind, explore nature and see some beautiful sights. One of your best options for a scenic drive is to head to Lake Tahoe.
The road trip from Los Angeles to Lake Tahoe can be done in a day with just over 7 hours of driving plus stops for gas and food. You may want to take 2 to 3 days instead to explore the Sierra Nevada mountains and other sights on the way.
From jaw dropping desert landscapes to lush forests and quirky towns, read on for how to make the most of your drive to Lake Tahoe.
How far is Lake Tahoe from Los Angeles and how long will the road trip take?
Depending on the route you choose, the road trip from Los Angeles to Lake Tahoe will be anything from 440 to 640 miles. The fastest route will take a little over 7 hours of pure driving with the slow scenic drive through Sierra Nevada taking twice as long.
Route
Distance
Driving Time
Death Valley Route


(US-395)

440 miles
7 hours 15 minutes
Sierra Nevada Route
640 miles
14 hours 30 minutes
Interstate Route


(via Sacramento)

485 miles
7 hours 45 minutes
Although taking US-395 is both the shortest and the quickest route on paper, if you're looking to get to Lake Tahoe fast, the interstate drive will be easier with more places to stop along the way for food and less need to navigate.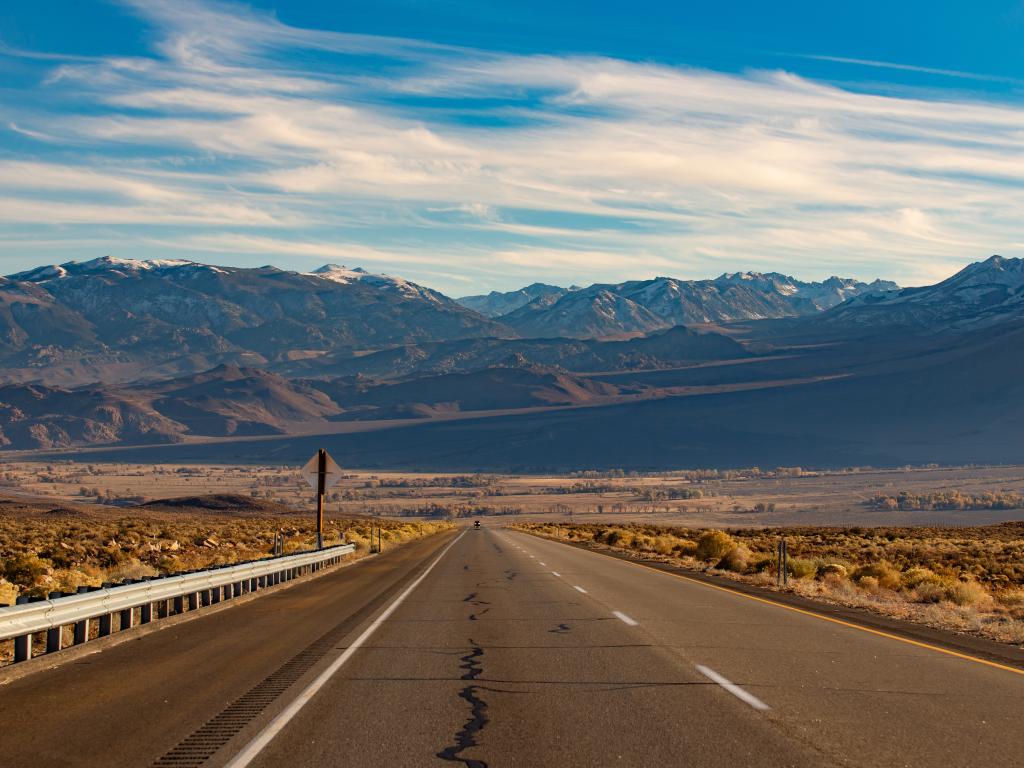 If you're taking US-395 that runs between Sierra Nevada and Death Valley or passing through some of the mountainous national parks, you'll want to allow at least 2 to 3 days to make the most of the places you'll pass through.
Best road trip route from Los Angeles to Lake Tahoe
There are two amazing routes for getting from Los Angeles to Lake Tahoe which is perfect because it means you can take one on the way there and the other one coming back, making for an epic road trip.
If time is limited, take US-395 both ways or come back via the Interstate route instead. The I-5 runs all the way from LA to Sacramento and you can take US-50 or the I-80 through the Eldorado or Tahoe National Forests depending on which part of Lake Tahoe you're heading to.
How to drive from Los Angeles to Lake Tahoe
The map above shows our suggestions for the best road trip routes between Los Angeles to Lake Tahoe. Keep reading for detailed descriptions of both routes, where to stay on either, and the best things to do on the way.
The Death Valley Route (US-395)
Head north out of Los Angeles and join the I-5 headed towards Santa Clarita. Just before you get there, take the turning onto Antelope Valley Freeway (State Route 14) which cuts right through Palmdale and Lancaster.
On your right you'll see an entirely different landscape - harsh arid Mojave Desert eventually becomes the Death Valley National Park a stark contrast to the forests running the length of the Sierra Nevada mountain range.
From there, follow the highway north with the Sierra Nevada mountains to your left - you'll be passing Sequoia and Kings Canyon National Parks, drive right through Mammoth Lakes and Inyo National Forest before you reach Tioga Pass heading west into Yosemite.
After Yosemite, stay on the highway until you reach Gardnerville - this is where the route splits depending on which part of Lake Tahoe you're going to.
The Sierra Nevada Route
If you want to see some of the most stunning nature in the United States, you're in luck. Some of the finest mountains, rivers and forests in the country are right on the way from Los Angeles to Lake Tahoe.
You have your pick of places to go to with 6 national forests and 3 national parks on the way. I'd recommend heading north along the I-5 and California Route 99 to Bakersfield.
From there follow Highway 65 to Exeter where you'll turn off onto CA-198 to head into the mountains of the Sequoia National Park. This beautiful road will take you past magnificent giant sequoias including the largest tree in the world - General Sherman.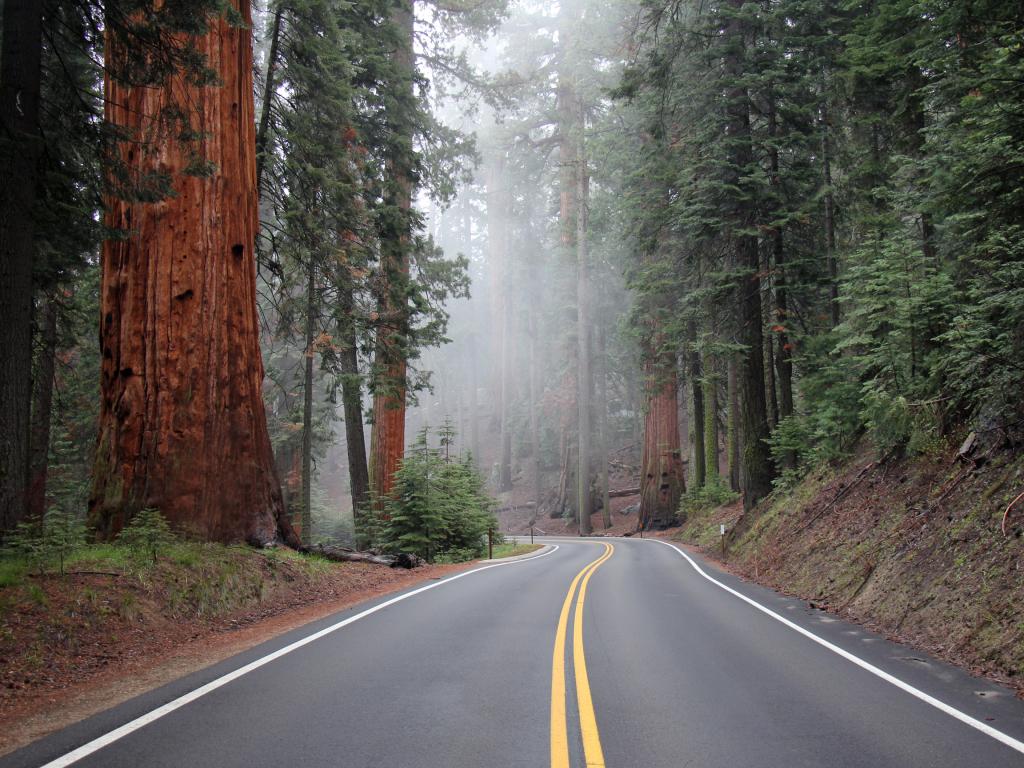 When you reach the intersection with Highway 180, make a right and drive all the way to the end of the road just past Zumwalt Meadows. There is an endless selection of amazing hikes with views to die for all along the length of the highway.
Head back out of Kings Canyon National Park along the same road and take CA-41 north when you get to Fresno. Follow the road as it climbs higher and the views become better and better all the way to Yosemite Valley.
After exploring the world-famous sights and rocks, join the Tioga Pass at Tuolumne Grove to drive east across Yosemite National Park. Join US-395 at Mono Lake and it'll take you all the way to Lake Tahoe from there.
Best places to stop between Los Angeles and Lake Tahoe
With so many things to do and see on the road trip from LA to Lake Tahoe, you really will want to make a few overnight stops to make the most of your drive - especially if you're driving through the Sierra Nevada national parks.
Here is a selection of great options depending on which route you take.
Spend the night in Yosemite (Sierra Nevada Route)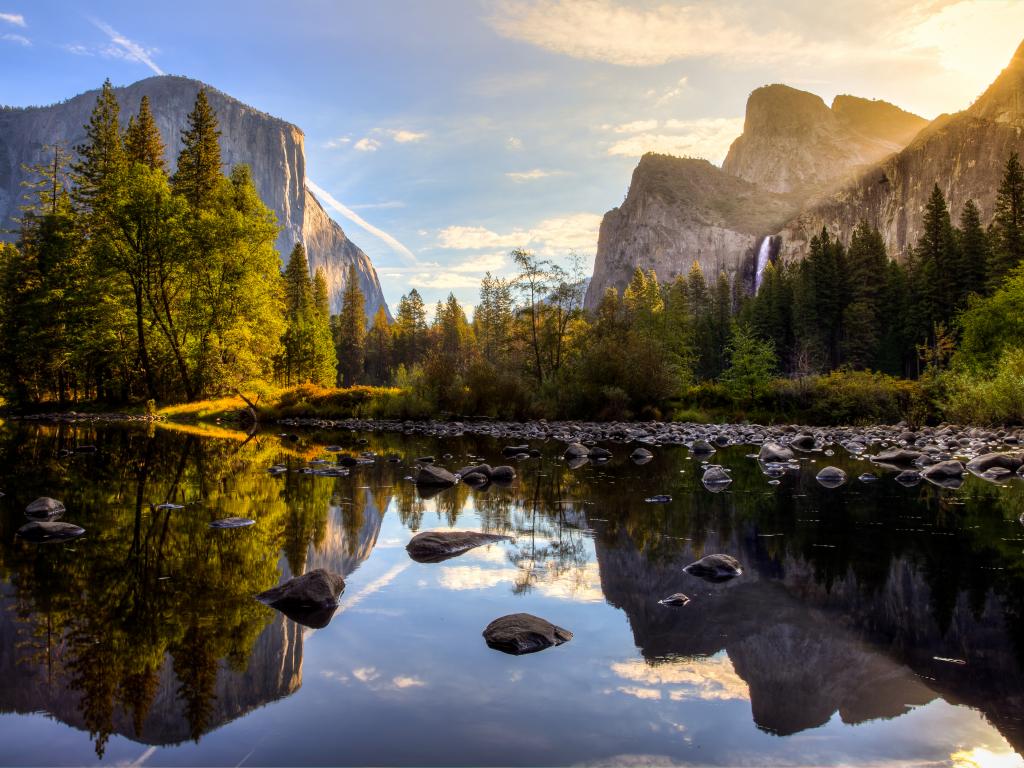 If you want to spend some time exploring Yosemite Valley and are only likely to get there at dusk, you really have to stop for the night and go and see what the hype is all about first thing in the morning.
Evergreen Lodge at Yosemite is a great choice, with its rustic-chic style and range of accommodation options. You can choose to camp in its beautiful grounds, surrounded by tall pines, or enjoy a comfortable bed in one of its well-equipped rooms.
And if you were worried that the Evergreen Lodge might not be luxurious enough for your trip, don't fear. You can rest your weary muscles in the Lodge's hot tub, enjoy the stylishly-vintage decor, dine in its well-rated tavern or relax by the perfect pool. For a taste of Yosemite (without sacrificing on comfort), you can't go wrong with this accommodation choice.
Relax and unwind in the Death Valley National Park (US-395 Route)
Yes, you read that right. Death Valley may be the hottest place on Earth and it is home to some of the harshest landscapes in the world, but sitting right in the middle of it all is a green oasis that has manicured green lawns and a spring-fed pool.
The Inn at Death Valley hotel is perfect if you decide to take a day or two exploring the largest national park in the US excluding Alaska. It has been here since the 1920s and has been a popular getaway destination for Hollywood's rich and famous for decades.
Whether you want to see the mysterious moving rocks on Racetrack Playa or see the sand dunes that produced that iconic Apple Mac background, you can spend the evening relaxing in a hotel without having to leave the park.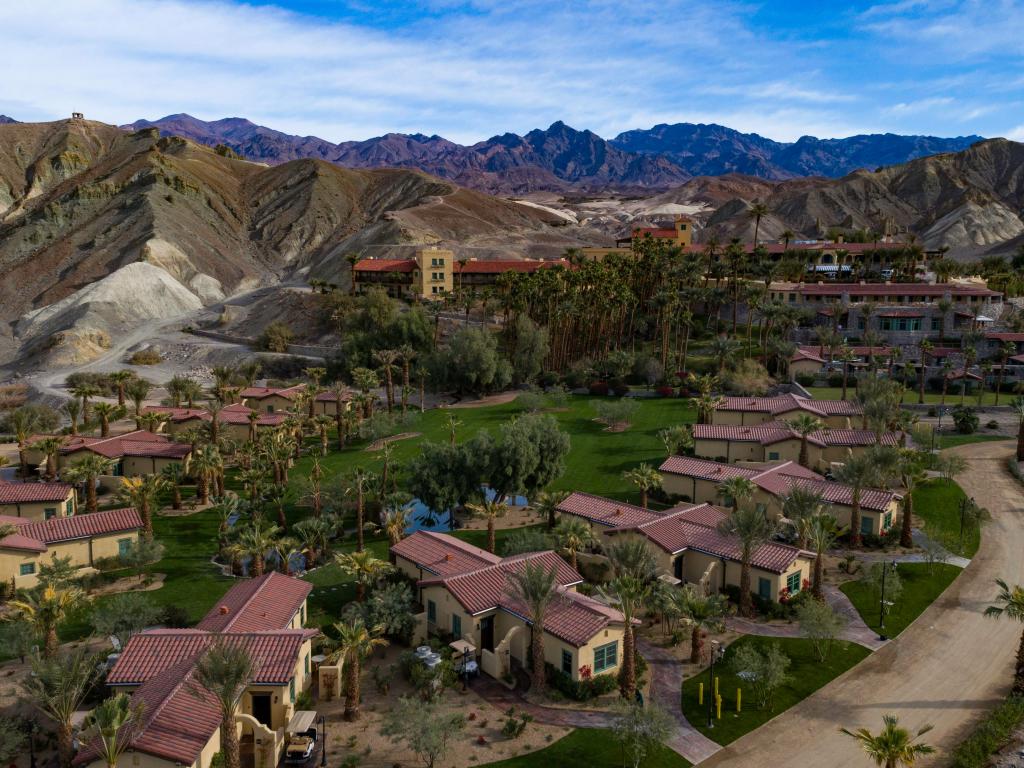 Things to see on a road trip from Los Angeles to Lake Tahoe
The drive up from Los Angeles to Lake Tahoe crosses some of California's most scenic landscapes, national parks and gorgeous scenery. You can stretch a road trip to 2 weeks and still not see half of the amazing places on the way.
With that said, here are some suggestions of places you might want to add onto your itinerary:
Angeles National Forest: chances are you're well-acquainted with this area if you're an LA local, but if not, the forest landscapes and the Sierra Pelona Ridge are beautiful
Death Valley National Park - unbelievable number of sights, landscapes, salt flats, sand dunes and even a 14-mile trek up Telescope peak
Sequoia National Forest & National Park – featuring hundreds of thousands of acres' worth of forest and giant sequoia tree groves
Kings Canyon National Park – just north of Sequoia National Park, it also boasts sequoia behemoths and endless hiking trails
Mammoth Lakes – located within Inyo National Forest, this town is a famous ski destination in the winter and a summer mountain activity paradise
Devils Postpile National Monument - a unique rock formation close to Mammoth Mountain
Ancient Bristlecone Pine Forest – located near Bishop, this forest features the oldest trees in the world. They may look dry and weird but so would you if you were almost 5000 years old
Yosemite National Park – virtually every corner of this park is worth exploring, with Yosemite Valley being the highlight
Mono Lake – one of America's oldest lakes, known for its salty water and limestone "tufa towers"
Stanislaus, Eldorado and Tahoe National Forests - endless mountains, lakes, streams and raw nature
Sacramento - California's quirky capital city is en route if you follow the interstate or Sierra Nevada routes
As I said above, this is just your starter list. Most of these locations have many days if not weeks' worth of places to see so you can take as long as time allows on your road trip.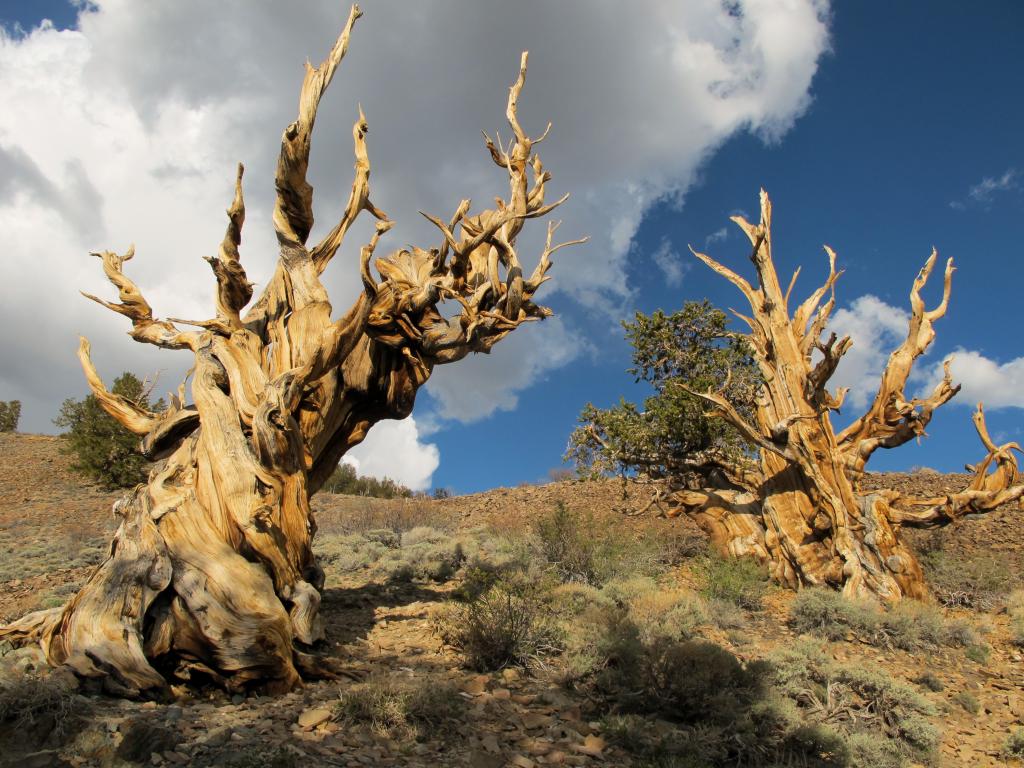 Best time to go on a road trip from Los Angeles to Lake Tahoe
If you don't mind the inevitable crowds, summer is the obvious time to drive from LA to Lake Tahoe. The weather up in the mountains and at Lake Tahoe's high elevation varies a lot and is best from May to September.
If you want to spend time on the lake, avoid spring as the water will still be cold from the freezing winters - fall can be perfect for avoiding the tourists and still enjoying the back end of the good weather season.
Winter is also great in Lake Tahoe if you like skiing, but the road trip won't be much fun - all the scenic passes over the Sierra Nevada are closed for the entire snow season including Tioga Pass that runs through Yosemite. Death Valley will also be cool and harsh so you won't want to spend much time hiking.
If you do decide to drive in the winter, US-395 is a decent option, but it can and does suffer from snow closures with no good alternative route. The road passes heights of over 8,000 feet so you may also end up crawling along in snow chains.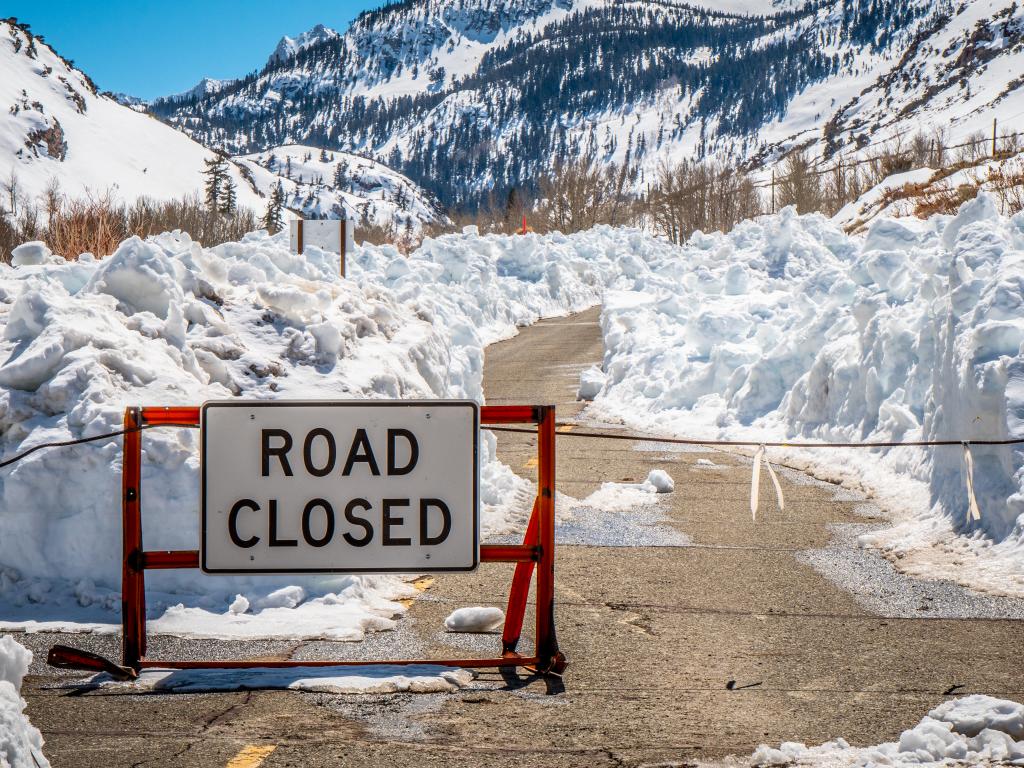 Although the road is far less scenic, you may want to head north to Sacramento along the interstates instead and then cut across along one of the routes that do usually remain open along the I-80 or Route 50.
If you're planning on exploring the Death Valley, definitely try and avoid the searing summer temperatures. October to November and March to April are good times to visit.
Sierra Nevada is perfect any time from when the passes reopen after the snow season until the snow falls again. A few spots like Yosemite Valley may be busier during the summer, but the national parks are so vast that it really doesn't matter - you won't be seeing too many other people on your hikes.