Road Trip From Los Angeles To Las Vegas
Las Vegas may only be a short drive away from Los Angeles, but it will feel a world apart when you get there and a road trip is perfect for making the trip even more enjoyable.
The 270-mile road trip from Los Angeles to Las Vegas will take 4 hours to drive nonstop. You can visit Palm Springs, Mormon Rocks, Calico Ghost Town, Mojave National Preserve, Pioneer Saloon as well as Death Valley and Joshua Tree National Parks.
Read on to find the best routes, places to stop and things to do on your drive.
How far is Las Vegas from Los Angeles and how long will the road trip take?
The journey from Las Angeles to Las Vegas is 270 miles of fast and usually relatively empty road. You can leave your house at lunch and be sipping drinks on the strip within 4 hours.
As anyone who's ever been to or lives in LA will attest, your biggest concern in terms of time will be getting out of the city. Depending on where in LA you live, it can take a couple of hours just to get across and if you're driving in rush hour, you can easily add another hour or two on top of your driving time.
If you're planning to drive from Los Angeles International Airport, you'll have to cross the whole city so expect to spend a long time in traffic or avoid it by driving north and passing through Santa Clarita and Palmdale north of the Angeles National Forest.
Best road trip route from Los Angeles to Las Vegas
The best route trip from Los Angeles to Las Vegas depends on whether you are aiming for speed or pleasure. The road between cities follows the I-15 which takes you straight into downtown Las Vegas.
Depending on where you start from in Los Angeles either I-215, I-10, or I-605 will connect you with the I-15 and the journey couldn't be simpler as the interstate takes you the entire way to Vegas.
For those who want to enjoy the drive and take in the stunning scenery, there are some amazing options to stop over on the way or take a detour via Death Valley, Palm Springs or the Mojave Desert.
Best detours and places to stop between Los Angeles and Las Vegas
The direct route from Los Angeles to Las Vegas doesn't pass through too many places of note - you'll find occasional places to stop with a burger joint or two but other than that there will be a lot of flat desert terrain.
As you get closer to Las Vegas, the Mojave National Preserve will be to your right. For some reason, this beautiful stretch of wilderness is often ignored by visitors, but it can be a perfect way to break up your drive.
Explore the Mojave National Preserve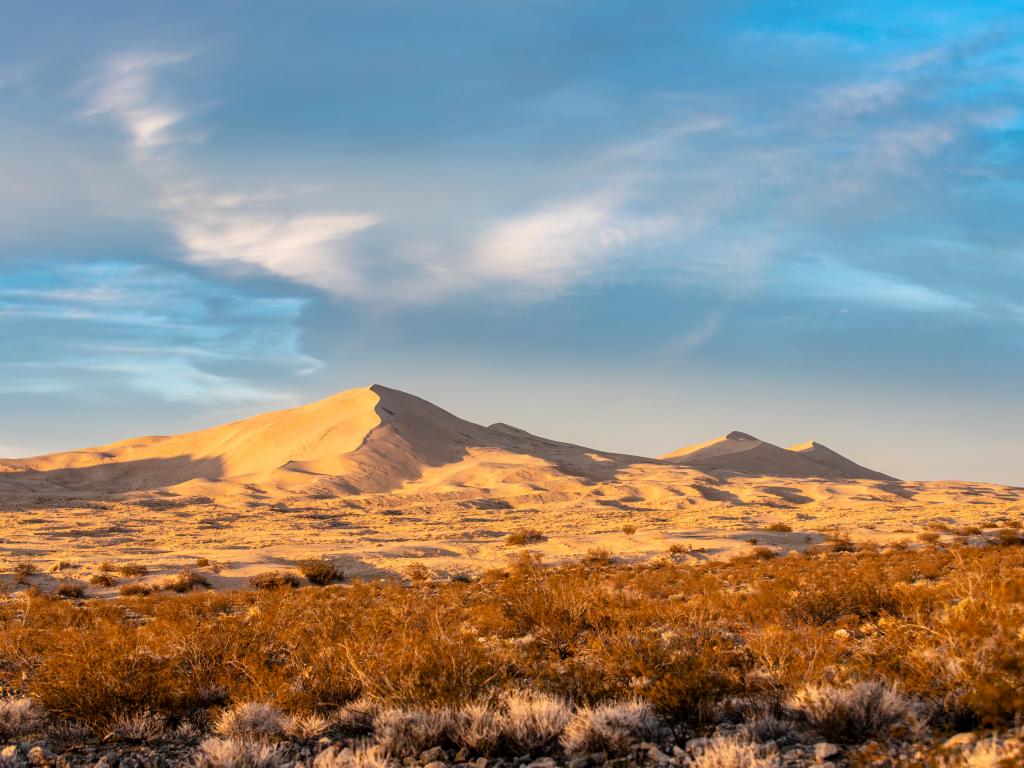 There is beauty to be found in the most unexpected places and none more so than the Mojave National Preserve.
One of the hottest places on Earth this seemingly desolate area is alive with wild beauty: from the flowering cacti and wild flowers in spring to the peculiar volcanic rock formations.
Different parts of the Mojave National Preserve offer very different landscapes and environments so make sure you drive around to take in the amazing sights.
The Kelso Dunes cover a huge 45 square miles with windswept sand dunes rising to 650 feet - perfect for sandboarding or listening to the sands sing their eerie song.
The Rings Loop is the most popular hiking route in the area - you get to climb through rocks offering stunning views across the desert and discover Petroglyphs carved centuries before by early inhabitants of the local caves.
Detour through the Death Valley National Park
Death Valley is somewhat of a detour on the road trip from Las Angeles to Las Vegas but if you are a nature lover or just love exploring stunning landscapes then it's an absolute must.
The best way to get to Death Valley is to turn off at Baker onto the appropriately named Death Valley Road towards Shoshone. Keep following it and eventually you'll see signs for Death Valley Junction and Furnace Creek right in the heart of this huge national park.
Death Valley is a lot more than just the hottest desert on Earth - you've got saltwater flats, mirror-like pools, brightly colored rocks, volcanoes, sand dunes and even wildflower blooms in spring.
To get the most out of your trip, you'll want to spend the night rather than rushing to check into your hotel in Las Vegas. The Inn at Death Valley is the perfect spot to relax in an oasis right in the heart of Death Valley.
Popular with Hollywood A-listers for decades, this luxury hotel has great restaurants, a spring-fed pool and lush green lawns. You'd be forgiven for forgetting that you are right in the middle of an inhospitable desert.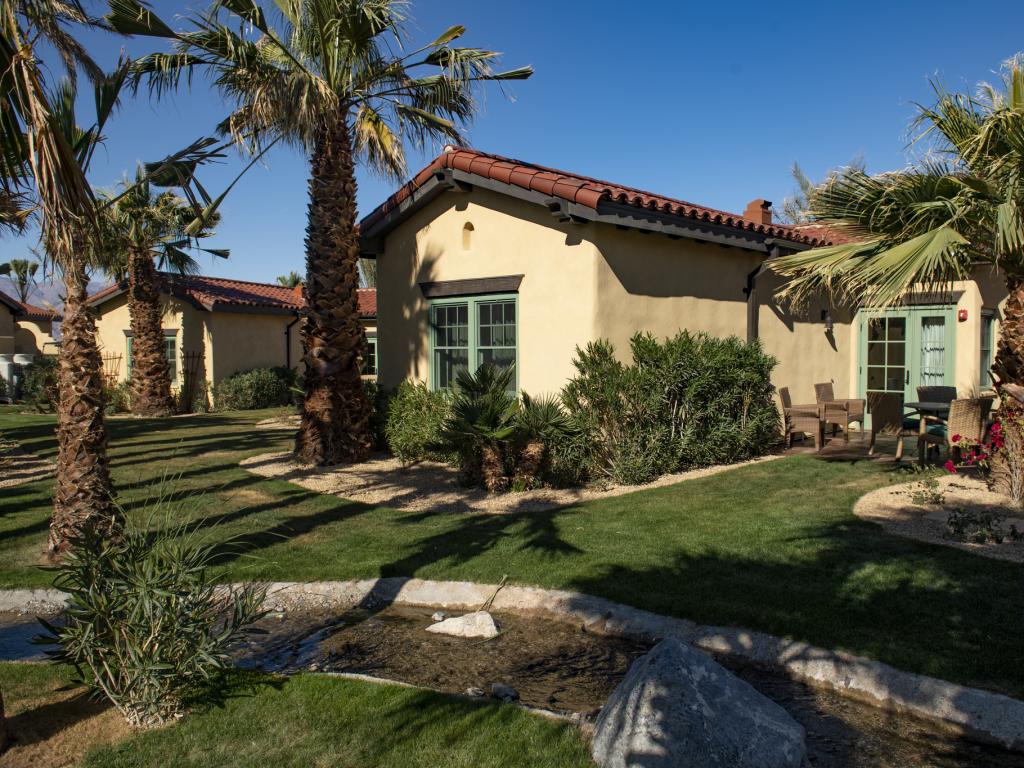 Scenic route through Palm Springs and Joshua Tree National Park
Another interesting alternative for the road trip to Las Vegas is to first head east and spend some time in Palm Springs and Joshua Tree National Park before making your way up the Colorado River.
This route will mean about 7 to 8 hours of driving - almost double the time it takes to go direct, but you're definitely adding some amazing scenery in return.
Palm Springs is an infamous luxury destination in the Coachella Valley between San Jacinto Mountains and the Mojave Desert known for its hot sunny weather all year round.
Sparrows Lodge blends a cozy ranch feel with impeccable service making it a favorite in Palm Springs. Everything you need to relax after hiking is here from the chilled out pool to a great restaurant.
Joshua Tree National Park is the start of the Mojave Desert that stretches all the way to Las Vegas and beyond. It's named after the unique people-like trees that are found throughout and the park has some amazing hiking routes.
On your way up to Las Vegas, make a stop at Lake Havasu and check out the old London Bridge. Yes - that's right. This bridge was disassembled and transported all the way from London to be rebuilt here in the 1970s.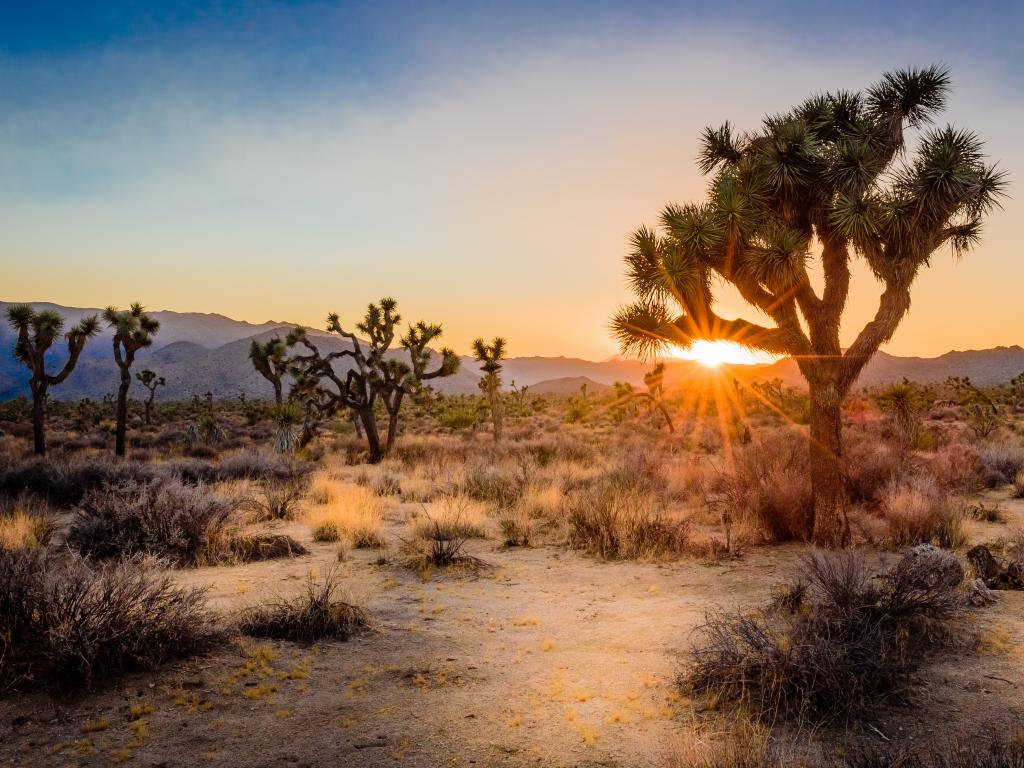 Things to see on a road trip from Los Angeles to Las Vegas
To break up your drive across the desert, make sure you take the time to make a stop or two and enjoy some of the sights along the way.
Granted - you won't be passing through any major cities or places of note, but there's still a few quirky places to stretch your legs on the way.
Mormon Rocks - The closest pit stop to Los Angeles offers you the chance to get up early and start the day with a hike. Explore the distinctive sandstone hills or take a stroll through the 1 mile interpretive walk and keep and eye out for the clawed and winged residents.
California Route 66 Museum - Route 66 is one of the most famous American roads, the iconic "American Highway' and its museum delves deep into its glorious heyday with memorabilia such as a 1950s diner, old road signs, cars and general nostalgic paraphernalia.
D'Vine Wine bar - Ok so if you leave LA at 8 am a platter of cheese and wine may be a little early in the day, but this is a fabulous spot to visit if you are doing the route in reverse.
Elmer's Bottle Tree Ranch - Random roadside curiosities are a staple of the classic road trip. Check the box by visiting an orchard of trees made of old bottles attached to metal pipes, resulting in a glittering fusion of light and color. Why did they do it? Nobody knows, but it's sure pretty to look at.
Calico Ghost Town - History is preserved at the former mining town, abandoned in the 1890s and restored in the 1950's. Calico Ghost Town is short on ghosts but big on bringing you a piece of American history, learn about mining and spend some time panning for gold.
Peggy Sue's Diner - Built in the 1950s Peggy Sues is an authentic 1950s diner, preserved immaculately and serving food just as they did back in the day. Burgers, pies and milkshakes are the order of the day with a traditional candy shop for you to fill up on road trip treats.
The Mad Greek Cafe - Located in Baker is a town just 90 miles out from Las Vegas, the iconic restaurant is famed for its authentic Greek food and an enthusiastic ode to traditional Greek design. Be sure to visit the 440-foot high thermometer (yes - it is the world's tallest), a monument to the searing heat of nearby Death Valley.
Pioneer Saloon - A snapshot of a former time, this cowboy saloon is frequently seen by celebrities and has appeared in a fair few of its own movies.
Seven Magic Mountains - Just 15 miles out of Las Vegas you may be tempted to power through and miss it altogether, but we insist you take a moment to visit this art installation. What is more confusing than the decision to build seven 30-foot-tall piles of colorful rocks out in the desert, is the fact that this is the most popular stop between Los Angeles and Las Vegas, with over 1,000 people visiting a day. A snap here is a must for the 'gram.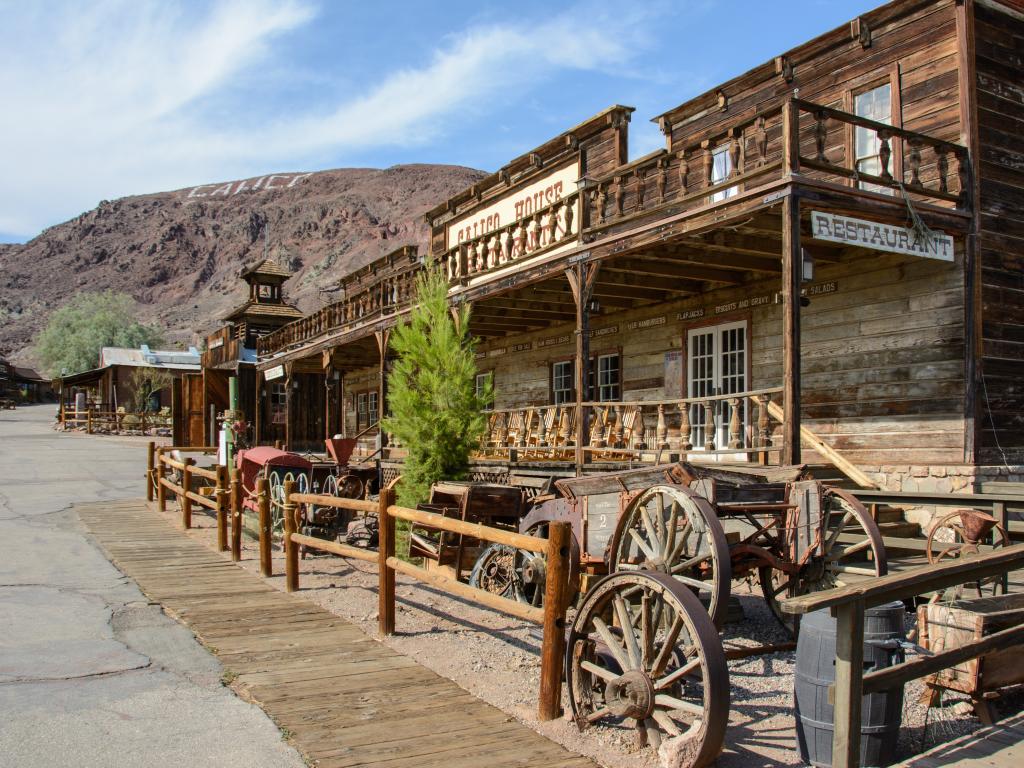 Best time to go on a road trip from Los Angeles to Las Vegas
There is no bad time for a road trip between Los Angeles and Las Vegas but if you don't like the heat then you may want to consider the summer temperatures - especially if you plan on visiting Joshua Tree, Mojave National Preserve or Death Valley.
Las Vegas is in the desert and temperatures are often in the 100's. No one visits Vegas for the outdoor lifestyle but even the walk from your hotel to a mall or casino can feel like torture when you are bent double beneath the sun's rays.
Did you know it can snow in the desert? It can in Nevada and the roads between cities can become treacherous, so check for snowfall if you are heading out in winter. Conclusively spring and autumn are the best times to visit the City of Sin as well as seeing the sights on the way.
Whenever you are planning to go make sure you pack with care and bring food and extra water. Although there are plenty of stops along the way, breaking down in the desert with no water is an unpleasant experience whatever the time of year.