Road Trip from Los Angeles to Monterey
This beautiful journey from Los Angeles to Monterey is full of surprises, taking either a jaw-dropping scenic route along California's stunning coastline, or epic inland trip across California, both exploring national treasures en route.
The 330-mile trip from Los Angeles to Monterey takes 7 hours. The Pacific Coast Highway Route cruises through Santa Barbara, Santa Monica, Ventura, Solvang and Big Sur. Alternatively hit Bakersfield, Porterville, Sequoia National Park, and Fresno.
This road trip is teeming with interesting city and scenic stop-offs and you can be sure there is plenty to keep you occupied from the bright lights of LA through to charming Monterey. Take a look below at what we suggest seeing and doing along this memorable road trip.
How far is Monterey from Los Angeles, and how long will the road trip take?
Comparison of road trip routes between Los Angeles and Monterey

| Route | Distance | Driving Time |
| --- | --- | --- |
| Pacific Coast Highway Route | 330 miles | 7 hours 10 minutes |
| Sequoia National Park Detour | 440 miles | 7 hours 43 minutes |
The very scenic Pacific Coast Highway Route to Monterey from Los Angeles takes around 7 hours and covers 330 miles, with no detours.
Heading along the Sequoia National Park Detour takes a similar traveling time of nearly 8 hours, covering 436 miles inland, with the chance to visit the incredible Sequoia National Park.
You may consider covering this road trip in a day given the journey is fairly short, however we recommend really making the most of the sights by putting aside 2-3 days to take it all in.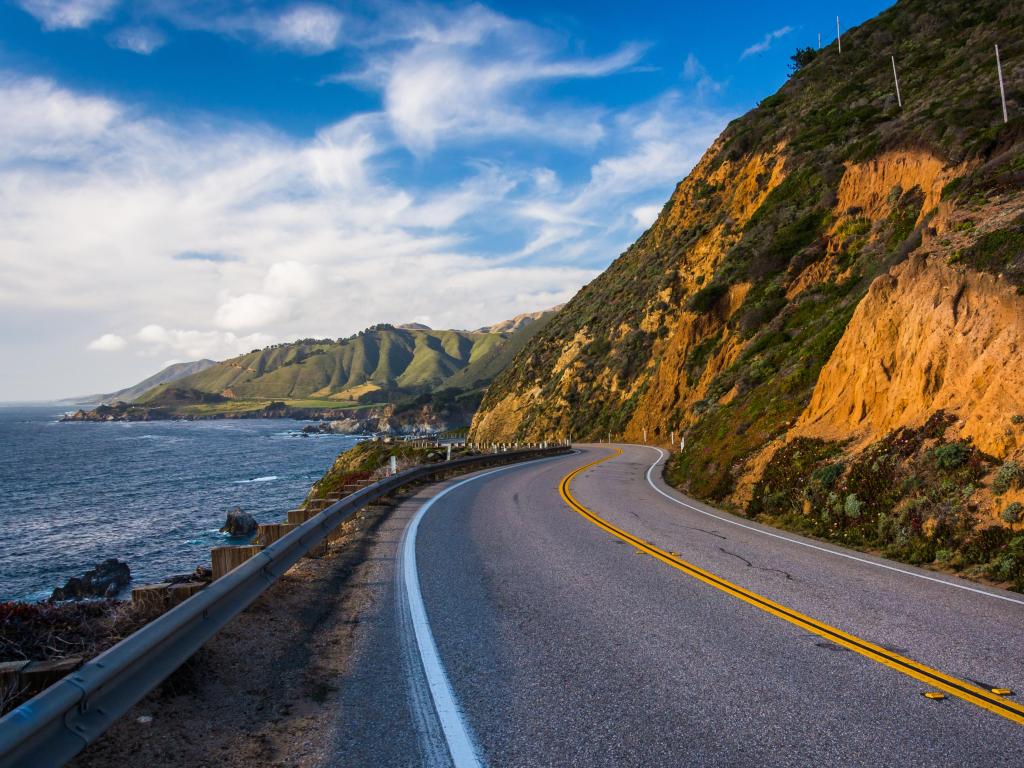 Best road trip route from Los Angeles to Monterey
If you are looking for a road trip with stunning coastal views and unrivaled scenery then this journey from Los Angeles to Monterey is for you. There are plenty of surprising stop offs that will leave a lasting impression on both the Pacific Coast Highway Route and Sequoia National Park Detour.
The impressive Pacific Coast Highway Route weaves along the Californian coastline, taking in beautiful sandy shores, unique sights and hot springs before crossing Big Sur and arriving at Monterey.
Follow the Sequoia National Park Detour and there is everything from thrilling amusement parks, cultural stop-offs, hiking routes and waterways, with the renowned Sequoia National Park to also enjoy on the way.
Pacific Coast Highway Route
You'll begin your road trip from Los Angeles to Monterey by following alongside the Californian coastline, where Santa Monica State Beach and Santa Monica Mountains are the ideal places to kick-off this journey.
From here follow the coastline west where you arrive at Ventura and then the buzzing sights of Santa Barbara, before spending a night or two at the unique Danish utopia Solvang, for some European style fun and food.
After Solvang head north along Highway-101 towards Santa Maria for a drop or two of Chardonnay, and then Pismo Beach to enjoy unrivalled ocean views.
Continuing along the highway you then reach beautiful Morro Bay National Estuary for wildlife watching and hiking, before arriving at Slates Hot Springs, which is worth a sleepless night to enjoy a nocturnal dip.
Passing Big Sur, a stop at McWay Falls and Point Sur Lighthouse interest points are a must, before arriving at destination Monterey.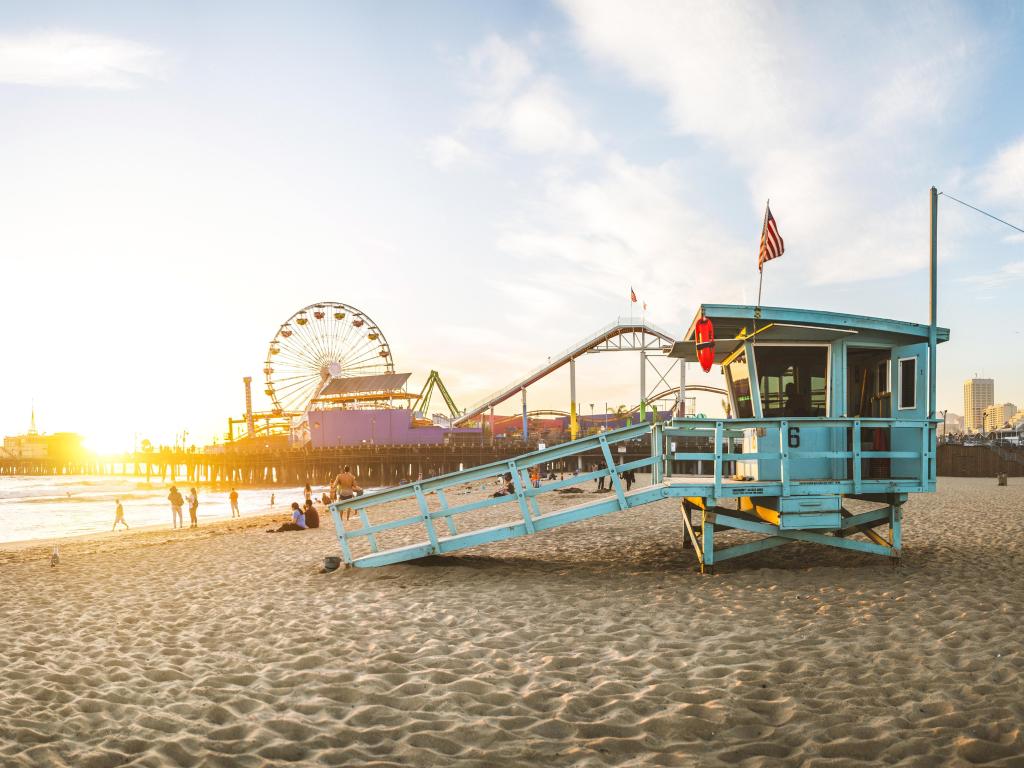 Sequoia National Park Detour
The inland journey from Los Angeles taking the Sequoia National Park Detour starts on Intersate-5 passing Six Flags Magic Mountain thrills and spills in Santa Clarita, and cultural sights of Bakersfield.
Head along Highway-65 and make a night of it once at Porterville. A great stop for visiting Sequoia National Park in the day, then an entertaining evening at Eagle Mountain Casino to follow.
After a visit to the 400,000 acres of incredible scenery at Sequoia National Park, jump back onto the Highway heading west towards Visalia then north on Highway-99 towards Fresno to marvel at Forestiere Underground Gardens.
Following this, delightful waterways greet you along Highway-152, from the wetlands at Merced National Wildlife Refuge and man-made San Luis Reservoir, to the sweeping dunes at Fort Ord Dunes State Park. A scenic and interesting journey leading into a final stop at Monterey.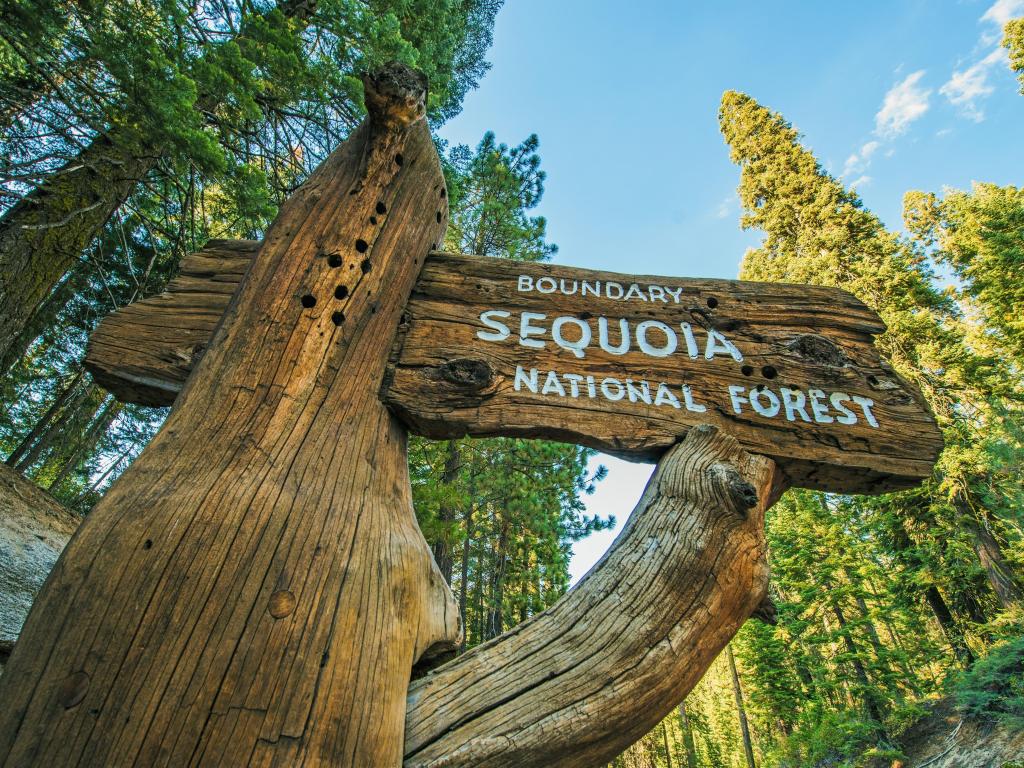 Best places to stop between Los Angeles and Monterey
These incredible road trips from Los Angeles to Monterey are teeming with coastal views, renowned national parks and interesting sights.
Although this is a pretty short journey, which could be completed in a long day, with so much to see and do you will want to make a night of it, so here are our recommended places for an overnight stop.
Enjoy all things Danish in Solvang
Around halfway along the Pacific Coast Highway Route you will come across Solvang, an interesting and unique stop-off in California where the food, architecture and entertainment are all based on Danish tradition.
A must-see is the Old Mission Santa Ines, where you can enjoy a tour around this impressive mission founded in 1804. Make sure to admire the statue of St. Agnes above the main altar.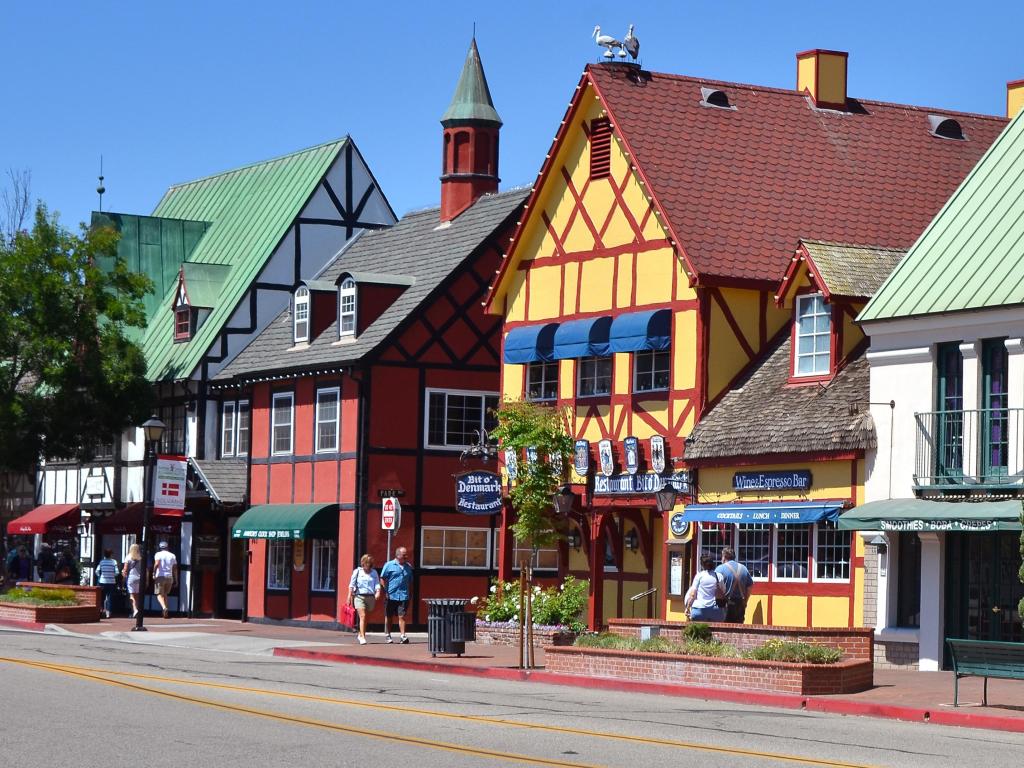 The pretty Hans Christian Andersen Park is ideal for a leg stretch and lunch, where more athletic visitors can enjoy outdoor sports such as tennis. Then make sure to then head to Solvang Festival Theater for an evening of entertainment. This venue has a packed agenda with great shows year-round.
After a busy day and night exploring Solvang, head to The Landsby, located right in the center of Solvang and close to all the great Danish sights such as Old Mission Santa Ines.
This boutique, modern, hotel, with beautiful Scandi-design inspired interior is a wonderful stop-off. Take a seat in the hotel courtyard or garden with a coffee or cocktail, before heading to dinner at on-site Mad & Vin restaurant.
Enjoy peaceful and picturesque Porterville
Stop off around halfway along the Sequoia National Park Detour at Porterville, to recharge and explore and you won't be disappointed. This is the gateway to the beautiful sights and experience of visiting Sequoia National Park.
Porterville is so close to this beautiful park, and with over 850 miles of hiking trails to enjoy you'll be pleased you stayed close-by to this popular Californian landmark.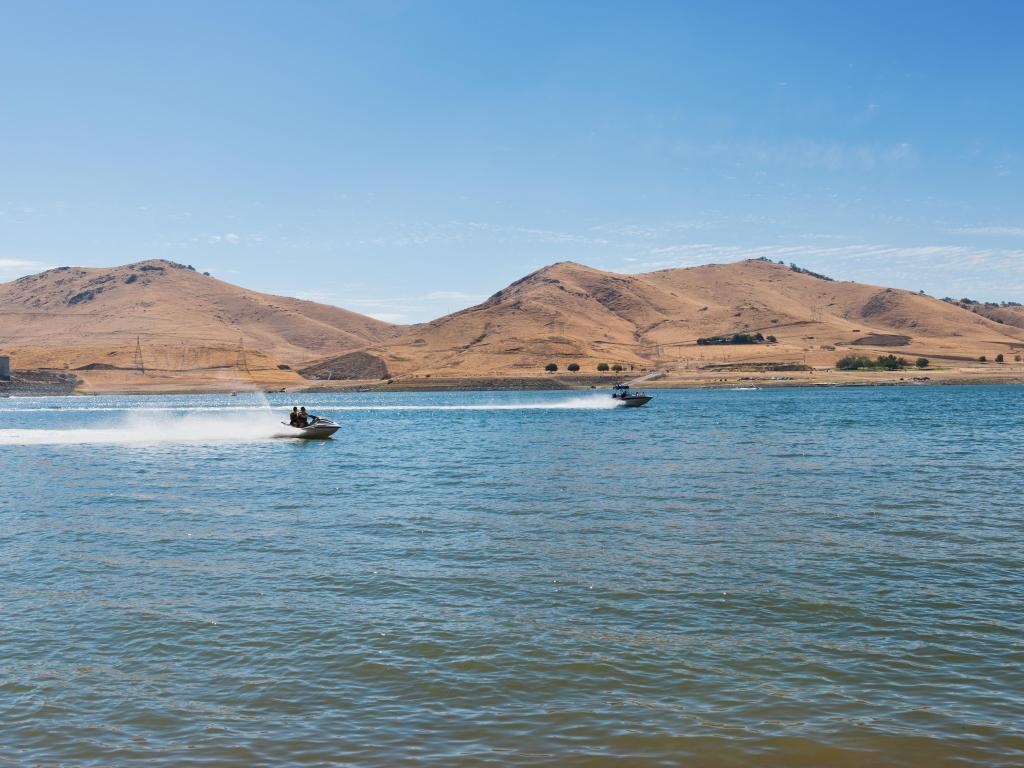 Make sure to also visit Lake Success, an impressive lake, formed by Success Dam, which is ideal for fishing and relaxing in the beautiful surroundings.
For an evening of entertainment then Eagle Mountain Casino with 1200 slot machines and 11 table games should keep you busy. Open 24/7 there is top entertainment to enjoy throughout the year as well as casino games.
Close by the Holiday Inn Express Porterville offers a great night stay, boasting an outdoor pool for much needed rest and relaxation, before retiring to your modern and spacious bedroom.
A delicious buffet breakfast is included to enjoy each morning to start your day off right, and with so many popular attractions on the doorstep including Porterville Fairgrounds and Lake Success you'll be out enjoying the sights right away.
Where to stay when you reach Monterey
There are so many delights to enjoy at Monterey, and Monterey Plaza Hotel & Spa is no exception. This incredible hotel, set right on the beachfront with its own private beach, gives off all the celebrity vibes.
After exploring the city, and enjoying a leisurely stroll on Monterey State Beach, you can head back to the hotel and right to the state-of-the-art European Vista Blue Spa for some serious winding down, or rooftop fitness center if you want to keep on the move.
You can enjoy pre-dinner drinks at The Lobby Lounge or on the beautiful outdoor terrace with ocean views, before heading for a delicious seafood dinner.
Choose from the renowned Schooners Monterey and Coastal Kitchen on-site restaurants, and make sure to try the added wine pairing too. The live evening entertainment afterwards is the perfect way to end an amazing stay.
Things to see on a road trip from Los Angeles to Monterey
Regardless of which diverse road trip you take from Los Angeles to Monterey you can be sure the journey will be packed with interesting and inspiring sights.
Continue reading to see our suggested list of what key places to see and explore during this beautiful journey.
Pacific Coast Highway Route
Santa Monica Mountains National Recreation - Stop off for a hike across the impressive landscape. The beautiful Escondido Falls and Sandstone Peak landmarks are definitely a highlight.
Ventura - Known as the 'city of good fortune', meander along the pretty harbor to enjoy the waterfront. Have a little more time? Then cruise over on a daily crossing to the impressive Channel Islands.
Santa Barbara - Make sure to visit State Street Promenade in the center of downtown. This buzzing hub is popular in the day with markets and shopping, and at night is an entertainment and dining hot spot.
Solvang - A Danish slice-of-heaven, this unique town is a great stop-off. Admire the architecture and attractions which make you feel like you are in Europe. Christmas is especially enchanting.
Santa Maria - Known for its scenery and vineyards you can partake in a relaxing afternoon sitting amongst the vines and enjoying a glass or two of renowned Chardonnay.
Pismo Beach - Unrivalled views across the ocean can be enjoyed from Pismo Beach. Head along in the day to enjoy some surfing action, or ride the sand dunes on a quad bike.
Morro Bay National Estuary - This beautiful site is packed with wildlife and birds. For some of the best views hike to the top of Black Hill.
Slates Hot Springs - Beautiful views over the Pacific Ocean can be enjoyed. However, if you want a closer visit the springs are only open to the public during 1-3am – they are however worth a sleepless night!
Big Sur - Between Carmel-by-the-Sea and San Simeon, Big Sur has plenty to see across its landscape. Make sure to stop at McWay Cove Beach and McWay Falls and Point Sur Lighthouse interest points.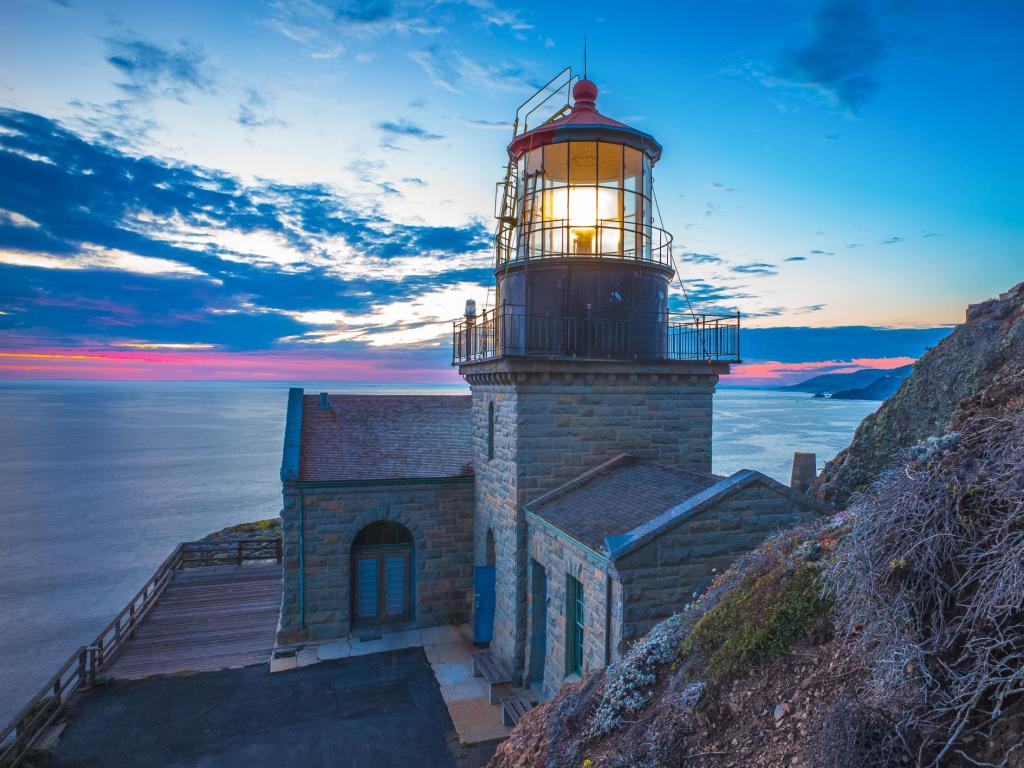 Pacific Coast Highway Route
Santa Clarita - Home to the Six Flags Magic Mountain, look no further for some entertainment at this popular amusement park. Set over 262 acres it houses the most roller coasters in the world.
Bakersfield - This bustling city has plenty going on. Renowned for its art and culture scene take a visit to the Bakersfield Museum of Art and wander the Downtown Arts District during your visit.
Porterville - A great stop for Sequoia National Park in the day, before spending an entertaining evening at the Eagle Mountain Casino.
Three Rivers - The ideal stop off before entering neighboring Sequoia National Park. There are plenty of hikes to take to enjoy the landscape and wildlife. Tonopah Fall is a must-see.
Sequoia National Park - With over 400,000 acres to enjoy, this memorable park has some of the most recognized scenery, including the General Sherman Tree, the world's largest tree.
Forestiere Underground Gardens - Based in Fresno, this interesting underground world created by Baldassare Forestiere, is made up of gardens and walkways and showcases 40 years of incredible work
Merced National Wildlife Refuge - Ideal for bird-watching fans, enjoy viewing plenty of waterfowl, ducks and geese during a visit here. With over 10,000 acres of wetlands the area is teeming with wildlife.
San Luis Reservoir - This artificial lake is ideal for a stop off with a picnic along the beautiful water edge. Head to the Visitors Center too to learn more about how this body of water originated.
Pacheco State Park - Hike, bike or horse ride across the miles of trails in this park. Reach Dinosaur Point and you can enjoy particularly impressive views.
Fort Ord Dunes State Park - This beautiful area is one of the newer parks opened in California, with visitors only arriving since 2009, with 4 miles of sweeping sand dunes to wander.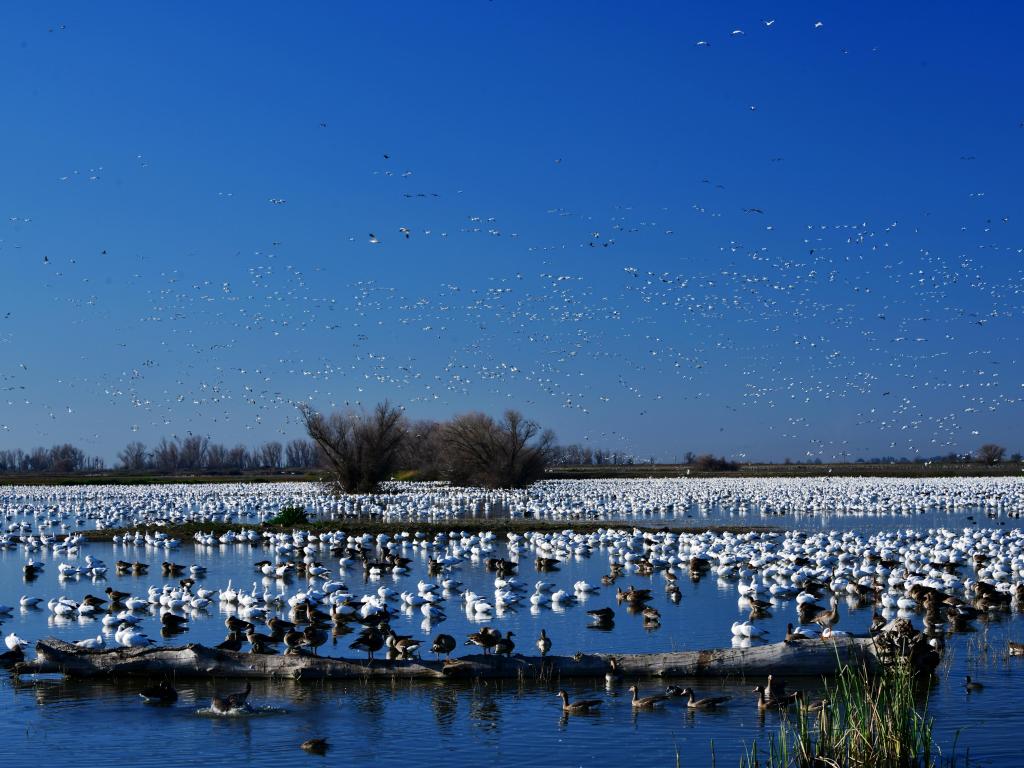 Best time to go on a road trip from Los Angeles to Monterey
As Monterey is in the middle of California it enjoys mild temperatures throughout the year which makes it ideal for a visit whatever the season.
Summer is the most popular time to visit, with temperatures at around 60 and 70 degrees Fahrenheit. There are also popular events that happen during the summer and opportunities to see wildlife such as whales more easily.
With the warmer weather more crowds come so accommodation can be at a premium during this time, so it's worth considering arriving outside this time or planning well ahead to get the best deals.
However, if you are not bothered by the crowds, Monterey Winemakers Celebration and Monterey International Blues Festival are wonderful activities to take part in during the month of June in summer.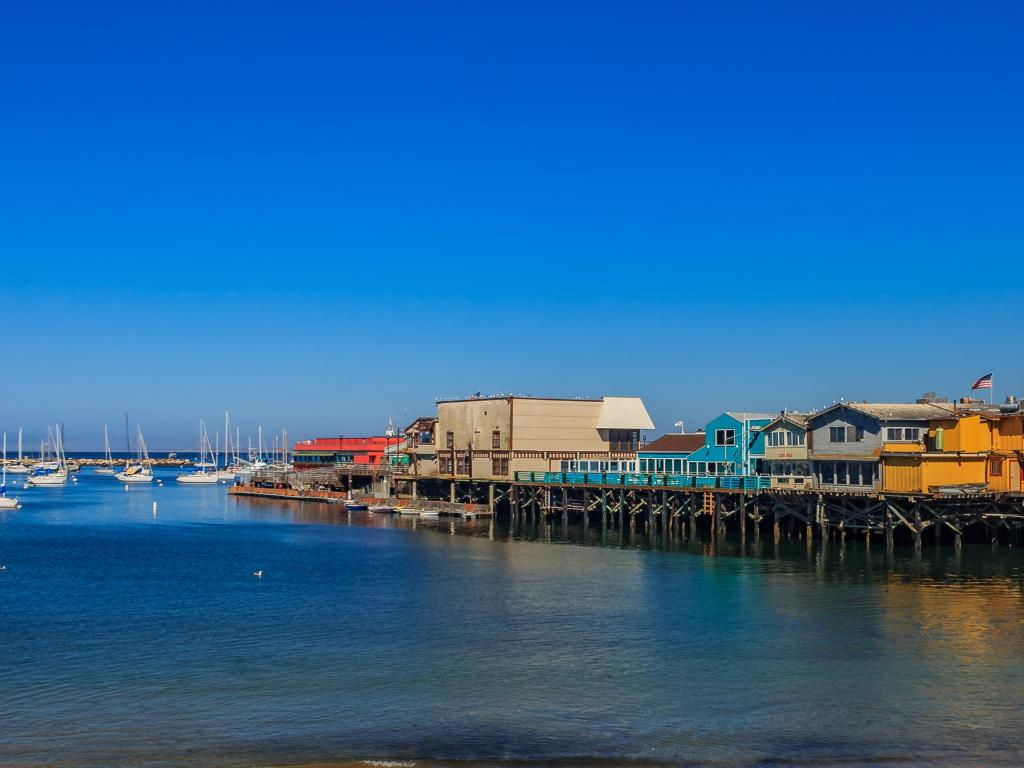 With weather fairly mild throughout the year, winter can prove a little chilly with temperatures falling to about 40 degrees Fahrenheit from fall onwards. However as long as you wrap up warm it can be a great time to explore as attractions and events here are active all year round.
Spring is a great time to head to Monterey, with April and May key months when the weather is nice, crowds have not yet peaked and there is an abundance of events. Temperatures rise to about 65 degrees Fahrenheit.
Monterey is scattered with festivals throughout the year, and there are plenty of wonderful events to enjoy whenever you decide to go. Many of these event's center on music, cars, food and drink, and the local community.
If you are visiting in March, you can participate in Whalefest Monterey and 2-day Symposium. May brings Motul Course de Monterey to the city.
Fall is also a great time to head to Monterey, however there is more likely to rain so make sure to take an umbrella. If you are in Monterey during September, make sure to stop by the Monterey Greek Festival or the famous Monterey Jazz Festival.