Road Trip from Los Angeles to Salton Sea
This short road trip from Los Angeles to Salton Sea is the perfect choice for a long weekend or mid-week break. Whether you're looking to reconnect with nature, party in Palm Springs, or get active in the great outdoors, this trip has something for every traveler.
The 160-mile road trip from Los Angeles to Salton Sea takes 2 hours and 30 minutes to drive, meaning you can branch out to San Bernardino National Forest, Big Bear Lake, Palm Springs, Joshua Tree National Park and the Coachella Valley along the way.
With some great places to discover which are just a short ride off the Interstate, read on to find out how to pack some big memories into this fantastic short trip.
How far is Salton Sea from Los Angeles and how long will the road trip take?
Comparison of road trip routes between Los Angeles to Salton Sea
Route
Distance
Driving Time
Direct Route

160 miles
2 hours 30 minutes
Scenic Route


with detours

310 miles
6 hours 30 minutes
The easiest and most direct route from Los Angeles to Salton Sea is about 160 miles. It should take you 2 hours and 30 minutes of non-stop driving time to complete the journey.
From Los Angeles, it is a simple drive that for all intents and purposes is one straight road, which means that you could easily do a road trip from Los Angeles to Salton Sea in a day if you are pressed for time.
But with so many beautiful scenic vistas and captivating attractions to experience along the way, it would be well worth taking at least two or three days to appreciate them to the fullest.
We've suggested some side trips and detours from the direct route which take your total travel time up to 6 hours and 30 minutes, with 310 miles to drive. So be sure to factor in the extra time if you want to include them all in your trip.
Generally speaking, it's better to commence your road trip from Los Angeles to Salton Sea during weekdays to avoid the crowds - travel times will likely be longer if you leave the city during the Friday rush hour.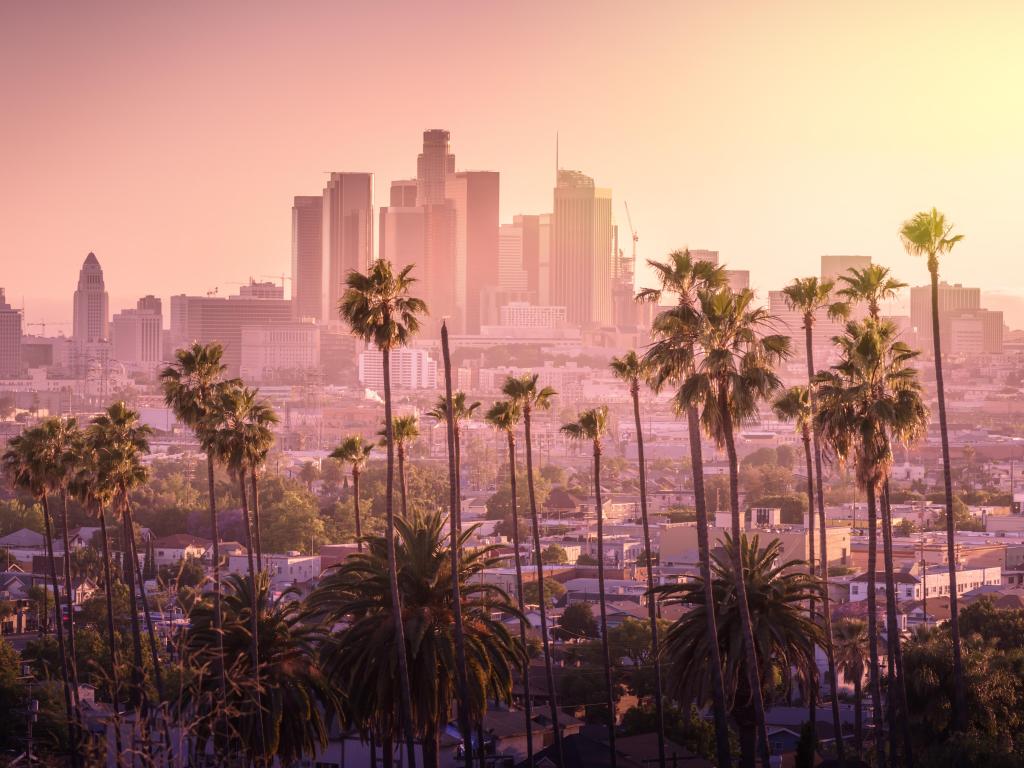 Best road trip route from Los Angeles to Salton Sea
There are several ways to get to Salton Sea from Los Angeles, but we recommend making as many detours and side excursions as you can on your way. The Direct Route might get you to Salton Sea faster, but the Scenic Route will take you through amazing landmarks and views.
This course allows you to keep a steady direction towards Salton Sea, yet also affords you plenty of scope to explore some of the scenic wonders along the way.
You also have the option to visit the famous oasis in the desert, Palm Springs, head up into Joshua Tree National Park, or explore the stunning San Bernardino National Forest before arriving at your destination, Salton Sea.
Road trip route from Los Angeles to Salton Sea
Leave Los Angeles via Interstate 10, which will take you most of the way to Salton Sea. This will initially take you past San Bernardino National Forest, which is just a short way north of the Interstate with a multitude of hiking trails and scenic viewpoints.
As the road trip between Los Angeles and Salton Sea is relatively short and straightforward, you might even like to include a scenic detour through the National Forest.
To join the Rim of the World Scenic Byway, take Exit 31B past El Monte for Interstate 605 and then Exit 27A for Interstate 210/CA-210. Taking Exit 76 here will take you on CA-18 and to Arrowhead Springs. You can also venture out to Lake Arrowhead from this point.
Getting back on CA-210, you will merge onto CA-330 as you leave the city of San Bernardino and start your scenic drive through San Bernardino National Forest past Running Springs, Big Bear Lake and Bear Valley.
Rejoin I-10 past Yucaipa Regional Park, where you will have the opportunity to brush up on your native American history at the fascinating Morongo Reservation, or head to Morongo Casino if you're in the mood to try your luck.
Your next waypoint along I-10, Palm Springs, is just a short hop off the main route. Head into the city via CA-111, which runs along the foot of Mount San Jacinto.
For the most direct route, CA-111 heading east will get you back onto the Interstate when you're ready to carry on towards Salton Sea.
Alternatively, you could leave the city via CA-111B which takes you south towards Palm Desert and Indian Wells. Here you can enjoy a visit to the Living Desert Zoo and Gardens or turn onto CA-74 to take the short but winding road up to Coachella Valley Vista Point.
From CA-111 in Palm Desert, turn left onto Monterey Avenue then right onto Fred Waring Drive, before joining Washington Street which will take you back onto I-10.
You're not far from Salton Sea now, and if you want to head straight there you simply need to join CA-86 at Exit 145.
However, if you'd like to visit Joshua Tree National Park on your road trip you still have the option to make one last detour from the main route before you reach your destination.
To visit the National Park, continue on I-10 instead of joining CA-86. Take the Exit for Cottonwood Springs Road and follow it through the park.
When you've finished exploring the unique arid landscapes of Joshua Tree National Park, you can make your way to Salton Sea by returning along I-10 to pick up CA-86.
If you'd prefer to take a quieter road, drive straight when you reach the bridge over the Interstate, instead of joining the freeway when you exit the park on Cottonwood Springs Road. Follow the road towards Mecca, which curves to the right before reaching the scenic Box Canyon.
Once you reach Mecca, follow 66th Avenue to join up with CA-86, which you'll follow south to complete your road trip.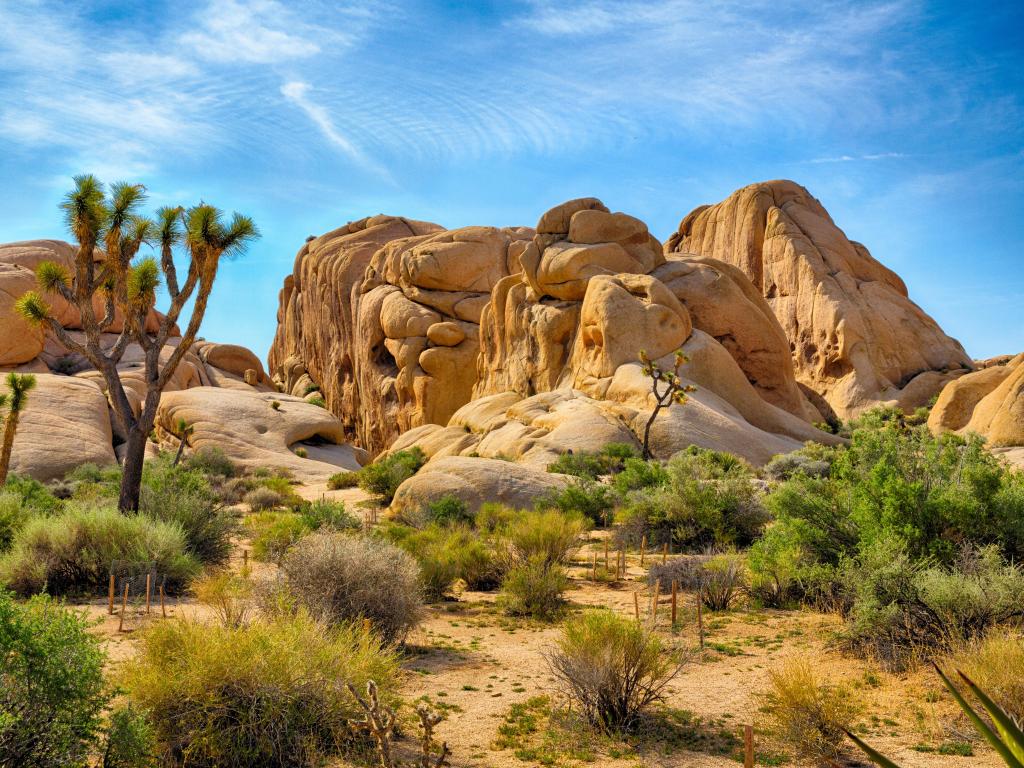 Best places to stop between Los Angeles and Salton Sea
Even though it is a short journey, there are a number of stunning and interesting places to stop on your road trip from Los Angeles to Salton Sea.
If you are planning to break up your journey with a couple of overnight stays why not consider our top suggestions below?
Get closer to nature at Big Bear Lake
If you want to enjoy a night in the peaceful and beautiful San Bernardino National Forest, Big Bear Lake, located just 2 hours away from Los Angeles, is a fantastic place to base yourself.
With several ski lifts and two marinas nearby, it's perfectly situated to allow you to enjoy the mountains and the lake, no matter which season you visit. The hiking trails here are fantastic - you're sure to enjoy the awe-inspiring views over the lake.
If you're here in the warmer months, take to the water to kayak, water ski or paddleboard, or for a more relaxed view of the shore, you can head out on a boat trip across the lake.
Located just off the route, Sierra Blue Suites offers rustic charm, lake views and spacious and chic rooms, most of which have been recently renovated. There's free parking on-site too, which is always a bonus when you're taking a road trip.
From the hotel you can walk to Big Bear Lake village to enjoy a meal or a drink or set out on the hiking trail of your choice. There's an indoor pool on-site too, perfect to cool down after a day outdoors.
While the main attraction in the area is the natural environment and the recreational activities this tranquil lake and its surroundings offer, you might like to check out the Big Bear Historical Museum during your stay to learn about the indigenous Serrano people.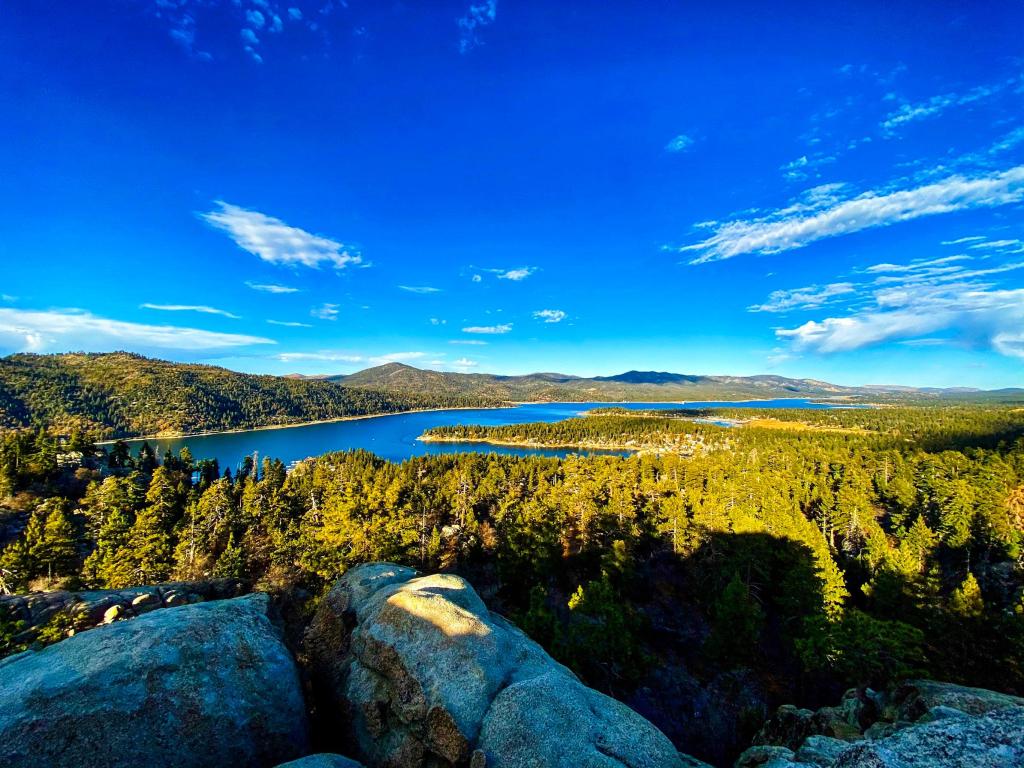 Soak in the glamor of Palm Springs
For a complete contrast to the tranquil shores of Big Bear Lake, head to glitzy Palm Springs, where you can base yourself as you explore Salton Sea, which is located less than an hour away.
A great place for people watching and relaxation, this oasis in the desert brings to mind luxurious spas, some of the best golf courses and the palm trees that it's named after.
This world-famous desert resort city is home to plenty of fabulous hotels, but one of the best of them is The Hideaway. It embraces the mid-century modern style perfectly, and with beautiful gardens and a pool with a view you'll feel like you've traveled back in time.
During your stay here, you should definitely check out the Palm Springs Art Museum located nearby, head to the nearby Living Desert Zoo & Botanical Gardens or visit Palm Springs Air Museum to see a fantastic collection of World War II planes.
For a different view of the city, take the Aerial Tramway up to San Jacinto Peak. Its rotating cable cars mean you'll get to enjoy 360-degree views as you travel up the mountainside.
Things to see on a road trip from Los Angeles to Salton Sea
Los Angeles and Salton Sea might not be all that far apart in terms of miles. But with such a wide range of sights and attractions contained within the distance, you could easily spend up to a week checking them all out.
That said, if you only have a couple of days available to you don't despair. We've made up this list of recommendations for the most intriguing and enchanting places to see along the way.
Claremont, California – This charming college town is just north of I-10 before you reach San Bernardino. With a friendly vibe and lovely architecture, it offers a delightful selection of shops, cafes, restaurants, and cool bars.
Mount Baldy – Head north from Claremont to visit this peak, known for its excellent skiing and snowboarding terrain. It offers zip lining, moonlight hikes, disc golfing and many other fun activities.
Rancho Cucamonga – Located on the historic Route 66, this quaint city is home to the Pacific Electric Inland Empire Trail, the Joseph Filippi Winery, and the lovely Sapphire Falls.
Box Springs Mountain Reserve Park – Situated just south of San Bernardino, on the side of a mountain that straddles the Moreno Valley and Riverside, this scenic park covers 3,400 acres.
San Bernardino National Forest – Almost a million acres in size this forest boasts imposing pine trees and gorgeous scenery. A splendid spot for fishing, hiking, and reconnecting with nature.
Wildwood Park – This picturesque park features a selection of trails set up for hiking, biking and horseback riding.
Rim of the World Viewpoint – Accessed via the Rim of the World Scenic Byway, this fantastic lookout offers sensational vistas of forests and mountains.
Big Bear Lake – Southern California's largest recreational lake. Excellent for hiking, kayaking, paddle boarding, fishing, and swimming. In the winter it is also good for skiing, wakeboarding and other snow-based activities.
Lake Arrowhead – Gorgeous mountain lake setting that showcases wonderful scenery and wildlife. Very good for hiking, fishing, biking, water skiing and snow skiing.
The Arrowhead Springs Hotel – Once a hangout for golden age Hollywood elite like Judy Garland, Clark Gable, and Charlie Chaplin, this grandiose 69-room white hotel lords over the San Bernardino Valley.
Morongo Reservation - Reservation that overlooks the vistas of the Banning Pass and covers more than 35,000 acres. Houses the intriguing Malki Museum which proudly exhibits Native American culture.
Oak Glen Preserve – Located at the foot of the San Bernardino Mountains, this preserve hosts a network of hiking trails that will take you into lush wetlands. It also boasts a botanical garden & Children's Outdoor Discovery Center.
Mt San Jacinto State Park – Beautiful national park, replete with stunning desert and forest scenery. Especially good for hiking, particularly up to the top of Mt San Jacinto.
Palm Springs, California – World famous desert resort city with plenty of celebrity residents. Best known for its glitzy hotels, hot springs, spas, and golf courses.
Joshua Tree National Park – This stunning national park is located where the Mojave and Sonoran deserts converge. Named after the iconic Joshua Trees that famously grow in the area.
The Living Desert Zoo & Gardens - Rated among the 10 best zoos in the USA by Condé Nast Traveler, this family-friendly zoo and gardens specialize in animals found in deserts around the world.
Coachella Valley Preserve – A stunning desert landscape on 3,700-acres of protected area in the Coachella Valley, which houses several near-extinct flora and fauna species local to the region.
Best time to go on a road trip from Los Angeles to Salton Sea
A road trip from Los Angeles to Salton Sea can be easily done all year round, but depending on when you take your trip you'll have a very different experience.
The period between October to May is generally considered the best time to visit Salton Sea, as you'll be able to enjoy a range of activities like hiking, camping, boating, water skiing, kayaking, and birdwatching on the many detours you will have the option to make.
However, going during peak months and the holidays will mean that you'll find higher accommodation prices and potentially limited availability during these times.
In spring and fall, temperatures around Big Bear Lake can range from 50 to 70 degrees Fahrenheit. There isn't much rain observed during these months, meaning you should be able to get out and enjoy the trails and water sports in the area.
Even in the winter, temperatures sit in the low 70 degrees Fahrenheit and you can enjoy the area's many outdoor activities when other parts of the country are much cooler.
Conversely, temperatures can sit above 100 degrees Fahrenheit between June and August, which might make the area too hot for some. Wear a hat and plenty of sunscreen, and drink lots of water to stay hydrated if you do go around this time.
If you are planning to make a detour through San Bernardino National Forest, you should expect snow and sub-freezing temperatures between January and April. Make sure to check for road and weather warnings if traveling in these colder months.
This is a route of contrasts; Salton Sea in the winter can be warmer than Big Bear Lake in the summer, which can see lows of 50 degrees Fahrenheit. This means that if you plan your trip well and you can fit two seasons into one fabulous long weekend!