Road Trip From Los Angeles To San Francisco
If you're a Los Angeles local looking to try something new or a traveler exploring California's coastline, you might want to consider a road trip from Los Angeles to San Francisco. On the way, you're bound to catch some beautiful sights and make lasting memories.
The road trip from Los Angeles to San Francisco can be done in 6 hours with a few short pitstops. If you have 2 or 3 days to spare, consider driving along the Pacific coastline instead for amazing scenery and great places to stop along the way.
Read on below to ensure you don't miss any of the landmarks and beautiful landscapes on the drive to San Francisco.
How far is San Francisco from Los Angeles and how long will the road trip take?
Comparison of road trip route options between Los Angeles and San Francisco

| Route | Distance | Driving Time |
| --- | --- | --- |
| The Fast Route | 380 miles | 6 hours |
| The Pacific Coast Highway Route | 460 miles | 10 hours |
Following the Fast Route, you will arrive in San Francisco in just over 6 hours, covering 380 miles without accounting for any detours and stops you might want to make.
The Pacific Coast Highway Route will cover 460 miles and the travel time on this route will be about 10 hours.
Even though this is a relatively short road trip, there is so much to do and see on each route. We recommend taking 3-4 days to enjoy this adventure to its fullest.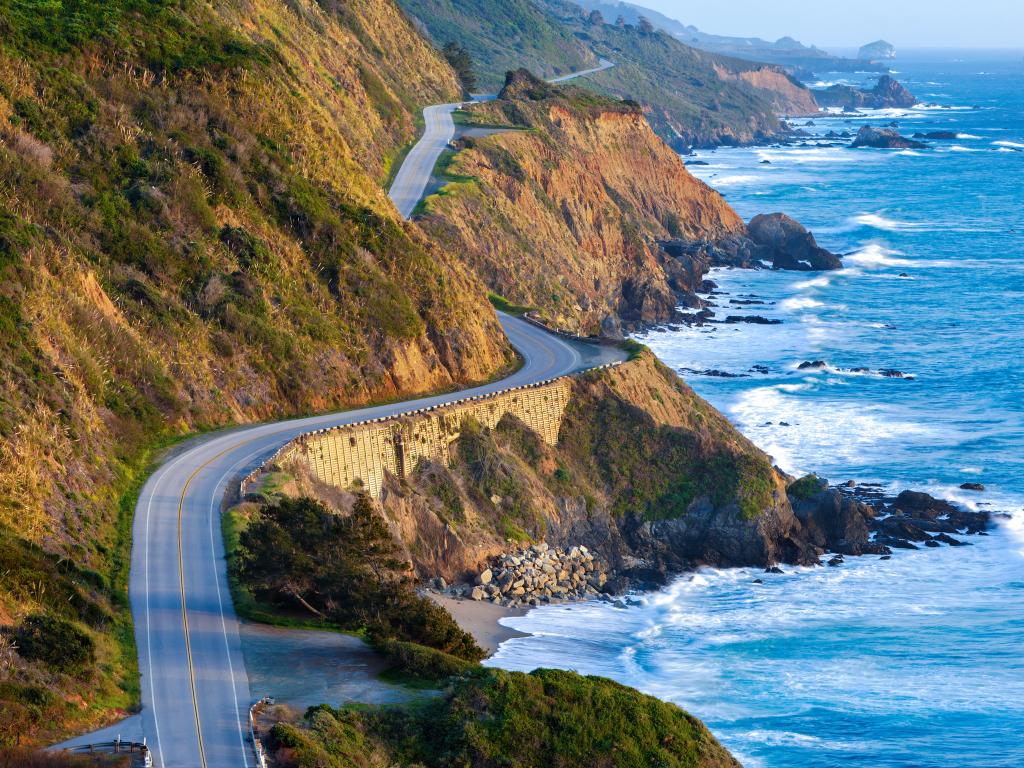 Best road trip route from Los Angeles to San Francisco
When planning your trip from Los Angeles to San Francisco, you effectively have 3 main routes to choose from, each with its own perks. You have the option of making the trip quick and easy, or exploring West California for days or weeks on end.
One thing you can do is mix and match – if you want to get to San Francisco quickly for a night out, you can take the straightforward route along the I-5. Then, you can take either of the other two routes on the return trip and do some sightseeing.
If you want to see as much as possible without having to drive through the exact same route twice, you can take either Hwy 1 or 101 towards San Francisco, and then the other on the way back – between these two routes, you'll have covered a significant amount of ground and seen just about everything there is to see.
How to drive from Los Angeles to San Francisco
The map above shows our suggestions for the best road trip routes between Los Angeles and San Francisco. Keep reading for detailed descriptions of both routes, where to stay on either, and the best things to do on the way.
The Fast Route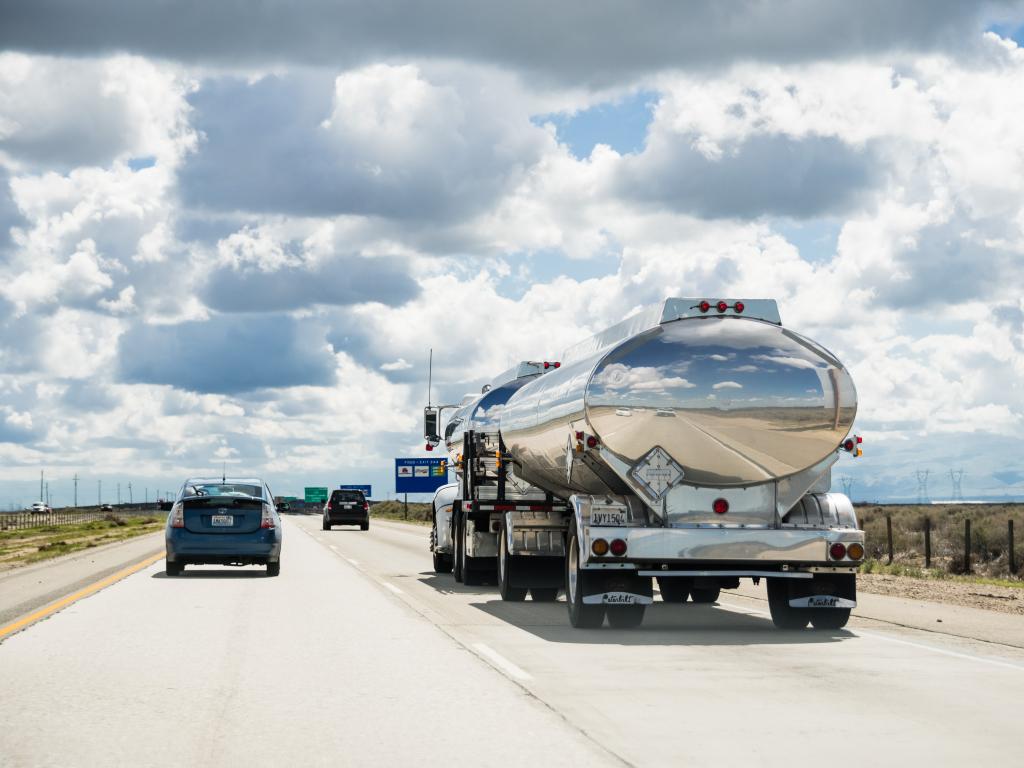 Take the I-5 north out of Los Angeles, through Santa Clarita and the east wing of Los Padres National Forest. Make a detour toward Bakersfield if you feel like making a longer stop, or continue along the highway through Tejon Pass.
There isn't much to see for the remaining stretch of the I-5 – after passing Henry W. Coe State Park you'll join the I-580 headed west. Follow this interstate west past Pleasanton (with the massive Mt Diablo to your right) and drive over the Bay Bridge from Oakland to get into San Francisco.
If you're headed to southern parts of San Francisco or Silicon Valley, you can cross over the San Mateo-Hayward Bridge instead and join US-101 going straight into San Francisco.
The Pacific Coast Highway Route
Head out of LA through Santa Monica and join Highway 1 along the gorgeous Pacific Coast through Malibu until you get to Ventura. Although it's early on in the journey, you can park up and spend the day exploring the wildlife of the Channel Islands National Park.
From Ventura, follow US-101 to Santa Barbara and then continue along CA-154 and US-101 to San Luis Obispo and Morro Bay at which point you'll join back onto Highway 1 that will meander its way up the coast and through the Big Sur for several hours all the way to Carmel-By-The-Sea.
Once you're over Bixby Creek Bridge, ignore your navigator and follow Highway 1 around Monterrey Bay, through Santa Cruz and up the coast to Pescadero and the Half Moon Bay. San Francisco is just a few miles further up the coast from there.
Best places to stop between Los Angeles and San Francisco
With all the amazing places to see and explore (especially following the Pacific Highway route), you should definitely split this trip into a few days and stop over somewhere along the way. Here are some great suggestions: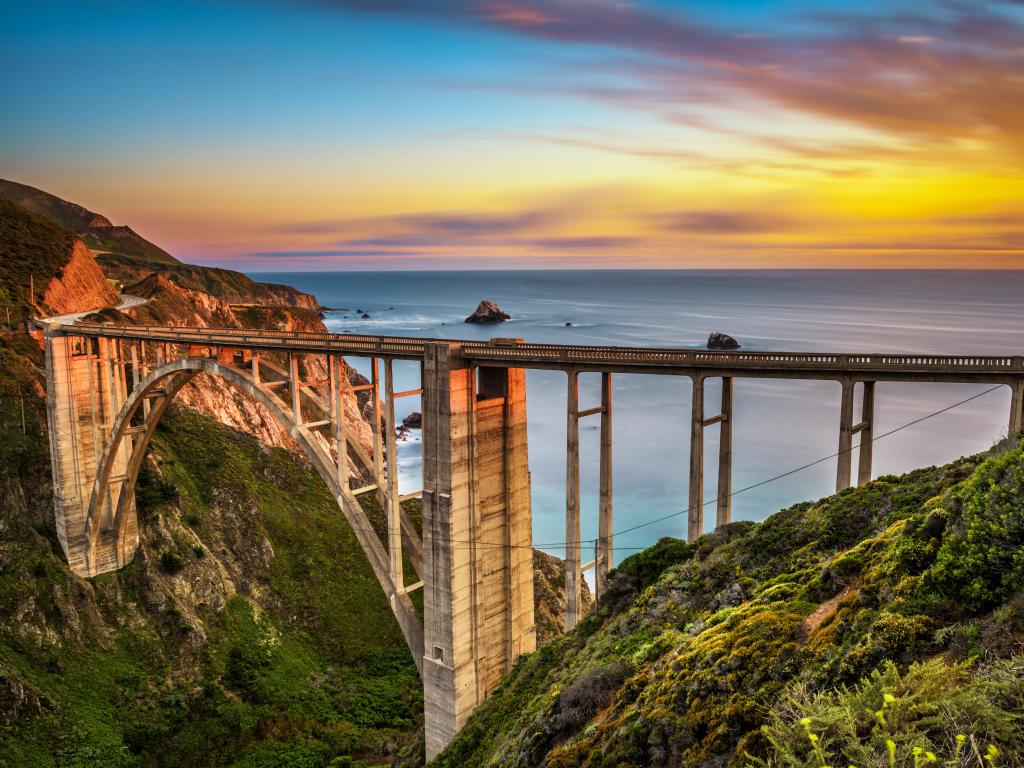 Indulge yourself in the Big Sur
With its beautiful seaside cliffs and a misty je ne sais quoi, Big Sur is one of America's most beautiful coastlines, so you'll definitely want to give yourself a few days to explore it fully.
Ventana Inn and Spa is the epitome of luxury and perfect for a romantic break in the Big Sur. The rooms are expensive, but we're talking the ultimate way to relax among the redwoods.
On top of offering you a million-dollar view of the Big Sur Coastline, this gigantic resort has every amenity under the sun. Guests will have access to heated swimming pools, Japanese hot baths, a state-of-the-art fitness center, and an outdoor bar/dining area overlooking the ocean.
The hotel is also very conveniently located, with beautiful attractions like Pfeiffer Beach and Andrew Molera State Park located only a hop and a skip away. You can also go off-road and discover countless great hiking and backpacking spots in the area.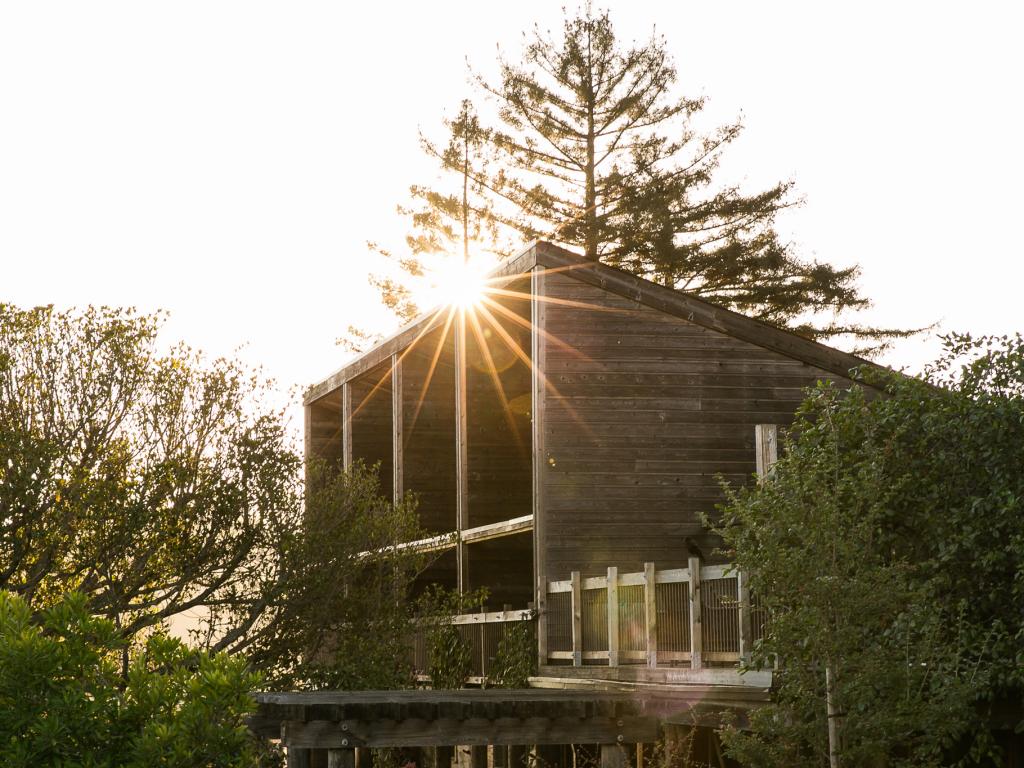 Unwind by the ocean in Monterey
You could spend ages in Monterey and not get bored of exploring it, and it also makes for a great stop along the oceanside route. Monterey Plaza Hotel and Spa has a perfect location within walking distance of all the sights.
This hotel makes its guests feel like royalty – the rooms are incredibly stylish, and the balconies boast incredible inland and ocean views. You'll have access to an amazing spa and fitness center, and the on-site restaurant is like something you'd see in a movie.
What really makes this place shine are the outdoor areas – terraces, gardens, and dining areas by the ocean that'll leave you breathless. This hotel is understandably not cheap, but between the incredible service, ideal location, and one-of-a-kind aesthetic, it's definitely worth every penny.
The only downside is that the valet parking will take your car to a secure garage down the road so you can't get something out quickly if you forget it. You'll also need to wait a little to get your car to make the short drive to Carmel-By-The-Sea (worth it!) and Point Lobos (double worth it!)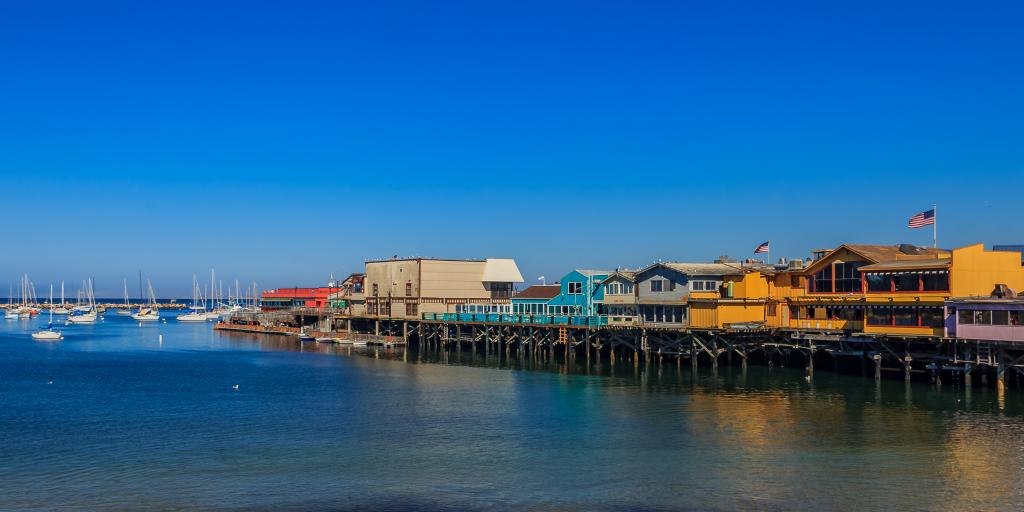 Where to stay when you reach San Francisco
You will find many options for accommodation in San Francisco but none of them come close to Hotel Nikko San Francisco. Located in the heart of the city, this beautiful hotel has stunning rooms, luxurious amenities and a beautiful terrace to admire the city views on.
After your drive, you can stretch and exercise your legs in the hotel's fabulous indoor pool. Worked up an appetite? You will find an upscale restaurant on-site that serves American and Japanese cuisines.
Union Square, Oracle Park and Moscone Center are a stone's throw from the property, so you can explore the surroundings easily on foot during your stay.
Things to see on a road trip from Los Angeles to San Francisco
There are too many incredible landscapes on the drive from Los Angeles to San Francisco to list them all – you could spend an entire summer exploring this route in detail and still come back for more next year.
Still, these are some of the places you'll definitely want to pay attention to:
Malibu to Point Mugu nature: a gorgeous chain of parks along the Santa Monica Mountains
Los Padres National Forest: this mountainous sea of green is home to countless rivers, campgrounds, and beautiful flower beds and Lake Cachuma
Santa Barbara and Montecito: Home to LA's most rich and famous, the calm town is worth a stop for lunch
Solvang: the quirky Danish town comes complete with windmills and quaint European-style houses
San Luis Obispo and Morro Bay: Beautiful 18th century Spanish Mission and hiking along the oceanfront in Montana de Oro State Park
Hearst Castle: boasting never-ending gardens and over 160 rooms, this castle is a marvel of architecture and design
Elephant Seal Vista Point: as the name suggests, this scenic beach is a popular resting and mating spot for thousands of elephant seals
Big Sur and Bixby Creek Bridge: You've seen the views - stunning road that seems to feature in every car commercial makes for an amazing drive
Pfeiffer Big Sur State Park – sometimes referred to as "mini Yosemite", this is arguably the crowning jewel of the coastal route
Monterey & Carmel-By-The-Sea: Classic seaside towns with a relaxed vibe and relaxing promenades to the tune of seagulls
Pinnacles National Park: home to a stretch of unique rock formations – eroded remnants from an extinct volcano
Big Basin Redwoods State Park: California's oldest state park, this place is a must-see thanks to its coastal redwood, waterfalls, and indigenous bird species
Pescadero and Half Moon Bay: Chill out by the sea with surfers and a definite hippie vibe in the air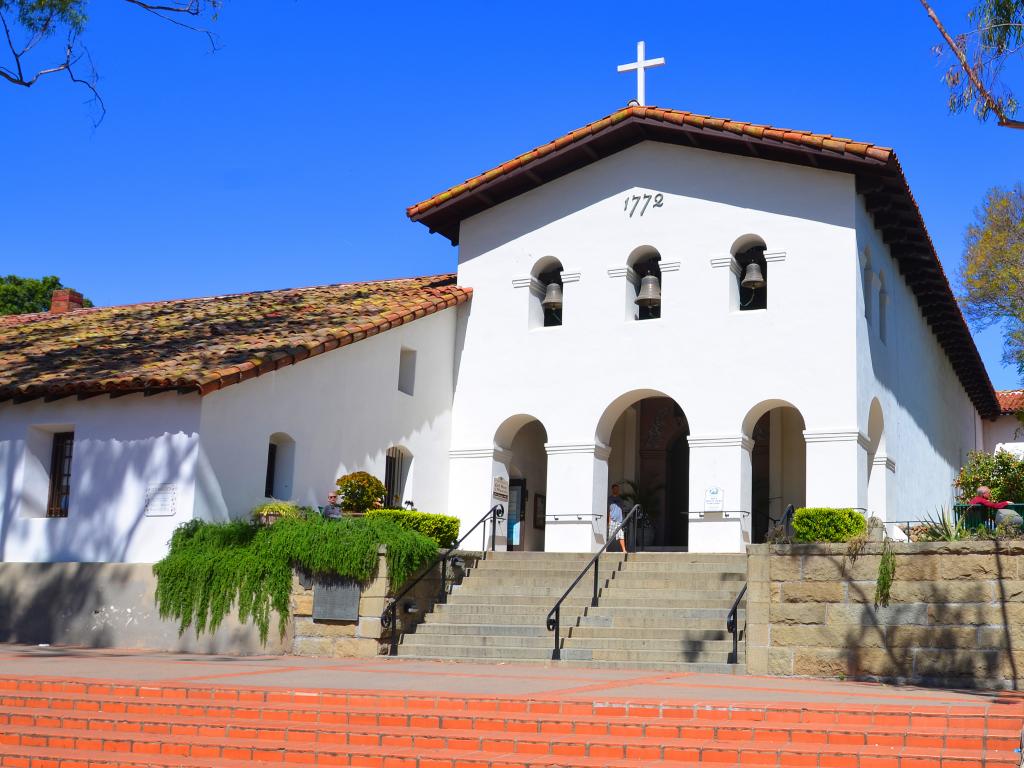 Best time to go on a road trip from Los Angeles to San Francisco
The road trip from LA to San Francisco can be done year-round and the perfect California weather means you'll enjoy it whenever you choose to go.
If you want to make the most of the views, remember that May Gray and June Gloom mean that heavy fog can cover the coastline in early summer. It usually clears up by the afternoon, but if you want to get the best weather, aim for later on in the summer in August or September instead.
The best time to visit the city of San Francisco might just be early fall – temperatures are at their highest yet are very pleasant (at around 70 degrees), prices are better, and crowds are small compared to summer ones.
A close second would have to be summer – on top of the city being very lively, the coastal fog and wind keep San Francisco relatively cool between June and August.