Road Trip from Los Angeles to Santa Fe
This cross-country road trip is a chance to get off the grid and dive headlong into the stunning landscapes of California, Arizona and New Mexico. Get back to nature in dense forests, rugged trails and the unforgettable wonder of the Grand Canyon, before immersing yourself in the historic architecture and fiestas of Santa Fe.
The 1,020-mile road trip from Los Angeles to Santa Fe takes 17 hours to drive. On the way you'll pass through San Bernardino National Forest, the Grand Canyon and Albuquerque, or go direct via Palm Springs, Colorado River Reservation and Phoenix.
Read on to discover two unforgettable routes through dense forest and desert scenery, with tips on the best places to stay, things to see and when to travel.
How far is Santa Fe from Los Angeles, and how long will the road trip take?
Comparison of road trip routes between Los Angeles and Santa Fe

| Route | Distance | Driving Time |
| --- | --- | --- |
| The National Forests Route | 900 miles | 14 hours 45 minutes |
| The Grand Canyon Route | 1,020 miles | 17 hours |
We've laid out two routes for getting from Los Angeles to Santa Fe, one of which detours via the mighty Grand Canyon, while the other travels through a diversity of protected forests and wildlife.
The Grand Canyon Route is the longer of the two routes, and will take 17 hours non-stop driving to cover a distance of 1,020 miles. This route detours to take in Mojave National Preserve and the Grand Canyon. Though it takes in these major natural attractions, there is not as much variety of landscape on this route, and fewer forests, compared to the other route.
The National Forests Route is slightly shorter at a distance of 900 miles, which will take 14 hours 45 minutes to drive. Take this route and you'll bypass the breath-taking experience of visiting the Grand Canyon – but instead you'll get great natural scenery and a few more major cities.
Whichever route you take, we'd recommend allowing 5 to 6 days to complete the trip. You'll want to give yourself time to get out of the car and into nature, to properly experience the amazing variety of the natural environments on offer.
Best road trip route from Los Angeles to Santa Fe
Both route options serve up plenty of opportunities for unforgettable hikes, natural wonders and baking in the desert sun. You'll see a slightly different side of California, Arizona and New Mexico depending on the route you take, so pick whichever excites you most.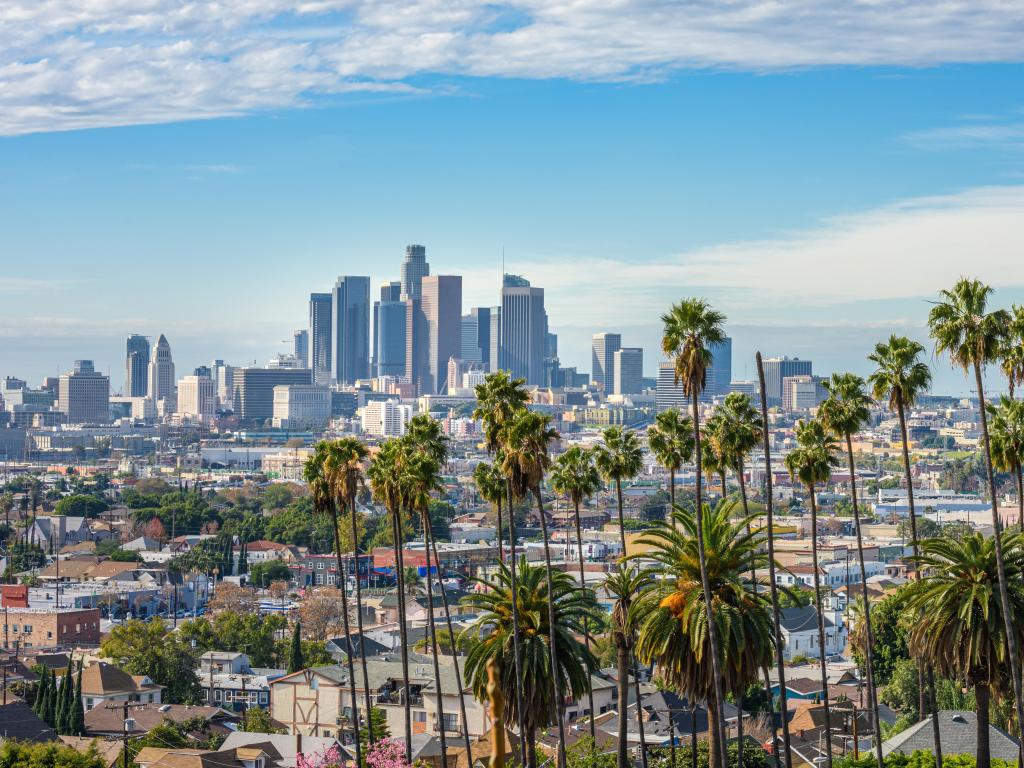 The Grand Canyon Route is longer but takes two worthwhile detours via Mojave National Preserve and the incredible sights of the Grand Canyon – an unforgettable experience visiting the legendary red rocks. It also travels through continuous lush landscapes and other popular attractions such as Petrified Forest National Park.
The National Forests Route shaves off a few hours, but you still get to drive through some beautiful forests and natural scenery along the way.
There are some great opportunities for detours – you can head to Joshua Tree National Park or White Sands National Park, as well as visit many stunning forests just off-route including Cibola, Coconino, Tonto and Apache-Sitgreaves national forests. Bustling cities like Phoenix and Albuquerque spice up this route with their downtown energy.
The Grand Canyon Route
Head east out of Los Angeles on Interstate 10 (I-10), then take I-15 north. You can take a detour to duck into San Bernardino Forest for a stroll. At Barstow, continue east on I-40.
Head into the desert landscape and take a detour off of the interstate to explore the staggering mountains and canyons of Mojave National Preserve. Rejoin I-40 to cross the border into Arizona, with the option to detour south for a stop at Lake Havasu City for great desert and water sports.
Take I-40 up to Kingman, then follow signs for the Grand Canyon via the Kaibab National Forest. Once you've hiked around the rim and caught a stunning sunset, get back on I-40 and stop at Flagstaff, which is the halfway point of this trip.
Rejoin I-40 to continue through the desert to Petrified Forest National Park. This unique natural attraction is home to thousands of petrified tree trunks and fossils. Get back on I-40 to enter New Mexico and into the indigenous Laguna territory.
Drive onwards to Albuquerque and take some time to explore the Spanish old town. From here, follow I-25 north to Old Pecos Trail, which will take you into the heart of Santa Fe.
The National Forests Route
Follow I-10 east out of Los Angeles and turn onto Highway 111 to reach Palm Springs. Once you've explored this stylish desert resort, get on I-10 and head east into the Colorado River Reservation.
Follow this route all the way to Phoenix. Take some time to explore the bars and restaurants of this vibrant metropolis, then get back on I-10 take AZ-87 north to drive into the lush landscape of Tonto National Forest.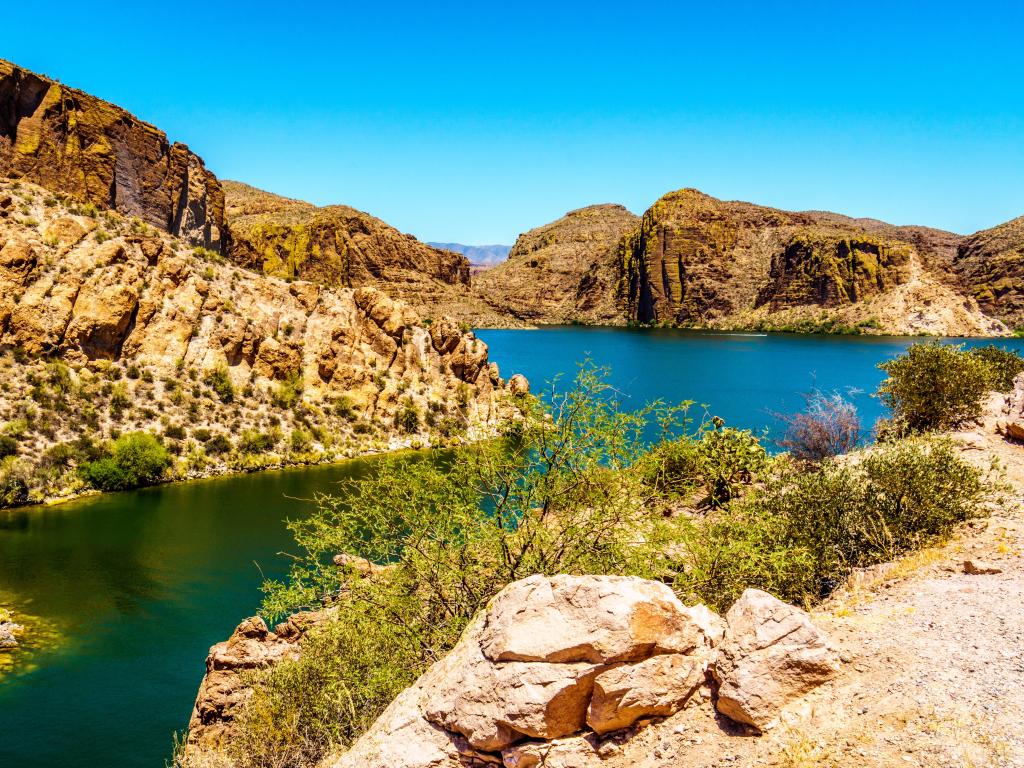 Turn onto AZ-260 E and follow this road to the popular resort town of Pinetop-Lakeside. There are some stunning forests on this part of the route, including Apache-Sitgreaves National Forest, Apache National Forest and Cibola National Forest.
Follow US-60 east to Socorro, then head north on I-25 to arrive in Albuquerque. New Mexico's largest city has plenty of historic buildings to explore, as well as the culture of the Indian Puebla. Continue on I-25 to arrive in Santa Fe.
Best places to stop between Los Angeles and Santa Fe
Get the best out of this memorable road trip by making a few well-timed overnight stops in the historic towns and cities along the way. We've selected a few of our favorite places to stay for inspiration.
Explore the Grand Canyon from Flagstaff
Just over halfway along the Grand Canyon Route lies the proud city of Flagstaff. Apart from its convenience as a midpoint, it's also known as the "Gateway to the Grand Canyon" and its world-renowned sights.
The Grand Canyon National Park needs little introduction, and Flagstaff is the perfect base to explore it from. You can book tours, incredible hikes and even helicopter rides from the many outfitters in town.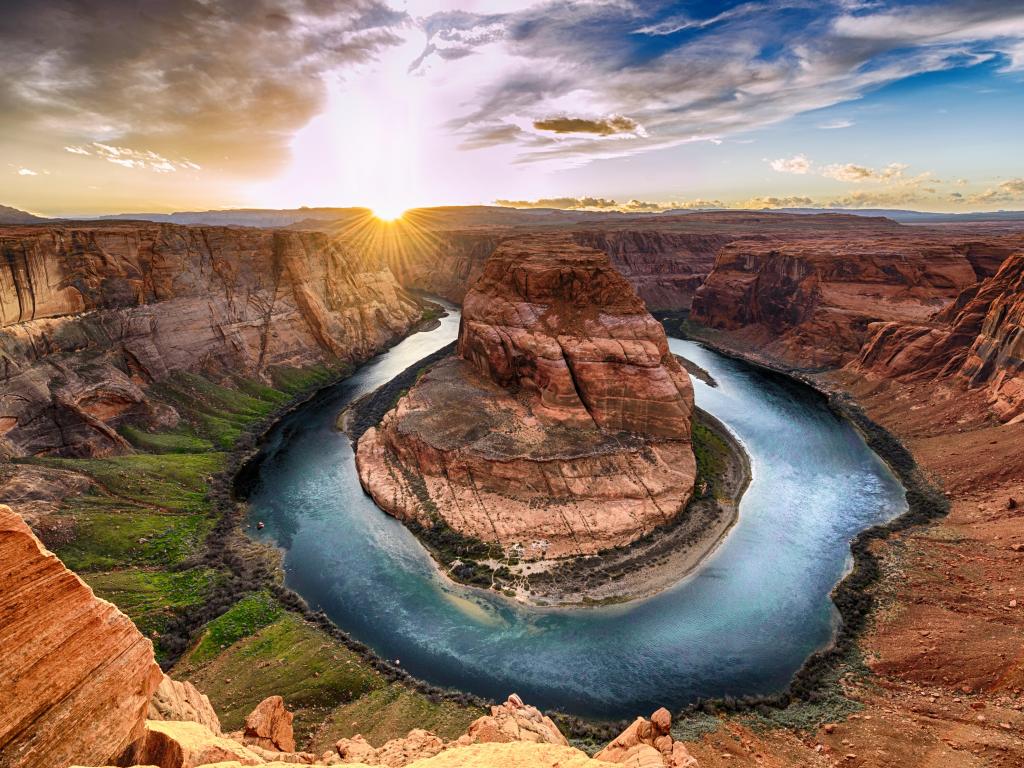 In Flagstaff itself, you can do some stargazing at Lowell Observatory, where Pluto was first discovered. It's one of the most influential centers for understanding the solar system, which you can learn about by taking a tour.
If you've packed your skis, head to the slopes of Arizona Snowbowl Ski Resort, which has great routes for beginners especially. It's one of the oldest resorts in the West and has over 37 km of runs.
The High Country Motor Lodge has a fantastic location in the middle of Flagstaff, and free parking on site so you can park up and explore on foot. It's just a short stroll from this modern hotel to open recreational spaces such as Colton Park and Wheeler Park.
There are plenty of eateries and bars close by, or you can head to the on-site restaurant or bar for refreshments.
If you're in Flagstaff during the winter, the hotel is right next to the North Pole Experience, which will definitely put you in a festive mood!
Soak up the sun in Phoenix
The capital of Arizona lies halfway along the National Forests Route and is a great mid-point stop off for stretching your legs. This destination, known as 'Valley of the Sun', has beautiful desert scenery for exploring and glorious mountains to climb.
The sun is always shining in Phoenix, and this is the key to some of the unusual plants in the Desert Botanical Garden. If you want to get away from the hustle and bustle of the city, this tranquil garden has an extensive collection of cacti.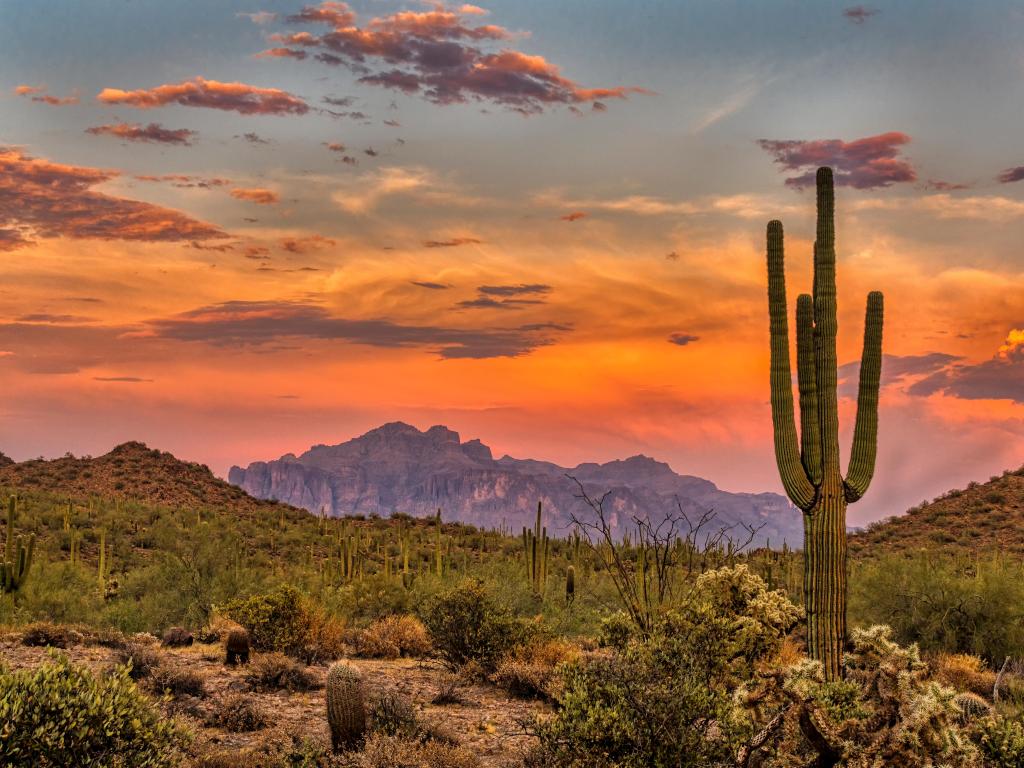 For some family fun, head to the Phoenix Zoo, which is the largest not-for-profit zoo in the US. It is home to over 3,000 animals and spans 125 of the beautiful Papago Park.
If you want to seriously stretch your legs, try one of the hiking trails up Camelback Mountain. Bonus - there is a great view over the city from the top.
If you want to stay in the heart of the city, book yourself into the beautiful Cambria Hotel Downtown Phoenix. This beautiful hotel is a landmark itself, with a unique exterior and stylish rooms.
It's a great base for exploring the city, only a short distance away from a range of popular tourist spots such as Phoenix Art Museum and Copper Square.
If all that sightseeing is making you thirsty, enjoy an aperitif on the terrace overlooking the city before heading back out to a choice of bars and restaurants just a stone's throw away.
Where to stay when you reach Santa Fe
Once you reach Santa Fe, you'll need a cozy spot to recharge from the drive and tap into the city's cultured vibe.
Check into Las Palomas, a charming place to stay with traditional décor, private terraces and lovely outdoor spaces - it's a great spot to relax and wind down after a busy few days.
Guests rave about the fantastic location of Las Palomas, which is only a short distance from Santa Fe's historic Plaza.
You can take a seat in the outdoor dining area to enjoy a complimentary deluxe breakfast each morning, before taking a stroll to see the city sights.
Things to see on a road trip from Los Angeles to Santa Fe
There's a whole host of landmarks, natural wonders and walking trails to experience on your drive. We've rounded up some of the top highlights to help inspire your off-road adventure.
On the Grand Canyon Route
Mount San Antonio - Commonly known as Old Baldy due to the shape of the mountain as you view it from Los Angeles, this now-extinct volcano is a great spot for hiking. The most ambitious can aim for the summit of over 10,000 feet, but keep an eye out for wildlife including black bears!
Mojave Desert - Stretching across California, Nevada, Utah and Arizona, only one tree grows in this hot and humid destination – the Joshua Tree. As it covers part of Death Valley, it's worth spending time here in the cooler months when the temperatures aren't quite so searing.
Mojave National Preserve - With endless sand dunes, Joshua Trees and the Sierra Nevada mountains in the backdrop, this is a striking destination to explore.
Lake Havasu - Set in Western Arizona and over 26 miles long, Lake Havasu is a waterway you literally can't miss. Known for some of the best beaches in the state, it is the perfect place to enjoy some watersports.
Topock - A small town set on Route 66, Topock is a great destination for a stop-off and a leg stretch. Head to the Topock Gorge which locals call a miniature Grand Canyon, with its flourishing wildlife and red rocks.
Flagstaff - Flagstaff is best known as the "Gateway to the Grand Canyon" and popular due to their close proximity. Plenty of other sights to see here too, such as the Coconino National Forest with mountains, canyons and waterways.
Grand Canyon - The Grand Canyon is an impressive destination, with rocks thought to be up to 2 billion years old. Set across 278 miles, this expansive sight has plenty of trails to walk around for a closer look.
Kaibab National Forest - Bordering the south and north edges of the Grand Canyon, head to Kaibab National Forest for a change of pace. Set over 1.6 million acres, there are plenty of places to hike, explore and even camp.
Petrified Forest National Park - A renowned national park, the color of the landscape is really something else. Head to the Blue Mesa Trail to best experience the sights of the purple, pink and blue tinged mountains.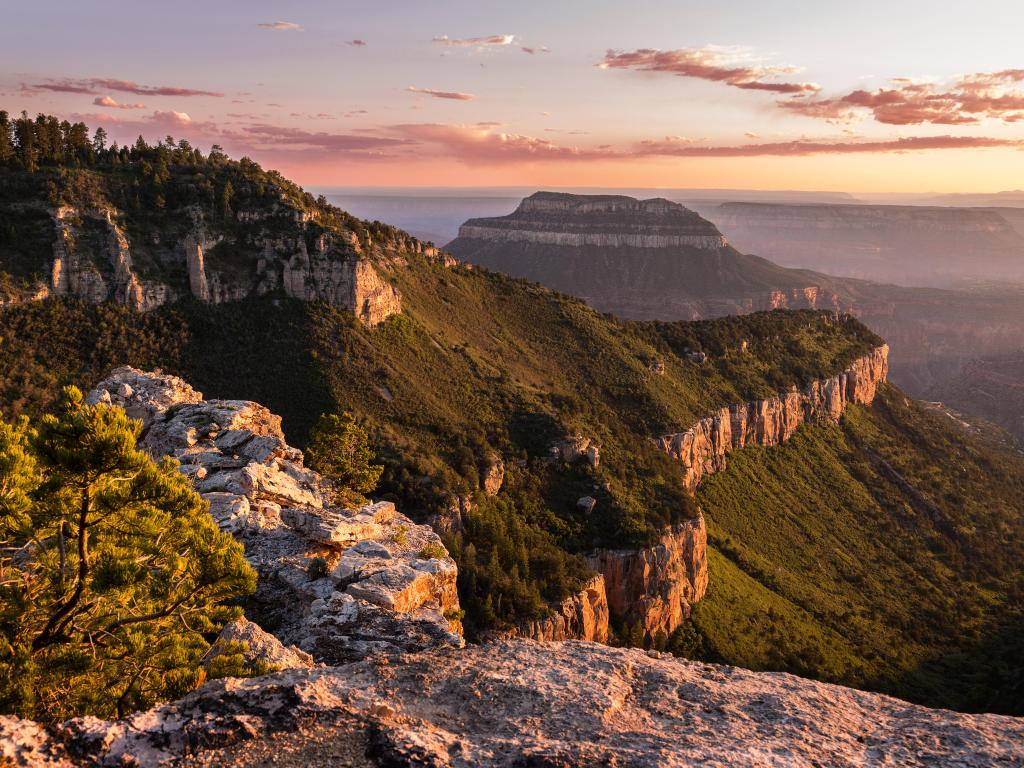 On the National Forests Route
Palm Springs - Take the Palm Springs Aerial Tramway to get the best panoramic views across California. The world's largest rotating aerial tramway takes you near the top of San Jacinto Peak. Afterwards, head to the hot springs for some rest.
Coachella Valley Preserve - Set across 20,000-acres, the Coachella Valley Preserve is full of huge palms and interesting wildlife. If you don't fancy a long hike then jump on a guided tour to explore the expansive grasslands. Fancy something more upbeat? Head to the annual Coachella Valley Music and Arts Festival, one of the best world-renowned music events out there.
Eagle Mountains - The Eagle Mountains sit at the edge of Joshua Tree National Park, and to the east of this range lies a modern-day ghost town: the abandoned Eagle Mounatain Iron Mine. While the town itself is off-limits, this is a unique place to stop off if you're in the desert.
Colorado River Reservation - Whether you want to hike, bike, canoe or fish, there is something here for everyone. Immerse yourself in the history of the reservation by heading to the Colorado River Indian Tribes Museum for a better understanding of the indigenous community who live here today.
Kofa National Wildlife Refuge - A 665,000-acre protected area in southwest Arizona, the Kofa National Wildlife Refuge stands out for its huge bird population, badgers, desert tortoises and kit foxes.
Phoenix - Known as the 'Valley of the Sun', this city has beautiful desert scenery for exploring, and glorious mountains to climb. With the sun shining all year round, it's a great visit any time of the year.
Tonto National Forest - Set over 2.8 million acres, Tonto is the ninth National Forest in America. If you don't feel like walking one of its many trails, then there is no better way to explore than by kayak.
Hunter Creek Trail - You'll need half a day here to scale the popular Hunter Creek Trail, which is a good workout with incredible sights enroute. Marking the end of this walk is a 30-foot waterfall, which certainly makes the journey worth it.
Panorama Trail - Head to Pinetop-Lakeside to take the Panorama Trail, and take the 9.5-mile route to Twin Knolls for stunning views.
Cibola National Forest - Love hiking? Head to Cibola National Forest which has the most trails in Albuquerque. Cibola is said to have mythical lands of gold, and whilst no actual gold may be found, the stunning landscapes will make you feel richer.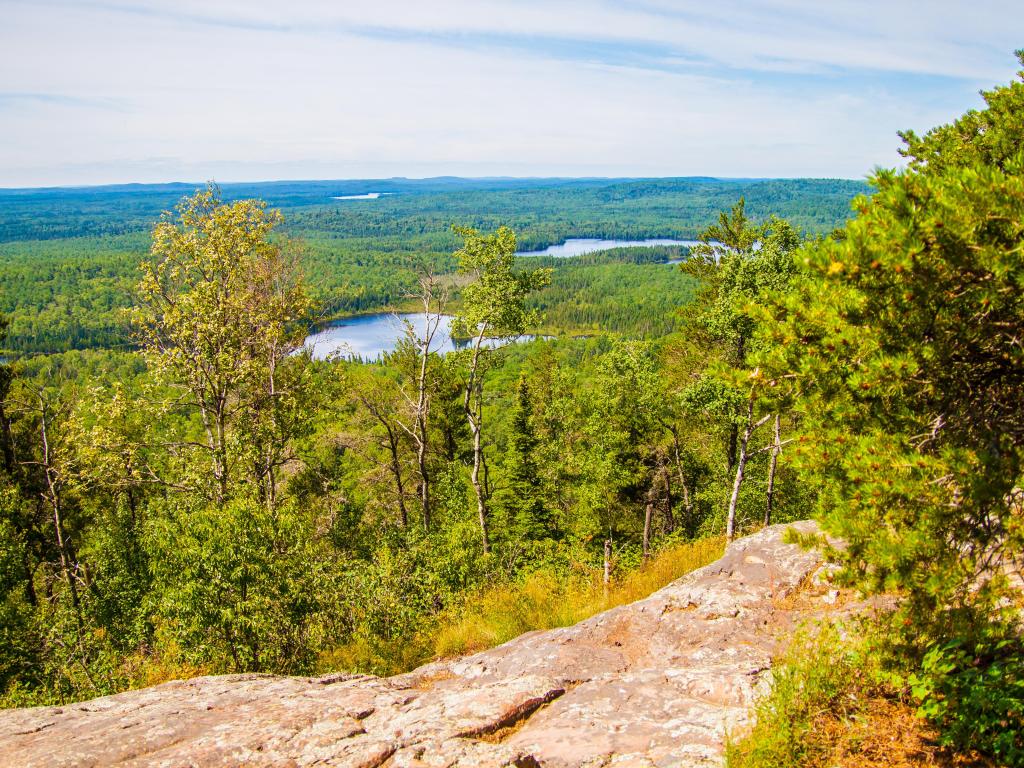 Both Routes
San Bernardino National Forest - Set over 820,000 acres, this National Forest boasts a diverse environment of both lush landscapes and desert lands. There are literally hundreds of trails to hike across or take a scenic cruise around Big Bear Lake.
Albuquerque Old Town - Founded in 1706, visiting the old town is like stepping back in time. It was the first neighborhood here, and is still the first place to head for great culture, art and cuisine.
Sandia Peak Tramway - The longest aerial tram in North America, taking the tramway is a stunning way to see the sights of Albuquerque and soar above the city.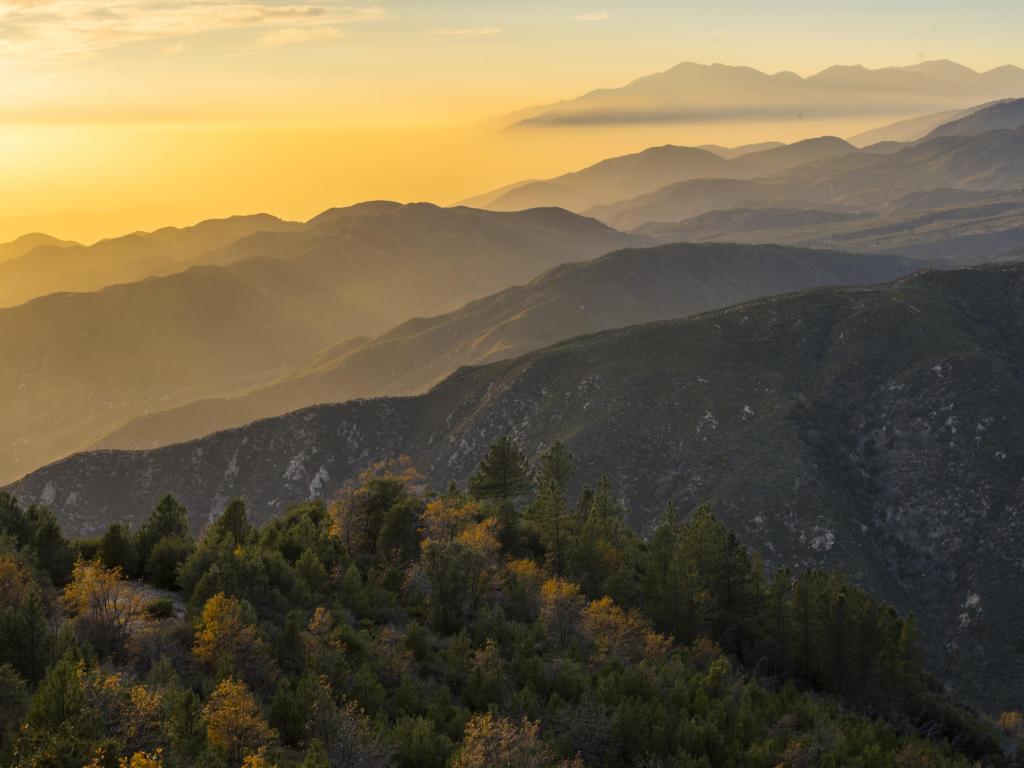 Best time to go on a road trip from Los Angeles to Santa Fe
Santa Fe's weather varies year-round, reaching extremes in both summer and winter. We'd recommend avoiding the extreme temperatures to explore New Mexico's capital at its best, and to avoid driving through Death Valley in the searing heat.
In summer temperatures range from 80-90 degrees Fahrenheit, so be prepared for the hot conditions. If you can brave the heat, heading to Santa Fe in June means you can experience Balloons Over Fire, an incredible sight at sunrise. Other popular festivals include Art Santa Fe in July and Santa Fe Indian Market in August.
For the best experience head to Santa Fe around April or September, which is slightly outside of the tourist season from July to early fall. Santa Fe really is stunning come spring and fall, with the changing scenery a real draw.
Between September and November temperatures tend towards a pleasant 65 degrees Fahrenheit. Be sure to check out Fiesta de Santa Fe & Burning of Zozobra if you're around in September, or plan your trip to coincide with the nine days of Fiestas de Santa Fe.
Likewise, spring is also slightly quieter and with milder weather, making it a good time to visit. An early spring visit could see you avoid the crowds whilst also benefiting from the nice spring weather.
Winter is very much seen as the 'off season' in Santa Fe, with cold temperatures and snow making it a slightly less accommodating proposition. However, these conditions open up a different sort of experience - this is the perfect time for skiing and taking in the magical snowy sights.