Road Trip From Los Angeles To Seattle
If you have the time and energy for a drive from one end of the country to the other, a road trip from Los Angeles to Seattle might be just the trip for you. With an itinerary spanning thousands of miles across several routes, there are countless beautiful places to admire on the way to Emerald City.
A road trip from Los Angeles to Seattle can be done in about 17 hours. If you have a couple of weeks to spare, make the most of the trip by driving along the Pacific Coastline Highway through California and Oregon and admiring the breath-taking scenery.
Read on below for some help in planning out this incredible journey – you'll definitely be needing it!
How far is Seattle from Los Angeles and how long will the road trip take?
The road trip from Los Angeles to Seattle covers between 1,130 and 1,400 miles, depending on the route. If you want to get there quickly, you can split the trip into a few days and drive for a total of 17 hours, while the most scenic route can take as much as 30 hours.
Route
Distance
Driving Time
Fastest Route


(via I-5)

1,135 miles
18 hours
Coastline Route


(via Highway 1)

1,404 miles
28 hours
Forest Route


(via Highway 395)

1,172 miles
19 hours
The most straightforward way to get from LA to Seattle is along the I-5. You'll be passing through major cities like Sacramento and Portland, and the latter two-thirds of the drive have plenty to offer in the way of beautiful sights.
If you want to make the California stretch of the drive more scenic while still keeping the drive as short as possible, consider taking Hwy 395 out of Los Angeles past a long sequence of national forests and parks. This only takes about 2 hours more than the I-5 route, but the downside is you won't be going through Sacramento.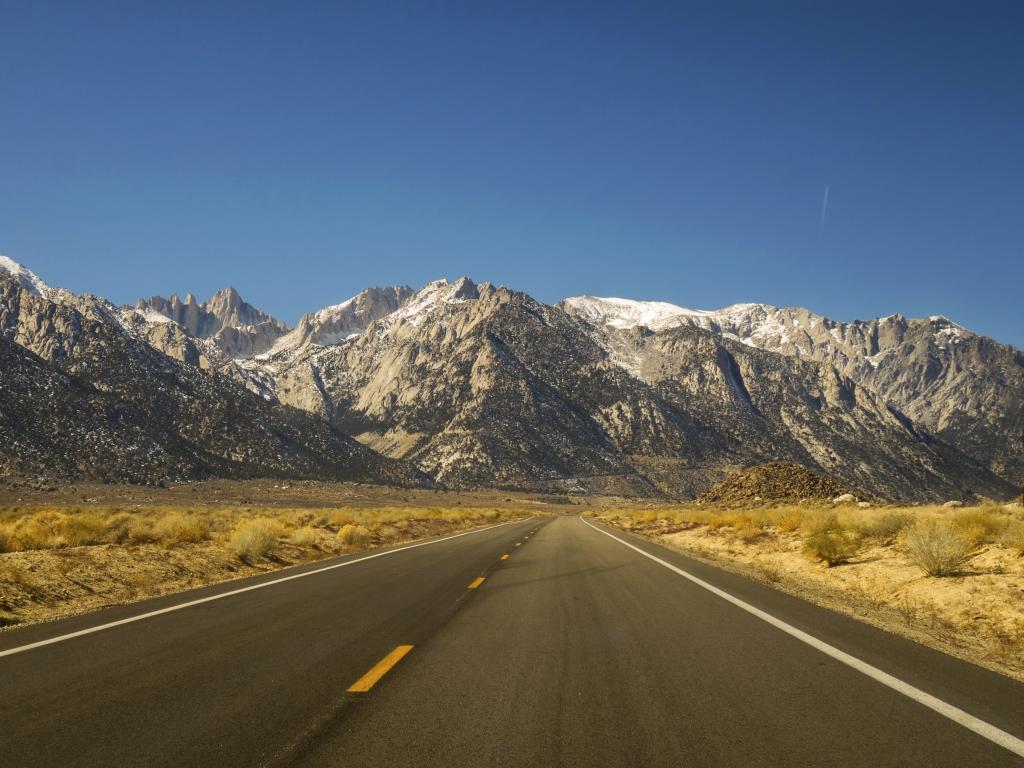 Last, but certainly not least, driving along the entire West Coast (save for Alaska) on Highways 1 and 101 is unequivocally the most epic route you can take – sticking to the Pacific Coast for most of the trip, you'll drive through an immense chain of landmarks and natural wonders.
With that said, this is not the route to take if you're short on time – the winding coastline roads necessitate slow and careful driving, meaning a one-way trip can take about 30 hours without even accounting for traffic.
Best road trip route from Los Angeles to Seattle
In terms of seeing as much as possible, the Pacific Coast route is the clear winner. If you have a long vacation ahead of you, you could probably drive this route both ways and still have places left to visit for next year's trip.
A drive like this is a huge commitment, though, and you might be tempted to take one of the other routes. If you're not particularly interested in Sacramento or making detours to the coastline, Highway 395 can offer a lot of beautiful views without adding too many miles to your trip.
The Fast Route (I-5)
Take the I-5 north out of Los Angeles, passing through Santa Clarita and Los Padres National Forest. Further north, you'll be passing by Henry W. Coe State Park and through Stockton before eventually reaching Sacramento. Splitting the trip into 3 days, this is a great stop for night one.
Past Sacramento, you'll find yourself sandwiched between Mendocino National Forest on the left and several forests a bit further east – you'll be quite close to Lassen National forest further up north, before driving through Shasta-Trinity National Forest.
Further up past Umpqua National Forest, drive through Eugene and Salem, and you'll soon pass Mt. Hood National Forest before reaching Portland, another great place to stop.
After crossing the Columbia River, drive past Mt St. Helens National Volcanic Monument and Capitol State forest before entering Olympia. Continuing along the interstate through Lakewood and Tacoma, it's only a matter of time before you reach Seattle.
The Coastline Route (Highways 1 and 101)
Starting the route off on a high note, take Highway 1 through Santa Monica and along the Malibu coast, passing by a sequence of national parks all the way to Oxnard. From there, take Highway 101 east through Ventura and Santa Barbara, before joining State Route 154 through Los Padres NF and past Lake Cachuma.
Take Highway 101 again through Santa Maria and San Luis Obispo, then join Highway 1 as it approaches the coast. Follow the highway along a beautiful chain of landmarks – the Big Sur and its surrounding parks, then Carmel-by-the-Sea and Monterey.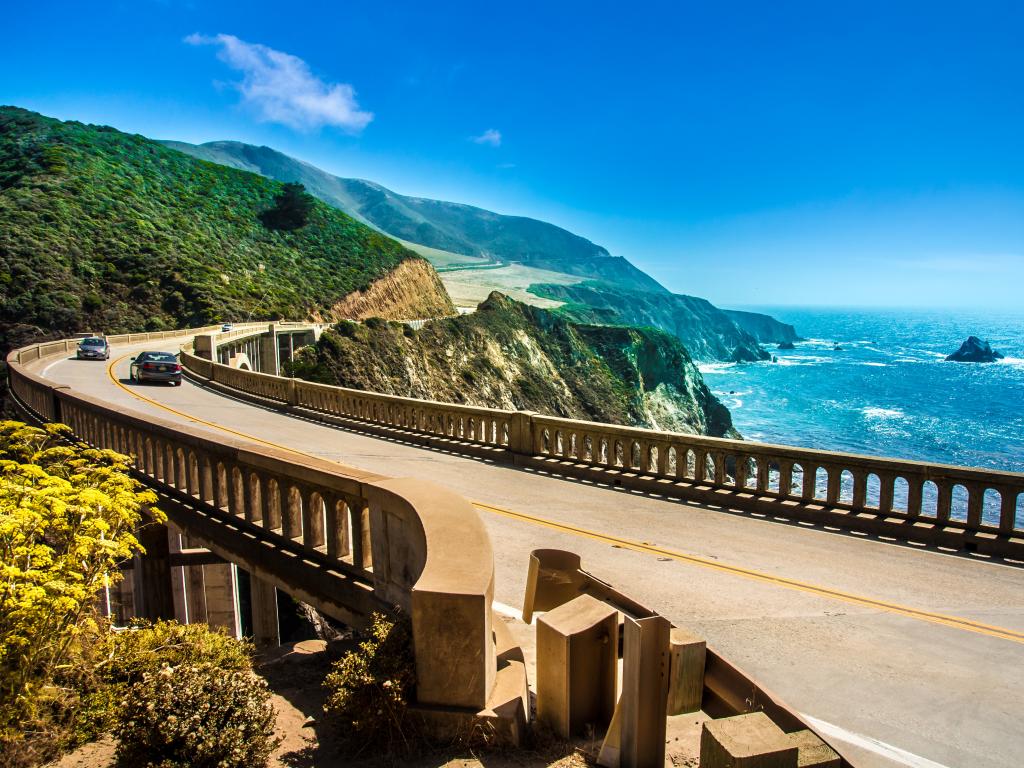 Driving along Monterey Bay, pass through Santa Cruz and cross San Fran's Golden Gate Bridge. Past Mendocino, you'll briefly separate from the coast as you pass by King Range National Conservation Area along Highway 101.
Soon after, though, you'll be back to the shore and driving past Redwood National Park and Forest and Rogue River-Siskiyou National Forest, among others.
Crossing the Columbia River into Oregon, drive through Willapa National Wildlife Refuge and along Willapa Bay.
Instead of taking State Route 105 back to the coast, stick to Highway 101 – not long after passing Artic, take State Route 107 (which segues into State Route 8) east past Capitol State Forest and into Olympia. From there, just follow the I-5 into Seattle.
The Forest Route (Highway 395)
Take State Route 14 out of Los Angeles and through Lancaster – continue going north until it segues into Highway 395. As soon as you reach the highway, you'll have Death Valley National Park to the right and the majority of California's parks and forests to the left.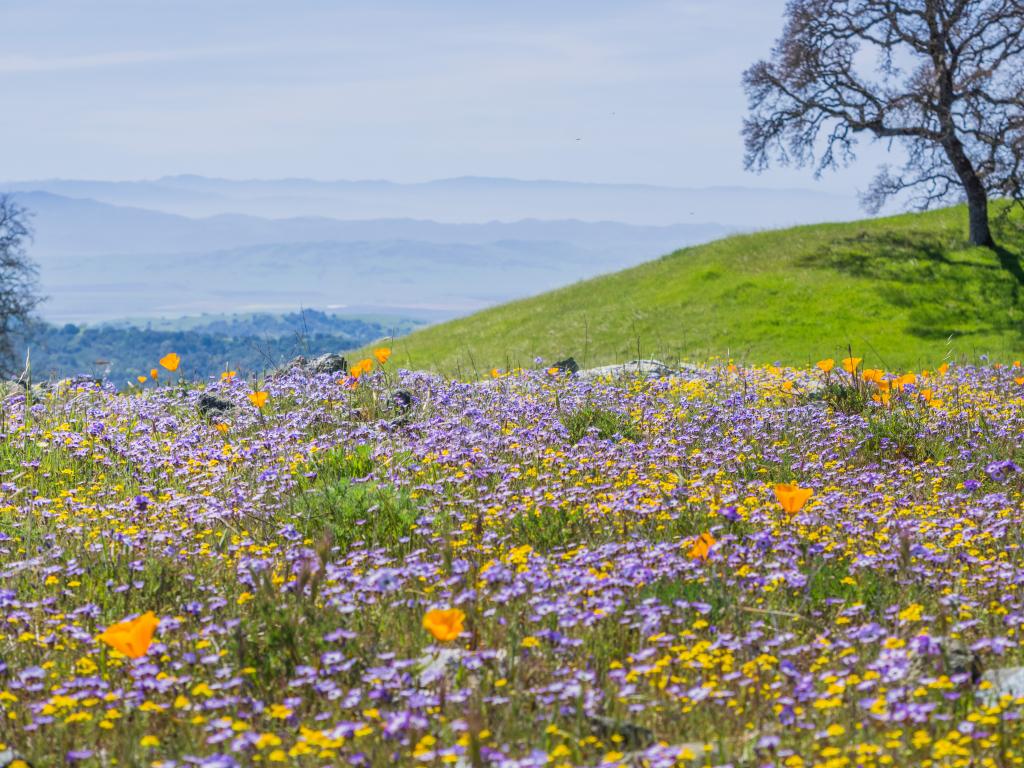 Some of the more notable places ones you'll be passing in California are Sequoia and Inyo National Forests, Yosemite National Park, Tahoe National Forest & Lake, and Shasta-Trinity National Forest.
In Oregon, you'll be driving through Fremont-Winema, Umpqua, and Willamette National Forest before joining the I-5 at Eugene.
After getting on the interstate, you'll be following the same route outlined in the I-5 section – drive north through Portland and Olympia before eventually reaching Seattle.
Best places to stop between Los Angeles and Seattle
With 3 massive and vastly different routes to choose from, there is no shortage of great places to stop between Los Angeles and Seattle. You'll definitely want to stop as often as possible and explore, and these are some of the best places to do so:
Marvel at the elegance of Palace Hotel (San Francisco)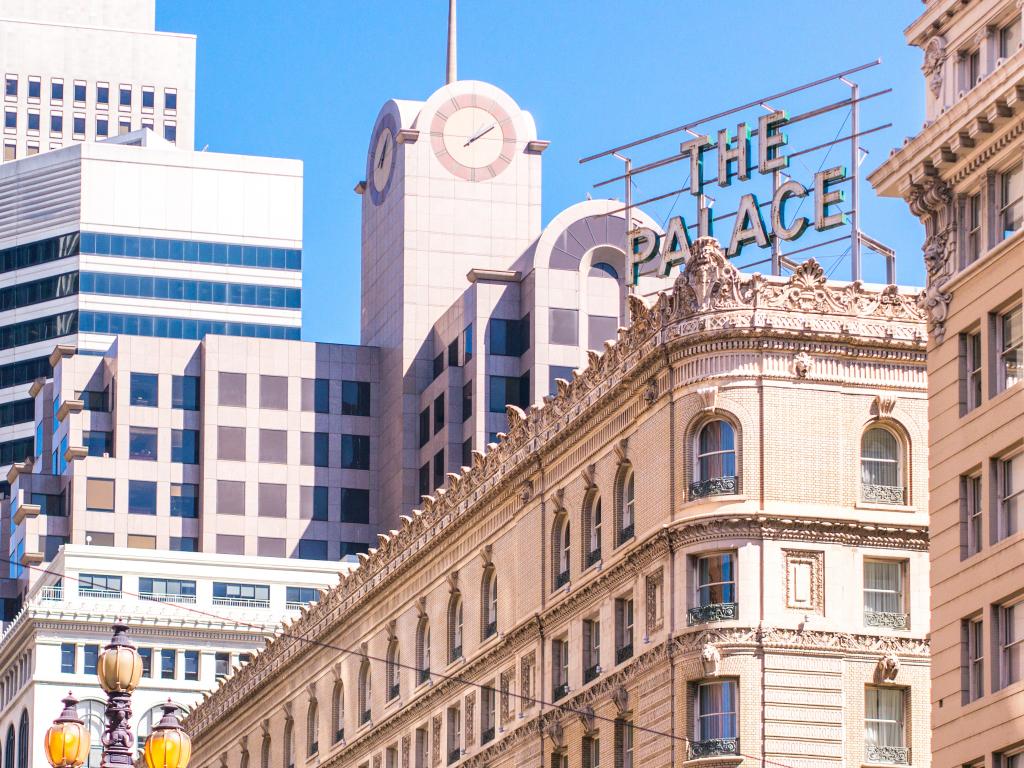 This is the kind of vacation where you'll constantly be on the move, so if you only have a night or two to spend in San Francisco, you might as well spend them in style! One of the absolute best hotels in the entire West Coast would have to be San Fran's Palace Hotel.
The high ceilings and gilded walls give this breathtaking hotel its castle-like ambient, and it would be easier to list the amenities Palace Hotel doesn't have – you can enjoy a meal or drink and the incredible dining area or bar, an indoor pool under a glass dome, spa and fitness centers, and 24-hour concierge service to ensure all your needs are met. To top everything off, rooms are very spacious and boast incredible views of San Francisco.
The only thing better than a fancy hotel is one with a great location, but Palace Hotel ticks both of those boxes – located in the heart of San Francisco, you can access all of the city's highlights within minutes. The rooms here don't come cheap, but you'll be guaranteed an unforgettable stay.
Unwind at Tenaya Lodge (Yosemite National Park)
Few places in California are as scenic and iconic as Yosemite, and it's also home to some beautiful inns and hotels. Picking the best one is no easy feat, but a very strong contender would have to be Tenaya Lodge.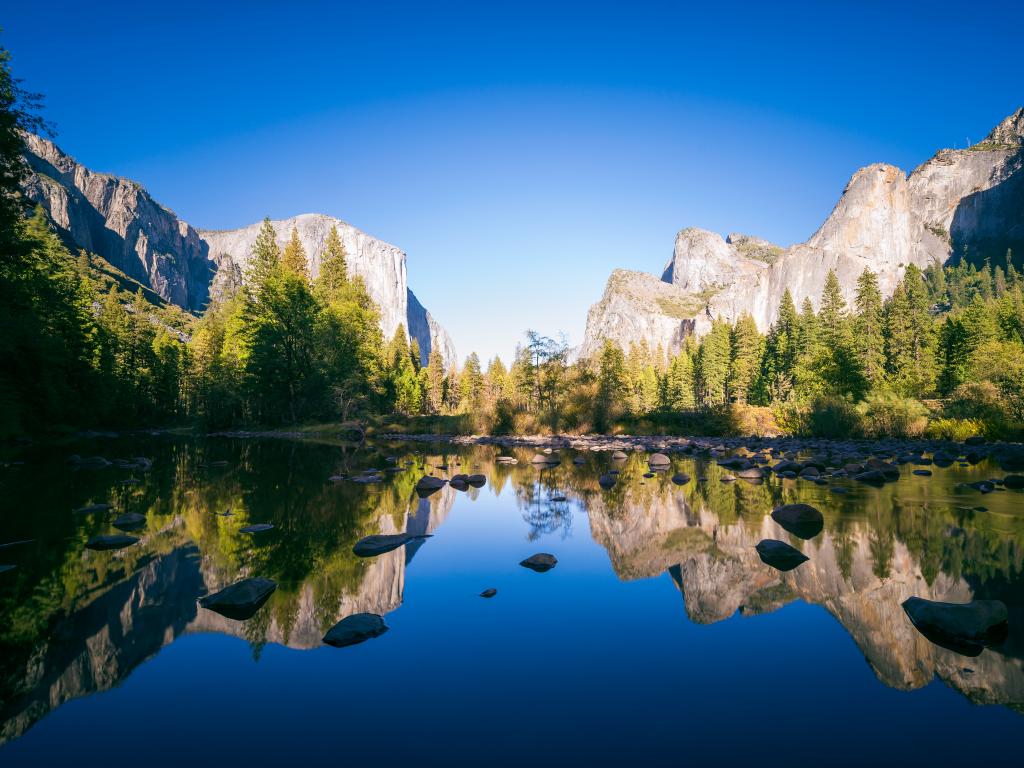 Combining the elegance of Yosemite's mountains with a stylish design and top-of-the-line amenities, Tenaya Lodge comes equipped with a spa, a fitness center, a fancy on-site restaurant, and an incredibly stylish interior. If you're the social type, step outside onto the gorgeous communal pool area and get to know your fellow guests.
This hotel is the perfect hub for exploring Yosemite, no matter the season. The area's varied landscape makes it perfect for skiing, snowboarding, hiking, rock climbing, and just about any outdoor activity you can think of. And did I mention Yosemite's incredible landscapes?
Things to see on a road trip from Los Angeles to Seattle
Totaling over 50 hours of driving between the 3 routes (and potentially many more if you get creative), there are far too many things worth checking out to list them all. As great as Seattle is, few vacations can compare to the experience of driving there from Los Angeles.
Here are some places you'll definitely want to check out:
San Luis Obispo – beautiful city that's home to Pismo Beach and Montana de Oro State Park
Big Sur/Bixby Creek Bridge – featuring one-of-a-kind scenery, this coastline features mountains and redwood forests alike
Carmel-by-the-Sea/Monterey – two of the major cities along California's Central Coast, there's few places are better for oceanside relaxation
Big Basin Redwoods State Park – a mixture of redwoods and many other species defines this unique forest
Point Reyes National Seashore – a gigantic park preserve with one of the best views of the ocean you're ever likely to see
Humboldt Redwoods State Park – a beautiful redwood forest, and the largest primeval forest existing today
Klamath National Forest – a gorgeous forest spanning nearly 2 million acres, featuring lakes, ponderosa pines, and beautiful mountain views
Rogue River-Siskiyou National Forest – with incredible mountain views and the world's tallest pine tree, this forest is not to be missed
Olympic National Park – this beautiful area boasts large beaches, forests, and wildflower meadows
Death Valley National Park – one of the hottest places on earth and home to countless canyons and salt dunes, this park needs no introduction
Sequoia and Inyo NF – between these two forests, you'll see some incredibly tall sequoia trees and a large stretch of the White Mountains, including Mount Whitney
Yosemite National Park – a perfect cross of mountains, valleys, and rare formations, this geological wonder is a must-see
Tahoe Lake & National Forest – features amazing greenery, beautiful lake water, and a great view of the Sierra Nevada Mountains
Williamette & Mt. Hood National Forests – two very scenic forests along the WIlliamette River – the former is thought to house the endangered Northern spotted owl
Capitol State Forest – this forest is home to countless beaver dams and the inexplicable Mima mounds
Mt Rainier National Park – a breathtaking park featuring meadows, waterfalls, and the stratovolcano Mount Rainier
Okanogan-Wenatchee National Forest – you can find some of America's most dramatic mountain expanses and beautiful valleys here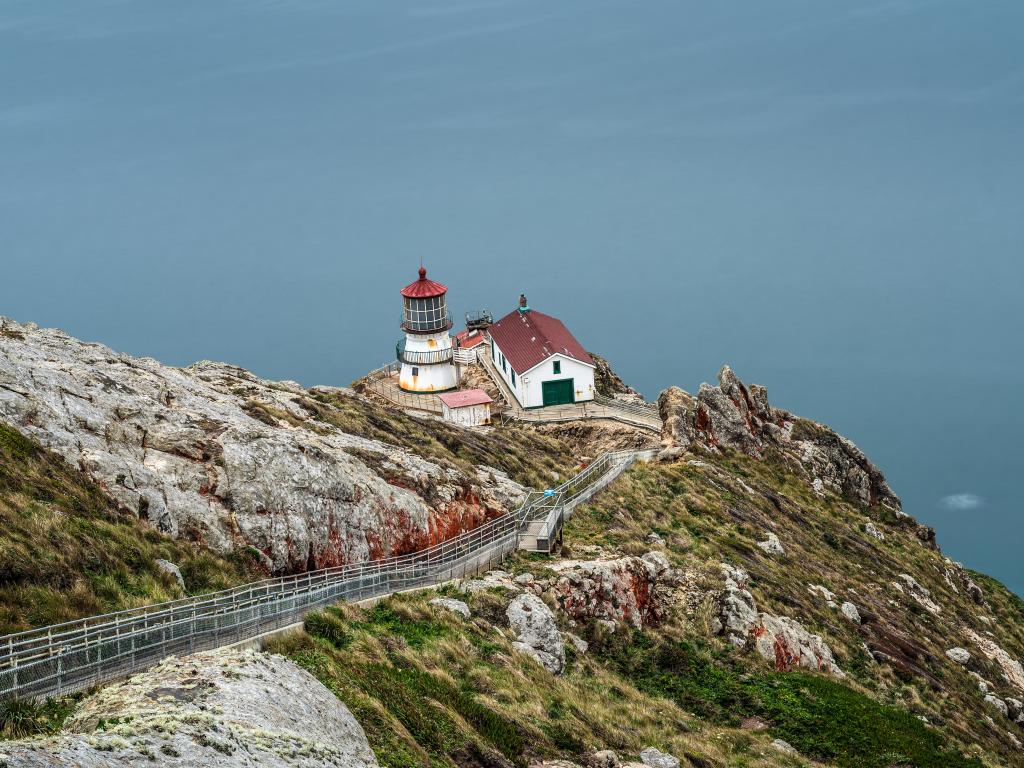 Best time to go on a road trip from Los Angeles to Seattle
Certain segments of the road trip from LA to Seattle are better in certain seasons. For example, driving by the Pacific Coast on hot summer mornings often means passing through thick fog, and many of the forests and parks you'll be passing along the way have wintertime restrictions.
Although there are benefits to checking out each route at a different time of year, Seattle itself is a different story – the city gets an average of 18 rainy days per month in its rainy season (from mid-fall to January), and the highest temperatures you can hope for this time of year are 50 degrees, while the lowest are around 35 degrees.
The best time to visit Seattle would have to be mid-spring to early fall. Temperatures peak at around 73 degrees in the summer, and May tends to cap off at a perfect 65 degrees. This is also when most of the city's major events take place, including the Seattle International Film Festival.