Road Trip From Los Angeles To Yellowstone National Park
As one of America's greatest national Parks, Yellowstone NP is a great final destination for a road trip. Starting off the journey in Los Angeles, you'll be driving through several states and running into all kinds of scenic landscapes on the way.
The drive from Los Angeles to Yellowstone National Park takes about 15 hours and 30 minutes without any stops. Splitting the trip up into 2 or 3 days, you could check out Valley of Fire State Park and Zion or enjoy the nightlife at Las Vegas and Salt Lake City.
With so many amazing places to discover, read on below to get to know your itinerary and the best stops along the way.
How far is Yellowstone National Park from Los Angeles and how long will the road trip take?
The most straightforward route from Los Angeles to Yellowstone National Park is about 1,000 miles, taking around 15 hours and 30 minutes of driving, without accounting for breaks.
Route
Distance
Driving Time
Scenic Route


(via I-15 N)

1,000 miles
15 hours 30 minutes
Alternate Route


(via I-10 E and I-15 N)

1,340 miles
22 hours 40 minutes
Even if you leave early and only stop to eat and get gas, you'd still be arriving quite late and wouldn't have the time or the energy to do anything until the next day.
A better way to go about it would be to stop overnight at least a couple of times on the way there, and to use these stops as vantage points for checking out the landmarks along the way. This route technically passes through 6 states, so there's plenty to check out on the drive to Yellowstone.
Ideally, you should devote about 5 days to a week to this route – not only would this significantly lower your daily driving quota, but you'll get a chance to really admire the many amazing spots this route has to offer.
Best road trip route from Los Angeles to Yellowstone National Park
The quickest and most consistently scenic route from Los Angeles to Yellowstone National Park will mostly follow the I-15, and it'll take you through or near several major cities, perfect for short or overnight stops.
Road trip route from Los Angeles to Yellowstone National Park
Take the I-15 out of Los Angeles, between Angeles & San Bernardino National Forests, and drive past the Mojave National Preserve to your right and Death Valley to your left until you reach Las Vegas. If you don't want to explore, it's a good idea to at least get your bearings here since the route gets quite scenic going forward.
Continue along the interstate past Lake Mead and the Grand Canyon's Parashant National Monument (briefly dipping into Arizona) before reaching St. George in Utah. From here, drive past the beautiful Zion National Park, and Dixie and Fishlake National Forests until you reach Salt Lake City, and eventually the state of Idaho.
From Pocatello, consider taking the I-86 and 84 west into Twin Falls for some sightseeing if you have time. Otherwise, switch over to the US-20 in Idaho Falls, and you'll soon see the expansive Caribou-Targhee forest to your right. After passing through Harriman State Park and right by Henrys Lake State Park, follow the route east until it ends at West Yellowstone.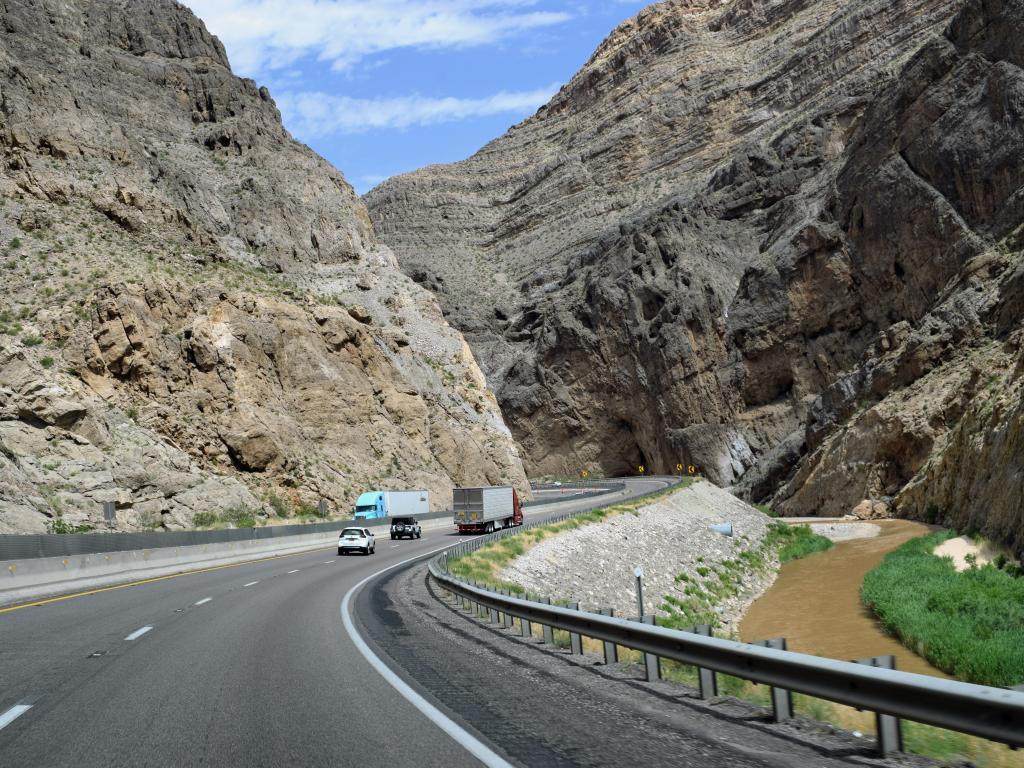 Best places to stop between Los Angeles and Yellowstone National Park
Powering through this route will result in missing out on some great places, so be sure to make some overnight stops. Because the route's larger cities are spaced out quite evenly along this route, you should have no problem finding great accommodation all the way to Yellowstone. Here are some of the best examples.
Enjoy Las Vegas Venice-themed resort
If you explored the Mojave National Preserve or Death Valley and have a few more days to spare, you'd be wise to spend a night in Las Vegas. There are countless amazing hotels to choose from, but one of the standouts would have to be The Venetian.
As a preface, while the hotel can't exactly be called cheap, the value for money is incredible – Las Vegas' accommodation (save for Presidential Suites and co.) tends to be relatively affordable to reel visitors in, as larger hotels make most of their money through gambling and entertainment venues.
This breathtaking Venice-themed resort is a marvel of architecture and design. The rooms are very spacious and comfortable, but that's a given – the several dozen on-site restaurants will have you feeling like you're in a European resort (a very extravagant one, at that), and you'll have access to hot tubs, outdoor pools, spas, fitness classes, and so much more.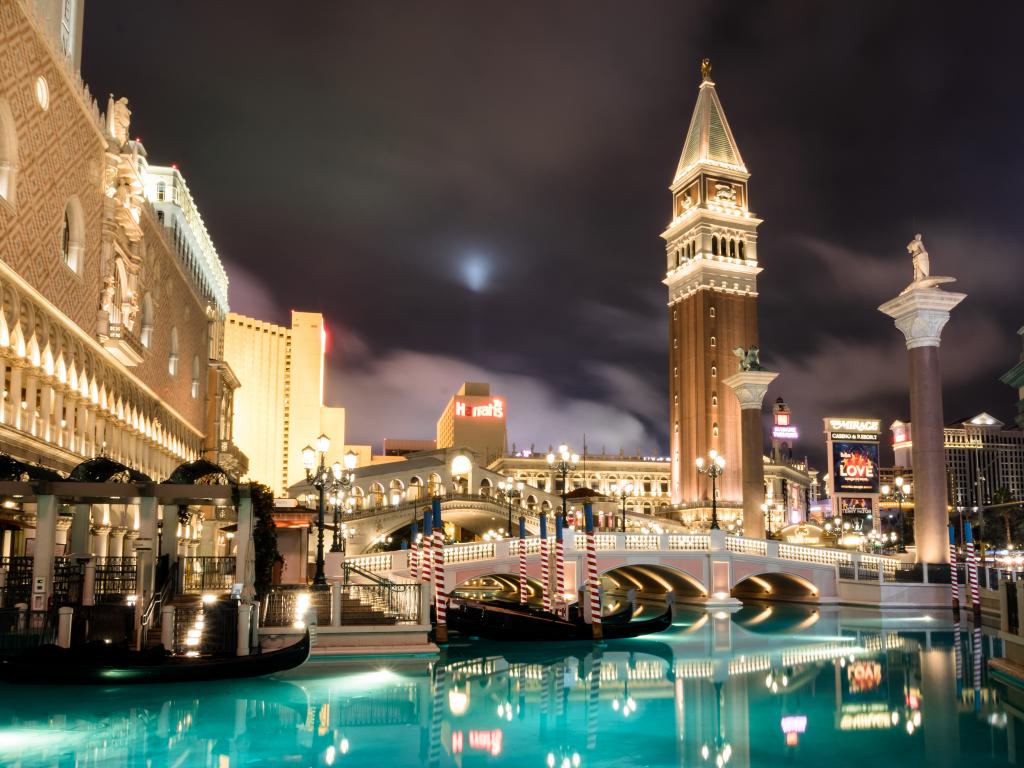 A stay in Vegas wouldn't be complete without a casino in the hotel, and this is no exception, so give the wheel a spin if you're feeling lucky. If that's not your scene, check out the Grand Canal Shoppes (featuring over 150 boutique stores!) or go on an indoor or outdoor gondola ride to further immerse yourself in the Italian theme.
Lastly, being located on the Las Vegas Strip means you'll be in the eye of the storm in terms of events and local landmarks. After a long day of desert adventuring, nothing hits the spot like a stay at one of Vegas' finest hotels!
Have a cozy rest in Salt Lake City
Salt Lake City is definitely a great place to spend the night on your drive to Yellowstone. With incredible monuments like Temple Square and The Salt Lake Tabernacle, as well as the beautiful landscapes of Red Butte Garden and Sugar House Park, you could definitely devote a few days to this city alone.
There are lots of great places to stay in Salt Lake City, but thanks to its great services and convenient location, the Grand America Hotel is probably the best money can buy.
The large, cozy rooms have a lot of character and boast stunning views of Salt Lake City and the mountains off in the distance. There are so many things to do here to relax after a long drive – unwind in the swimming pool or hot tub, work out at the fitness center, visit the amazing spa, or enjoy a delicious meal at the Garden Café.
The hotel is located centrally in Salt Lake City, so you can walk to any of the downtown area's attractions in a matter of minutes – if you do need to get somewhere by car, the parking area's right nearby. It's a rather expensive stay, but it's definitely worth it if you can afford it.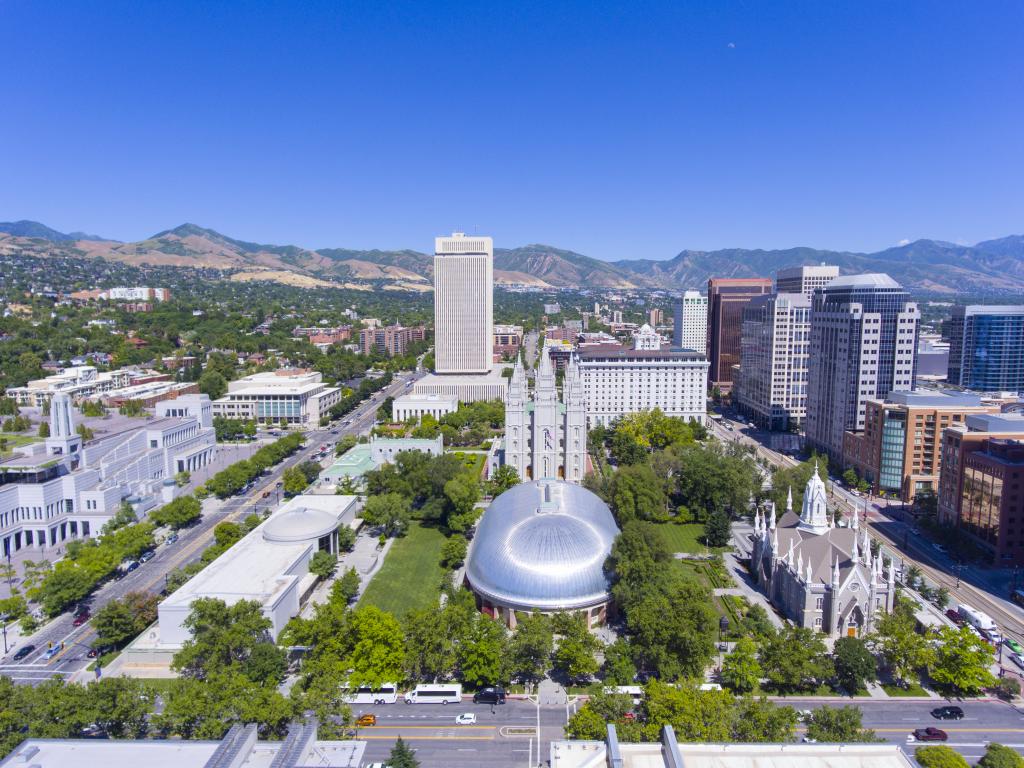 Things to see on a road trip from Los Angeles to Yellowstone National Park
Being a relatively long route, you can expect to see a lot of great things on the way from Los Angeles to Yellowstone. It would be impossible to list absolutely everything, so take a few days to at least check out these highlights:
Mojave National Preserve – This preserve features the Marl Mountains, the ghost town of Kelso and the iconic Joshua trees.
Death Valley National Park – Aside from being one of the hottest places on earth, Death Valley is home to Badwater Basin and large mountain ranges.
Red Rock Canyon National Conservation Area – Characterized by its red rock formation and frequented by several million hikers and rock climbers every year. You might need to make a reservation for a timed-entry slot, so check the official website before traveling.
Las Vegas – Nevada's largest city needs no introduction – its reputation as "The Entertainment Capital of the World" says it all.
Lake Mead National Recreation Area – The elusive combination of red rocks and crystal-blue lake water attracts millions of visitors to hike, swim, and explore the area.
Valley of Fire State Park – The park's signature Aztec sandstones look like they're on fire in harsh sunlight.
Zion National Park – Featuring mountains, forests, rivers, and the iconic Zion Canyon, this is one of America's most beautiful and geologically diverse parks. If you'd like to hike up to Angels Landing, you will need a permit and will need to make a reservation. Check the Zion National Park's website for more details.
Grand Staircase - Escalante National Monument – The last part of America to ever be mapped, this monument features canyons, monoliths, and prehistoric vertebrate fossils.
St. George – Salt Lake forest stretch – A long sequence of forests that introduce some color to the 2nd half of the route
Salt Lake City – Utah's capital is a bustling metropolis with a rich art scene and a beautiful aesthetic, both in terms of nature and architecture.
Twin Falls – Although it's a slight detour, the town is worth checking out thanks to nearby attractions like Perrine Memorial Bridge and Shoshone Falls.
Craters of the Moon National Monument & Preserve - Formed by a long sequence of volcanic eruptions thousands of years ago, there's no place quite like this anywhere else in the States.
Idaho Falls – A beautiful, unique city along Snake River, known for its River Walk trail and charming downtown area.
Caribou-Targhee National Forest – With beautiful greenery and camas flowers as far as the eye can see, this forest is not to be missed.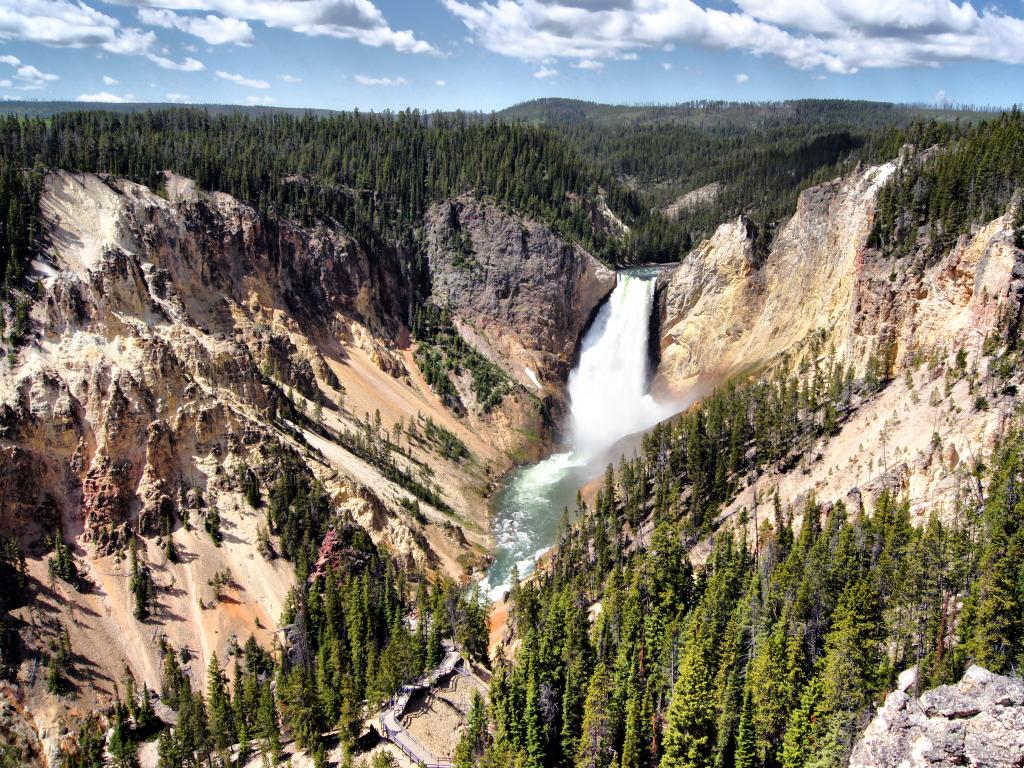 Best time to go on a road trip from Los Angeles to Yellowstone National Park
A great feature of this Los Angeles-to-Yellowstone route is that, aside from the LA – Las Vegas desert stretch, most of the route is comprised of gorgeous preserves and forests that look great no matter the season. With that said, keep in mind that some of the forest roads are bound to be closed if there's heavy snow.
There's virtually no wrong time to visit Yellowstone National Park, but your best bet would probably be late spring (April or May) or in fall (September or October), as there aren't quite as many tourists and the weather is just right.
Obviously, Yellowstone is also great to visit in the summer, but this is also the park's peak season – although it spans well over 2 million acres, most of its 3 to 4 million annual visitors come in the summer, and there's no guarantee you'll be able to avoid crowds.
Getting around Yellowstone in the winter can be difficult as most of the park roads will be closed (the higher-altitude roads are closed as early as October or November!). Road access remains restricted until early-to-mid spring, but all the roads are up and running by June.
If you don't mind the extremely low temperatures or not being able to traverse the park by car, pack some skis or snowboards and see the park like few other visitors have. Besides, you can always just stay in West Yellowstone and use a snow vehicle to get around the park.