Road Trip From Los Angeles To Yosemite National Park & Mammoth Lakes
If you're up for a short yet impossibly scenic adventure, the road trip from Los Angeles to Yosemite National Park and Mammoth Lakes is a real get-back-to-nature experience - if you need a break from city life, then this is the perfect trip for you!
The 410-mile road trip from Los Angeles to Yosemite National Park & Mammoth Lakes takes 8 hours to drive. Key stops include Sequoia and Sierra National Forests, Death Valley and Kings Canyon National Parks, as well as Bakersfield and Fresno.
There are loads of other great places to see along this epic road trip journey. So please keep reading until the end to learn all about them.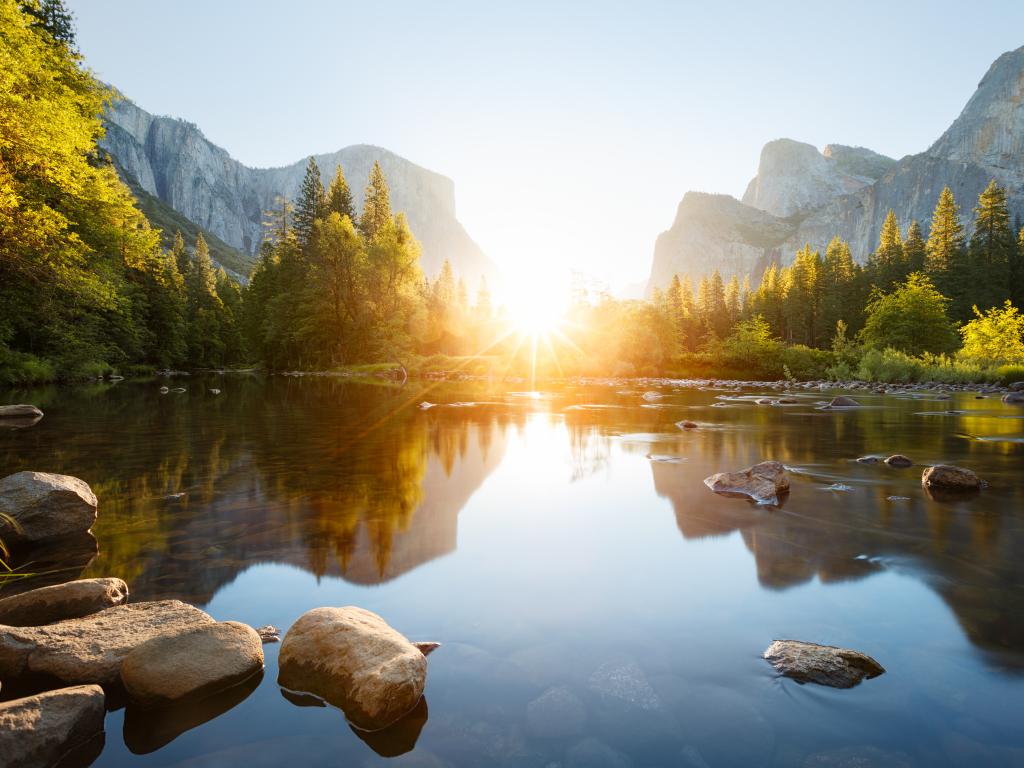 How far are Yosemite National Park and Mammoth Lakes from Los Angeles and how long will the road trip take?
Comparison of road trip routes between Los Angeles and Yosemite National Park and Mammoth Lakes
Route
Distance
Driving Time
Fish Camp Route


Not fully accessible in winter

410 miles
8 hours
Highway 395 Route
380 miles
6 hours 30 minutes
The road trip from Los Angeles to Yosemite National Park spans a distance of around 280 miles, while Mammoth Lakes is a further 130 miles from there.
It takes around 5 hours of driving to reach the south entrance to Yosemite and an additional 3 hours across Yosemite National Park to Mammoth Lakes, meaning you can complete the drive in a single day if you feel like it.
That said, this epic road trip has plenty to offer, so a better move would be to take things slow and spread the drive out to at least four or five days if you can.
If you don't want to drive through Bakersfield and Fresno, another option is to drive Highway 395 between the chain of parks and forests to the west and Death Valley to the east, then visiting Mammoth Lakes before driving to Yosemite via Tioga Pass
Keep in mind that Mariposa Grove and Tioga Pass tend to be closed in the winter due to snow, so if you're traveling this time of year, your only option is to drive through Fish Camp via the first route.
Best road trip route from Los Angeles to Yosemite National Park and Mammoth Lakes
Both of the routes are great options for the road trip from Los Angeles to Yosemite National Park and Mammoth Lakes - your choice should depend on your preferred choice of scenery and the time of year you want to visit.
Since each itinerary has plenty of route-specific attractions, you should take one on the way to Mammoth Lakes and Yosemite and the other on the way back, assuming the roads are open.
The Fish Camp Route
Take Interstate 5 out of Los Angeles, driving through Santa Clarita and passing Pyramid Lake before pulling into Wheeler Ridge. From there, follow Route 99 to Bakersfield, then either continue north or detour to Isabella Lake and Sequoia National Forest.
On the main route, follow Route 99 towards Fresno, and from there, consider a detour to Kings Canyon National Park on Highway 198. Back in Fresno, follow Route 41 past Millerton Lake and through Fish Camp to enter Yosemite National Park.
If the road is open, you can then take Tioga Pass out to Highway 395 at Lee Vining, and at Mono Lake, start following the highway south through Inyo National Forest and into Mammoth Lakes.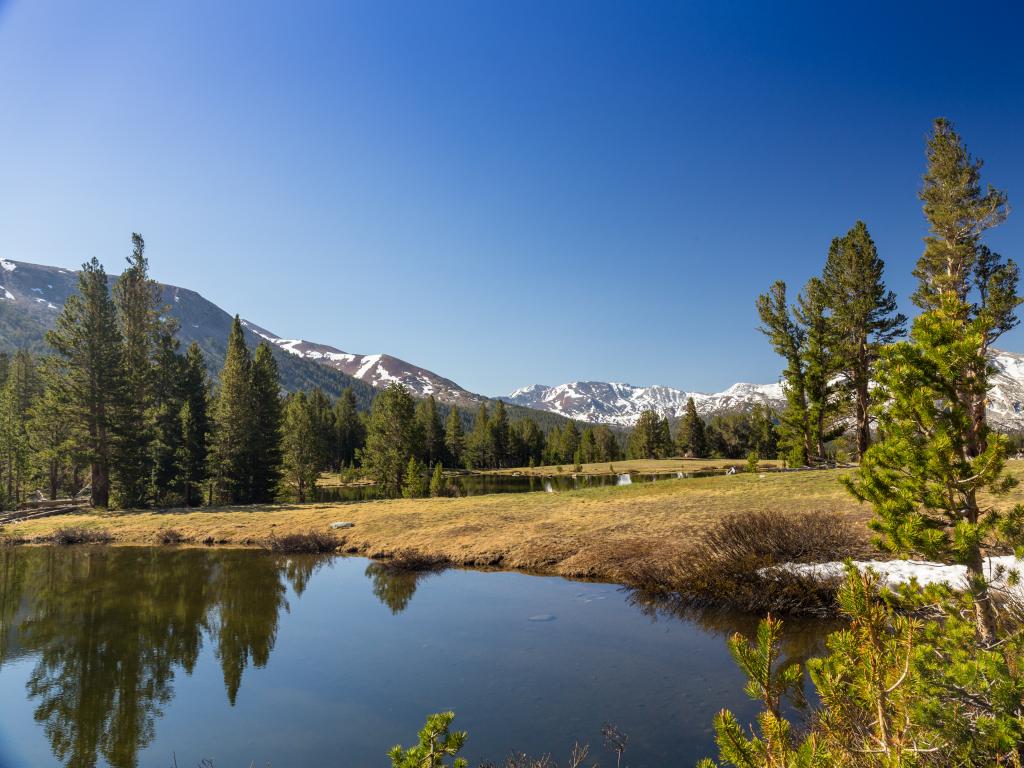 The Highway 395 route
Drive out to Santa Clarita via Interstate 5, then hop onto Route 14, following it through Palmdale and Lancaster. If you want, pull into Isabella Lake before getting to Bradys, at which point you can get on Highway 395.
Visit Death Valley National Park to the east, or continue past Kings Canyon National Park to visit Inyo National Forest to the west. Past Bishop, you can take a break at Lake Crowley before pulling into Mammoth Lakes.
From there, your only way of getting to Yosemite is to take Tioga Pass once you get to Lee Vining - just west of Mono Lake, follow Route 120 westward until you make your way into the park.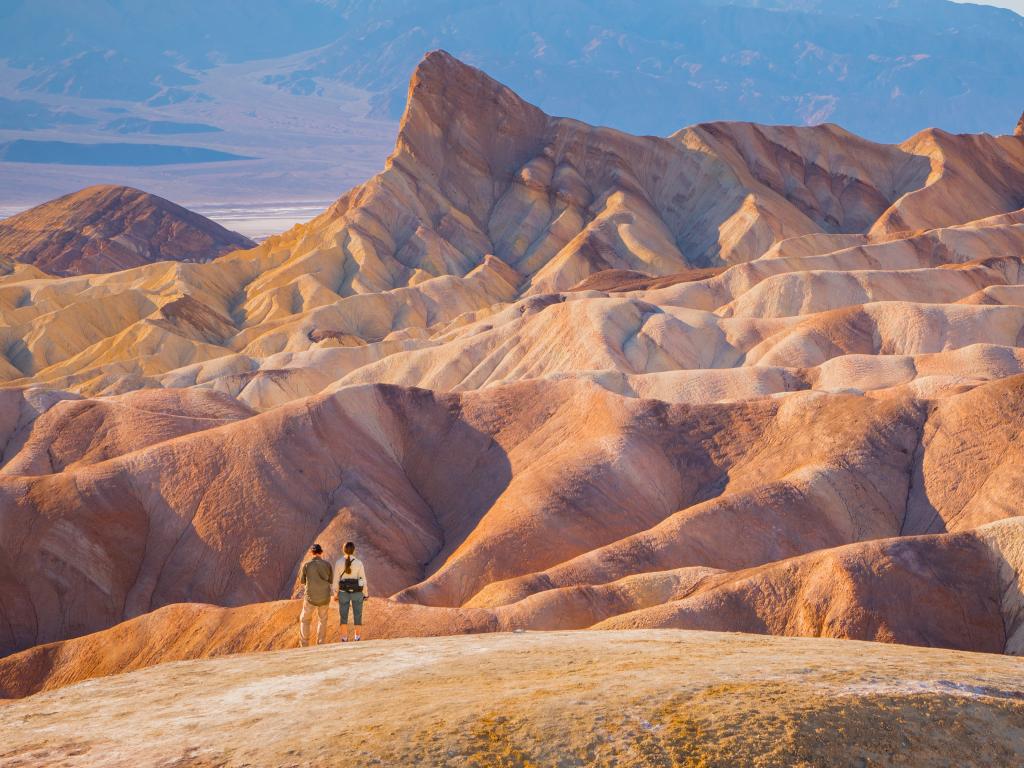 Best places to stop between Los Angeles and Yosemite National Park and Mammoth Lakes
During your road trip from Los Angeles to Yosemite National Park and Mammoth Lakes there are a wide range of cities, quaint towns and intriguing sites to visit.
Of all the spectacular hotels en route, these are the ones you'll want to keep an eye out for:
Go on a legendary hike in Death Valley
If you're taking the highway route, Death Valley National Park is an obligatory stop during this road trip. This place is has a range of accommodation options to suit different tastes (and budgets), but the absolute best is The Inn at Death Valley, whose stunning exterior and abundance of amenities are second to none.
Every single part of this place, from the cozy rooms to the gorgeous courtyard walkways, was designed with luxury and comfort in mind. What little time you're not spending out exploring, you'll be beating the heat at the amazing outdoor pool or enjoying a game of golf.
The three on-site restaurants offer the very best American cuisine the region has to offer, and if you're feeling more adventurous, a variety of other dining options are only a short walk or drive away.
Trekking through Death Valley is exercise enough, but you can always get a few reps in at the fitness center if you feel like it before stretching your legs in the sauna.
The hotel is quite expensive, but it's definitely the best that Death Valley has to offer - besides, if so many celebrities keep coming back to this place, it's something you have to check out at least once!
Enjoy the fabulous view in Mammoth Lakes
Death Valley's summer heat isn't for everybody, so if snow is more your speed, consider spending some time at a winter resort in Mammoth Lakes. The finest hotel in town is The Westin Monache Resort - the outdoor pool and gigantic property are just the tip of the iceberg here.
Once you've settled into the comfortable rooms, you can either go exploring or warm your bones in one of the two outdoor hot tubs.
Whitebark Restaurant, Bar and Lounge is one of the fanciest restaurants you could hope to eat at, and it's located right at the hotel. Once you're nice and full, you can take a shuttle to the nearest slopes and ski with the best of them.
Even among the sea of amenities (including a gondola ride to Mammoth Mountain), the highlight of your stay will be exploring the massive premises of the hotel and admiring all the quirky and eye-catching design choices.
All things considered, this place is actually on the cheaper side despite its immensely popular location - with so much to see in the area, including the nearby Yosemite National Park, the hotel is a no-brainer if you're looking to spend time in Mammoth Lakes.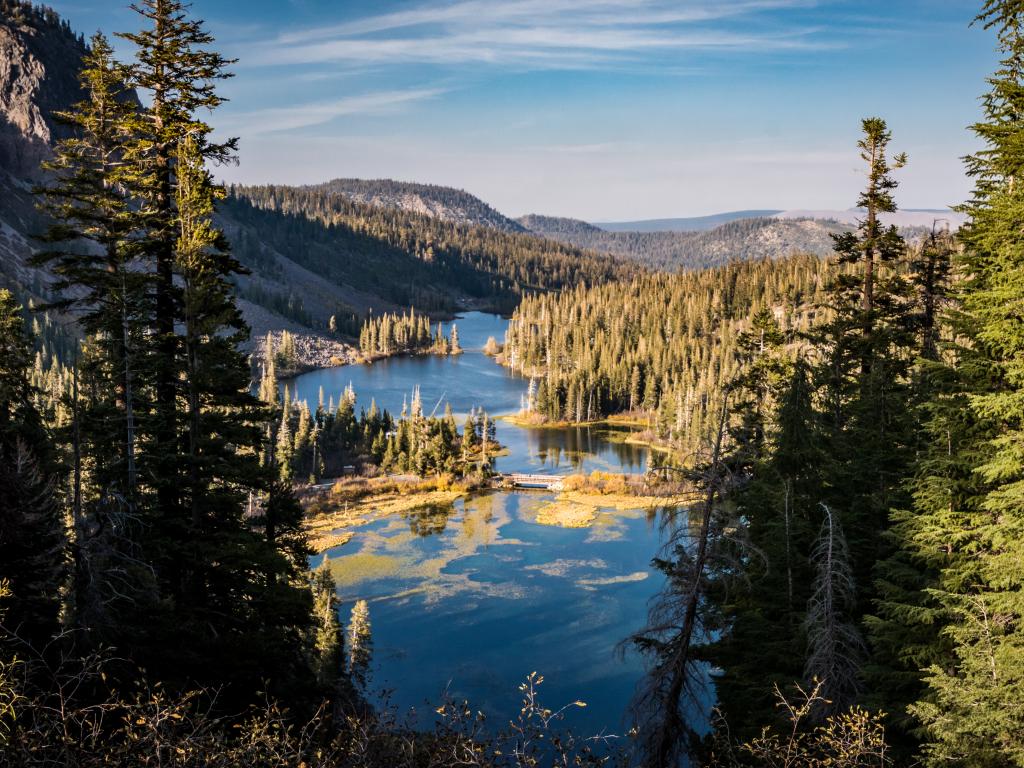 Things to see on a road trip from Los Angeles to Yosemite National Park and Mammoth Lakes
Given the distance between Los Angeles, Yosemite National Park and Mammoth Lakes, there are a number of scenic, historical and cultural points of interest you might want to see along the way.
You could comfortably spend over a month trying to visit them all, but if you are pressed for time, we have come up with this list of some of the most impressive the route has to offer:
Santa Clarita – Home to some of California's most important historical sites, including Mentryville, California's Pioneer Oil Town, which also houses Pico Number 4, the longest running oil well in the world.
Castaic Lake State Recreation Area – A reservoir of the California State Water Project, this fantastic family-friendly destination comprises of a lake with boat rentals, swimming (during the summer season) & fishing. Also known as a great spot for camping & hiking.
Bakersfield – A city of culture that boasts a number of fabulous museums and art galleries, including the Buena Vista Museum of Natural History and the California Living Museum. An excellent destination too for hiking; a number of trails wind through the mountains of the Kern River Ranger District, which forms part of Sequoia National Forest.
Fresno – The heart of agriculture country is best known for the Fresno Chaffee Zoo, which has sea lions and a stingray touch pool, as well as Woodward Park, home to the beautiful Shinzen Japanese Garden.
Yosemite National Park – One of the most famous national parks in the USA and home to massive ancient sequoia trees, the majestic Bridalveil Falls, and the wonderful, sheer granite cliffs of El Capitan and the Half Dome.
Sonora – Affectionately known as the 'Queen of the Southern Mines', Sonora is a pleasant city with a lovely range of shops and restaurants, as well as museums and other points of historical and cultural significance.
New Melones Lake – Reservoir on the Stanislaus River, in the central Sierra Nevada foothills. Known for its extensive hiking and biking trail system, as well as a number of stunning natural, geologic, and cultural points of interest.
Lake Camanche – A multi-award winning campground based around 54 miles of shoreline. Offers year-round recreation and fishing in a beautiful lakeside setting.
Round Top – A rugged 10,000-foot mountain which stands imperiously on the Sierra Crest in Alpine County. Lying just south of the Carson Pass, its summit represents the highest point in the Eldorado National Forest and Mokelumne Wilderness.
Alpine Village – A little piece of Bavaria in Southern California, this Alpine Village is an excellent destination for German related dining, shopping and entertainment.
Topaz Lake – Gorgeous reservoir on the California-Nevada border. Flanked by the Eastern Sierra, it is also close to both the Toiyabe and Eldorado National Forests.
Mt Patterson – Located in Mono County, this magnificent mountain peak stands at over 11,000 feet tall - this makes it the highest mountain in the Sweetwater Mountain range and showcases wonderful views of the surrounding area.
Mono Lake – An ancient saline lake known for the world-famous tufa towers. Also home to trillions of brine shrimp and a huge range of bird species.
Inyo National Forest – Gorgeous forest that houses the Ancient Bristlecone Pine Forest, not to mention one of the oldest living trees in the world.
Death Valley National Park - One of the hottest places in North America also happens to be one of the most scenic, and it houses some spectacular resorts to boot.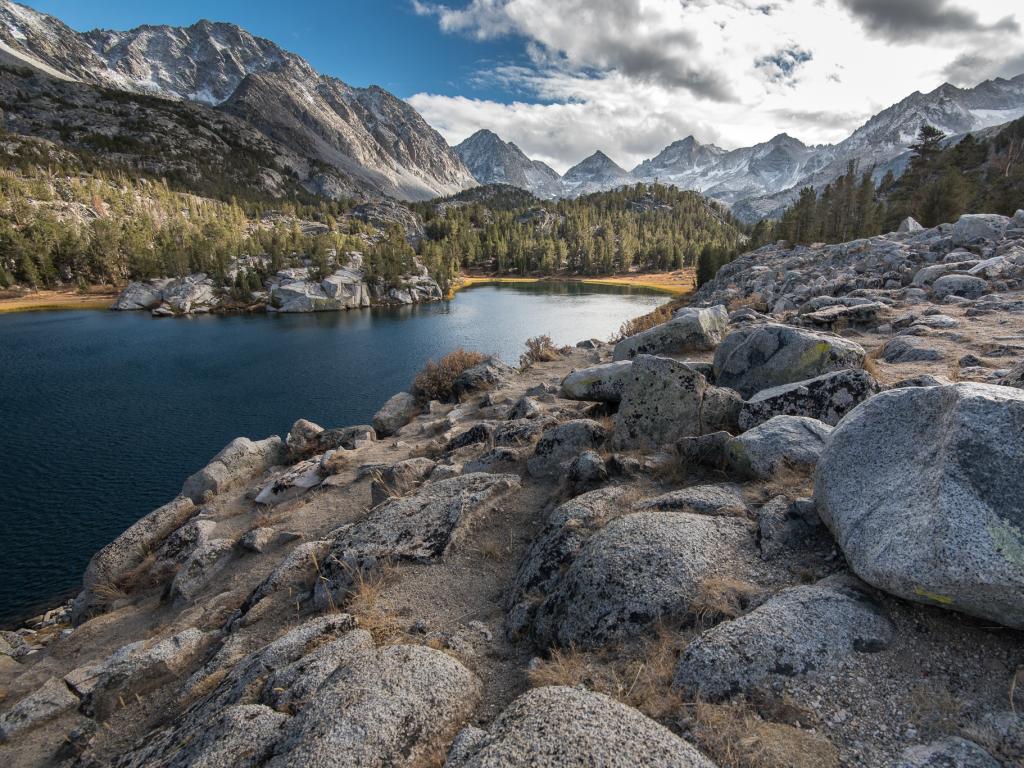 Best time to go on a road trip from Los Angeles to Yosemite National Park and Mammoth Lakes
A road trip from Los Angeles to Yosemite National Park and Mammoth Lakes is best attempted between the months of May and September.
During the winter, many roads (including Tioga Road that will take you to Mammoth Lakes), and trails are closed in Yosemite due to snow and other inclement weather.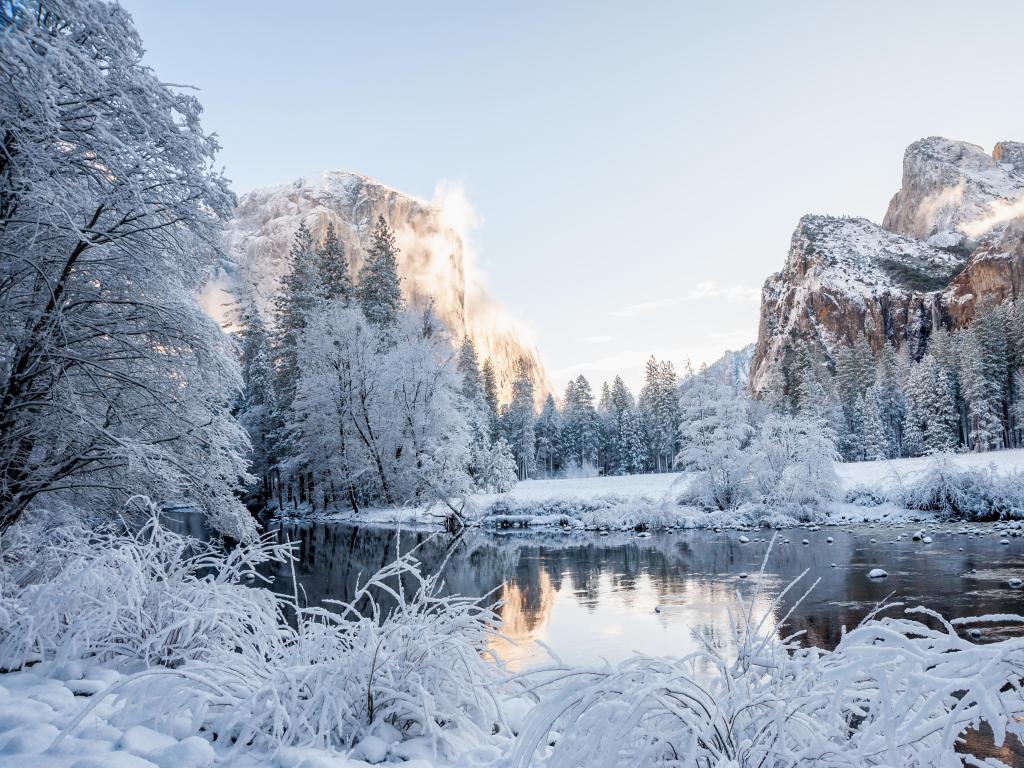 You can still visit some parts of the park and take the alternate road to Mammoth Lakes outlined previously, but you won't be able to see all the attractions the park has to offer.
This doesn't mean there are no benefits to visiting in the winter, though, as plenty of visitors enjoy the snowy slopes of the Mammoth Lakes region - in fact, this is one of the premier places in California if you want to enjoy a quality winter holiday.
Around July and August, both Yosemite and Mammoth Lakes are chock full of visitors - this invariably means a greater likelihood of encountering traffic and higher hotel prices too.
Fall, when there are fewer visitors and accommodation tends to be less expensive, is probably the optimum time to visit if you want less crowds. Keep in mind that snow will often cover Yosemite as early as October, so stay away if you want to stay warm and dry.