Road Trip from Memphis to Gatlinburg
If you are looking to explore a blend of urban attractions, scenic beauty, music, and arts before indulging in outdoor recreational activities, this road trip from Memphis to Gatlinburg is tailored especially for you.
This 500-mile road trip from Memphis to Gatlinburg, Tennessee will take 8 hours to complete passing through Nashville, Sam Davis Home, Chattanooga, Tennessee Aquarium, Red Clay Historic Park, Knoxville, Ozone Falls, Pigeon Forge, and Dollywood.
With a chance to cross off quite a few items on your bucket list, this road trip from Memphis to Gatlinburg is an adventurer's dream come true. Continue reading to discover the best routes, places, things to see and times to embark on this journey.
How far is Gatlinburg from Memphis, and how long will the road trip take?
Comparison of road trip routes between Memphis and Gatlinburg

| Route | Distance | Driving Time |
| --- | --- | --- |
| The Nashville Route | 500 miles | 8 hours |
| The Atlanta Route | 610 miles | 10 hours 30 minutes |
The Atlanta Route is slightly longer, covering 610-miles and taking just over 10 hours to drive. This route gives you a chance to explore the surrounding states of Alabama and Georgia.
But if you want to stick exclusively to Tennessee, take the shorter Nashville Route which is 500 miles long and takes 8 hours to drive.
As both the routes offer exciting opportunities with the chance of detouring to Pigeon Forge and Dollywood, we recommend taking at least 4 to 5 days to avoid exhaustion or missing out any of the unique experiences.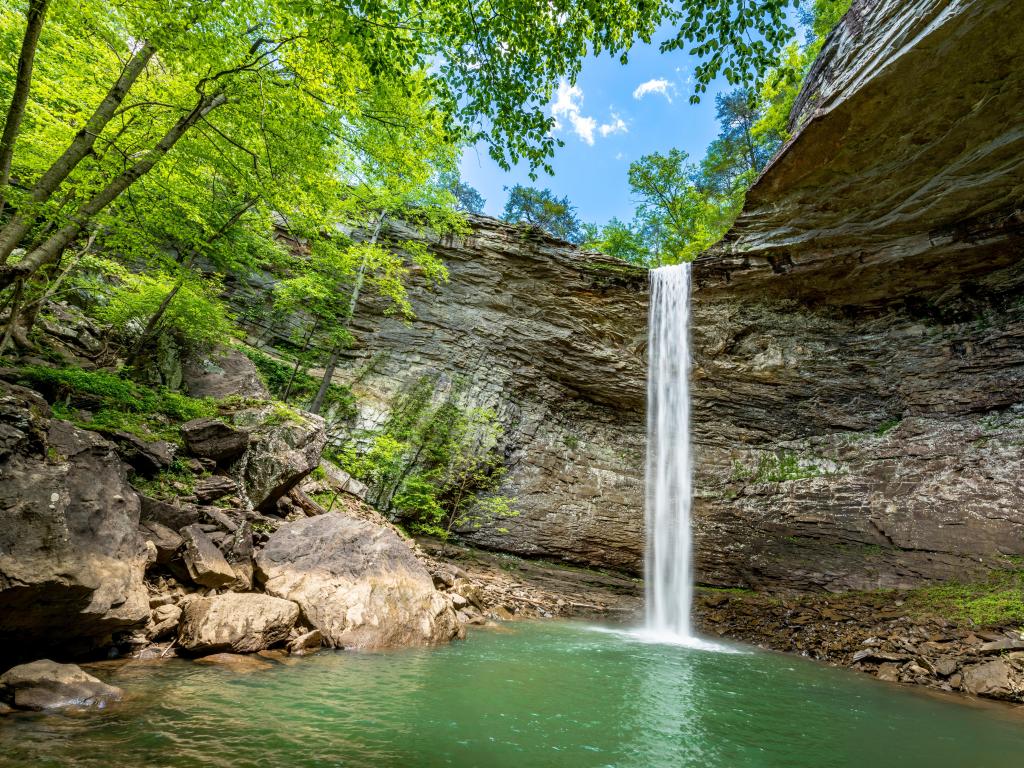 Best road trip route from Memphis to Gatlinburg
The Atlanta Route is longer and offers a mix of urban and natural attractions, with a focus on music and history. You can expect a variety of cuisines and cultures as well as plenty of opportunities for family fun.
Starting and ending in Tennessee, it weaves through Atlanta, historic Birmingham, and the musically significant Muscle Shoals. It also entertains shopaholics with some of the more notable cities of the Civil Right Era. You will be missing out on the musical Nashville and historical Knoxville on this route.
The shorter Nashville Route takes you through the heart of Tennessee, showcasing the state's rich history, music, and natural beauty. It offers a chance to visit the vibrant city of Nashville, and the charming towns of Chattanooga, Knoxville, and Gatlinburg.
This route includes iconic landmarks like Graceland, scenic parks like Lookout Mountain, and cultural gems like the Tennessee Aquarium. It also allows you to savor delicious cuisine, ranging from BBQ to modern fusion and enjoy Southern hospitality but you will only be exploring the state of Tennessee.
The Atlanta Route
To reach Gatlinburg while exploring surrounding states, get on Interstate 40 (I-40) from Memphis and then take US-72 E to State St in Muscle Shoals. Stop here and spend some time in the musical culture.
Then follow AL-157 S to 17th St N in Birmingham. From there, get on I-20 E from Reverend Abraham Woods Jr Boulevard and follow it to Atlanta. This is the perfect time to take a break on this route for the road trip from Memphis to Gatlinburg.
Once you are completely refreshed, resume your journey by getting on I-75 N and continuing on I-85 N to your destination in Gatlinburg.
The Nashville Route
For a solely Tennessee experience, get on I-40 from Memphis and follow into Jefferson St in Nashville. This musical city is the perfect place to stop overnight on this route and relax for a while before setting off for the next leg of this road trip from Memphis to Gatlinburg.
Once you're done, follow I-24 E to Carter St in Chattanooga. This is another great opportunity to enjoy breathtaking views and explore mountains. From there, head south and get on TN-27 E from Carter St. Then take I-75 N to Henley St in Knoxville.
Follow I-40 E to Winfield Dunn Pkwy in Sevierville. Then take the parkway to your destination in Gatlinburg.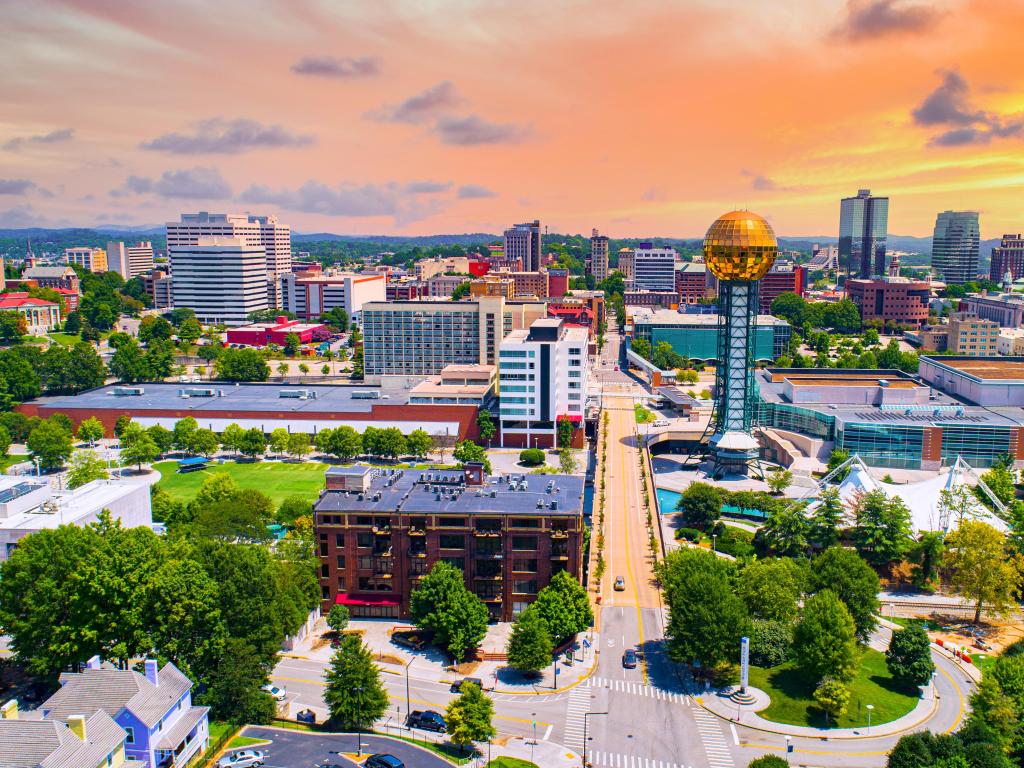 Best places to stop between Memphis and Gatlinburg
This road trip from Memphis to Gatlinburg abounds with opportunities to pause and enjoy the beautiful state of Tennessee, with historic museums, breathtaking landscapes, and tons of outdoor activities. Read on for our list of places to stay overnight and catch a breather during the journey.
Indulge in culture and art in Atlanta
If you have taken the Atlanta Route for this road trip from Memphis to Gatlinburg, you can stay overnight in Atlanta. This is the largest city on this route and offers a convenient location, sitting just over halfway. Tons of events and festivals with an active nightlife make this city totally worth the hype.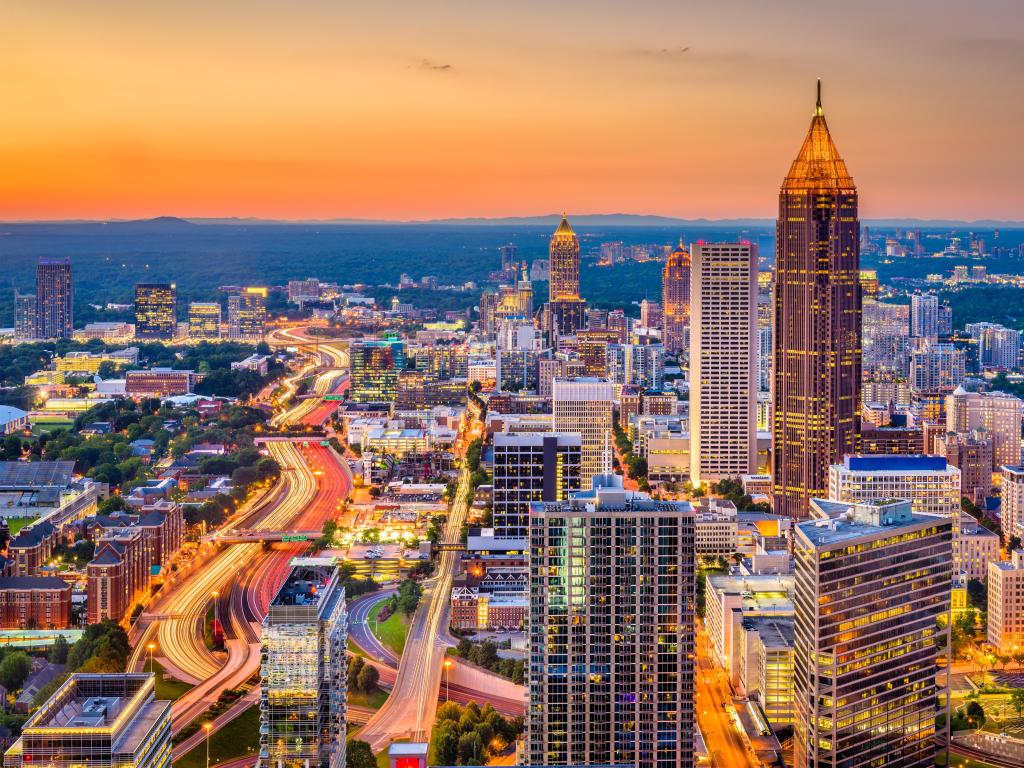 With a rich history dating back to 1837, Atlanta boasts stunning architecture, including several contemporary buildings that contribute to its unique skyline. Numerous music festivals, galleries and museums make for a vibrant culture and arts scene.
If you are fond of animals, start your exploration with Zoo Atlanta which has over 1500 animals on display, including numerous cute pandas. Showcasing interactive displays and vintage airplanes, The Delta Flight Museum lets you learn about one of the most renowned airlines of the United States.
Before you leave for the second part of this road trip, explore the World of Coca Cola. It is a unique attraction of Atlanta which offers you a chance to delve into the past of the famous beverage through an engaging experience.
Our vote for accommodation in Atlanta goes to the new and stylish Epicurean Atlanta. It is situated in close proximity to Botanical Gardens, Piedmont Park, the Symphony, majority of museums, and Atlanta's transit system. Affiliated with the Marriott Autograph Collection, this hotel also offers a swimming pool.
With a central location, this hotel gives you easy access to explore Atlanta's most renowned attractions on its transit system while leaving the car in the free parking. The interstate you will need to take to get back on route (I-85) is also located nearby.
Let your hair down in Nashville
After covering about half of this road trip from Memphis to Gatlinburg from the Nashville Route, you will encounter its namesake, which is also known as the "Music City." Try to catch a live show while you're there for a bucket-list worthy experience.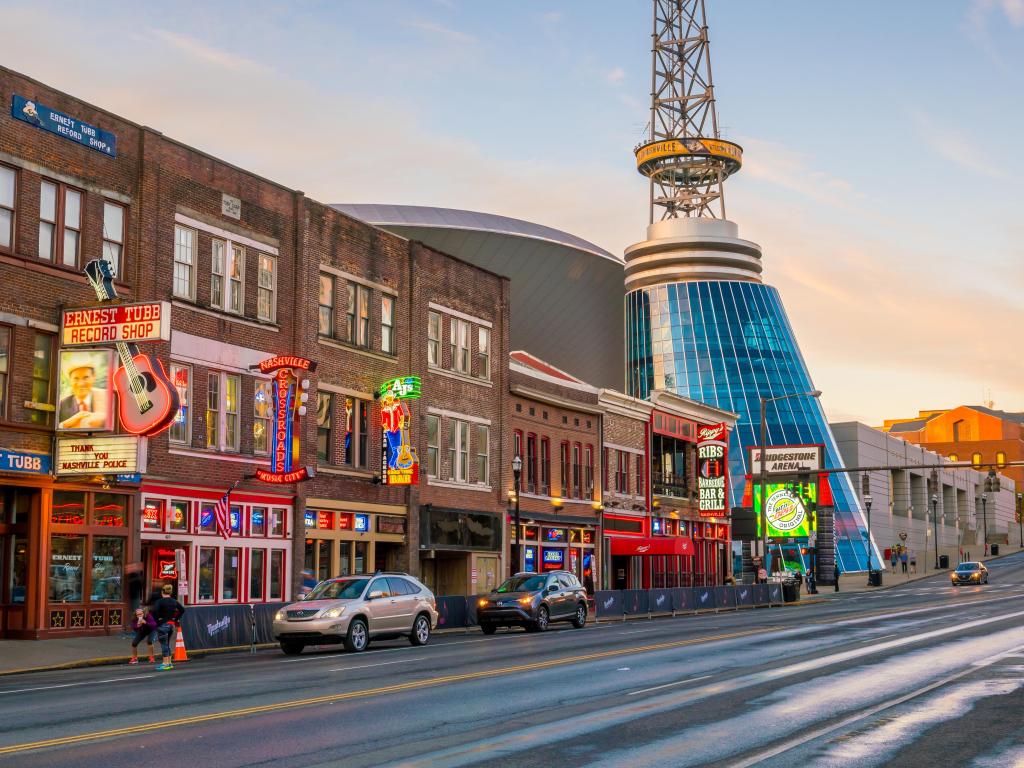 As the nickname suggests, Nashville is renowned for music, where you can explore several museums dedicated to different music genres and artists. You will have ample opportunities to witness live performances and let your hair down to them.
Nashville gives you the chance to learn about and immerse yourself in the life and career of the legendary musician and songwriter in the Johnny Cash Museum. Catch a glimpse into the influence of culture on modern music at the National Museum of African American Music.
Tour and admire the work of some of the biggest names in the art world in the First Art Museum, housed in a stunning 1930s former post office. Celebrate country music in the spacious auditorium at the Grand Ole Opry while you're in Nashville.
We recommend staying at Graduate Nashville which is an offbeat, antique hotel in Nashville. The remarkable rooftop terrace gives you a chance to soak in the stunning sunset views while enjoying a refreshing cocktail. In summer, you can also enjoy a dip in the pool.
Staying true to the Nashville spirit, this hotel has its own karaoke bar. It boasts a prime location in Midtown and gives you easy access to various entertainment options in the evening. Valet parking is available during the entirety of your stay making it convenient to take care of your car.
Where to stay when you reach Gatlinburg
Before stepping out into the recreational activities of Gatlinburg, we recommend catching your breath in Park Vista. Praised for its spacious rooms, suitable location and breathtaking views of the Great Smoky Mountains, this hotel has all the amenities you will need for a relaxing stay.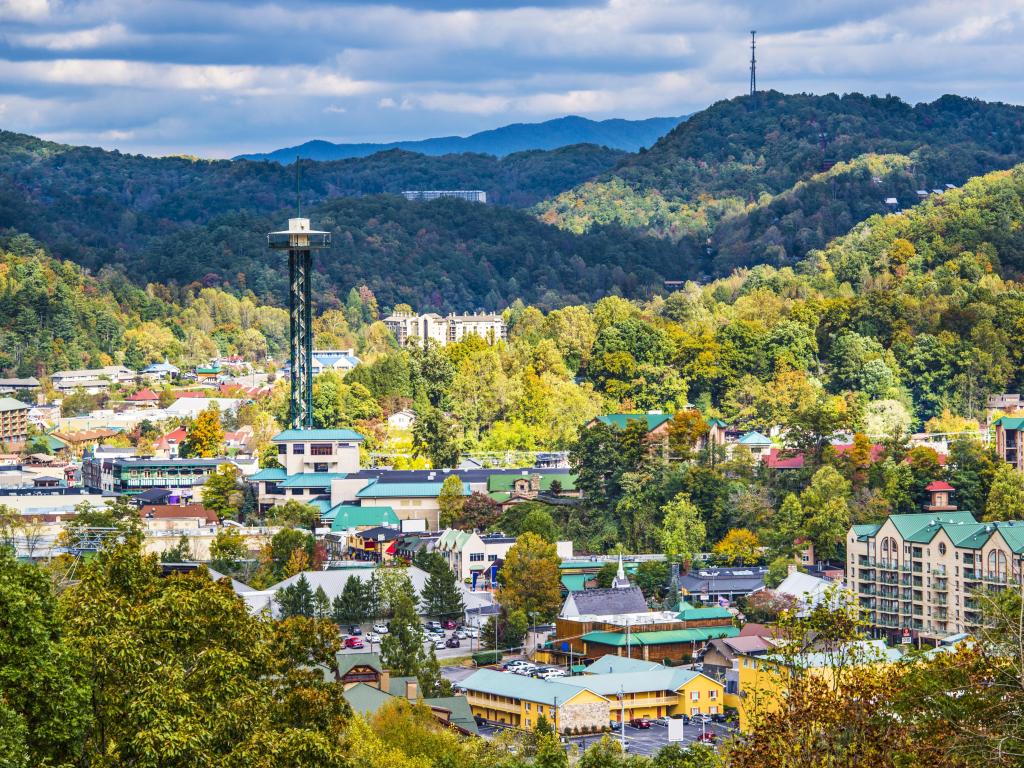 With conference rooms, event spaces and a ballroom, you won't have to reschedule anything; not even a business meeting. Indoor pool and fitness center take care of your workouts and the on-site restaurant gives you easy access to food.
This hotel is close to the Great Smoky Mountains and various other attractions, making it easy for you to visit them. You can either explore them in your car or opt for the free shuttle service provided by this hotel.
Things to see on a road trip from Memphis to Gatlinburg
Bustling with activity, this road trip from Memphis to Gatlinburg will leave you spell-bound. So, prepare yourself with what is to come with our handy list of things to see on both routes for a complete Tennessee experience.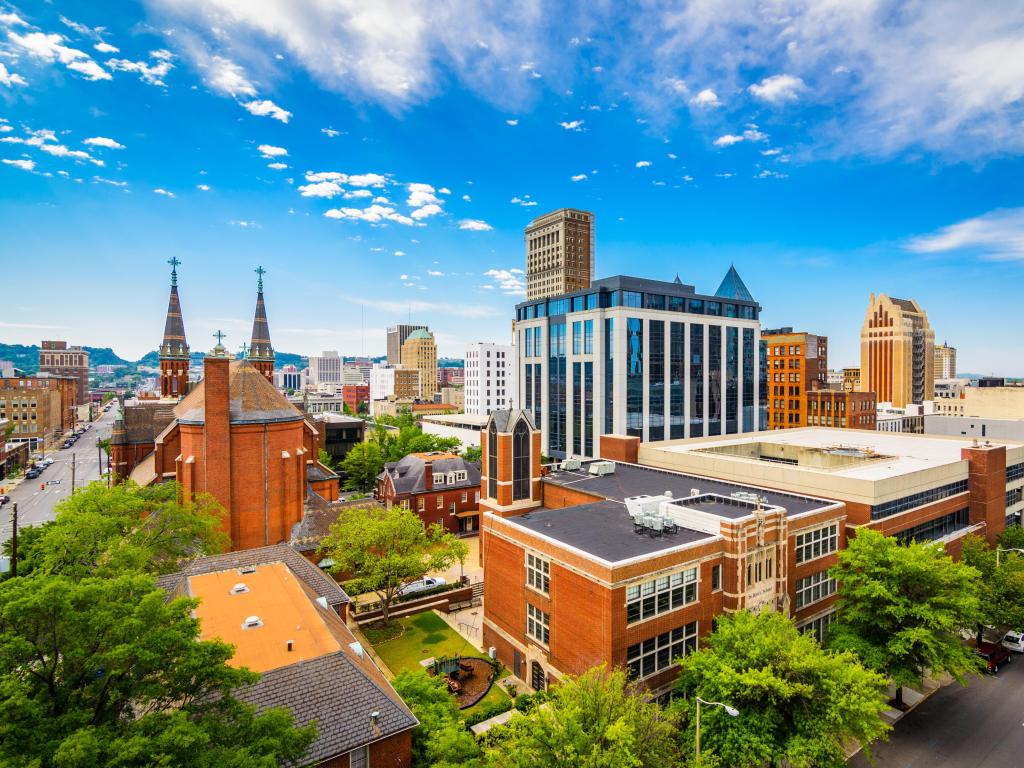 The Atlanta Route
Southern Museum of Civil War and Locomotive History – Explore direct exhibits centered around the Civil War railroad in this Smithsonian Museum.
Tellus Science Museum – Tour and learn about celestial science with geological displays, fossils and an observatory in this wonderful museum.
Delta Flight Museum – Showcasing interactive displays and vintage airplanes, this flight museum gives you a chance to learn about one of the most renowned airlines of the United States.
Southern Belle Farm – Indulge in delectable treats like cobblers, jams, preserves and pastries made from seasonal crops in this 330-acre operational farm with a chance to pick berries and peaches.
Hurricane Shoals – Explore a historic corn mill, seven covered pavilions, and a mini golf course while marveling at the picturesque landscape of this park with lush greenery and fast-flowing rapids.
Lake Hartwell State Park – Admire the breathtaking scenery of Lake Hartwell's shoreline and enjoy a multitude of outdoor activities such as boating, fishing, and hiking.
Wheels Through Time Motorcycle Museum – Home to over three hundred rare motorcycles, this 38,000 sq feet museum offers interactive and educational exhibits for an enriching experience.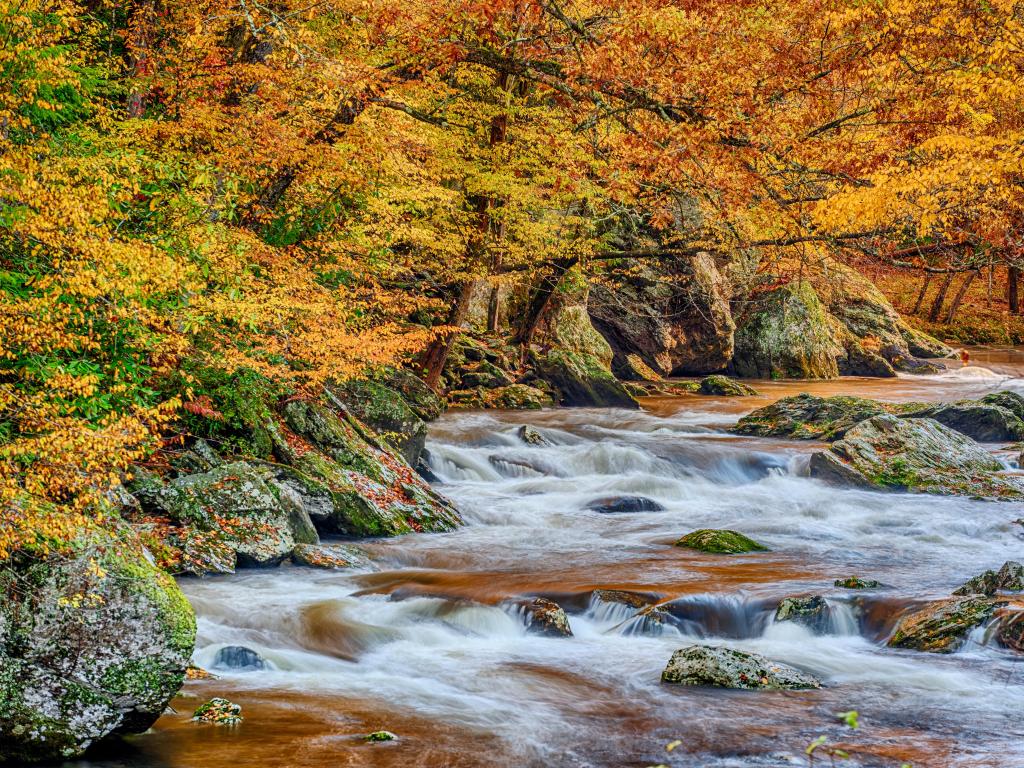 The Nashville Route
Hatchie National Wildlife Refuge – Known for its seasonal hunting and fishing, this stunning refuge houses over 11,000 acres of wetlands and waterfowl habitat.
Sam Davis Home – Pay tribute to the Civil War soldier in his former residence, which was constructed in 1810 and features exhibits about American slavery and its practices in the southern region.
Tennessee Aquarium – Alongside the Tennessee River in Chattanooga, this aquarium showcases marine life, as well as a charming collection of birds and butterflies.
Red Clay Historic Park – Just a short distance from the route, this stunning park provides picnic areas and exhibits that showcase the history and culture of the Native American tribes.
Ozone Falls – Witness the breathtaking beauty of water cascading down a rocky amphitheater in this park with hiking trails and several relaxing spots to sit.
International Friendship Bell – Serving as a symbol of the collaboration between the Manhattan Project, Oak Ridge, and the pursuit of peace, the International Friendship Bell weighs over 8000 pounds.
Great Smoky Mountains National Park – Take in the beauty of this natural paradise with stunning mountain views, hiking trails, waterfalls, and abundant wildlife.
Alcatraz East Crime Museum – An interactive museum with exhibits and artifacts related to notorious crimes and criminals, law enforcement, and forensic science.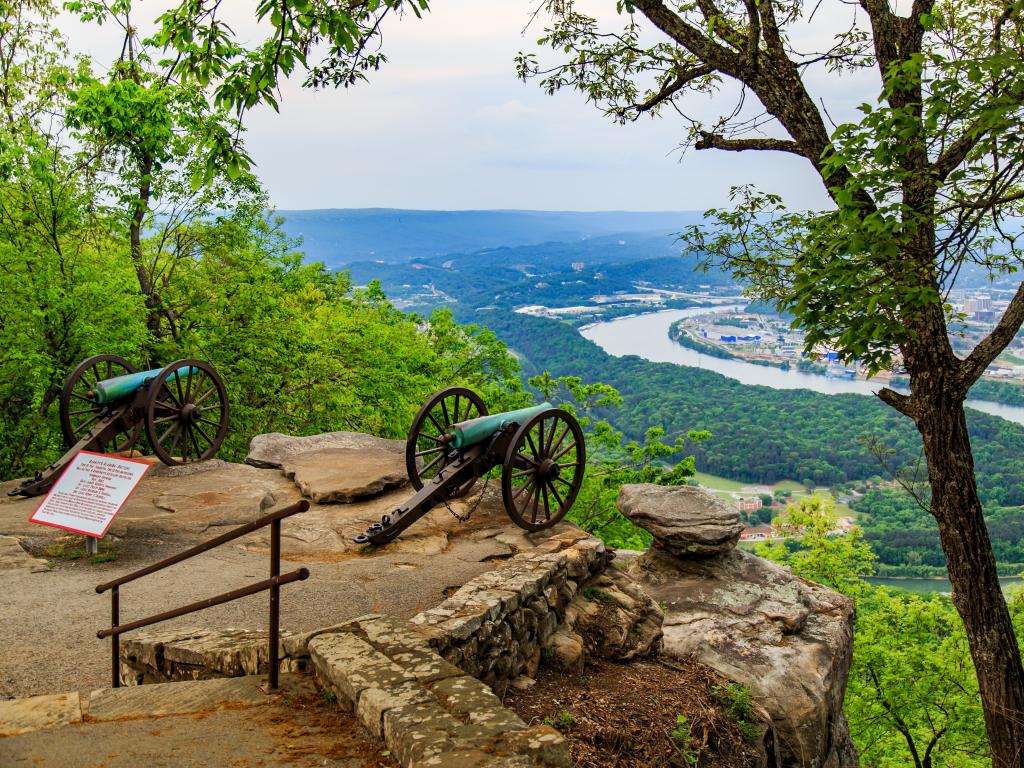 Best time to go on a road trip from Memphis to Gatlinburg
Gatlinburg can be visited year-round but the shoulder seasons are recommended to swing by. Not only are the humidity levels low and temperatures mild, but visitors can also enjoy a plethora of events and festivities during these seasons.
With warm and humid weather, summers in Gatlinburg are ideal for outdoor activities such as hiking, swimming, and rafting, bringing in larger crowds. Temperatures range between 70 degrees Fahrenheit and 85 degrees Fahrenheit, but sometimes rise above 90 degrees Fahrenheit with rare storms.
Winters are often chilly and snowy with occasional rain or sleet. Temperatures range between 25 degrees Fahrenheit and 50 degrees Fahrenheit, but the coldest months may go below 20 degrees Fahrenheit. This time is popular for holiday celebrations, skiing and other winter sports.
Mild temperatures and low humidity levels make spring and fall the best times to visit Gatlinburg. Temperatures average between mid-40 degrees Fahrenheit and mid-70 degrees Fahrenheit. It is also a good time in terms of budget as accommodation and activities may be a bit less costly.
Visitors can enjoy various festivals and events in this place including the Gatlinburg Winter Magic held from November to February where you can enjoy fairs, parades, and decorations. Smoky Mountain Tunes and Tales is held from June to August, featuring street performances.
July and October bring Gatlinburg Craftsmen's Fair, exhibiting the work of local craftsmen and talented artisans. Gatlinburg Chili Cookoff is a unique experience in November where visitors get to taste different chili samplings.
Smoky Mountain Harvest Festival from September to November showcases pumpkins, gourds, fall leaves. Then there is the Gatlinburg Festival of Trees from November to December with Christmas decorations. 31st December brings in Gatlinburg New Year's Eve Ball Drop and Fireworks Show.