Road Trip from Memphis to Los Angeles
This cross-country road trip takes you from the home of the blues, Memphis, to sunny Los Angeles, complete with all its glitz and glamor. On the way, you have plenty of opportunity to take in some of the greatest landscapes that the United States has to offer: from wide open desert plains to winding mountain passes. This trip really does have it all when it comes to breathtaking scenery.
The 1,970-mile road trip from Memphis to Los Angeles takes around 30 hours to drive. Highlights on the way can include Las Vegas, Denver, Kansas City, Albuquerque, Santa Fe, Moab, and Oklahoma City, plus Grand Canyon and Canyonlands National Parks.
Keep reading to find out more about this fabulous road trip from Memphis to Los Angeles, including guidance for your route, our favorite places to stay and the best things to visit along the way.
How far is Los Angeles from Memphis, and how long will the road trip take?
Comparison of road trip routes between Memphis and Los Angeles

| Route | Distance | Driving Time |
| --- | --- | --- |
| The Albuquerque Route | 1,970 miles | 30 hours |
| The Denver Route | 2,210 miles | 33 hours |
There are two great routes which you can choose to take from Memphis to Los Angeles. The Denver Route spans 2,120 miles and will take you 33 hours of non-stop driving. This longer route is more leisurely, taking you through several different states on your journey.
The second route option is the Albuquerque Route. This route is slightly shorter, taking 30 hours to complete. Driving right through the middle of the United States, this journey is 1,965 miles long.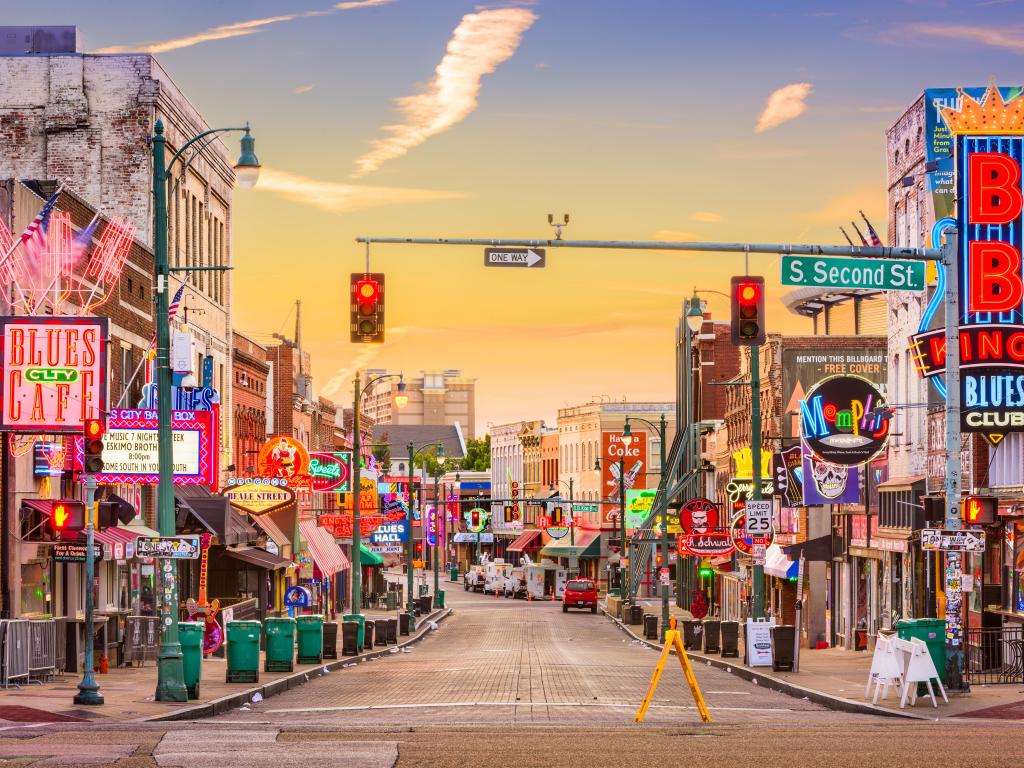 Since this journey from Memphis to Los Angeles is so long, we recommend taking 6 to 7 days to complete it. This will give you plenty of time to see the different states and attractions along the way and make this a trip to remember.
Best road trip route from Memphis to Los Angeles
You're blessed with two fantastic route options when it comes to a road trip from Memphis to Los Angeles: the more leisurely Denver Route that winds its way through Arkansas, Missouri, Kansas, Colorado, Utah, and Nevada; or our more direct Albuquerque Route, which takes you along the famous Route 66 through the plains and deserts of Oklahoma, Texas, Albuquerque, and Arizona.
On the Denver Route, discover the states of Arkansas, Missouri, Kansas, Colorado, Utah, Nevada, and California along this leisurely route. You will have the chance to stop in several major American cities including Kansas City, Denver, and Las Vegas.
This perfect route also offers the chance to visit several national parks and forests, including Dixie National Forest, Zion National Park and the Arches and Canyonlands National Park. You will pass through a variety of landscapes ranging from the deserts of Nevada to the mountains of Colorado and the plains of Kansas.
Alternatively, the Albuquerque Route takes you along the middle of the United States, through the states of Arkansas, Oklahoma, New Mexico, and Arizona before arriving in sunny California.
There is the chance to stop in major US cities including Oklahoma City, Santa Fe, and Albuquerque. You will do lots of driving through beautiful desert landscapes, as well as visits to major natural attractions, namely the Grand Canyon.
The Denver Route
To start, head of Memphis on the US-64, AR-13, and US-65 to Branson. Branson is known for its natural beauty and outdoor recreational activities. From Branson, take the US-65, MO-13, MO-7, and US-71 towards Kansas City.
Kansas City sits on Missouri's western border and is known for its barbecue, jazz music and art scene. From Kansas City, take the I-70 across Kansas state towards Denver.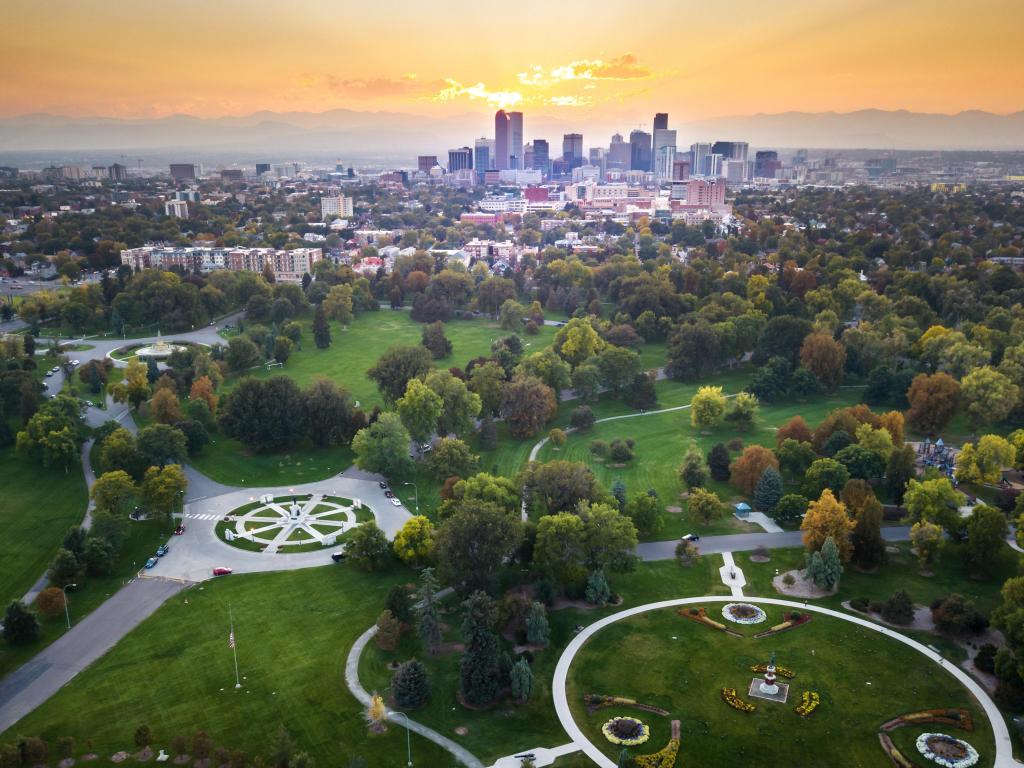 Denver is famous for its museums and galleries, first-class craft breweries, and historical landmarks. We'd definitely recommend stopping off here for at least a night on this route. After visiting Denver, continue on the I-70 west across Colorado to Moab.
Moab is the home to Arches and Canyonlands National Parks; a unique area famous for its stunning red rock formations. After visiting Moab, you will head straight to Los Angeles on the I-70 and I-15. This journey will take you past vibrant Las Vegas, which is another perfect option for an overnight stop.
The Albuquerque Route
Begin your trip on this route by heading out of Memphis on the US-64. Follow the AR-13, AR-16 and AR-110 until you reach Heber Springs in Arkansas. Heber Springs is a small city which serves as a gateway to Greers Ferry Lake and the Little Red River.
From Haber Springs, get on the I-40 and follow it all the way to Oklahoma City. This fun city offers local restaurants, museums and plenty of outdoor space making it the perfect place to stop on your road trip.
Continue the I-40 until you can join the I-25 in Santa Fe County. Once you reach Santa Fe, take the time to explore the extensive range of museums and art galleries.
After visiting Santa Fe, take the time to stop in the neighboring city of Albuquerque. A hub for technology and media, Albuquerque is also known for the International Balloon Fiesta.
After this stop, continue travelling the I-25 and I-40 until you reach the city of Flagstaff, Arizona. This city is best known as the gateway to the San Francisco Peaks.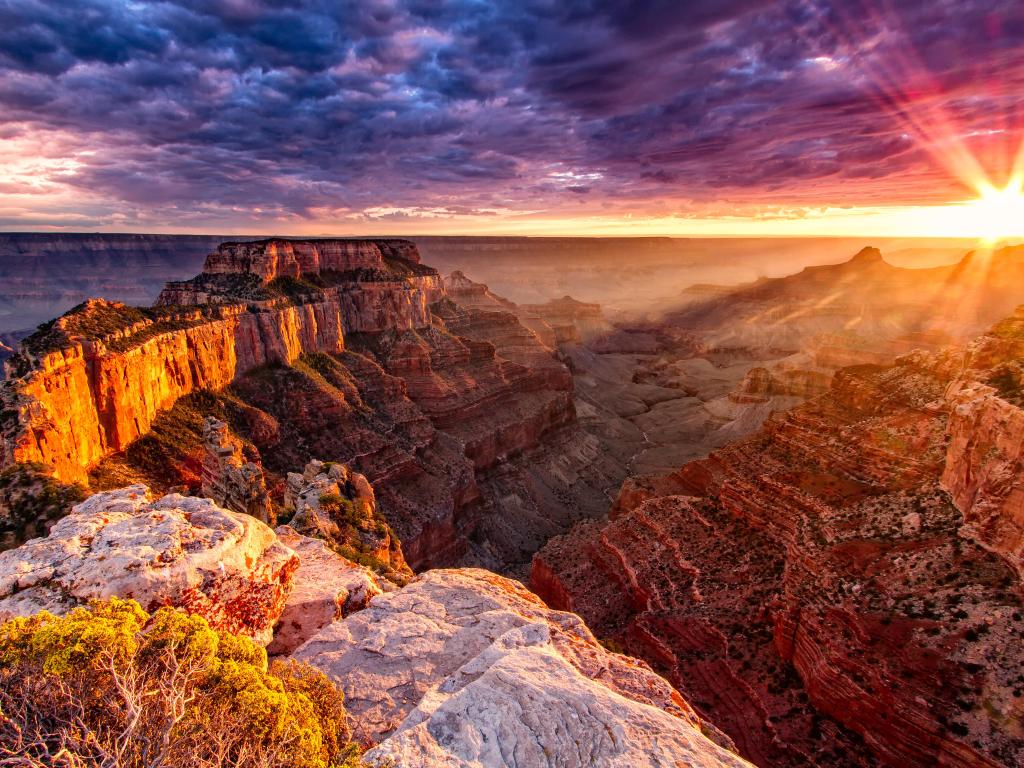 After stopping in Flagstaff, drive on the I-180 and AZ-64 until you reach the epic Grand Canyon. Experience the amazing landscape in the Grand Canyon National Park before continuing this road trip to Los Angeles.
After stopping to see the Grand Canyon, continue driving on the I-40, passing through Las Vegas until you reach the city of Los Angeles.
Best places to stop between Memphis and Los Angeles
No matter which route you choose to take, the road trip from Memphis to Los Angeles is one that demands a solid chunk of time in order to do it justice. Keep reading to find some of our favorite places to stay on this epic journey and turn your trip into a vacation of a lifetime.
Stop off in scenic Denver
If you're going to follow our Denver Route on this trip, it is only right that you do an overnight stop in Denver, Colorado. This sprawling and popular city is located at the halfway point of this trip, making it the ideal spot to stop for an overnight stay.
Denver is surrounded by a stunning natural landscape which includes tons of mountains, rivers, and plains. This city is also celebrated for its many cultural attractions, as well as its many offerings for outdoor adventuring and exploration.
While visiting, make sure you check out Denver Art Museum. This immense and architecturally arresting museum boasts over seven stories of global and local art, in a variety of mediums and disciplines.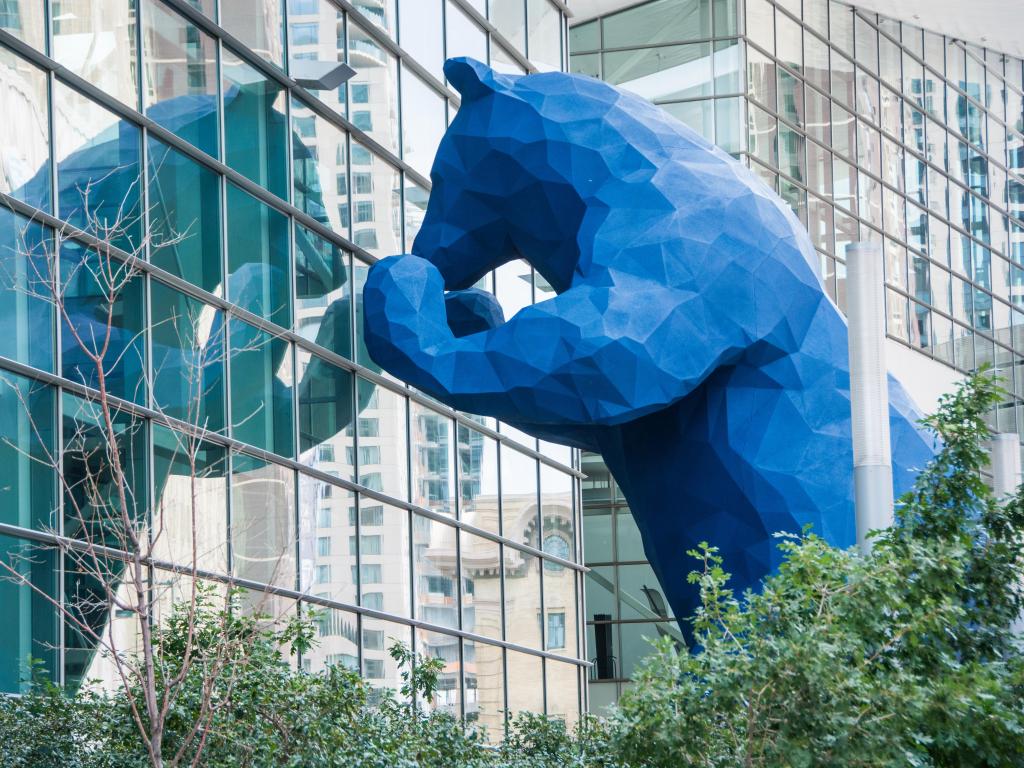 For those looking for a more dynamic pace, Lakeside Amusement Park is a great day out to break up the drive. Family-owned and dating back to 1908, this amusement park is one of the oldest in the United States and is famous for its original display of over 100,000 lights.
For those who enjoy the outdoors, there is also the Denver Botanic Garden. The 23 acres of this park house a conservatory, several theme gardens and a sunken amphitheater used for concerts and performances during the hotter months.
When visiting this gem in the Rockies, we recommend staying in the Four Seasons Hotel Denver. Located right in the center of the city, this hotel has elegantly decorated rooms, some of which feature views of downtown Denver and the surrounding mountains.
There are several on-site dining options, including the EDGE Bar which serves tapas, cocktails, and other libations. To make this hotel even more perfect, there is also a rooftop pool, as well as a full-service spa and wellness center. You'll return to the road feeling fresh as a daisy!
This hotel is centrally located within Denver's Central Business District, minutes from many of this city's main attractions including the Ellie Caulkins Opera House, the Museum of Contemporary Art Denver, and Elitch Gardens.
Enjoy the creative hub of Santa Fe
Located just over halfway on the Albuquerque Route, Santa Fe is the perfect place to stop overnight. Santa Fe is a lively and artistic town, offering tons of nightlife and attractions that are perfect for an overnight stop.
While you could choose to stay in Albuquerque (and you'd certainly have a great time), Santa Fe is somewhat more historic and its more compact center makes it an ideal base for a quick stopover.
The oldest capital city in the US, Santa Fe is celebrated for its historic Spanish colonial architecture, its rich Native American culture, and its booming arts and eclectic music scene.
While visiting Santa Fe, make sure you visit San Miguel Chapel. The oldest church in the United States, the San Miguel Chapel dates back over 400 years and is a monument to Santa Fe's rich history.
You can also check out the Georgia O'Keeffe Museum. This iconic American artist adored Santa Fe and the surrounding New Mexican landscapes; this museum houses over 3000 of her works.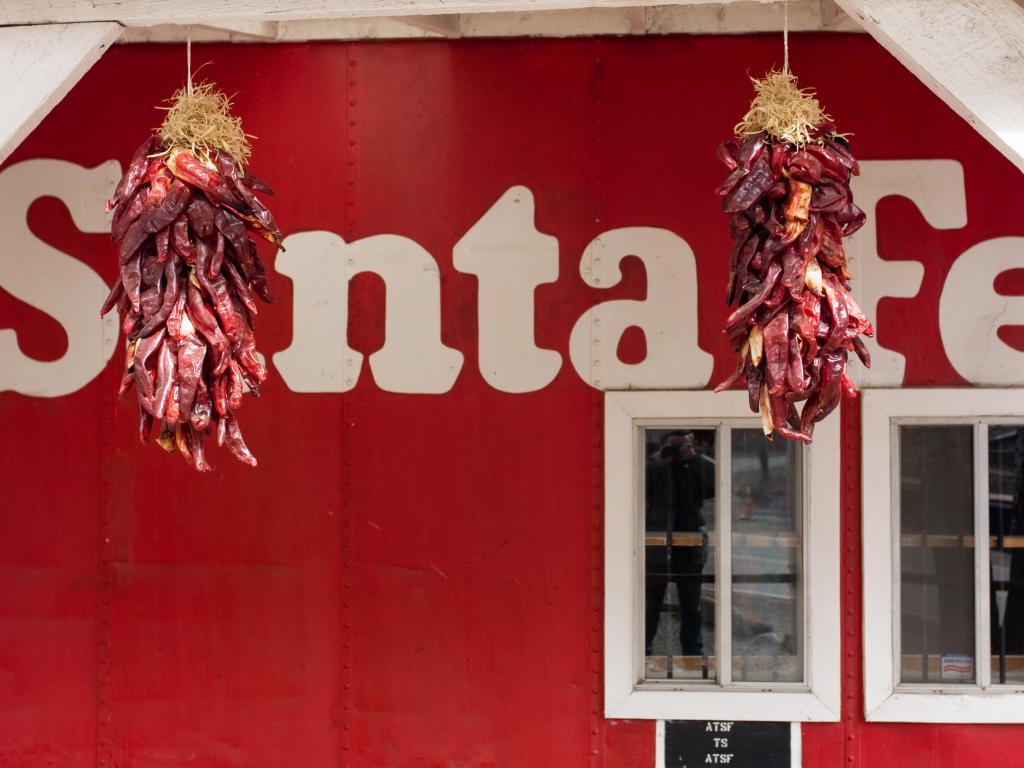 Another historical church, The Cathedral Basilica of St. Francis of Assisi dates back to the nineteenth century. Saint Francis Cathedral was built and torn down many times before becoming the iconic monument it is today.
While in Santa Fe, our favorite place to stay is La Posada De Santa Fe, a Tribute Portfolio Resort and Spa. This hotel has everything you need including some truly luxurious spa amenities - perfect for unwinding after a day of driving.
There are 4 restaurants offering a variety of dining options, making this hotel the ideal place to rest if you'd rather stay in after a long day on the road.
But if you do have the energy to explore, La Posada is perfectly located in downtown Santa Fe, near a variety of attractions that are within walking distance. Be sure to prioritize the New Mexico History Museum, Santa Fe Plaza, Georgia O'Keeffe Museum, and the Saint Francis Cathedral.
Where to stay when you reach Los Angeles
Once you reach your destination and the end of this epic trek to Los Angeles, we highly recommend staying at the Pendry West Hollywood. This upscale, luxury hotel is located in the heart of lively West Hollywood and right by the Sunset Strip.
This amazing hotel boasts a relaxing rooftop pool, fitness center, restaurant, and bar. Private parking is also available for a reasonable cost.
This hotel is stylishly decorated with a stunning lobby, as well as gorgeous views from the rooms and suites. Its modernist design has won the hearts of many design conscious travelers. You'll feel like a true star as you settle into these fabulous surroundings!
Things to see on a road trip from Memphis to Los Angeles
One of the best things about this road trip from Memphis to Los Angeles is the amazing variety of attractions that await, directly on your route. Whether you prefer city breaks or outdoor adventures, there is something on this road trip that you will enjoy.
On the Denver Route
Village Creek State Park - This 7,000-acre state park is full of green forests, a golf course, and two lakes perfect for swimming and canoeing.
Bull Shoals Caverns - Located in the Ozark Mountain range, Bull Shoal Caverns contains every kind of cavernous rock formation, including stalactites, stalagmites, columns and more. Take a tour of this awe-inspiring attraction before exploring its unique gift shop!
Route 66 Museum - This curious museum is found inside a recreated gas station complete with vintage cars and gas pumps; you'll also find exhibits exploring Route 66-related history and showcasing unique artifacts.
The Cascades - Located in St. Louis about an hour off-route, these beautiful artificial waterfalls were built alongside pools and fountains in the 1930s and are best viewed at night when they're dramatically lit up.
Spinney Mountain State Park - Add about thirty minutes to your route and catch this geyser majestically exploding 70 feet into the air, once every hour.
Pioneer Town - Dive back in time at this historic museum in Cedaredge Colorado, boasting five acres and twenty-four buildings dedicated to recreating life from the late-1800s through to the early- and mid-1900s.
Giant Soda Cans - With an addition of 20 to your route, discover this quirky roadside attraction featuring massive tanks painted to resemble favorite soda drinks.
Parowan Gap Petroglyphs - Free to visit, these Native American Petroglyphs are thought to date back almost a thousand years.
Temple of Sinawawa - This natural amphitheater located in Zion National Park contains a paved trail along the Virgin River and is complete with waterfalls and flower gardens.
Las Vegas Strip - Explore this iconic and world-famous eight-mile strip of resort hotels and luxury casinos, complete with bright neon signs and high-shooting fountains.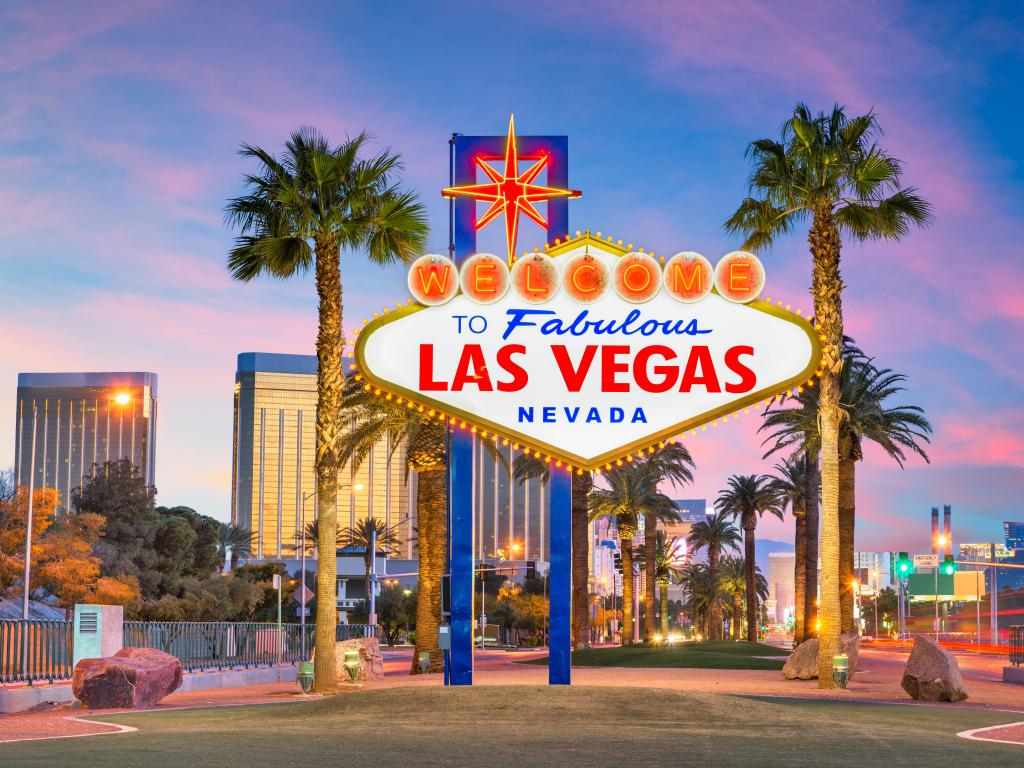 On the Albuquerque Route
Fort Smith National Historic Site - Located right on the border between Arkansas and Oklahoma, Fort Smith is a massive 19th-century fortress that explores Indigenous history in the Old West.
Oklahoma City Zoo - Over a century old, the Oklahoma City Zoo and Botanic Garden is host to over 500 animals as well as thousands of native and imported plants.
Stafford Air & Space Museum - Located along Route 66 and featuring over 3,500 aerospace artifacts, this indoor/outdoor museum also offers tours and interactive exhibits.
Cadillac Ranch - Just outside of Amarillo, Texas, you'll find this unique public art installation comprised of half-buried and graffitied vintage Cadillacs.
Billy The Kid Museum - This unique museum, just east of Fort Sumner, New Mexico, is family-owned and boasts over 30,000 artefacts exploring the trials of life in the Southwestern United States during the 19th and 20th centuries.
Route 66 Auto Museum - This mom & pop museum has on display tons of classic and vintage cars, as well as Route 66 memorabilia.
Bandelier National Monument - Over 33,000 acres of canyon and mesa country housing evidence of human settlements, dating back over 11,000 years.
National Museum of Nuclear Science and History - Located near Albuquerque, this educational center and museum is entirely dedicated to chronicling the development of nuclear science.
Museum of Northern Arizona - Explore Arizona's rich history at the Museum of Northern Arizona, where you'll find tons of exhibits with artifacts dating back to 15,000 B.C.
Montezuma Castle National Monument - Once the dwelling area of the historic Sinagua people, Montezuma Castle is carved directly into the limestone cliffs amidst Arizona's desert landscape. This attraction adds about 90 minutes to the total route!
Lava River Cave - About an hour from the Grand Canyon, you'll find this mile-long underground tunnel created by a river of lava over 700,000 years ago.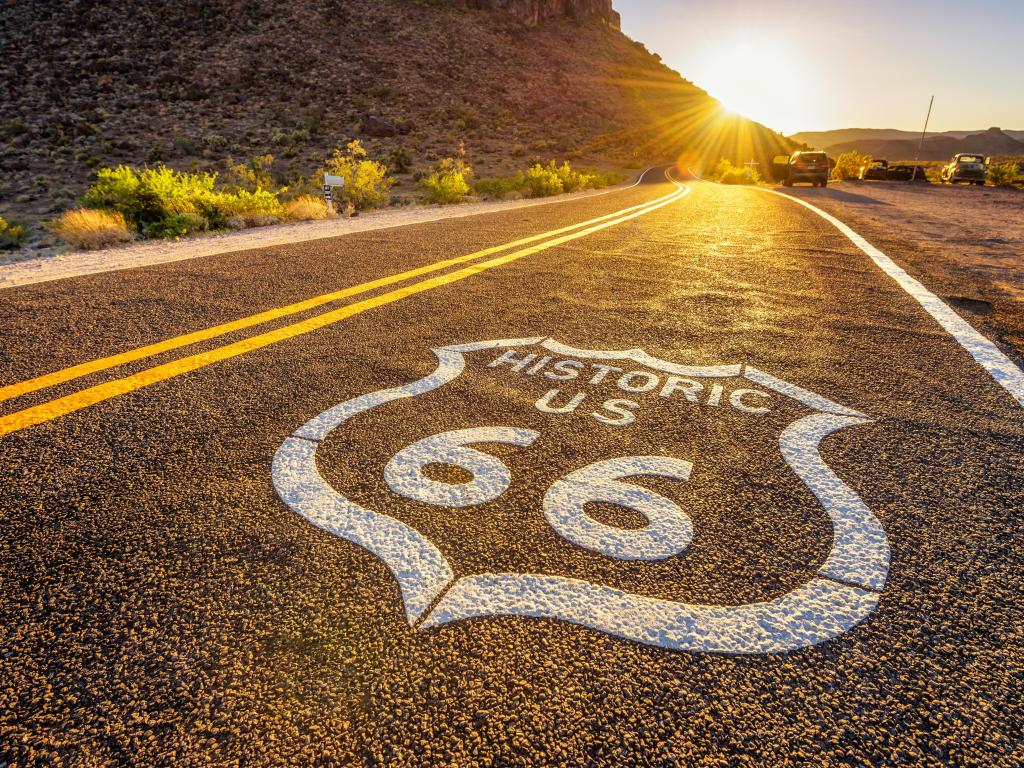 On both routes
Little Rock - Arkansas' capital, Little Rock is situated on the banks of the Arkansas River and boasts tons of cultural attractions, including the Museum of Discovery, Little Rock Zoo and, most famously, the William J. Clinton Library and Museum.
Capulin National Monument - Explore this national park which features a dormant volcano and boasts some of the darkest night skies in the United States. About a 90-minute detour, from both routes.
Moqui Cave - Once used as a speakeasy and now converted into a natural history museum, Moqui Cave boasts an incredible rock collection and gift shop. Closer to the Denver Route, but easily accessible along both.
San Bernadino National Forest - At a slight detour, the San Bernadino National Forest offers landscapes ranging from massive alpine mountains to dry and arid deserts.
Best time to go on a road trip from Memphis to Los Angeles
Whether through the deserts or the mountains, you'll end up in sunny and vibrant Los Angeles along the Pacific Coast. Home to Hollywood and positively bursting with fun events and attractions, Los Angeles is the ideal travel destination year-round!
This sprawling city enjoys wonderful weather throughout the year, with temperatures rarely falling below 42 degrees Fahrenheit or climbing above 93 degrees Fahrenheit.
Though the summers may be a little hot and the winters precipitous, Los Angeles promises tons of outdoor and indoor activities for travelers to enjoy. Over 50 million tourists visit Los Angeles annually, and it's easy to see why.
Average daily temperatures in Los Angeles during the summer will typically range between 64 degrees and 85 degrees Fahrenheit, with the occasional day that exceeds the lower and upper limits of this range.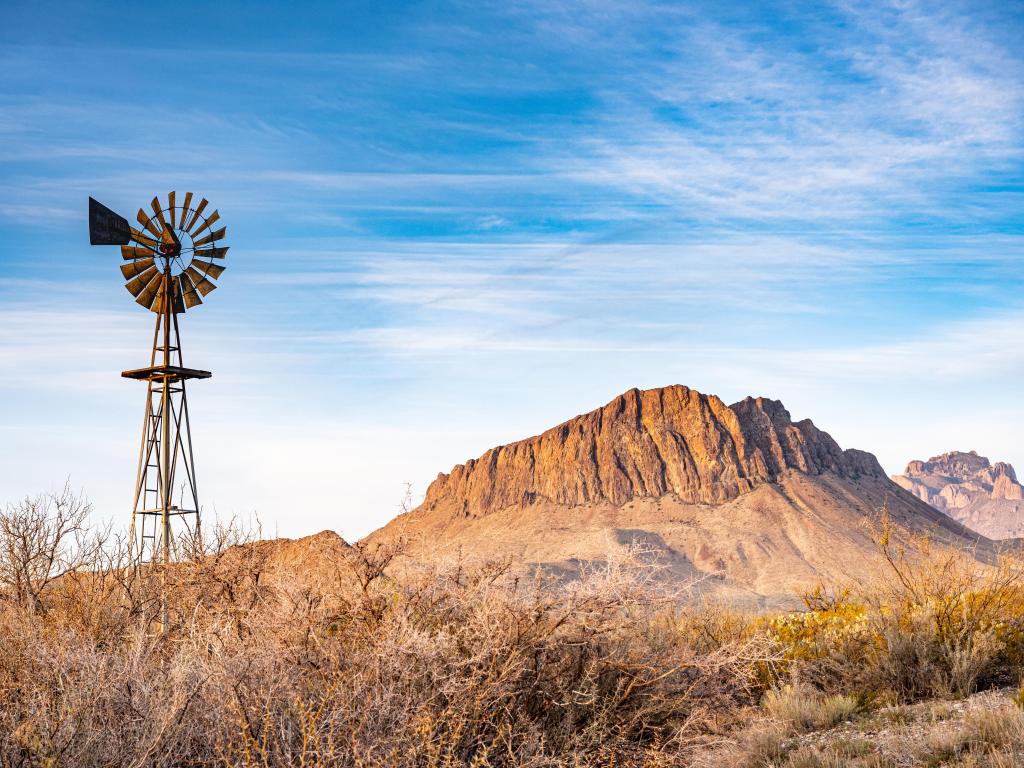 Avoid Los Angeles during July and August if you're particularly sensitive to high temperatures; otherwise make sure to pack some sunscreen, and head out to the many beaches that dot the LA coastline for a dip in the Pacific. Summers see the largest influx of tourists, so accommodation costs will be at their highest during this period.
Average daily temperatures in Los Angeles during the winter months will typically range between 50 and 70 degrees Fahrenheit. Winters in the City of Angels will often be accompanied by a bit of rain and some days might be overcast. Winter is the off-season for tourism, so travelers might find good deals on accommodations and attractions if traveling during this time of year.
Spring and fall are both wonderful times to visit Los Angeles, as the city sees a slight reduction in tourism. The weather in LA is usually most enjoyable during the fall and spring, with average daily temperatures ranging between the low fifties and low eighties for both seasons. Tourism will wane during late fall and typically won't pick back up until the late spring.
Outside of the many award shows that one might expect, Los Angeles is positively brimming with festivals and events in every month.
Whether its the Marina Del Rey Holiday Boat Parade in winter, Fiesta Broadway in spring, the Anime Expo or Simon Rodia Watts Towers Jazz Festival in summer, or the LA Auto Show in the fall, you really are spoilt for choice when it comes to scheduling your trip around a local buzz.