Road Trip from Miami to Key West
A road trip from Miami to Key West is a wonderful way to explore the Florida Keys. Not only will you visit the Everglades National Park and drive the fantastic Seven Mile Bridge, but you could also watch a NASCAR race, swim with dolphins, feed tarpon and visit America's first undersea park!
The 165-mile road trip from Miami to Key West takes 3 hours and 30 minutes to drive. Notable stops include The Everglades, Biscayne National Park, Key Largo, Islamorada, Grassy Key, Marathon, Bahia Honda State Park and the Seven Mile Bridge.
This is just a handful of some of the many amazing places you can visit on your way from Miami to the southernmost point of the continental USA. Keep on reading to find out what route to take, where you should stay, and the ideal time of year to visit.
How far is Key West from Miami and how long will the road trip take?
Comparison of road trip route options between Miami and Key West

| Route | Driving Distance | Total Travel Time |
| --- | --- | --- |
| Direct Driving Route | 160 miles | 3 hours 30 minutes |
| Ferry Route from Marco Island | 110 miles | 5 hours 30 minutes |
| Ferry Route from Fort Myers | 160 miles | 6 hours |
If you drove non-stop from Miami to Key West, it will take you around 3 hours and 30 minutes to cover the 165-mile distance, so it is a trip you can easily do in a day.
Alternatively, you can expand your trip and drive to Marco Island or Fort Myers if you have more time, and then take a passenger ferry to Key West from these ports. For more information about how to take the ferry to Key West, click here for our detailed guide.
Unless you are in a real rush, it would be a missed opportunity if you weren't able to really take your time to enjoy everything this fantastic drive has to offer. Therefore, we recommend you try and spend at least 4 days exploring the area at a more leisurely pace.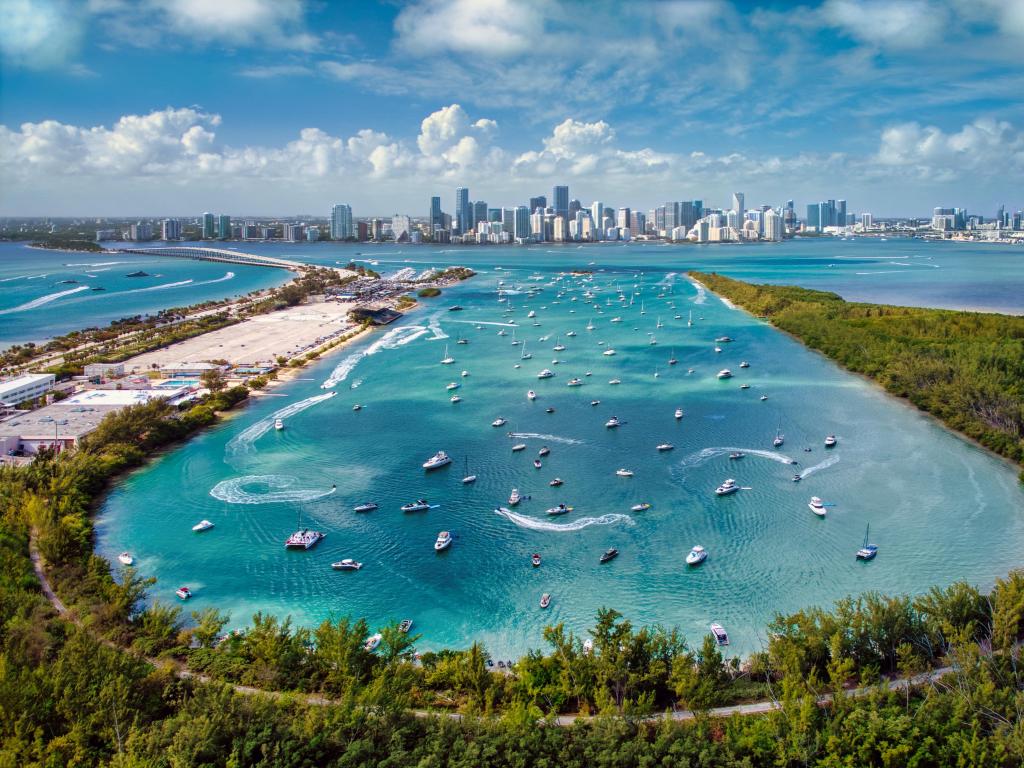 Best road trip route from Miami to Key West
The drive from Miami to Key West Drive is an incredible experience, taking you along the stunning turquoise coastline of Biscayne Bay towards where the Atlantic Ocean meets the Gulf of Mexico.
Not only are there loads of exciting attractions to discover, but the landscape is also scintillating with plenty of exquisite beaches, fabulous water views and lush tropical trees to marvel at along the way.
During the drive, you will get to see quite a bit of South Florida as well, which arguably features some of the state's most impressive highlights, which include sensational national parks, outdoor activities and beautiful beaches.
Most of your driving will take place on main highways, making it a great option for road trip novices and aficionados alike. Click here if you'd like to learn more about how long the drive from Miami to Key West takes.
How to drive from Miami to Key West
The map above shows our suggestions for the best road trip routes between Miami and Key West. Keep reading for detailed descriptions of both routes, where to stay on either, and the best things to do on the way.
Road trip route from Miami to Key West
Leaving Miami for Key West, you will soon hit the US-1 towards the South. Stay right here and follow the signs for FL-874/Florida Turnpike. You will be driving by the mainland portion of the famous Biscayne National Park.
Passing through Homestead, you will have a chance to visit Coral Castle Museum and Homestead-Miami Speedway. Merge onto US-1 briefly upon leaving the city and then turn left onto SW 360th Street.
Turn slightly right and follow 905A. This road will take you from the mainland to North Key Largo through Monroe County Toll Bridge.
Follow 905 to drive through Key Largo and turn left onto US-1 past Lake Surprise. This road will take you to the next island of Florida Keys, Islamorada.
You will pass by Robbie's Marina and Dolphin Research Center on your way to Grassy Key, still following US-1. Upon leaving Grassy Key, you will start driving on the famous Seven Mile Bridge, which connects Florida's smaller islands.
After enjoying the stunning views of the Atlantic Ocean on your left and the Gulf of Mexico on your right, you will pass by Bahia Honda Key State Park.
Follow US-1 on the Big Pine Key as you drive through the Great White Heron National Wildlife Refuge. Continue straight towards Sugarloaf Key. Driving through Big Coppitt Key, East Rockland Key and Stock Island, you will reach your final destination, Key West.
If you wish to visit Dry Tortugas National Park during your visit, keep in mind that this beautiful park is only accessible by seaplane or boat from Key West.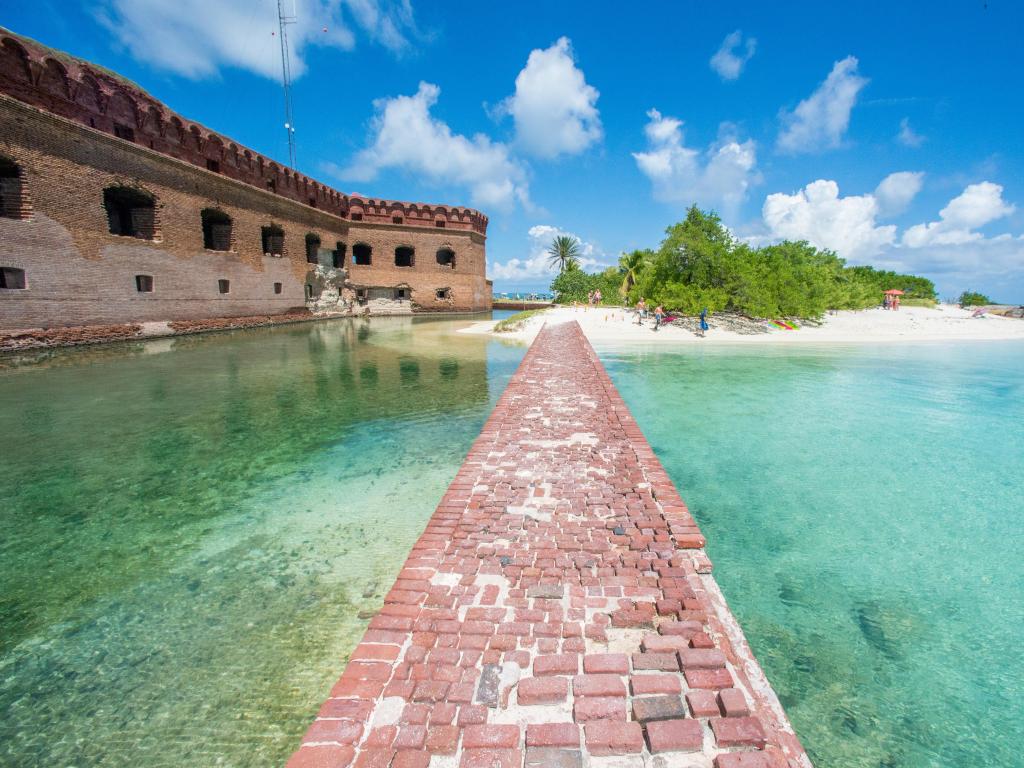 Best places to stop between Miami and Key West
When it comes to organizing a place to stay for a night or two there are plenty of options en route from Miami to Key West. This includes stops on the mainland, as well as throughout many of the different islands in the chain of the Florida Keys.
Where you stay may well depend on what you intend to see and do on this trip, but here are our top recommendations if you are stuck for ideas.
Base yourself at Homestead
Located about an hour's drive south of Miami, Homestead is a city within Miami-Dade County that serves as the perfect base to visit Biscayne National Park, which lies to its east, and the Everglades National Park, which resides to its west.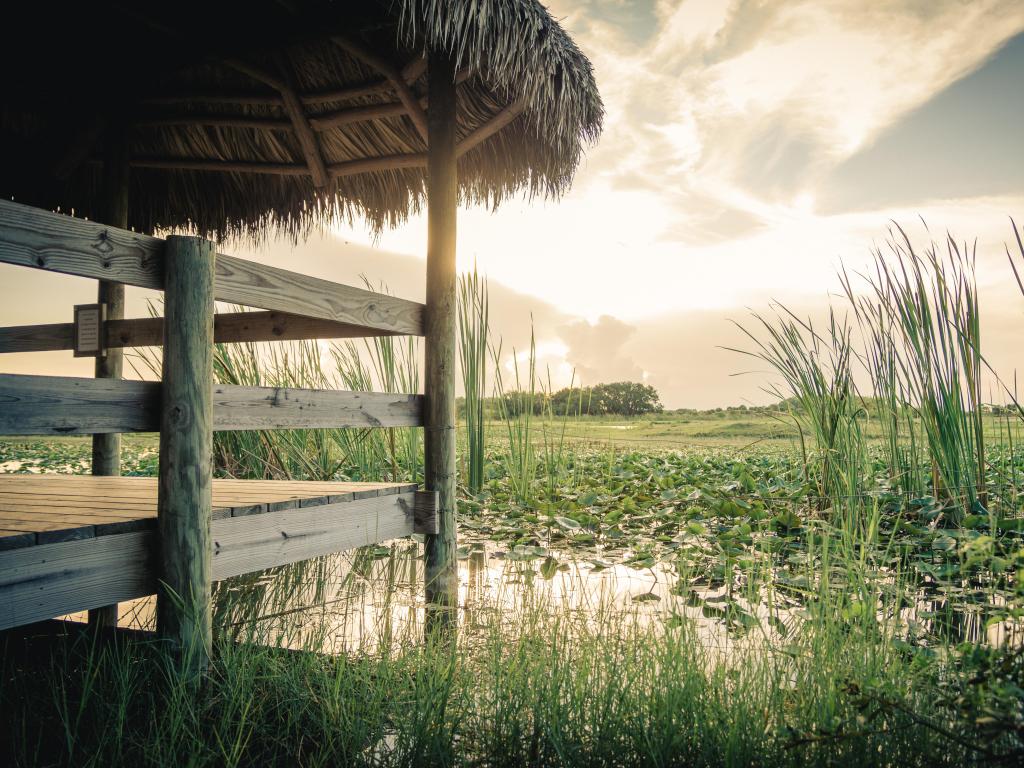 It also happens to be where the Homestead-Miami Speedway, one of the most famous NASCAR tracks, is situated, making this city well worth a visit.
If you decide to make a pit-stop at Homestead, then the Courtyard by Marriott is an excellent option with its prime location. Within a short driving distance of all three destinations, this stylish four-star rated hotel features bright and spacious rooms as well as excellent amenities.
The hotel is also located close to Coral Castle, an impressive landmark outdoor garden with hand-carved sculptures by Edward Leedskalnin. The artist used more than 1,000 tons of coral to construct his work, allegedly all by himself, making this visit a unique monolithic experience.
Zoo Miami is another attraction not to be missed that is only 20 minutes away from the hotel. This is the only tropical zoo and one of the few places you can feed a giraffe in the continental United States.
Upon your return, you can take a dip in the fabulous outdoor pool after a long day of touring or treat yourself to a cocktail or meal in the hotel's colorful bistro, which is open for breakfast, lunch and dinner, or work out a sweat in the fitness center according to your preferences and energy levels.
Explore the delights of Key Largo
Located 1 hour and 20 minutes from Miami on the way to Key West, Key Largo is known as the "Dive Capital of the World". It is the first of the amazing Florida Keys and you will be fascinated to learn that it is home to the world's largest artificial reef!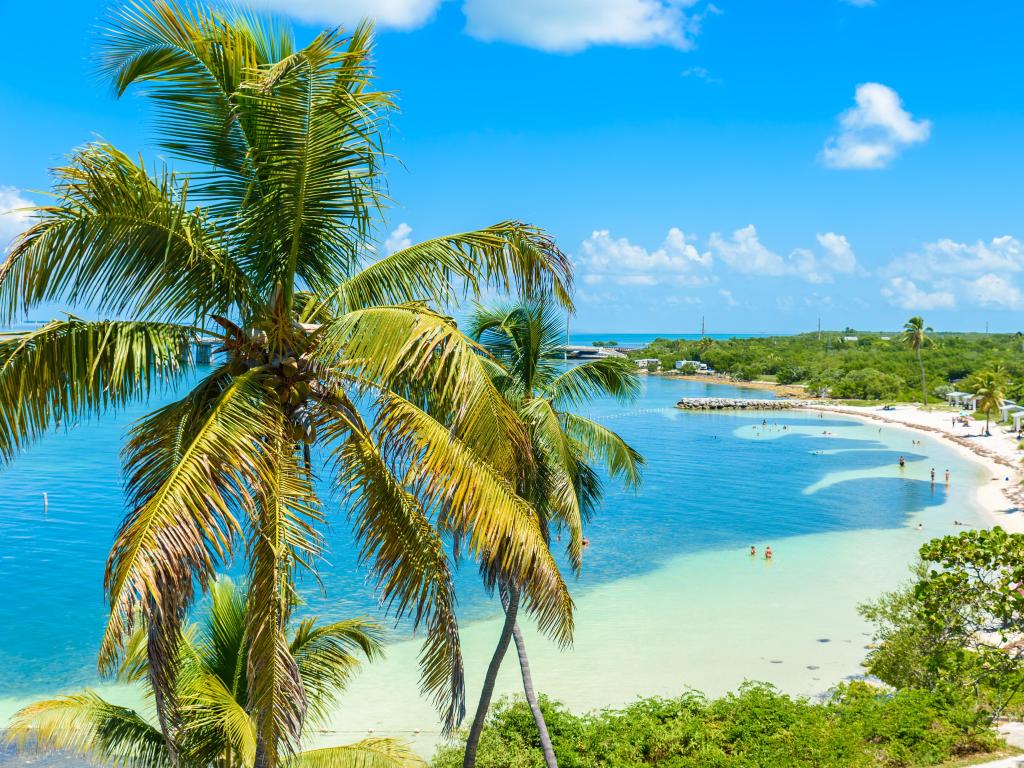 If you have the time, you can try the glass-bottom boat tour or get a closer look at the abundant marine life by snorkeling or scuba diving. The park also provides exciting opportunities for kayaking and canoeing.
For the best experience in Key Largo, stay at Largo Resort and enjoy a luxurious stay in their stylish rooms that reflect the charming island atmosphere. The Florida Keys is known for its picturesque sunsets, and it is hard to beat the evening views on the resort's private beachfront.
Just a mere 3-minutes' drive from the resort, you will find John Pennekamp Coral Reef State Park, which is America's first undersea park.
Dolphins Plus is right next door to the hotel and this facility offers opportunities to learn about and interact with dolphins. Here you can swim with dolphins or look into the daily lives of these fascinating creatures by assisting a trainer for a day.
After your adventures, you can enjoy the resort's tropical garden, and gorgeous outdoor pool or catch the sky on fire as the sun sets on the Gulf of Mexico. You can also charter a sunset cruise during your stay for a memorable and romantic experience.
For those wanting to go out at night, there are plenty of restaurants and bars within the immediate vicinity too, so whatever your preferences are, Key Largo has it covered!
Hit the beaches of Bahia Honda State Park
You must try visiting different beaches on the way for their different atmospheres on this coastal road trip and Bahia Honda State Park is one of the most unique with its lush tropical greenery and the beautiful silky sand beach, located only 2 hours and 40 minutes from Miami.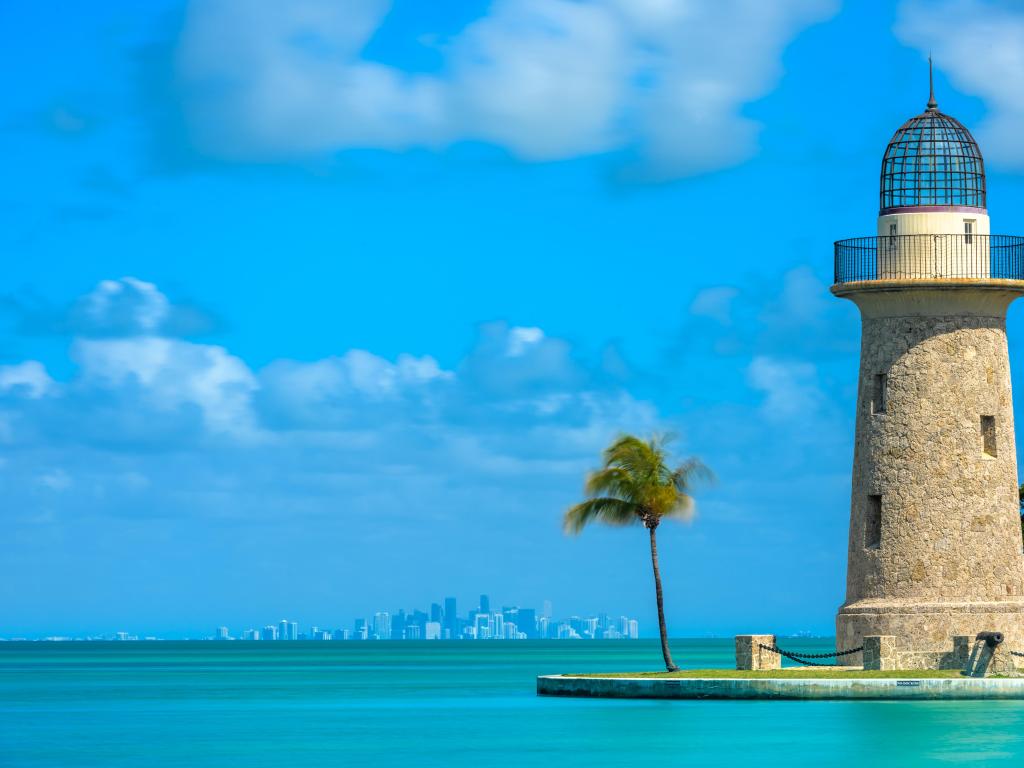 It is possible to camp on the park grounds, but if you are looking for top-class relaxation and luxury, look no further than Isla Bella Beach Resort & Spa in Marathon.
Only 13 minutes away from the Bahia Honda State Park, this fabulous resort offers terraced rooms where you can enjoy beautiful views of the beach.
The Florida Keys Aquarium Encounters is a short drive away from the resort and offers entertainment for adventurers of all ages. Here you can feed the sharks and stingrays and immerse yourself in a magical, interactive experience with the native marine life.
When the time comes to relax, after days of island-hopping, the resort offers a world-class spa with decadent amenities and a hot tub you can soak in. You can also unwind by the beautiful outdoor pool beneath the palm trees.
There are plenty of things to do and places to see around Bahia Honda State Park but staying at Isla Bella Beach Resort & Spa means you can enjoy a relaxing staycation all in the comfort of your hotel if you wish. The hotel has its own onsite options for upscale dining, a beachside bar, a cafe, and even a marketplace!
Things to see on a road trip from Miami to Key West
Despite the relatively short distance, there are so many places to visit and things to see and do on a road trip from Miami to Key West.
In case you are having difficulty drawing up a list, here are some of the ones we recommend below.
Ocean Drive, Miami - A popular thoroughfare in Miami's famous South Beach, it is a must-visit for crowd watching under neon-lit signs and its nightlife.
Biscayne National Park, Miami - Stunning national park protecting a diverse range of coral reefs, mangrove forests and over 10,000 years of human history.
Zoo Miami, Miami - The largest and oldest zoological garden in Florida, this is the only tropical zoo in the continental US.
Coral Castle Museum, Homestead – Made out of limestone, this structure, which is a cross between a sculpture garden and a castle, must be seen to be believed.
Homestead-Miami Speedway, Homestead - Famous NASCAR racetrack that is home to huge races like the NASCAR Cup Series and the NASCAR Infinity Series. Be sure to check out the gift shop and take a tour of the track if there are no races on.
The Everglades, South Florida - Extraordinary 1.5-million-acre wetland that features coastal mangroves, sawgrass marshes and pine flatwoods as well as hundreds of different animal species.
Key Largo, Florida Keys - Snorkel, scuba dive, kayak, canoe or relax on the beach on this beautiful island.
John Pennekamp Coral Reef State Park, Key Largo - The first underwater park in America, this facility features opportunities for meeting area's marine life by diving or on a fabulous glass-bottomed boat.
Dolphins Plus, Key Largo - Learn all about dolphins and even swim with these wonderful, playful marine animals during a tour of this educational and research facility.
Islamorada, Florida Keys - A quaint and small beach town on an island with pristine white sand that is well known for being a fantastic spot for fishing, and for having a vibrant arts scene.
Robbie's Marina, Islamorada - Take a quick pit stop at Mile Marker 77 to feed the 5-foot-long tarpon fish who gather there regularly, looking for something to eat.
Long Key State Park, Long Key - Enjoy breathtaking scenery and the awe-inspiring wildlife of Florida Keys in this park, which is the home to prehistoric coral reefs.
Seven Mile Bridge - One of the most famous bridges in the USA, here you can enjoy magnificent views of the surrounding turquoise water.
Fred the Tree, Old Seven Mile Bridge - An Australian pine tree that magnificently continues to grow on the Old Seven Mile Bridge, which parallels the newer bridge used by motorists today.
Bahia Honda State Park, Florida Keys - Check out what is arguably some of the best beaches in Florida. A dazzling collection of spots with immaculate white sand and sparkling waters that offer you the opportunity to enjoy a bit of peace, beauty and tranquillity.
Florida Keys Aquarium Encounters, Marathon - An interactive and teaching experience for all ages that introduces the native marine life of the area.
Great White Heron National Wildlife Refuge, Florida Keys - A wildlife refuge that encompasses thousands of acres of shallow saltwater and is a haven for great white herons, migratory birds, and other wildlife.
Hemingway Home & Museum, Key West - The famous writer Ernest Hemingway resided in this house, now a museum, in the 1930s.
Dry Tortugas National Park, Florida Keys - A great place for snorkeling and swimming, as well as checking out the magnificent Fort Jefferson, you will also get to see loads of turtles that reside in the area.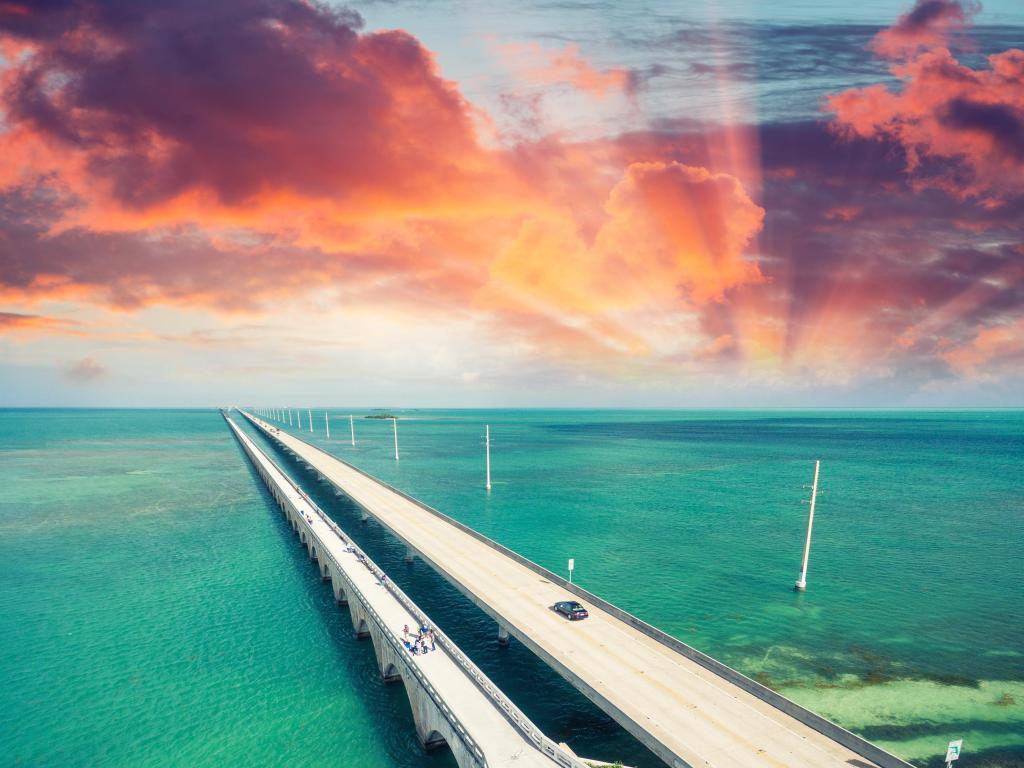 Best time to go on a road trip from Miami to Key West
You can take the road trip from Miami to Key West, any time of the year. With the weather generally being mild, you can enjoy amazing beach activities this journey offers any month of the year.
Summer temperatures tend to go as high as 90 degrees Fahrenheit, which makes the seaside excursions more enjoyable during the peak season, especially considering you will be surrounded by the cooling ocean.
You might prefer to embark on your journey in spring or winter as the temperatures never go below 65 degrees Fahrenheit in Key West. This gradual drop from hot to warm will allow you to still enjoy snorkeling, scuba diving, kayaking and canoeing on most days.
Make sure to check traffic and weather warnings during the hurricane season, which runs from June to late autumn. If you wish to avoid crowds and hiked-up hotel prices, it is best to avoid holidays or weekends.
If you visit Key West in November, you will be able to attend Key West Film Festival and watch movie screenings in Ernest Hemingway's own home or on the beach!