Road Trip from Miami to Savannah, Georgia
Florida is one of the most popular tourist destinations in the world, and with fabulous beaches, theme parks and cities, it's just calling out to be explored. A road trip from Miami to Savannah lets you enjoy the highlights of the Sunshine State, as well as many of Georgia's gems.
It takes 8 hours 30 minutes to drive the 550-mile road trip from Miami to Savannah, Georgia, passing through Cape Canaveral National Sea Shore, Orlando, Daytona Beach and St Augustine or alternatively the Everglades, Fort Myers and Tampa on the way.
Florida is fine-tuned to offer a magical tourist experience. But even if you prefer a quieter journey filled with nature, history and culture, you can find that here too. Read on to find out about our route suggestions, things to see, fantastic places to stop and the best time to visit.
How far is Savannah from Miami, and how long will the road trip take?
Comparison of road trip routes between Miami and Savannah

| Route | Distance | Driving Time |
| --- | --- | --- |
| The Atlantic Coast Route | 550 miles | 8 hours 30 minutes |
| The Gulf of Mexico Route | 660 miles | 10 hours 10 minutes |
Savannah, Georgia, is around 550 miles from Miami, and even allowing for a few detours, which you'll find out about below, you can make the drive in about 8 and a half hours if you take the Atlantic Coast Route.
It will take a little longer to reach Savannah if you opt for the 660-mile Gulf of Mexico Route, which is still a very manageable 10 hours on the road without accounting for any stops and detours you might want to make.
We'd recommend taking at least 3 or 4 days to make the trip, but as you'll see when you keep on reading, there's more than enough to make this into a week-long trip - or even longer if you have the time.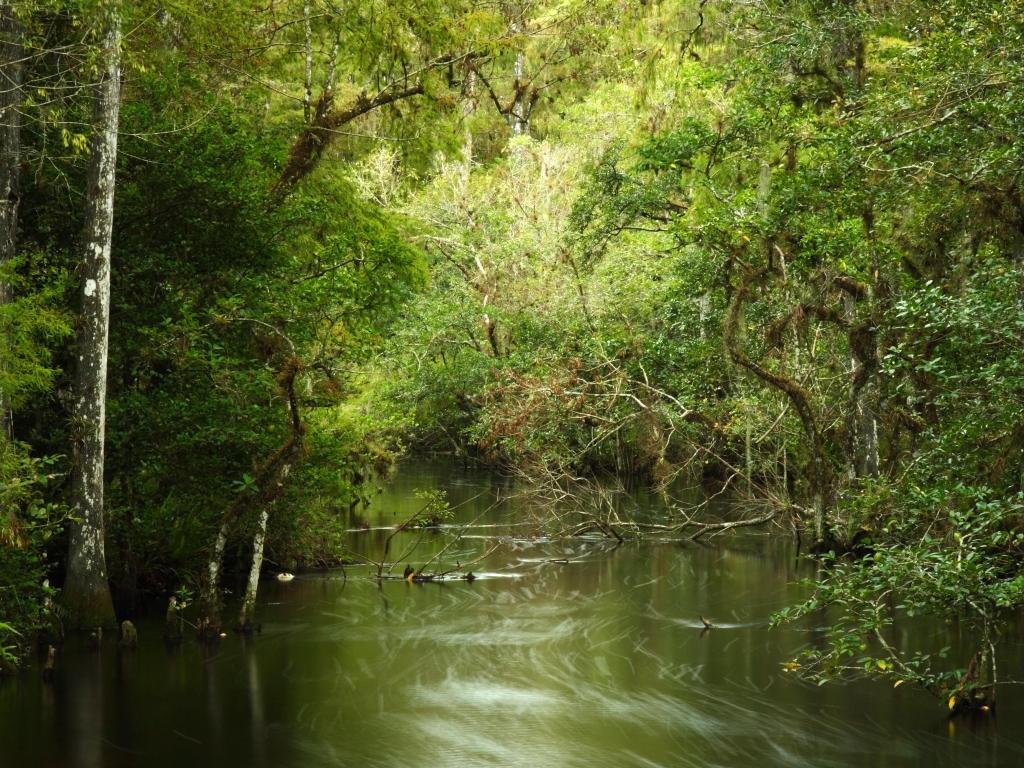 Best road trip route from Miami to Savannah
Whichever way you travel from Miami to Savannah, Georgia, you're pretty much guaranteed to find sunshine and beaches along the way. But there's more to the two states than this, and our routes are designed to help you enjoy your road trip to the full.
The faster Atlantic Coast Route leaves you spoilt for choice when it comes to beaches - you have the option of stopping at Miami Beach, Fort Lauderdale and Jacksonville Beach among many other beaches you could make detours to.
You can travel through the national park area of Canaveral National Seashore, and there are also lots of islands to visit along the way. And of course, you'll find mile after mile stunning ocean views.
For a slightly longer trip, you also have the option of travelling from Miami to Savannah via the Gulf of Mexico Route. This route allows you to enjoy Florida's varied landscapes, including prairies, forests and swamplands.
You'll see some fantastic cities like Fort Myers and Tampa, as well as the beautiful Lakeland scenery, and drive through the beautiful Big Cypress National Preserve.
The Atlantic Coast Route
Take Interstate 95 (I-95) out of the city and drive through Fort Lauderdale, Pompano Beach, Boca Raton and West Palm Beach. Drive past Grassy Waters Preserve and Jonathan Dickinson State Park to reach Palm City, there you can take a detour to Lake Okeechobee.
If you want to avoid the possible traffic congestion on the Interstate, you can alternatively follow Florida's Turnpike to get out of the city.
Drive through Vero Beach and past St. Sebastian River State Park towards Cape Canaveral. From here, follow the road signs for Orlando to visit this iconic city.
Get back on the interstate after your visit and follow it through Daytona Beach and St. Augustine. Past Guana River Wildlife Management Area, you will reach Jackson.
In this last stretch, I-95 will take you across the state borders and past Four Creeks State Forest and Brunswick before you reach your destination in Savannah.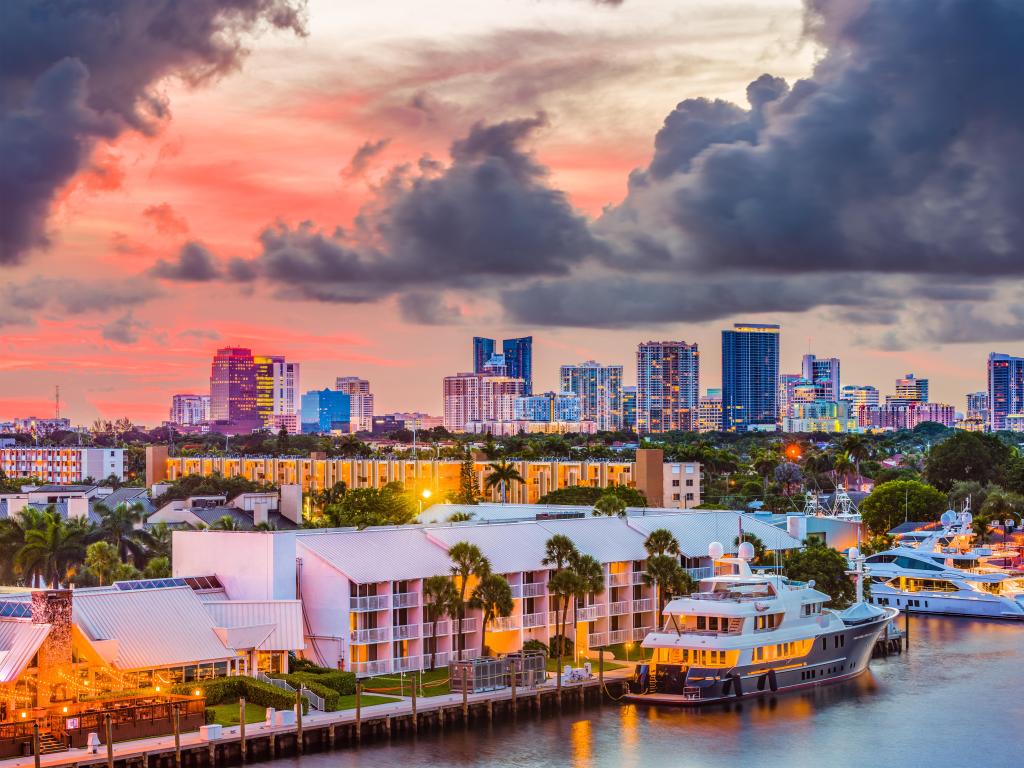 The Gulf of Mexico Route
This route also starts out on I-95 and Florida's Turnpike, but after just a short distance heading west out of Miami towards Everglades and Francis S. Taylor Wildlife Management Area.
Drive through Big Cypress National Preserve towards Naples and head north when you reach the coasts of the Gulf of Mexico. Head towards Fort Myers.
The route will take you past Babcock Ranch Preserve and Myakka River State Park before you reach Ruskin, where you can make a detour to Alafia River State Park. Otherwise, follow the interstate into Tampa.
Following I-4 out of the city will take you through Lakeland and to Orlando, where you will start following the same directions as the Atlantic Coast Route to reach Savannah.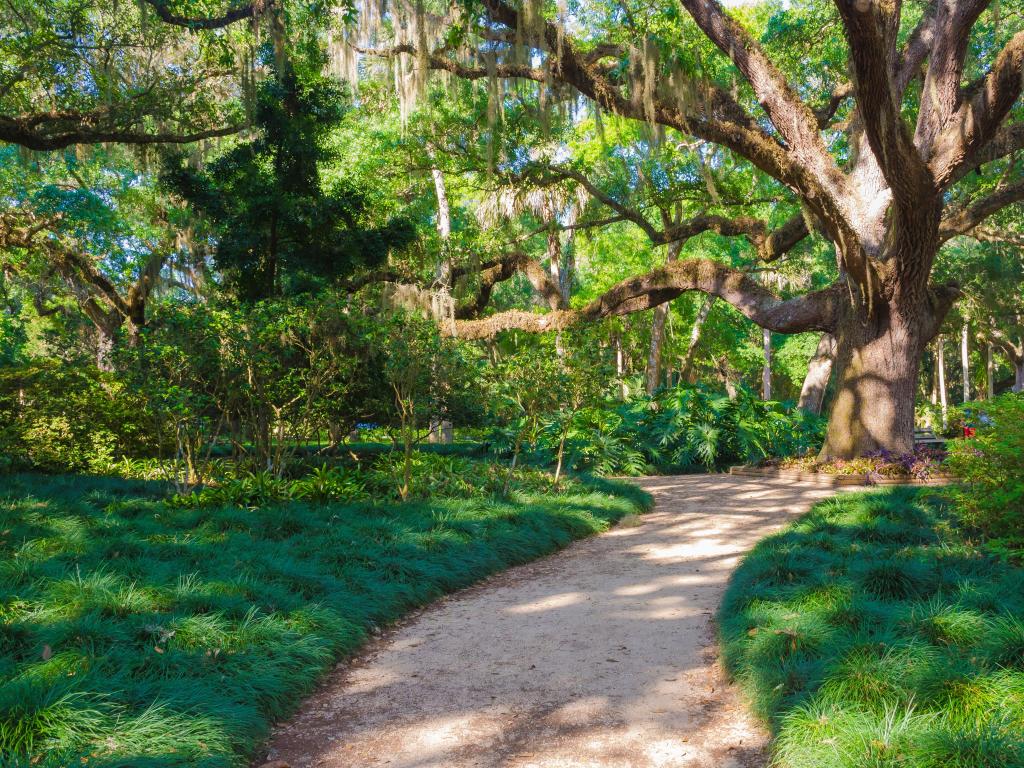 Best places to stop between Miami and Savannah
Although you could technically make the trip from Miami to Savannah, Georgia, in just one day of driving, that would leave no time at all to enjoy all the attractions that Florida and the south of Georgia have to offer.
We'd recommend making at least a couple of stops along the way so that you can take your time and explore - or longer if you want to really immerse yourself Orlando's theme parks or chill out on a few of the stunning beaches you'll pass along the way.
Feel the buzz of Orlando
Both of our routes take you through Orlando, which is world-famous for its extravagant theme parks. The city is around 5 hours from your destination, Savannah, so it's possible to complete your road trip in just one more day of easy driving after your stay in this iconic city.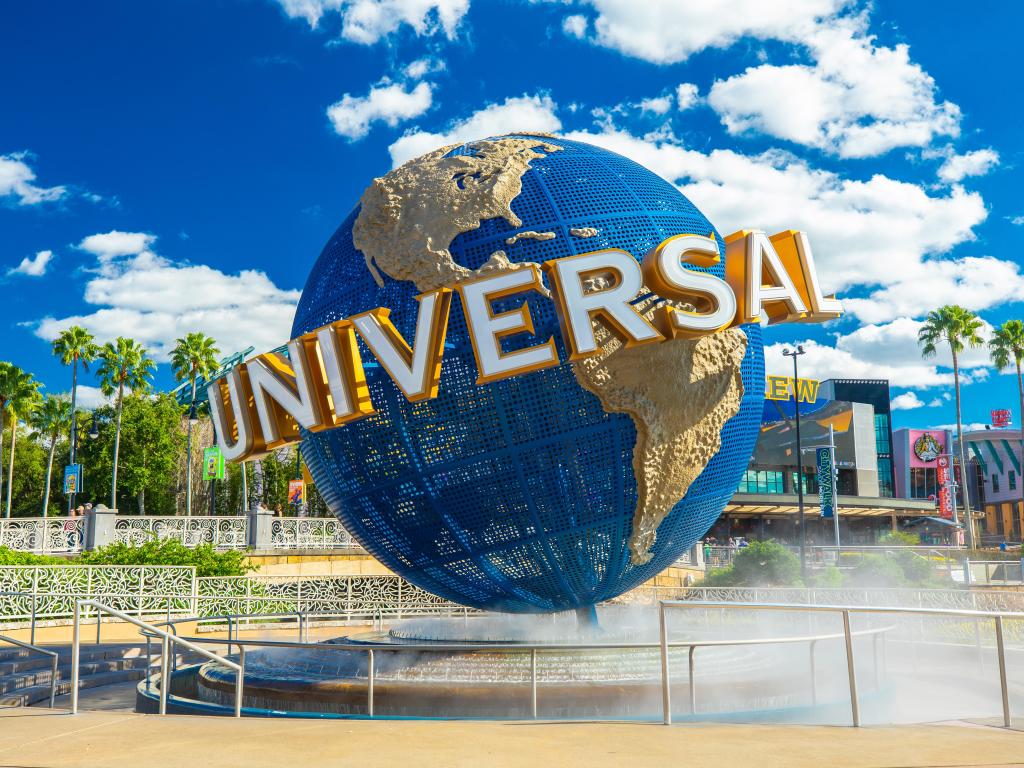 To make sure you have as many attractions as possible within striking distance, we'd recommend staying somewhere central, and TownePlace Suites by Marriott Orlando Downtown really fits the bill.
The crisp, modern design fills the place with an ultra-chic vibe which will be a pleasure to come back to in the evening. Plus, with a pool, fitness center and bar all on-site, you'll be able to sit back and relax when you get back from an action-packed day out in Orlando.
Of course, Orlando is known for its theme parks, including Walt Disney World Resort and Universal Orlando Studios a short drive from the hotel. Alternatively, you could venture to Disney Springs, where entry is free to enjoy natural beauty, incredible architecture, and great entertainment.
If you fancy leaving the car behind for a while instead, you can take advantage of free bikes at this hotel - perfect for trying to see as much of Orlando as you can when you arrive.
In case that isn't enough, you're handily placed to exit the city when you're ready to move on and make a speedy getaway straight to the heart of Ocala National Forest.
Relax by the ocean in Tampa
Just under halfway on the Gulf of Mexico Route, Tampa is a bustling coastal city that offers vast entertainment options. Famous for the beautiful Tampa Bay and the Busch Gardens, this city is also the birthplace of the famous Cuban sandwich.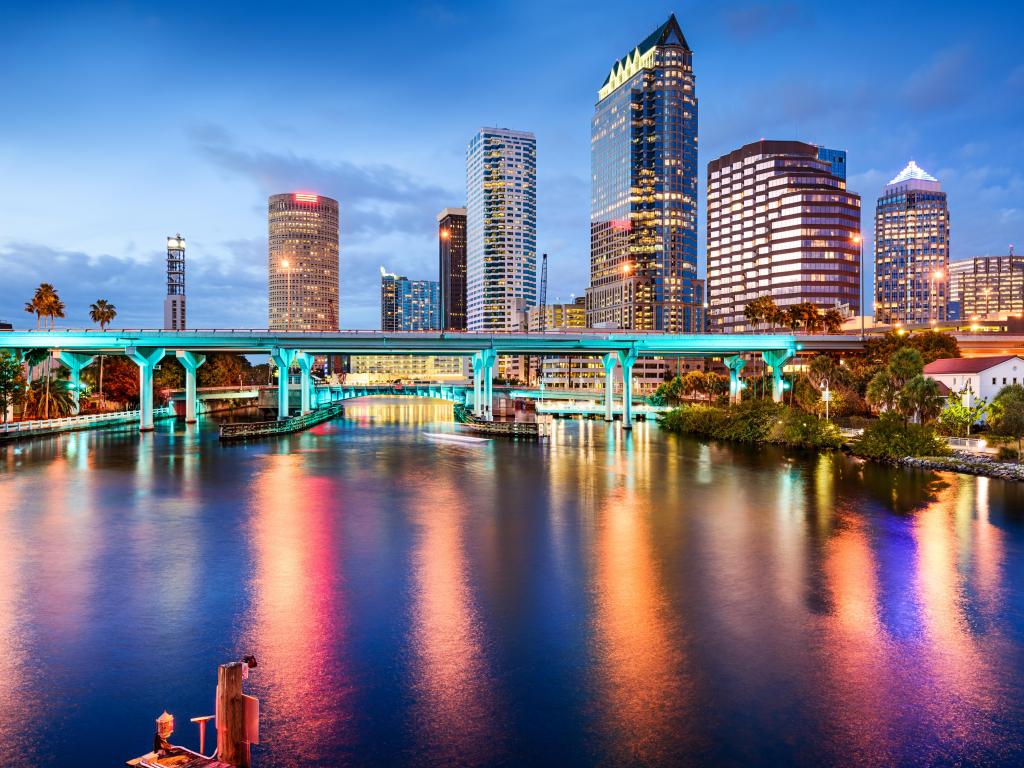 Whether you're looking for big ticket attractions or quieter entertainment, you'll find something to enjoy in the city. In fact, why not begin your stay with a visit to the beautiful Sunshine Skyway Bridge, which gives you the opportunity to view the city from the top.
Then take in iconic views of downtown Tampa as you have a leisurely stroll along the Riverwalk.
For a more active day, you could get up close with wildlife in the ZooTampa at Lowry Park, a fascinating zoo that houses manatees, otters, alligators and bears among many others.
Or for the ultimate in thrills, make your way to Busch Gardens, where guests of all ages will have fun in this famous theme park and animal encounters facility.
A short drive away from Tampa's beloved beaches, and in the Historic District, you'll find the magnificent Hotel Haya. This elegantly decorated hotel features an upscale restaurant, a bar, a shared lounge and a stunning pool where you can relax after a long drive.
There's a beautiful garden and terrace on the property, and the hotel provides evening entertainment, so you don't even have to venture out if you don't want to (though we really recommend you do!).
From the hotel, it's easy to get to attractions like Tampa Firefighters Museum and Parque Jose Marti, a monument dedicated to the legendary Cuban hero. Tampa Theater and Amalie Arena are also a short drive away.
Where to stay when you reach Savannah
When you reach Savannah, you'll probably be looking for a stylish and comfortable place to stay, in a central location that lets you fully enjoy your time in the city. If so, the River Street Inn is the perfect place.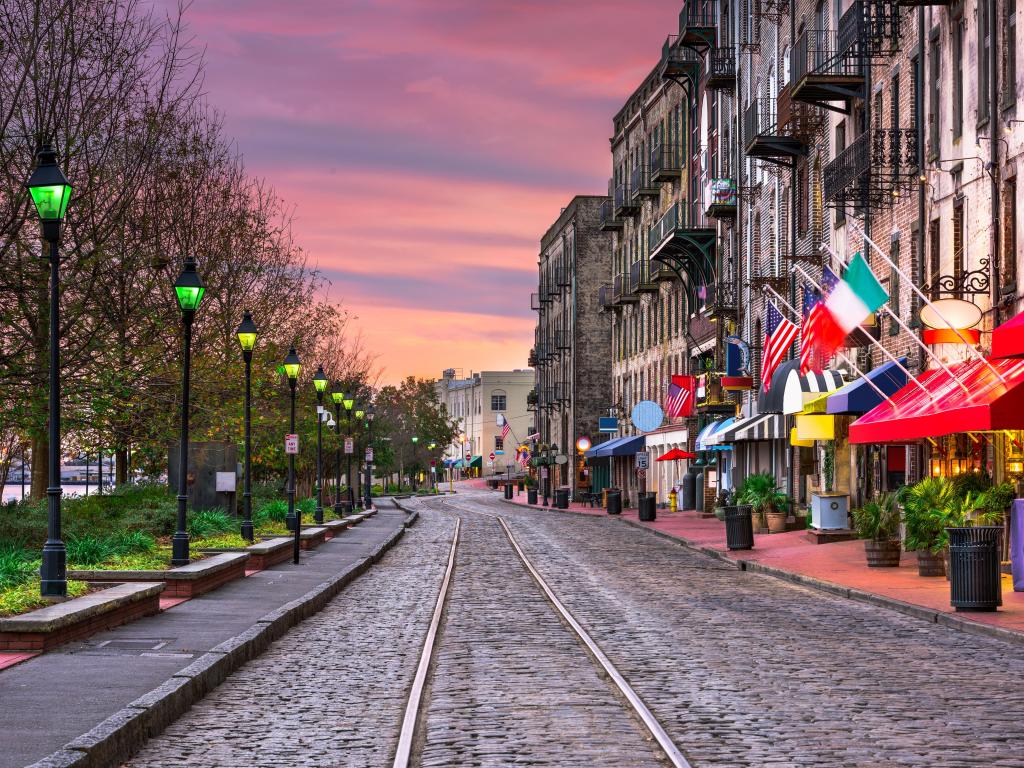 It's situated right by the Savannah River in the Historic District, so you can immerse yourself in the atmosphere of this fabulous city, and seeing as it's only a 5-minute walk to attractions like Emmet Park and the Owens Thomas Museum, you'll be able to see the sights easily.
The rooms effortlessly combine the heritage features of this historic building with the comfort and flair that make a stay here really special - and you can even enjoy wine and hors d'oeuvres at the daily guest reception if you're in the mood to mingle.
Things to see on a road trip from Miami to Savannah
Whichever route you take, you're going to pass some fabulous attractions along the way. Whether you're interested in theme parks, state parks or simply the stunning coastline, there's something to please everyone on a road trip from Miami to Savannah.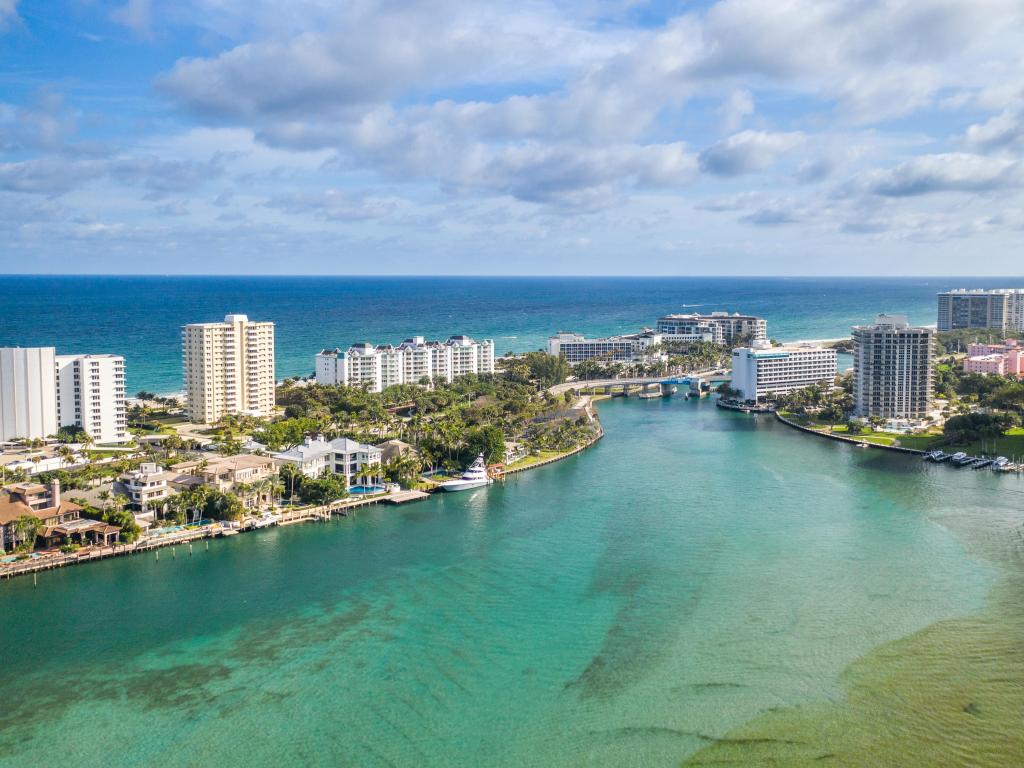 The Atlantic Coast Route
Fort Lauderdale, Florida - Known as "the Venice of America", you can get your gondola on in one of the many canals here and immerse yourself in the historic waterfront.
Boca Raton - Boca Raton is known for having some of the best beaches in Florida, where the competition can be fierce! This city is also dotted with great cultural and natural attractions, such as the Boca Raton Museum of Art and Gumbo Limbo Nature Center.
West Palm Beach - Another city known for its beautiful beaches, West Palm Beach also boasts stunning piers and fishing spots as well as its colourful sunsets, which will surely be a memory to last a lifetime.
Jonathan Dickinson State Park - This state park is a mosaic of several natural communities (16 to be exact). This is also the largest state park in Southeast Florida and offers opportunities to bike, kayak, canoe or motorboat.
Barrier Island Sanctuary - A fun and educational look at the ecosystem that makes up the east coast of Florida. You and your travelling companions can learn about sea turtle conservation among other things.
Hutchinson Island - Another place where you can admire the white sandy beaches of Florida is Hutchinson Island, which is also famous for its rich wildlife.
Cocoa Beach, Florida - This is part of the space coast and is known as an awesome spot for surfing and surf shopping.
Cape Canaveral Space Force Station - Find out why they call it the space coast and see up close one of NASA's most important launch sites.
Saint Sebastian River State Park - This state park is home to impressive forests of longleaf pine that were once common in the area. You can enjoy hiking, biking or horseback riding here.
Kennedy Space Center - The iconic space center where the legendary Apollo launch to the moon took place is a must-visit for everyone. You can even view the actual parts of the Saturn V rocket during your visit.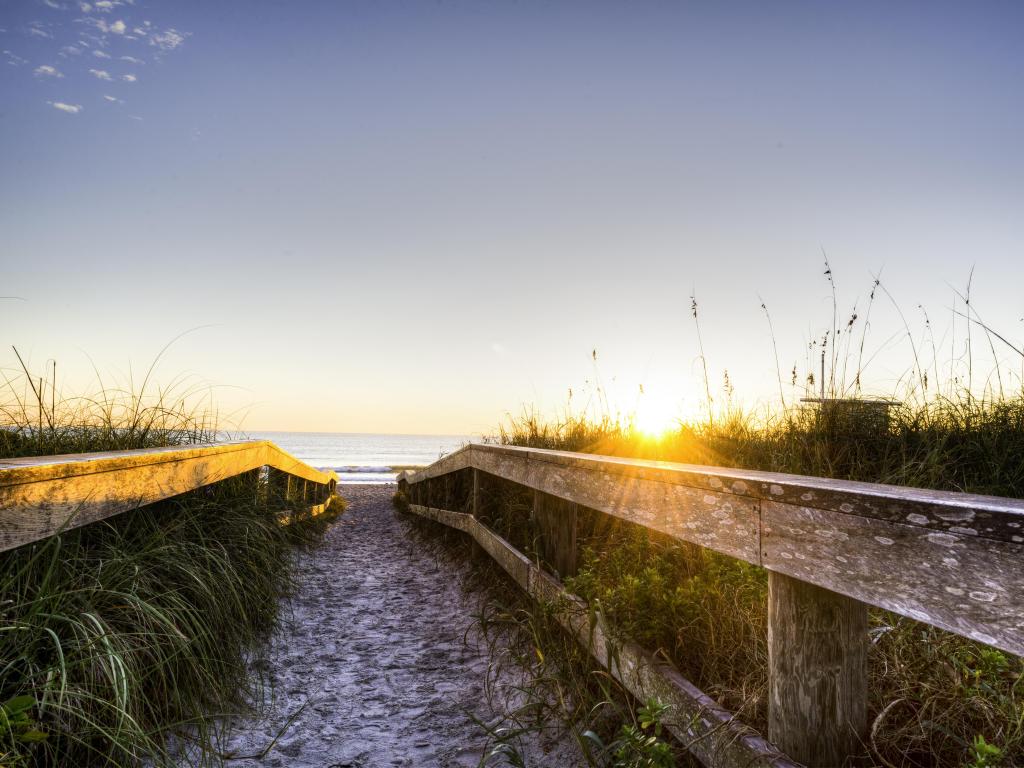 The Gulf of Mexico Route
The Everglades - This area of sub-tropical wetlands is a genuinely unique ecosystem, 1.5 million acres of natural and historical richness. We recommend you spare ample time to explore this area.
Fort Myers, Florida - Famous for its beaches and marinas, there's more to explore in Fort Myers. Thomas Edison and Henry Ford both had homes here, which make for an interesting visit, or get back to nature with a hike through Six Mile Cyprus Slough Preserve.
Lovers Bay State Park - Head out here for one of the more secluded beaches on your route. If you're lucky you might even see a manatee, or dolphins playing out in the ocean, or catch a glimpse of a beautiful beach wedding.
Tampa Bay, Florida - Tampa's port is an impressive sight in itself, but it's also well known for dolphins and incredible lightning strikes.
Florida Southern College, Lakeland - If architecture is your bag, this establishment featuring the largest single-site collection of Frank Lloyd-Wright works will feel like an important pilgrimage.
Washington Oaks Gardens State Park - This park combines Florida's typical barrier island habitat with beautifully landscaped gardens - a stunning combination.
Fort Matanzas National Monument - The historic Spanish watchtower here was built to protect nearby St Augustine. Now it's surrounded by 300 acres of protected coastal habitats. Check ahead for ferry operating schedules.
St. Augustine, Florida - You might be surprised to know that this Florida city is the oldest in America, and it's packed full of historical sites, impressive architecture and, of course, more stunning views over the water.
Daytona Beach, Florida - As its name suggests, you'll find fabulous beaches here - 23 miles of it in fact. It's also known for its motorsports.
Jacksonville, Florida - This varied city has something to suit every taste - relax on the fabulous beach, enjoy a trip to its famous zoo or catch a performance by the renowned Jacksonville Symphony Orchestra.
Jekyll Island, Georgia - One of Georgia's Golden Isles, this barrier island is known as a haven for peace and relaxation. As well as enjoying a round of golf or a walk along the wide, sandy beaches, it's the perfect place to watch the sun go down over the ocean with a plate of fresh local shrimp or oysters.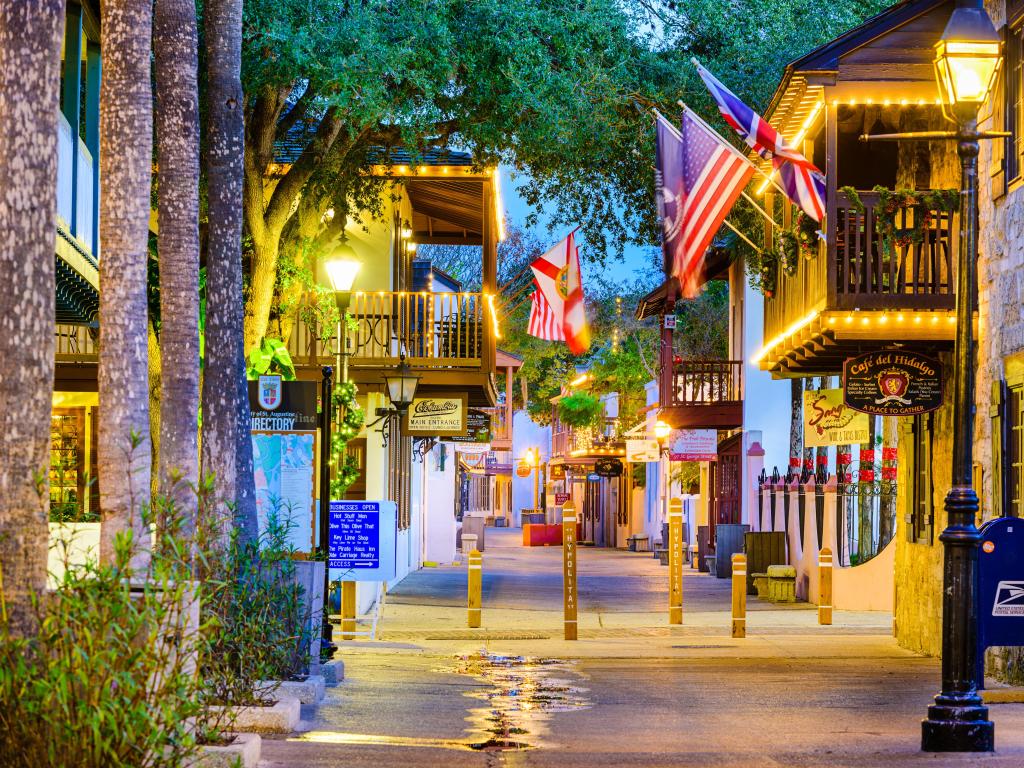 Best time to go on a road trip from Miami to Savannah
With year-round sunshine, this really is one of those road trips that you could enjoy at any time of year. You're unlikely to hit cold weather anywhere between Miami and Savannah, which will make the outdoor attractions on this road trip pleasurable.
In summer, temperatures along the route are likely to sit around 90 degrees Fahrenheit, so it's a great time to enjoy the many beaches you'll pass along the way. Keep in mind that this is the wettest time of the year though, so you'll need to have some indoor activities planned.
The beaches around the Miami Metropolitan Area are incredibly popular, and you're guaranteed to be in amongst the crowds in the summer. The resort areas around Orlando are also high-traffic spots, meaning the hotel prices will be at their peak if you visit these in summer.
Winter will certainly be a cheaper time to travel, but you'll still be able to enjoy warm daytime temperatures. In fact, it rarely drops below 48 degrees Fahrenheit. The water might be too chilly to swim, but you'll be able to take advantage of smaller crowds and cheaper prices.
The shoulder season is perhaps the happy medium, with weather, accessibility and prices. As you head north to Savannah, temperatures rise from around 70 in March to 85 in May, and there's not much rain at this time of year.
Fall is also a pleasant time to visit, after the summer crowds start to disperse. Temperatures are likely to remain in the 80s through September and October, and the summer rain eases off too.
You can also catch Savannah's annual Jazz Festival if you're in town at the end of September. It's a fabulous event, though it does draw extra visitors to the area. The Coastal Jazz Association offers several concerts throughout the year even if you miss out on Savannah's main event.