Road Trip from Minneapolis to Badlands National Park
It's time to head out on a journey of a lifetime through the American Midwest and experience endless nature and the culture of the wide-open prairies. This road trip from Minneapolis to Badlands National Park might be relatively short, but it packs a punch with all the unforgettable places you will get to visit on the way!
The 520-mile road trip from Minneapolis to Badlands National Park will take 8 hours to drive. On the way, you can visit Jordan, Mankato, Sioux Falls, Mitchell, Chamberlain, Des Moines, Council Bluffs, Omaha, Fremont, Norfolk, The Cowboy Trail and Cedar Butte.
You'll be transported to a land full of adventure and endless open highways and skies on this adventure. Read on below to learn more about our recommended routes, places to stay along the way, top highlights, and the best seasons to travel.
How far is Badlands National Park to Minneapolis, and how long will the road trip take?
Comparison of road trip routes between Minneapolis and Badlands National Park

| Route | Distance | Driving Time |
| --- | --- | --- |
| The Direct Route | 520 miles | 8 hours |
| The Des Moines Route | 820 miles | 13 hours |
We have curated two beautiful routes that will take you from Minneapolis to Badlands National Park. The Direct Route covers approximately 520 miles and takes around 8 hours of driving time with no detours.
The alternative Des Moines Route isn't the quickest option, but it will give you an exciting journey, covering 820 miles and taking about 13 hours before reaching the Badlands National Park.
While you could make this trip in a day or two, there's so much to witness and experience en route that we recommend allocating 2-3 days to make the most out of this beautiful part of America.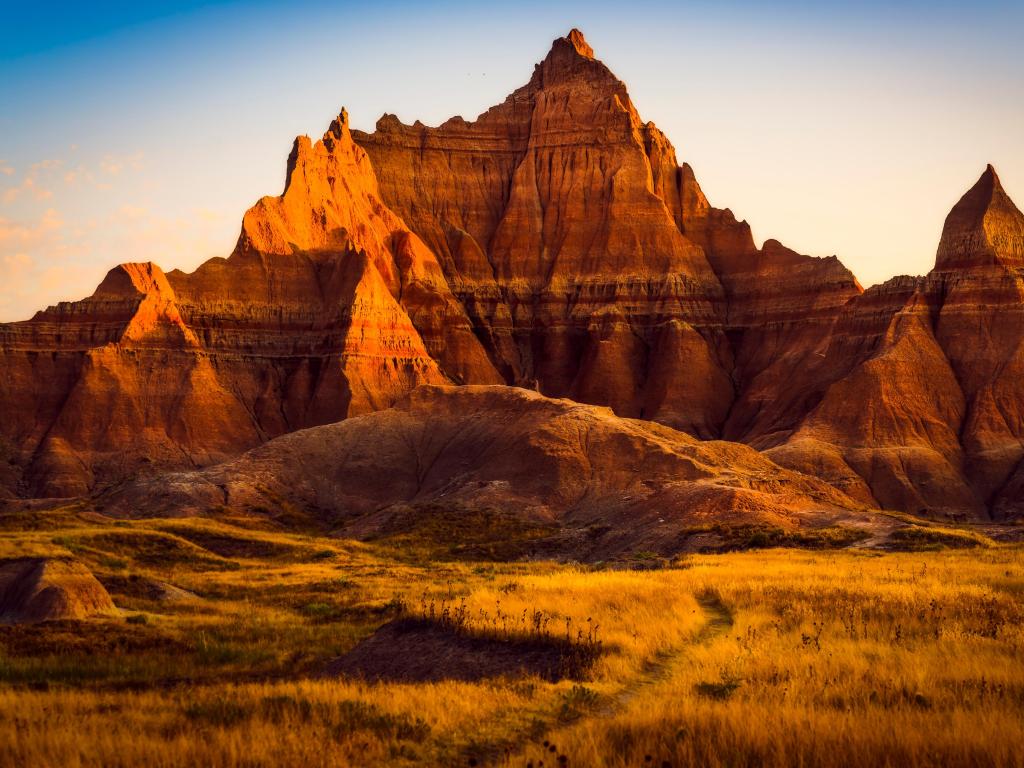 Best road trip route from Minneapolis to Badlands National Park
While both routes are rich in natural attractions, the atmospheres and scenery of each are remarkably diverse. Which route you choose depends on what you want to see the most.
The Direct Route from Minneapolis to Badlands National Park will bring you through the picturesque landscapes of southern Minnesota, with beautiful farmsteads, charming small towns, and serene lakes.
As you venture further, you'll have the chance to dive into the history of South Dakota, with stops like Sioux Falls, the unique Corn Museum in Mitchell, and Chamberlain.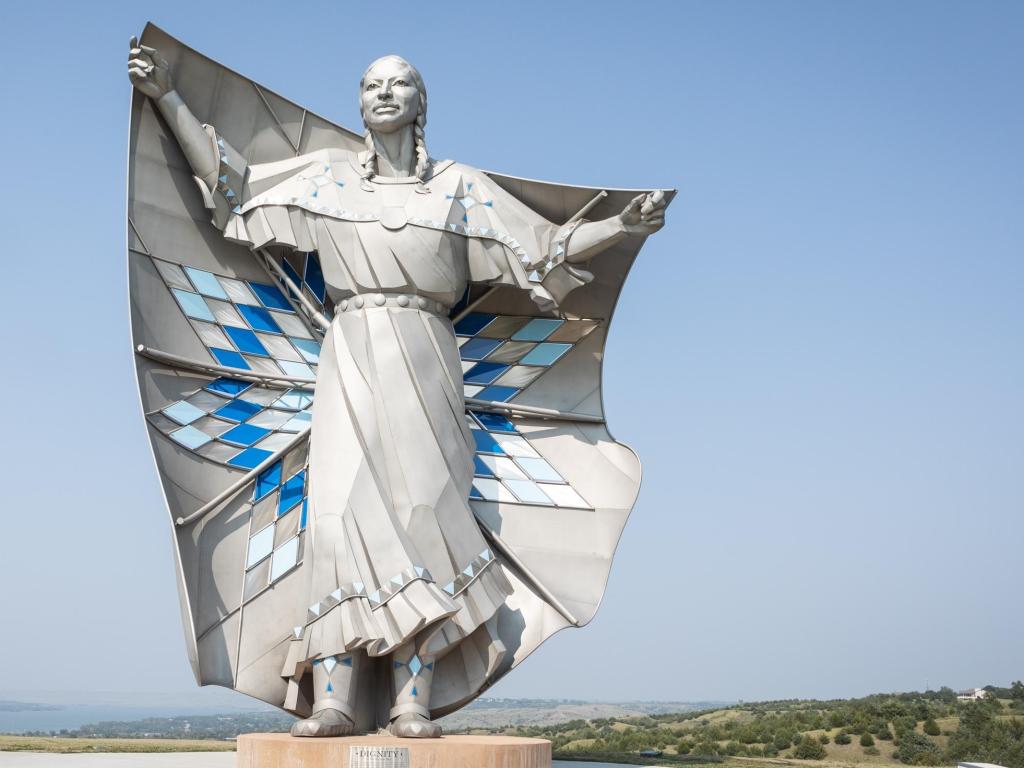 If you're looking for a nature retreat, locations like the Minnesota Valley State Recreation Area, Minneopa State Park, or Lake Crystal offer rejuvenating breaks from the drive.
On the other hand, if you love the wide-stretching prairies, rolling plains, and prolific farmlands emblematic of Iowa and Nebraska, the Des Moines Route is for you.
This alternative route is also perfect for nature enthusiasts with stops at the Cowboy Trail or the expansive Samuel R. McKelvie National Forest. The journey also crosses through some of the Midwest's significant urban centers.
For a taste of the region's history and culture, you can visit cities like Des Moines, Omaha, and a rather unique spot in O'Neill, fondly referred to as "The Irish Capital of Nebraska".
So, whether it's the rustic charm of the Direct Route or the broader geographical and cultural tapestry of the Des Moines Route, your trip from Minneapolis to Badlands National Park will be filled with lifelong memories and adventures.
How to drive from Minneapolis to Badlands National Park
The map above shows our suggestions for the best road trip routes between Minneapolis and Badlands National Park. Keep reading for detailed descriptions of both routes, where to stay on either, and the best things to do on the way.
The Direct Route
Start your journey from Minneapolis by heading southwest to the town of Mankato. After enjoying all the town has to offer, continue on route to Worthington.
From here, make your way west on I-90 to Sioux Falls, and admire the scenery. Next, take a short drive to Mitchell and visit the Mitchell Prehistoric Indian Village.
Continue on I-90 to Chamberlain, a scenic town with plenty of outdoor opportunities. After this, head back on I-90 and drive to your destination of Badlands National Park.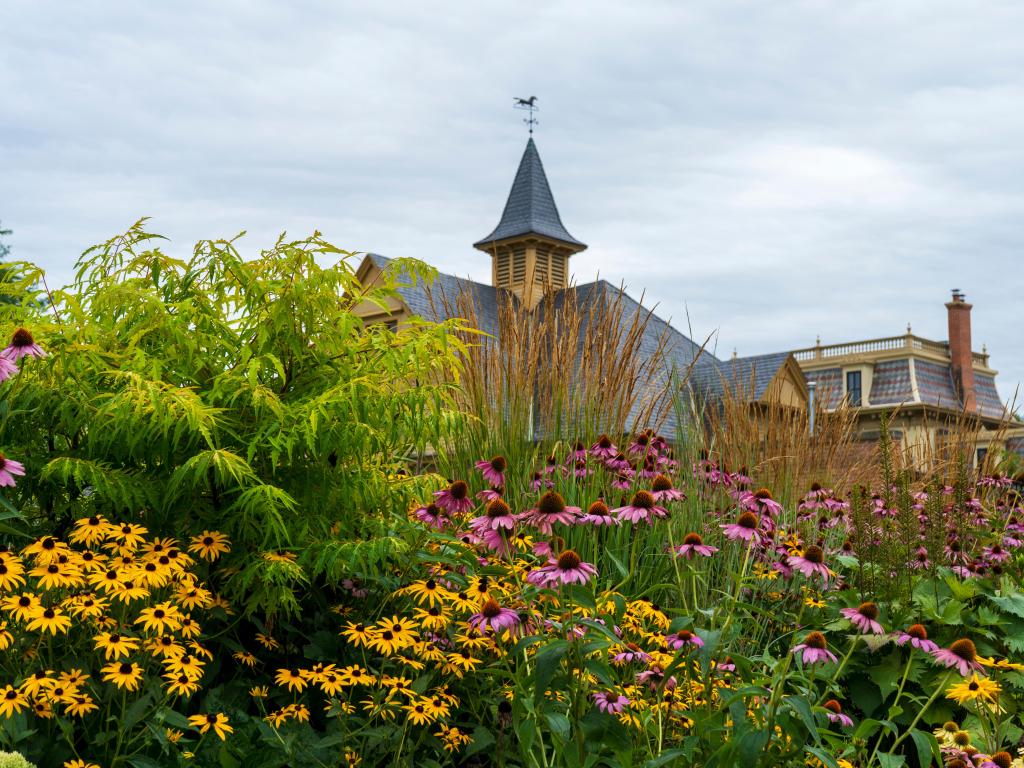 The Des Moines Route
Begin by heading south on I-35 through Minnesota. Cross into Iowa and continue on south to the beautiful city of Des Moines.
Next, make a few pit stops on the way to see the John Wayne Birthplace Museum in Winterset and the Union Pacific Railroad Museum in Council Bluffs.
After exploring the city, head west on I-80 towards Omaha. Once you get to Omaha, you'll be able to experience one of the Midwest's most lively cities.
From here, head back on route north to the city of Valentine. From here, continue on north into the beautiful landscapes of Badlands National Park.
Best places to stop between Minneapolis and Badlands National Park
There are endless stops in between Minneapolis and Badlands National Park that are filled with adventure. Below, we've chosen our favorites, so you can plan easily and make the most out of your journey.
A relaxing stay at Sioux Falls
Sioux Falls is an ideal pit stop on the Direct Route, situated roughly 4 hours into your journey. As the crown jewel of South Dakota, this vibrant city is full of history, culture, and stunning natural beauty, making it an excellent midpoint to rest and explore.
The city's namesake, Sioux Falls, is undeniably its prime attraction. Within the heart of the city in Falls Park, the cascading waters of the Big Sioux River spill over pink quartzite formations, offering a picturesque setting that captures the essence of the region's natural beauty.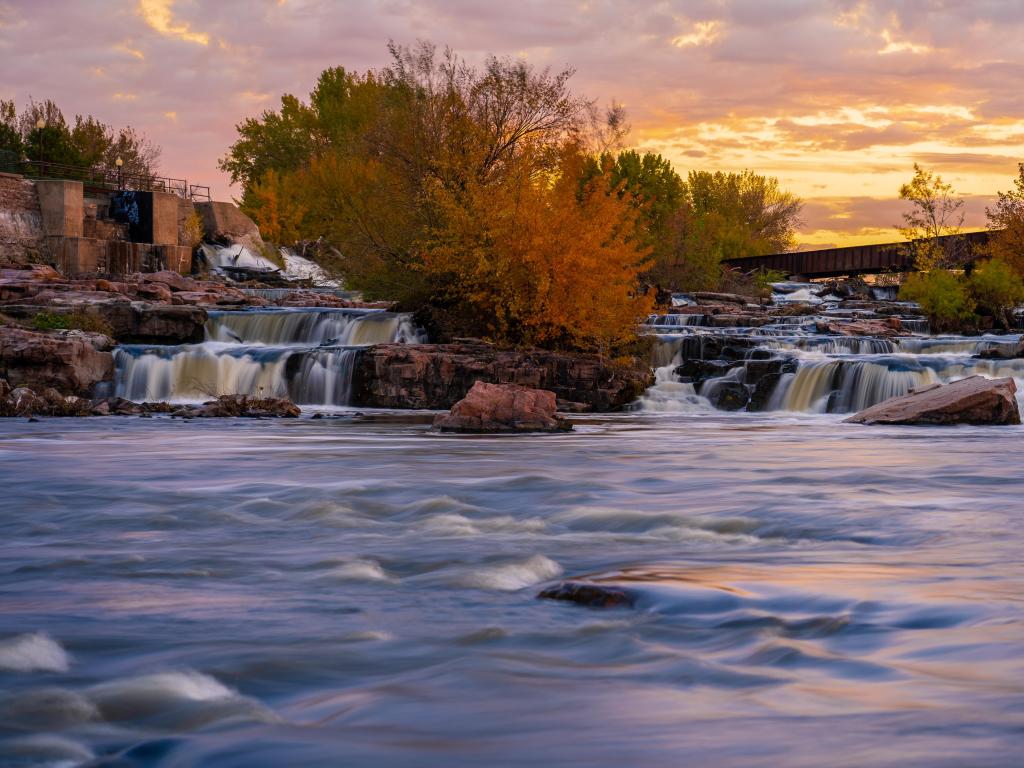 If you want to delve into the city's rich past, the Old Courthouse Museum features artifacts and stories from a bygone era.
Once you arrive, we recommend staying at the modern La Quinta by Wyndham Sioux Falls. Nestled conveniently in the center of the city, this hotel merges comfort with convenience. You will feel right at home in the stylish rooms, where modern aesthetics meet utmost comfort.
Begin your day on the right foot with the hotel's breakfast options included in your stay. After a long day of exploring the city, you can unwind at their indoor pool, or keep up with your fitness routine at their state-of-the-art gym.
While in Sioux Falls, don't miss out on attractions nearby. The Butterfly House & Aquarium, just over a half-mile from La Quinta, is a realm of marine wonders and fluttering beauties. For wildlife enthusiasts, the Great Plains Zoo, just a little over a mile away, offers an insight into the animal kingdom.
An urban adventure in Omaha
Omaha is the perfect midway point on the Des Moines Route, positioned roughly 5 hours and 40 minutes into your drive. Marked by its welcoming spirit and rich culture, this Nebraskan city is an optimal halfway haven on your journey.
Omaha's iconic Henry Doorly Zoo and Aquarium should be first on your list. Not only is it celebrated as one of the world's most celebrated zoos, but it also has the world's largest geodesic dome, sheltering an impressive expanse of indoor desert.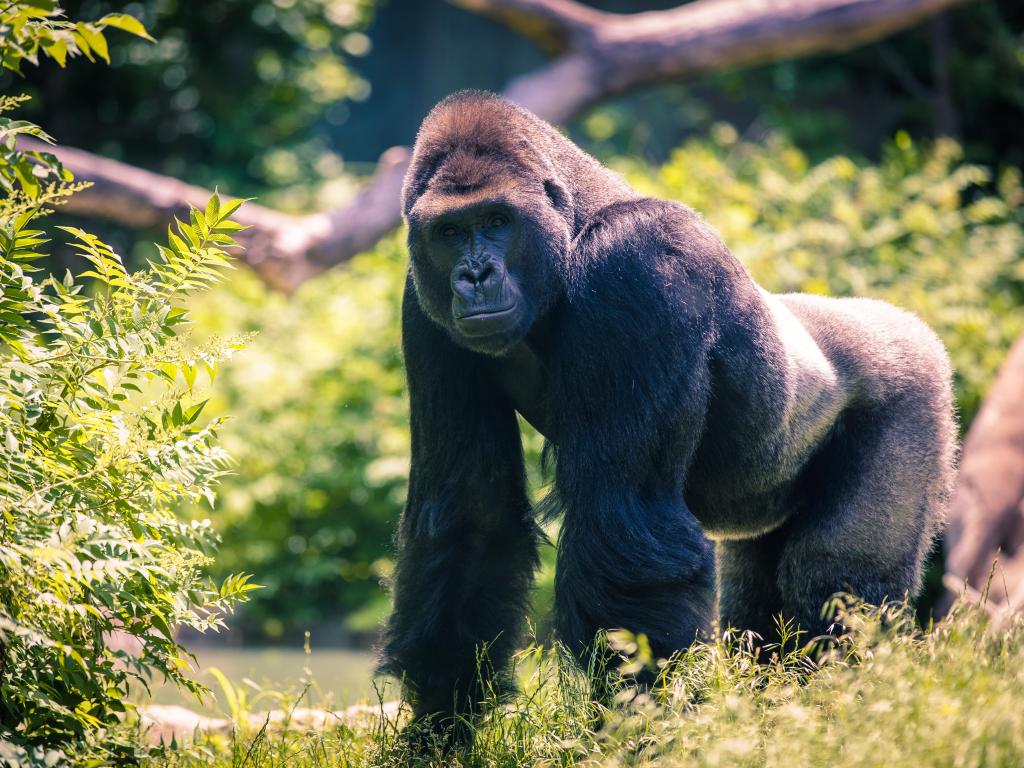 The Joslyn Art Museum is another must-see, offering an enriching experience in art, with collections spanning from ancient times to the modern era. Here, creativity and history entwine in a magnificent dance of colors and expressions.
While the city has numerous unique parts, one particularly fun fact about Omaha is its Bob Kerrey Pedestrian Bridge. As you stroll across, you can straddle Nebraska and Iowa simultaneously, divided by the gentle flow of the Missouri River beneath.
In the heart of this bustling metropolis, we recommend resting at the popular and luxurious Farnam, Autograph Collection. Its modern decor and beautiful interiors promise a rejuvenating stay. Gaze out at the Omaha skyline from selected rooms, offering panoramic city views.
You'll also get services from a sophisticated bar to a well-equipped fitness center and handy mini-market, ensuring a stay marked by comfort and convenience.
The hotel's prime location is also its charm. Just a short walk away is the Heartland of America Park at the Riverfront, a peaceful escape with serene waters and green expanses. Moreover, Omaha's famed Old Market district will be virtually at your doorstep.
Where to stay when you reach Badlands National Park
Badlands National Park is a natural wonder of South Dakota and it shouldn't come as a surprise that it is a popular destination. The park has rich fossil beds and a diverse array of wildlife that roams its rugged terrains.
When you visit, be sure to stand at the precipice of the Pinnacles Overlook, where the vast expanse of the park stretches out before you. Dive deeper into the park's wonders at the Ben Reifel Visitor Center, where interactive exhibits and knowledgeable rangers will immerse you in the rich story of the Badlands.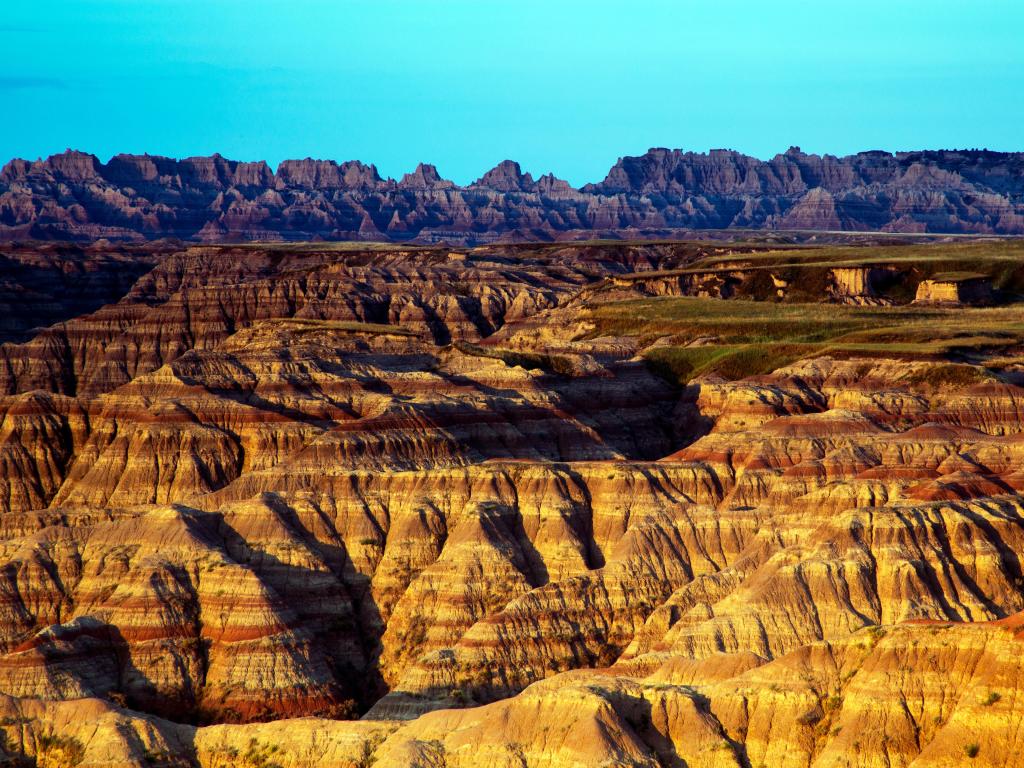 If you love stars and the cosmos, a quirky yet awe-inspiring experience awaits you. On a clear night, the park's expansive skies showcase a dazzling array of over 7000 stars, making it a stargazer's paradise.
After an adventurous day, we recommend retreating to the Badlands Frontier Cabins for a luxurious night stay. Nestled close to the park's entrance, these cozy cabins emanate a distinct western charm that enriches your stay.
The interiors, with their thematic western decor, transport you to a different era. Each room is thoughtfully equipped with a kitchenette, perfect for those evening snacks or early morning brews. The attached patios provide a serene spot to enjoy a cup of coffee or tea as the sun paints the Badlands in golden hues.
Things to see on a road trip from Minneapolis to Badlands National Park
This wonderful road trip from Minneapolis to Badlands National Park is filled with endless highlights to keep your adventure going. Below, we've listed our favorites to help you plan your ultimate highway journey in style.
Direct Route
Jordan - A charming small town in Minnesota, Jordan is a welcoming spot that captures the essence of Midwest America. With local shops and eateries, it's a delightful stop for a break.
Minnesota's Largest Candy Store - Located in Jordan, this is a vibrant yellow barn that offers an impressive collection of candies, chocolates, and sodas, making it a sweet paradise for both kids and adults.
Minnesota Valley State Recreation Area - A picturesque outdoor space in Minnesota, this recreation area is perfect for hiking, bird-watching, and enjoying the serenity of nature.
Mankato - Mankato stands as a cultural and economic hub in south-central Minnesota, offering visitors a mix of arts, entertainment, and history.
Minneopa State Park - Famous for its cascading waterfalls and roaming bison, this state park near Mankato offers stunning natural beauty and opportunities for outdoor activities.
Lake Crystal - A tranquil lakeside town, Lake Crystal is perfect for those looking to engage in water activities or just relax by the shore.
Windom - Nestled in Minnesota, Windom offers a peaceful atmosphere with parks, historical sites, and a touch of local arts.
Nobles County Historical Museum - This museum in Worthington provides a glimpse into the area's rich history, featuring artifacts and exhibits from yesteryears.
Luverne - Known for its historic charm, Luverne is dotted with architectural marvels and parks that reflect its storied past.
Sioux Falls - As South Dakota's largest city, Sioux Falls boasts an array of parks, waterfalls, and cultural attractions.
Mitchell Prehistoric Indian Village - An archaeological site in Mitchell, it offers insights into the daily life of the Native American inhabitants from over 1,000 years ago.
The World's Only Corn Palace - Located in Mitchell, this unique structure is adorned with corn and grain murals, celebrating South Dakota's agricultural heritage.
Chamberlain - A scenic town by the Missouri River, Chamberlain is a great spot for fishing, boating, and absorbing river views.
Pioneer Auto Museum - Situated in Murdo, this museum showcases over 250 classic cars, motorcycles, and tractors, tracing the evolution of automotive history.
1880 Town - A genuine trip back in time, this attraction near Murdo recreates an 1880s South Dakota town with authentic buildings and artifacts.
Prairie Homestead Historic Site - Located near Philip, this site offers a look into pioneer life with its original sod home and vintage farm equipment.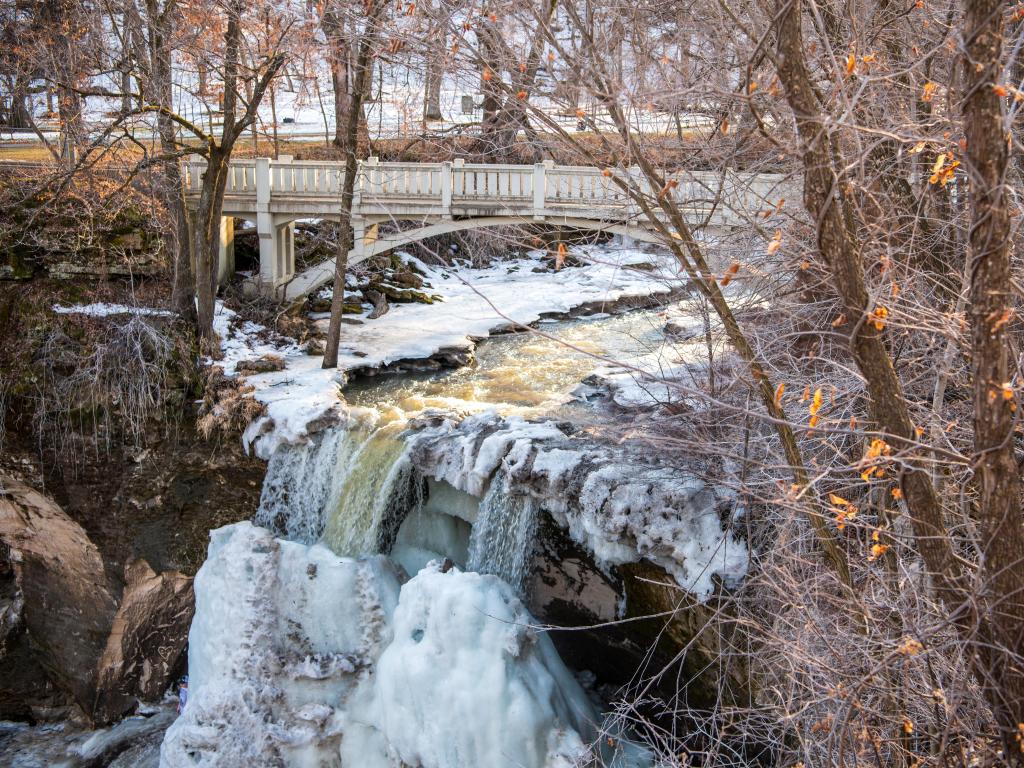 Des Moines Route
River Bend Nature Center - Situated in Faribault, Minnesota, it's a sanctuary for nature lovers with trails, wildlife, and educational programs.
Des Moines - The capital of Iowa, Des Moines is a blend of urban sophistication and Midwest charm with its art scenes, parks, and historical landmarks.
John Wayne Birthplace Museum -Located in Winterset, this museum celebrates the legendary actor with memorabilia and exhibits about his life and career.
Union Pacific Railroad Museum - Situated in Council Bluffs, Iowa, this museum delves into the history of the railroad and its impact on the nation.
Omaha - A vibrant city in Nebraska, Omaha is known for its cultural attractions, historic districts, and the renowned Henry Doorly Zoo.
Fremont - Located in Nebraska, Fremont is a blend of historical sites, parks, and local events, offering visitors a taste of heartland America.
Norfolk - A city in Nebraska, Norfolk boasts a mix of cultural events, parks, and a rich history that can be explored through its landmarks.
Elkhorn River - Winding through Nebraska, this river offers opportunities for canoeing, fishing, and taking in the serene landscapes.
Ashfall Fossil Beds State Historical Park - This park near Royal showcases ancient fossils, giving visitors a glimpse into life millions of years ago.
O'Neill - Known as Nebraska's Irish capital, O'Neill celebrates its heritage with events, monuments, and a warm community vibe.
The Cowboy Trail - Stretching across Nebraska, this trail is perfect for biking and horseback riding, offering scenic views of the heartland.
Cherry County Historical Society Museum - Located in Valentine, this museum preserves and showcases the rich history and artifacts of Cherry County.
Samuel R. McKelvie National Forest - A pristine expanse in Nebraska, this national forest offers camping, hiking, and nature-viewing opportunities.
Cedar Butte - Located in South Dakota, Cedar Butte stands as a picturesque elevation, offering panoramic views of the surrounding landscape.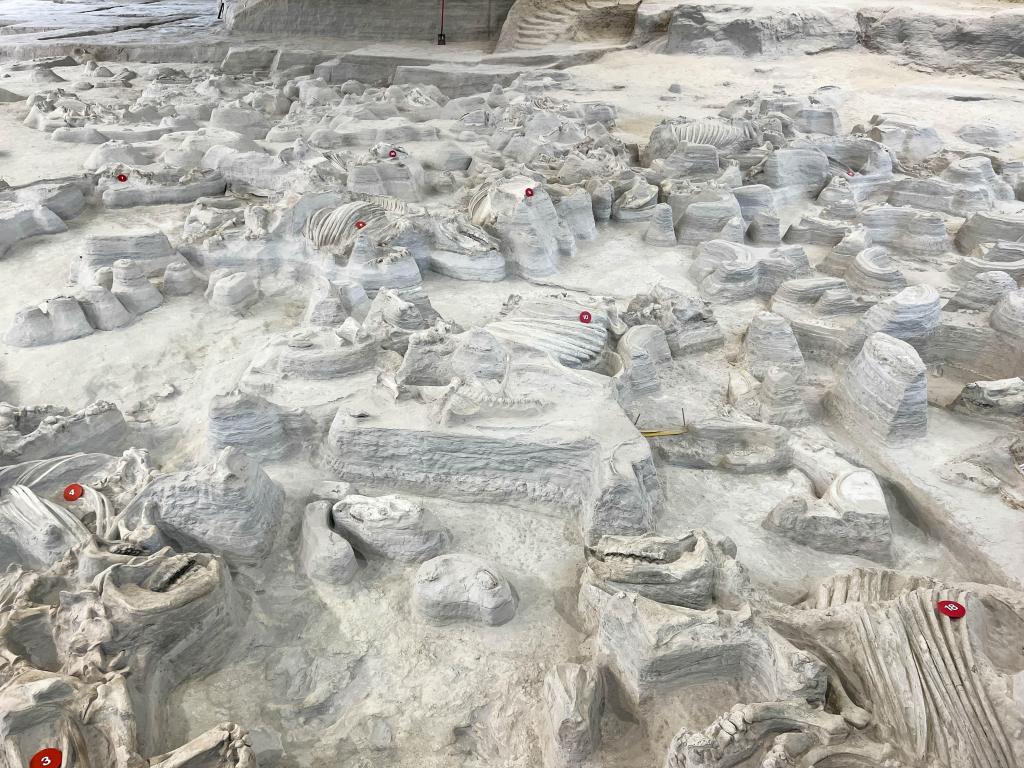 Best time to go on a road trip from Minneapolis to Badlands National Park
Taking a road trip to Badlands National Park offers an array of unique experiences. However, the season you travel will really influence the type of experience you'll have.
In the warmer months, from June to August, daytime temperatures in the park can rise to a comfortable 70-90 degrees Fahrenheit, making it the most popular time to explore its trails, gaze at the stars, and spot wildlife.
However, this period also sees a surge in visitors, which could mean crowded viewpoints and trails. Some popular summer festivities include Omaha's Greek Festival in August.
If you want to avoid peak-season crowds, consider traveling in the transitional months of April, May, or September. With temperatures ranging from 40 to 75 degrees Fahrenheit, these months have pleasant weather.
Fall is a great time to experience festivals, including Sioux Falls' Autumn Festival in November. On top of the festivals, the fall colors on both routes will be stunning.
Because this is the northern Midwest, winter is severe and presents some challenges and charms. Daytime temperatures can drop to between 10 and 40 degrees Fahrenheit or even colder.
Both the Direct Route through Minnesota and South Dakota and the Des Moines Route via Iowa and Nebraska are prone to snowfalls, so check the road conditions ahead of time.
If you're contemplating a winter journey, ensure your vehicle is winter-ready. The sparse crowds of Badlands in the colder months can be enticing, but be wary: snowfall might lead to temporary road closures within the park, so please check before visiting.