Road Trip from Minneapolis to Glacier National Park
If a journey through colossal mountain sites and deep green forests sounds tempting, the road trip from Minneapolis to Glacier National Park is just for you. This trip, spanning three northern states, packs in a spectacular number of jaw-dropping places for you to visit.
The 1,107-mile road trip from Minneapolis to Glacier National Park takes about 17 hours to drive. Notable stops are Fargo, Bismarck, Rapid City, Deadwood, Theodore Roosevelt and Waterton Lakes National Parks, as well as Whitefish Mountain Resort.
There is a lot to see along this unforgettable journey, so be sure to read until the end so you can have a firm grasp on what you can expect. We're on hand to help you make the best choices on where to stay, when to travel and everything to see and do along the way.
How far is Glacier National Park from Minneapolis and how long will the road trip take?
Comparison of road trip routes between Minneapolis and Glacier National Park

| Route | Distance | Driving Time |
| --- | --- | --- |
| The Quickest Route | 1,107 miles | 17 hours |
| The Scenic Route | 1,335 miles | 20 hours 30 minutes |
Taking the Quickest Route, this exciting road trip from Minneapolis to Glacier National Park will take around 17 hours of straightforward driving covering 1,107 miles. We recommend splitting this trip into four days to enjoy the journey to the fullest.
Some of the amazing places that you could visit on this route are Itasca State Park, Theodore Roosevelt National Park and Whitefish Mountain Resort. The route cuts across three states mainly on the interstate, and as long as there are no accidents you shouldn't experience any traffic.
Although there aren't that many major cities along the way that makes for a perfect excuse for detours as far as the Canadian border and beyond. And as long as you have some spare time the 17-hour drive can be extended up to a few days of exploration.
There is a more scenic route we recommend you follow if you aren't short on time. Even though this 1,321-mile is longer and will take about 20 hours and 30 minutes to drive, it offers features scenery that will make the extra hours of driving worth it!
You will drive through beautiful national forests and parks, and amazing cities like Sioux Falls, Rapid City and Deadwood on your way to your destination with options to make a detour to the much-beloved Yellowstone National Park for even more adventure.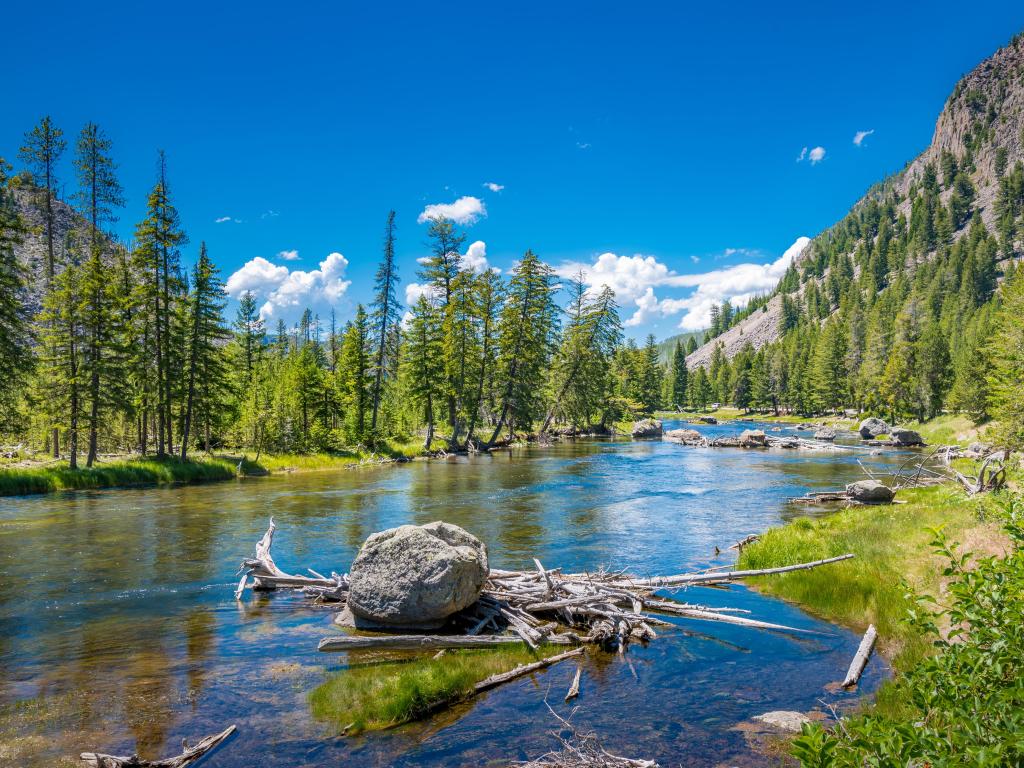 Best road trip route from Minneapolis to Glacier National Park
There are several options to choose from to get to Glacier National Park from Minneapolis and the best route will depend on your preferences. The Quickest Route will take you faster than the Scenic Route, but the latter features deep green forests and picturesque mountain sites.
You can also customize your own route by switching from one route to the other after you drive past Glendive (on the Quickest Route) or Billings (on the Scenic Route), giving you more options in the attractions and landmarks you can see, by mixing and matching the routes to your liking!
While visiting, keep in mind that Glacier National Park implements a vehicle reservation system from May 26th to September 10th, from 6am to 3pm (at the time of writing). Before visiting, please check online whether you might need a reservation.
How to drive from Minneapolis to Glacier National Park
The map above shows our suggestions for the best road trip routes between Minneapolis and Glacier National Park. Keep reading for detailed descriptions of both routes, where to stay on either, and the best things to do on the way.
The Quickest Route
While exiting Minneapolis get on to Interstate 94 (I-94) then drive west towards Pleasant Lake through Monticello. Once you are close to the St. Cloud area, you might want to make a stop at Quarry Park and Nature Preserve or Munsinger Gardens.
Continue further along the interstate and drive over Sauk River and around St. Joseph. Merge into Route 52 for a short while until you reach Melrose where you should hop on to I-94 again.
Drive around Alexandria and then through Fergus Falls and into Fargo where you can visit the Red River Zoo. Before you continue a solid option would be to detour to Itasca State Park or otherwise follow the interstate to Bismarck.
Drive around Dakota Zoo and over the Missouri River to Medora where you can visit Theodore Roosevelt National Park. Carry on to Glendive and cross the Yellowstone River.
This is where you can drive south to converge onto the Scenic Route. Simply continue on I-94 to reach Billings and follow the directions for the Scenic Route from that point.
If not, take Exit 211 to merge into MT-200S until you reach Circle. Drive north on MT-13 until you reach MT-25 and enter Wolf Point. Take US-2 on which you should stay until you reach your final destination, Glacier National Park.
Make your way through Malta and into Shelby and if you are feeling adventurous - detour to Writing-on-Stone Provincial Park and Dinosaur Provincial Park further north into Canada.
Drive around Blackfeet Indian Reservation and just for a few miles drive down Route 89 to arrive at Glacier National Park.
The Scenic Route
Follow Interstate-35 West (I-35 W) to exit Minneapolis. Take Exit 9B to briefly drive on Interstate 494 (I-494) and Exit 10A to join US-169 towards Mankato. Here you can take a break to visit Minneopa State Park.
Continue onto MN-60 towards your next landmark, Worthington. Turn right to merge onto Interstate 90 (I-90) and cross from Minnesota to South Dakota.
Drive past Sioux Falls, where you can take a break to visit the Falls Park and Butterfly House & Aquarium. Continue onto I-90 and cross the Missouri River past Chamberlain where you can admire the majestic Dignity Statue.
I-90 will take you through the Nebraska National Forest to Rapid City. You can take a break here to visit Bear Country USA and Reptile Gardens.
Take Exit 30 and continue onto US-14A to reach Deadwood where you can explore the Black Hills National Forest and spend the night. After your visit, follow US-85 North and turn left to merge back onto I-90 briefly.
Take Exit 10 for US-85 and turn left onto US-212. You will briefly pass through Wyoming and enter Montana. Follow this direction until Crow Agency where you will keep right and rejoin I-90 towards Billings.
Here you can converge onto the Quickest Route by taking Exit 450 and following the signs for I-94, which will take you to Glendive. From this point, follow the directions for the Quickest Route.
Otherwise, keep on I-90 to follow the Scenic Route. You can make a detour to Big Sky Resort, especially if you are visiting during the ski season, and the famous Yellowstone National Park.
Take Exit 298 for MT-85 and US-191 if you wish to do so. You can follow the same route back after your visit to rejoin I-90.
Take Exit 274 for US-287 and drive along the Missouri River towards the north. When you reach Helena, use the right lane to merge onto Interstate 15 (I-15). Take Exit 228 past Wolf Creek to get back onto US-287.
Your next landmark is Choteau, where you will turn left onto US-89, which will take you to your destination, Glacier National Park.
Best places to stop between Minneapolis to Glacier National Park
The road trip from Minneapolis to Glacier National Park is packed with exciting places to visit and if you find yourself with more time on your hands you should definitely book yourself a room in one of the following resorts:
Relax in style at Bismarck
The capital of North Dakota is close to the midpoint of the journey from Minneapolis to Glacier National Park, along our Quickest Route. This lively city is known to be cold, snowy and windy but regardless of the climate the streets of Bismarck are welcoming and lined with small stores and restaurants.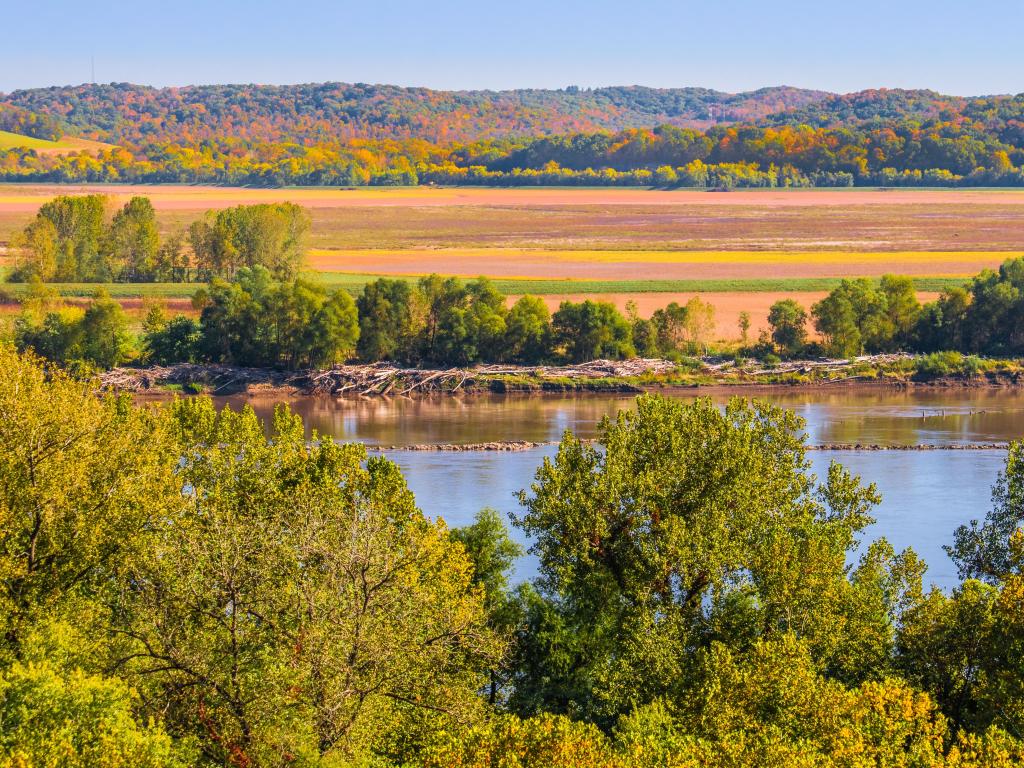 Boasting a beautiful interior and an excellent location, merely a 10-minute drive away from the center, Home2 Suites by Hilton should be your go-to choice when visiting the city with its comfortable suite-style rooms and reasonable prices.
For a fun day out, you can see the Bengal tigers at the Dakota Zoo or learn about the rich history of the region at North Dakota Heritage Center and State Museum, which are both less than 10 minutes away from the accommodation.
If you wish to take a leisurely stroll by the stunning Missouri Riverbank, the Missouri River State Natural Area features beautiful scenery and a walking and biking trail canopied by pristine woodland plants. You can also ski here if you are visiting in winter.
There are both casual and upscale dining options in the city, but if you want to recharge for the rest of your trip, you can head to the hotel for a dip in the fantastic indoor swimming pool and a meal in the comfort of your own room with a fully equipped kitchenette.
Get back to nature in Deadwood
The historic city of Deadwood is located about 9 hours from Minneapolis, which makes it a perfect second stop on the Scenic Route. This city, which looks like it could be a Wild West movie set, is located right on the outskirts of the stunning Black Hills National Forest.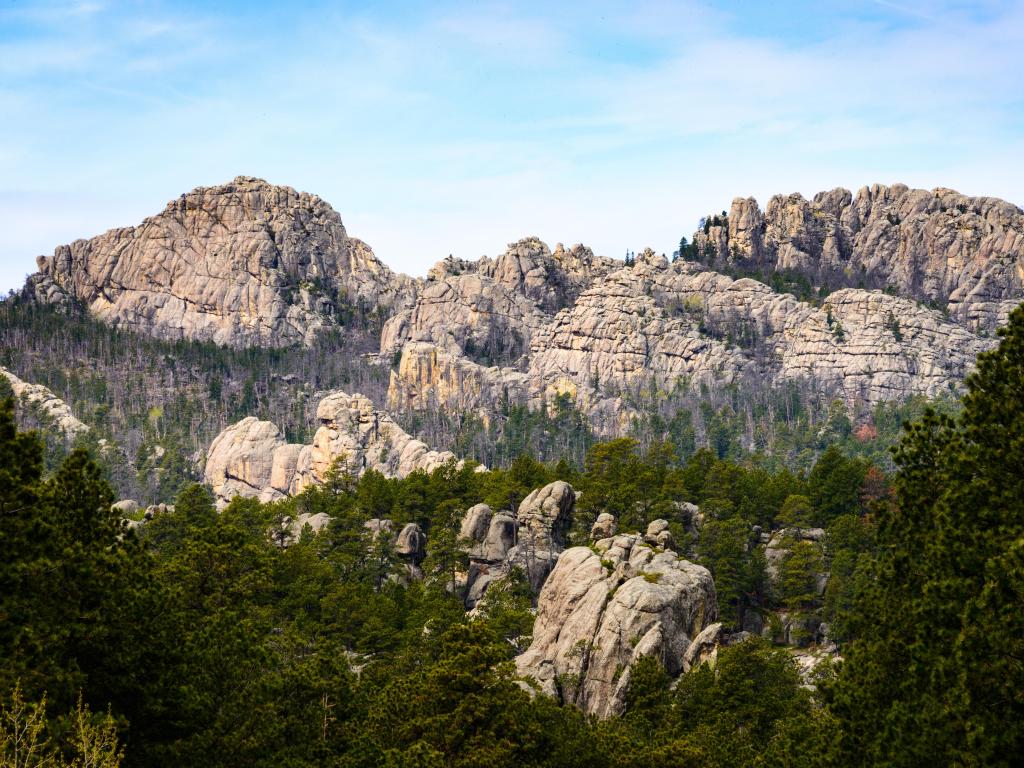 You can find history around every corner in this 1870s gold rush town and with its touristic attractions, there are many choices for accommodation. However, it is hard to beat The Lodge at Deadwood with its luxurious rooms and stellar location.
You won't be short of things to explore here on your day out. The Adams Museum & House is a time capsule that will take you back to the days of Calamity Jane and Wild Bill Hickok, whose artefacts are displayed here.
You can also visit the Historic Mount Moriah Cemetery nearby, which houses the tombs of these Old West legends.
You can also enjoy a day outdoors if the weather is looking good by taking a short drive to the Black Hills National Forest. In this stunning forest that spans over a million acres, you can horseback ride or take a hike simply to admire the beauty of the timbered mountains.
Make sure you save some energy for when you are back at the hotel and try your luck at the on-site casino. You can enjoy a meal at one of the two restaurants on the property before heading to bed for a well-deserved rest.
Relish tranquillity at Glacier National Park
Picture-postcard Glacier National Park is a showcase of exceptional natural beauty, and this popular destination has several lodging options in the area. Our pick for a stay here is Cedar Creek Lodge & Conference Center as this hotel strikes the perfect balance between comfort and luxury.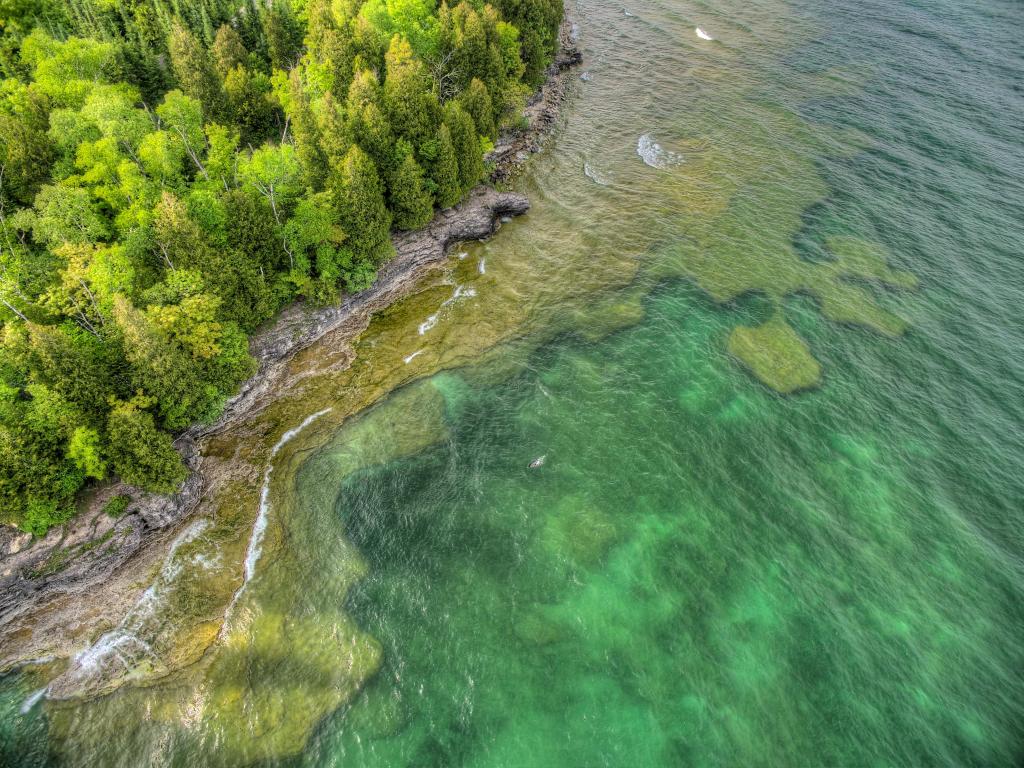 Located right next to the western gateway of Glacier National Park, the Cedar Creek Lodge provides its guests with modern yet homely rooms. As a guest of the resort, you will be provided with a free ride on a "Snow Bus" to Whitefish Mountain Resort for easy ski access.
If you want to take a day off from the snowy mountain peaks, you can visit the Whitefish Lake State Park by taking the hotel bus and enjoy hiking, fishing and boating by this picturesque lake.
You might want to rest after a day of hiking by the lake or after your skiing adventure on the snowy slopes. The hotel has a gorgeous fireplace where you can warm up with a drink in the lobby or a fabulous hot tub and an indoor pool where you can let your hair down.
Things to see on a road trip from Minneapolis to Glacier National Park
Whichever route you choose, the road trip from Minneapolis to Glacier National Park packs a spectacular number of sites and detours you wouldn't want to miss out on. Here is a comprehensive list of the places you might want to check out: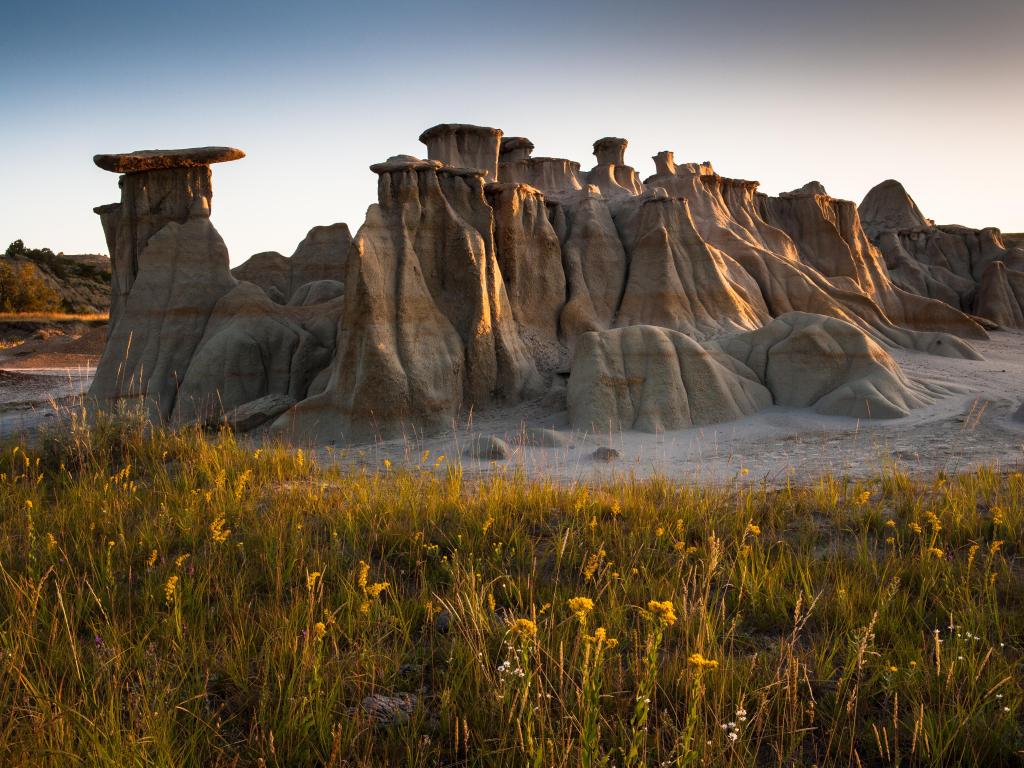 The Quickest Route
Munsinger Gardens, St. Cloud – Immersive and truly unique botanical experience along the Mississippi River.
Quarry Park and Nature Preserve, Waite Park – Quarry Park and Nature Preserve is a scenic wildlife area suited for biking, rock climbing and hiking.
Red River Zoo, Fargo – Get close to exotic and native animals alike from around the world at Red River Zoo.
Itasca State Park, Park Rapids – Itasca State Park is a fantastic place for canoeing, boating and camping hiking and even horseback riding for the adventurer souls.
Theodore Roosevelt National Park, North Dakota – Theodore Roosevelt National Park, as its name suggests, was once home to President Roosevelt. It is now known for colorfully painted canyons and a unique ecosystem.
Dakota Zoo, Bismarck -Would you like to meet a Bengal tiger or come (safely!) face-to-face with a grizzly bear? If your answer is yes, Dakota Zoo is the place for you. This facility houses more than 600 animals.
North Dakota Heritage Center and State Museum, Bismarck - This is North Dakota's largest museum and features four museum galleries that feature exhibitions that trace the rich history of the area.
Missouri River State Natural Area, Bismarck - 157-acres of pristine floodplain woodlands, you can hike, bike and even ski here if you are visiting in winter.
Writing-On-Stone Provincial Park, Milk River – Explore pictographs, petroglyphs and hoodoos for a surreal trip into the past at Writing-On-Stone Provincial Park.
Dinosaur Provincial Park, Alberta – Dinosaur Provincial Park is known for its abundance of dinosaur fossils and considered as World Heritage site under the protection of UNESCO.
Fernie Alpine Resort, Fernie – If you have chosen to make a detour into Canada, this resort is a perfect place for a fulfilling ski trip.
Flathead National Forest, Swan Lake - Just south of the Canadian border lies 2.4 million acres of rugged wilderness, wild rivers and gorgeous lakes for you to enjoy.
Whitefish Mountain Resort, Whitefish - A grand and exciting ski resort including chairlifts and multiple hiking trails.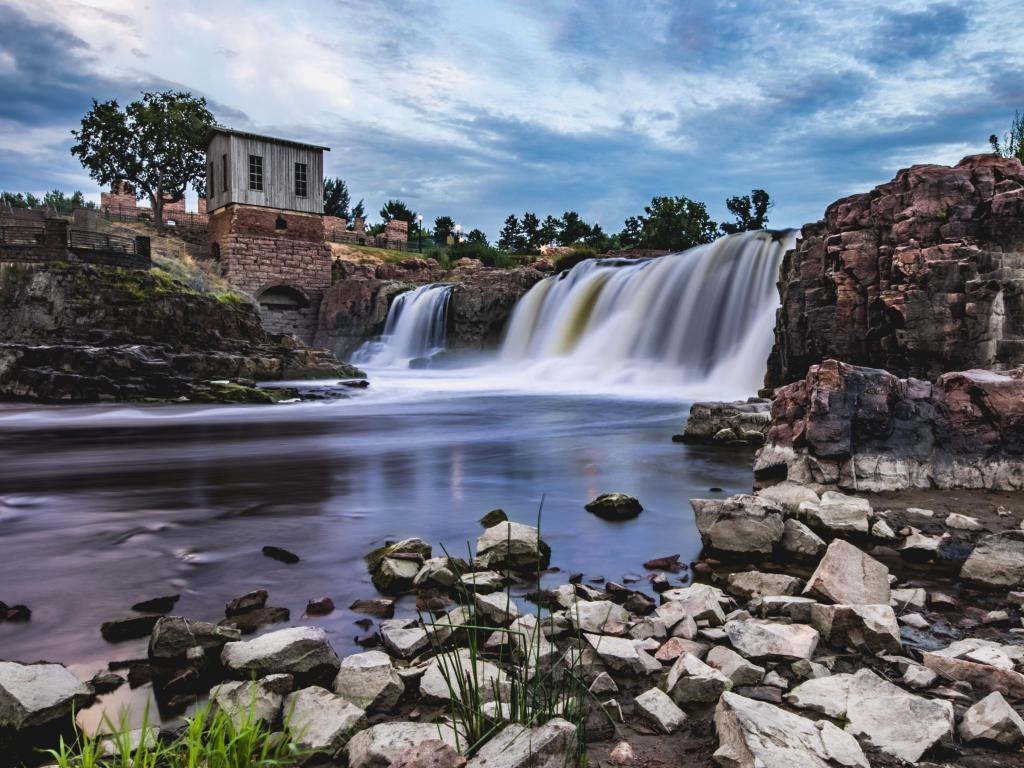 The Scenic Route
Minneopa State Park, Mankato - This wonderful park to drive through right outside of Minneapolis is home to the Minneopa Falls and the American bison.
Falls Park, Sioux Falls - Head to this park if you wish to escape the city and take in the beautiful scenery of the famous waterfalls.
Butterfly House & Aquarium, Sioux Falls - Step into the magical world of butterflies in the tropical conservatory. The aquarium features equally colorful and fascinating marine fishes, jellies, and corals.
Dignity Statue, Chamberlain - Magnificent 50 feet statue of an Indigenous woman, overlooking the Missouri River.
Nebraska National Forest, Chadron - Visit this impressive system of forests and grasslands that showcases wide open spaces, big skies, unexpected land formations.
Reptile Gardens, Rapid Falls - Fun for the whole family, this attraction features a fine collection of plants and reptiles from all over the world.
Black Hills National Forest, Deadwood - This forest covers 1.2 million acres of natural beauty and is the home to several stunning parks.
Historic Mount Moriah Cemetery, Deadwood - Visit the tombs of the Old West legends such as Wild Bill Hickok, Calamity Jane and Seth Bullock.
The Adams Museum & House, Deadwood - You will be teleported in time during your visit to this museum which features some of Black Hills' greatest treasures from the gold rush era.
Yellowstone National Park - You will marvel at mountains, forests, lakes, colorful hot springs and traces of impressive volcanos in the first national park in the USA.
Big Sky Resort, Big Sky - Enjoy the powdery slopes of this stunning skiing resort, especially if you visit in winter.
Helena-Lewis and Clark National Forest, Helena - You can enjoy hiking, biking, horseback riding, cross-country skiing, OHV riding, and snowmobiling in this area of stunning scenery and wildlife.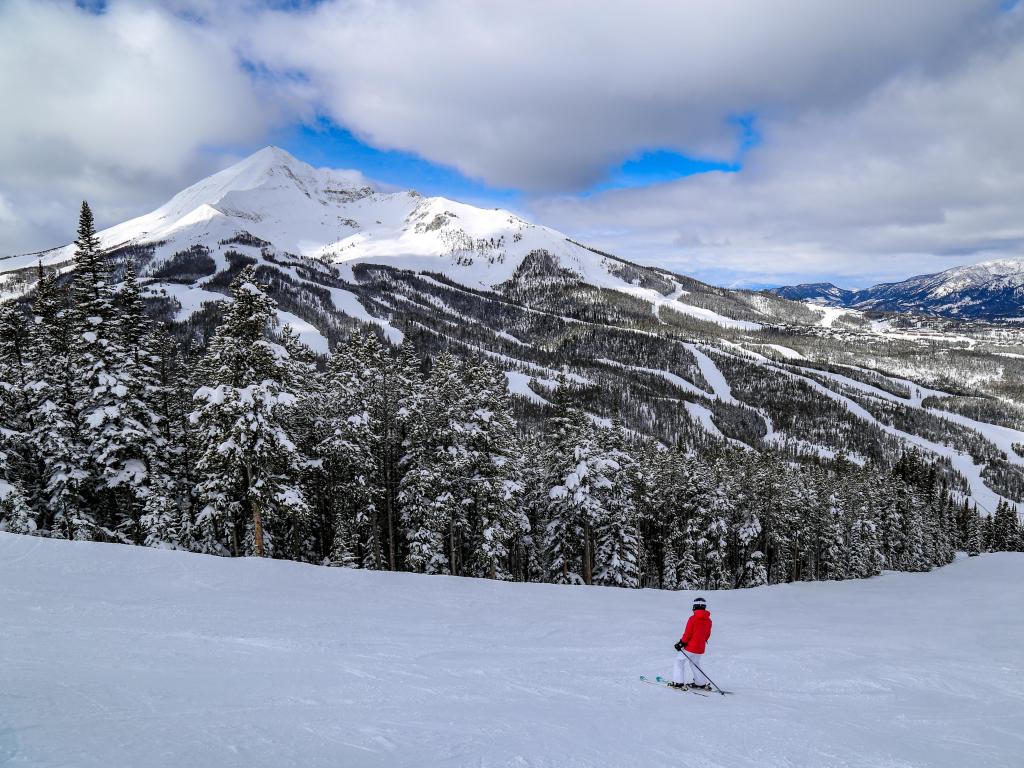 Best time to go on a road trip from Minneapolis to Glacier National Park
What you pack will depend on what you want to get out of the experience on your road trip from Minneapolis to Glacier National Park. Either a pair of skis or just a backpack could be an option depending on the season you choose to travel.
The peak season for visitors is in the summer, from July to August, yet a trip in the period from November to April might be a great option if you happen to be a fan of extreme winter sports. Keep an eye out for road warnings and park closures in these months.
Beware that throughout the cold season, you can sometimes expect freezing temperatures. Even in the warmer months of summer when temperatures average 80 degrees Fahrenheit during the day, temperatures at night drop to around 40.
It is possible to see snow around June and July, but most facilities will be up and running but the lodging rates will be at premium prices during these months. The weather is perfect for outdoor activities, but you can expect wind and cooler temperatures at higher elevations.
The weather in September to October is moderate with warm sunny days of around 60 and low 70 degrees Fahrenheit, making it a great time for hiking and admiring foliage displays.
Quite a few trails and roads are still closed in May and June and most shuttles only work if the weather conditions allow for it. Temperatures around this time average 60 degrees Fahrenheit in the daytime but tend to drop to the high 30s at night.
Lastly, depending on which side you would like to visit, keep in mind that the weather is more forgiving on the west side of the park. The east side tends to be drier, cooler, and windier while on the west side, rainfall is more frequent.