Road Trip from Minneapolis to Denver
A road trip from Minneapolis to Denver is a great way to explore the heartlands of America. Not only will you get to visit fantastic landmarks that are known all around the world, and areas of incredible natural beauty, but you will also drive through many charming towns and cities too.
The 840-mile road trip will take about 13 hours and 25 minutes. Places to visit include Sioux City, Minneopa State Park, Madison Lake, Des Calamus Reservoir State Recreation Area, Pawnee National Grassland and Ashfall Fossil Beds State Historical Park.
This is only a small selection of all the fantastic stops you could make on this epic road trip, following one of our recommended routes. So please keep reading until the end to discover all about these routes and what each of them offers.
How far is Denver from Minneapolis and how long will the road trip take?
Comparison of road trip route options between Minneapolis and Denver
Route
Distance
Driving Time
Direct Route


via Sioux City

840 miles
13 Hours 25 Minutes
South Dakota Route


via Sioux Falls

873 miles
13 Hours 25 Minutes
Nebraska Route


via Des Moines and Omaha

915 miles
13 Hours 20 Minutes
The most direct route between Minneapolis and Denver passes through Sioux City, taking you past crystal-clear lakes, majestic rivers and lush greenery. This 840-mile route will take around 13 hours and 25 minutes to drive.
If you love lakes this is a great route for you as you will pass by a number of beautiful waterways that will offer ample opportunity for enjoying the great outdoors. Don't forget to take your kayaks or canoes with you!
An alternative 873-mile route will take through South Dakota where you can also take a detour to take in Mount Rushmore and The Badlands, as well as the plains, sand dunes, and towering rock formations of the American Midwest.
This scenic route will take 13 hours and 25 minutes to drive without taking the detour, which will add about an extra hour to your trip.
A third 915-mile route will lead you on an idyllic scenic drive through the corn belt of Iowa and on towards Omaha in Nebraska and take 13 hours and 20 minutes of nonstop driving.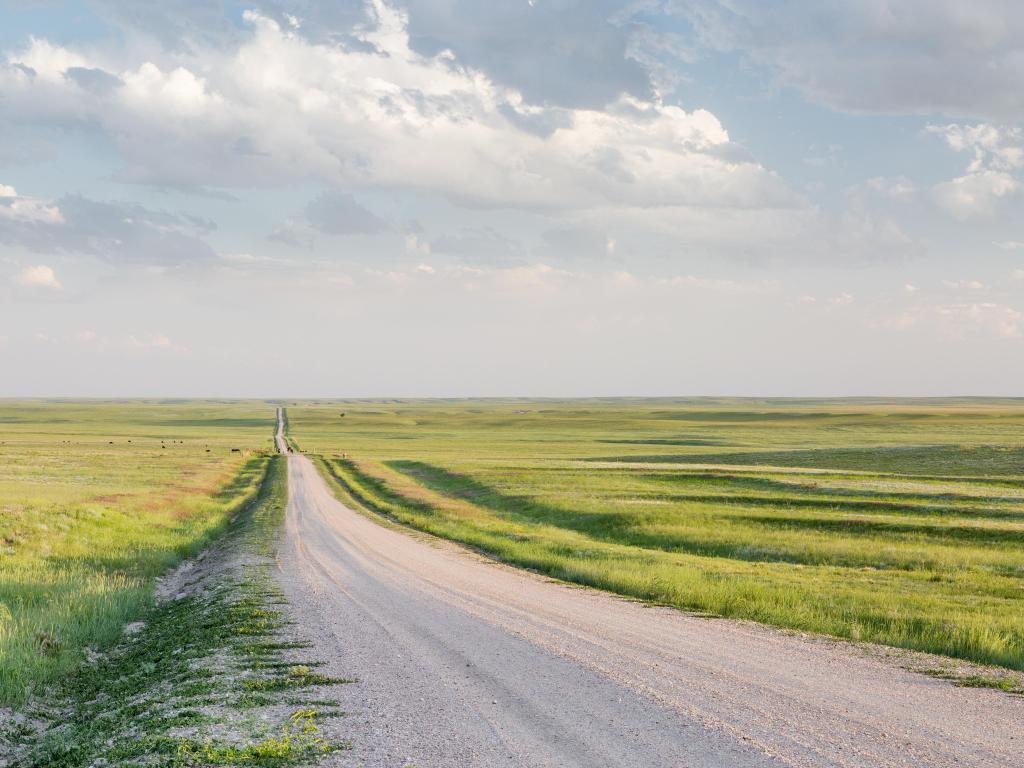 Best road trip route from Minneapolis to Denver
The best thing about a road trip is that you can really make it your own. This means that the route you take, and what you choose to stop off and see, is entirely up to you.
All of the outlined routes are fairly straightforward journeys to undertake with similar time requirements. If you wish to make the least mileage, the Direct Route is a good option, while each of these three routes offers beautiful scenery and different landmarks on the way.
How to drive from Minneapolis to Denver
The map above shows our suggestions for the best road trip routes between Minneapolis and Denver. Keep reading for detailed descriptions of both routes, where to stay on either, and the best things to do on the way.
Direct Route
From downtown Minneapolis, you will need to head towards Sioux City in South Dakota. Take Exit 5A out of the city and follow US-169 towards Mankato and drive onto MI-60 there. Here you can visit Minneopa State Park before continuing on your journey.
Along the way, you will be sure to stop off at some of the many breathtaking lakes that are dotted along the route. This includes Madison Lake, Mountain Lake, Middle Lake, and Heron Lake – all of which make for a pleasant diversion.
Continue following this route and drive past Heron Lake before reaching Worthington. Continue driving south and continue onto IA-60 at Le Mars and make your way to Sioux City, where you can visit the iconic Lewis and Clark Interpretive Center and the Sioux City Public Museum.
After your visit to this charming city, cross the Missouri River and continue onto US-75. Turn left onto NE-14 S past Brunswick. Turn right onto NE-70 W and merge onto NE-91 W towards Burwell. Drive past Calamus Reservoir State Recreation Area before turning left onto US-183 S.
Drive across Middle Loup River and turn left onto NE-92 W at Merna. Drive onto US-83 S, which will take you onto Interstate 80 (I-80) past North Platte.
Drive past Lake McConaughy State Recreation Area and take Exit 102 for Interstate 76 (I-76) to enter Colorado. You can make a detour at Pawnee National Grassland before following this interstate all the way to your destination in Mile High City.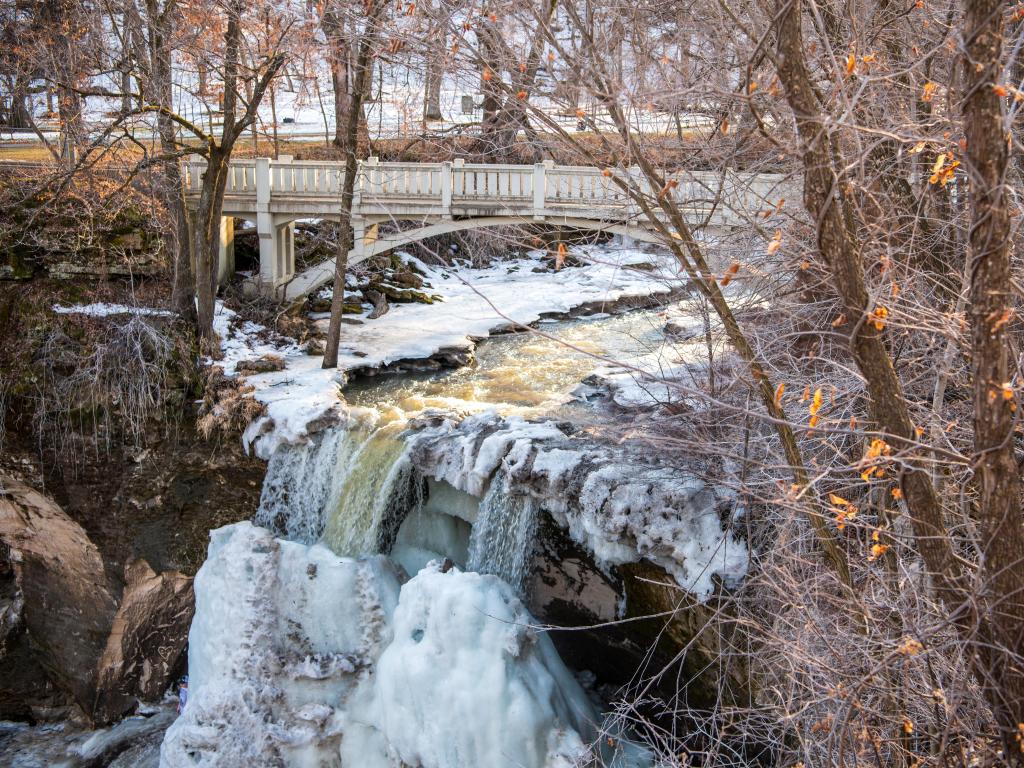 South Dakota Route
If you are into rock climbing and skiing this route gives you ample opportunity to do that. Follow the same directions until Worthington, where you can take a break at Okabena and Ocheda Lakes before joining Interstate 90 (I-90) and crossing into South Dakota.
The route will take you to Sioux Falls, in the middle of the Great Plains, where you will be able to go rock climbing on the 50-foot-high quartzite cliffs at the Palisades State Park, or skiing and snowboarding at the Great Bear Recreation Park.
Continue following I-90 past Mt. Vernon. Here you have the option of making a detour towards Mount Rushmore, in which case, keep following I-90 until Rapid City and take Exit 61 for SD-79 S which will take you to Mount Rushmore National Memorial.
If you choose not to make the detour, take Exit 310 after passing Mt. Vernon towards US-281 and take a break at the Yankton Reservation, which is the second-largest Indian reservation in America that is entirely situated within one county.
Continue onto US-18W and drive across the Missouri River. Turn left onto US-281 as you enter Nebraska. Following NE-12 W at Spencer and North State Highway 11 towards the south will take you to Burwell. From here you can use the same directions as the Direct Route to reach Denver.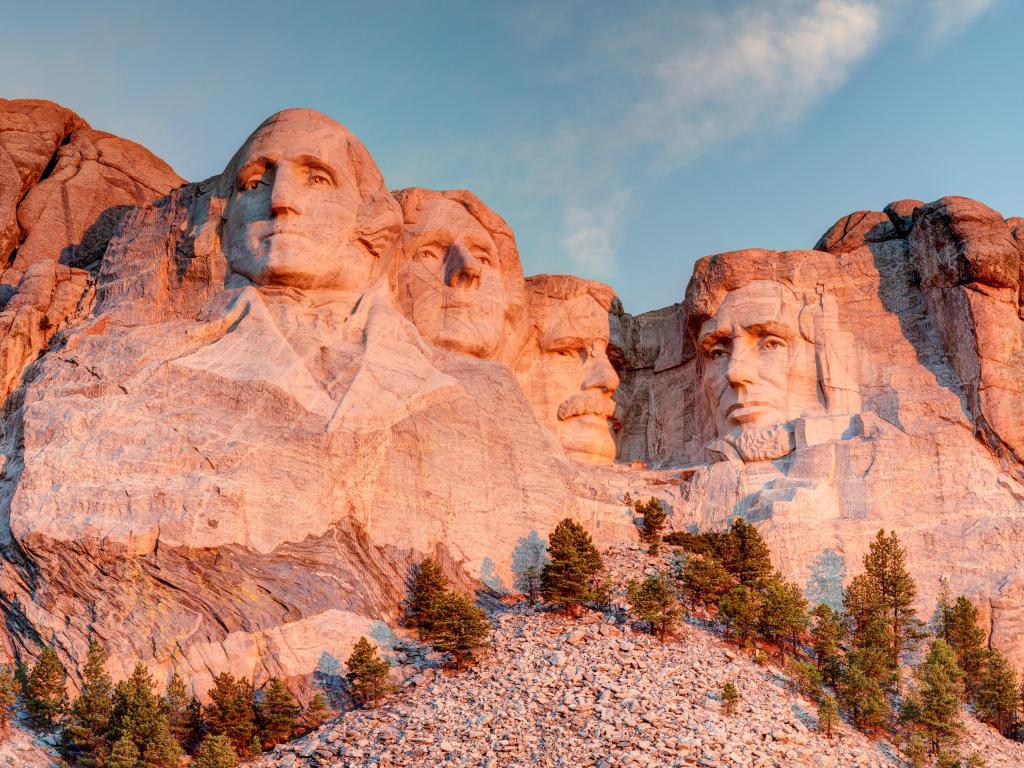 Nebraska Route
Leave Minneapolis by heading along Interstate 35 (I-35), where you will be able to enjoy the stunning scenic views of the endless cornfields that line the route to Des Moines in Iowa.
Once there you can also check out the wonderful sculpture parks, beautiful botanical gardens, as well as the vibrant shopping and dining scenes that define this up-and-coming city.
Leaving Des Moines, Interstate 80 (I-80) will take you across into Nebraska and to Omaha. Once here, you can check out the magnificent Henry Doorly Zoo & Aquarium.
Take Exit 401 to visit Lincoln, where the historic cars at the Museum of American Speed might rev up your enthusiasm. Continue following I-80 out of the city and cross Platte River towards North Platte. From then on, follow the directions of the Direct Route, which will take you to Denver.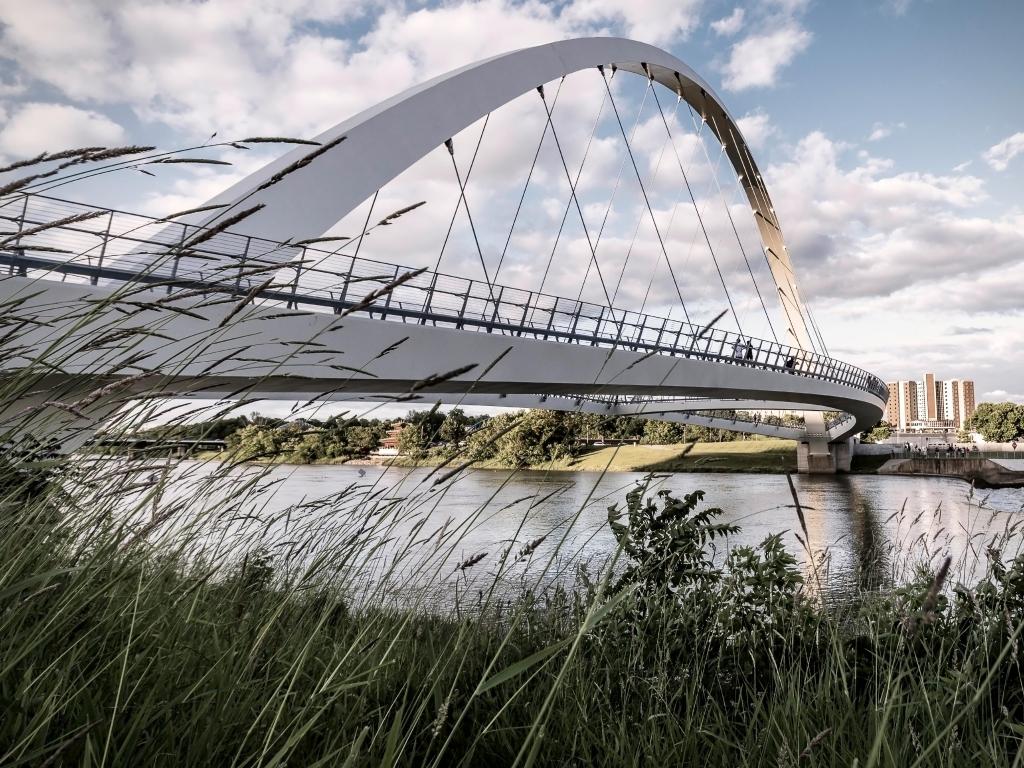 Best places to stop between Minneapolis to Denver
Regardless of which route you decide to take, you will need to make at least one, if not more likely two overnight stops. We suggest taking at least 3 days on each route to enjoy the journey fully without feeling low on energy.
There is a wide range of places you can choose to stay at, but a couple of excellent options we recommend are as follows:
Enjoy the relaxed vibe of Sioux City
Located about 4 hours and 30 minutes away from Minneapolis on our Direct Route, Sioux City in Iowa represents a great place to take a break. This charming city is known as a destination that is a must-visit for history and culture lovers.
There is no better place to stay than at the Warrior Hotel, Autograph Collection while visiting this historic city. Right in the heart of downtown, this hotel is adorned with chic rooms and features a fabulous upscale restaurant.
Being located downtown means you will find it very easy to navigate the city. The Sioux City Orpheum is located right across the hotel and is a must-visit for all lovers of music and culture. The architecture of this building alone warrants a visit.
Sioux City Public Museum and Sioux City Art Center are also nearby within walking distance, where you can choose to spend the rest of your day.
After immersing yourself in culture and history, you can take a stroll by the Missouri River and catch a stunning sunset before heading back to the hotel, where you can pamper yourself at the luxurious spa. The hotel also has a retro-chic bowling alley you can enjoy.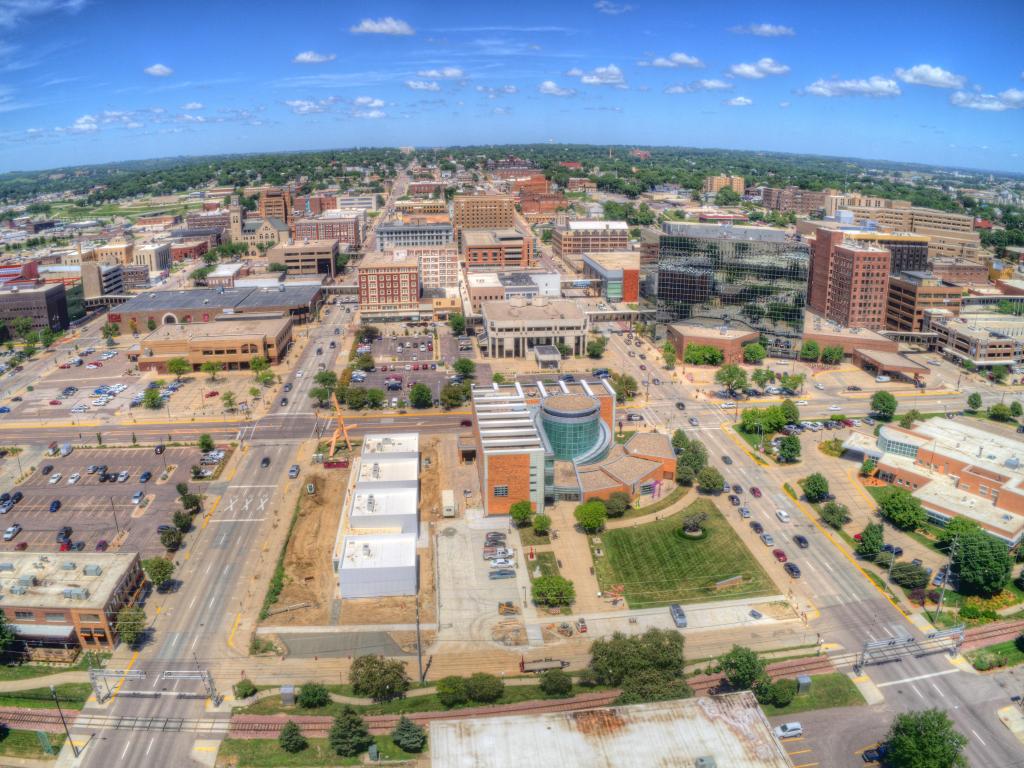 Discover the delights of Lincoln
After a long day of driving from Minneapolis (just over 6 hours on our Nebraska Route), the state capital of Nebraska offers a fantastic opportunity to rest, get a great meal and have some fun.
Annabell Gardens is a charming and comfortable choice of place to stay featuring a great outdoor pool, which always provides an excellent way to unwind after a long day of driving.
As it is located close to the city center, should you want to head for a night out, all the main restaurants and bars are accessible via the main road by car or public transport.
Lincoln Memorial Stadium is a short drive away and the Gateway Mall is located downtown within walking distance. Nebraska History Museum and Nebraska State Capitol are also nearby, if you'd like to learn more about the rich history of the area.
Don't forget to try the delicious breakfast on offer before you head off to your next adventure, though!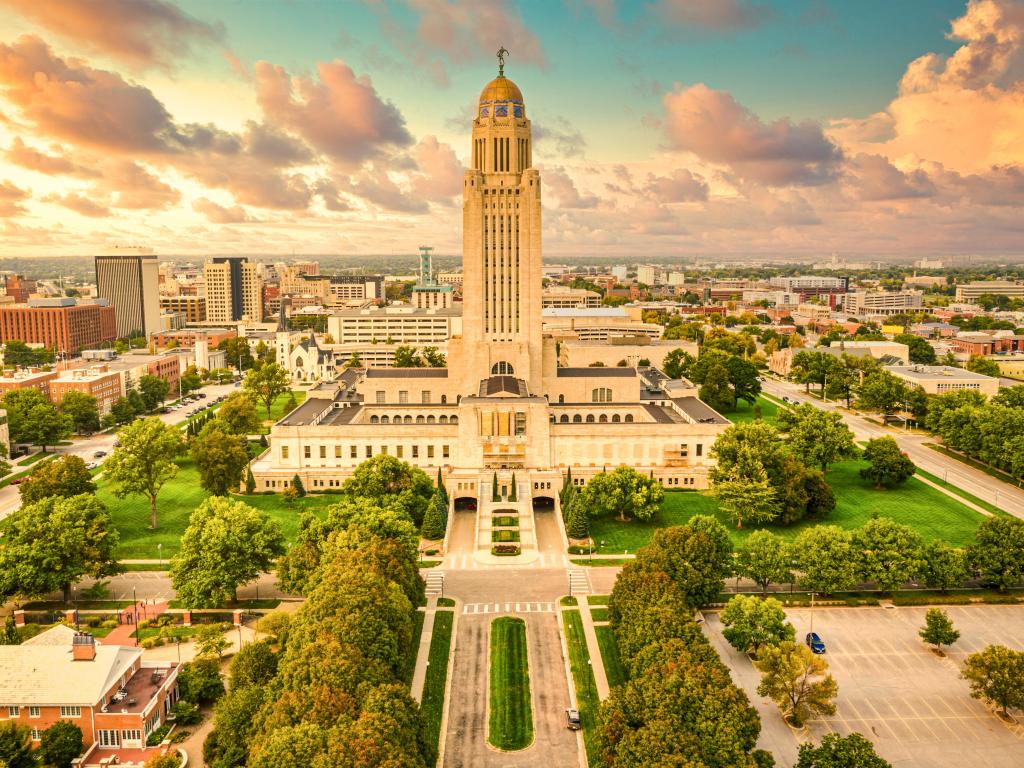 Recharge before hitting Denver in North Platte
All of these routes will take you to North Platte in Nebraska, which is about 4 hours away from your final destination. As it leads directly on to Denver, you might want to consider staying here a night to recharge batteries and top up your supplies.
If you do stay here the Hampton Inn is a very good option which will give you the feeling of home away from home. Located in the heart of the city center, this hotel has an indoor pool and hot tub which will feel heavenly after a long period of driving.
If you feel energetic and wish to explore the city, the Buffalo Bill State Historical Museum is located only a short distance away from the hotel. You can take a self tour and learn about this legendary figure of Wild West in his own home.
You can also head over to Cody Park and explore the Cody Park Railroad Museum to soak in some history. This park is situated on the banks of North Platte River, which makes it a scenic picnic spot.
There are plenty of eateries downtown, which you can stop for a meal before calling it a day and heading to the comfort of your hotel room.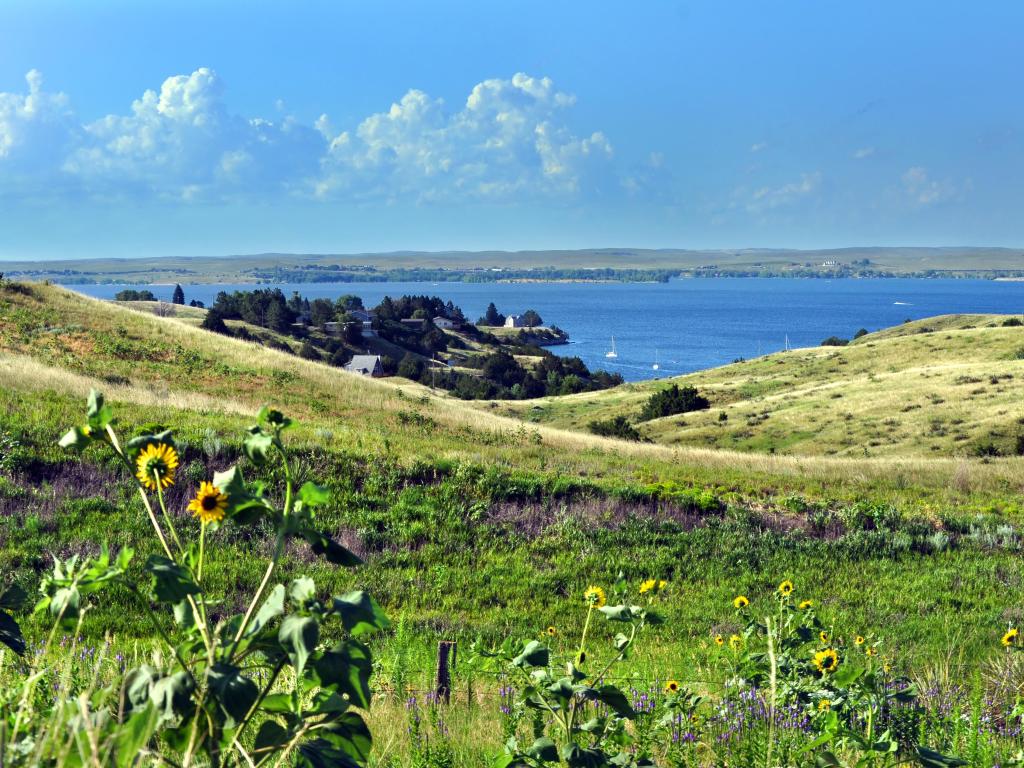 Things to see on a road trip from Minneapolis to Denver
When researching all the places to visit on a road trip from Minneapolis to Denver, you will soon realize the options are endless.
Whilst you might be able to check them all out, we do recommend you see as many of them as you can. Here are the destinations we most highly recommend.
Direct Route
Minneopa State Park, Mankato - Famous for its scenic waterfalls, this park has stunning hiking trails that will take you through oak savanna and native prairie grasslands overlooking the awe-inspiring Minnesota River Valley.
Madison Lake, Minnesota - This popular lake is perfect for kayaking, jet-skiing, fishing, and boating. You can also enjoy a romantic picnic on the waterfront. Try to catch the sunset if you are visiting this gorgeous lake.
The Sioux City Orpheum, Sioux City - This famous performance area once featured the likes of Fred Astaire and Katharine Hepburn. You can still enjoy performances by famous musicians, symphony orchestras, comedians, and many other stage artists.
Lewis and Clark Interpretive Center, Sioux City - Learn about the history of Sioux City in this impressive center whose mission is to commemorate a history of encounters before, during and after the expedition and explore how we live together as diverse people.
Sioux City Public Museum, Sioux City - Explore exhibitions and displays of videos, Native American and pioneer artifacts, historic transportation vehicles, agriculture, industry, geology and fossils in this free museum.
Sioux City Art Center, Sioux City - Located in a beautifully designed complex, this art center mainly displays artworks of artists from all over Iowa.
Ashfall Fossil Beds State Historical Park, Royal - You can view fossil skeletons of animals that died at a watering hole following a massive volcanic eruption in this unique park.
Calamus Reservoir State Recreation Area, Burwell - Located in the sandhills of Nebraska, this is a popular family-friendly spot for camping, fishing, picnics, and boating.
Pawnee National Grassland, Ault - This grassland is home to hundreds of birds and other wildlife. You will be amazed by the variety of flora and fauna during your visit.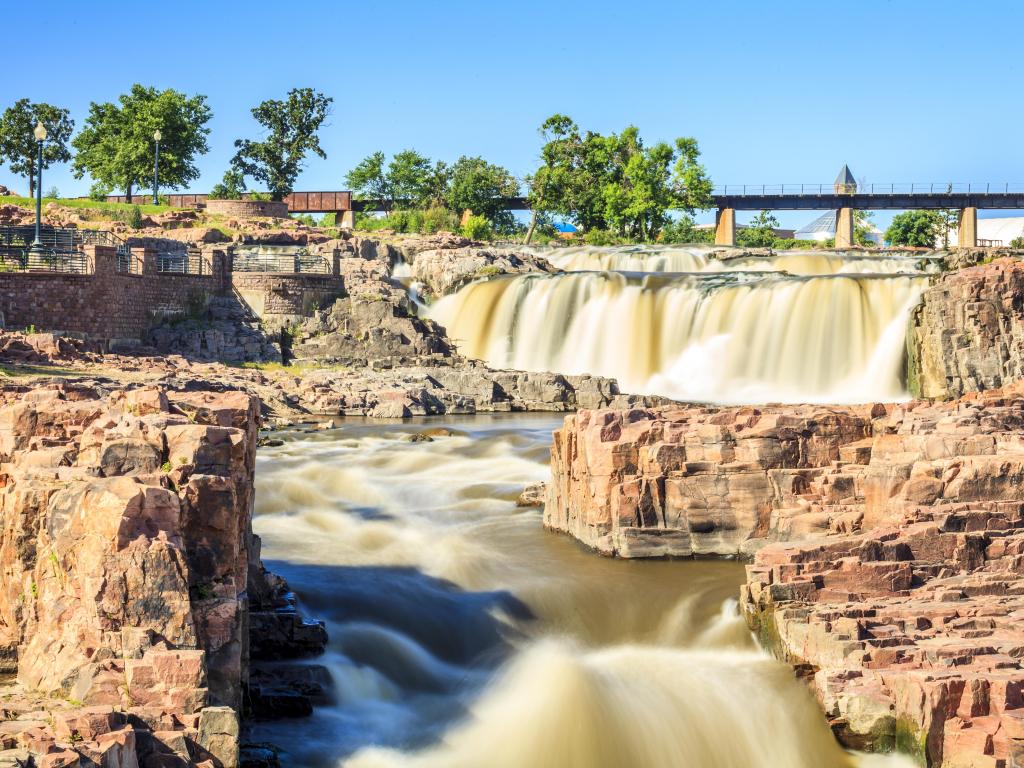 South Dakota Route
Ludlow Park, Worthington - The homesite of Worthington's first settler, this park will give you an opportunity to relax and enjoy a picnic before setting off on the interstate.
Falls Park, Sioux Falls - A beautiful park that features the waterfalls that are the town's namesake, you can enjoy the Falls from the many different viewing platforms, including the five-story observation tower.
Pettigrew Home & Museum, Sioux Falls - Pettigrew was a seasoned traveler who collected artifacts from all over the world. You can tour his restored home and marvel at his collection.
Butterfly House & Aquarium, Sioux Falls - You will be dazzled by the magical scene created by more than 800 free-flying butterflies from all over the world in this tropical conservatory that is adjacent to an equally fascinating aquarium.
Porter Sculpture Park, Montrose - This imaginative and nationally acclaimed park features unusual and whimsical sculptures. There are more than 50 sculptures by the same artist here and the tallest sculpture is 60 feet tall.
Devil's Gulch Park, Garretson - Generally considered an easy route this trail is great for fishing, hiking, and walking. It features stunning scenery, so be ready to run into crowds.
Mitchell Prehistoric Indian Village, Mitchell - This is a 1,000 year-old village located on the shores of beautiful Lake Mitchell that is open to the public. If you are lucky, you can even watch an archaeologist uncover an artifact.
Dakota Discovery Museum, Mitchell - This charming museum is a place of imagination that features historic artifacts from a time when the way of life came from the land itself.
Yankton Reservation, South Dakota - Visit the USA's second-largest Indian reservation that is fully contained within one county.
Nebraska Route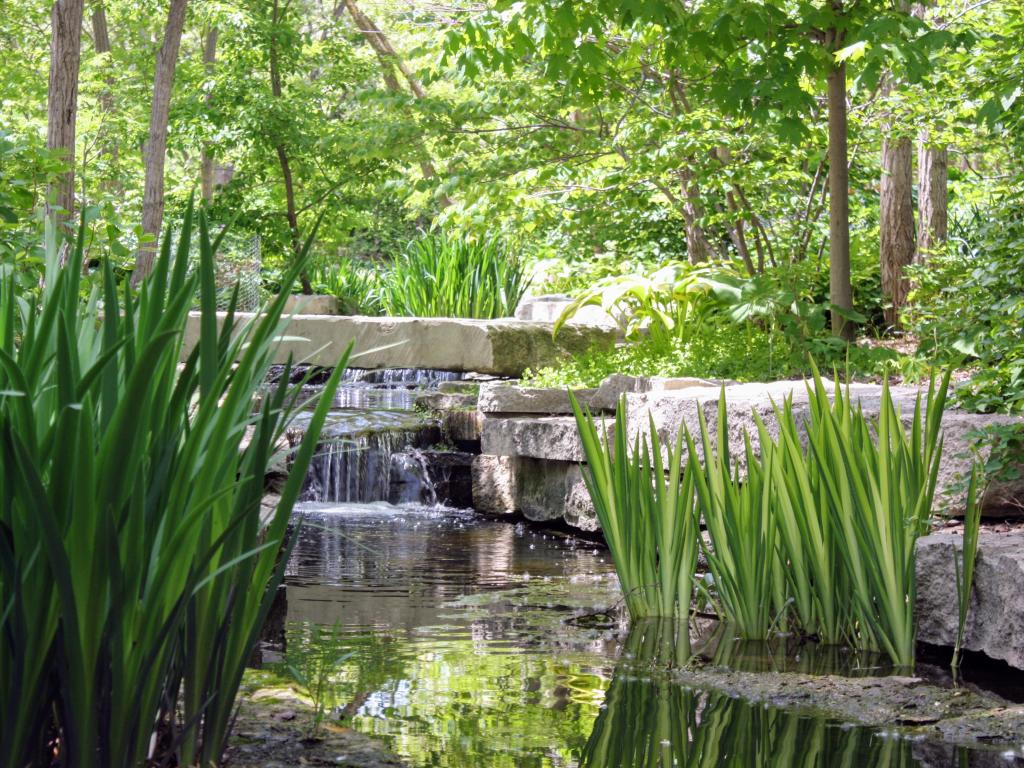 Capitol Building, Des Moines - Commonly called the Iowa Statehouse, this building is a favorite of sightseers and history buffs thanks to its grand exterior and ornate interior.
Blank Park Zoo, Des Moines - This zoo offers opportunities of fun and education to all guests who would like to meet its home to more than 800 furry, finned feathered exotic animals.
The Durham Museum, Omaha - This museum boasts unique art-deco architecture and features broad range of traveling exhibits covering subjects of history, culture, science, and industry.
Lauritzen Gardens Omaha's Botanical Center, Omaha - These beautiful gardens feature walkways that will allow you to take tranquil strolls and admire the plants on display.
Great Plains Art Museum, Lincoln - This museum brings the creative spirit of the Great Plains of North America through exhibitions that interpret history, culture and environment.
Nebraska History Museum, Lincoln - This local gem covers 12,000 years of history and features fascinating artifacts, where you can see, read and hear about the rich history of the area.
Pioneer Village, Minden - This village covers the period from 1830 to the present and is home to more than 50,000 objects in 26 buildings.
Buffalo Bill Ranch State Historical Park Museum, North Platte - See where this legendary figure of the Wild West called his homeland and take a self-guided tour of his ranch.
Cody Park Railroad Museum, North Platte - If you are a lover of trains and the railroad, this museum will be the highlight of your trip. You can climb up and get the engineer's view as you explore the legendary Challenger 3900 series steam locomotive in person here.
Best time to go on a road trip from Minneapolis to Denver
A road trip from Minneapolis to Denver can easily be done all year round. However, keep in mind that temperatures drop to around 15 degrees Fahrenheit in places and make sure to pack warm if you are traveling during the color months.
During these months some of the roads you encounter, especially around the areas of the lakes and certain state or national parks, can be affected by snow. It would be a good idea to bring your tire chains and check road warnings.
In summer, when the temperatures are pleasant, around 85 degrees Fahrenheit, and during holiday periods and weekends traffic congestion is more likely to occur.
You will also find hotel prices tend to be more expensive and queues at certain tourist attractions will be longer too.
If you can tolerate chilly weather and temperatures around 55-60 degrees Fahrenheit, spring and fall are great options to make this road trip as well. If you are visiting in September, make sure to check out Denver Food and Wine Festival.