Road Trip from Minneapolis to Wisconsin Dells
For those who want to get out into the great outdoors, this road trip from Minneapolis to Wisconsin Dells offers travelers the chance to explore Wisconsin's beautiful lakes and colorful forests whilst immersing themselves in the wilderness and charming cities on the way.
The 270-mile road trip from Minneapolis to Wisconsin Dells will take you 4 hours and 39 minutes. Key stops include Rochester, La Crosse, Lake City, Rushford, Eau Claire, Lake Pepin, Turtle Lake, Chippewa Falls, Witches Gulch and Wisconsin Rapids.
There is a ton of great places to see on this epic road trip. Keep reading to find out the best route to take, the places to stop and the things to do along the way.
How far is Wisconsin Dells from Minneapolis, and how long will the road trip take?
Comparison of road trip routes between Minneapolis and Wisconsin Dells

| Route | Distance | Driving Time |
| --- | --- | --- |
| The Direct Route | 270 miles | 4 hours 40 minutes |
| The Scenic Route | 320 miles | 6 hours 20 minutes |
The Direct Route is for those that want to mix hiking through stunning natural parks, with visits to intriguing museums and top art galleries. This journey is 266 miles long and will take 4 hours and 39 minutes meaning it can be done as part of a single day trip.
Alternatively, the Scenic Route takes you on a beautiful journey past Wisconsin's many lakes and along its famous river. This route is perfect for the active road tripper and spans 320 miles with a non-stop drive time of 6 hours and 20 minutes.
Whichever route you choose to take, we recommend doing this road trip across two days, making the most of the travel by staying the night.
Best road trip route from Minneapolis to Wisconsin Dells
While both of our recommended routes provide adequate access to Wisconsin's beautiful lakes and colorful forests, we have two route options for you to choose from.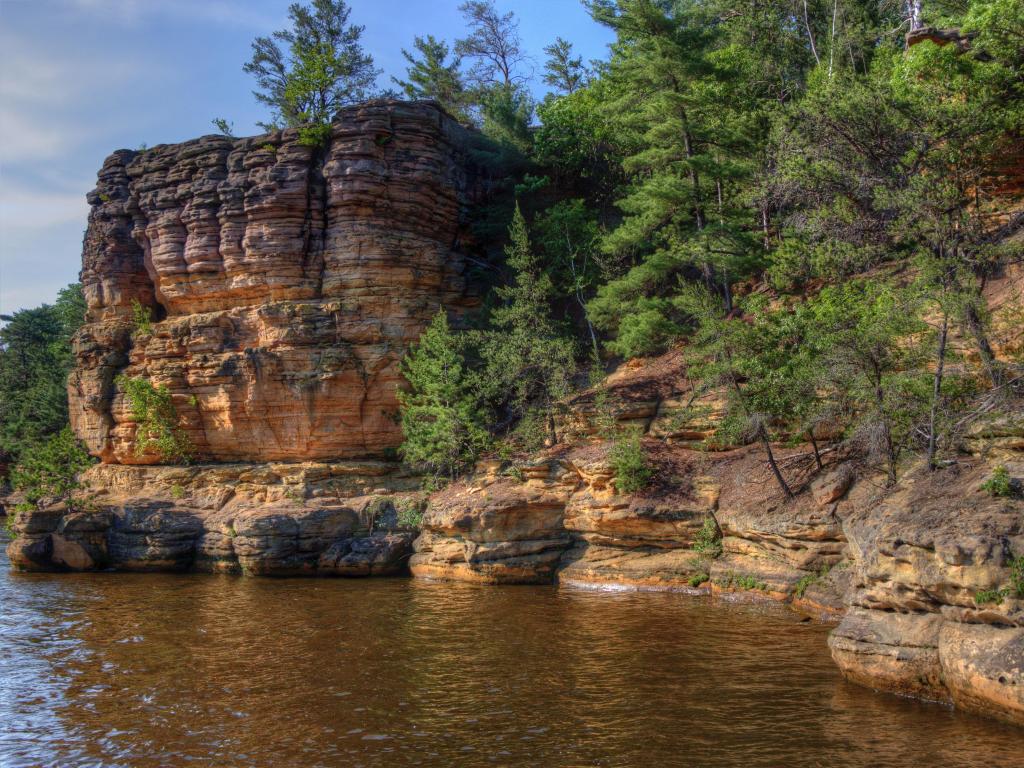 The Direct Route
Take Interstate 94 (I-94) out of Minneapolis and join the US-52 E highway until you reach the vibrant city of Rochester, which is a great place to stop on your road trip.
You can make a detour here to explore the stunning Lake Pepin, which will add about 1 hour and 20 minutes to your driving time. This is a large natural lake that is known for its working lighthouse, abundant fish population and the birth of water skiing.
From Rushford, take the Historic Bluff Country Scenic Byway until you reach the riverside city of La Crosse. Here, you can take a river cruise or explore Grandad Bluff Park.
After La Crosse, get on I-90 E and head towards Fort McCoy. From here, continue on WI-21 until you can merge onto I-94. Once you reach the roundabout continue straight until you join the I-90 which will take you to the stunning Wisconsin Dells.
The Scenic Route
For a more scenic version of the journey, take I-35W N out of Minneapolis and head towards Saint Croix Falls, a historic riverside town that is known for its many scenic hiking trails. From here, you will follow the US-53 past Turtle Lake all the way down to Chippewa Falls.
From Chippewa Falls, you will stay on the highway until you reach the town of Eau Claire. This is a riverside city which is predominantly known for its arts and music scenes.
After Eau Claire, you will drive through Neillsville and reach Wisconsin Rapids, home to some of the largest cranberry marshes in the country.
From the beautiful city of Wisconsin Rapids, head south to Necedah. A quaint village near Castle Rock Lake, this is the perfect spot to take a quick break from the road to stretch your legs.
Finally, you will drive from Necedah on the WI-80 to Country Road. From Country Road, you will take State Highway 12 to the stunning Wisconsin Dells.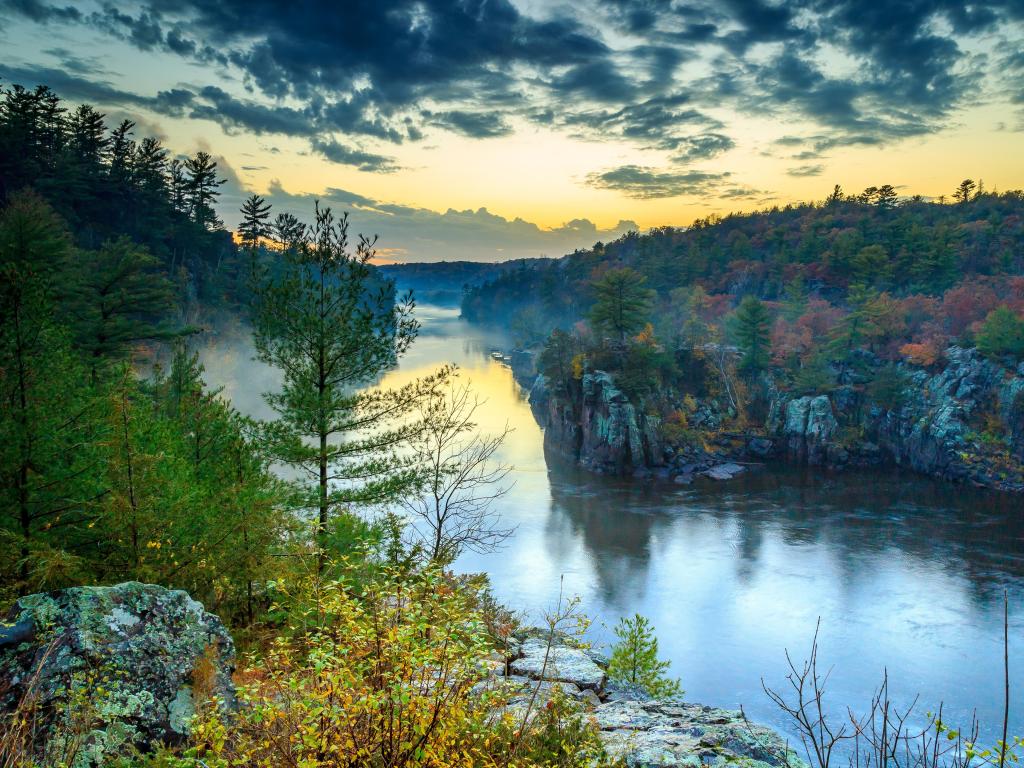 Best places to stop between Minneapolis and Wisconsin Dells
On your road trip from Minneapolis to Wisconsin Dells, there is an array of cities and towns that you can choose to stop in for a night. Not only will this spread out your journey, but it will also give you the opportunity to experience a new city.
Take a look at our recommendations below.
A charming stop in Rochester
If you are taking the shorter Direct Route, we recommend taking the time to stop at Rochester 1 hour and 30 minutes into the journey to Wisconsin Dells. Rochester offers a busy city experience as well as respites in nature.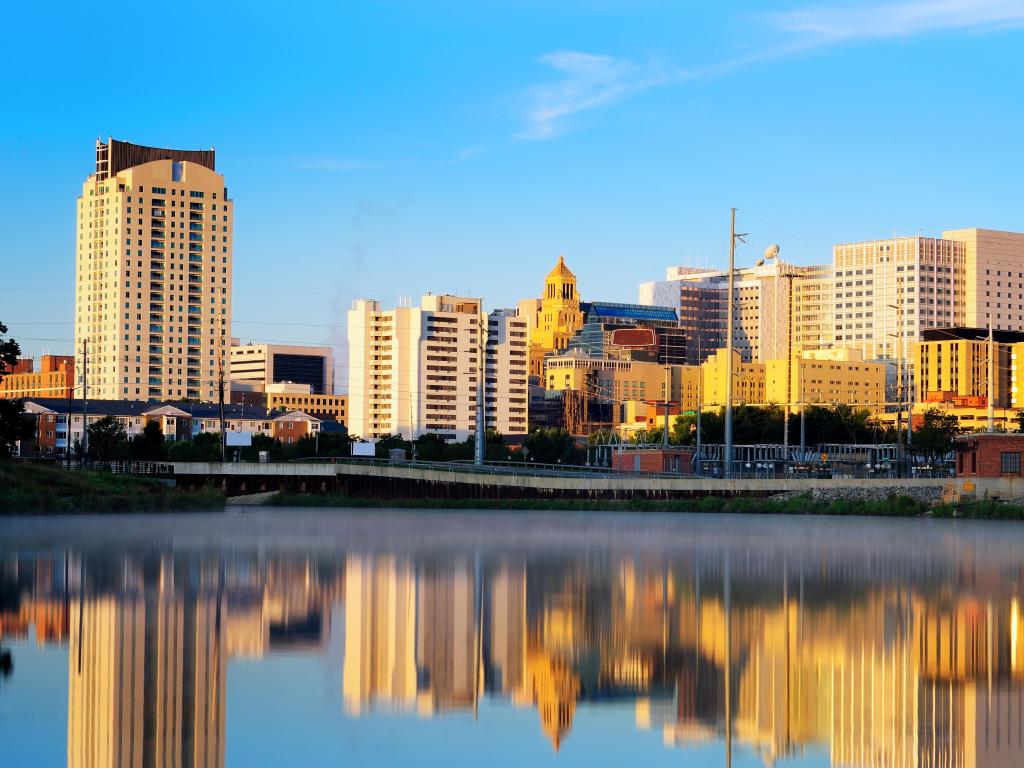 You can also explore the beautiful Quarry Hill Nature Center, which features over 8 miles of paved and wild hiking trails, making it ideal for stretching your legs after a long road trip. You can discover a historical sandstone cave carved in the 1800s and see beautiful nature flock to the pond.
While visiting Rochester, we recommend staying in the Hilton Rochester Mayo Clinic Area. At this wonderful hotel, you can refresh in the swimming pool, relax in the spa and health suite, and enjoy a cocktail in the stylish hotel bar.
Soak up some rays on the sun terrace before heading to either of the on-site restaurants for a delicious meal. Alternatively, you can head out to a restaurant nearby since the property is situated in the heart of Rochester. You will find Peace Plaza a short walk away.
While you are here, you must visit Rochester Art Center. Sitting on the banks of the Zumbro River, this gallery houses world-class art and boasts beautiful river views. Perfect for when the weather keeps you inside, you wander through world-class exhibitions to discover diverse art.
Immerse yourself in the beautiful city of Eau Claire
If you choose to take the longer Scenic Route, you will travel north before heading to Wisconsin Dells. On this route, we recommend that you make an overnight stop in Eau Claire, situated almost halfway, 2 hours and 53 mins into the route.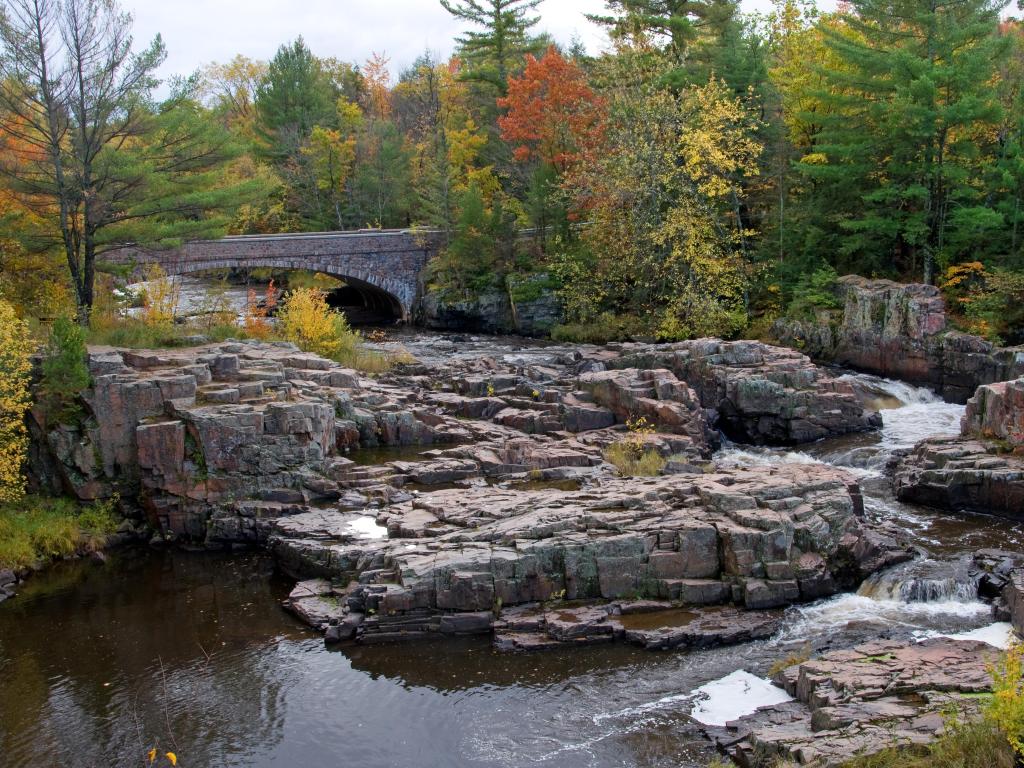 While in this scenic city, check out Beaver Creek Reserve. Here, you can explore 400 rolling acres of protected wilderness and hike through forests, wetlands, and grasslands while looking out for regional flora and fauna.
In the center of the city, you will find Eau Claire Downtown Farmers Market where you can see the best independent businesses that the city has to offer. This market comes to life with freshly baked goods, colorful locally grown produce, and other artisan food stalls.
When staying in Eau Claire, we recommend staying at The Lismore Hotel Eau Claire. Stretch your car legs in the fitness center or grab a drink in the hotel bar. Located right in the heart of the city, you will find yourself around the corner from Phoenix Park where the farmers market is also located.
Beaver Creek Reserve is only a short 20-minute drive away from the hotel, making it ideal for road trippers who prefer getting outdoors or those who prefer staying in the city. Make sure to check out the breakfast options that are on offer before hopping back in the car!
Where to stay when you reach Wisconsin Dells
Once you reach the stunning city of Wisconsin Dells, you cannot beat a relaxing stay in White Rose Inns & Motel. This is a stylish inn that reflects the atmosphere of the area with direct access to the Dells River.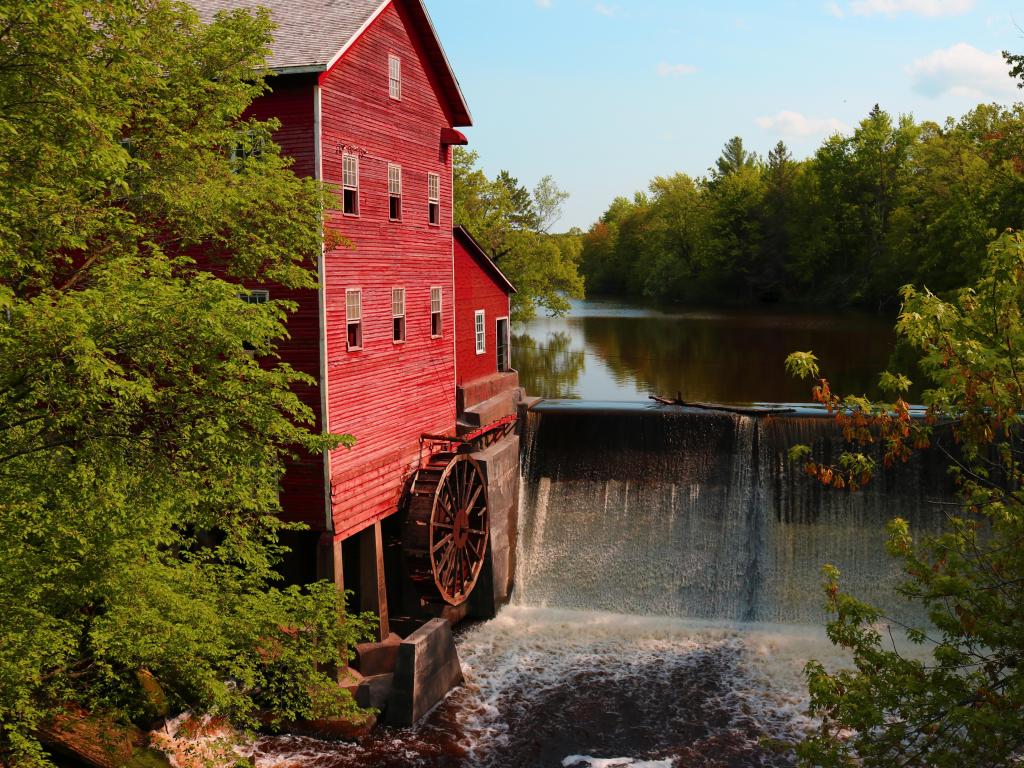 This hotel is made up of an impressive variety of accommodation options and there are 6 separate houses on the property. Some of the rooms in the hotel offer spa baths and guests will have access to a shared kitchen and lounge.
There is also a fabulous outdoor pool to relax in and scenic gardens to take a leisurely stroll in. The property is also centrally located, only a short drive away from Central Wisconsin Dells. Wisconsin River is a short walk away and if you are feeling energetic, you can drive to Rocky Arbor State Park nearby.
Things to see on a road trip from Minneapolis to Wisconsin Dells
There's plenty to see on the drive through Minnesota and Wisconsin. Whether you are a nature lover or a city dweller, there is a great array of places to visit on this wonderful road trip.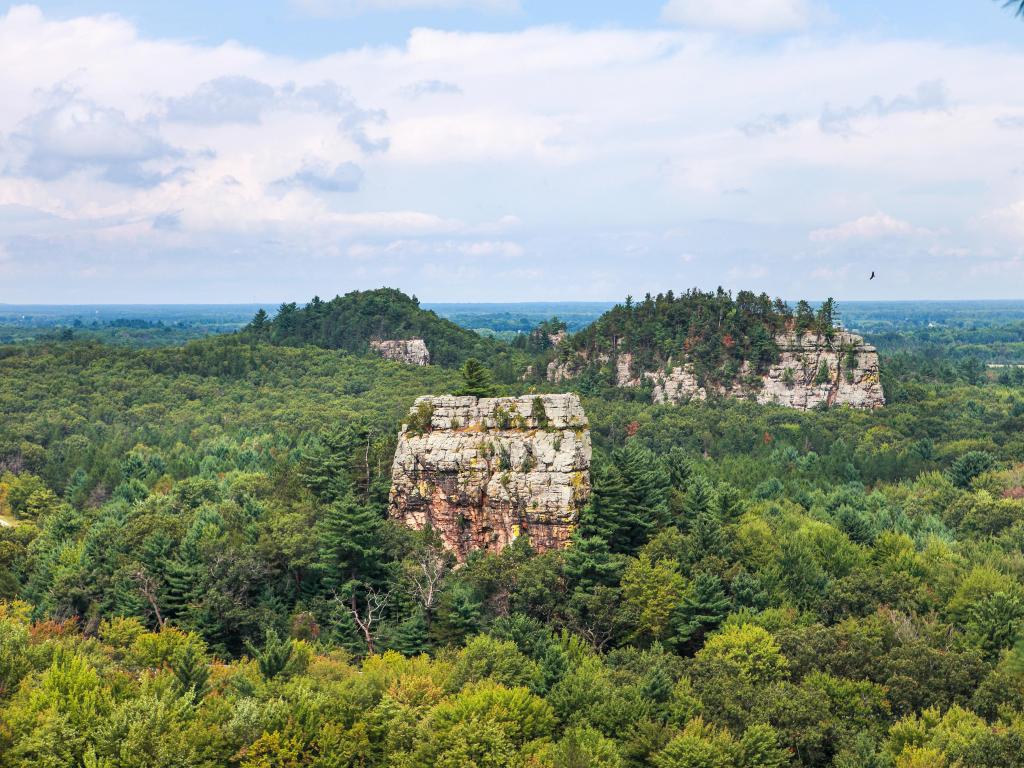 The Direct Route
Cannon Falls - Named after the waterfall on Little Cannon River which can be found downtown, Cannon Falls is a wonderful place to stretch your legs with a riverside walk. Cannon Falls is also where Nirvana recorded their 1993 album 'In Utero'.
Lake City - Taking a detour down to the banks of Lake Pepin will be well worth your time once you arrive at the birthplace of water skiing. Lake City has a stunning shoreline with world-class fishing and boating making it the perfect stop for adventure lovers.
Rochester - The birthplace of the renowned healthcare organization the Mayo Clinic, Rochester has plenty to discover including fantastic boutique shopping, world-class art, and the chance to get lost in nature.
Rushford - Get the best view of Rushford by climbing to the top of Magelssen Bluff which looms over the town. Covered in lush greenery in the summer, this is a town to stop and stretch your legs mid-road trip.
La Crosse - Sitting on the banks of the Mississippi River, the wonderful city of La Cross has lots to explore including the International Friendship Gardens with landscapes from around the world, a museum of restored classic cars, and riverboat cruises.
La Crosse River State Trail - Perfect for explorers, this 22-mile trail has been developed from the abandoned Chicago and Northwestern Railroad. This trail takes you through forests and farmlands, offering beautiful natural views and a chance to get out into nature.
Fort McCoy - On this road trip, you directly drive by the active army base of Fort McCoy. Visitors can enter after 4 pm to see this amazing army base which houses servicemen from all branches of the armed forces.
Mill Bluff State Park - Located near Camp Douglas, explore the natural wilderness and seek out incredible rock formations in Mill Bluff State Park. You can see incredible rock pinnacles rise above the tops of lush green trees creating an otherworldly landscape.
Witches Gulch - Take a boat ride out from Wisconsin Dells to see the breathtaking scenery of the river landscape bordered by steep shadowy rock and fern glens.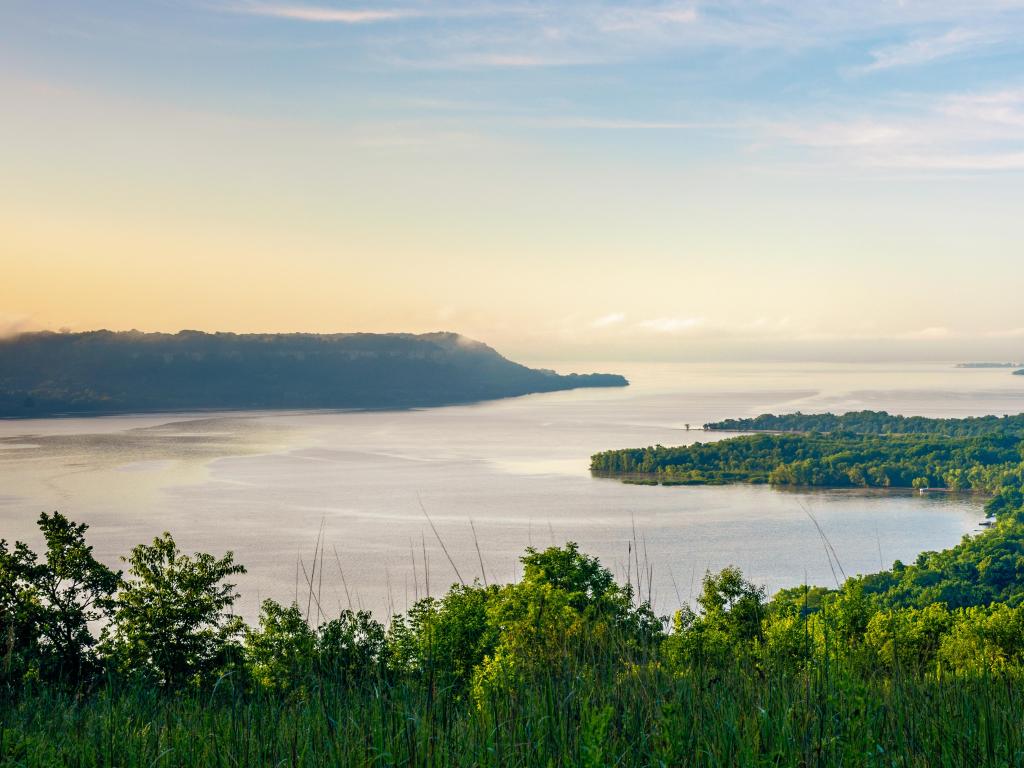 The Scenic Route
St. Croix Falls - This historic riverside town is known for its many hiking trails that take you through bluffs, dales, and along scenic walkways along the St. Croix River.
Copper Mine Trail - Situated outside of St. Croix Falls, this beautifully scenic hiking trail takes you through beautiful forests to see a hidden waterfall, making it perfect for those who love the outdoors.
Turtle Lake - Enjoy swimming and prime fishing in this beautiful tree-lined lake. Both lower and upper Turtle Lakes must be explored when you visit to ensure you experience the most of Turtle Lake.
Pioneer Village Museum - Located outside of Cameron, this fantastic museum is Nestled amongst the Pine Groves. You will find 37 buildings and log cabins which are filled with thousands of artefacts from the 1800s including antique guns and clothing.
Chippewa Falls - Whilst visiting Chippewa Falls, spend time in Irvine Park. Include a visit to the beautiful zoo and get to see some beautiful cougars, tigers and bears. Live music performances also take place in the park, making it a perfect picnic spot.
Lake Wissota State Park - Open all year round, this huge lake offers lots of recreational activities including fishing, swimming, canoeing, and kayaking. There's even ice skating in the winter! This is the perfect stop for adventurous road trippers.
Eau Claire - While you're here, head to Phoenix Park for a fantastic farmers market, incredible live music in the summer, and beautiful river views. Check out the Eau Claire breweries and hike in Beavers Creek to fully immerse yourself in the beauty of Eau Claire.
Wildcat Ridge State Natural Area - Explorers will love Wildcat ridge - a natural sandstone ridge that rises 300 feet above its forested surroundings. Hike through hardwoods, barrens, forests, meadows, and swamps in this vast park.
Wisconsin Rapids - Named for its treacherous waters prior to the dam being built, the Wisconsin Rapids area is home to some of the largest cranberry marshes in the country. See miles of red cranberry beds stretch as far as the eye can see and grab a tour.
Necedah National Wildlife Refuge - Once part of glacial Lake Wisconsin, this wildlife refuge is now made up of an exposed lakebed, historic oak savannas, and sand prairies. This wildlife refuge is significant for its support of migratory birds.
Point Bluff Tubing Resort - Experience a different side to the lakes of Wisconsin and go tubing on the Wisconsin River. This resort will provide you with hours of fun and laughter.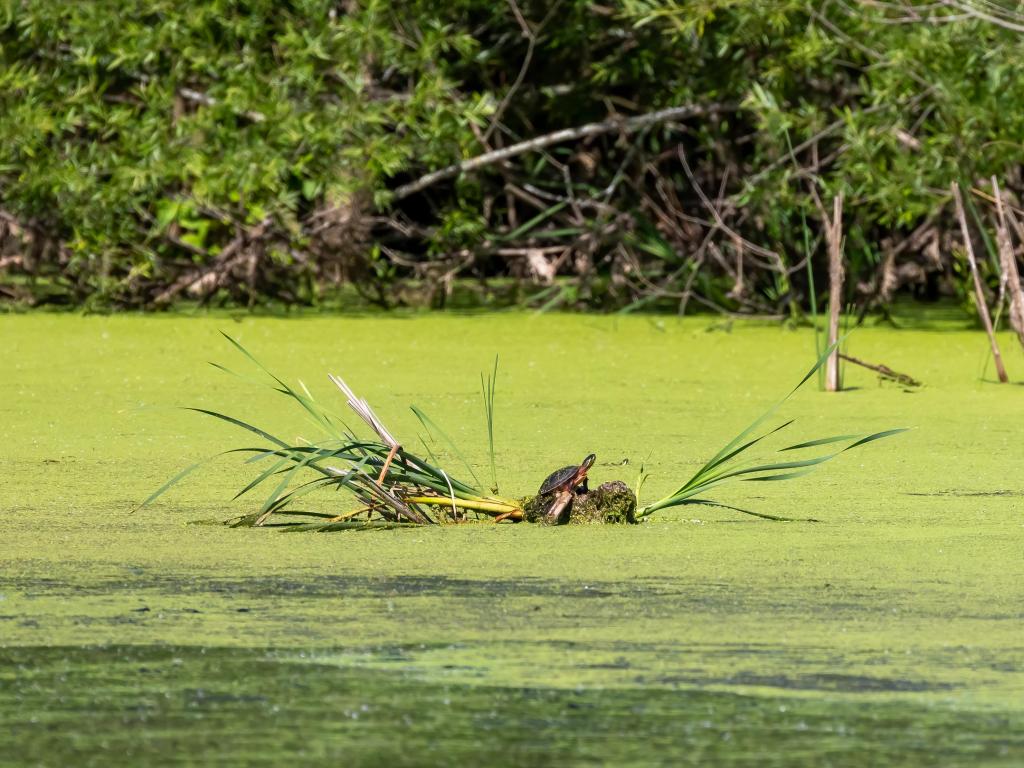 Best time to go on a road trip from Minneapolis to Wisconsin Dells
You can visit Wisconsin Dells all year round! The area offers fun activities to suit all weather. While some attractions and popular water parks may be closed in the winter, the area offers lots of winter-specific activities such as snowboarding, snow tubing and skiing.
Wisconsin Dells is a popular summer destination, and attractions are likely to be very crowded, particularly on holidays such as the 4th of July and Father's Day week. Summers are warm and wet with average daily temperatures of 82 degrees Fahrenheit.
In winter, Wisconsin Dells is transformed into a winter sports resort, enjoying freezing, snowy and windy winters. The average temperatures can fall below –2 degrees Fahrenheit in January. While this weather is ideal for winter sports, it is something to be aware of when planning.
The ideal time to visit Wisconsin Dells is in spring or fall. In spring, the temperature is an average of around 70 degrees Fahrenheit and in the fall the temperature is often around 52 degrees Fahrenheit.
These seasons are perfect for hiking and biking in the beautiful wilderness of the many state parks. If possible, avoid undertaking this road trip in May as it is the wettest month of the year.
Wisconsin Dells is particularly known for hosting an annual Automotion Classic Car Show. When visiting this show, motor enthusiasts can endeavor to get to see over 1000 classic cars making it the perfect reason to take a road trip to Wisconsin Dells.