Road Trip from Minneapolis to Nashville
If you're looking for a culture rich adventure through some of the most iconic cities in the US, as well as beautiful parks, then the road trip from Minneapolis to Nashville is perfect. Discover great museums, stunning lakes and quaint towns before arriving at the famous Music City!
The 910-mile road trip from Minneapolis to Nashville takes over 14 hours to drive. Key stops include Milwaukee, Kansas City, Chicago, Indianapolis and St. Louis, plus Lake Michigan, Louisville, Forest Park, Des Moines, Columbia, Missouri and Madison.
There's so much to see on this great American road trip, including a huge number of iconic and history-rich cities. Keep reading to find out the best routes and places to stop, as well as our favorite places to visit and the best time to drive between Minneapolis to Nashville.
How far is Nashville from Minneapolis, and how long will the road trip take?
Comparison of road trip routes between Minneapolis and Nashville

| Route | Distance | Driving Time |
| --- | --- | --- |
| The Chicago Route | 910 miles | 14 hours 30 minutes |
| The Kansas City Route | 1,000 miles | 15 hours |
There are a few different options to drive between Minneapolis and Nashville. While there are quicker routes, we're going to suggest two scenic and interesting routes that give the best experience driving in this part of the US.
The quickest of the two options takes you to Chicago and the picturesque Lake Michigan. Spanning a distance of 910 miles, this route will take at least 14 hours and 30 minutes.
An alternative option takes you via Kansas City and covers 1,000 miles. Taking you 15 hours to drive without stopping, this is the longer of the two routes, though admittedly not by much.
Given the distance and number of great places you can visit along the way, we'd recommend spending between two and four days on the trip, allowing for a couple of fantastic overnight stops. Though if you have longer, we promise you won't run out of things to do!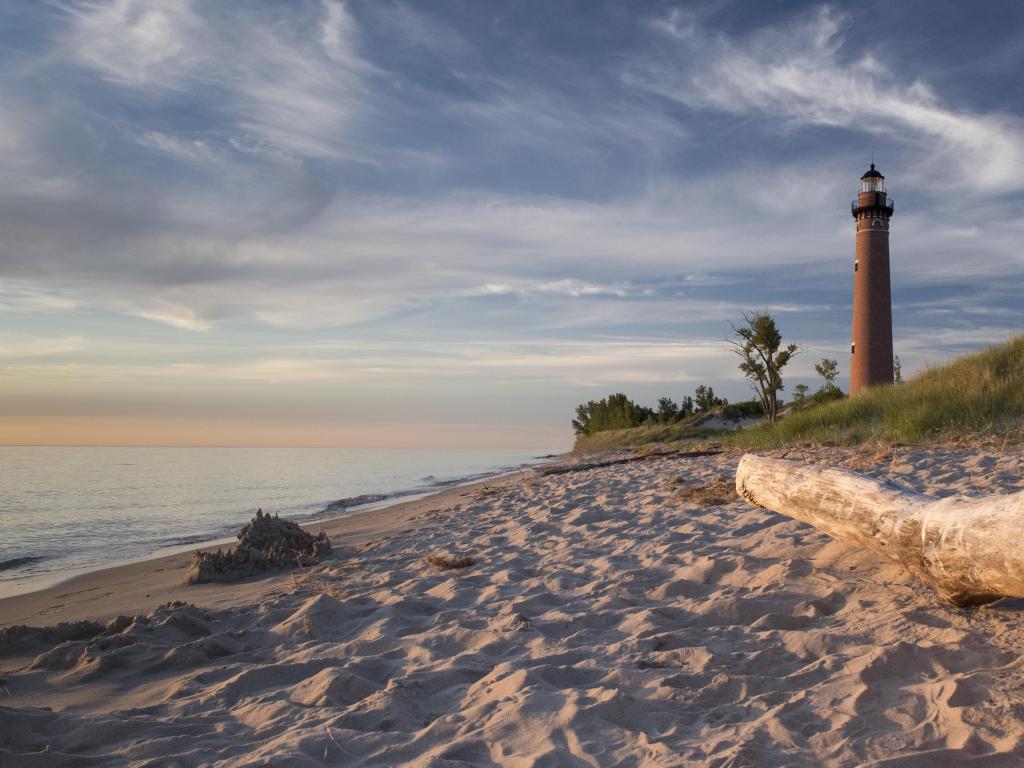 Best road trip route from Minneapolis to Nashville
Both route options offer a good mix of attractions, including culture-rich cities, historic towns and nature oasis to escape to. Given that they're a similar distance, the 'best' option will most likely come down to the cities you'd like to visit along the way to Nashville.
Our Chicago Route will be ideal if you've yet to visit The Windy City or see Lake Michigan. As well as visiting Chicago, this route takes you via Milwaukee where you can enjoy a beer or catch a baseball game or immerse yourself in history at Indianapolis's Speedway Museum.
There are a great number of museums for history enthusiasts, as well as plenty of nature to explore, including Chicago's Botanical Gardens. This is also the slightly quicker route of the two, so if you are looking to fit a trip into a long weekend, this could be ideal for you.
Alternatively, you can swap the breweries of Milwaukee for sports stadiums on our Kansas Route. Taking you south from Minneapolis, you won't get to visit Chicago but instead, you'll get to explore Des Moines and Columbia, plus the stadiums in St Louis and Kansas City.
You don't have to be a sports fan to enjoy this route. Our longer of the two trips also takes you through several parks where you can enjoy wildlife or discover a hiking trail, including Forest Park in St. Louis.
The Chicago Route
Leave Minneapolis on Interstate 94 (I-94) and head towards Eau Claire, where you can make a detour to visit Lake Wissota. Keep following the interstate to Black River Falls and past Black River Forest and Washburn Marsh State Natural Area.
You will get the opportunity to make a detour to Woods and Meadow Hunting Preserve and Starlight Wetlands. Afterwards, follow I-90 to Tomah and New Lisbon, where you can visit Buckhorn State Park and Castle Rock Lake.
Follow the interstate to Madison and then head east towards the shores of Lake Michigan in Milwaukee. Follow the shores south to Chicago and keep heading south to reach Lafayette and Indianapolis.
Keep on the interstate to drive through Louisville and past Mammoth Cave to reach your destination in Nashville.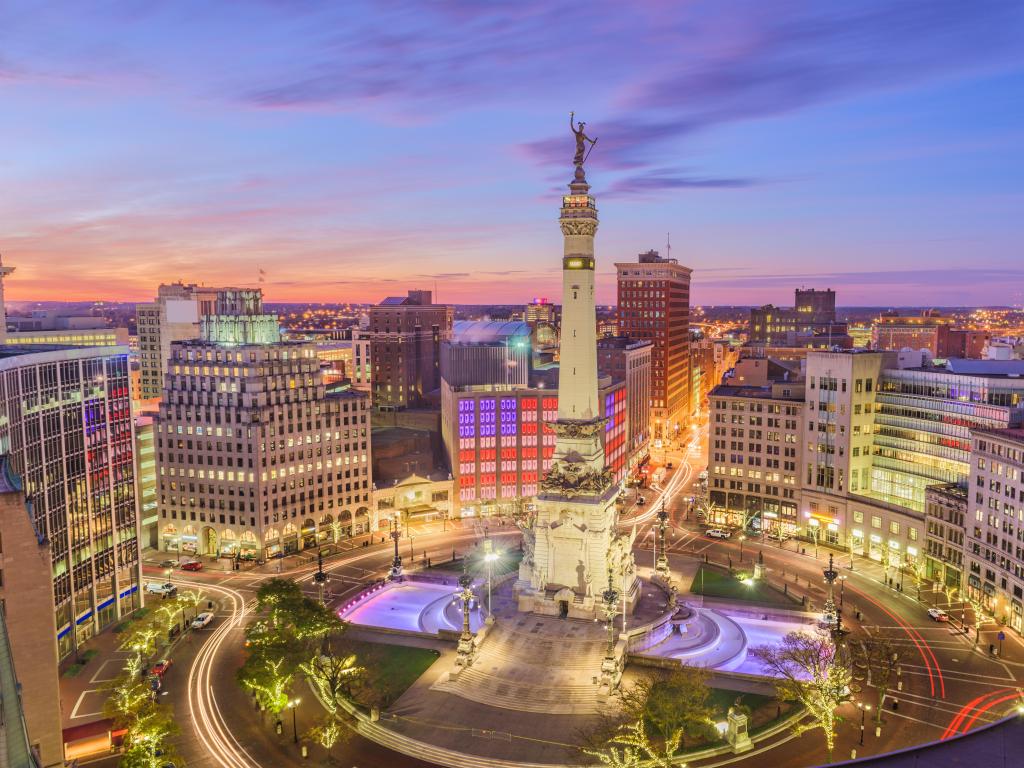 The Kansas City Route
Head south as you leave Minneapolis on I-35 past Clear Lake. When you arrive at Williams, you will have the chance to visit Waterloo by making a short detour.
Follow the interstate through Des Moines and to Kansas City. You can make a short detour to Topeka here.
Head east out of the city through Columbia towards St. Louis. Cross the Mississippi River into Illinois and head to Mt. Vernon. Here, you will start heading south past Rend Lake.
Drive past Crab Orchard Lake and Shawnee National Forest. Crossing the Ohio River will take you to Kentucky Lake and Lake Barkley before you reach Nashville where your road trip reaches its final destination.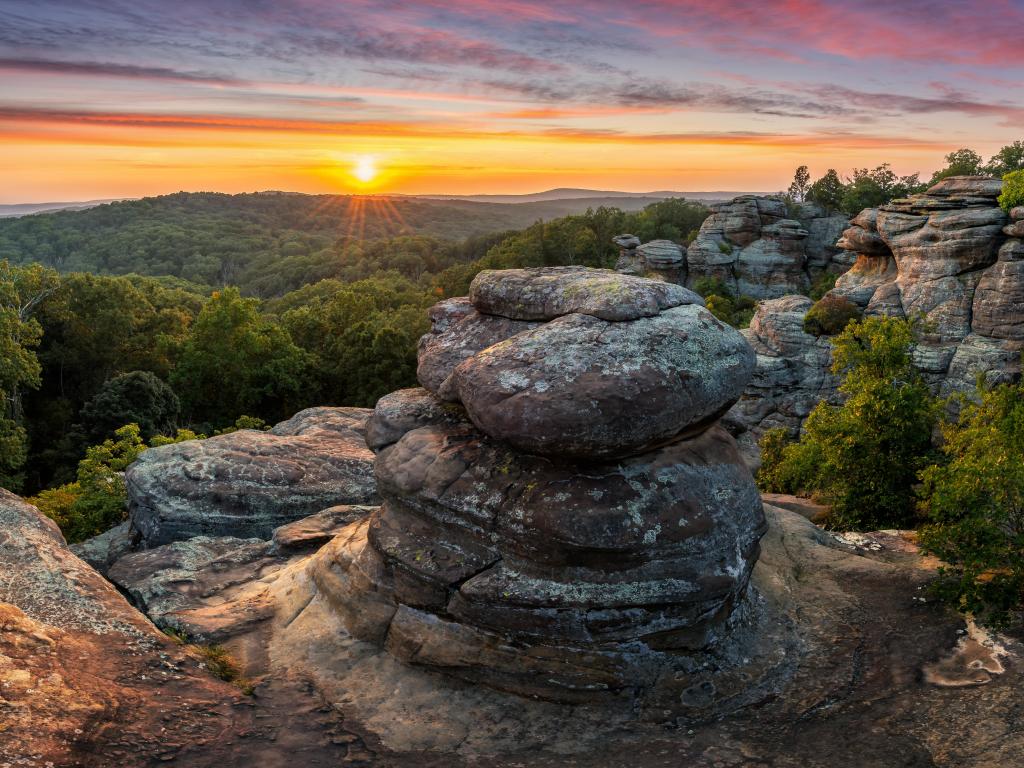 Best places to stop between Minneapolis and Nashville
There are lots of beautiful spots to rest between Minneapolis and Nashville, and given the distance, you'll need at least one overnight stop to make the most of the great attractions along the way. Options are plentiful, but here are some of our favorites:
A lake stop in Milwaukee
Positioned just five hours from Minneapolis, making it a great first overnight stop on the Chicago Route, Milwaukee is a popular city and for good reasons. With beautiful scenery, views of Lake Michigan, iconic breweries and plenty of culture, it's a lively and affordable city.
Just some of the highlights include the Harley Davidson Museum, ideal for motor enthusiasts, or the Milwaukee Art Museum where you'll discover Georgia O'Keeffe's work, amongst others.
If you'd prefer to swap indoor with outdoor activities, Milwaukee has a County Zoo where you can see over 2,000 species of animals, plus a stunning Riverwalk which takes you around the river and into the heart of the city where you can enjoy its many shops, restaurants and popular nightlife.
Make the most of your stay in the city with a stop at Kinn Guesthouse Downtown. This luxurious 5-star hotel has stylish and modern rooms, as well as an onsite restaurant and bar. You can also enjoy stunning city views from many of its rooms and there's parking available.
Located right in the heart of downtown, the hotel is also within easy access to Pabst Theater, Milwaukee Symphony Orchestra and Riverside Theater. It's only a few blocks away from the river, so you're never far from a scenic walk too!
City views in Kansas City
If you've decided to follow our alternative route, then halfway between Minneapolis and Nashville is the jazzy city of Kansas City. Conveniently located in the middle of the trip, and famed for its history and art scene, there's something for everyone in this Missouri city.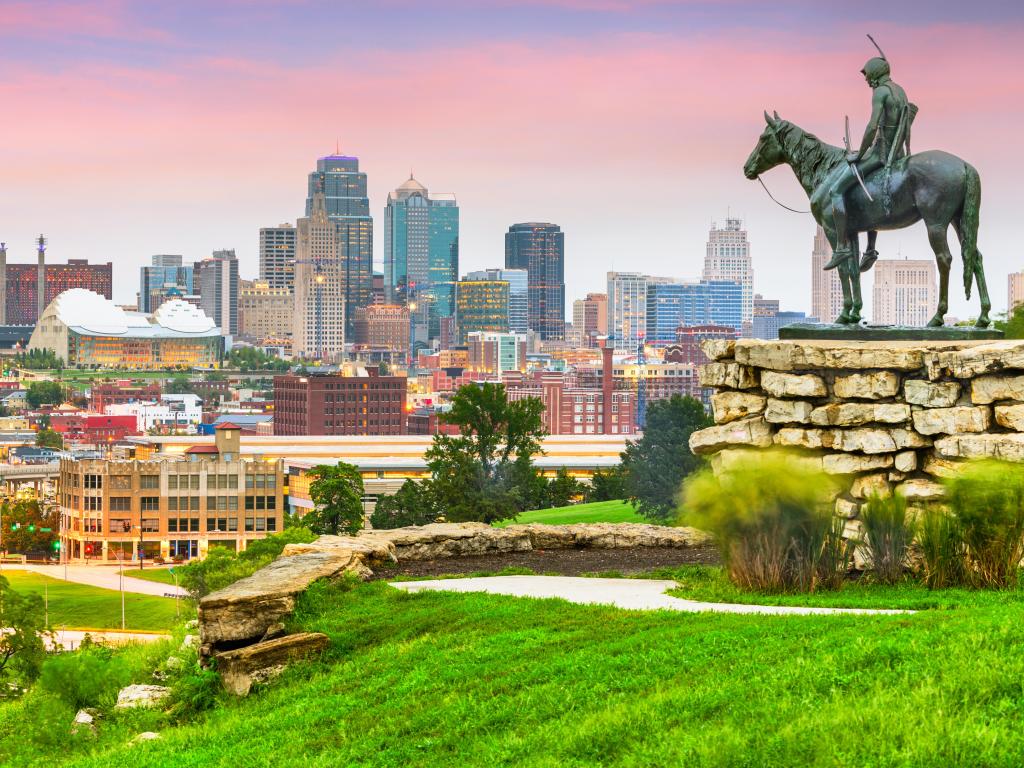 Straddling the border with Kansas, Kansas City is best known for its art galleries, stadiums, jazz music and great food. While here, you must check out the Nelson-Atkins Museum of Art or Kemper Museum of Contemporary Art and the National World War I Museum and Memorial.
Afterwards, you could take a walk along the Ewing & Muriel Kauffman Memorial Garden, an amazing spot for some tranquil time. It's full of exquisite botanical exhibits, fountains, cascading flowers, gardens and walkways.
Top off your stay at The Fontaine. This luxurious and sophisticated hotel is located in the heart of the shopping district, making it conveniently located if you're looking to explore the city by foot.
Relax in the modern and stylish rooms or take a dip in the rooftop bar, which offers amazing views of the city. In the evening you can enjoy a meal at the onsite Mediterranean restaurant situated on the top floor of the hotel, offering more incredible views of the city.
Stop in an iconic Printer's Alley in Nashville
Nashville is not only the capital of Tennessee but it's also the capital of music! Famous for its music venues, including the iconic Grand Ole Opry and plenty of museums including The Country Music Hall of Fame, this city is a mecca for anyone who loves their music and history.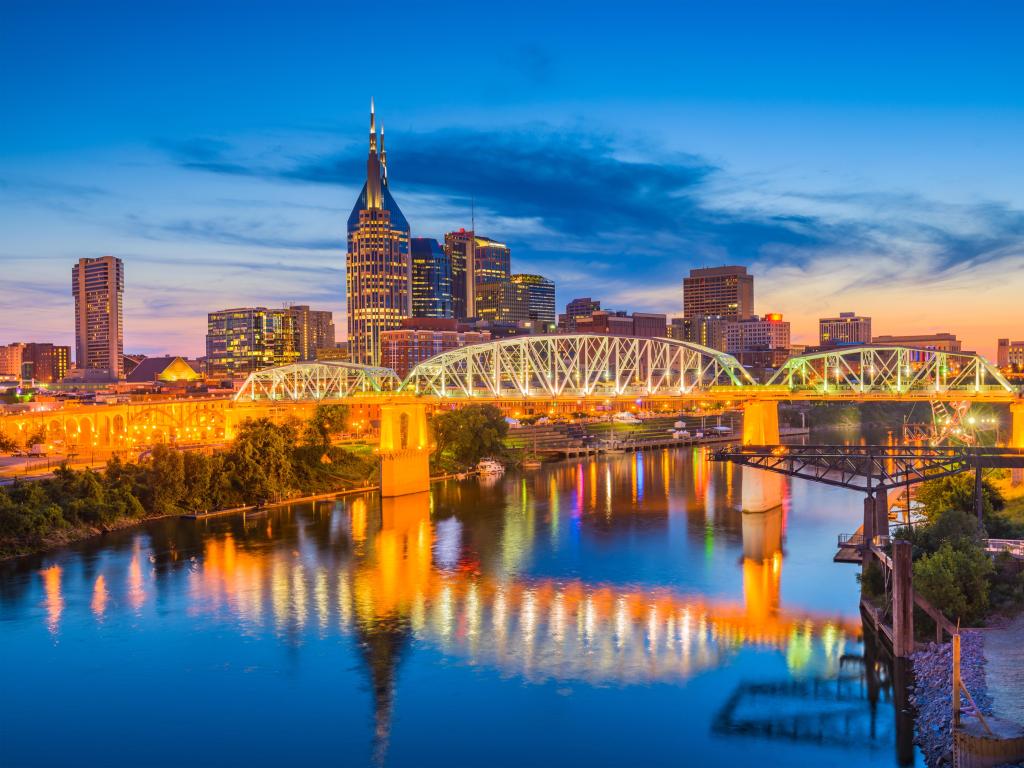 The Music City is home to many celebrities, drawn here not only by its history but its vibrant culture, incredible cuisine, interesting shops and great nightlife. There are plenty of great bars to watch live music, fascinating museums and great walks around its famous streets.
For a historic city, why not stop in a historic hotel? Dream Nashville is a landmark building located in the center of downtown Nashville, ensuring you'll always be in the heart of the action.
The super stylish 4-star hotel is just as impressive inside as it is outside. Expect modern and trendy rooms, a choice of six dining options and plenty of nightlife options too.
Located on Printer's Alley, the art-deco themed hotel is within walking distance of The Country Music Hall of Fame and Museum, Ryman Auditorium and the Frist Art Museum. An added bonus in this city is that it also comes with private parking!
Things to see on a road trip from Minneapolis to Nashville
This iconic city road trip, taking you from Minneapolis to Nashville, is packed full of fun things to see and do. If you're limited on time, we've compiled a list of some of the best places to visit along the way to help you plan your trip: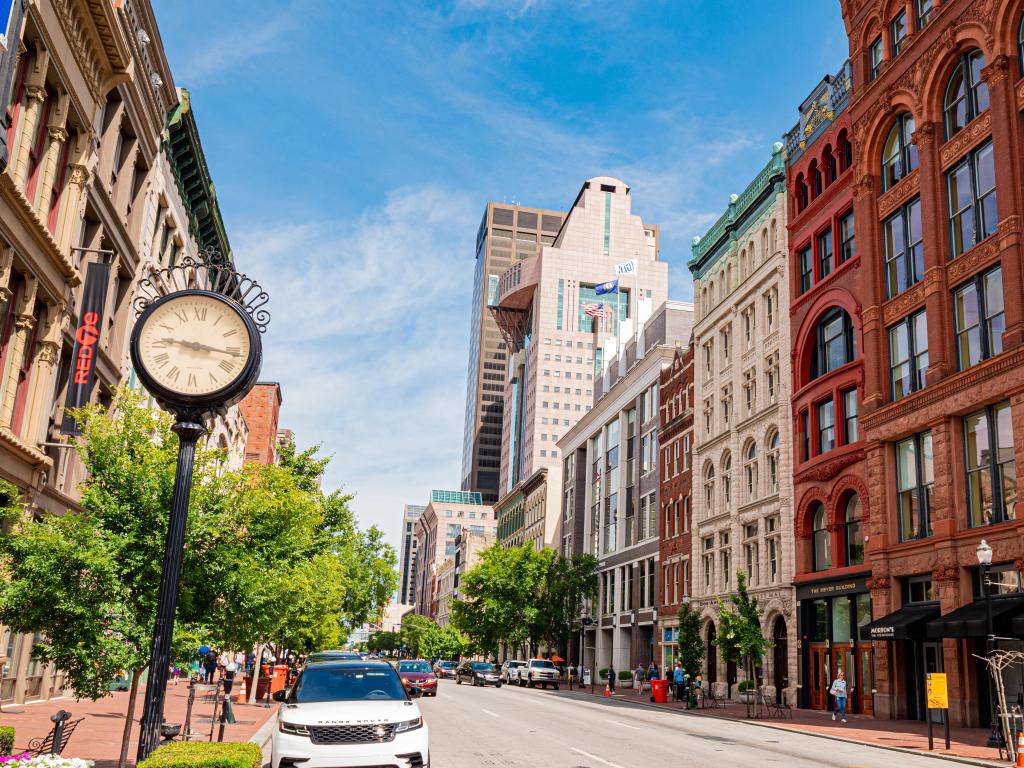 The Chicago Route
Madison, Wisconsin - The capital city of Wisconsin will offer a warm welcome. Discover great farmer's markets or take a stroll around its many lakes where you can enjoy fishing, amongst other activities. There are also several parks if you'd like a quiet walk away from the bustling city.
Milwaukee, Wisconsin - This charming city is best known for its iconic breweries, but beer aside, Milwaukee is a great city full of culture, history and art. Discover great museums, galleries and fabulous nightlife. You can also enjoy views of Lake Michigan or take a river walk.
Lake Michigan - One of the five Great Lakes of North America, Lake Michigan offers plenty of activities including sailing, fishing and boating. Head to West Beach if you're looking for a spot to go swimming.
Chicago, Illinois - This incredible city mixes incredible architecture in its downtown, alongside beautiful beaches and parks. Visit one of its many great museums, listen to some live jazz or immerse yourself in 1920s history.
Sears Tower (Willis Tower) - The 108-story, 1,451-foot skyscraper is the third tallest building in the US. An incredibly popular tourist destination, you can enjoy incredible views from its observation deck.
Chicago Botanical Gardens - Escape the busy streets of Chicago and take a walk around the city's botanical garden. There's 385 acres to explore and 26 gardens to discover.
Indianapolis, Indiana - This beautiful capital city of Indiana is full of green spaces and remarkable memorials. Explore the Indianapolis Motor Speedway Museum or take a walk on its Culture Trail. There's also Monument Circle and Central Canal to visit.
Louisville, Kentucky - Known as being the home of boxer Muhammad Ali, Louisville is a large city located on the Ohio River. Enjoy incredible food, and explore its rich history and architecture. There's also Louisville Zoo and Falls of the Ohio State Park to visit.
Thomas Edison House - Located in Louisville, the Thomas Edison House is a museum celebrating his life. Discover more about Edison, who lived in the city from 1866 to 1867 at this historic house.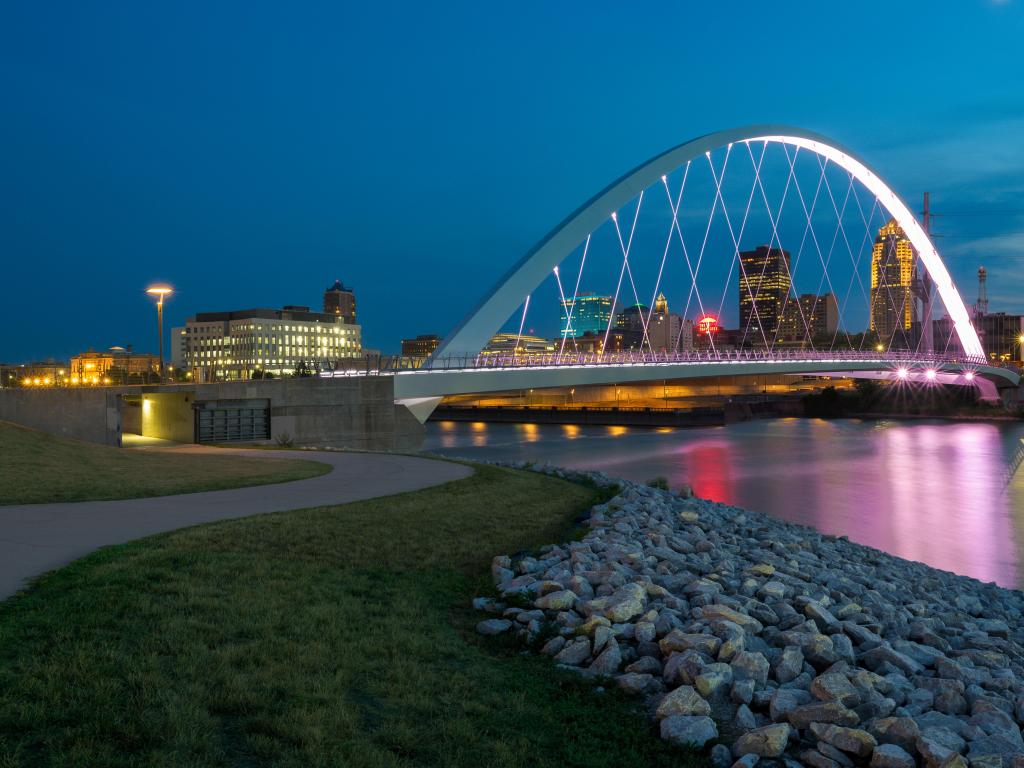 The Kansas City Route
Des Moines, Iowa - The capital city of Iowa, Des Moines is a vibrant place to visit with lots of iconic buildings to visit, including the Iowa State Capital buildings and the Des Moines Art Center. There's also a popular live music scene and lots of pretty parks to explore.
Kansas City, Kansas - This city has it all, history-rich museums, great jazz music, art galleries and historic buildings. Known as the City of Fountains and located on the shores of Lake Michigan, Kansas City is a great place to explore.
Kauffman Stadium - While stopping in Kansas City, why not catch a game at its famous baseball stadium, which is home to the Kansas City Royals of Major League Baseball?
Ewing & Muriel Kauffman Memorial Garden - This magnificent 2-acre botanic garden is a great place to escape the city and stretch your legs. Despite it being privately owned, it is free and open to the public.
Columbia, Missouri - The fastest growing city in Missouri, Columbia is a college town offering a great range of interesting cultural activities, including great theaters, art exhibitions and museums to explore.
Shawnee National Forest - This national forest in Illinois spans over 289,000 acres and is a great place for hiking, nature spotting or enjoying its breathtaking beauty. There are woodlands, wetlands and canyons all to be discovered.
St. Louis, Missouri - The vibrant and cultural city of St. Louis is full of museums, theaters and great restaurants. Its skyline is dominated by the stunning Gateway Arch, as well as great architecture, there's also the city zoo and beautiful gardens and parks to enjoy.
Forest Park, St. Louis - This park is in the heart of the city and is considered to be one of the best urban public parks. There are 1,300 acres to explore, which include fountains, lakes and monuments.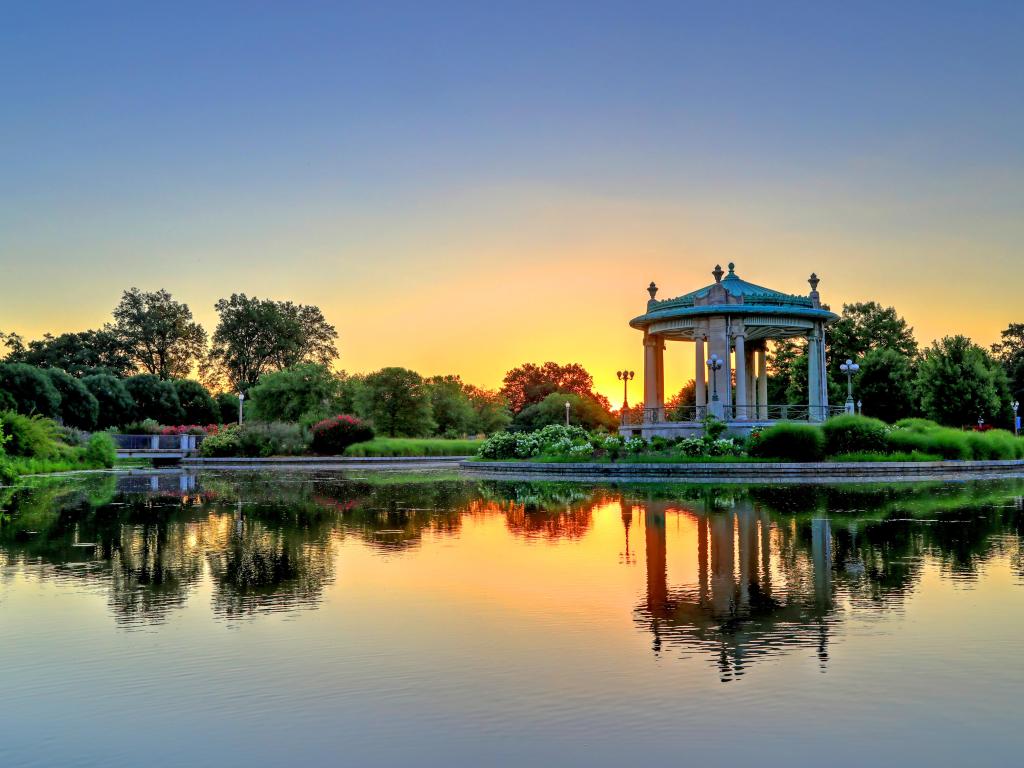 Best time to go on a road trip from Minneapolis to Nashville
While you can enjoy the road trip from Minneapolis to Nashville all year round, the best time will depend on what kind of attractions you'd like to see along the way. For example, winters can be quite severe making outdoor activities challenging.
Summer in Nashville will see temperatures during July and August as high as 90 degrees Fahrenheit, though thankfully the humidity isn't as high as in some of the other southeastern cities. That said the heat might be unpleasant while the popular summer events will make the city busy.
The winter temperatures in Tennessee are generally mild. With average temperatures ranging from 30-50 degrees, and Nashville offering many indoor activities as well as outdoors, you will have plenty of things to see and do even if you catch some bad weather.
The recommended best time, however, for this road trip is generally considered to be spring or fall. These popular seasons offer beautiful spring blossoms and fiery fall foliage, bringing color to the city and parks en route.
If you don't mind crowds, then you could time your trip with one of Nashville's great events. The summer months are particularly busy with festivals, including August and September when Nashville hosts the biggest open-air concert, Live on the Green or June's CMA Music Festival.