Road Trip from Minneapolis to Mackinac Island
It's time to hit the road and travel through some of the most striking scenery in the Great Lakes. From stunning lakes, forests, small towns, and coastline, you'll be mesmerized the entire way on this road trip from Minneapolis to Mackinac Island.
You'll cover 540 miles with 9 hours of driving time. On the way, you can visit incredible highlights like Eau Claire, Chippewa Falls, Green Bay, St Ignace, Madison, Milwaukee, Muskegon, Grand Rapids, Saginaw, Houghton Lake, and the beautiful Mackinac Island.
This spectacular drive will surely be full of memories and relaxing times. Read on below to learn more about our top routes, where to stay, and things to do and see along the way.
How far is Mackinac Island from Minneapolis, and how long will the road trip take?
Comparison of road trip routes between Minneapolis and Mackinac Island

| Route | Distance | Driving Time |
| --- | --- | --- |
| The St Ignace Route | 540 miles | 9 hours |
| The Mackinaw City Route | 725 miles | 11 hours 30 minutes |
The St Ignace Route is more direct and takes you 540 miles with 9 hours of driving time. You'll see the shore of Lake Michigan before traversing the Upper Peninsula of Michigan.
The Mackinaw City Route takes you across Lake Michigan visiting the cities of Milwaukee and Muskegon before using Mackinaw City as your route to the island. You'll cover 725 miles in 11 hours and 30 minutes of driving time.
Regardless of which route you choose; we recommend spending 2 days on this drive. Continue on to learn more details about each route, where to stay, and what to see and do along the way.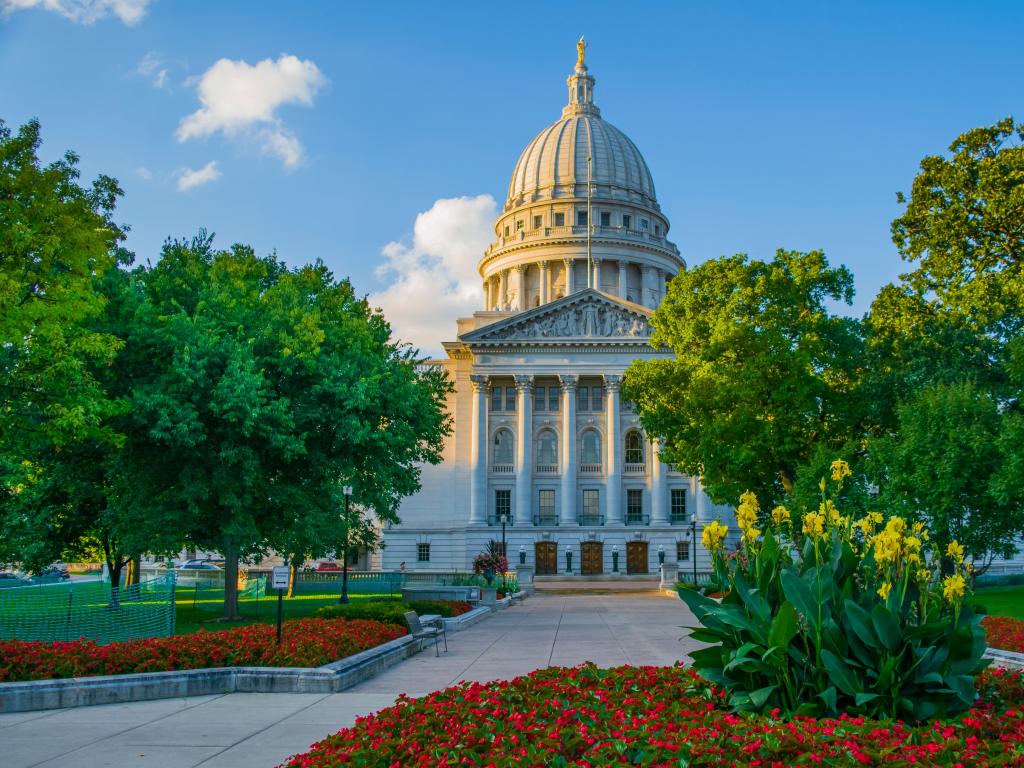 Best road trip route from Minneapolis to Mackinac Island
The St Ignace Route is the most direct route taking you up north along the shores of Lake Michigan. This route only requires you to take one single ferry ride from St Ignace to Mackinac Island.
This quaint route provides you the opportunity to visit Green Bay, Wisconsin and several of the most charming little towns in Michigan's Upper Peninsula. Not to mention, you'll get to relax by endless stretches of coastline along the way that are full of beaches and swimming areas.
The Mackinaw City Route on the other hand takes you through more scenic areas as you cross the South end of Lake Michigan and drive through the Lower Peninsula of Michigan.
This route requires you to take two ferry rides: one from Milwaukee to Muskegon and one from Mackinaw City to Mackinac Island. Click here to learn more about the ferry ride across Lake Michigan.
The St Ignace Route
From the big city of Minneapolis, head east into Wisconsin. From here, drive into the charming city of Eau Claire and then Chippewa Falls. Continue on through the rolling countryside. You'll pass dairy farms, forests, and beautiful small lakes before reaching the city of Green Bay.
After exploring this one-of-a-kind destination, head northeast into Michigan's Upper Peninsula. Drive along the shoreline of Lake Michigan and into the city of St Ignace where you can hop on the ferry to Mackinac Island.
The Mackinaw City Route
From Minneapolis, head to the wonderful city of Madison. From here, drive into Milwaukee, Wisconsin's largest city. From here, hop on a ferry to cross the mighty Lake Michigan. You'll end up in the city of Muskegon.
Continue on into Grand Rapids. Then, drive north to Saginaw, Houghton Lake, and finally Mackinaw City. Here, after exploring the famous fort, you can grab a ferry to your destination, Mackinac Island.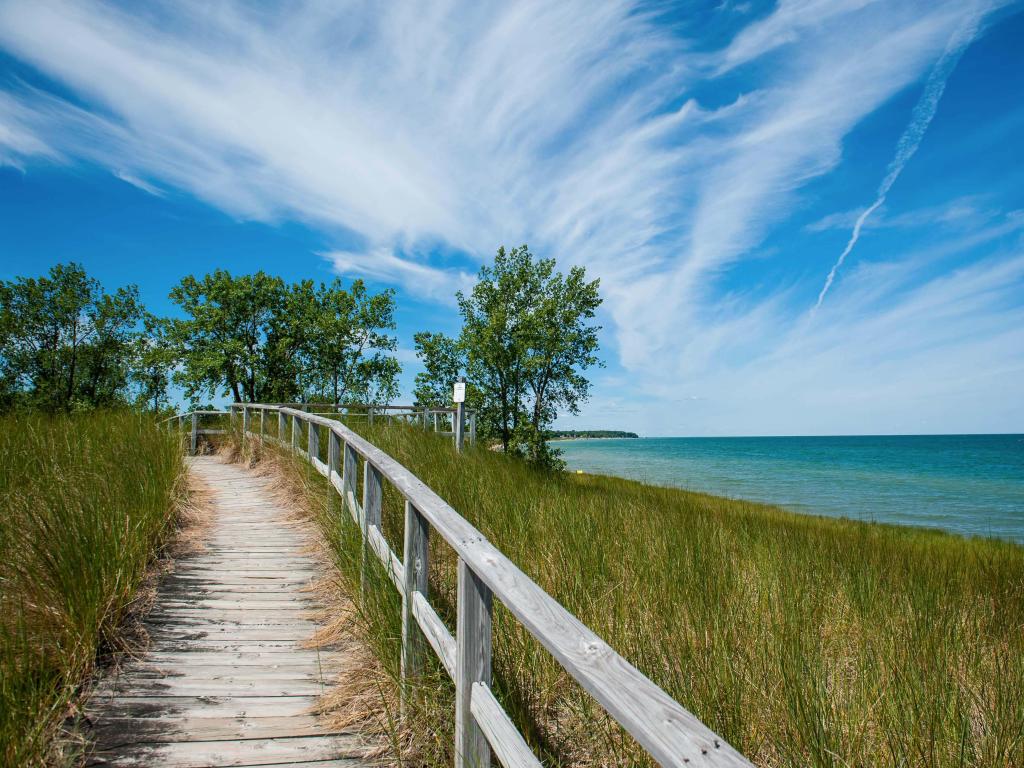 Best places to stop between Minneapolis and Mackinac Island
Although this is a quick drive, there is plenty to see and do along the way. We recommend staying for at least a night in one of the following locations to get the most out of this exciting part of America.
Sample some delicious cheese in Green Bay
About 5 hours from your destination is the fun city of Green Bay. This calm city is home to the Green Bay Packers and has plenty to see and do, especially for a city of its size.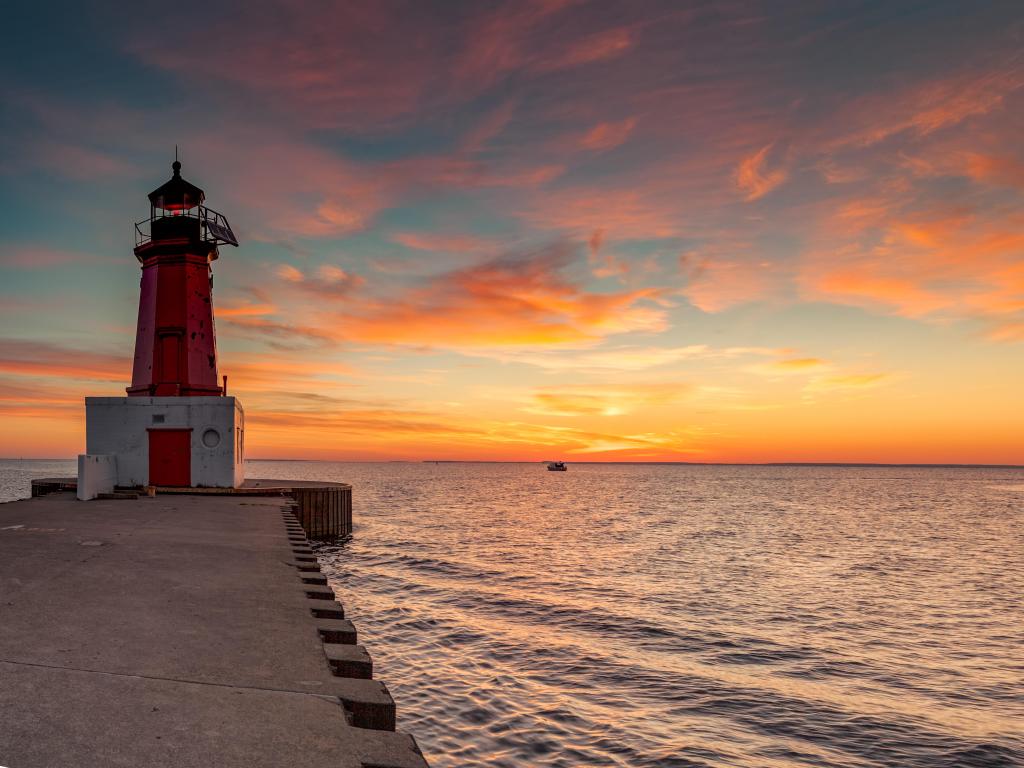 Green Pay is recognized for its 600-acre wildlife sanctuary in the middle of the city. The city provides a lovely countryside feel and offers numerous attractions for a day's worth of fun.
Some notable museums include the Green Bay Packers Hall of Fame & Museum. A tribute to the NFL team of Green Bay, this hall tells some of the greatest stories in football.
Another must see is the Neville Public Museum. Located downtown, this museum is dedicated to preserving significant objects and is an accredited cultural institution.
Once you reach your destination, we recommend staying at the lovely Hotel Northland. This luxurious hotel is full of wonderful amenities, elegant furniture, and charming decor. Not to mention the friendly staff ready to assist you whenever you need.
Once you arrive, there's convenient on-site parking and a Fitness center to recharge in. You can then visit the popular on site restaurant serving modern American cuisine and an on-site sports bar.
Because the hotel is located in the city's downtown, you'll have plenty to see and do, just a short walk away. Further out from the hotel are several natural areas and trails for hiking too.
Enjoy the eclectic and colorful character of Milwaukee
Just about halfway on the Mackinaw City Route is Wisconsin's largest city, Milwaukee. This charming urban area is full of some of America's top breweries as well as other places worthy of visiting including a fabulous river walk, unique shops, and fun restaurants.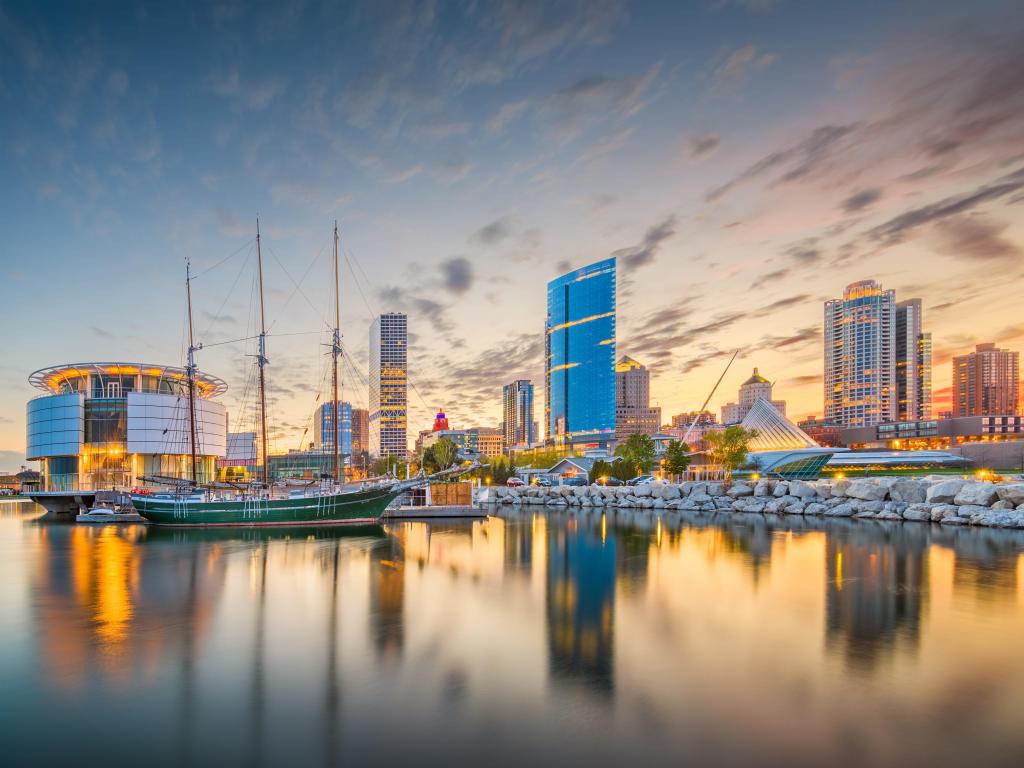 Located on the shore of Lake Michigan, Milwaukee is most famous for its breweries and beer history. They are also recognized as the birthplace to the famous Harley-Davidson Motor Company.
No visit would be complete without paying a visit to the Harley-Davidson Museum. One of the largest collections of Harley-Davidson motorcycles and other memorabilia, this is truly an all-American destination.
Next, see the Pabst Mansion. Home to Milwaukee's pioneer brewing family, this mansion tells the story of Pabst beer and the impact this family had on the state.
Finally, take some time to walk around the Milwaukee Public Market. This unique spot is the food destination of the city where you can find many artisan products and freshly prepared foods.
Once you reach Milwaukee, we recommend staying at the iconic Pfister Hotel. This historic boutique hotel has plenty of magnificent furnishings, friendly staff, and comfortable amenities.
There's a full service spa and salon, indoor pool, and fitness center ready for you when you get there, so you can get right to relaxation. There's a delicious steakhouse and café located on site and a highly rated martini bar located on the 23rd floor, providing incredible city views and of course delicious drinks.
Guests love the hotel's central location. You're just walking distance from the Milwaukee Art Museum, Lakeshore State Park, and Milwaukee Bay.
Where to stay when you reach Mackinac Island
Once you reach your destination, we recommend staying at the lovely and historic Murray Hotel. Located on Main Street of Mackinac Island, this hotel has been a foundation in the island for many years and continues to be one of the most popular places to stay on the island.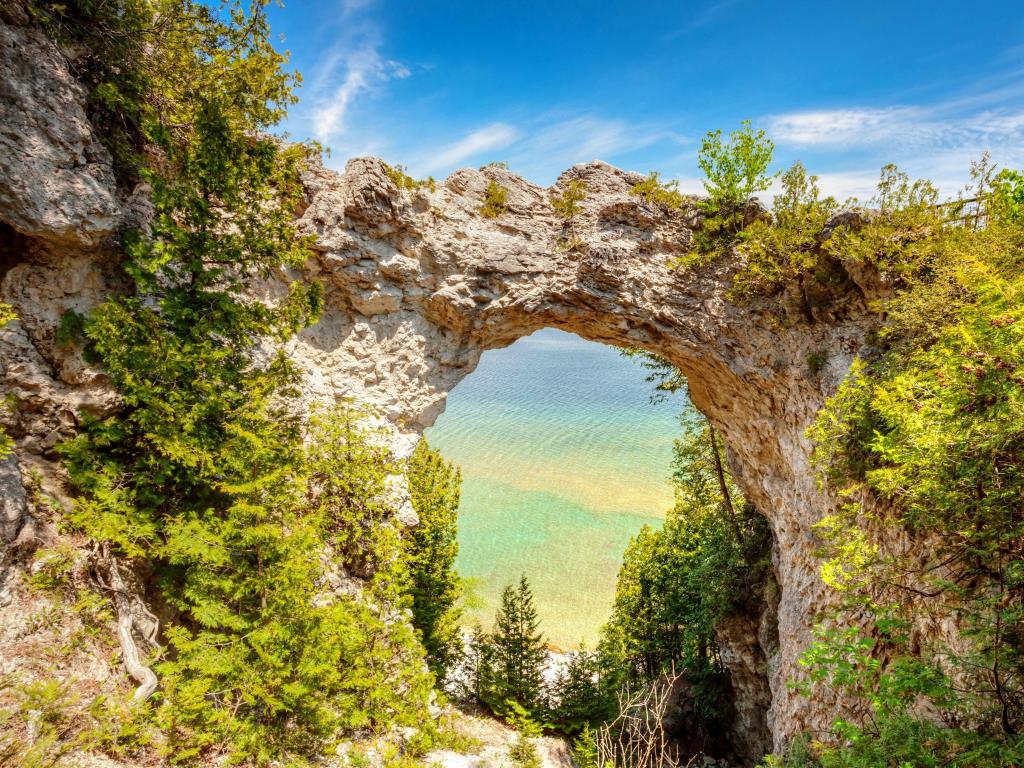 This historical hotel features a Victorian style décor, outdoor pool, sun deck, and highly rated on-site restaurant. To top everything off, you'll enjoy unbeatable lakeside views and friendly staff.
At the Murray Hotel, you're only walking distance from the beach, restaurants and bars, and the famous bike path that traverses the island. Make sure to rest and relax before heading out to explore all the island has to offer.
Things to see on a road trip from Minneapolis to Mackinac Island
Even though this is a small corner of America, there's plenty to see and do here. Below are our top sights and experiences to enjoy on your way from Minneapolis to Mackinac Island.
The St Ignace Route
Chippewa Falls - Visit the many antique stores and local bars that make up this quaint town.
Neville Public Museum, Green Bay - Showcasing art, history, and science from the state of Wisconsin.
Cave Point County Park, Sturgeon Bay - Park filled with underwater caves, hiking trails and cliffs along the shore of Lake Michigan.
Escanaba River State Forest - Many hiking trails makeup this state forest for some great times outdoors.
Little Bay de Noc & Big Bay de Noc - These bays are great if you are wanting to do a little bit of fishing along your trip but also provide some lovely spots to relax.
Hiawatha National Forest - This park is nestled along the shorelines of Lake Superior, Huron, and Michigan. Stop in this area to take in the opportunity to explore more of the Great Lakes area.
Castle Rock, St Ignace - Take a hike up this unique rock offering incredible scenic views of Mackinac Island and Lake Huron.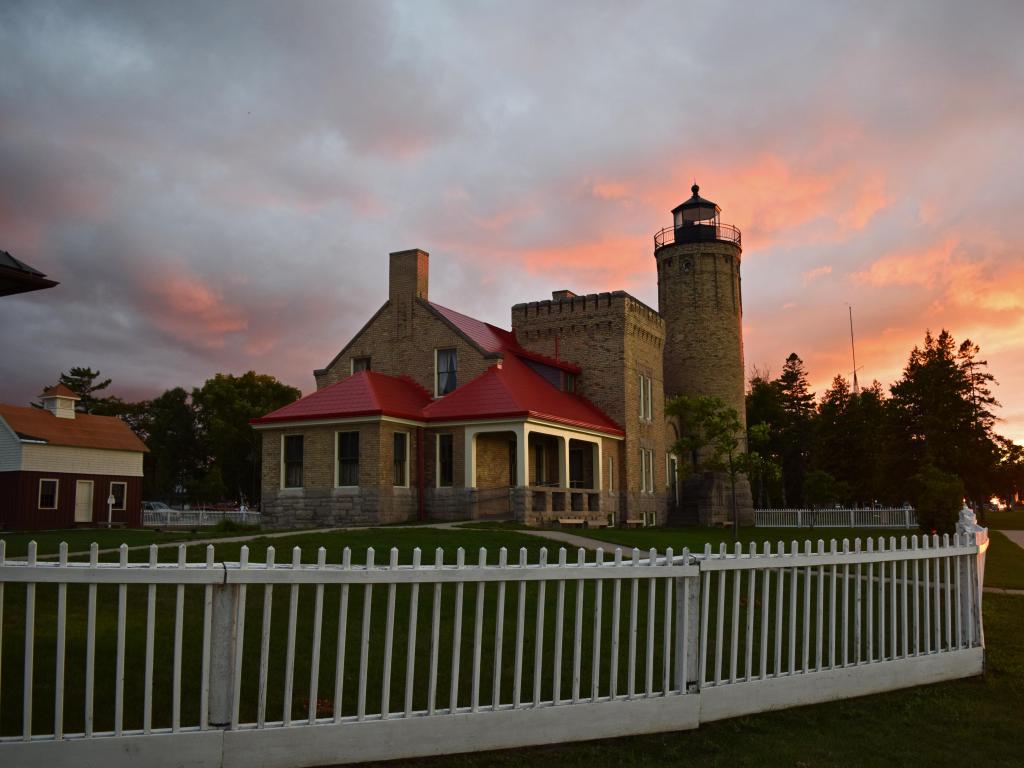 The Mackinaw City Route
Wisconsin Veterans Museum, Madison - Dedicated to the armed forces and pays tribute to those that have provided their services in the military.
Best Place at the Historic Pabst Brewery, Milwaukee - Take a tour through the most famed brewery of Wisconsin and the brewery that started in Milwaukee.
Kruse Park, Muskegon - Enjoy the beach and the lakeside views along the shore of Lake Michigan.
Meyer May House, Grand Rapids - Designed by Frank Lloyd Wright, this house pays tribute to the prairie houses of the early 1900s.
MSU Broad Art Museum, Lansing - Museum featuring local, national, and international artists with a collection of over 10,000 works of art.
Houghton Lake - In the heart of Northern Michigan, the small town has a range of many attractions.
Old Mackinac Point Lighthouse, Mackinaw City - Used since 1889, this lighthouse is a gemmed attraction to the Great Lakes.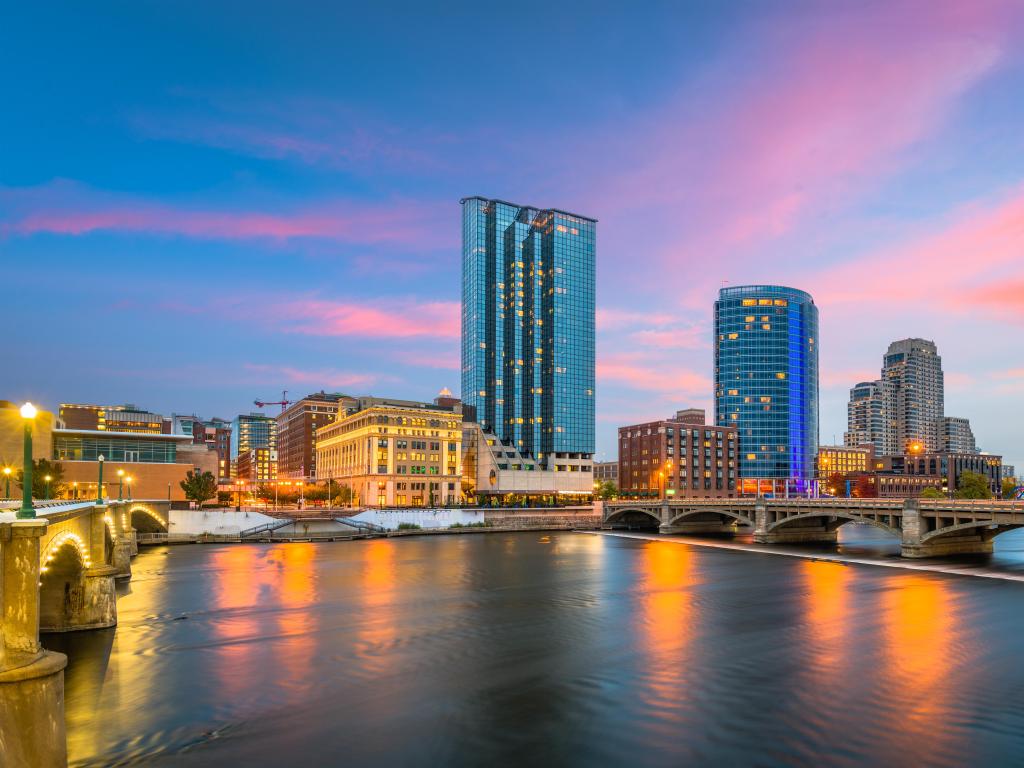 Both Routes
Crystal Cave, Spring Valley - Underground cave of geological wonders providing hour-long tours.
Eau Claire - Visit the many breweries and wineries that make up this town.
Best time to go on a road trip from Minneapolis to Mackinac Island
While visiting the states of Wisconsin and Michigan can be done year round, it is recommended to avoid the winter months as it can get quite cold. Summer is one of the busiest tourist times. The best time to complete this road trip to ensure a pleasant time is through the spring and fall months.
Summer is considered the peak tourist season, especially in the quaint area of Mackinac Island. While thunderstorms are quite common during summer months, summer is usually humid and hot with beautiful skies.
Beware of mosquitoes around the Great Lakes during the month of June as this is when they decide to come bug visitors. Average temperatures range 65 to 80 degrees Fahrenheit and Lake Michigan can get up to 70 degrees.
Summer is also when visitors can attend the island's events. Some include the Mackinac Island Lilac Festival through mid-June, the Mackinac Island Fudge Festival at the end of August, and many different runs and marathons that they host throughout the summer, spring, and fall.
Winters in this region are quite extreme with very cold and snowy conditions. Average temperatures range from -22 to 7 degrees Fahrenheit.
It is highly recommended to avoid this season as outdoor activities will not be desirable and often the ferries to cross the lakes are closed during the Winter, ultimately making the routes inaccessible. Many businesses will close during the winter months as well in the more touristy regions.
Spring and Fall can be the best times to visit the Great Lakes area as weather and temperatures are more desirable. There are also more opportunities to see the Northern Lights around the Great Lakes during the months of April, October, and November.
The fall months also provide incredible opportunities for seeing the changing fall colors. Average temperatures range from 30 to 60 degrees Fahrenheit.