Road Trip from New York to Acadia National Park
If you're looking for a scenic and exciting escape from the city - passing by stunning mountains and breathtaking coasts, to one of the most beautiful natural settings in Maine - then the epic road trip from New York to Acadia National Park is the perfect adventure for you.
The 480-mile road trip from New York to Acadia National Park will take 8 hours to drive. Key stops include Boston, New Haven, Salem, Portland, Mount Washington, as well as White Mountain National Forest, Ogunquit Beach and Fahnestock Memorial Park.
To help you make the most of this fantastic journey, we've set out the best routes you can take, the places to stop overnight, our favorite things to do and the best time of year to make the trip from New York to Acadia National Park.
How far is Acadia National Park from New York, and how long will the road trip take?
Comparison of road trip routes between New York and Acadia National Park

| Route | Distance | Driving Time |
| --- | --- | --- |
| The Coastal Route | 480 miles | 8 hours |
| The Mountain Route | 600 miles | 11 hours 15 minutes |
There are a few possibilities when traveling between New York and Acadia National Park. To make the most of the views along the way, we recommend following either the Coastal Route or Mountain Route.
The shortest of the two takes 8 hours to drive and spans a distance of 480 miles. A slightly longer route, taking you through the Vermont mountains, will take 11 hours and 15 minutes on the road and 600 miles to drive.
While you could complete the trip by following the fastest route in a single day at a push, a much better option would be to take between three and four days, allowing you a couple of overnight stops en route and more time to enjoy the fantastic scenery on offer.
Best road trip route from New York to Acadia National Park
The road trip from New York to Acadia National Park really allows you to pick the best route depending on what attractions and views you'd like to see along the way.
The Mountain Route offers you the chance to get up close and personal with nature, while still driving through some fantastic towns and cities, such as Charlestown and Newport. This route is slightly longer and might require an extra overnight stop.
If you are short on time or prefer to enjoy the fantastic Maine coast, then our alternative route option is perfect for you. Offering a little more civilization with backdrops of rugged beaches and historic port towns, you will arrive at Acadia National Park more quickly on this route.
Regardless of which route you decide to follow, you'll be guaranteed to see some fantastic vistas, with plenty of beautiful national parks, forests and coastline along the way.
If you are visiting Acadia National Park and plan to drive on the Cadillac Summit Road, keep in mind that vehicle reservations might be required. Please check the national park's website to avoid any disappointment.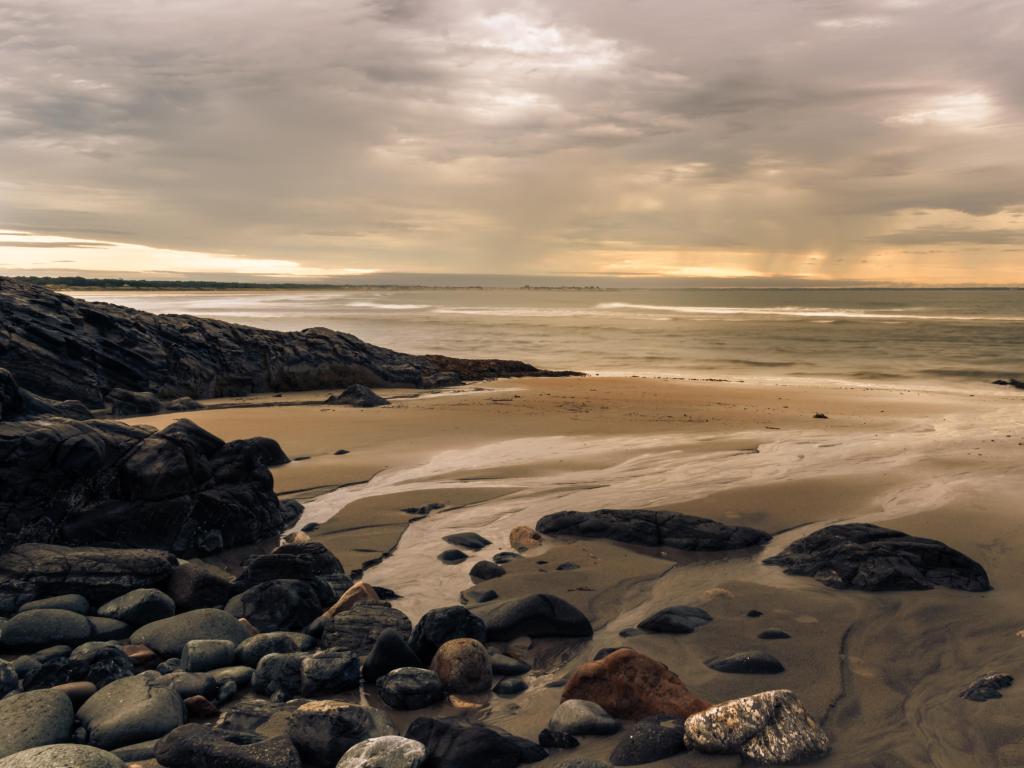 How to drive from New York to Acadia National Park
The map above shows our suggestions for the best road trip routes between New York and Acadia National Park. Keep reading for detailed descriptions of both routes, where to stay on either, and the best things to do on the way.
The Coastal Route
Leave New York and take Interstate 95 north, past New Rochelle, Port Chester and follow the coast towards New Haven. If you'd prefer to avoid the city, you'll instead take CT-15 past Hamden and Wallingford before continuing north on I-91.
After arriving in Hartford, where you could make an early overnight stop, you will continue on I-84 as you head inland and pass a few towns to Union. From here you can take a short detour to visit Natchaug State Forest or continue on the interstate through Nipmuck State Forest.
At Sturbridge, take I-90 east and then I-290 to Worcester in Massachusetts where you can spend some time exploring. Continue on I-290 to Marlborough where you can detour to Boston, otherwise change to I-495.
You will follow this road as you pass by Haverhill, just south of Salem. From Amesbury merge onto I-95 past Seabrook, Hampton and North Hampton and follow the coast.
This stretch allows you to take in the stunning, rugged coastline of Maine with its beautiful beaches and historic, waterfront villages and maybe even spot a whale or two.
Continue north on I-95 before arriving at Old Orchard Beach where the road merges with I-195 and then I-295 past Scarborough before taking you to the popular Portland and nearby Cape Elizabeth. If you can, spend a bit of time in this beautiful part of Maine.
Follow I-295 north and back inland through Fairfield, Pittsfield and Newport. Just south of Sunkhaze Meadows National Wildlife, you will leave the interstate and follow US-1A east through Ellsworth and Trenton before arriving at your destination of Acadia National Park.
The Mountain Route
The alternative route will see you leave New York by following Interstate 87 and heading north, initially following the Hudson River before taking exit 102 and following the Taconic State Parkway, alongside Fahnestock State Park.
Continue north past Salt Point and consider a stop to visit Mount Washington State Forest, before following NY-295, US-20 before getting on MA-43 and US-7. Continue north and you'll pass stunning mountains and forests, including Taconic Ridge State Forest before crossing into Vermont.
Still following US-7 north, the road passes several towns including Bennington, Arlington and Sunderland. Make sure you stop to visit Green Mountain National Forest for its stunning vistas.
Follow VT-11 with nearby Emerald Lake State Park and Bromley Mountain Ski Resort. The road will pass through Peru, Londonderry and Chester where you will switch to VT-103 and drive by Chester Town Forest and through the town of Rockingham.
Take the exit to follow I-91 north alongside the Connecticut River. Key stops along this stretch include Hawks Mountain Wildlife Management Area and Mt Ascutney State Park.
Continue on the interstate as far as Barnet, where you'll follow I-93 south before merging with US-302 east through Littleton and pass the scenic White Mountain National Forest, Mt Washington and Wildcat Mountain.
Eventually, this road crosses into Maine, where you will continue heading east before merging with ME-11 past Long Lake before following I-95 north. This next stretch follows the Coastal Route, as you then follow US-1A south to Acadia National Park.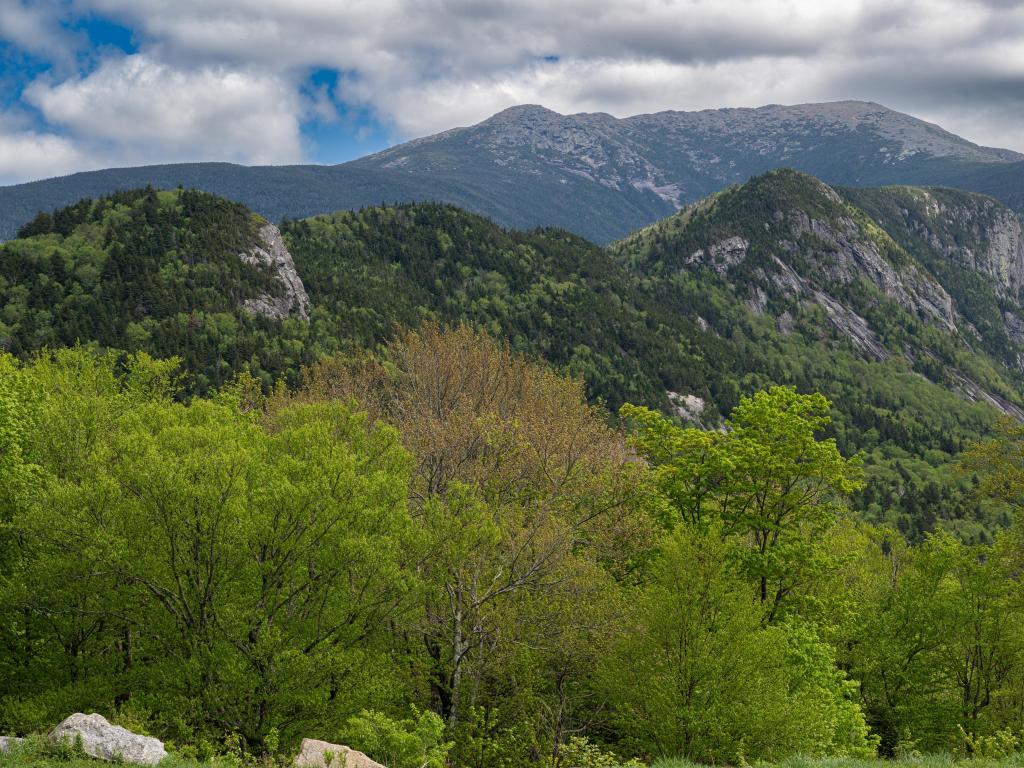 Best places to stop between New York and Acadia National Park
We suggest that you spread your New York to Acadia National Park road trip over several days to make the most of everything on offer. With this in mind, you are going to need to make at least a couple of overnight stops.
Thankfully, both route options offer a great variety of stunning locations and dreamy hotels to stop in. Here are a few of our recommended places that are particularly special.
A coastal stay in Portland, Maine
If you've chosen to follow the Coastal Route to Acadia National Park, then it makes sense to plan at least one of your overnight stops with the sea and beach within close proximity. At around 3 hours to your destination, Portland in Maine is a great location.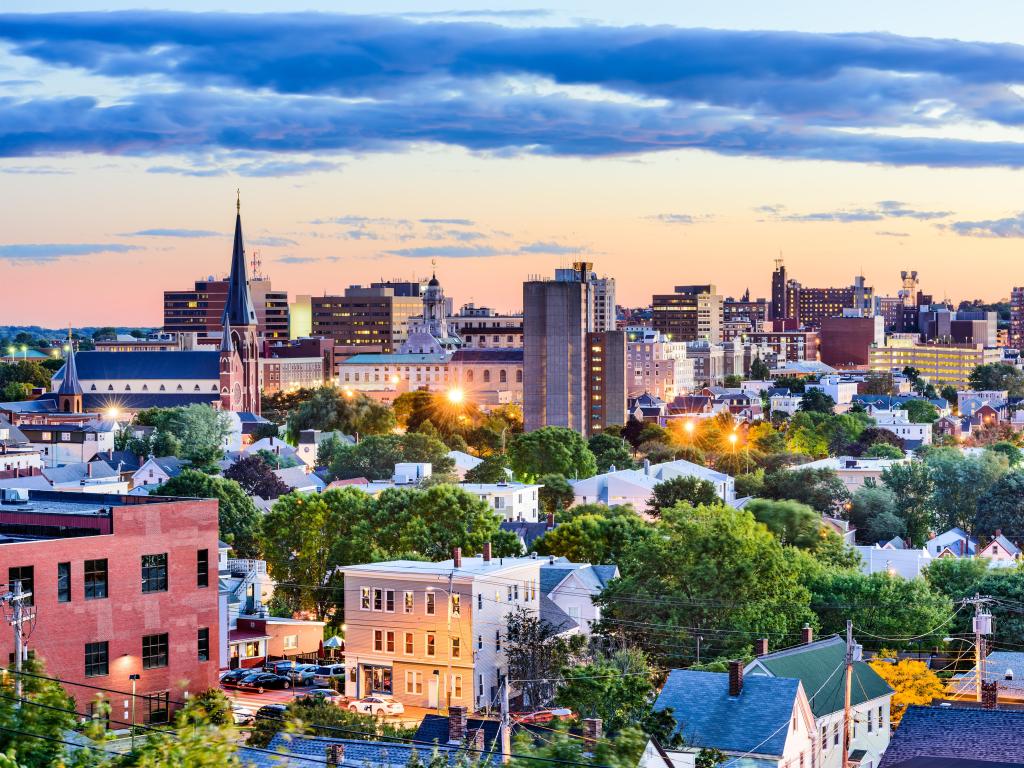 Offering the best of coast and city life, Portland is a must-see destination with beautiful, historic architecture and great restaurants to impress any food lovers.
Despite its amenities, this port city still feels like a quaint fishing town. Discover its bustling fishing port, picturesque waterfront and stunning coastal walks straight out of town, as well as the must-see Portland Head Lighthouse and its many art galleries and artists' studios.
For one of the best spots near Portland's waterfront, a stay at Portland Harbor Hotel will be the perfect way to complete your visit. This 4-star hotel offers Hamptons-style decadence, a warm and friendly welcome, fine dining and a cozy outdoor firepit.
If you fancy eating out, the hotel is located in the Old Port District where you'll be spoilt for choice with award-winning seafood restaurants, or if you'd rather stay within the resort, you can enjoy an onsite restaurant, parking and fantastic views.
Immerse yourself with nature at Mount Washington
Two-thirds into your journey if you're following the Mountain Route, is Mount Washington in New Hampshire. This fantastic spot is a short detour from the main route, but the breathtaking views make this drive more than worth it.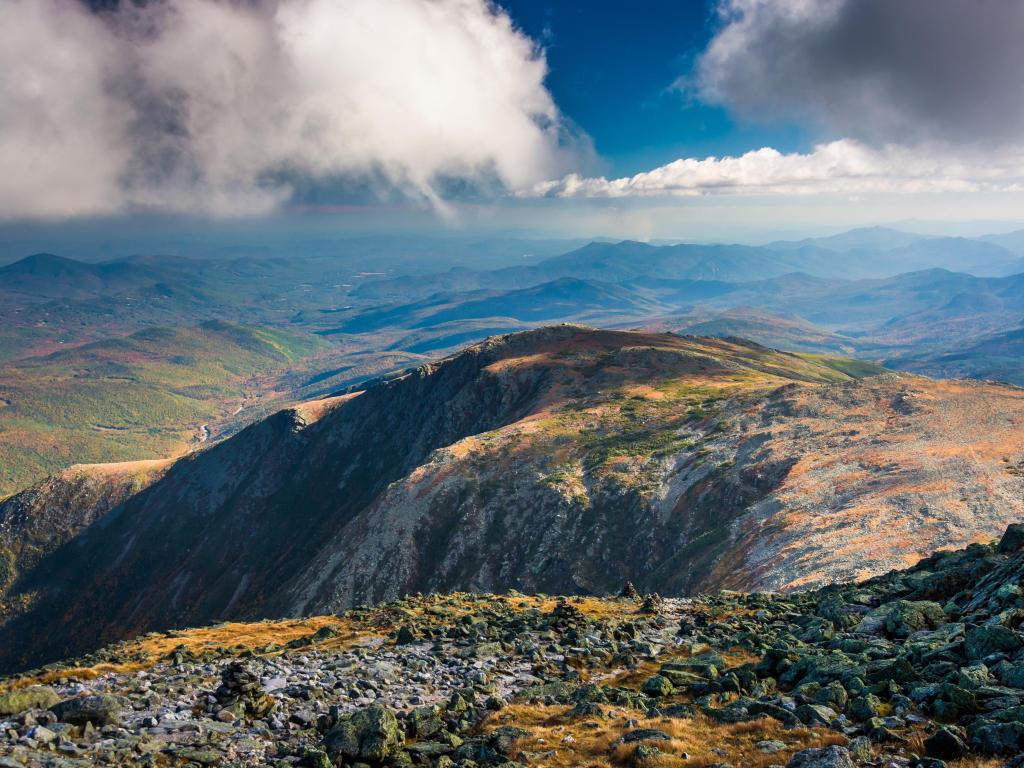 Mount Washington is a spectacle not to be missed in any season (vibrant colors in the fall, snowy scenes in the winter, and stunning flower meadows in the spring and summer). For those looking for the opportunity to really immerse themselves in nature, this is the stop for you.
The highest peak in this region, it is popular with those looking to enjoy multiple outdoor pursuits, such as hiking, skiing, ice fishing and mountain biking.
There are a few hotels and resorts within easy reach of Mount Washington, but for the best views, The Glen House in Gorham gets our recommendation. Located on the campus of the Great Glen Trails, this hotel offers guests panoramic views of Mt. Washington.
Given its more remote location, having a hearty restaurant, The Notch Grille, onsite and indoor pool to enjoy year-round is a real bonus. With a focus on sustainable hospitality, the hotel offers modern amenities and first-class service while being sensitive to its surroundings.
A memorable stay in Acadia National Park
The first national park to be founded to the east of the Mississippi River, Acadia National Park offers fantastic hikes, biking, camping and breathtaking views of the jagged coastline and beautiful surrounding lakes.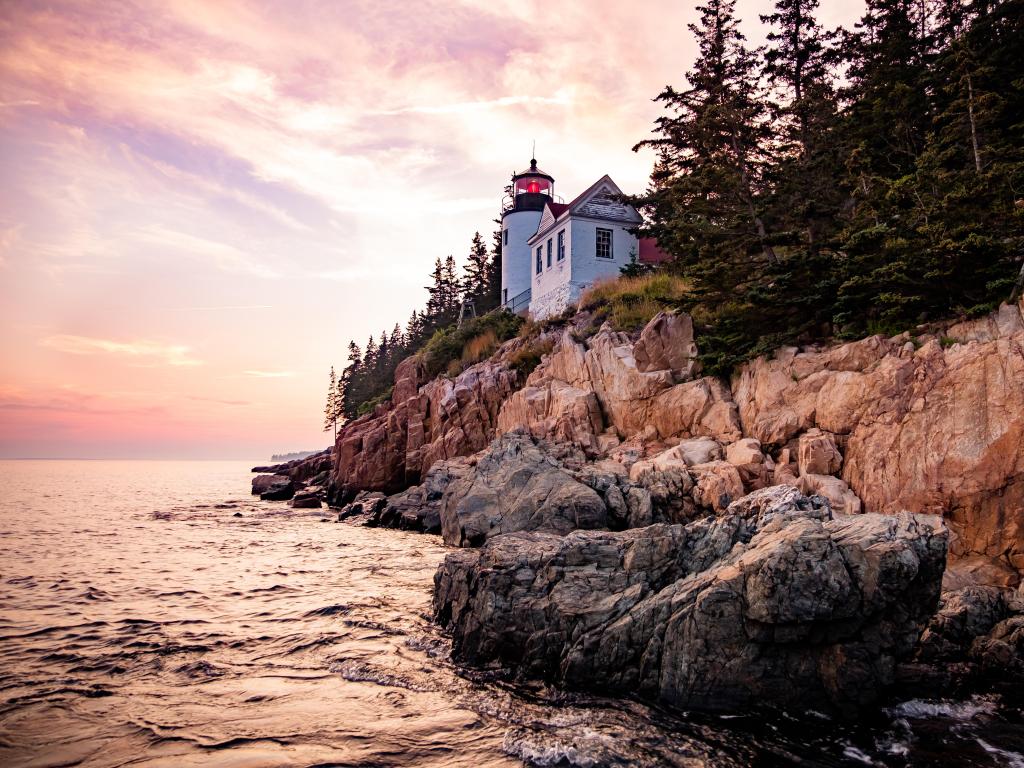 To truly appreciate the stunning landscape on offer in this region, a stay at Queen Anne's Revenge Hotel in Bar Harbor is a great option, with its convenient location and chic, upmarket style.
With all the amenities of a luxury hotel, the Queen Anne's Revenge Inn offers the charm and warmth of a traditional guest inn, meticulously renovated to offer beautiful rooms and comfortable communal spaces.
Ideally located to explore the Acadia National Park - while also being within walking distance of Bar Harbor's restaurants and boat tours (for a spot of whale watching or sea fishing) - this hotel also has a great terrace, perfect for taking in its beautiful setting.
Things to see on a road trip from New York to Acadia National Park
There are so many interesting places to visit and stunning scenery to take in on this great road trip from New York to Acadia National Park. If you are limited on time, here are some of the best things you'll see along the way: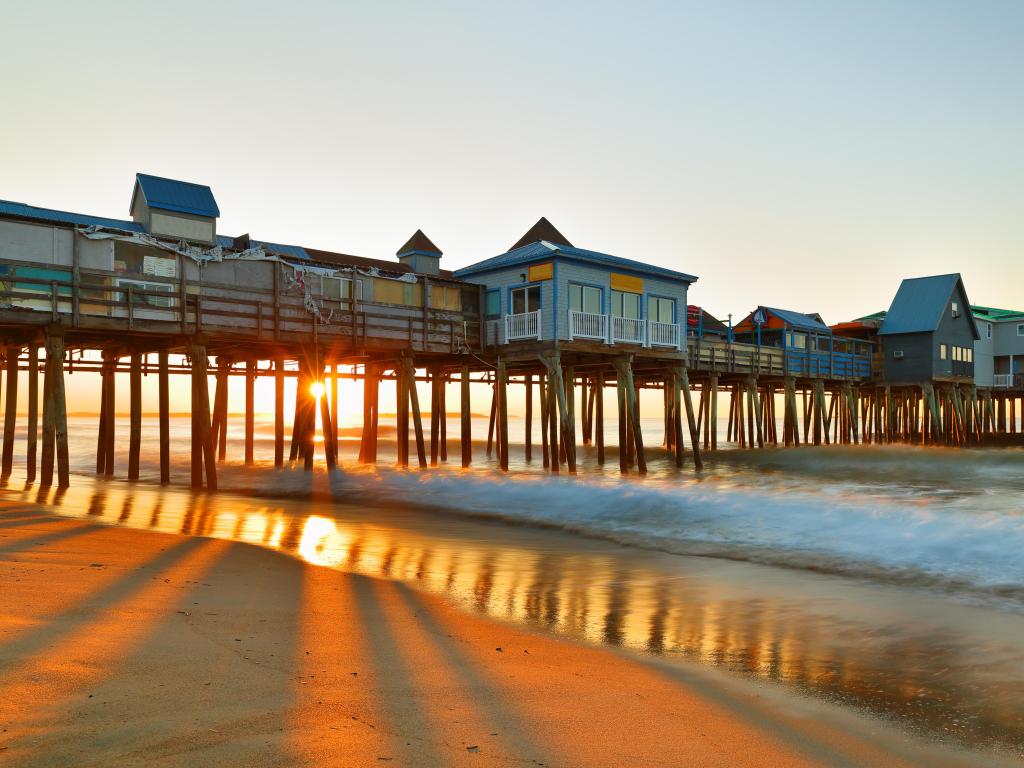 The Coastal Route
Yale University - A private Ivy League university in New Haven, it was founded in 1701 and is the third-oldest institution of higher education in the US. Its architecture is iconic, as are many of its graduates – George W. Bush, Bill Clinton, Meryl Streep… the list is endless!
Boston - The largest and capital city of Massachusetts, Boston is famed for its rich history, being the birthplace of the American Revolution. Don't miss the Freedom Trail – a tour covering 16 nation-shaping historic sites.
Salem - This historic town is most famous for the Salem Witch Trials in 1962. Aside from its spooky goings on, it's also a very important, historic seaport, dating back to pilgrim colonialists.
Ogunquit Beach - Discover 3.5 miles of sandy beach stretching as far as the eye can see. Wrap up warm in the winter months as the wind chill may take you by surprise – as will the brave surfers on the horizon.
Old Orchard Beach - Old Orchard Beach is a historic seafront resort town with an incredibly Insta-worthy pier dating back to the mid-1800s. You'll also find a very retro fairground complete with vintage arcades, a Ferris-wheel and lobster rolls.
Portland Head Light - Found in Fort Williams Park, this historic lighthouse dates back to 1791. It is perched on the edge of the rugged Cape Elizabeth headland and is still in operation today.
Portland Museum of Art - This is the largest and oldest art institution in Maine, founded in 1882, and is home to pieces by Monet, Degas, Picasso, Munch and Rodin (to name a few), as well as showcasing modern art by young artists and creators.
Portland Brewery Tours - Whether you're a beer lover or not, a brewery tour in Portland is not to be missed. There are many different micro-breweries, mostly family-owned businesses that have been in the city for decades, and almost all of them offer daily tours.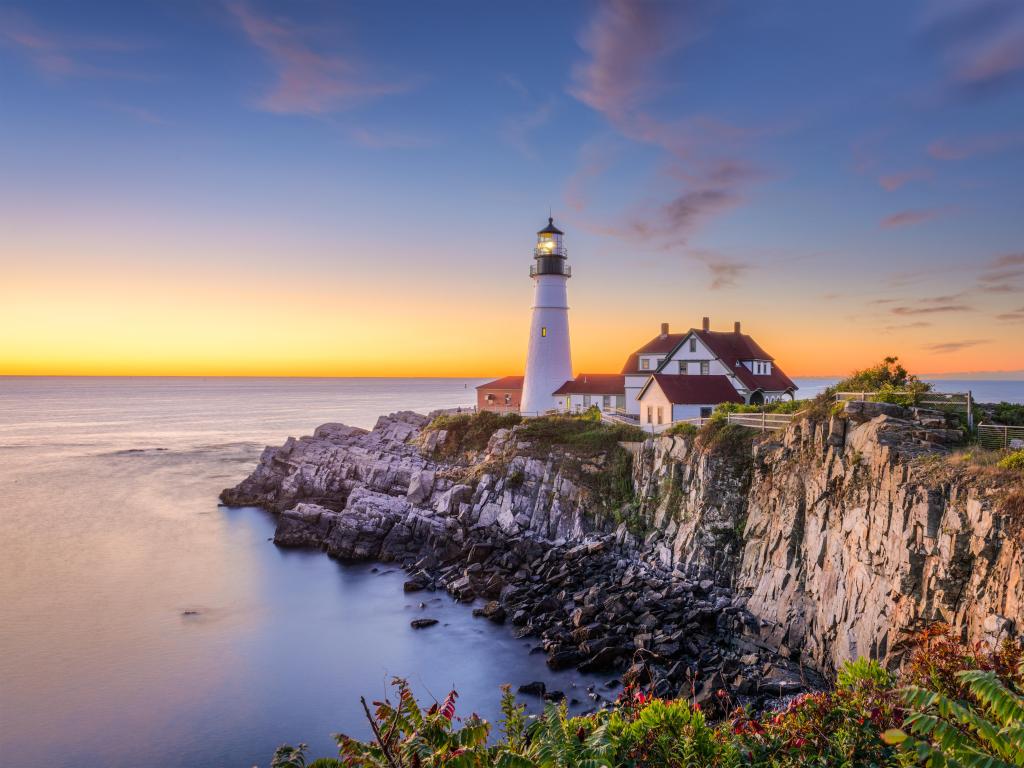 The Mountain Route
Fahnestock Memorial State Park - A delight for outdoor enthusiasts, this 14,086-acre park boasts hiking trails, picnic areas, a scenic campground, and abundant opportunities for boating, hunting, fishing, and birding.
Chuang Yen Monastery - Home to the Buddhist Association of the US, this monastery is set in a beautiful and peaceful location. Learn more about Buddhism and explore enchanting temples which are home to the largest statue of Buddha in the Western Hemisphere.
Taconic Sculpture Park - This park features the work of Roy Hermes Kanwit's giant human form pieces, including his Mother Earth head sculpture atop the mountain side which towers over Taconic Parkway.
Hancock Shaker Village - A former Shaker commune, set on 750 acres with 20 historic Shaker buildings and over 22,000 Shaker artifacts. The museum and working farm bring to life the Shaker story with interactive workshops, reenactments, and events throughout the year.
Hildene - The home of Abraham Lincoln's family, built by his son Robert Lincoln, the only surviving son of Abraham and Mary Lincoln, in 1905. Now a working farm, museum and event center, the Georgian Revival mansion welcomes visitors year-round.
Green Mountain National Forest - Green Mountain National Forest is a 40,000-acre national park in Vermont, with over 2,000 sites of archaeological and historical interest, including Native American sites and the remains of colonial-era subsistence farmsteads.
Saint-Gaudens National Historic Site - The former home of one of America's greatest sculptures, Augustus Saint-Gaudens, this national historic site allows you to walk through his grounds, gardens and woodlands where several of his bronze sculptures are exhibited.
Mount Washington - Offering a variety of trails for all abilities, explore this stunning landscape and get off the beaten path and enjoy the flora and fauna of rural Maine.
Mount Washington Observatory -Visit the mountain top observatory to experience the elements and get a taste of what it's like to live and work at 6,288 feet. Note this is only accessible by organized hiking trips in the winter months.
The White Mountain National Forest - Explore this rugged forest in Maine which offers 750,000 acres of breathtaking scenery, crystal-clear mountain lakes and streams, an abundance of wildlife and a variety of recreation activities all year round.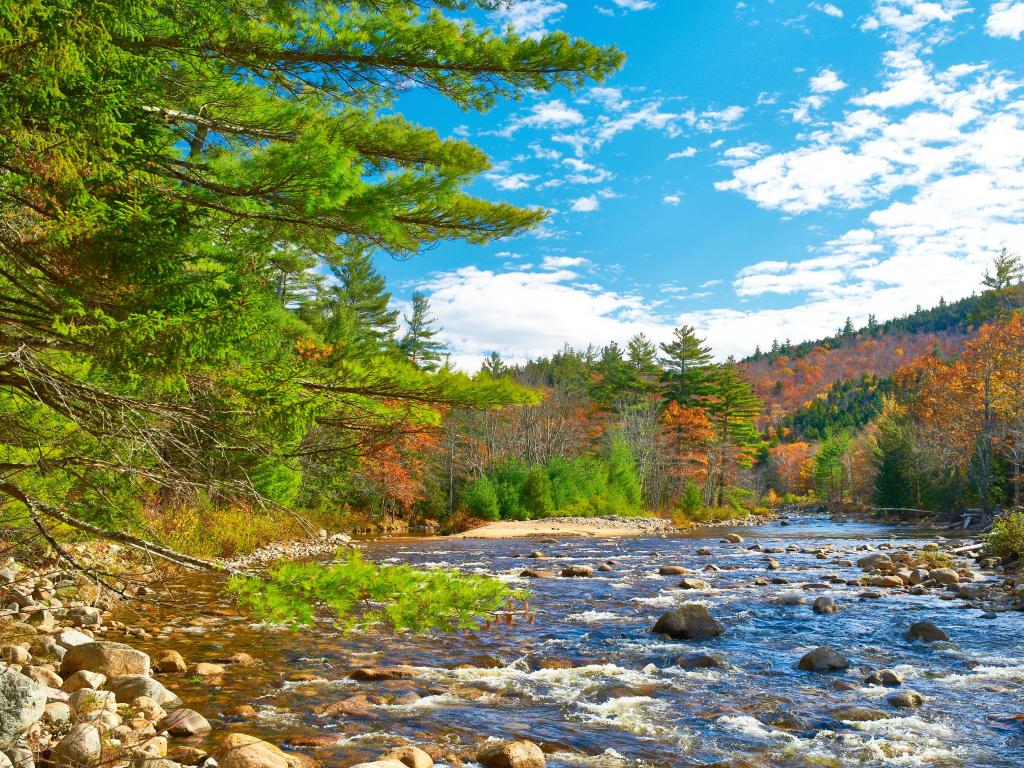 Best time to go on a road trip from New York to Acadia National Park
The road trip from New York to Acadia National Park can be enjoyed all year round, thanks to the fact that the Coastal Route and the Mountain Route both offer plenty of activities, varying by season but still allowing for an action-packed and memorable trip any time.
Popular with the US and international holidaymakers alike, Maine and Vermont are great summer destinations with average daily temperatures hitting the mid-70s Fahrenheit in July and August.
While crowds might be busier in the summer months, you will find there are plenty of opportunities to escape the tourists on both the Mountain and Coastal routes.
Winter is a great time to visit this part of the world if you're a winter sports fan and lover of snow. The Mountain Route would be especially good in order to make the most of Maine's mountainous ski resorts.
That said, a road trip in the winter in this part of the US isn't for the faint-hearted. With temperatures in Mount Washington reaching as low as 28 degrees, you will need to be well-equipped for icy/snowy roads.
The cold weather will also prevent you from enjoying much of the Coastal Route and the beaches that it passes. A better option is to visit in either the spring or fall, which are not only quieter seasons, but the hotels are likely to be cheaper and the scenery will still be jaw-dropping.
For an unforgettable experience, you can time your visit with the Acadia Night Sky Festival at the end of September. Take part in this organized stargazing event across the national park and enjoy minimal light pollution while celebrating the stars through education, science and arts.