Road Trip from New York to Asheville, North Carolina
If you're looking for a road trip packed with some of the most beautiful scenic drives in the US, incredible museums, and epic historical sites, look no further than this amazing road trip from New York City to Asheville, North Carolina on the skirts of the stunning Blue Ridge Mountains.
The 770-mile road trip from New York to Asheville, North Carolina will take about 14 hours to drive. Notable sights are Philadelphia, Washington DC, Richmond, Charlotte, Bethlehem, Blue Ridge Parkway, Shenandoah National Park and Blowing Rock.
This unforgettable road trip has much in store and you will find exactly what you are looking for whether it is vibrant cityscapes, cultural sites or stunning landscapes. Keep reading to hear our tips and tricks for route options, things to do along the way, and the best times to travel.
How far is Asheville, North Carolina from New York, and how long will the road trip take?
Comparison of road routes between New York and Asheville, North Carolina

| Route | Distance | Driving Time |
| --- | --- | --- |
| The City Route | 770 miles | 13 hours 40 minutes |
| The Blue Ridge Parkway Route | 790 miles | 15 hours |
The City Route will take about 13 hours and 40 minutes of driving across 770 miles, with stops in major American cities. This route is the shortest and most direct option, but you can still see a lot of attractions such as historical sites and museums.
The Blue Ridge Parkway Route takes about 15 hours across 790 miles. This route is more scenic, and you can experience nature, mountains, and National Parks. Keep in mind that this route takes you through more remote areas. However, the scenic drives and incredible views make this route totally worth it.
Whichever route you choose, we recommend spreading out the drive over 3-4 days so you can experience everything this incredible road trip has to offer.
Best road trip route from New York to Asheville, North Carolina
With such a variety of attractions and landmarks on each of our recommended routes, which route you will want to follow will ultimately depend on your choices.
The City Route will take you through some of the most iconic cities of the East Coast such as Philadelphia, Baltimore and Washington DC as well as Richmond and Charlotte. This route is dotted with cultural attractions and historic sites, one after another.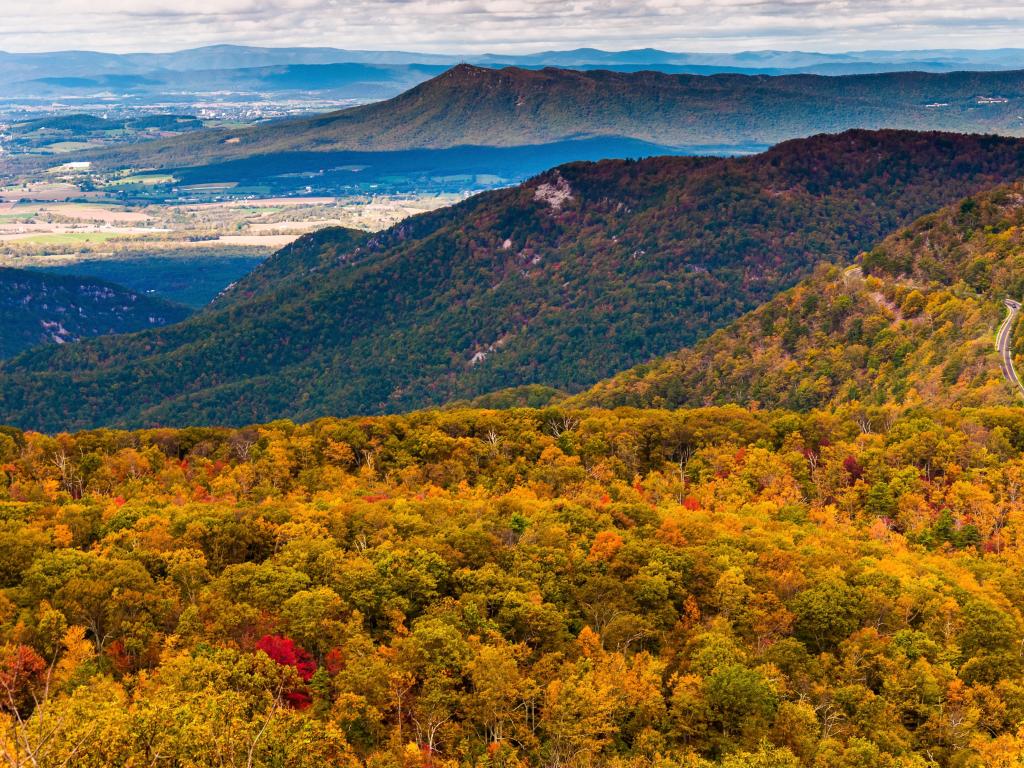 If you'd like to admire some natural beauty, you can make detours to South Mountains State Park and Pisgah National Forest en route. However, if you are after breathtaking scenery, the Scenic Route is the one for you. On this route, you will drive on the legendary Blue Ridge Parkway Route.
You will also drive through the incredibly scenic Shenandoah National Park on this route. You won't be driving through metropolises on this route, but to get your city fix, you can visit Roanoke.
The City Route
This route follows Interstate 95 (I-95) South out of New York City into Philadelphia. From Philadelphia, you will continue on the interstate along the Delaware River until you reach Baltimore, Maryland.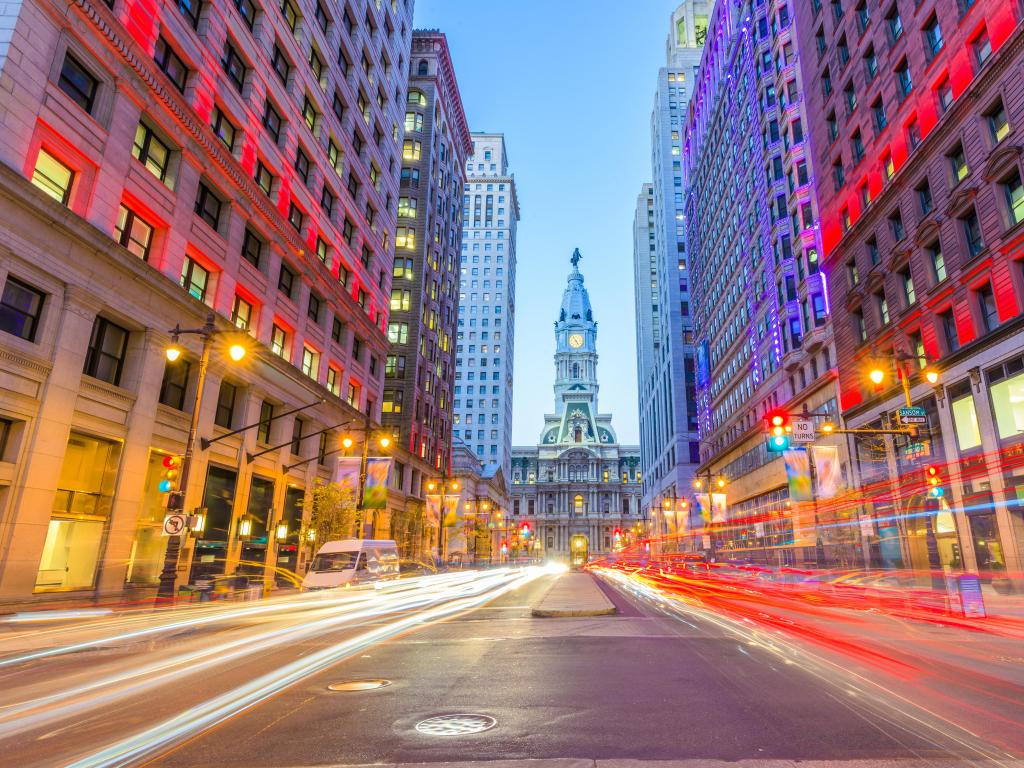 Follow signs for Washington DC, the beautiful capital of the United States. Washington DC is a great place to stay the night, with an abundance of hotels, food, and cultural experiences.
After Washington DC, you will head into Virginia on I-95 South to Fredericksburg, and then continue south to Richmond. After Richmond, you can follow I-85 South to Durham, North Carolina. Then head west on I-40 to Winston-Salem.
From Winston-Salem, you will travel via I-285, and then take I-85 South again to Charlotte. From there, you will take Route 321 to get back to I-40, which will take you to your final destination of Asheville, North Carolina.
The Scenic Route
From New York City, take I-78 West to your first stop: Bethlehem, Pennsylvania. Continue on I-78 West and then transfer to I-81 South into Hershey and Harrisburg, both in Pennsylvania. I-81 South continues to Upper Pocosin, Virginia, in the breathtaking Shenandoah National Park.
Continue on I-81 South and stop at the White Oak Flats Overlook and the Great Valley Overlook to truly experience the beauty that the Blue Ridge Parkway has to offer.
Drive a bit further south to Roanoke, Virginia, and then head back onto I-81 South. Near Atkins you will turn onto Nick Creek Road to continue on the Blue Ridge Parkway and make your way to the beautiful city of Blowing Rock, North Carolina.
Blowing Rock is a great overnight stop with beautiful scenery and a small downtown district. Continuing on from this scenic town, you can stop in Linville, North Carolina along the Blue Ridge Parkway, and finally make it to your destination of Asheville, North Carolina.
Best places to stop between New York and Asheville, North Carolina
While there are tons of places to stop between New York and Asheville, the best spots to stay overnight are ones that have exciting activities, delicious food and drink options, and comfortable hotels.
We recommend the following cities and hotels for overnight stays while on your road trip.
A historic stopover in Washington DC
Washington DC, the world-famous capital city of the United States of America, is located a little over 4 hours along the City Route. The city is home to famous government buildings and monuments such as the White House, the Lincoln Memorial, and the Smithsonian Institution Museums.
Not only incredibly historic but the city is also very walkable and boasts an incredible food scene for the ultimate urban experience. It is the perfect overnight spot for the direct route from New York to Asheville.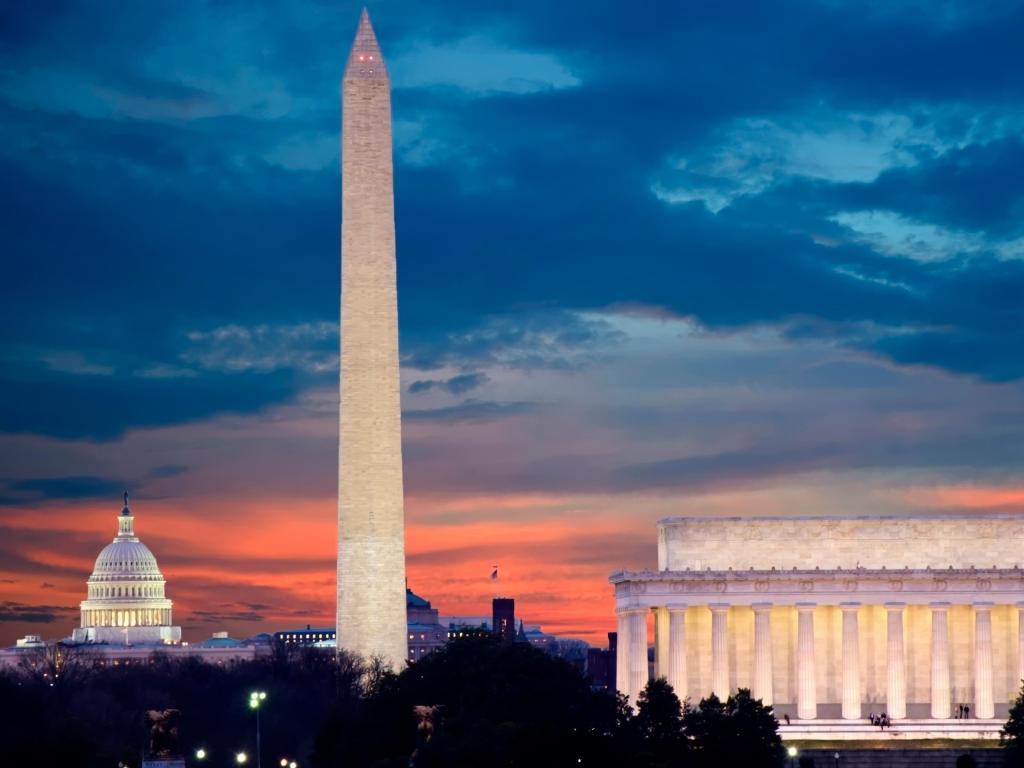 While in Washington DC, we highly recommend staying overnight at Hotel Madera. Located in the heart of the city, Hotel Madera is close to many of the attractions you will find yourself visiting while in the city.
Centrally located, you will only be one mile from the White House and two miles from the Washington National Monument during your stay at this beautiful property. This hotel features a fitness center, spacious rooms, and an incredible breakfast spread.
Check out their upscale restaurant where you can enjoy a delicious meal and extensive cocktail menu, perfect after a long day of traveling.
An awe-inspiringly scenic stay at Blowing Rock
Blowing Rock, North Carolina is only 2 hours and 30 minutes from your final destination of Asheville, North Carolina on the Scenic Route, and boasts beautiful scenery and a small downtown shopping district.
Located right on the scenic Blue Ridge Parkway, the town is famous for Blowing Rock, a cliff 4,000 feet above sea level that overlooks the Johns River Gorge. You can even enjoy a variety of different hikes nearby. There really is something for everyone here!
History buffs will love a visit to the Moses H. Cone Memorial Park. This estate was built roughly around the 1890s and is one of the major highlights on the Blue Ridge Parkway.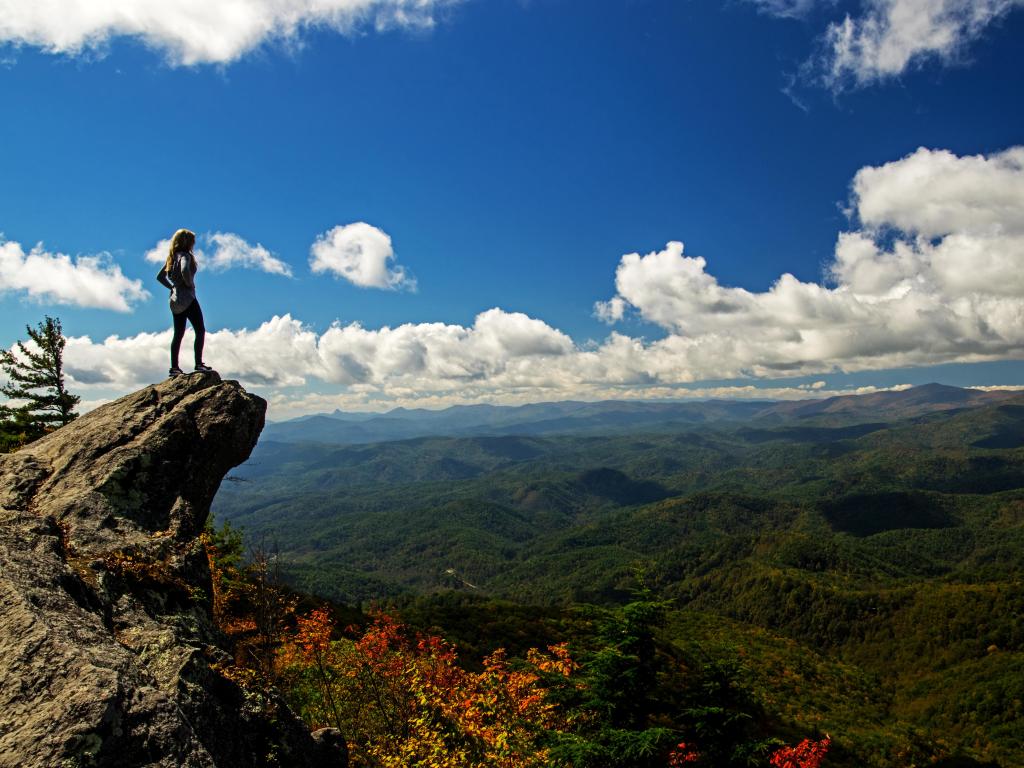 If you'd like to stay the night in Blowing Rock, there is no better place than the Bob Timberlake Inn at Chetola Resort. This hotel is highly rated and situated in an excellent location, just around the corner from many boutiques and restaurants.
You can enjoy the indoor pool, sauna, and nightly entertainment, plus free private parking, and a continental breakfast. There is also a fantastic restaurant and bar on-site. Stroll through the hotel's beautiful gardens or play a match of tennis on the grounds.
Where to stay once you reach Asheville
When you finally arrive in Asheville, you will likely be ready to relax in a comfortable hotel. There is no better place to stay in Asheville than at the Village Hotel on Biltmore Estate.
This hotel offers so many amenities, like a heated outdoor swimming pool, a wellness center, and free parking. Additionally, check out the many hiking and biking trails nearby, and enjoy a wine tasting at the Biltmore Winery (just a two-minute walk away from the hotel).
Things to see on a road trip from New York to Asheville, North Carolina
During your road trip from New York City to Asheville, there are endless scenic destinations to stop at and incredible cities to visit. Out of the many places you can explore, keep an eye out for these options.
The City Route
Liberty Bell, Philadelphia – Considered an iconic symbol of American Independence, see this famous cracked bell up close and personal.
Independence Hall, Philadelphia – This historic building is where the Declaration of Independence and the Constitution of the United States was signed.
Eastern State Penitentiary – Explore America's most historic and famous prison, with its 19th-century gothic structure. Experience life as a prisoner on one of their interactive guided tours.
Fort McHenry National Monument and Historic Shrine, Baltimore – This fort successfully defended Baltimore from the British during the War of 1812. The museum is open daily, and free for visitors to walk through.
Inn Harbor, Baltimore – One of America's oldest seaports, here you can enjoy some of the city's best attractions.
The Capitol Building, Washington DC – Open Monday through Saturday for tours, here you can visit the U.S. Capitol Building and learn about American democracy.
The Smithsonian Institution Museums, Washington DC – This world-renowned museum complex consists of 17 different museums and galleries. Here you can enjoy free entry to explore over 150 million objects of art, history, and culture.
Lincoln Memorial, Washington DC – The most iconic memorial in the city, here you will find the 10-foot marble statue of President Abraham Lincoln, which is surrounded by 36 columns. Each column represents the number of states that existed at the time of the President's death. This is also the location where Martin Luther King Jr. made his famous "I have a dream" speech.
The White House, Washington DC – This is the official residence of the President of the United States. Originally built in 1972, the White House was later destroyed in a fire and rebuilt again in 1818.
Fredericksburg and Spotsylvania National Military Park – Here you can visit the four major battlefields of the Civil War. There are three historic buildings open to the public. Be sure to check out the Visitor's Center, which features documentaries and free guided tours.
The Historic Kenmore, Fredericksburg – Also known as the Kenmore Plantation, this Georgian style brick mansion was built in the 1990s and is open to the public for tours.
Maymont, Richmond – This is a 100-acre historic estate and park. You can explore their extensive Japanese and Italian gardens while visiting the Maymont Mansion and other historical buildings.
Hollywood Cemetery, Richmond – Established in 1847, this cemetery is the resting place of two former United States Presidents (James Monroe and James Tyler), and James Davis. 18,000 confederate soldiers are also buried here.
Duke University, Durham – Considered one of the country's most beautiful university campuses, stroll around and be sure to check out Duke Chapel. Also worth a visit is the 55-acre botanical gardens. Entry is free.
Bennett Place, Durham – This historic farmhouse is the location of the negotiations that led to the biggest troop surrender of the Civil War.
Museum of Life Science, Durham – This is an interactive science museum spread over 84 acres. You can find over 60 species of live animals, a butterfly conservatory, a dinosaur trail, and more.
Old Salem Museum and Gardens, Winston-Salem – Open year-round (except in January), this serves as a living history museum that shares the history and culture of the Moravian community. You can explore the Historic Town of Salem, multiple museums, along with homes, schools, and everyday life buildings and resources.
Reynolda House Museum, Winston-Salem – This museum was built in 1917 and houses a premier collection of American art. The pieces found here date from the colonial period right up until the present.
NASCAR Hall of Fame, Charlotte – A must for any NASCAR fan, here visitors can check out the Hall of Fame recipients.
Daniel Stowe Botanical Gardens, Charlotte – Spread over 380 acres, visitors can enjoy the beautiful gardens filled with fountains, tropical plants, and a nature walk.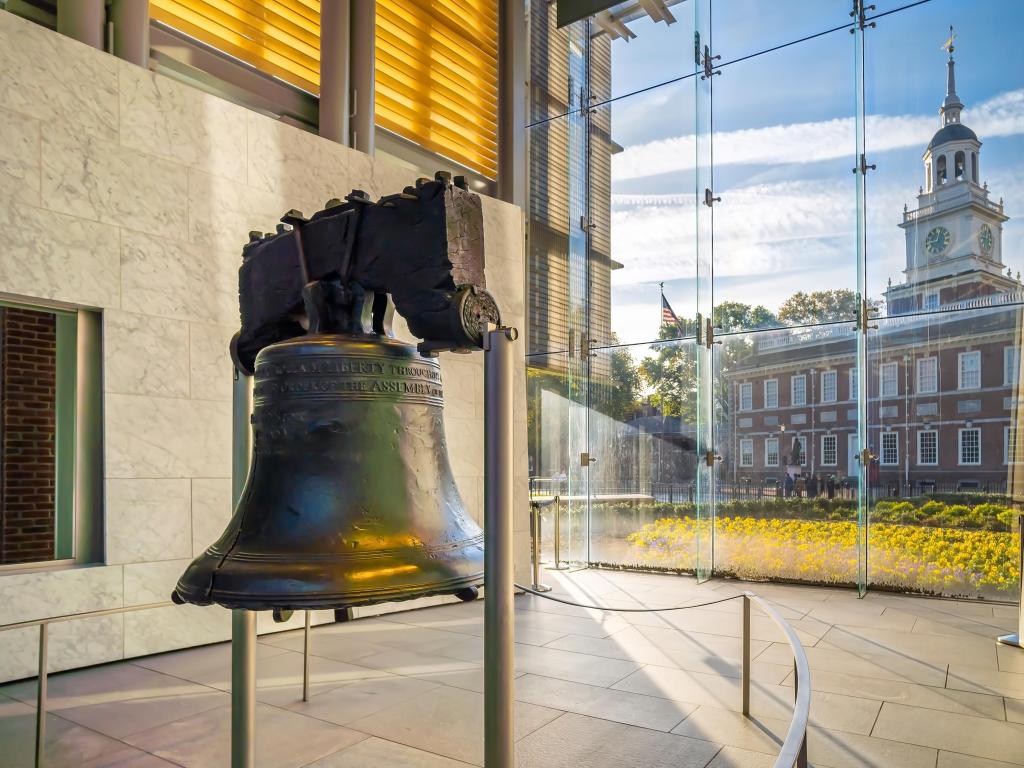 The Scenic Route
Colonial Industrial Quarter, Bethlehem – This 10-acre site is known as one of America's earliest industrial parks. Featuring 10 buildings dating back to the 1700s, it showcases the stores and lives of the Moravian settlers.
National Museum of Industrial History, Bethlehem – This museum is a Smithsonian affiliate featuring over 200 artifacts. Enjoy interactive exhibits while learning about America's manufacturing heritage.
Hoover Mason Trestle, Bethlehem – Built in 1905, this was once used as a railroad to carry coke, limestone, and iron ore. The trestle is 46 feet high, and 2,000 feet long and now serves as a public walkway. Visitors can also get a close look at the furnaces.
The Hershey Story Museum, Hershey – This museum takes you through the life of Milton Hershey, from failed entrepreneur to the king of chocolate. You can see original machinery used to make chocolate and attend the chocolate lab (book ahead) for a hands-on chocolate-making experience.
Hershey Chocolate World Attraction, Hershey – Discover all things chocolate with this interactive experience. Here you can take a ride to see how chocolate is made, create and name your own chocolate bar, enjoy a theatrical chocolate tasting journey, and take a ride through the town on the Hershey trolley.
Broad Street Market, Harrisburg – Opened in 1863, this is one of the oldest operating farmer's markets in the country.
Pennsylvania State Capitol Building, Harrisburg – Designed in 1902, enjoy a free guided tour inside this Renaissance-themed building featuring handcrafted décor, murals, and marble architecture.
Shenandoah National Park – Among the incredible scenic views and hikes in this National Park includes an easy 2.5-mile hike that brings you to the Pocosin Cabin and the ruins of the Upper Pocosin Mission, as well as the South River Falls. You will need an Old Rag Day-Use Ticket if you are planning to visit the Old Rag Mountain. Please check the national park's website for details.
Virginia Military Institute Museum, Lexington – This museum houses over 15,000 artifacts. Admission is free and the museum works to preserve the history of the Virginia Military Institute and chronicles the journeys of its alumni.
Blue Ridge Parkway – Start this scenic drive along the Blue Ridge Mountains and stop to enjoy one of the many hikes and lookouts along the route. Notable stops include the Buena Vista Lookout, House Mountain Overlook, Punchbowl Mountain Overlook, White Oak Flats Overlook, and the Upper Otter Creek Overlook.
Mill Mountain Star, Roanoke – On top of Mill Mountain is a sunning view of the surrounding landscape.
Virginia Museum of Transportation, Roanoke – This museum used to be an old freight station. Visitors can enjoy antique automobiles and trucks.
Blowing Rock – A cliff located 4,000 feet above sea level overlooks the Johns River Gorge. Visitors can enjoy one of the many trails, visit the museum, and check out the Visitor's Center.
Moses H. Cone Memorial Park, Blowing Rock – An historic estate that was developed in the 1890s, you can enjoy a visit to the Manor House or stroll the grounds and enjoy the many trails, lakes, and old apple orchards.
Mile High Swinging Bridge, Linville – This pedestrian swinging bridge, built in 1952, is 228 feet long and offers beautiful views of Grandfather Mountain.
Linville Falls, Linville – Known as the most famous waterfall of the Blue Ridge Mountains, visitors can take hiking trails to five different viewpoints.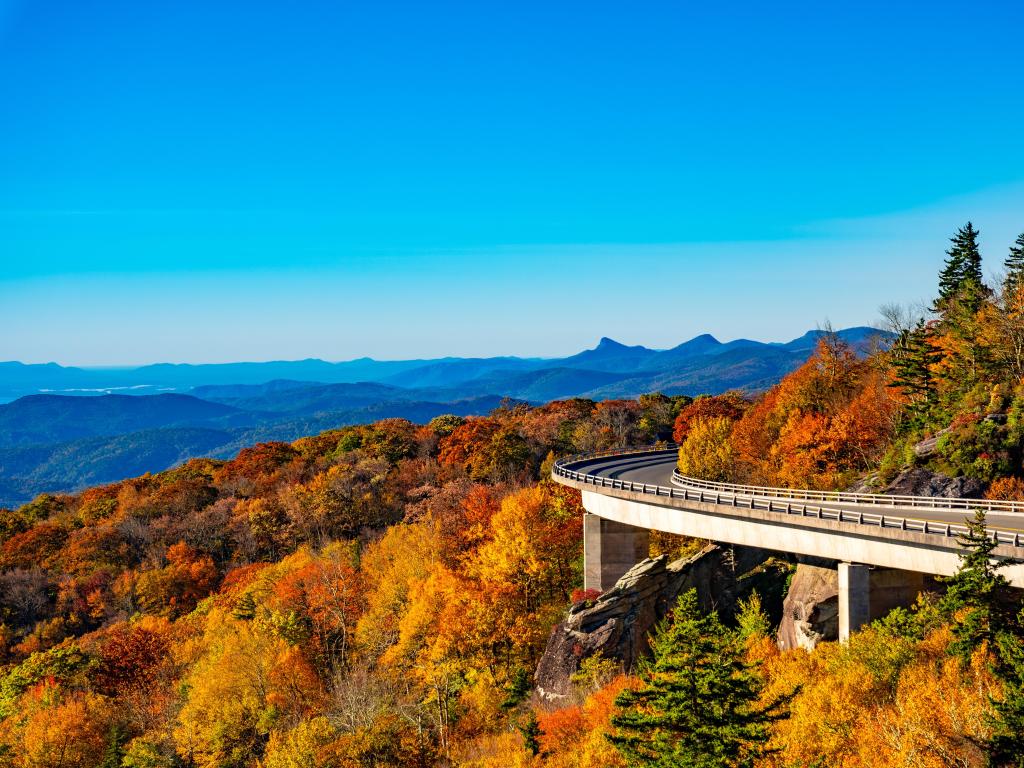 Best time to go on a road trip from New York to Asheville, North Carolina
This road trip from New York City to Asheville, North Carolina can be enjoyed year-round, but we recommend taking it during mid-September to late-October to enjoy the fall foliage, or during April to see the spring blooms, especially if you are following the Scenic Route.
Winter weather conditions may make this road trip more challenging, especially on the Blue Ridge Parkway as it is a relatively narrow and twisting road. During the colder months, Asheville sees highs of 70 degrees Fahrenheit and lows of 60 degrees Fahrenheit.
Visitors can also enjoy more reasonable rates during January, February and March as these are the slowest months for visitors coming to the area.
Known as bordering a subtropical climate, Asheville can be quite humid in the summers, with July and August being known to have more rain than any other time of the year. The destination experiences lows of 60 degrees Fahrenheit up to 85 degrees Fahrenheit.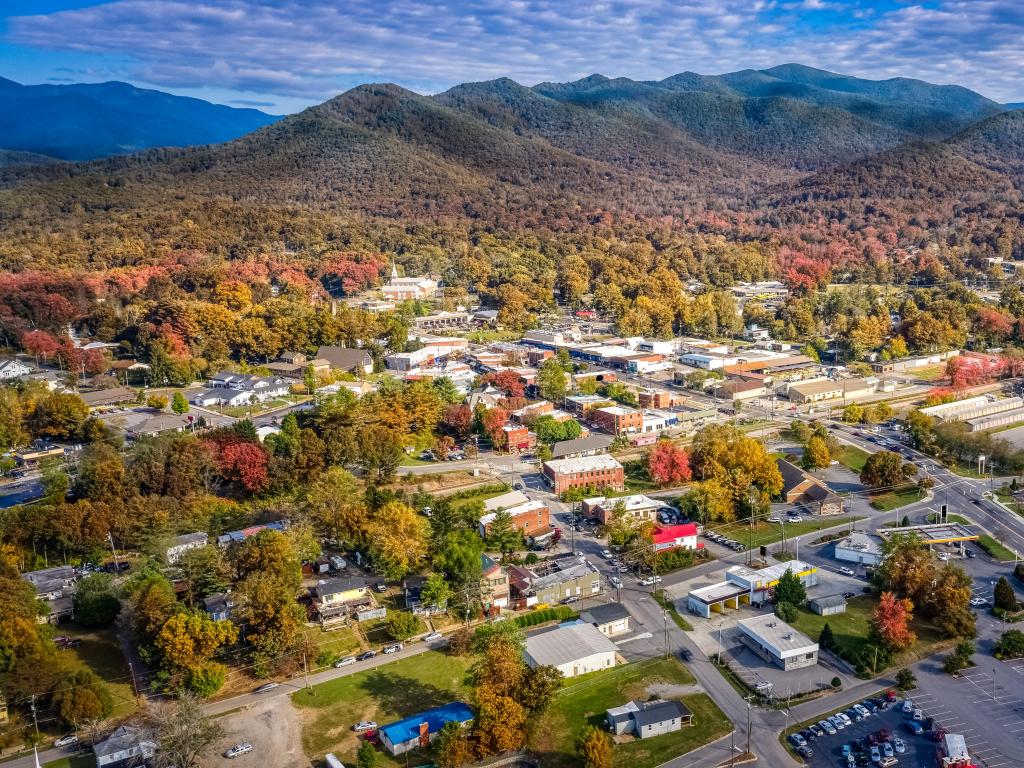 Spring and fall are both very special times to visit the destination. Spring brings warm air and blooming trees and flowers, where visitors can enjoy the beauty of Mother Nature.
In fall Asheville, is known for having one of the longest fall foliage duration which lasts into November. Visitors can experience the beautiful colors of over 100 different species of trees.
If you are still having trouble deciding when to travel, note that Asheville hosts many festivals throughout the year for visitors and locals to enjoy.
The Biltmore Blooms occurs in the spring, the Mountain Dance and Folk Festival happen in the summer, the Asheville Art in the Park event is in the fall, and both the Asheville Celtic Festival and the Dickens in the Village event occur in the winter.