Road Trip from New York to Boston
If you like the sound of exploring stunning stretches of the north eastern coastline, a number of beautiful state parks and some of the most historic towns and cities in the whole of the US, then a road trip from New York to Boston is the one for you.
The 226-mile road trip from New York to Boston takes about 4 hours to drive. Key stops include Greenwich, Hartford, Mystic, Martha's Vineyard, Newport and Plymouth, as well as Cape Cod, Harriman State Park, Long Island Sound and Wawayanda State Park.
There are plenty of other tourist attractions and places of interest to see along the way. So please keep on reading until the end to check out all the fabulous places you can visit.
How far is Boston from New York and how long will the road trip take?
Comparison of road trip routes between New York and Boston

| Route | Distance | Driving Time |
| --- | --- | --- |
| The Inland Route | 226 miles | 4 hours |
| The Coastal Route | 360 miles | 6 hours 35 minutes |
There are a number of ways you can drive from New York to Boston. The most direct of these takes 218 miles and around 3 hours and 40 minutes of non-stop driving.
This option takes you on Interstate-95 and through Hartford and Worcester before arriving at Boston. An alternative slightly longer route, though still only taking 360 miles and 6 hours and 35 minutes to drive, takes you along the coast.
Both options are pretty straight forward routes to complete in a day, however given the number of distinguished towns, cities and historical landmarks there are, a better option would be to spread the journey out over a couple of days or more to really take in the stunning scenery.
Best road trip route from New York to Boston
There is no one best option to take on the road trip from New York to Boston. Both choices include a number of fantastic cities and attractions, so it really will depend on your personal preference of scenery.
Our Inland Route is the most direct choice, offering great cities to visit and taking you through some fantastic forests and towns. Alternatively the Coastal Route is slightly longer but really makes the most of the incredible coastal road and delightful towns en route.
No matter which option you decide upon, both routes are straightforward and will allow you to enjoy the scenery and the numerous things to see and do along the way.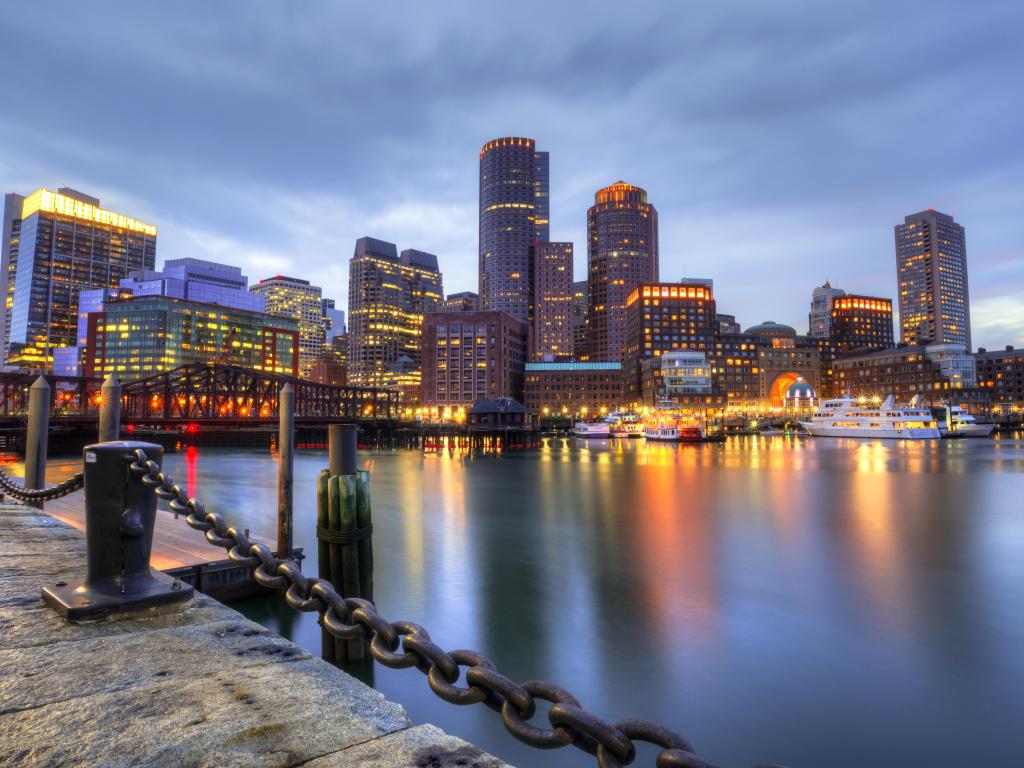 The Inland Route
Leave New York by taking Interstate 95 north, driving adjacent to Long Island Sound, as you pass the towns of Stamford, Bridgeport and Fairfield. You could continue to New Haven, or take the exit 27A and follow CT-15 north, before merging with I-91 to Hartford.
If time allows, spend some time in this fabulous capital of Connecticut, before leaving Hartford and heading on I-84 through Willington.
You will pass Nipmuck State Forest and have the option of a detour to Natchaug State Forest, before continuing north until the road becomes I-90 to Auburn. Next follow I-290 to Worcester - another great option for a stopover.
Leave Worcester and follow the signs to I-90 east, which you will follow until just before Boston. Along this final stretch, you could take a detour to Assabet River Wildlife Refuge or Blue Hills Reservation.
The Coastal Route
Take Interstate 278 from New York, passing Pelham Bay Park before taking I-95 until you arrive at New Haven. En route to this first stop you will pass by Devil's Den Nature Preserve, which is definitely worth the extra drive should you have the time.
After spending time exploring New Haven, continue north on I-95 alongside the coast and passing Nehantic State Forest.
Next there's the option to head slightly inland to Providence, the capital city Rhode Island, before taking I-195 and Route-104 to Newport.
Another optional extra detour would be to take a ferry to Martha's Vineyard, where after you can rejoin I-195 and head towards Cape Cod. Which you will reach via Route-6 (also known as the Grand Army of the Republic Highway).
Leaving Cape Cod, you will be able to head towards the historic town of Plymouth in Massachusetts, along Route-3 and passing Myles Standish State Forest, before following MA-3 north through Braintree and finally to Boston.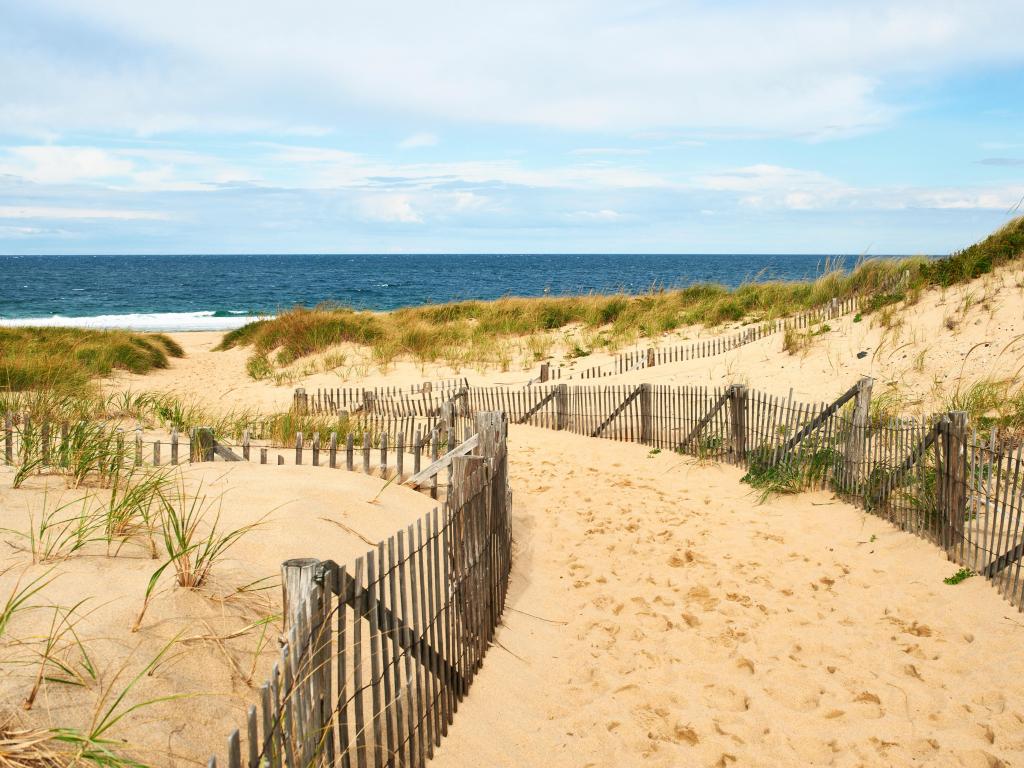 Best places to stop between New York and Boston
While you could complete this trip in a single day, we would recommend at least one or two overnight stops on the road trip from New York to Boston.
There are some stunning locations to stay at en route, but here are the ones we think you should keep an eye out for:
An authentic stop in Newport
If you have decided to embark on the Coastal Route, then a stay at Newport is a great city that is well worth a longer visit. At almost 4 hours from New York, this Rhode Island city is perfectly placed for a rest after a day's driving too.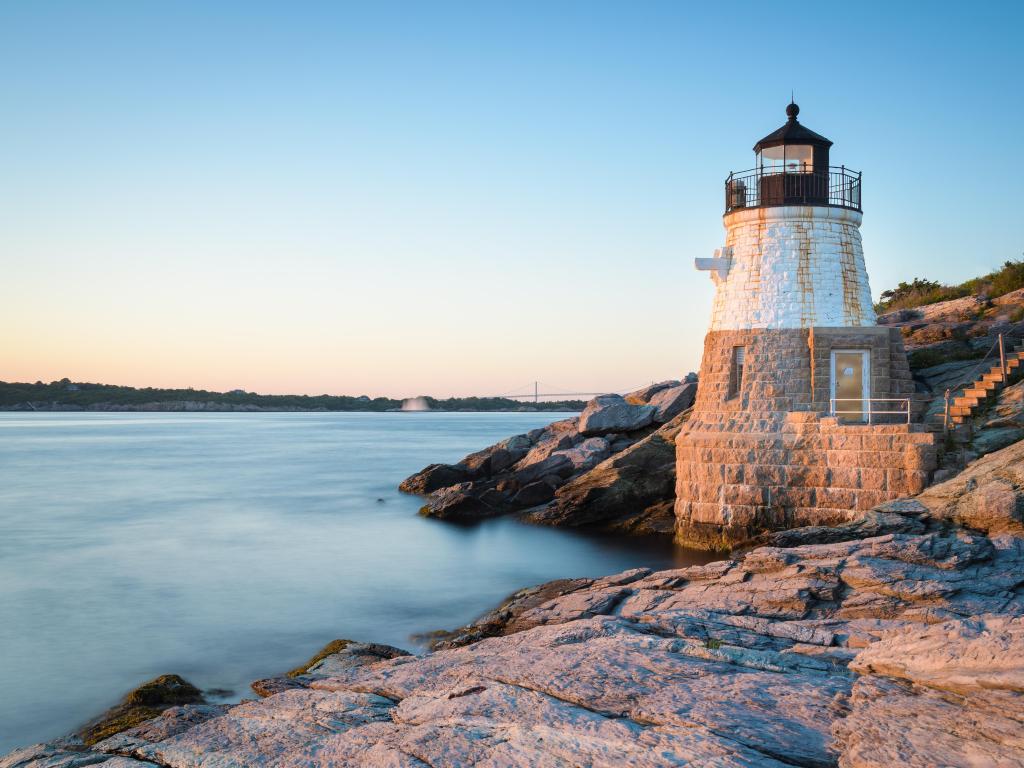 Set on Aquidneck Island, which is part of the New England state of Rhode Island, Newport it is known for its rich history and stunning gilded age mansions.
A regular host of the America's Cup, its harbor is always full of impressive yachts. There is also plenty of excellent shopping and restaurants to be found here, as well as The Breakers, a former 1895 mansion and now a museum and a great art museum.
One of the best places to stay here is in the 5-star The Chanler at Cliff Walk. This authentic, old world elegant hotel is situated on Newport's celebrated 'Cliff Walk', only about a mile to the city center and 8 minutes to the beach.
Showcasing fantastic views of the Atlantic Ocean, the setting of this hotel is as glamorous as the rooms themselves. Guests can indulge in extraordinary meals at the onsite restaurant or just soak up the ocean views and relax in tranquil elegance. This really is an experience to be seen to be believed.
Recharge in Hartford
Alternatively, if you're travelling on the Inland Route and looking for a place to stay, at just 109 miles from Boston, Hartford in Connecticut is a solid option.
Renowned for its culture and literary significance, Hartford has plenty of nearby attractions. Explore this city and discover the Wadsworth Atheneum Museum of Art, which includes Renaissance and impressionist works, and the Mark Twain House & Museum.
There are plenty of great hotels that can be found in Hartford, but one of the best is the Hartford Marriott Downtown. Located directly opposite the Connecticut Convention Centre, it features a welcome indoor swimming pool and spectacular views of the city.
As you would expect, rooms at this modern hotel are stylish and well designed, there's also a useful onsite restaurant, great bar and lounge area and on-site parking is available - making Hartford Marriott Downtown a superb option for a stop in Hartford.
Explore the city in Boston
Boston is a truly fascinating city. Best known for The Boston Marathon and its famous baked beans and mouthwatering clam chowder, there's so much to see and do here that if you have an extra day or so, an overnight stop would be a fantastic addition to your road trip.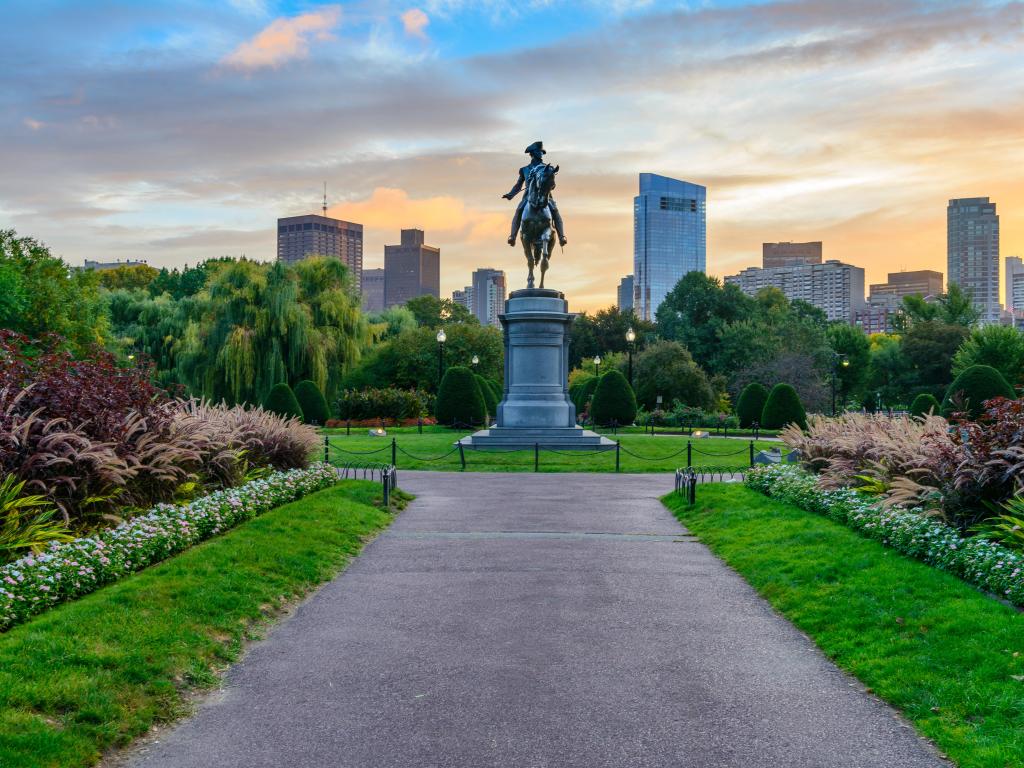 With its many parks, striking architecture and superb cuisine, Boston is a hugely popular tourist destination. Some the highlights in this city include the Museum of Fine Arts, Museum of Science, Boston Common and of course its beautiful public garden.
To make the most of your visit, a stop at Seaport Hotel® Boston is a great choice. This modern hotel is situated on Boston's historic waterfront, giving fantastic views.
After a long drive, why not hire a bike and take a tour of the city or better yet, indulge in the indoor swimming pool before relaxing in the lounge area and watching the sun set over the water. You can either eat in the hotel itself, or make the most of its location and take a walk to one of the great nearby restaurants.
Things to see and do on a road trip from New York To Boston
Given how many fantastic things there are to see and do on a road trip from New York to Boston, it would be ideal if you had several weeks available to see them all.
But if you are pressed for time, we have compiled a list of some of the major highlights to help you decide where to go: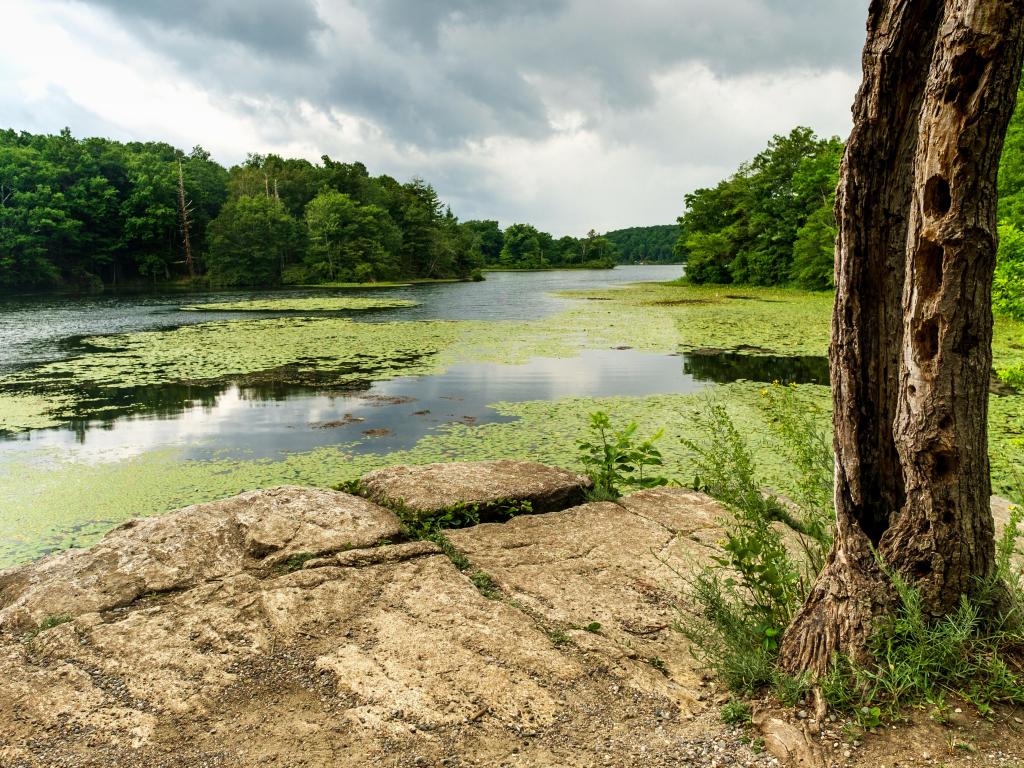 Both routes
Wawayanda State Park – Home to the idyllic Wawayanda Lake and a portion of the Appalachian Trail, this state park has over 60 miles of well established trails to explore.
Greenwich - Upscale waterfront town that is consistently ranked as one of the wealthiest towns in America. Known for its high end shopping boutiques, lovely beaches, interesting museums and the historic Putnam Cottage.
Norwalk - Not to be confused with the Californian town of the same name, Norwalk in Connecticut is a stunning coastal town with a beautiful shoreline. It is known for its terrific beaches, stately lighthouses, excellent restaurants and very good shopping.
Long Island Sound – Spectacular tidal estuary between Connecticut and New York that possesses magnificent coastal views. Wine lovers should take the ferry across to Long Island to visit the outstanding wineries at North Fork.
Harriman State Park – One of New York's largest state parks, this picturesque 47,500 acre outdoor playground has plenty of lakes, waterfalls and camping trails. It is also a lovely spot for camping and fishing.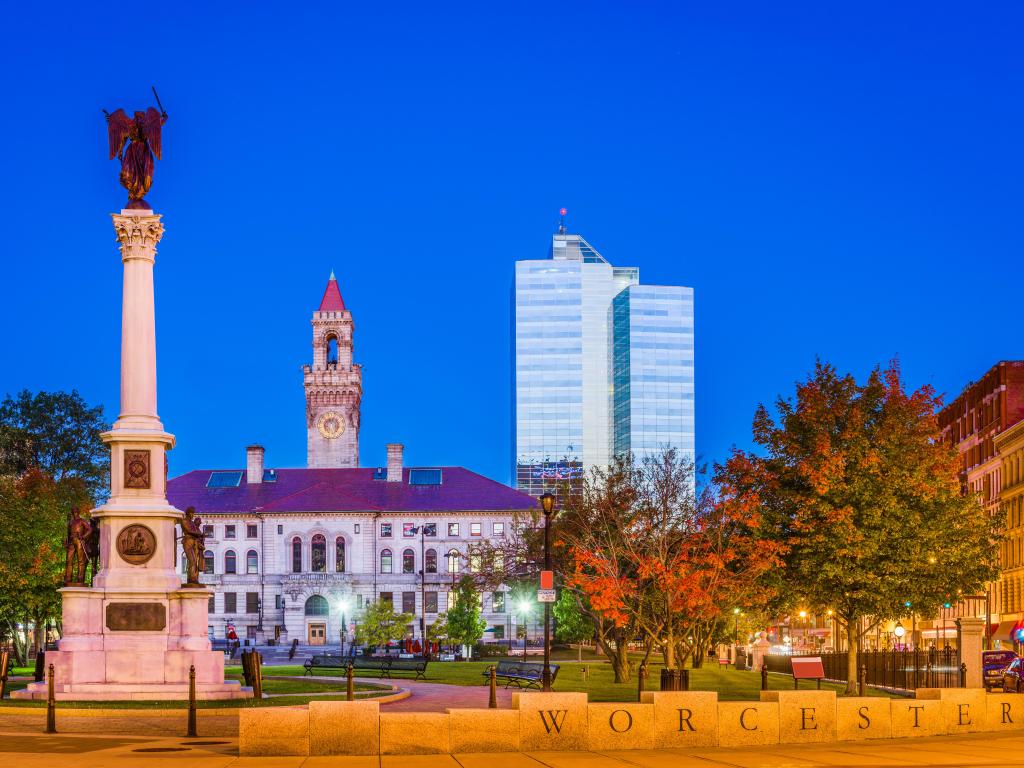 Inland Route
Kykuit – Also known as The Rockefeller Estate, this 40 room historic house and museum is located in Pocantico Hills, about 25 miles north of New York City. It is a National Historic Landmark that also showcases immaculate gardens and a stunning collection of art.
Hartford – Fascinating city of huge cultural and literary significance. Home to the Mark Twain House and Museum, the Wadsworth Atheneum Museum of Art and the acclaimed Bushnell Center for Performing Arts.
Natchaug State Forest - A short drive away, this forest features hiking and horse trails, plus fishing and areas to enjoy a picnic. You might even find the remains of a Civil War general's home.
Nipmuck State Forest - A 9,000-acre park offering fantastic forested hiking trails, a fishing pond and camping areas.
Worcester – Lovely city in Massachusetts. Houses a number of impressive museums including the Worcester Art Museum, which has old Roman mosaics, medieval armor and impressionist paintings, and the EcoTarium, which is a really cool science and nature museum.
Coastal Route
Essex – Stunning waterfront town made up of three villages that feature gorgeous Federal, Victorian and Cape Cod styles of architecture, picturesque landscapes and stately gardens. Attractions include museums, art galleries, as well as riverboat rides.
Mystic – Charming, historic town founded in 1654 which was once a major shipbuilding center. Now known for housing two of Connecticut's most popular attractions: the Mystic Aquarium and the Historic Mystic Seaport.
Big River Management Area - Find hidden waterfalls and great trails at this 8,319 acre site, along with forests, waterlines and local wildlife.
Providence – Historically and culturally significant city that was one of the first in the USA to industrialize. Situated at the mouth of the Providence River, at the head of Narragansett Bay, it features the popular Roger Williams Park Zoo and the impressive RISD Museum or Art.
Newport - Gorgeous city set on Aquidneck Island, that is well known for its rich history and impressive gilded age mansions. Its harbor is full of luxury yachts and it also features a stunning Cliff Walk which showcases spectacular views of the Atlantic.
Martha's Vineyard – Home to world class beaches and 5 iconic lighthouses that protect its magnificent coastline. A foodies paradise, it has also housed residences owned by celebrities like David Letterman, Spike Lee, and former first lady Jackie Kennedy.
Cape Cod – Also known for its sensational beaches, Cape Cod is a place to see some marvelous sunsets too. The Cape Cod Rail Trail is excellent to cycle along, whilst the National Seashore is also well worth exploring.
Plymouth – This historic seaside town features Plymouth Rock, a boulder in the Pilgrim Memorial State Park, a replica of the Mayflower II ship and the Pilmouth Pawtuxet Museums, which showcases a 17th century English village and a Wampanoag homesite.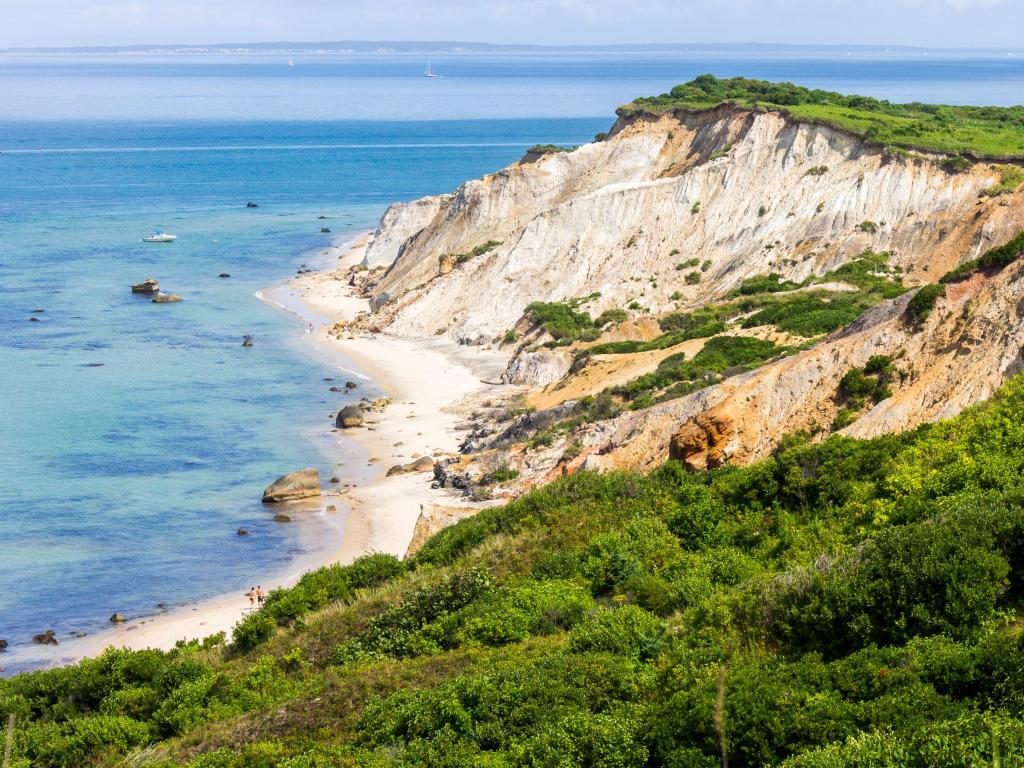 Best time to go on a road trip from New York to Boston
A road trip from New York to Boston can be undertaken all year round, that said the weather in this part of the US does see extreme highs and lows so you will want to plan accordingly.
Typically summer is the most popular time to visit both New York and Boston. Daytime temperatures can reach highs of 80 degrees Fahrenheit by July, making summers here quite humid. The guaranteed sunshine also means that the cities are likely to be much busier.
In winter, both Boston and New York can see a lot of heavy snowfall. From December to mid-March, temperatures can be as low as 32 degrees, but there's the chance of cold spells, bringing it to a chilly 5 degrees or lower.
These kind of temperatures will impact your trip, especially if you are hoping to enjoy some of the parks and outdoor attractions. Therefore a safer time to plan your visit is either late spring or early fall. Not only will temperatures be more mild and pleasant, but the cities will also be quieter.
That said, if you'd like to time your trip with a special event or festival, you could plan a visit in April and arrive in Boston to witness the hugely popular marathon or enjoy the North End Boston Festivals held in August.