Road trip from New York to Buffalo
Looking to get out of the city and unwind in the stunning scenery that New York state is dotted with? This relatively short road trip from New York to Buffalo will take you through the heart of the Catskill Mountains and the Finger Lakes region, perfect for a long weekend getaway.
The 390-mile road trip from New York to Buffalo will take about 7 hours to drive nonstop. You can visit Woodstock, Catskills, Albany, Ithaca, Seneca Falls, Rochester, Syracuse, Finger Lakes, Callicoon, Cayuga Lake and Taughannock Falls on the way.
Read on to find about the best routes to follow, beautiful and inspiring things to see on each of these routes, where to stay and the best time to visit Buffalo.
How far is Buffalo from New York, and how long will the road trip take?
Comparison of road trip routes between New York and Buffalo

| Route | Distance | Driving Time |
| --- | --- | --- |
| The Finger Lakes Route | 390 miles | 7 hours |
| The Hudson Valley Route | 470 miles | 8 hours |
Driving from New York to Buffalo on the Finger Lakes Route, you can expect to cover 390 miles of picturesque landscapes. This journey will take you roughly 7 hours if driven without breaks.
Alternatively, the Hudson Valley Route will take you through an approximately 470-mile journey from New York to Buffalo. This route, if driven continuously, would take you around 8 hours.
Considering the richness of the landmarks and attractions on this route, we recommend allocating about 3-4 days to fully savor this gorgeously scenic road trip from New York to Buffalo.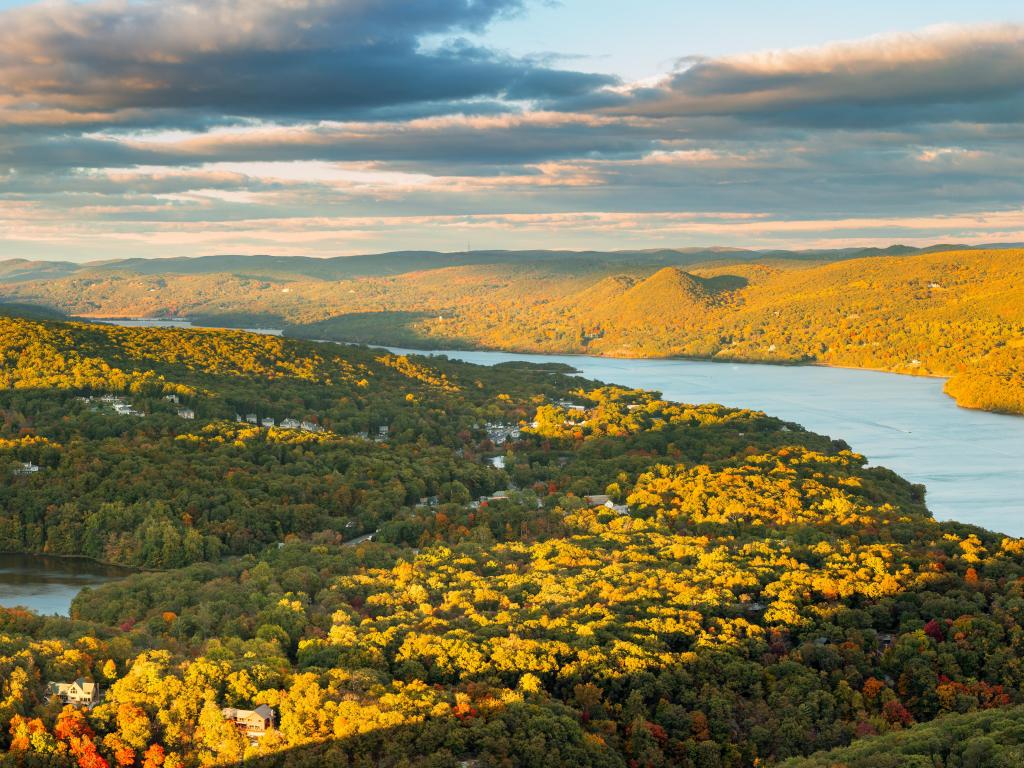 Best road trip route from New York to Buffalo
Both of our suggested routes on a New York to Buffalo road trip offer two distinct, yet equally thrilling experiences. Your personal interests, whether they lean toward wine country exploration or historical landmark discovery, will ultimately guide your decision.
Kickstarting your journey on the Finger Lakes Route, you will get to admire scenic vistas and drive through charming towns such as Callicoon. The Finger Lakes region, known for its wineries, adds a dash of refined elegance to the trip, while opportunities for hiking and boating will bring adventurers closer to nature.
The Hudson Valley Route promises a breathtaking drive through New York's rich historical and artistic tapestry. Dotted with picturesque towns like Woodstock and Catskill, the path offers insights into the region's vibrant past and thriving arts scene.
Regardless of which route you take, the road trip from New York to Buffalo will be an unforgettable adventure, whether you choose to visit the wine country of the Finger Lakes Route or explore the historical and artistic richness of the Hudson Valley Route.
How to drive from New York to Buffalo
The map above shows our suggestions for the best road trip routes between New York and Buffalo. Keep reading for detailed descriptions of both routes, where to stay on either, and the best things to do on the way.
The Finger Lakes Route
Begin your journey out of New York City and head north, traveling through the lush Hudson Valley region. This scenic route will lead you to Callicoon, located in the picturesque Sullivan County.
Proceed northwestward to merge onto Interstate 86 (I-86), and journey towards Binghamton. This city is known for its rich history and culture - take a stroll through the historic downtown or spend a few hours exploring the beautiful Ross Park Zoo.
You will then drive through the rolling hills of upstate New York to your next destination, Ithaca, home to Cornell University and renowned for its waterfalls, beautiful parks, and lively arts scene.
After soaking up Ithaca's beauty, navigate north on NY-89 along the shores of Cayuga Lake, one of New York's famous Finger Lakes. Enjoy the stunning lakeside vistas before reaching Seneca Falls, often called the "Historic Gateway to the Finger Lakes".
Finally, continue west on I-90 to reach your destination in Buffalo.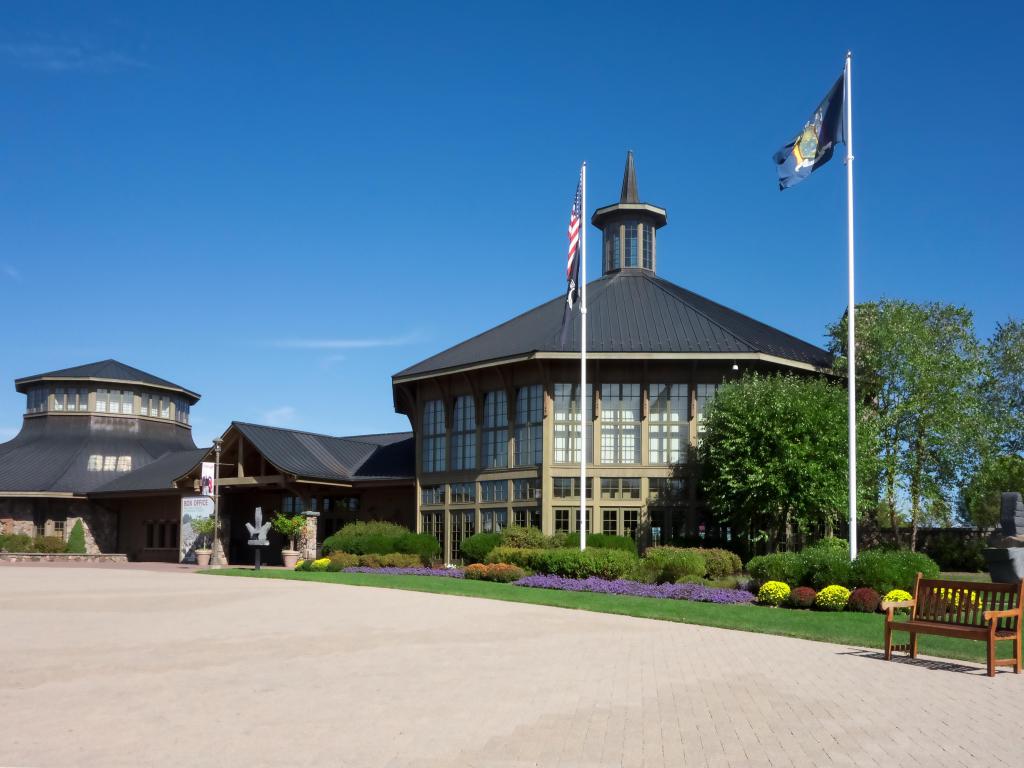 The Hudson Valley Route
Start your New York to Buffalo road trip by setting your course north on I-87. Your first stop is the iconic town of Woodstock, renowned for its artsy vibes and rich musical history, particularly the famous Woodstock Festival of 1969.
Next, you will travel further north to the beautiful town of Catskill, situated on the banks of the Hudson River. Immerse yourself in the stunning landscapes and the majestic scenery of the Catskill Mountains.
From there, you'll head to Albany, the capital city of New York State. Here, you can explore a rich historical background, symbolized in grandiose architecture like the New York State Capitol and the Albany Institute of History & Art.
Heading northwest, your journey continues along I-90 to Syracuse, a city that bursts with a vibrant food scene and a thriving arts community. Here you can make a short detour to Oneida Lake.
From Syracuse, continue your journey westward, to reach Rochester. Finally, wrap up your extraordinary road trip on I-90, arriving in the legendary city of Buffalo,
Best places to stop between New York and Buffalo
Making the most of your New York to Buffalo road trip experience involves more than just plotting your course—it also means finding the perfect pit stops along the way. Finding an amazing place to stay en route will mean that you can explore and relax at the same time.
To guarantee your journey across the Empire State is nothing short of splendid, we've hand-picked our top rest-stop choices for both the Finger Lakes Route and the Hudson Valley Route.
A sophisticated stay in scenic Ithaca
To take in the stunning scenery of the Finger Lakes, we suggest taking a break in Ithaca and exploring the beautiful region. Ithaca is located on the Finger Lakes Route, about 3 hours from Buffalo.
This beautiful city is home to the famous Ivy League institution, Cornell University, home to an array of architectural marvels and the Cornell Botanic Gardens. Whether you're wandering around the verdant campus or exploring the stunning gardens, the university is a destination unto itself.
If you are looking to spend some time outdoors, you will fall in love with the city's gorges and waterfalls, the most notable of which is Ithaca Falls. The popular Cascadilla Gorge Trail offers a stunning walk through an urban canyon adorned with several waterfalls.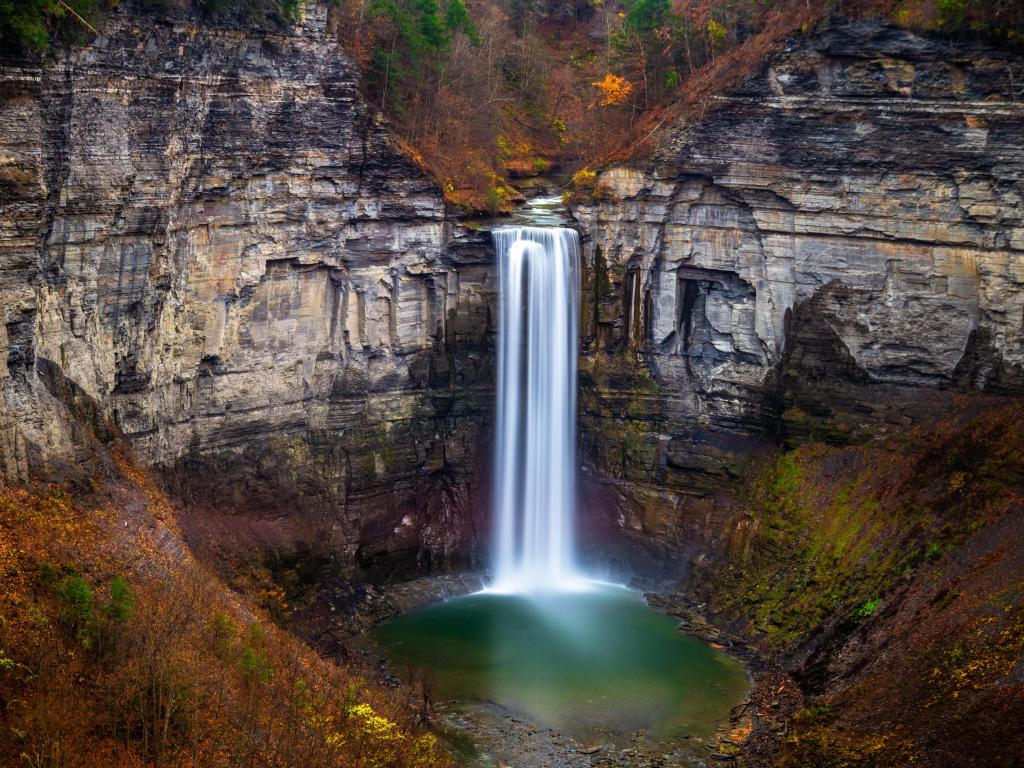 Located a short drive from the city center, Taughannock Falls sits on the beautiful shores of crystal-clear Cayuga Lake. This striking waterfall stands tall at 215 feet, actually surpassing the height of the famous Niagara Falls.
If you are looking for a stylish place to stay, look no further than Inn at Taughannock Falls. Located in a gorgeous Victorian house built in 1873, this inn offers chic rooms that offer views of Cayuga Lake, some even boasting private balconies.
The estate is nestled in Taughannock Falls State Park, which can easily be accessed from the property via a dedicated trail.
A retreat among emerald-green trees in Woodstock
Infused with a deep sense of culture, music, and art, Woodstock, New York is an amazing place to stop and explore along the Hudson Valley Route from New York City to Buffalo. Located about 2 hours away from New York, this beloved town is best known for the legendary Woodstock Festival of 1969.
Ironically the festival actually didn't take place in Woodstock itself but has forever linked the town's name with peace, love, and music. Today, the spirit of the 60s is still very much alive in the form of its vibrant arts scene.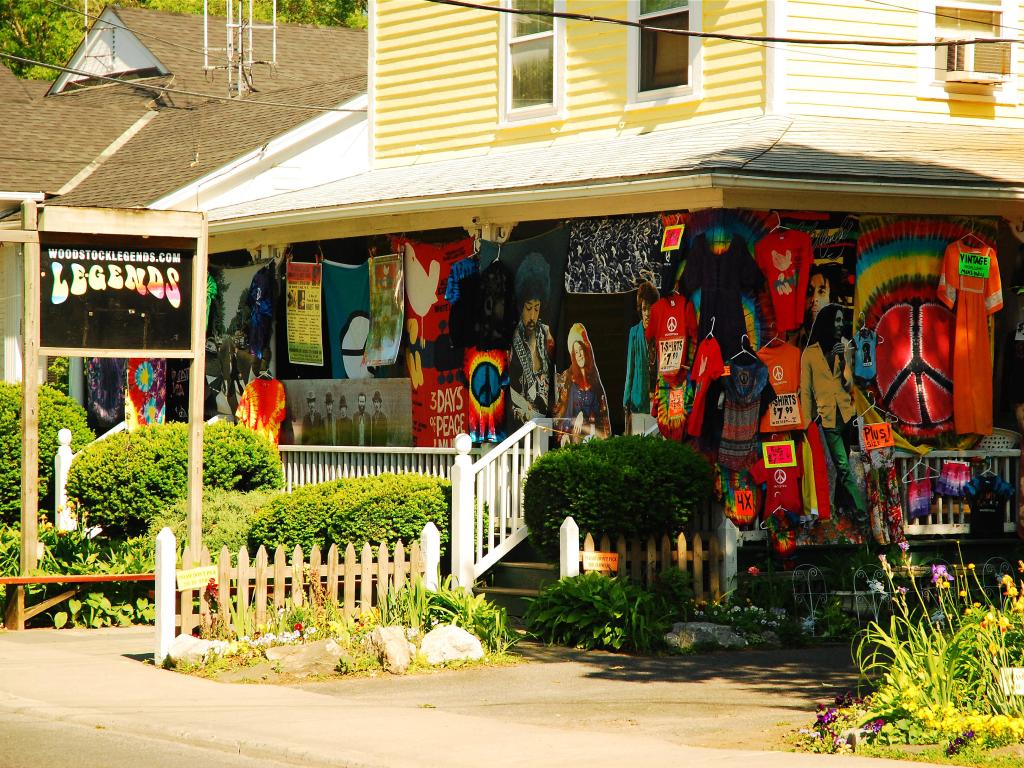 Woodstock is also surrounded by the lush Catskill Mountains, offering numerous trails for hiking and outdoor adventures. A trek to the top of Overlook Mountain provides an unbeatable view of the town and its beautiful surroundings, particularly during fall when the leaves burst into vivid colors.
To embrace the laid-back, free spirit of Woodstock, there is no better place to stay than the Woodstock Way Hotel. You will be located at the heart of Woodstock, and the hotel provides free bikes if you'd like to explore further.
If you'd like to stay and take in the stunning scenery that surrounds the hotel, you won't have to take a step out of its door as you will find a fabulous restaurant and a bar located on-site.
Where to stay when you reach Buffalo
Known as the "Queen City of the Lakes," Buffalo, New York is a city bursting with history, culture, and natural beauty. Known for its iconic chicken wings, you can expect to be greeted by a vibrant foodie scene here.
The city's splendid architecture, ranging from Art Deco masterpieces like the City Hall to Frank Lloyd Wright's timeless residential designs, are among the many treats awaiting architecture enthusiasts.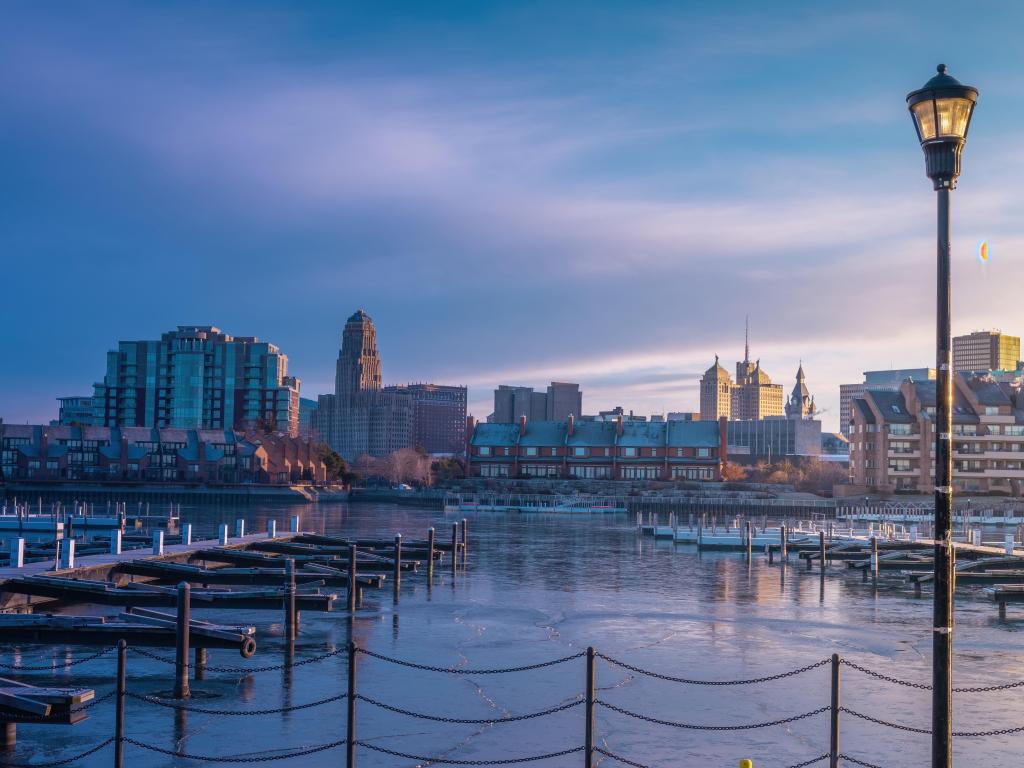 Buffalo is also a stone's throw away from the natural wonder that Niagara Falls is, making it a popular base for those who wish to experience this spectacular sight.
During your visit to this colorful city, the elegant Richardson Hotel is a great place to stay and unwind. Located just a short distance from both Frank Lloyd Wright's Martin House Complex and Buffalo Zoo, you will be able to explore the city easily on foot.
Things to see on a road trip from New York to Buffalo
Setting off on an incredibly scenic road trip from New York to Buffalo, you will drive past picturesque landscapes stretching for miles, and a kaleidoscope of attractions dotting the way.
Whether you're an ardent adventurer, a fervent foodie, an appreciator of art and culture, or a wildlife enthusiast, there's a treasure trove of wonders awaiting your discovery. To make your planning easy, we have compiled a list of top attractions to see on each route:
The Finger Lakes Route
Bethel Woods Center for the Arts, Bethel - The site of the 1969 Woodstock festival, Bethel Woods now hosts a museum, outdoor concert venue, and an arts center. Here, you can learn about the history of the festival and the counterculture movement of the 1960s.
Upper Delaware Scenic and Recreational River, Narrowsburg - This section of the Delaware River offers recreational activities such as fishing, boating, and wildlife viewing. The surrounding landscapes are beautiful and provide excellent hiking and bird-watching opportunities.
Callicoon, New York - This charming small town is a haven for outdoor enthusiasts, with opportunities for canoeing, fishing, and hiking, and also boasts a delightful array of antique shops, art galleries, and local eateries that embody the area's rich history and culture.
Animal Adventure Park, Harpursville - This interactive zoo is known as the home of April the Giraffe, who gained worldwide fame through a live-streamed birth. You can feed and pet a variety of animals, from kangaroos to camels.
Roberson Museum and Science Center, Binghamton - This museum features an array of exhibits on art, local history, science, and natural history. It also hosts a planetarium, which presents intriguing sky shows.
Cornell Botanic Gardens, Ithaca - This expansive garden on the Cornell University campus showcases a diverse range of plant species. It is an excellent spot for a peaceful walk, study, or picnic.
Cayuga Lake Wine Trail, Ithaca - This wine trail boasts numerous wineries and vineyards offering tastings and tours. The area is particularly known for its Rieslings.
Montezuma National Wildlife Refuge, Seneca Falls - This refuge provides habitats for migratory birds and other wildlife. It offers a wildlife drive, trails, and observation towers for wildlife viewing and photography.
Cayuga-Seneca Canal Trail, Seneca Falls - This trail offers a scenic walk or bike ride along the historic canal. The surrounding area is full of native wildlife and beautiful vegetation.
Harriet Tubman National Historical Park, Auburn - This park includes the home and final resting place of Harriet Tubman, the famous abolitionist and conductor of the Underground Railroad. The visitor center provides valuable insight into her life and work.
Jell-O Gallery Museum, Le Roy - This quirky museum is dedicated to the history of America's favorite dessert, Jell-O. Exhibits include original advertising art and various artifacts related to the brand's history.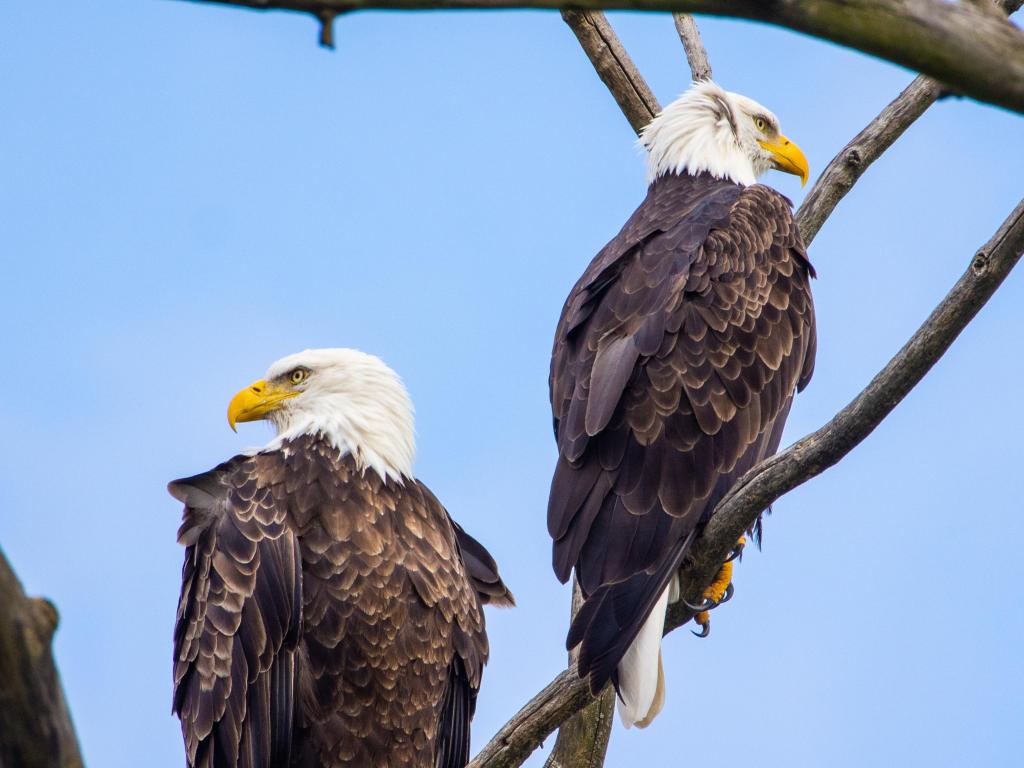 The Hudson Valley Route
Opus 40, Saugerties - This monumental environmental sculpture, built by sculptor Harvey Fite, is a testament to man's communion with nature. Carved from bluestone, it's an expansive labyrinthine artwork filled with quiet corners, stone ramps, and platforms.
Catskill Mountains, Catskill - The Catskill Mountains offer a nature lover's paradise with miles of hiking trails, stunning waterfalls, and spectacular views. They have long inspired artists, lending their name to the Hudson River School's Catskill Mountain House.
Thomas Cole National Historic Site, Catskill - This is the former home and studio of Thomas Cole, the founder of the Hudson River School of painting. Visitors can explore the historic site and enjoy exhibits about Cole's art and his role in America's first major art movement.
Albany Institute of History & Art, Albany - This museum holds one of the best collections of art and historical artifacts in Upstate New York. With exhibits ranging from ancient Egypt to 19th-century American sculpture, it offers a rich exploration of global and local history.
New York State Capitol, Albany - The New York State Capitol is an architectural marvel, boasting beautiful stone carvings and an impressive "Million Dollar Staircase." The building is also home to the New York State Legislature and offers guided tours.
Erie Canal Museum, Syracuse - This museum preserves the history of the Erie Canal, a critical waterway that helped shape America's westward expansion. Exhibits cover the canal's construction, operation, and impact on New York State and the entire country.
The Salt Museum, Liverpool - This quirky museum explores the history of Syracuse's once-booming salt industry. Exhibits include vintage salt-boiling tools and fascinating insights into the process and impact of salt production.
The Strong National Museum of Play, Rochester - This interactive museum celebrates the history and power of play, boasting the world's largest collection of toys, dolls, board games, and video games.
Seabreeze Amusement Park, Rochester - This family-friendly amusement park offers a perfect blend of classic and modern thrill rides, water slides, and a historic carousel. Open since 1879, it's one of the oldest amusement parks in America.
The Mushroom House, Perinton - This quirky architectural marvel, resembling a cluster of giant mushrooms, stands out among the traditional homes in the Rochester suburb of Perinton. Private property, it's still an intriguing sight from the road.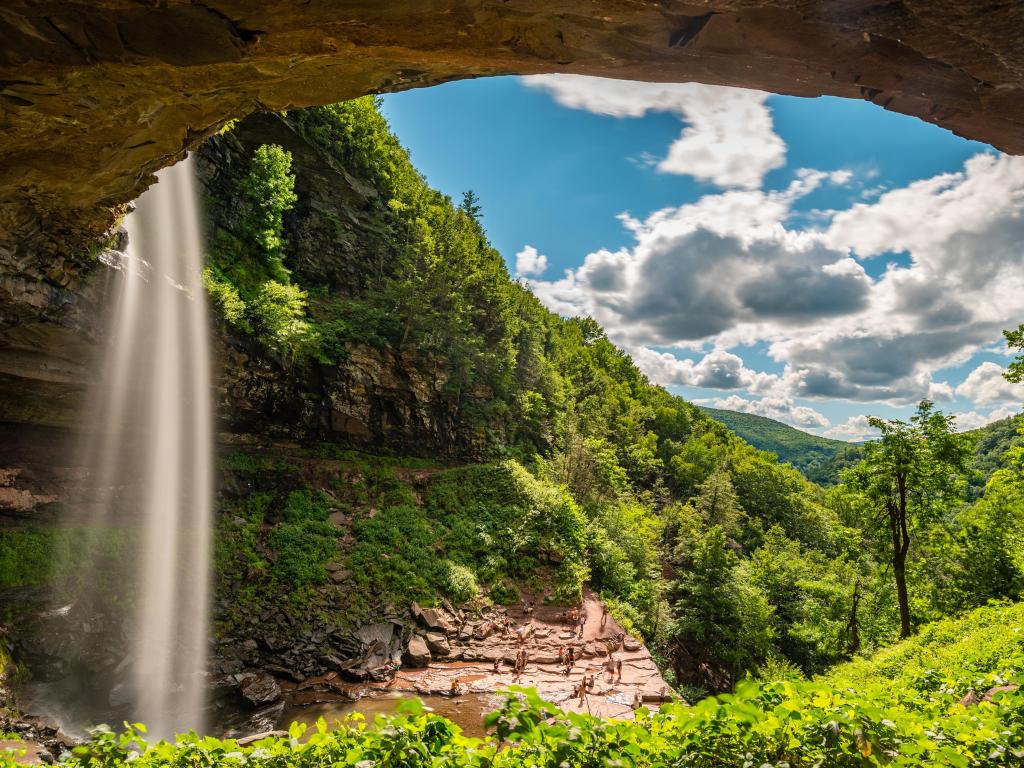 Best time to go on a road trip from New York to Buffalo
The road trip from New York to Buffalo along the Hudson Valley Route can be done year-round, each season offering its own distinct beauty and charm. However, the best time to embark on this journey largely depends on your personal preferences.
Summer offers warm, sunny weather that's ideal for outdoor activities like hiking in the Catskill Mountains or exploring the beaches of Lake Erie. Average temperatures in Buffalo can range from 73 to 81 degrees Fahrenheit.
Winter, while colder with temperatures ranging from 24 to 36 degrees Fahrenheit, can turn the landscape into a winter wonderland, especially enchanting if you enjoy the snow.
In spring, Buffalo comes alive with blooming flowers and increasingly warmer temperatures. The average spring temperatures ranges from 33 degrees in early March to 71 degrees in late May.
Festivals such as the Buffalo Cherry Blossom Festival celebrate the season's arrival and draw both locals and tourists to enjoy the spectacle. Spring in Buffalo is also the start of patio season, where restaurants and cafes open up their outdoor seating, making it a great time for foodies to visit.
Fall is arguably the most picturesque time for this road trip as you can enjoy the spectacular fall foliage of Upstate New York, with temperatures ranging from 70 degrees in early September to 44 degrees in late November.
The vibrant reds, oranges, and yellows of the leaves provide a breathtaking backdrop for your journey. The crisp air, harvest festivals, and pumpkin picking also add to the allure of visiting Buffalo in the fall.
Buffalo is the birthplace of the world-famous buffalo wing, and National Buffalo Wing Festival pays tribute to this local culinary invention in September. Restaurants from all over the US compete in various wing-related categories, and the event features live music, and wing eating contests.