Road Trip from New York to Los Angeles
For one of the truly iconic American drives, you can't beat the road trip from New York to Los Angeles. Taking you from coast, national parks and wide open plains, you'll discover music history, great lakes or Rocky Mountains as you head through quaint towns and buzzing cities.
The 2,920-mile road trip from New York to Los Angeles takes 45 hours to drive. Key stops include Chicago, Washington DC, Las Vegas, Nashville and Memphis, plus Grand Canyon, Mojave National Preserve, Coconino National Forest and Zion National Park.
To help you plan this awesome adventure, we've set out the best routes and places to stop overnight, as well as our favorite places to visit along the way and the best time of year to make the trip from New York to LA.
How far is Los Angeles from New York, and how long will the road trip take?
Comparison of road trip routes between New York and Los Angeles

| Route | Distance | Driving Time |
| --- | --- | --- |
| The Northern Route | 2,290 miles | 45 hours |
| The Southern Route | 3,000 miles | 46 hours |
Regardless of which way you travel from New York to Los Angeles, you'll be covering a lot of miles. The quickest of our two suggested routes will see you head north and spans a distance of 2,290 miles - taking 45 hours of non-stop driving to complete.
A slightly longer southern option is available, which takes you through Tennessee and can include a detour to the Grand Canyon, stretches over 3,000 miles and will take closer to 46 hours without stopping.
There are a few additional detours that we'd recommend you take along the way, keep in mind that by following these you will be adding a bit of time and distance to your overall road trip.
We would recommend spending at least 21 days to complete the amazing trip, which will enable you to split the drive time into achievable sections and give you ample opportunity to enjoy the incredible scenery and attractions en route.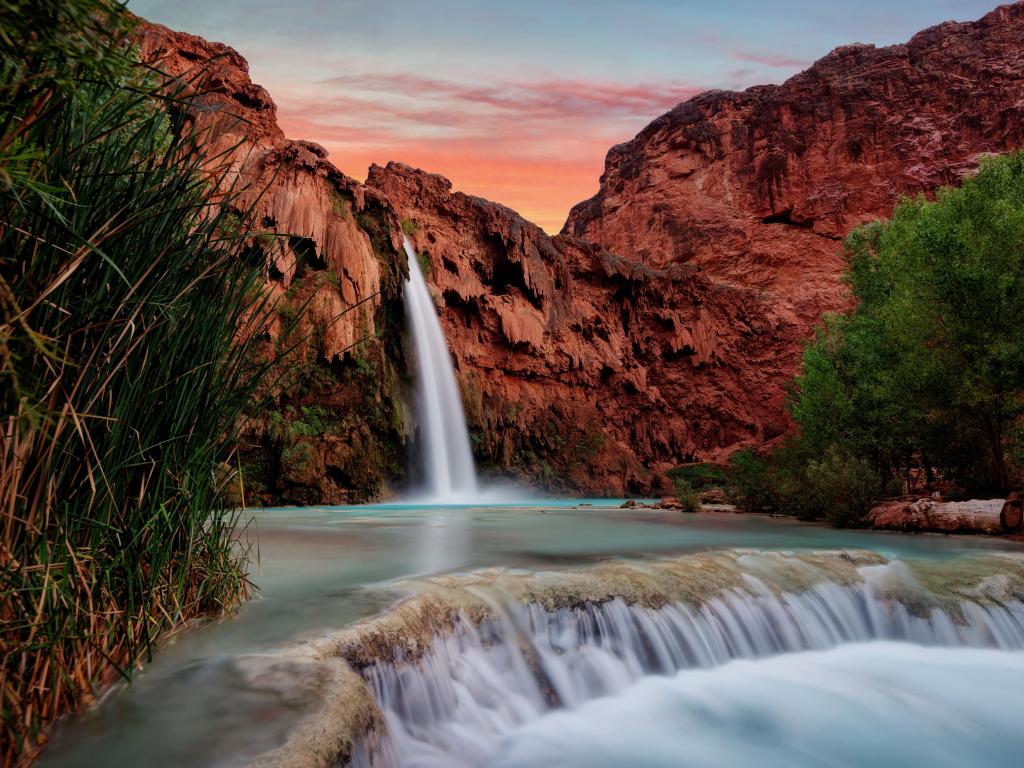 Best road trip route from New York to Los Angeles
The best route for you to follow between New York and Los Angeles will depend on what places you'd like to tick off on your bucket list, as well as what kind of scenery you most enjoy. At a similar distance and time spent on the road, your choice will depend on your preferences.
Our first option takes you across some of the iconic landscapes of the northern USA, crossing the northern tip of the Appalachian Mountains, passing two of the Great Lakes, heading west across the Midwestern Plains, and then through the Rocky Mountains from Denver.
While not greatly suited to winter since this route is likely to experience significant snowfall and icy conditions, you will get to explore incredible cities like Pittsburgh, Chicago and Las Vegas, as well as Dixie and Zion National Parks and the beautiful Mojave National Forest.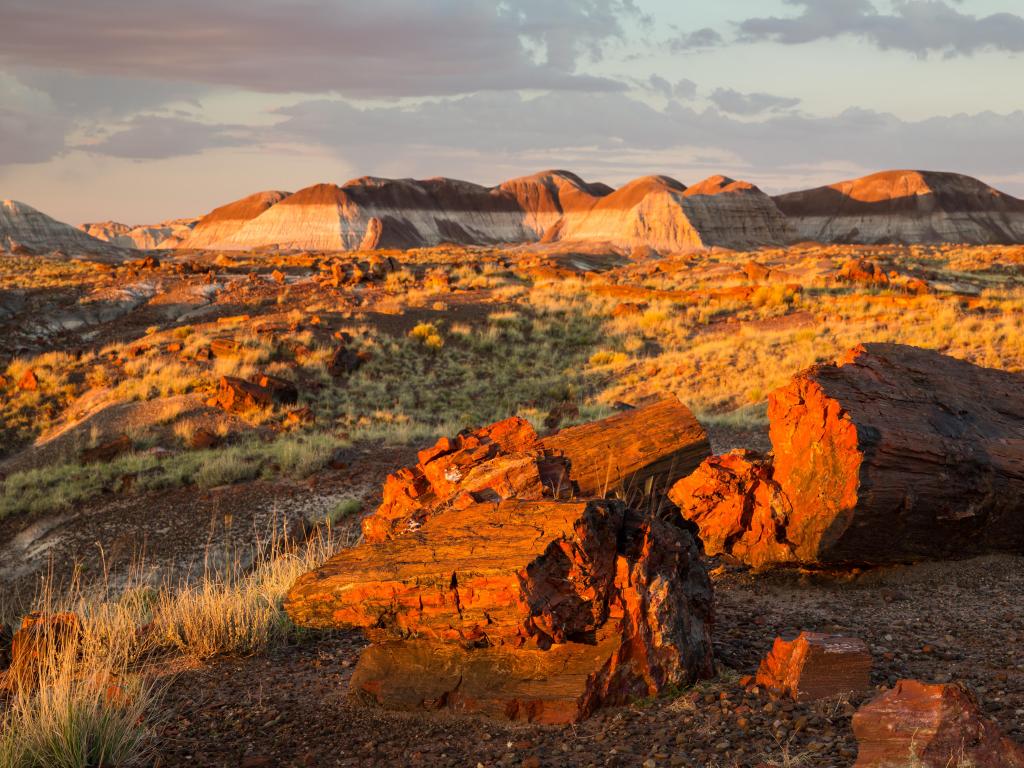 Our alternative Southern Route combines some of the most historic cities with a trip through the music cities of Tennessee and an iconic stretch across the deserts of New Mexico and Arizona. You can also add a detour to the Grand Canyon when you reach Flagstaff.
Just some of the iconic cities you'll pass include Philadelphia, Washington DC, Nashville, Memphis and Albuquerque. There's also plenty of scenic attractions like the Blue Ridge Parkway, Petrified Forest National Park and Mojave National Preserve.
The Northern Route
Our Northern Route begins by leaving New York on Interstate 78 (I-78) heading west through Allentown. Continue as far as Interstate 81 (I-81) to PA-934 and then turn left at State Highway 743 South to make a visit to Hershey in Pennsylvania.
Once you've had your chocolate fix, leave the town on US-322 West and join Interstate 83 (I-83), following signs for Harrisburg and crossing the river into Mechanicsburg where you'll take the exit and rejoin I-78.
Follow the interstate west, passing close by Tuscarora State Forest and Michaux State Forest. At Monroeville take Interstate 376 (I-376) West to Pittsburgh. After exploring this great city, you'll need to take Interstate 579 (I-579) North.
Merge onto Interstate 79 (I-79) before taking the exit for Interstate 76 (I-76) West which will take you into the state of Ohio and merges with Interstate 80 (I-80) and Interstate 90 (I-90). Soon, you can make a stop at Cuyahoga Valley National Park for a stretch of your legs.
You could also add a detour at this point to visit Cleveland on Lake Erie. Otherwise, continue on I-90 West by the shore of Lake Erie and follow the Interstate through several towns before reaching the Express Junction and following signs for Chicago.
Chicago is a great city for an overnight stop, allowing you to explore more of the city as well as Lake Michigan. When you're ready to leave, take Exit 511 and join Interstate 88 (I-88) West.
At Exit 1B, take I-80 and cross into Iowa, driving around the outskirts of Des Moines before continuing west and through Omaha. Still on I-80, pass through Lincoln in Nebraska until you reach Exit 126.
Join US-26 and then US-138 past Big Springs and to Exit 102 where you'll join I-76 and cross into the state of Colorado. Next, take Exit 125 and follow CO-14 West, taking a short detour to stop at Pawnee National Grassland.
Continue on CO-14, making another stop at Fort Collins, before joining Interstate 25 (I-25) South and Exit 216 to Denver. Next take I-76 and I-70 west alongside the stunning scenery of Mt Evans, Grays Peak and close to Arapaho Roosevelt National Forests.
Follow I-70 as you wind through the stunning mountain landscape, making stops at White River National Forest for a hike or two, and through several quaint towns and villages.
Stop at McInnis Canyons National Park, before I-70 takes you across into Utah. Stop just past Thompson Springs for a detour to the iconic Arches National Park, before continuing west.
Pass close to Fish Lake Hightop and Monroe Peak, before taking the exit and joining Interstate 15 (I-15) South through several more towns, making sure to stop at Dixie National Forest and Zion National Park.
Continue on I-15 South, below Beaver Dam Wash National Conservation Area and cross into Nevada where you can visit Valley of Fire State Park, just off the Interstate, before taking Exit 42 to arrive in Las Vegas.
While in the city, make a visit to Red Rock Canyon National Park, before continuing on the drive on I-15 into California. You'll pass Mojave National Preserve, before eventually reaching Exit 109A and merging with Interstate 10 (I-10) West to Los Angeles.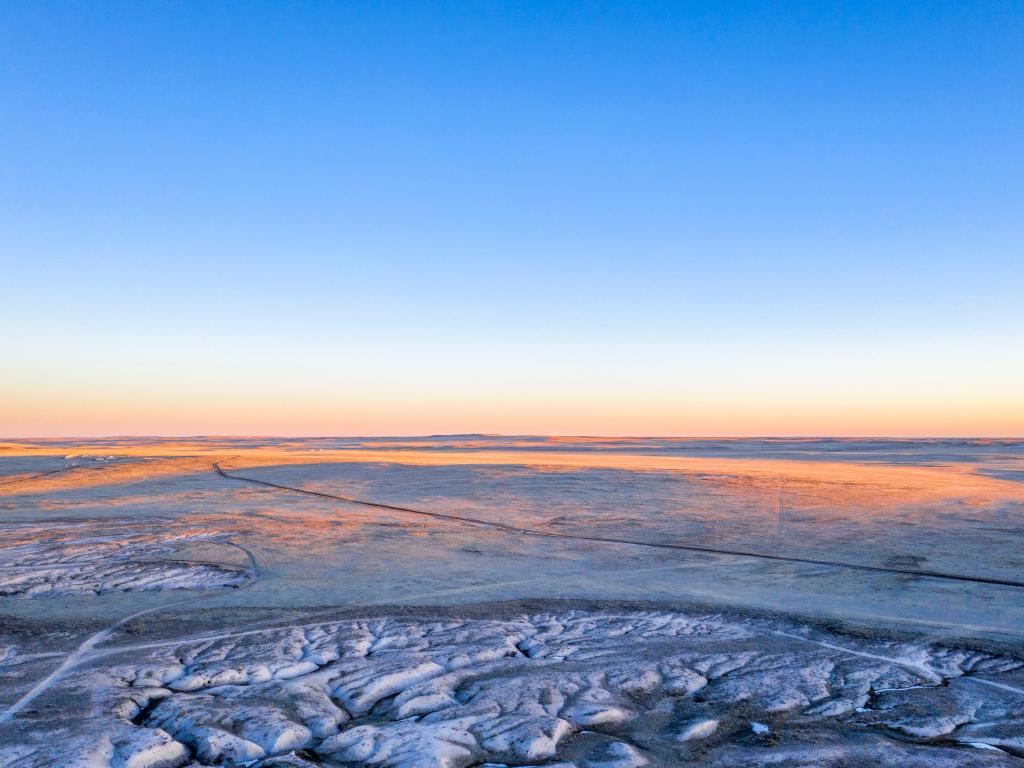 The Southern Route
For our southern alternative, take Interstate 95 (I-95) South, before taking Exit 6 for Interstate 276 (I-276) and then back on I-95 to your first major city of Philadelphia.
Leave the city on the same interstate and Interstate 495 (I-495) South to Wilmington before merging back onto I-95 South into Maryland. Join Interstate 895 (I-895), making a quick stop in Baltimore before following the Baltimore-Washington Parkway to the iconic city of Washington DC.
Stop here for a first overnight rest, which will give you more time to enjoy visiting its monuments and state buildings, before taking Interstate 66 (I-66) West to Exit 1A.
Merge with Interstate 81 (I-81) South, passing by the stunning Shenandoah National Park, a great place for a hike and to enjoy the stunning mountain views.
Continue following the interstate to Exit 81, where you'll join Interstate 77 (I-77) South and Exit 8 and Fancy Gap, joining the scenic Blue Ridge Parkway to Blowing Rock. Take your time on this gorgeous road to enjoy some of the best roadside views in the US.
Afterwards, take US-221 and then US-19E north into Tennessee and past Elizabethton towards Exit 8A. From here, you'll join I-81 South and follow it to Exit 1B where you'll merge with I-40 West.
The interstate will take you close to Cherokee National Forest before passing through the city of Knoxville. Continue west, below Catoosa Wildlife Management Area and eventually reach Nashville, a music city rich with history and live music.
Follow I-40 West, through several towns and Hatchie National Wildlife Refuge before reaching another fantastic music city, this time the iconic Memphis. Stop here to explore Elvis Presley's city, before continuing west.
Pass close by Little Rock, before following the Arkansas River into Oklahoma. Still on I-40 West, you'll eventually reach Oklahoma City, another great overnight stop option on this route.
After a well-deserved rest, continue on I-40 through the desert landscape of Texas to Amarillo. Stop here for a detour to Palo Duro Canyon State Park, before crossing into the state of New Mexico.
Pass Santa Rosa and stop at Albuquerque, where you can enjoy incredible views at Sandia Crest. Still on I-40, continue west past Bluewater Lake State Park and into Arizona.
Make a stop at Petrified Forest National Park and continue to Flagstaff. Stop here to explore Coconino National Forest, or for a longer detour to visit the Grand Canyon.
Otherwise, continue on I-40 past Dead Mountains Wilderness Area, and Mojave National Preserve. Both are slightly off I-40 but worthy stops en route.
Continue west as far as Barstow, where you'll need to join I-15 South nearby San Bernardino National Forest. Take Exit 109A to join I-10 West the rest of the way to your destination in Los Angeles.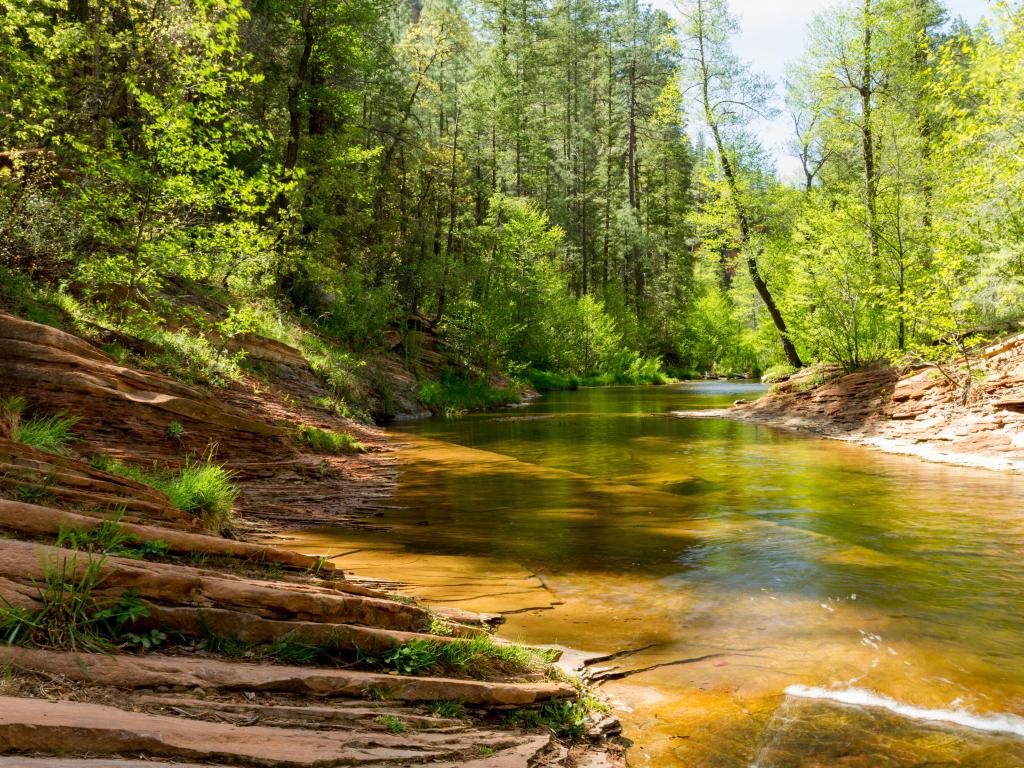 Best places to stop between New York and Los Angeles
Given the epic drive you'll be experiencing between New York and Los Angeles, it's important to plan enough rest stops along the way to ensure the trip is comfortable and you're able to maximise the scenery and attractions you'll be passing.
There are so many incredible cities and quaint towns that you could stop at, but here are some of the spectacular hotels you might want to consider booking:
River views in Chicago
A great city to stop at if you're following our Northern Route is Chicago. Just 13 hours from New York, you could get here in a couple of days driving, though we'd recommend taking a little longer to explore the eastern stretch of the route, if possible, before you reach the Windy City.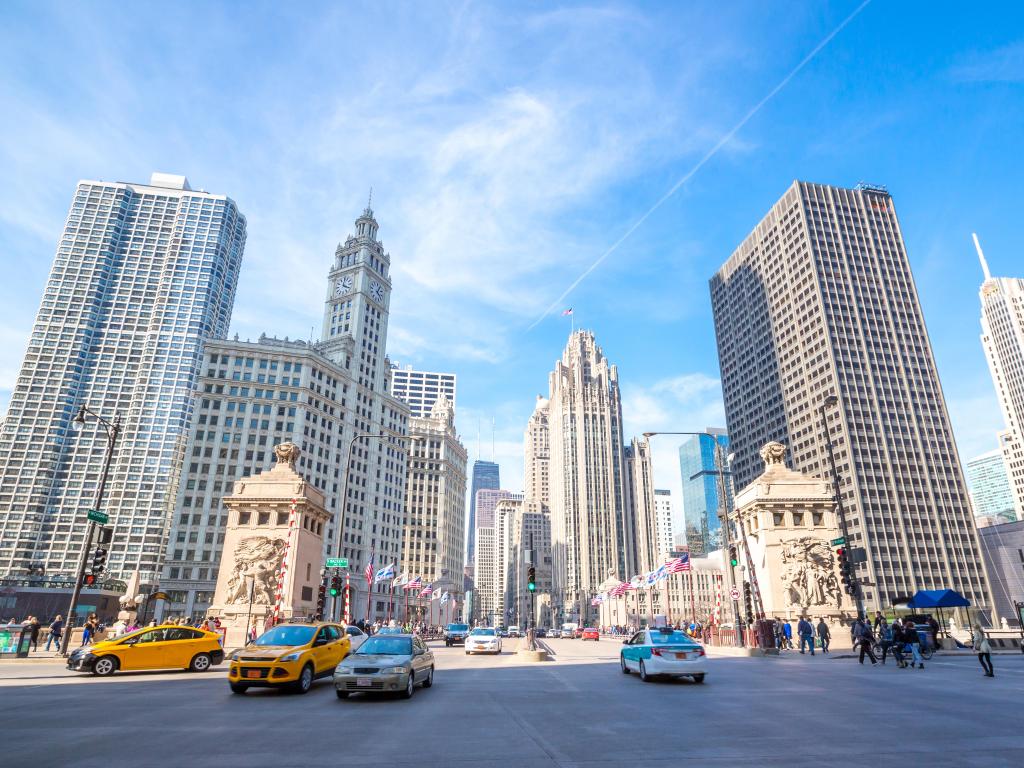 With plenty to see and ideally placed to make the start of a long stretch of driving between smaller towns and cities, Chicago is a superb city with a fabulous location on the shore of Lake Michigan.
An ideal hotel in the city is Pendry Chicago. Located in the historic Carbide and Carbon Building, it has beautiful art deco features which run through the hotel's common areas, with stunning modern touches bringing a real feel of luxury.
Just some of the incredible attractions nearby include the Skydeck Chicago at the Willis Tower, which offers unbeatable views right across the city and lake and Shedd Aquarium.
You're also ideally placed to explore many of the city's attractions, like Millennium Park, while the hotel is easily accessible from the Interstate. There's also private parking available, which is a great bonus when stopping in the center of the city.
Sandstone scenery in Zion National Park
For a quieter stay, swapping city views for natural, stunning scenery, a stop at Zion National Park will guarantee an unforgettable overnight rest on our Northern Route. Located just under 7 hours from Los Angeles, you could make this the last stop on your road trip.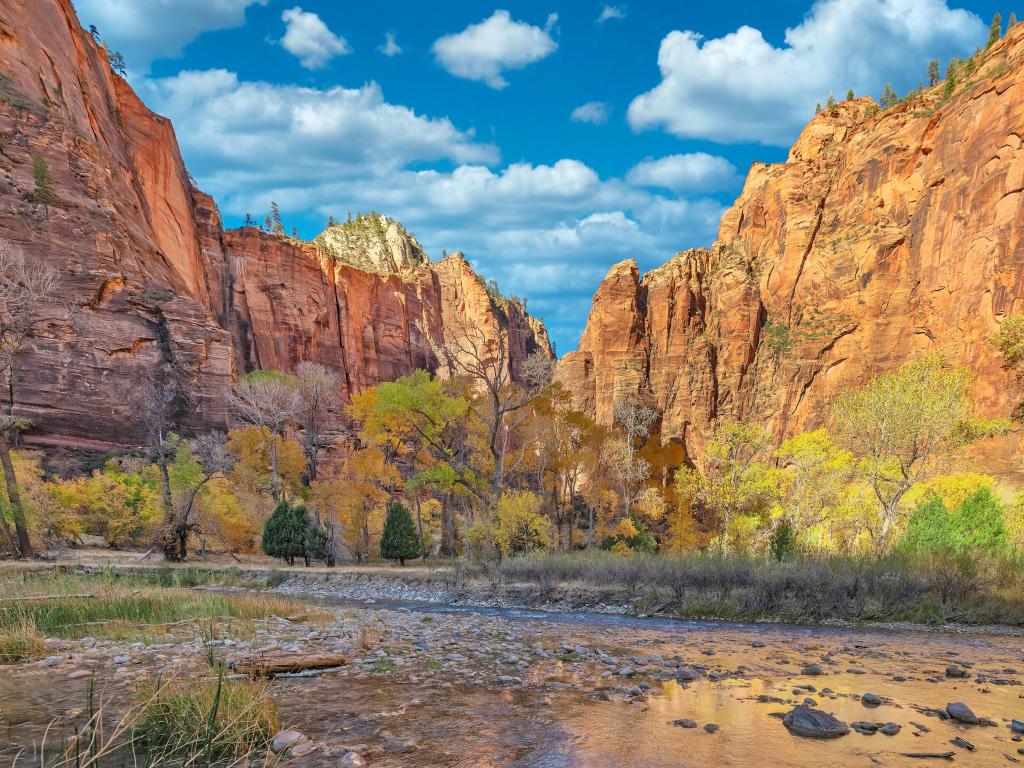 To really make the most of the views, a stop at SpringHill Suites by Marriott Springdale is a great option. Not only does it have a stunning location looking out over the national park, you can take in the views from a spectacular picture window in its dining room.
From the hotel, you can take shuttle buses to admire the famous scenery of Zion National Park, which is simply stunning, and you'll get to enjoy incredible views centered around the sandstone scenery of Zion Canyon, with the Virgin River running through it.
Spend some time hiking on the many nearby trails or enjoy some horseback riding and guided treks through the wilderness areas. You could also try canyoning or simply stargaze since Zion is an International Dark Sky Park, making the views of the Milky Way spectacular.
Upon your return, you can enjoy the hotel's outdoor pool with a view, spacious, contemporary rooms, with a kitchenette – handy if you're ready for a break from restaurant meals after so long on the road, and an onsite restaurant and bar, including an outdoor terrace with a view.
An iconic visit to Washington DC
Meanwhile, if you've opted to go south then you will drive through Washington DC. Just 4 hours from New York City (depending on the traffic) this is likely to be your first overnight stop and a great city to immerse yourself in the endless museums and monuments it's known for.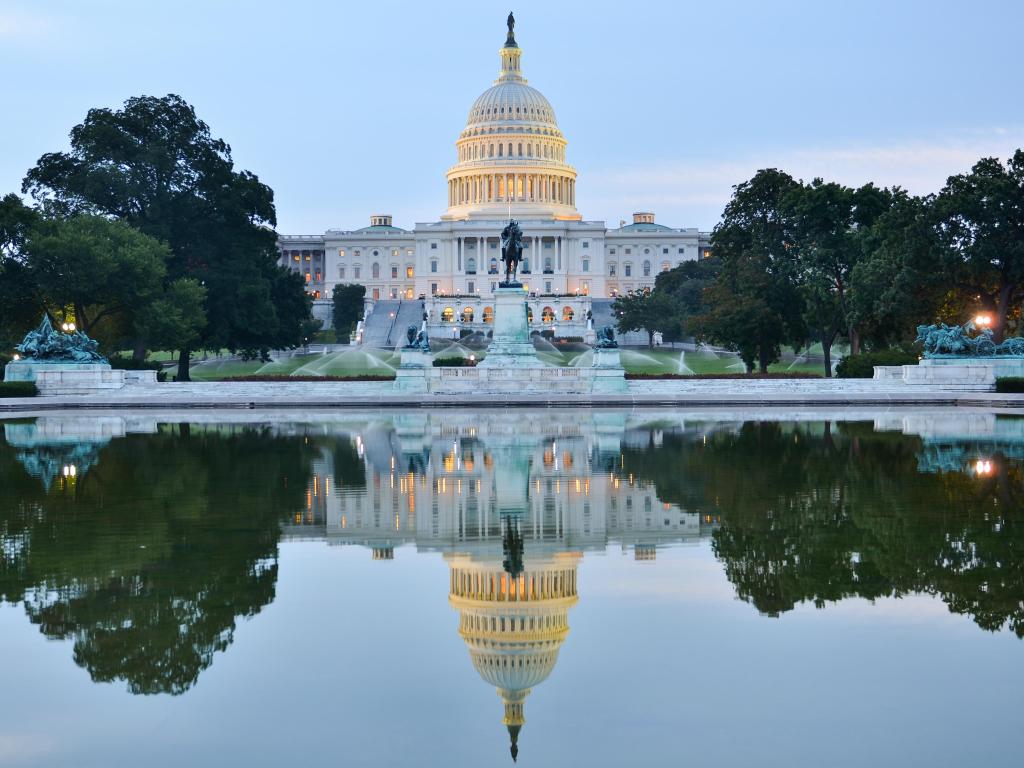 Given that there are so many attractions to explore, the nation's capital merits some extra time to really take full advantage of everything there is to see here.
Some of the highlights include the Smithsonian Institution museums, which range from art, natural history, African-American history and more, plus the famous White House and several important memorials including the Lincoln Memorial.
For a historic stop, why not stay at an old bank building? The Riggs Washington DC offers a spectacular way to start your road trip in style. The rooms and public areas cleverly weave in original features to create a beautiful and comfortable hotel that you will be astonished by.
After a busy day exploring the sights and sounds of the city, including the nearby national mall, you can head to the basement cocktail lounge of the hotel to round off your evening. There's also all-American cuisine served at Cafe Riggs and Lounge.
Modern luxury in Oklahoma City
Further along on the Southern Route and around halfway to LA, situates one of the only big cities you'll pass along this stretch of the route, so it makes sense to pull in and recharge your batteries at Oklahoma City before continuing across the landscapes of Texas and New Mexico.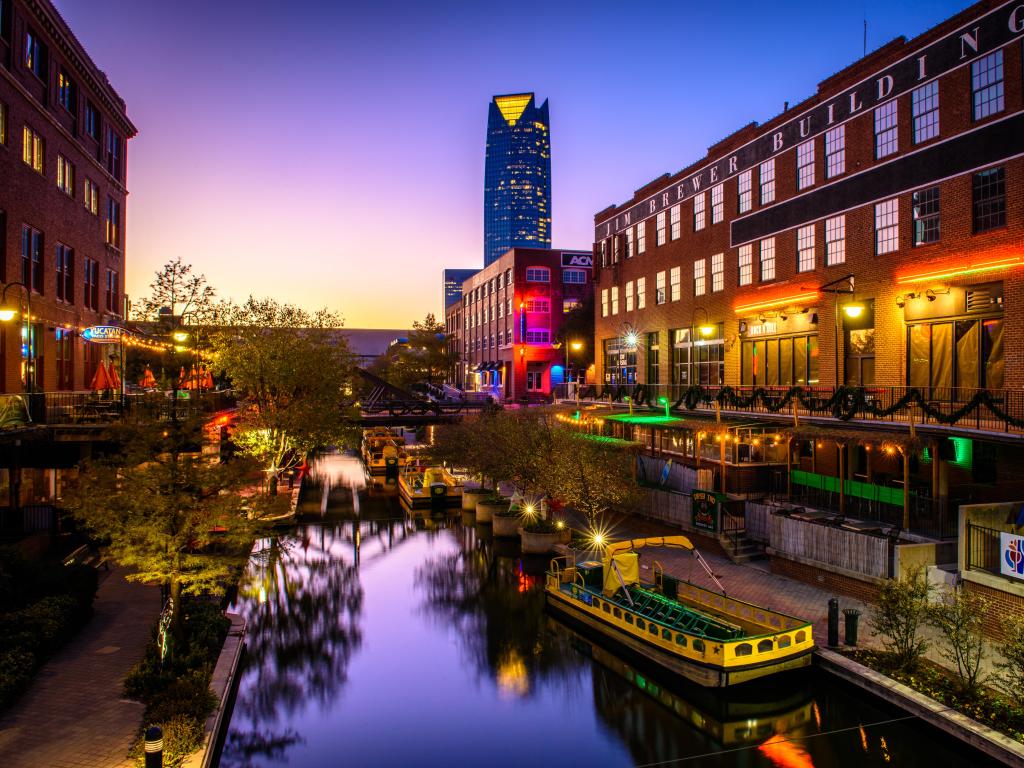 Oklahoma City really does offer something for everyone, from its American Banjo Museum to the amazing National Cowboy & Western Heritage Museum.
There's also the 99s Museum of Women Pilots, a fascinating museum that tells the stories of some of the pioneering women pilots who dedicated their lives to flight and the Oklahoma City National Memorial & Museum.
Given the long drive you're embarking on, you might just feel ready for a spot of comfort and luxury. That's exactly what you'll get at the Omni Oklahoma City Hotel where you'll find a welcoming swimming pool, and great views across the city from the rooms, pool and terrace.
You will be located in the heart of the city. After exploring the nearby Bricktown and the Oklahoma Museum of Art, you can head to one of the six restaurants in the hotel and enjoy a delicious meal.
Things to see on a road trip from New York to Los Angeles
Not surprisingly the road trip from New York to Los Angeles offers a huge variety of incredible sites, including stunning mountains, iconic national parks, famous cities and stunning lakes. You could easily spend months visiting them all.
If you are pressed for time, here's a roundup of some of the best things you'll see along the way: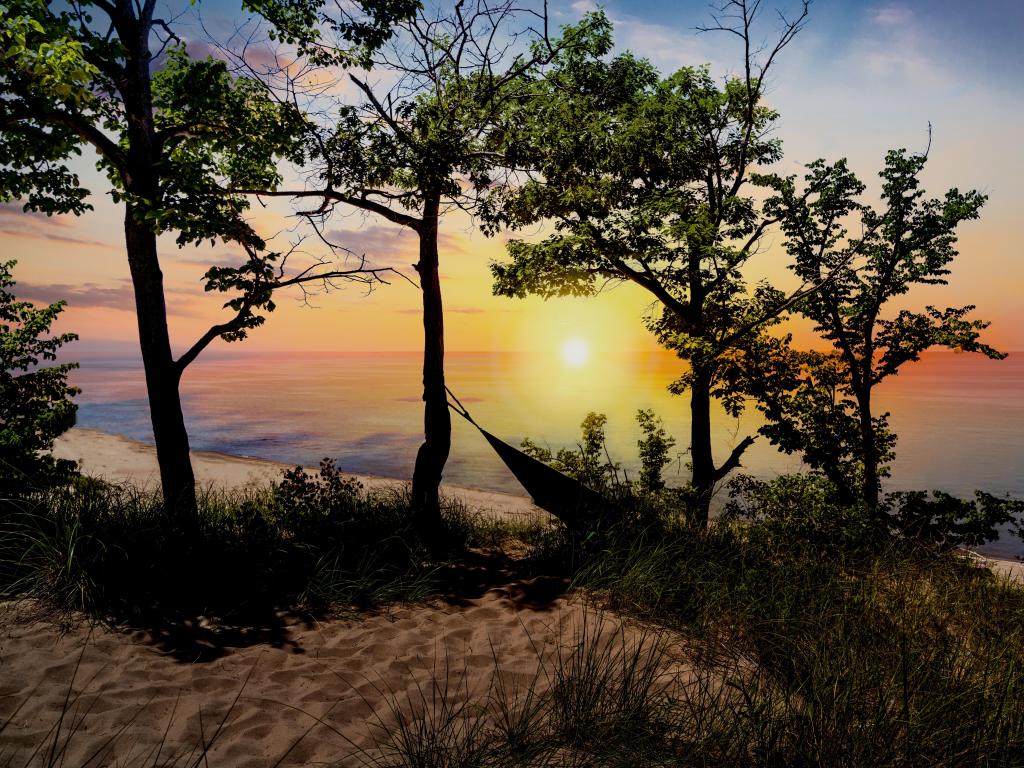 The Northern Route
Hershey, Pennsylvania - Load up on all things chocolate – enjoy the rides at Hersheypark theme park, create your own at Hershey Chocolate World, or visit the Hershey Story Museum to learn more about the life of Milton Hershey, the man who created the world-famous candy.
Pittsburgh, Pennsylvania - Art lovers should head straight to the fabulous collections of the Andy Warhol Museum and the Frick Pittsburgh. Phipps Conservatory & Botanical Gardens also make for a peaceful and colorful stop while you're in town.
Cuyahoga Valley National Park - Just outside Cleveland, enjoy hiking trails aplenty along the Cuyahoga River or relax while you take the scenic train ride through the park.
Cleveland, Ohio - Head to the Rock & Roll Hall of Fame or take to the waters of Lake Erie.
Indiana Dunes National Park - Stretch your legs at this impressive stretch of lakeside dunes, just before you make your way into the hustle and bustle of Chicago.
Des Moines, Iowa - If you're passing through Iowa's State Capital in summer be sure to stop off and enjoy its annual Arts Festival.
Pawnee National Grassland - Think Little House on the Prairie – the National Grassland is just one of the iconic landscapes you'll travel across on this route.
Boulder, Colorado - The Shelby American Collection is a really unique display of racing cars which will interest amateurs and enthusiasts alike.
Denver, Colorado - The city is home to Museo de las Americas, Denver Art Museum, and Wings Over the Rockies Air & Space Museum, which are all worth a visit. Or head up into Rocky Mountains National Park to enjoy more stunning views and hiking trails.
Dixie National Forest - The biggest National Forest in Utah is full of colorful contrasts, with sweeping sandstone landscapes and vibrant forest hues.
Cedar Breaks National Monument - Nature created her own amphitheater here out of the rocks, and she did it in spectacular style – take a walk around the rim to experience the views at their best.
Las Vegas, Nevada - The city hardly needs an introduction – check out the lavish casino resorts, over-the-top architecture, and show-stopping residencies from world-famous artists.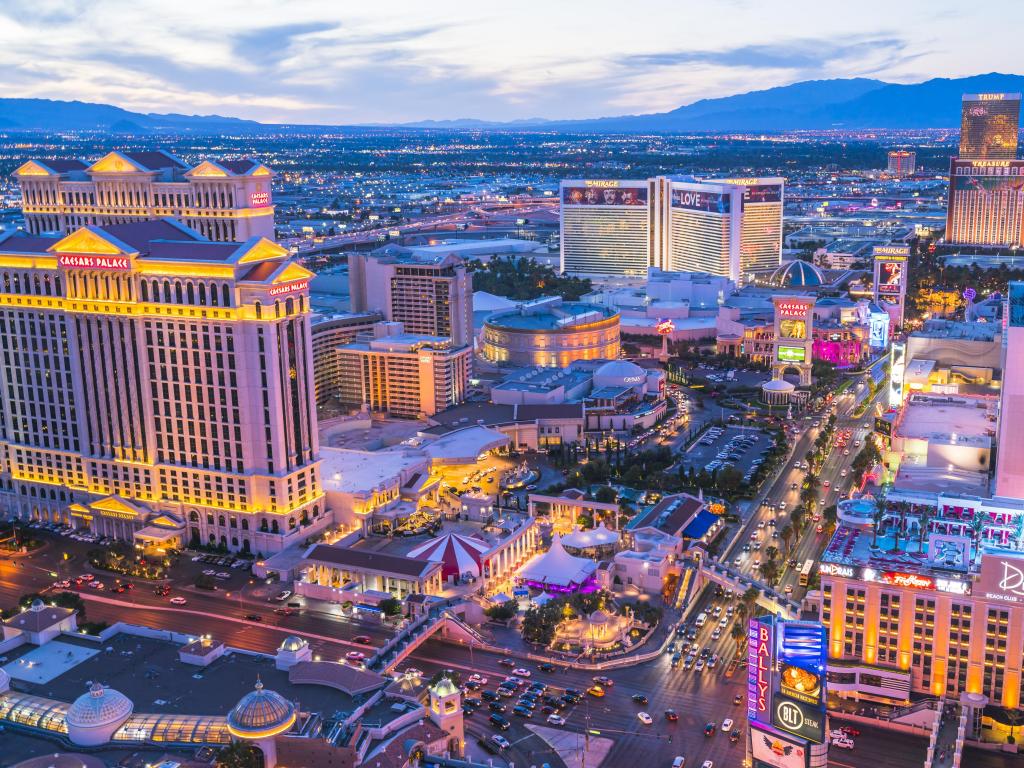 The Southern Route
Philadelphia, Pennsylvania - Start your trip with a celebration of all things independence – visit the Liberty Bell and Independence Hall, where the Declaration of Independence and the Constitution were signed.
Baltimore, Maryland - Enjoy a fantastic seafood meal by the waterfront then head to the vast National Aquarium to find out more about the Atlantic coastline.
Washington DC - The city's museums and monuments merit an article all of their own. Take your pick of Smithsonian institutions, or take a walking tour between the Lincoln Memorial, Vietnam Veterans Memorial and the White House.
Roanoke, Virginia - Head to the State Transport Museum of Virginia to get your fix of vehicles of all different types and vintages. If you're here after dark, look out for the famous Roanoke Star at the top of the mountain.
Blue Ridge Parkway - Strike out along 'America's Favorite Drive' to enjoy mile after mile of fabulous views and trailheads that lead you past mountain streams, waterfalls and rocky outcrops.
Nashville, Tennessee - The Country Music Hall of Fame is a great introduction to some of Nashville's legends – and speaking of legends, if you have time for a detour, Dolly Parton's Dollywood theme park isn't far from the city.
Memphis, Tennessee - Beale Street is the place to enjoy a live show, after building up the excitement with a trip to Memphis Rock 'n' Soul Museum or the famous Sun Studios. And no visit to the city could be complete without making your way to Graceland, the home of Elvis Presley.
Oklahoma City - The National Cowboy & Western Heritage Museum is a really unique attraction that's sure to get you in the mood for the next stretch of your journey westwards.
Amarillo, Texas - The city is rightly proud of its Historic Route 66 heritage, and you'll find plenty of references to one of the iconic drives of the past when you get here. Cadillac Ranch art installation makes for interesting viewing, along with theTexas Air & Space Museum.
Santa Rosa, New Mexico - Drop into the Historic Route 66 Auto Museum for more stories of the people and vehicles that took this route in the past.
Albuquerque, New Mexico - Admire the view across the city at Sandia Peak Tramway. If you are in Albuquerque in fall, don't miss out on its International Balloon Fiesta.
Petrified Forest National Park - The route passes right by this unique national park, which is named after the fossilized remains that are frequently found here.
Coconino National Forest - One of Arizona's most iconic landscapes, you can hike through the National Forest to enjoy its red sandstone landscapes at their best, but even just a tour along the scenic drive will offer fantastic views.
Grand Canyon - Not technically on the route, but definitely worth the detour from Flagstaff to marvel at the amazing natural canyons. Take a hike or even a helicopter ride to see the view from a different angle.
San Bernardino National Forest - Enjoy the last chance to hike through stunning natural wilderness areas before you roll on into the glitz and glamor of Los Angeles.
Best time to go on a road trip from New York to Los Angeles
Los Angeles really is a year-round destination, with winter temperatures reaching the high 60 degrees Fahrenheit and summer usually sitting in the high 80s Fahrenheit.
In the peak of summer, parts of both the Northern and Southern Route will reach high temperatures, especially in Las Vegas where you could see highs of 100 degrees Fahrenheit and cities like Albuquerque on the Southern Route which can reach well into the 90s.
The high temperatures in parts of your trip, coupled with the likelihood that you'll encounter large crowds at some of the more popular attractions, like the Grand Canyon, and cities like Washington DC and Los Angeles, means that summer isn't an ideal season to travel in.
In comparison, both routes can experience snow and freezing conditions through the winter, though the Northern Route is more significantly affected. You'll be lucky to see temperatures much higher than the mid-40s until you reach the final stretch through Utah and Nevada.
The Southern Route is less significantly affected by snowfall, although sections of the Blue Ridge Parkway are likely to be closed at times and even the usually warm Nashville and Albuquerque can see sub-zero temperatures.
While many parts of both routes take a bit of time to warm up – temperatures in March can still sit around a chilly 50 degrees Fahrenheit, and there's still a chance of snow, late April to May is a great time to travel for reliably warm weather (around 70 degrees) and usually low rainfall.
Both routes offer chances to enjoy the fall foliage, particularly from New York through to Pittsburgh (Northern Route) and along the Blue Ridge Parkway (Southern Route) – in fact, if you take the parkway on a bright fall weekend, you might even encounter crowds all hoping for the same great views.
There certainly are plenty of festivals held in LA if you'd like to catch one during your trip. February sees the Oscars and Grammys, while the city is overtaken by runners in March for the annual Los Angeles Marathon. You will never find a dull moment in Los Angeles!