Road Trip from New York to Niagara Falls
If you want to see one of the world's most breathtaking natural wonders and discover beautiful, historic, and culturally significant parts of America along the way, then the road trip from New York to Niagara Falls is the one for you!
The 410-mile road trip from New York to Niagara Falls takes over 6 hours to drive. The routes passes through Syracuse, Scranton, Rochester and Buffalo, as well as Grey Towers National Historic Site, Watkins Glen State Park and Letchworth State Park.
There is a huge variety of places you can visit en route from New York to Niagara Falls, so keep on reading until the end to learn about all of them - as well as where to stop off overnight, and the best time of year to make this trip.
How far is Niagara Falls from New York and how long will the road trip take?
Spanning a distance of 410 miles, a road trip From New York To Niagara Falls will take you about 6 hours and 45 minutes. It is a relatively easy journey to complete in a day.
But with so much to see and do on the journey over to Niagara Falls, we would recommend taking two to three days to give you the opportunity to explore the many cities, landmarks, and points of interest along the route.
Whatever time you choose to drive, be mindful that traffic out of New York City and around Niagara Falls could be heavily congested at times.
That said, if you undertake your journey during the week and outside of the holidays, you should not encounter too many traffic issues along the way.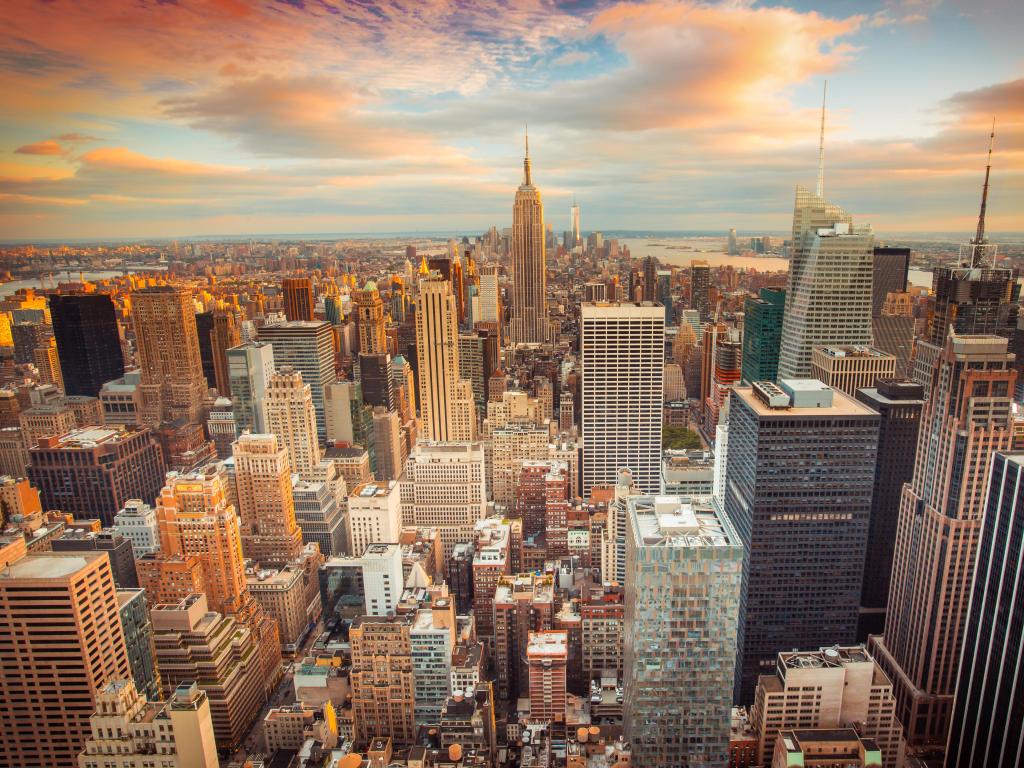 Best road trip route from New York To Niagara Falls
There is a direct route from New York to Niagara Falls, which means you could complete it in as little as 6 hours and 30 minutes, taking just 392 miles. This direct route is a good option if you are pressed for time, however it doesn't make the most of the attractions en route.
Instead, our recommendation is taking a more scenic route through Syracuse, before heading to Buffalo and finally Niagara Falls. While the extra distance is only a matter of 18 miles, it offers so much more in terms of driving pleasure.
While it may seem a complicated drive, this road trip is actually quite straight forward, and there are plenty of interesting diversions along the way to keep you entertained.
Road trip route from New York to Niagara Falls
From New York make your way onto Interstate 280 W and continue straight all the way until you get to the I-80 W. When you arrive at Parsippany-Troy Hills, you could take a detour to visit Great Swamp National Wildlife Refuge, or continue heading west.
There's a second optional detour at Stroudburg, where you could visit the Delaware Water Gap National Recreational Park, before continuing on the highway until you get to exit 293 towards I-380 north. Take this exit and keep going until you merge on to the I-81.
Continue north, through Marathon and Homer until you reach Syracuse. This New York city is a great stopping point to explore the fascinating waterway history and its Erie Canal Museum.
As you drive through Syracuse, alongside Onondaga Lake Park, you will then take the I-90 east towards Buffalo, passing along the way Montezuma National Wildlife Refuge.
When you arrive at Victor, you could detour to Rochester, a great city on Lake Ontario, or continue on I-90 passing Indian Falls before arriving in the superb city of Buffalo.
From Buffalo you only have a short drive on I-190 north before following the signs to Niagara Falls.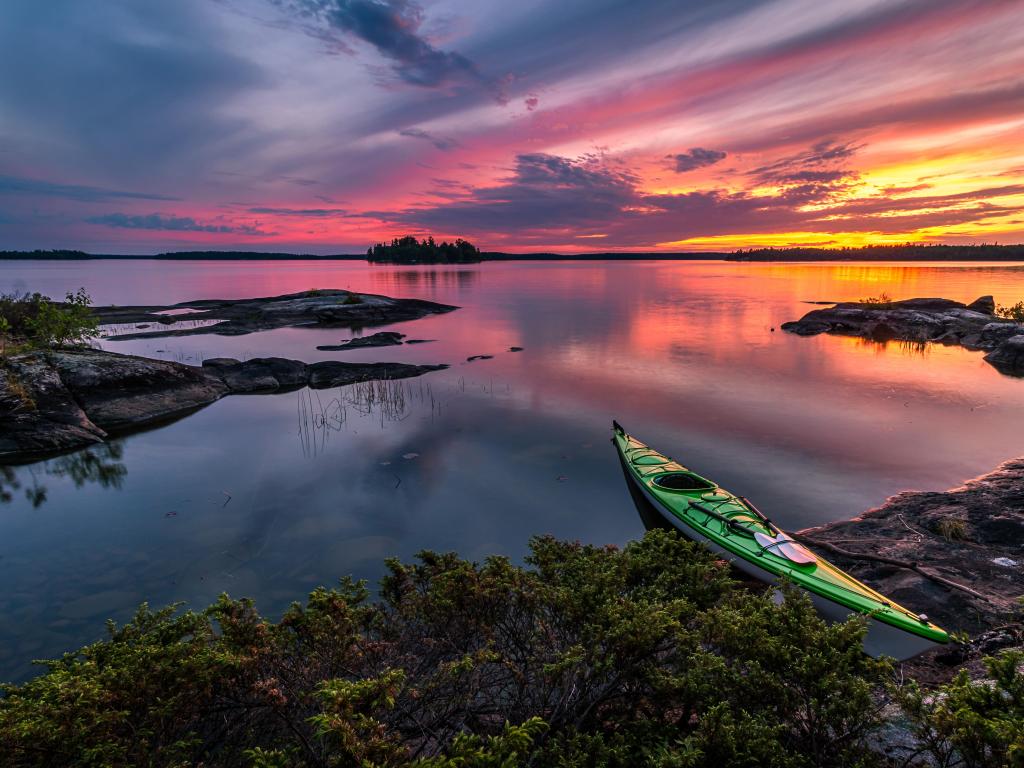 Best places to stop between New York To Niagara Falls
While you can complete this trip in a single day, it's much more enjoyable to spread it out and include a couple of overnight stops.
If you are looking to split your road trip from New York to Niagara Falls with an overnight stay, there are a number of great places you can do this in. Here are the ones we think you should keep an eye out for:
Enjoy the delights of Ithaca
Located just over 160 miles from Niagara Falls, Ithaca is a city and lively college town in the Finger Lakes region of New York State. At more than halfway through this road trip, this city would make an excellent stop as well as a great base for exploring the surrounding area.
Situated around the beautiful Cayuga Lake, the city is home to Ivy League Cornell University - one of the most prestigious centers of learning in the world. It is also famous for possessing a number of stunning gorges and waterfalls, as well as great restaurants and boutique shops.
A day or two in Ithaca should involve visits to the Robert Tremon State Park, the Buttermilk Falls State Park, Cayuga Lake, and the Cornell Botanic Gardens. The Johnson Museum of Art and the Sciencenter may also be of interest too.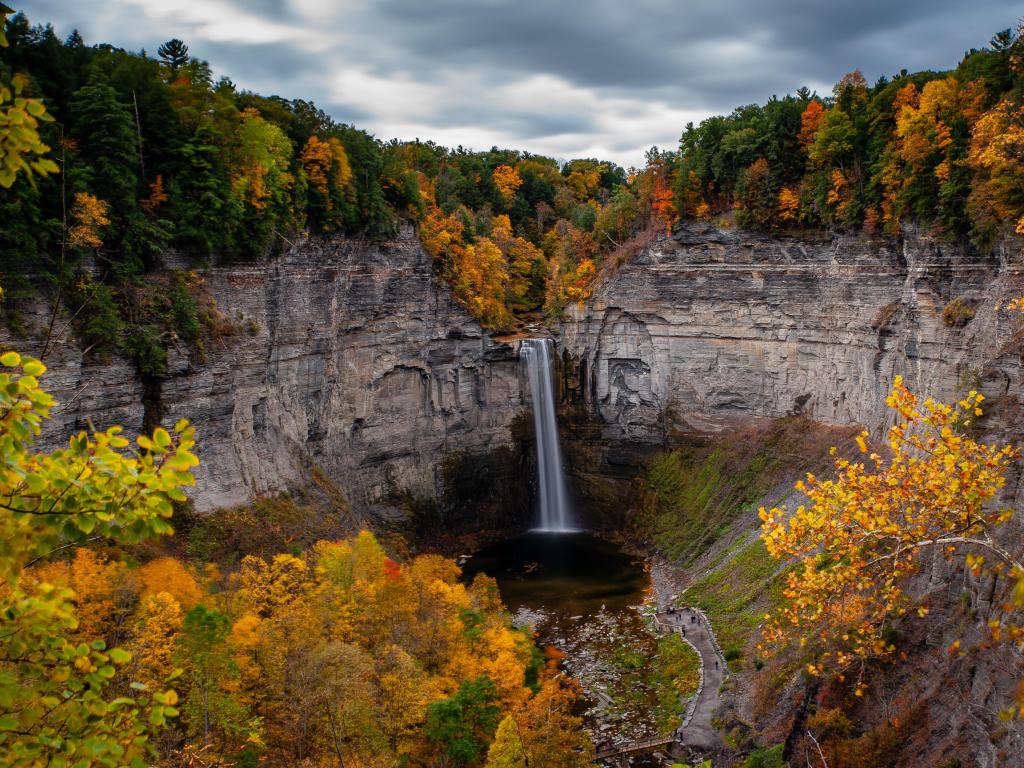 One of the best places to stay in Ithaca is the La Tourelle Hotel & Spa. Located less than a mile from the Buttermilk Falls State Park, the hotel is surrounded by stunning grounds, traditional rooms and free parking.
Ideal for wine lovers, La Tourelle Hotel & Spa holds a complimentary wine hour daily, as well as has a hiking trail that leads from the backyard straight to Buttermilk Falls State Park.
Whether you want to spend the day relaxing at the spa, or make the most of its superb location, this hotel is sure to be memorable for all the right reasons.
Recharge your batteries in Buffalo
After a full day or two of sightseeing and driving, another great overnight stop would be in Buffalo.
Less than half an hour from your final destination, and located at the eastern end of Lake Erie, at the head of the Niagara River, a stop off in Buffalo will allow you to recharge your batteries in preparation for a visit to Niagara Falls the next day.
There are plenty of other things to do in Buffalo to keep you entertained, including visiting the Buffalo and Erie County Botanical Gardens, Shea's Performing Arts Center, the Albright-Knox Art Gallery and Frank Lloyd Wright's Martin House.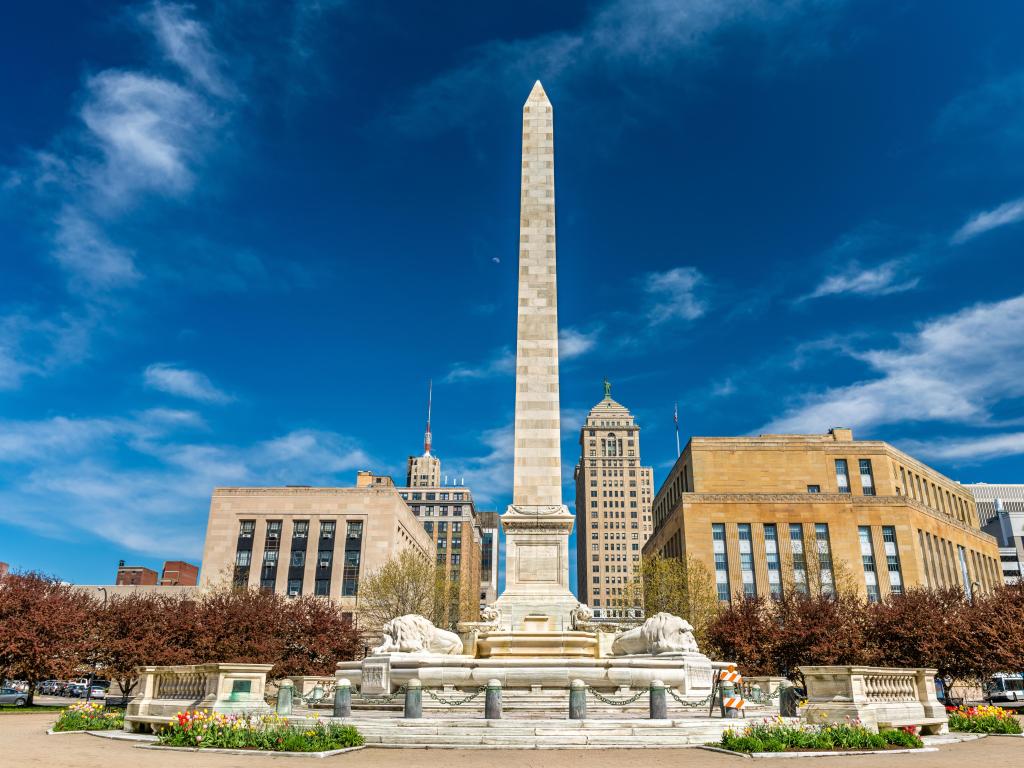 One of the best places to stay overnight here is The Delavan Hotel. This 4-star hotel provides the ultimate comfort in a stunning setting. The imposing and stylish hotel has an onsite restaurant, offers free private parking and a fitness centre.
Rooms at The Delavan Hotel are luxurious and stylish and the bar and lounge areas are impressive and contemporary, making this accommodation an excellent choice for the ultimate relaxation ahead of a final day of sightseeing.
Escape the city for a scenic stop
If you would prefer not to stay in a city and would rather overnight somewhere a little further off the beaten track, then you might want to try the sprawling and luxurious Mount Airy Casino Resort.
Located in the Mt Pocono region of Pennsylvania, just a short drive from New York, this fabulous hotel boasts an 18-hole golf course, an indoor/outdoor pool and no less than 5 restaurants.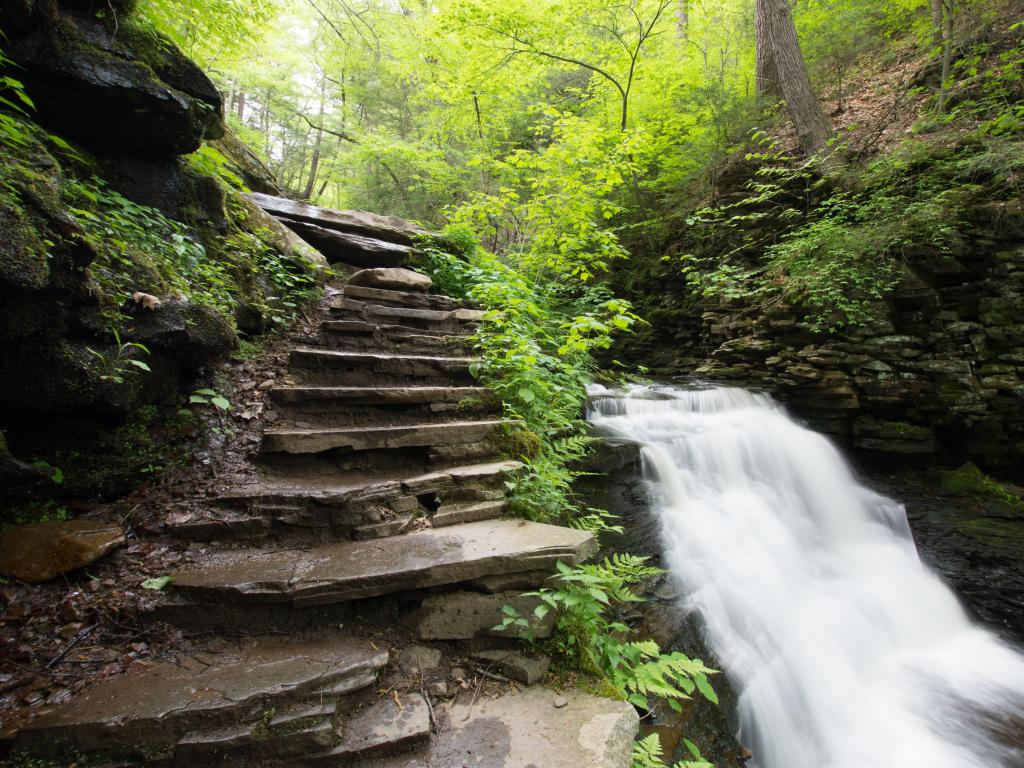 An attraction in its own right, Mount Airy Casino Resort is surrounded by stunning gardens, lakes and has fantastic views of Mt Pocono. You could easily spend the whole day at this resort, but if you wanted to make the most of the surrounding scenery, nearby you will find fantastic walks, 150 lakes and quaint historic towns.
Things to see and do on a road trip from New York To Niagara Falls
There are so many things to see on your road trip from New York to Niagara Falls that you could easily spend a month or so checking them off your to-do list.
But if you are pressed for time, we have put together a list of major highlights and attractions that you may wish to visit during your journey: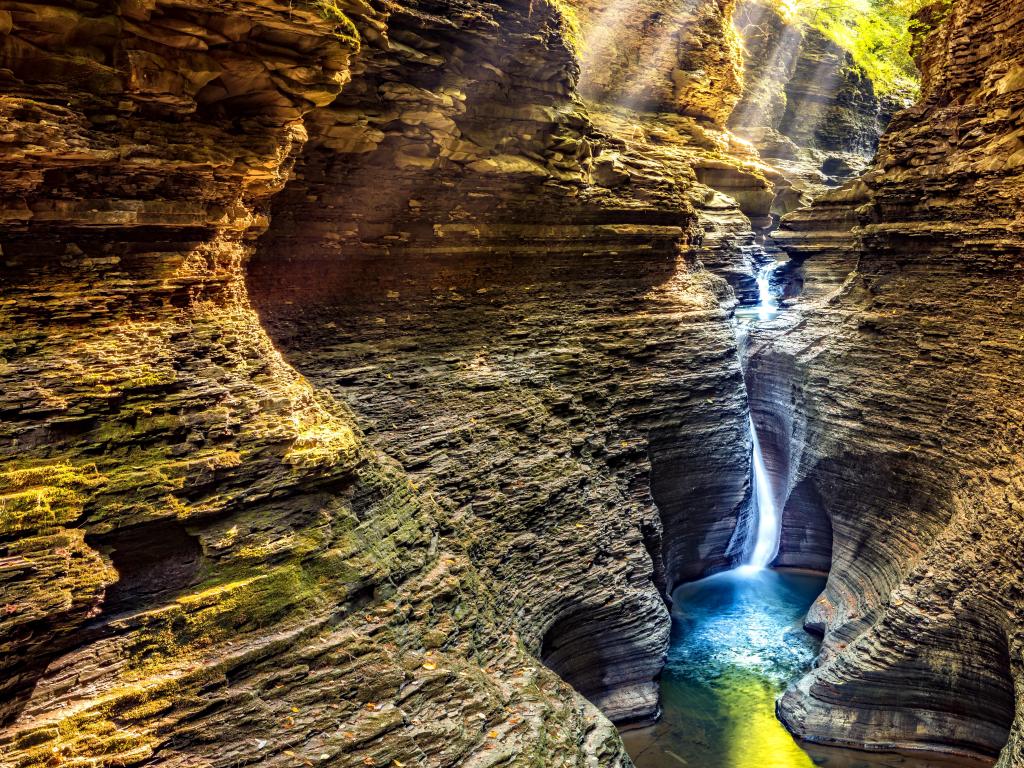 Newark, New Jersey – A vibrant city in the heart of the Garden State, Newark is as culturally diverse as it is historic. Explore the Newark Museum, known for its extensive art collection, and don't miss a visit to the historic Ironbound District for a taste of authentic Portuguese cuisine.
Great Swamp National Wildlife Refuge -Located just 26 miles from New York, this park is a natural oasis, ideal for spotting waterfowl. Enjoy over 8 miles of trails or just watch the local wildlife from its observational tower.
Land of Make Believe – Have fun at this amusement park with a Ferris wheel, rollercoaster, and a number of water-based attractions.
Grey Towers National Historic Site – Built in 1886 and boasting wonderful, landscaped gardens, this beautiful estate is home to an impressive French style chateau mansion.
Bethlehem – A city in the eastern portion of Pennsylvania known for its rich colonial and industrial history. It is also home to Moravian Book Shop. The oldest continuously operating bookstore in the world, which dates back to 1745.
Pocono Mountains – Nestled in northeastern Pennsylvania, the Pocono Mountains beckon with their serene natural beauty. Embark on outdoor adventures like hiking, skiing, and water sports, or unwind at one of the many cozy resorts and spas that dot this picturesque region, making it a perfect destination for all seasons.
Scranton – Located in northeast Pennsylvania, Scranton is known for the Steamtown National Historic Site, which showcases century-old locomotive trains. Also in the city, the Electric City Trolley Museum offers interactive exhibits and highlights vintage trolleys.
Ithaca – Set on the Cayuga Lake, it is home to Cornell University, Ithaca Falls and the Herbert F. Johnson Museum of Art. It also features the Cornell Botanic Gardens which has an arboretum and the multi-tiered Cascadilla Falls.
Robert H. Treman State Park – A stunning gorge replete with a swimming hole, a number of hiking trails and a scenic waterfall.
Taughannock Falls State Park – The highlight of this New York state park is a 215-foot waterfall, though there are good swimming, fishing and water sports activities on offer too.
Watkins Glen State Park – Discover this great spot for hiking and fishing for trout. This park also features lovely scenic views with rocky cliffs and raging waterfalls.
Syracuse – Home to several museums including the Erie Canal Museum, the Milton J. Rubenstein Museum of Science & Technology (MOST) and the Everson Museum of Art. Built in the 1920s, The Landmark Theatre often hosts Broadway shows and concert performances.
Dr. Konstantin Frank Winery – Enjoy fine wine tasting amongst stunning views of the Keuka Lake at Dr. Konstantin Frank's historic former residence.
George Eastman Museum - A Colonial Revival mansion housing interesting photography and film collections. It also has a theater that puts on occasional screenings.
Letchworth State Park - Scenic waterfalls and cliffs in a massive park with 66 miles of hiking trails and river rafting.
Rochester – A city on Lake Ontario in New York State. It is known for The George Eastman Museum and is also home to the Rochester Museum & Science Center, which has a very good planetarium.
Buffalo – The second largest city in New York State, located at the eastern end of Lake Erie, discover the Buffalo and Erie County Botanical Gardens, the Albright-Knox Art Gallery and Frank Lloyd Wright's Martin House amongst its main highlights.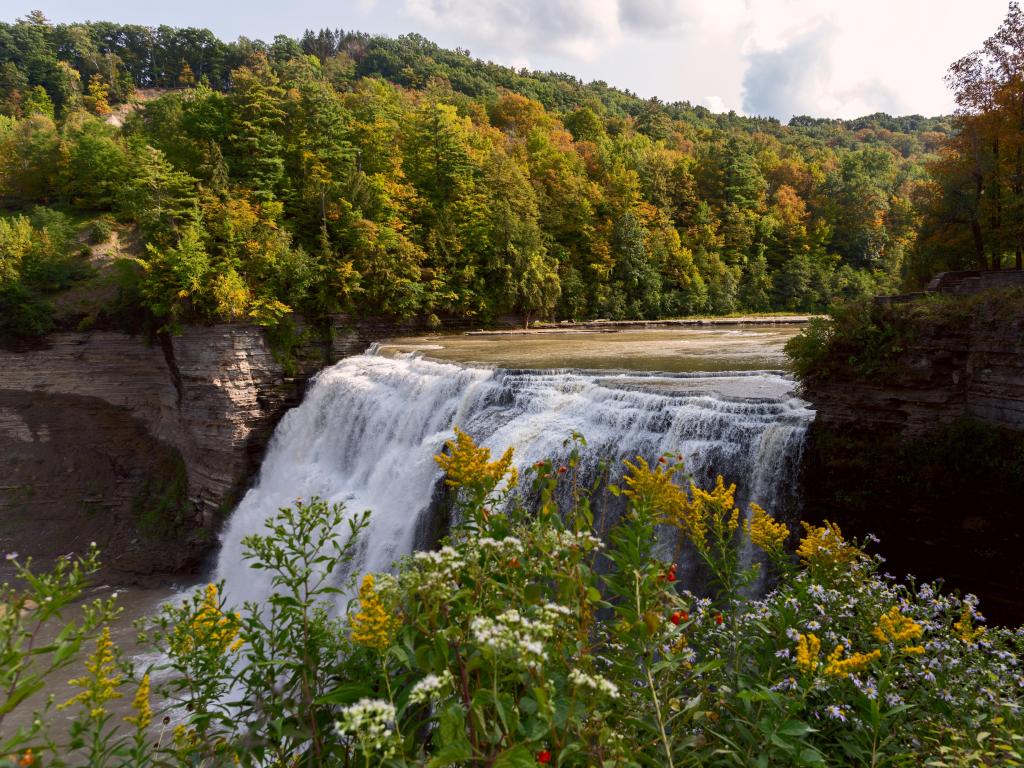 Best time to go on a road trip from New York To Niagara Falls
While the Niagara Falls State Park are open 24 hours a day, all year round, between June and August are undoubtedly the most popular times to visit, when average daily temperatures reach over 70 degrees Fahrenheit and all the attractions are open.
That being said, prices and visitor numbers are higher during the summer. If you would prefer to avoid the crowds, you might want to wait until September to visit Niagara Falls or plan your trip in early spring when you'll also get to enjoy the trees and flowers in bloom.
Winters at Niagara Falls can be very unforgiving with average temperatures being between 28 and 14 degrees Fahrenheit. Despite being cold, winter does give you the opportunity to see the falls partially frozen or covered in snow.
If you time your visit between May and October, you'll get the chance to see the daily fireworks held at Niagara Falls which is quite spectacular.
Other great events to consider timing your trip with is Canalfest of the Tonawandas held in Buffalo in July and the Niagara Falls Blues Festival, usually held for three days in September.