Road Trip from New York to Rochester
Looking to get away from the city lights of the Big Apple and unwind by the shores of stunning Lake Ontario? If your answer is "yes", then it is time to pack your bags and set off on this road trip from New York to Rochester and meander past majestic mountains, scenic lakes and historic cities.
The 340-mile road trip from New York to Rochester will take 6 hours and 30 minutes to drive. The notable sights on the way include Catskill, Hudson, Albany, Ithaca, Syracuse, Oneida Lake, Finger Lakes, Watkins Glen, and the Catskill Mountains.
Read on to find out about the best and the most scenic routes to follow, amazing things to see on each, where to stay, and the ultimate time to set off on this amazing New York to Rochester road trip!
How far is Rochester from New York, and how long will the road trip take?
Comparison of road trip routes between New York and Rochester

| Route | Distance | Driving Time |
| --- | --- | --- |
| The Finger Lakes Route | 340 miles | 6 hours 30 minutes |
| The Hudson Valley Route | 410 miles | 8 hours 10 minutes |
The picturesque Hudson Valley Route from New York to Rochester will cover approximately 410 miles and would take you around 8 hours and 10 minutes of driving time.
If you choose the Finger Lakes Route, you will travel a shorter distance of 340 miles, which will take 6 hours and 30 minutes to cover without any further detours.
To truly relish the scenic landscapes and unique attractions that the scenic state of New York has to offer, we advise dedicating 3-4 days to this trip.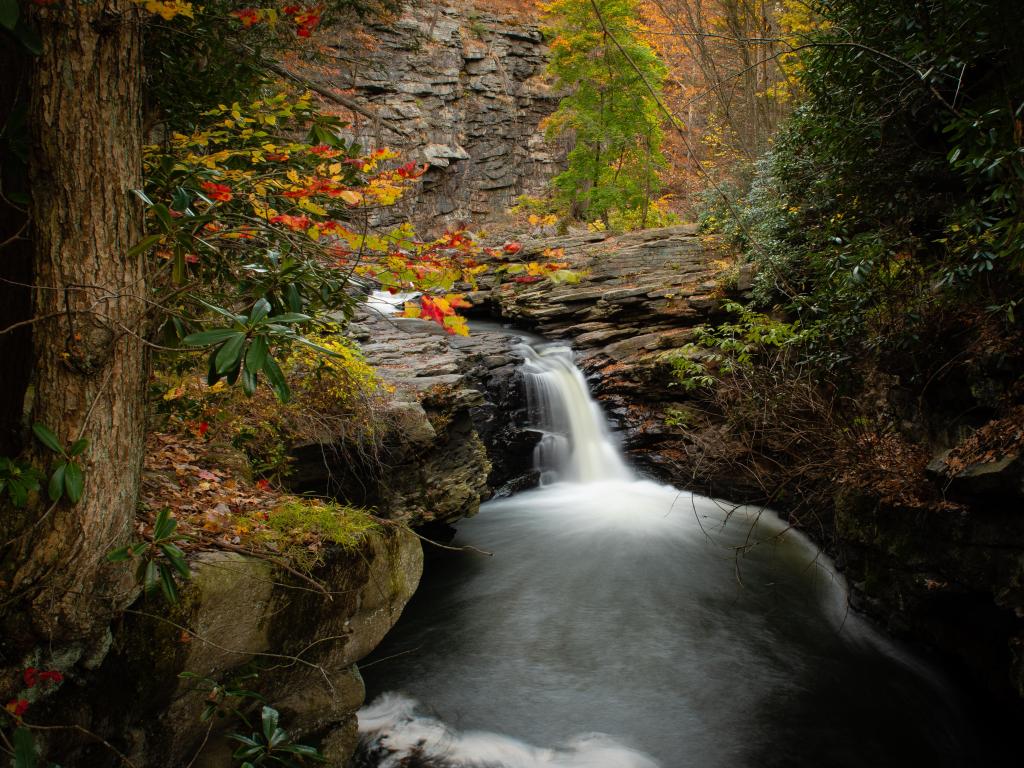 Best road trip route from New York to Rochester
Your preference on which of our scenic New York to Rochester road trip routes is the best for you will depend on the kind of journey you envision - a riverine adventure dotted with historical charm, or a voyage through idyllic landscapes graced with waterfalls and wineries.
The Hudson Valley Route holds a magnetic appeal for history buffs and nature lovers. As your journey unfolds, you'll be treated to a mix of art, culture, and natural beauty.
Major highlights include the breathtaking Bear Mountain State Park, the historical Hyde Park, and the awe-inspiring Olana State Historic Site, to name a few.
The Finger Lakes Route will take you through a string of charming towns, each brimming with their unique character. Highlights include the stunning natural beauty of Taughannock Falls State Park and the world-renowned Finger Lakes wine region.
How to drive from New York to Rochester
The map above shows our suggestions for the best road trip routes between New York to Rochester. Keep reading for detailed descriptions of both routes, where to stay on either, and the best things to do on the way.
The Hudson Valley Route
Head north on Interstate-87 (I-87) and continue your trip until you reach your first stop, the city of Peekskill. Here you can visit the Hudson Valley Museum of Contemporary Art to enjoy some local art and culture.
Keep heading north until you reach scenic Catskill, known for the Catskill Mountains and the plethora of outdoor activities available, such as hiking, fishing, and camping. Be sure to visit the Catskill Mountain State Park while you're there.
From Catskill, your next stop will be Hudson. Along the way, you will enjoy the views of the Hudson River. From here, continue driving north to reach Albany. After you've explored Albany, set off to Rome using I-90 West. In Rome, visit the Fort Stanwix National Monument.
Drive north towards Oneida Lake, a great spot for fishing and boating during the summer, or just enjoying the beautiful lakeside views.
Your next stop is Syracuse, to the west on I-90. Syracuse is home to the historic Erie Canal Museum and the fascinating Museum of Science and Technology. You may also want to take a stroll in the beautiful Onondaga Lake Park.
Heading west, you will reach the final destination of your road trip in Rochester.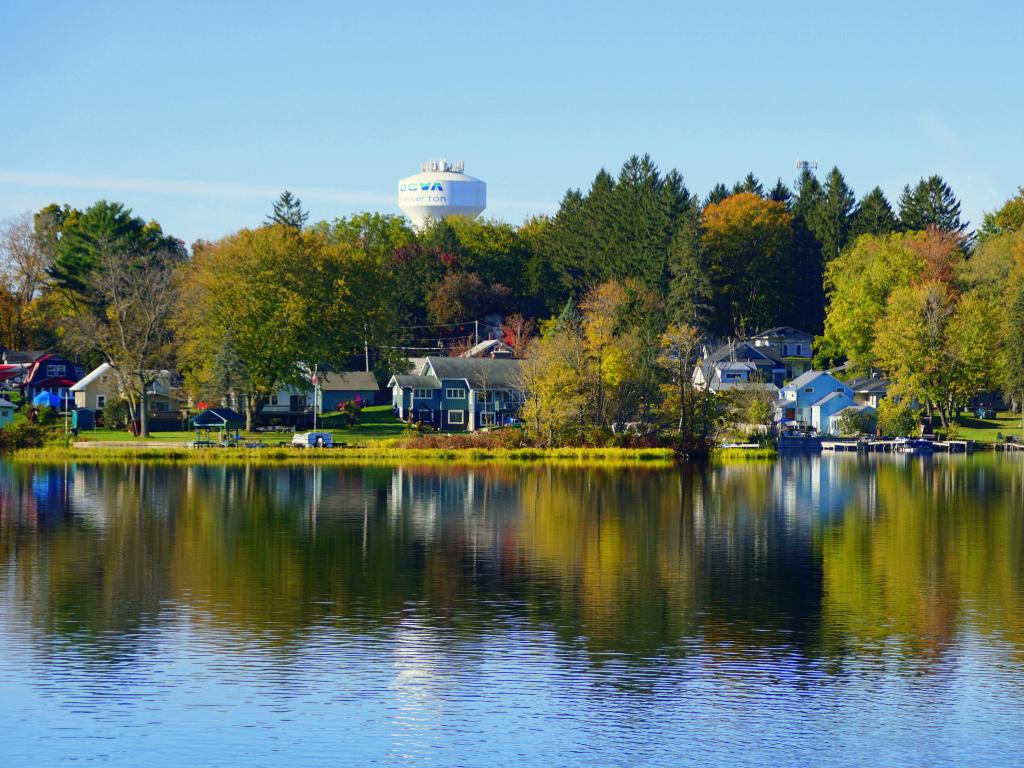 The Finger Lakes Route
Journey along I-280 West out of New York, and head towards Scranton. Next, follow the route to Binghamton I-81 North. Here, you can explore the Ross Park Zoo, or wander the paths of the historic Phelps Mansion Museum.
Continuing your journey, head northwest to reach the idyllic city of Ithaca. This city is home to captivating natural spectacles like the gorges of Robert H. Treman State Park and the cascading Taughannock Falls.
As you leave Ithaca, head west to Watkins Glen, where you'll be enchanted by the dramatic waterfalls and deep gorges of Watkins Glen State Park. Also, do not miss the renowned Watkins Glen International, the iconic racetrack known as the "home of American road racing".
Now comes the highlight of the trip: the captivating expanse of the Finger Lakes region. Meander through the Finger Lakes and after a scenic tour of the region, make your way to the final stop, Rochester.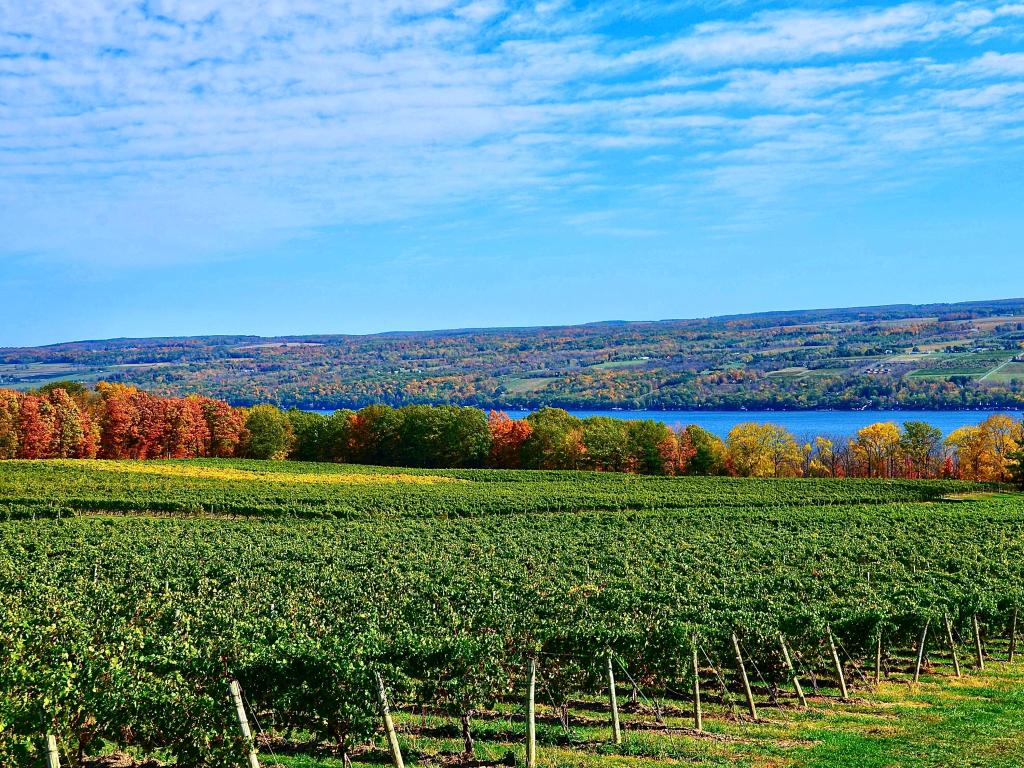 Best places to stop between New York and Rochester
As you navigate from the Big Apple to the Flower City, we're here to guide you through the crème de la crème of stopover spots on both routes.
We've handpicked our top choices of cozy havens and local hotspots, pairing them with engaging activities to add a dash of adventure.
Tread the historic streets of Albany
Brimming with historical charm and a colorful arts scene, New York's capital Albany is a delightful stopover along the Hudson Valley Route, conveniently located 3 hours and 40 minutes from New York City.
Top attractions not to miss include the New York State Museum, the largest state museum in the country. Here you can enjoy interactive exhibits that are sure to entertain kids and adults alike.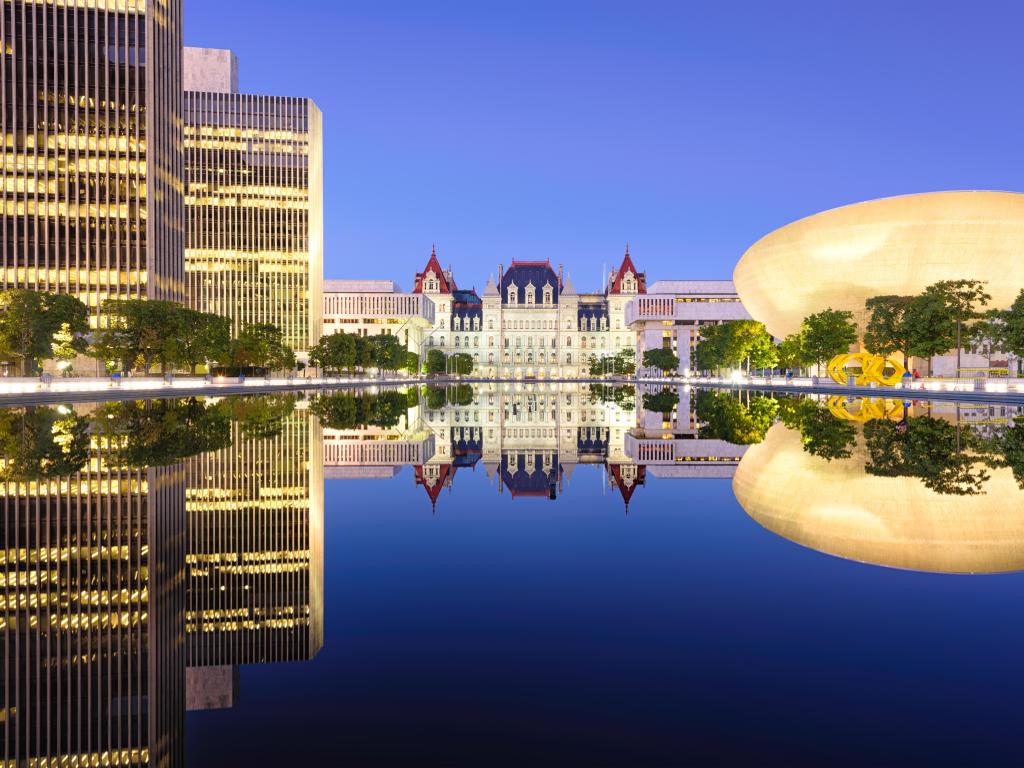 Also on your must-see list should be the Empire State Plaza, an impressive modernist architectural marvel. This complex is home to several key government buildings but also houses an art collection, a performing arts center, and a memorial dedicated to the veterans of World War II.
Last, but certainly not least, a trip to Albany would not be complete without a visit to the historic New York State Capitol, where you can participate in free guided tours that provide insight into New York's history and the building's fascinating architecture.
When visiting Albany, there is no better place to stay than the Morgan State House Inn to immerse yourself in the city's rich history. The inn is housed in a stylishly decorated 19th-century building located right in the heart of the Washington Park Historic District.
With such a stellar location a stone's throw from downtown, you can easily reach the New York State Capitol from the property. Just make sure to take advantage of the delicious complimentary breakfast on offer to fuel up before you set off to explore.
A relaxing stay at scenic Ithaca
Ithaca, a charming city beloved for its vibrant culture and breathtaking natural landscapes, is a perfect pit stop on the Finger Lakes Route, located 4 hours from New York. This beautiful city is the very doorway to the picturesque Finger Lakes region.
Begin your exploration with a visit to Cornell Botanic Gardens. Nestled within the grounds of Cornell University, this place isn't just a garden, it's an ecosystem teeming with diverse plant life.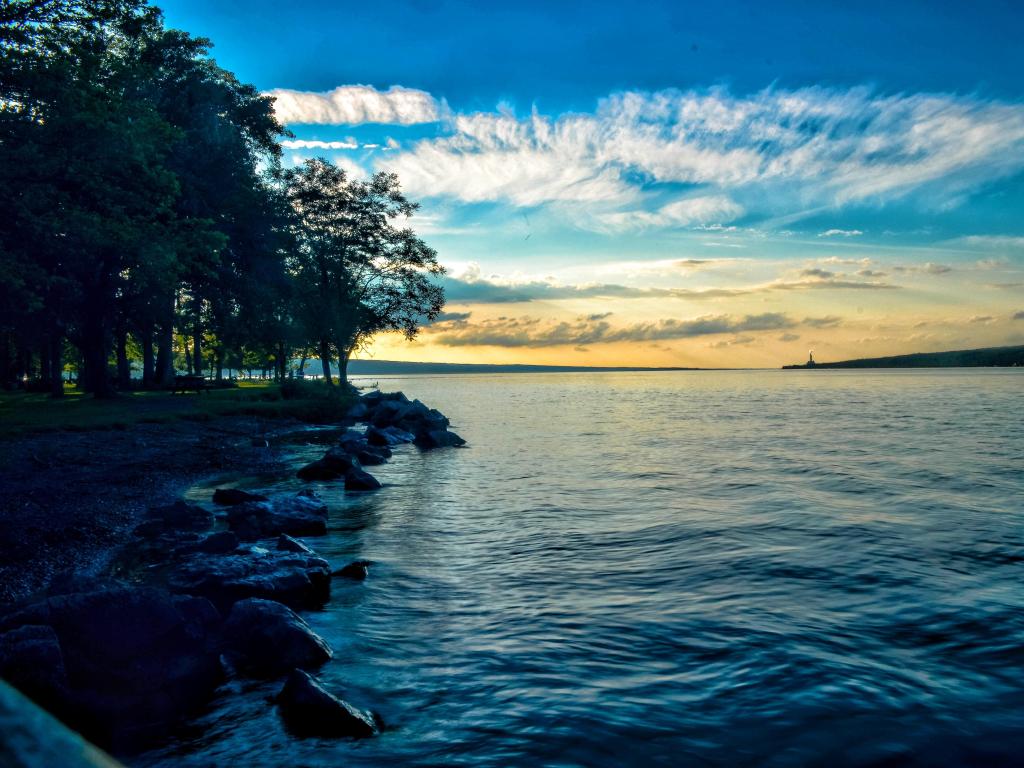 Whether you're a flower enthusiast or not, the sight of rare rhododendrons and the scent of heritage apple trees is sure to delight your senses. Plus, there's always something exciting happening here - think moonlit garden tours and vibrant flower festivals!
If you're looking for a taste of Ithaca's vibrant city life, you can't skip the Ithaca Commons. It's the beating heart of the city, buzzing with shops, eateries, and art galleries.
Take the adventure up a notch with a hike through the magnificent Robert H. Treman State Park, where the captivating Lucifer Falls is the showstopper. Or head over to Cayuga Lake, the longest of the Finger Lakes, for a peaceful day of boating or fishing.
Steeped in history and style, the Argos Inn - Ithaca's Boutique Hotel (we love the mythological reference!) combines old-world charm with modern comfort. The hotel's rich past, from the Mayor's Mansion to the Duncan-Hines world headquarters will add a historic flair to your stay.
The beautiful sun porch and outdoor stone patio provide serene spots for relaxation, allowing you to soak in the beautiful environment that will surround you. For the ultimate treat, head to the on-site Bar Argos where you can enjoy your favorite drink in an exquisite setting complete with a belle époque zinc bar.
Where to stay when you reach Rochester
Known as the Flower City, Rochester is credited as the birthplace of Kodak, Xerox, and Bausch & Lomb, transforming the city into a global hub for photography and optics.
But there's more to Rochester than just flowers and photos. The city's location on the southern shore of Lake Ontario offers numerous outdoor activities, including boating, fishing, and exploring its beautiful parks and trails.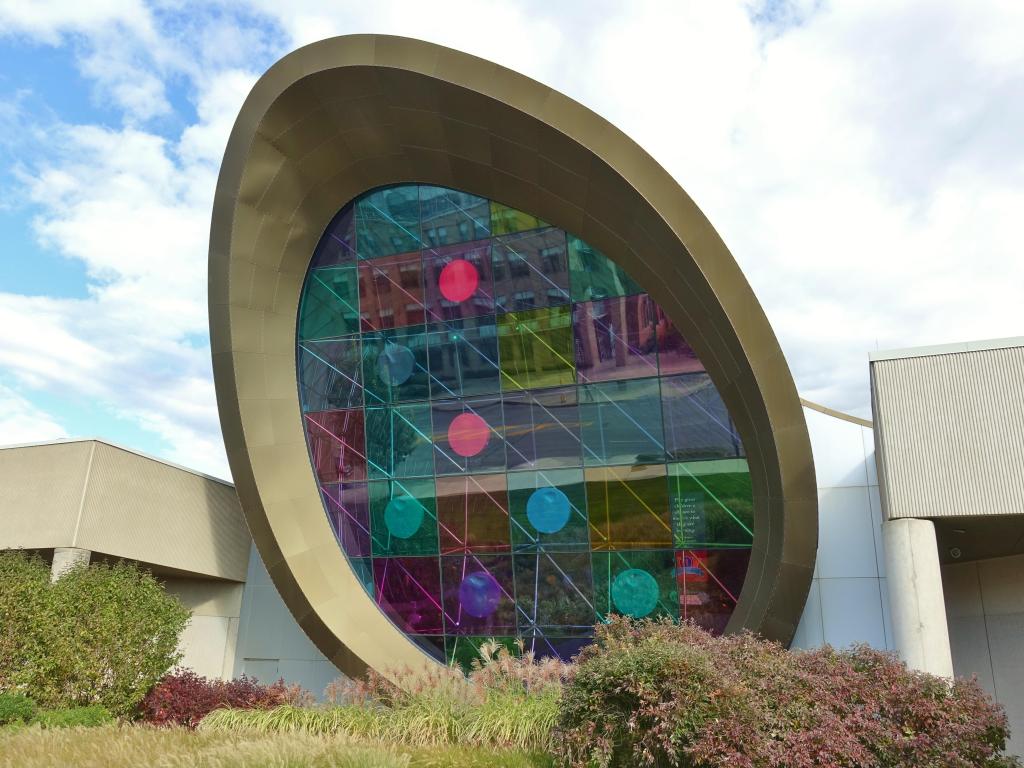 While in Rochester, we recommend staying at the charming Dartmouth House to embrace the historic atmosphere of this road trip from New York to Rochester. This beautiful property is located a short distance from The Strong National Museum of Play, an amazing place to visit for kids and adults alike!
Before heading home, make sure to sample the delicious breakfast served at the inn.
Things to see on a road trip from New York to Rochester
This epic road trip from New York to Rochester extends beyond the boundless landscapes and picturesque vistas, it's a trove of culture, history, and peculiar wonders stitched into the fabric of this unforgettable adventure.
Here's our curated selection of highlights that cater to a myriad of interests and make sure that this road trip will be the talk of your get-togethers for a long time!
Hudson Valley Route
Hudson Valley Museum of Contemporary Art, Peekskill - This museum houses some of the most provocative contemporary art in the Hudson Valley. It also hosts various exhibitions, performances, and educational programs throughout the year.
Bear Mountain State Park - A renowned outdoor recreational area, offering a rich array of amenities, from hiking trails, picnic groves, and a zoo, to an outdoor ice rink and swimming pool, all set amidst magnificent views of rugged mountains and sparkling waters.
Bannerman Castle, Beacon - Located on Pollepel Island in the Hudson River, the castle was once a military surplus warehouse and is now a picturesque ruin. It's reachable by boat tours and is a charming sight especially when illuminated at dusk.
Thomas Cole National Historic Site, Catskill - This site is the former home of renowned artist Thomas Cole and is where the Hudson River School of landscape painting was born. Visitors can explore Cole's home, studios, and beautiful grounds.
Warren Street Antique Shops, Hudson - Hudson's Warren Street is home to dozens of antique shops filled with unique finds. It's a must-visit for collectors or anyone who appreciates the charm and history of vintage items.
FASNY Museum of Firefighting, Hudson - This museum holds one of the largest collections of firefighting artifacts in the world. Interactive exhibits make it a great stop for families.
New York State Capitol, Albany - The capitol building, with its ornate architecture and rich history, is a must-see. Guided tours offer insights into the state's political history.
Empire State Plaza, Albany - A modernist architectural marvel, the plaza houses several government buildings, a convention center, and The Egg, a performing arts venue. The plaza also offers a stunning view of the city's skyline.
Fort Stanwix National Monument, Rome - Here you can explore a reconstructed 18th-century fort that played a crucial role during the Revolutionary War. The monument offers interactive exhibits and historical reenactments.
Sylvan Beach, Oneida Lake - A popular summertime destination that is a short detour from the route, Sylvan Beach offers sandy shores and calm waters perfect for swimming. Amusement parks nearby add to the family-friendly atmosphere.
Oneida Lake - Known for its superb fishing opportunities, Oneida Lake is also great for boating and other water sports. The lake's surrounding parks offer picnic spots and walking trails.
Everson Museum of Art, Syracuse - This museum houses an impressive collection of American art, including paintings, sculpture, video, graphics, and ceramics. Its I.M. Pei-designed building is a piece of art in itself.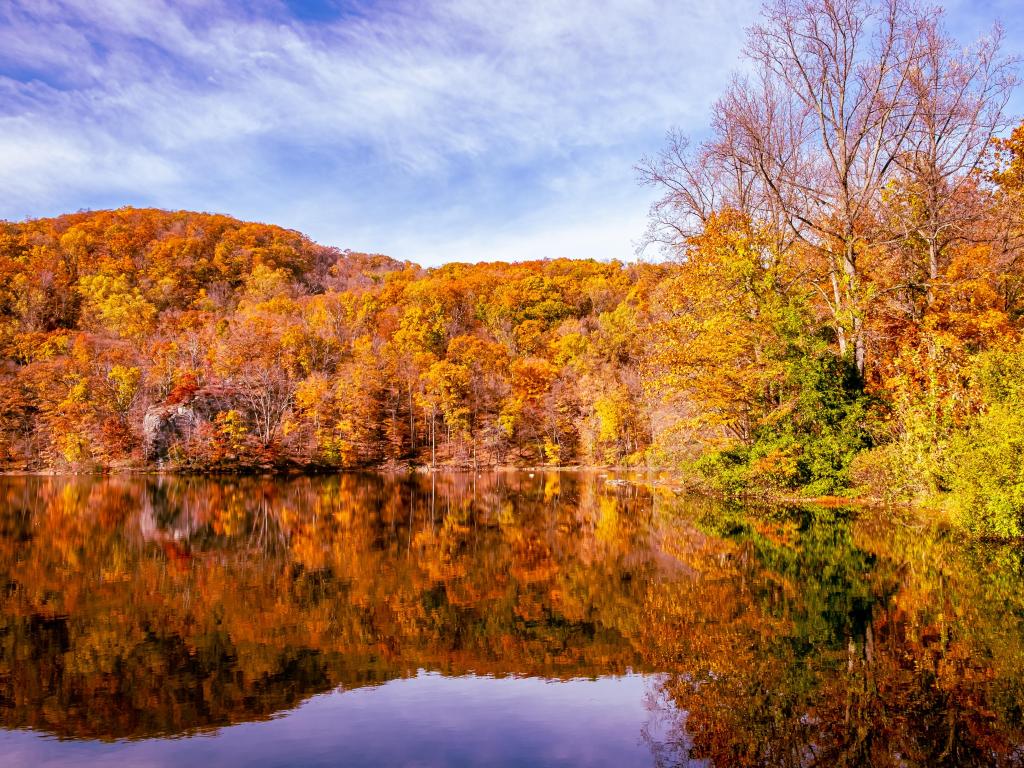 Finger Lakes Route
Steamtown National Historic Site Scranton - This national park is a testament to the era of steam locomotives. You can tour the grounds, take a ride on a steam engine, or visit the technology museum.
Nay Aug Park, Scranton - Home to waterfalls, nature trails, and a zoo, Nay Aug Park is the largest park in Scranton, providing a verdant retreat in the middle of the city.
Ross Park Zoo, Binghamton - Opened in 1875, this is the fifth oldest zoo in the nation. It hosts nearly 200 species of animals and provides fun-filled educational experiences for all ages.
Phelps Mansion Museum, Binghamton - This historic house museum is a symbol of the grandeur of the Victorian era and Binghamton's rich past. Guided tours offer in-depth knowledge about the architecture and historical significance.
Robert H. Treman State Park, Ithaca - A must-visit for nature lovers, this state park is known for its stunning gorges and waterfalls, with Lucifer Falls being a popular highlight. Hiking trails here offer an excellent outdoor adventure.
Cornell University, Ithaca - As an Ivy League institution, Cornell University is one of the world's most prestigious universities. Its beautiful campus, with its stunning gorges and historic buildings, is worth exploring.
Taughannock Falls State Park, Ithaca - This state park is home to Taughannock Falls, which plunges 215 feet past rocky cliffs. Its hiking trails offer breathtaking views of the falls and Cayuga Lake.
Watkins Glen State Park Watkins Glen - A place of enchanting natural beauty, the park boasts 19 waterfalls along its course. The Gorge Trail, which winds over and under these falls, is a particularly spectacular experience.
Watkins Glen International, Watkins Glen - Renowned as the "home of American road racing", this race track is known for its thrilling auto races, including NASCAR events, sports car racing, and vintage racing festivals.
Finger Lakes Wine Country, Finger Lakes - Recognized for its exquisite wines, especially its world-class Rieslings, a visit to the Finger Lakes isn't complete without touring its vineyards and tasting rooms.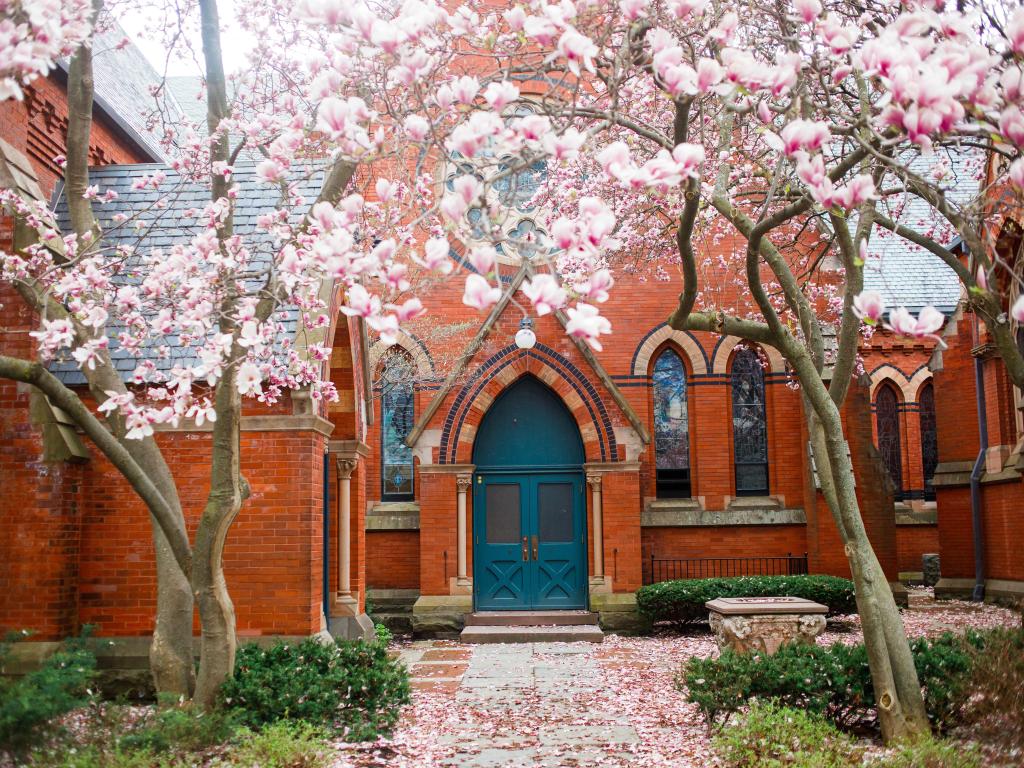 Best time to go on a road trip from New York to Rochester
This scenic New York to Rochester road trip can indeed be embarked upon year-round, although the best time really depends on your personal preferences and tolerance for various weather conditions.
Spring sees an average high in Rochester from 45 to 72 degrees Fahrenheit, and is generally mild and pleasant, with the region coming alive with lush greenery and blooming flowers.
The city celebrates the arrival of spring with the annual Rochester Lilac Festival in Highland Park, showcasing more than 500 varieties of lilacs and hosting various events.
Fall, on the other hand, is a spectacular display of colors as the leaves change from green to shades of red, orange, and yellow. This season attracts many leaf peepers, with October being a particularly popular month for viewing fall foliage.
The temperatures during the fall months range from 51 to 73 degrees Fahrenheit. It's a wonderful time to experience the region's harvest season, especially if you're interested in local produce and wineries of the Finger Lakes region.
As for hotel rates and attraction prices, they can vary throughout the year. spring and fall are generally considered shoulder seasons and may offer better deals than the peak summer months. However, keep in mind that prices might go up during events.
Summers in Rochester are warm and vibrant, with temperatures ranging from 70 to 85 degrees Fahrenheit. This is a popular time to visit, as many of the city's events such as the Park Ave Summer Art Fest and Rochester Jazz Festival are in full swing.
Winter in Rochester can be chilly, with average temperatures ranging from 18 to 35 degrees Fahrenheit. The city often receives significant snowfall due to its location in the Lake Ontario Snowbelt, making it a hub for winter sports enthusiasts.