Road Trip from New York to Saratoga Springs
Leave the glittering city lights of New York behind and set your sights on the tranquility of Saratoga Springs. Whether you are looking to make a day trip or spend more time on the road, this road trip from New York to Saratoga Springs is jam-packed with stunning scenery.
The 190-mile road trip from New York to Saratoga Springs will take 3 hours and 20 minutes to drive nonstop. You can visit Peekskill, Poughkeepsie, Catskill, Woodstock, Albany, Saugerties, the Catskill Mountains, and Kaaterskill Falls on the way.
Read on to find out which is the best route for you on a New York to Saratoga Springs road trip, where to stay, amazing things to see, and stunning scenery to admire, as well as the best time to set off on this journey.
How far is Saratoga Springs from New York, and how long will the road trip take?
Comparison of road trip routes between New York and Saratoga Springs

| Route | Distance | Driving Time |
| --- | --- | --- |
| The Direct Route | 190 miles | 3 hours 20 minutes |
| The Scenic Route | 270 miles | 5 hours 50 minutes |
On the Direct Route, you can expect to drive 3 hours and 20 minutes, encompassing a manageable distance of approximately 190 miles, perfect for a day trip from New York to Saratoga Springs.
If you choose to tread the path less traveled, the Scenic Route will cover a slightly larger distance of around 270 miles, this captivating route through quaint towns, picturesque mountains, and cultural landmarks is likely to take about 5 hours and 50 minutes.
We suggest allowing 2-3 days to fully absorb the unique beauty and charm of these routes, making this road trip a journey rather than simply a means to an end.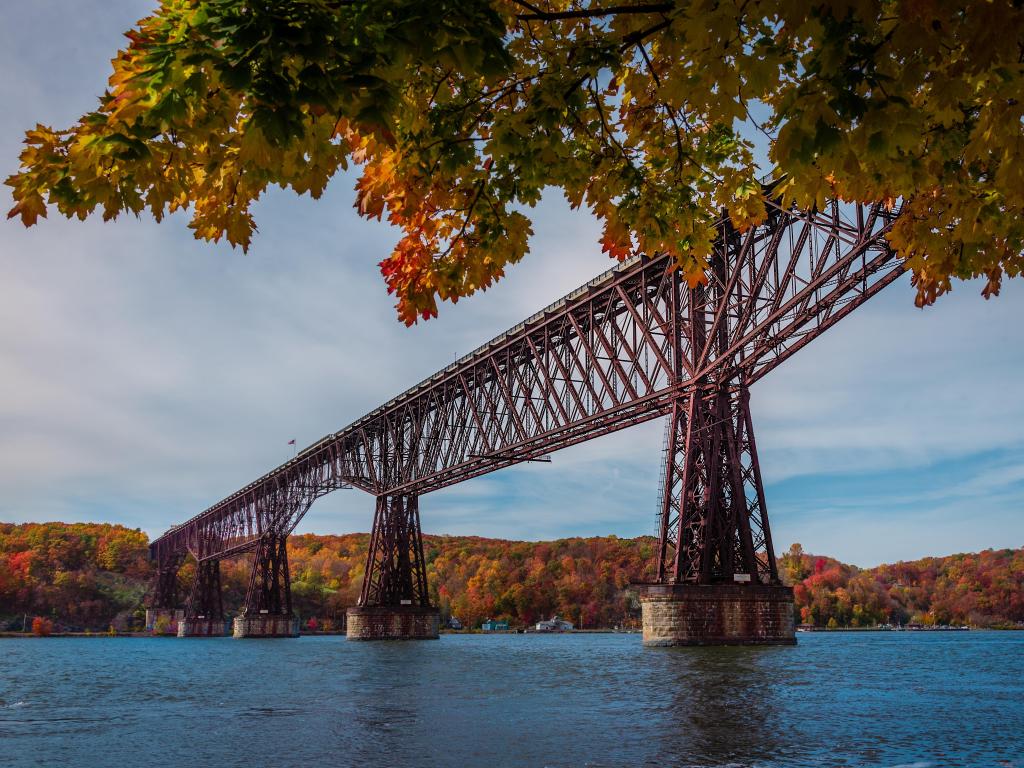 Best road trip route from New York to Saratoga Springs
Choosing between the Direct Route and Scenic Route from New York to Saratoga Springs will depend on whether you're inclined towards a day trip from New York to Saratoga Springs or an immersive meander through diverse landscapes.
The Direct Route will have you swiftly transition from the bustling urban ambiance of New York to the vibrant yet relaxed atmosphere of Saratoga Springs.
This path will take you through notable cities like Catskill, replete with scenic river views, with an option to make a detour to Albany, the capital of New York state known for its rich history and dynamic arts scene.
The Scenic Route will curve through the hills and valleys of the Hudson River Valley and the charm of towns like Woodstock and Poughkeepsie. It presents the opportunity to bask in the natural beauty of the Catskill Mountains.
Whether you prefer the directness of the Direct Route or the scenic charm of the Scenic Route, both paths provide incredibly scenic journeys from the heart of New York to the inviting allure of Saratoga Springs.
How to drive from New York to Saratoga Springs
The map above shows our suggestions for the best road trip routes between New York to Saratoga Springs. Keep reading for detailed descriptions of both routes, where to stay on either, and the best things to do on the way.
The Direct Route
Begin your road trip from the vibrant heart of New York City, heading north along Interstate-87 (I-87). This will take you towards Albany, providing you with views of the Hudson Valley and its verdant greenery during your journey.
Just before reaching Albany, diverge east towards Catskill. The town of Catskill, nestled by the Hudson River, offers a charming blend of rich history and nature's bounty.
Indulge in a walk along the historic Main Street, filled with local arts and crafts shops, or head to the nearby Catskill Park for an immersive natural experience with over 700,000 acres of breathtaking forest preserve.
After exploring the charms of Catskill, return to the interstate, this time going north towards Saratoga Springs. As you cruise along, you'll pass by the scenic Hudson River Valley with its stunning views and serene atmosphere before reaching your destination.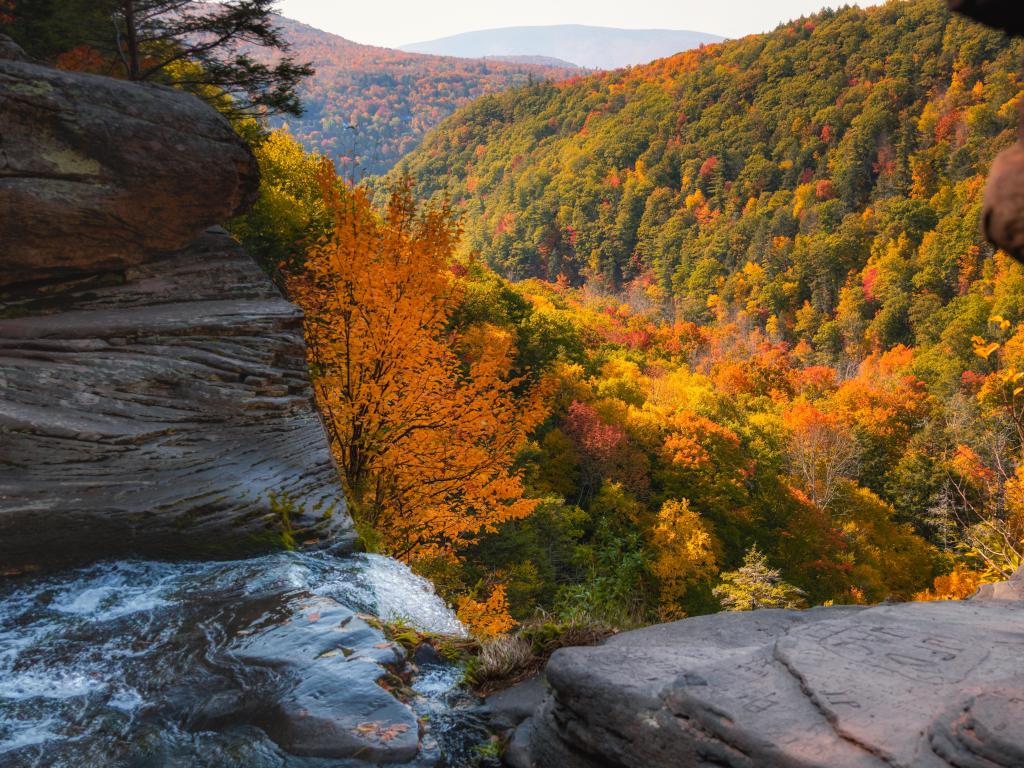 The Scenic Route
Similar to the Direct Route, weave your way along I-87 north, and make your way to Peekskill. Nestled on the Hudson River's eastern banks, Peekskill offers a blend of small-town charm and cultural treasures.
As you continue your journey northwards, your next stop is Poughkeepsie. Enrich your senses by visiting the Walkway Over the Hudson, a pedestrian bridge providing panoramic views of the Hudson River.
Venture further on your scenic route to the heart of the Catskill Mountains and make a detour into Sundown Wild Forest. Engulfed by serene landscapes, lush forests, and rugged terrains, it offers an irresistible invitation to outdoor enthusiasts for hiking and camping.
Leaving the wilderness behind, your journey ushers you to the iconic town of Woodstock. Feel the echoes of the past as you explore the artistic vibrance and the enduring legacy of this unique locale (even though the famous namesake festival did not actually take place here!).
Next, you'll arrive in Catskill, a town sitting prettily on the western banks of the Hudson River. A haven for artists, its colorful buildings and historic sites, like the Thomas Cole National Historic Site, offer a glimpse into the past.
Driving onward, you'll reach the city of Albany, New York's capital. Here you'll find a rich blend of historic and modern attractions, including the grand New York State Capitol. Finally, your scenic sojourn culminates in Saratoga Springs.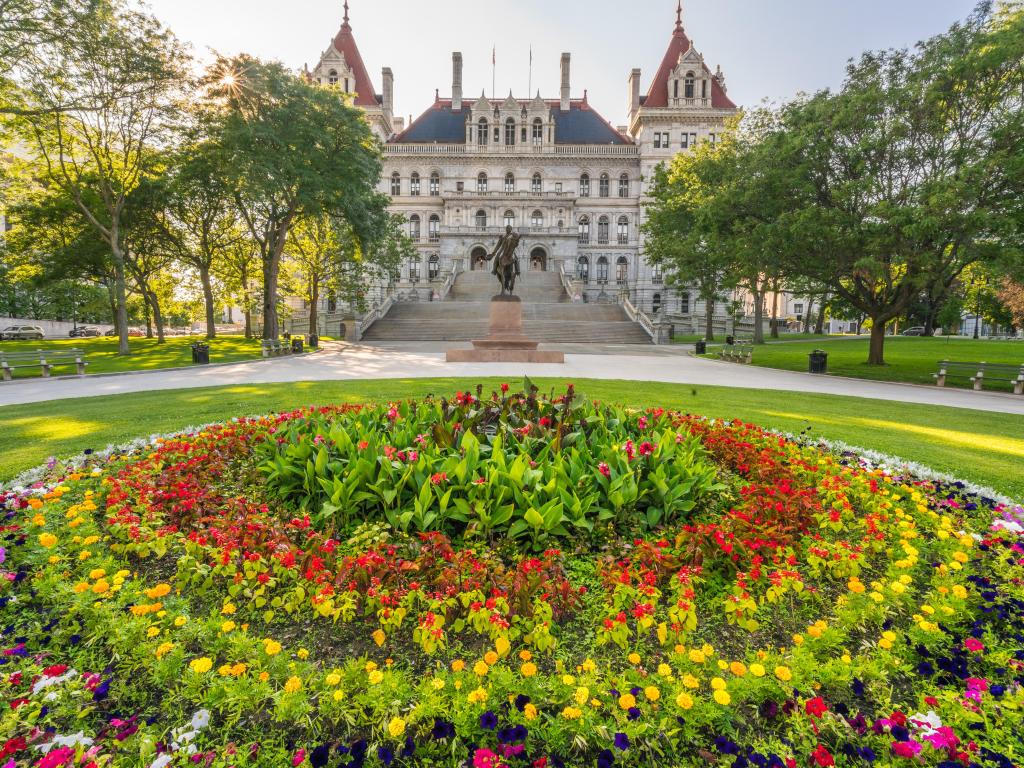 Best places to stop between New York and Saratoga Springs
Selecting the perfect places to pause can turn your road trip from New York to Saratoga Springs from just a drive into an unforgettable adventure.
To make your journey as magical as possible, we've handpicked a set of captivating pit stops where you can stretch your legs, catch your breath, and explore.
Get the celebrity treatment in Peekskill
Nestled on the banks of the Hudson River, Peekskill is a picturesque pitstop on the Scenic Route, about an hour from New York. Renowned for its vibrant arts scene, rich history, and outdoor adventures, Peekskill offers a rewarding blend of experiences for travelers.
A trip to Peekskill must include a visit to the Hudson Valley Museum of Contemporary Art. Known for its cutting-edge exhibitions, this museum features an expansive collection of contemporary works, including sculptures and paintings from emerging and established artists.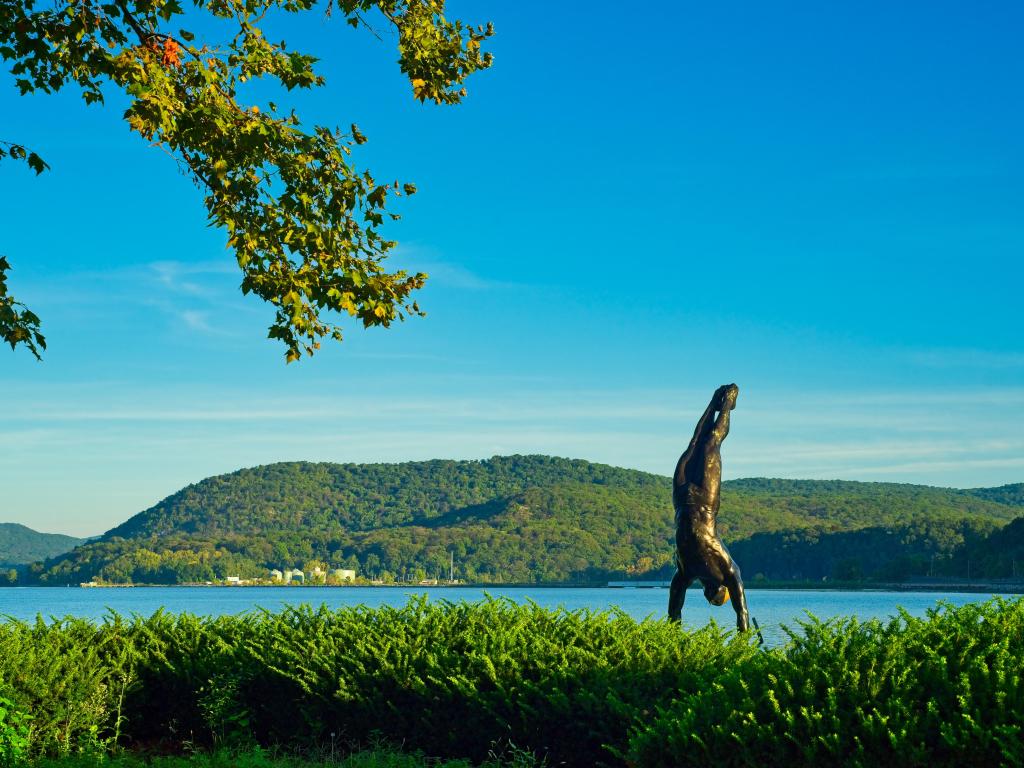 Peekskill's Paramount Hudson Valley Theater is another cultural hotspot. Listed on the New York State and National Registers of Historic Places, this theater offers an array of performances from concerts to theatrical productions, all set within a beautifully restored Art Deco building.
If you are looking to spend some time outdoors, Depew Park provides a breath of fresh air for nature lovers. This verdant park includes walking trails winding through wooded areas, a sparkling lake for fishing, and ample picnic spots.
If you are looking for the ultimate relaxation, The Abbey Inn & Spa is hard to beat. You will be in for the celebrity treatment here with a spa and fabulous outdoor swimming pool-quite a juxtaposition to the hustle and bustle of New York.
You will be located just a short drive from the stunning Bear Mountain State Park. The hotel also provides free bikes and guidance on the amazing hiking trails that surround the property if you want to explore the great outdoors. If not, you can just sit back, enjoy a massage and a delicious meal at the on-site restaurant.
Take in the scenery in Saugerties
Saugerties, New York is one charming stop you won't want to skip on the Scenic Route trip from New York to Saratoga Springs. It's a treasure trove of history, art, and good old-fashioned small-town charm, nestled right along the banks of the Hudson River.
One of the first things you'll want to see is the Saugerties Lighthouse. This charming beacon is more than just a piece of history; the route to the lighthouse is an adventure in itself, guiding you through a beautiful nature reserve before revealing the stunning expanse of the Hudson River.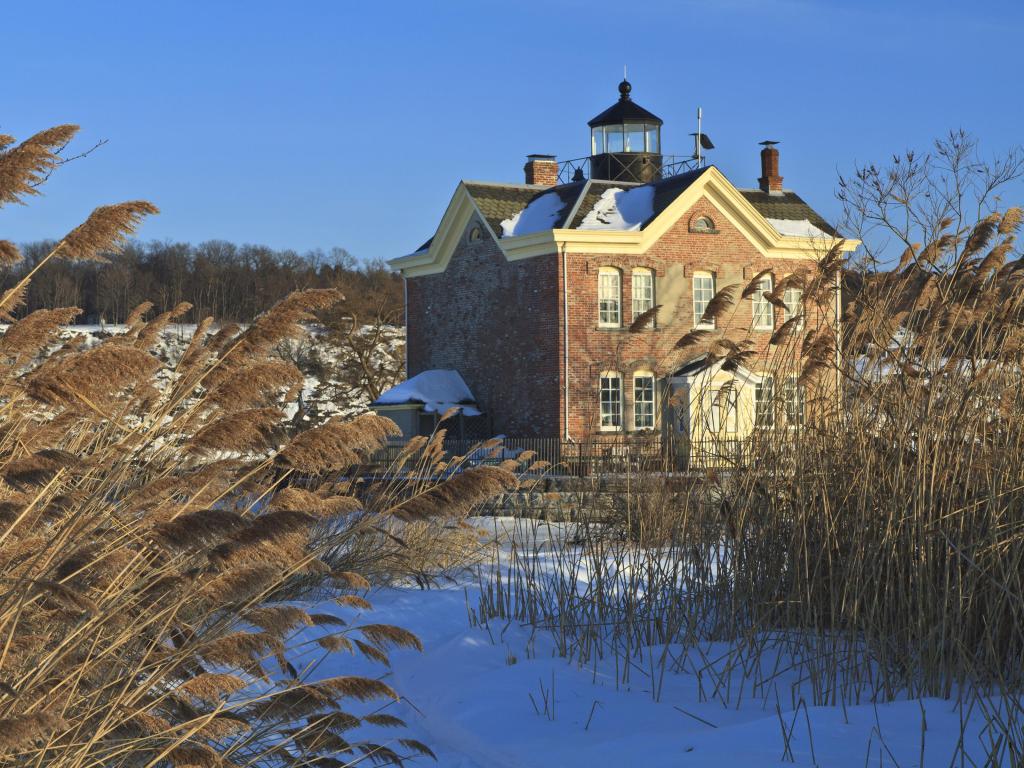 But the artistic journey doesn't end there. Make sure to visit Opus 40, a six-acre wonderland of stone sculptures tucked away in an old bluestone quarry. This massive park is the brainchild of one man, Harvey Fite, who spent 37 years carving, chiseling, and shaping this sprawling stone masterpiece.
The Saugerties Village Farmers Market is your happy place if you're a foodie. Open every Saturday, it's where you can sample the flavors of the region, with stalls filled with fresh produce, homemade goodies, and unique crafts.
Speaking of celebrations, Saugerties is famous for Hudson Valley Garlic Festival. It's a quirky, flavorful event that sees the town come alive to celebrate all things garlic in the fall.
To take in the charming, small-town vibes of Saugerties, there is no better place to stay than the beautiful Renwick Clifton House B&B. With views of the Hudson River from your own room, you might not even want to venture out!
When you do, though, make sure to fuel up on the delicious breakfast on offer before heading off to your next adventure!
Where to stay when you reach Saratoga Springs
Known as the Queen of the Spas, Saratoga Springs has been a popular resort destination since the 19th century, famed for its mineral springs that were believed to have healing properties.
What truly sets Saratoga Springs apart, however, is its love affair with horse racing. Home to the historic Saratoga Race Course, it has been at the heart of American thoroughbred racing for over 150 years.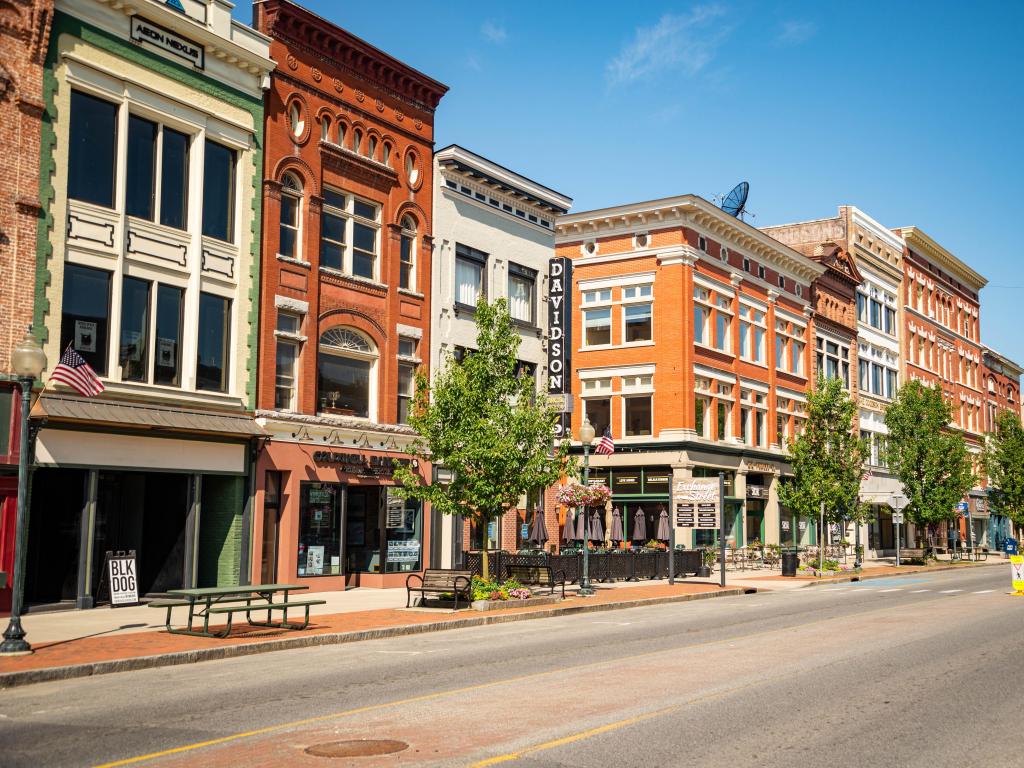 But there's more to Saratoga than the thunder of hooves. Whether you're taking a leisurely stroll through Congress Park, catching a performance at the Saratoga Performing Arts Center, or savoring the town's culinary delights, Saratoga Springs has something for everyone.
While in Saratoga Springs, we recommend staying at the Saratoga Arms. This stylish hotel was built in 1970 and features a charming period front veranda which is a nod to its rich past.
The Saratoga Race Course and Saratoga Performing Arts Center are both a short drive from the hotel. Make sure to enjoy the daily breakfast on offer before setting off to explore this beautiful town.
Things to see on a road trip from New York to Saratoga Springs
Get ready to hit the road! This road trip from New York to Saratoga Springs might look like a hop, skip, and jump on paper, but this trip is brimming with secret gems just waiting to be discovered.
Whether you're a history buff, a nature enthusiast, a lover of all things offbeat, or just a curious traveler looking for a good old-fashioned road trip, this route has something for everyone. Read on to find out about our favorite places to visit on this short but jam-packed road trip.
Both Routes
Bear Mountain State Park - This is a stunning state park located on the west bank of the Hudson River which is accessible on both routes as a recommended detour. It offers hiking, picnic groves, rowboat rentals, fishing, a swimming pool, and a zoo.
Olana State Historic Site, Hudson - This is the home and studio of Hudson River School painter Frederic Edwin Church. Olana is a unique mixture of Victorian architectural elements and Middle Eastern decorative motifs.
Thomas Cole National Historic Site, Catskill - Visit the home and studio of Thomas Cole, the founder of the Hudson River School of Painting. The site offers stunning views and a direct connection to the birth of American art.
Bannerman's Castle, Beacon - This island on the Hudson River is accessible on both routes and is home to the ruins of a once grand arsenal, known as Bannerman's Castle. The site is accessible by boat tours and offers a unique glimpse into the past.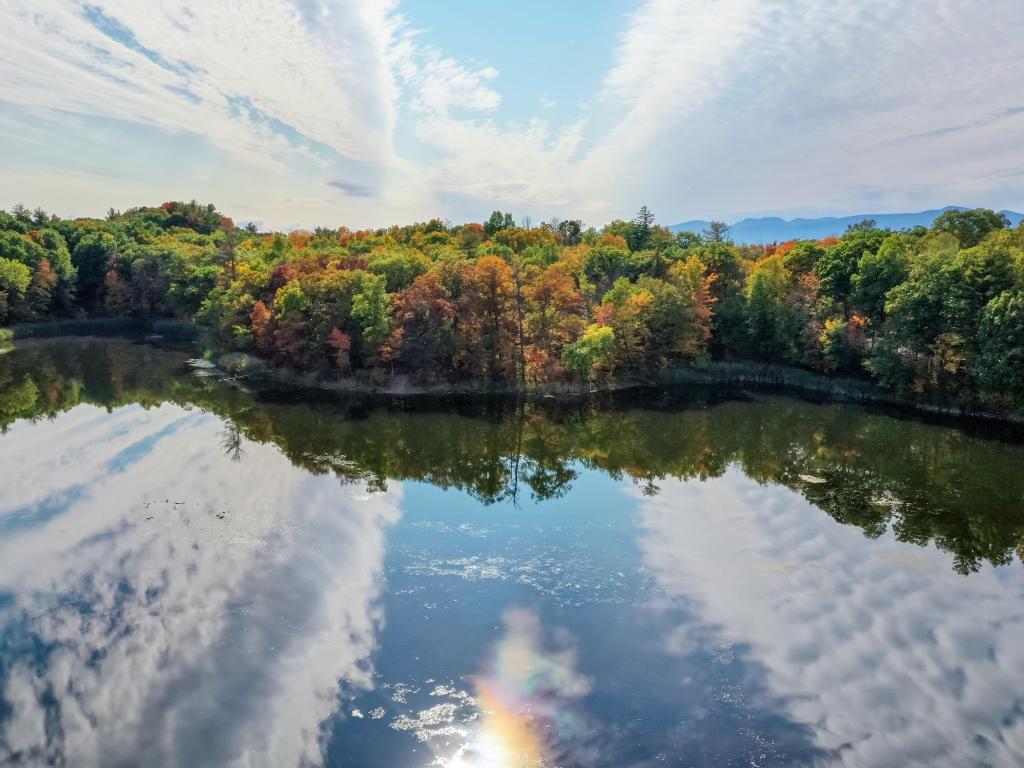 The Direct Route
Kaaterskill Falls - This is a two-drop waterfall located in the eastern Catskill Mountains. At 260 feet, it's one of America's tallest waterfalls and has been a popular tourist destination since the 19th century.
Motorcyclepedia Museum, Newburgh - This museum boasts an extensive collection of over 600 motorcycles from 1897 onward. It also has themed exhibits, including choppers and police motorcycles.
Hudson River Maritime Museum Kingston Learn about the history of the Hudson River and its industries at this waterfront museum. The exhibits showcase steamboats, lighthouses, and the ice harvesting industry that once flourished along the river.
Saugerties Lighthouse, Saugerties - This historic lighthouse offers stunning panoramic views of the Hudson River. Visitors can explore the small museum and even stay overnight in the charming bed and breakfast.
Storm King Art Center, New Windsor - This is a 500-acre outdoor museum where visitors can experience large-scale sculpture and site-specific commissions under the open sky. It's one of the world's leading sculpture parks.
West Point Museum, West Point - Located at the U.S. Military Academy, the museum offers exhibits on the history of warfare and the American military. It features one of the oldest and largest diversified public collections of militaria in the Western Hemisphere.
The Scenic Route
Paramount Hudson Valley Theater, Peekskill - This historic theater is a beacon of the performing arts, showcasing a diverse mix of entertainment. You can enjoy everything from Broadway, cinema, comedy to music events here.
Walkway Over the Hudson State Historic Park, Poughkeepsie - This linear walkway spanning the Hudson River is the longest elevated pedestrian bridge in the world, offering stunning panoramic views.
Frances Lehman Loeb Art Center, Poughkeepsie - Located at Vassar College, this art center features works from antiquity to contemporary pieces. It's a perfect stop for art lovers to explore the creativity from various eras.
Vanderbilt Mansion National Historic Site, Hyde Park - A short detour from the route, this historic site features a gilded-age mansion, overlooking the Hudson River, with impressive Italian gardens. It offers a glimpse into the lifestyle of the elite during the late 19th century.
Emerson Kaleidoscope, Mount Tremper - Housed in a silo, visitors lie on the floor and view the colorful, changing patterns of this giant kaleidoscope. It provides a psychedelic experience unlike any other.
Sundown Wild Forest - This natural wonder offers a wide array of outdoor activities like hiking, camping, and fishing. Enjoy the stunning vistas, cascading waterfalls, and dense woods that this untouched wilderness offers.
Karma Triyana Dharmachakra, Woodstock - This serene Buddhist monastery nestled in the mountains offers guided tours and meditation sessions. The beautifully adorned shrine room and its tranquil surroundings provide a peaceful retreat.
New York State Capitol, Albany - This stunning architectural marvel houses the New York State Legislature. The capitol, built in a mixture of styles, offers guided tours where you can witness its impressive interiors and rich history.
Pruyn House, Colonie - This quirky site combines a historical home, a one-room schoolhouse, and a Dutch barn. The eclectic mix provides a fascinating glimpse into the past in a charming, picturesque setting.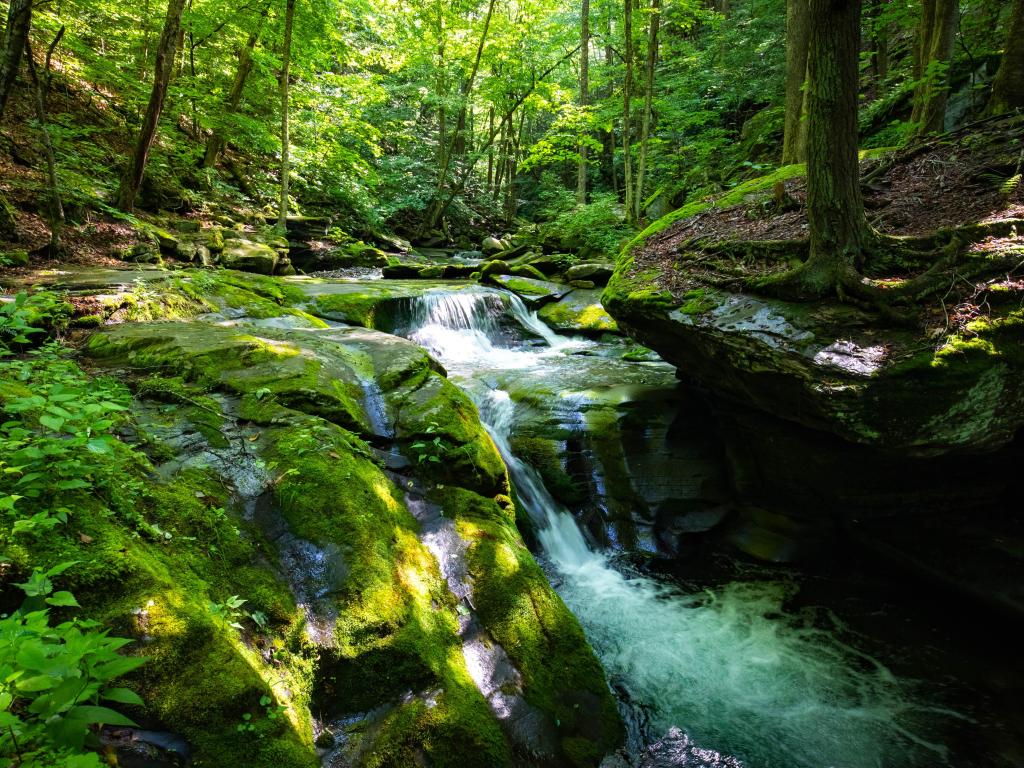 Best time to go on a road trip from New York to Saratoga Springs
The best time to enjoy this scenic New York to Saratoga Springs road trip largely depends on the type of experience you want to get a taste of.
If you want to bask in the lush green landscapes, spring and summer are fantastic options. You might particularly notice the emergence of tulips and lilacs in the spring.
Saratoga Springs is particularly vibrant in the summer, with temperatures typically ranging from the mid-70s to mid-80 degrees Fahrenheit. This is the busiest season, primarily due to the annual Saratoga Race Course season which attracts visitors from across the country.
If you are visiting in late June, you can catch a gig or two at the Freihofer's Saratoga Jazz Festival, which draws some of the world's best jazz musicians.
Fall, with its crisp air and vibrant foliage, offers a uniquely beautiful experience, with temperatures typically in the mid-50s to 60 degrees, making for pleasant daytime explorations.
You are in for a delicious treat if you are visiting in February. Chowderfest welcomes the restaurants in downtown Saratoga Springs to serve samples of their best chowder. Participants can taste a variety of chowders and vote for their favorites in different categories.
Saratoga Springs experiences temperatures typically in the 20s and 30s in winter. Snow can often make travel more difficult, especially in more rural or mountainous areas along the route, such as the Catskill Mountains.
If you're a winter sports enthusiast, though, this might be an ideal time for you as you can enjoy skiing, snowboarding, and other winter activities in the Catskill Mountains.