Road Trip from New York to Texas
Texas is big and bold, known for its soaring temperatures, live music and world-famous BBQ. The Lone Star State is a great place to soak up vibrant cities, freshwater lakes and forest landscapes, all part of a distinctive culture heavily influenced by the state's rich Spanish history.
A 2,240-mile road trip from New York and then around Texas takes 35 hours to drive. On the way you'll pass through Caddo Lake, Houston, Davy Crockett National Forest, San Antonio, Hamilton Pool, Fort Worth, Austin, Dallas and Nacogdoches.
This trip is rich in history and culture - there's plenty to discover. So read on below to learn about the best route to take, where to stop along the way and when is the optimum time to travel.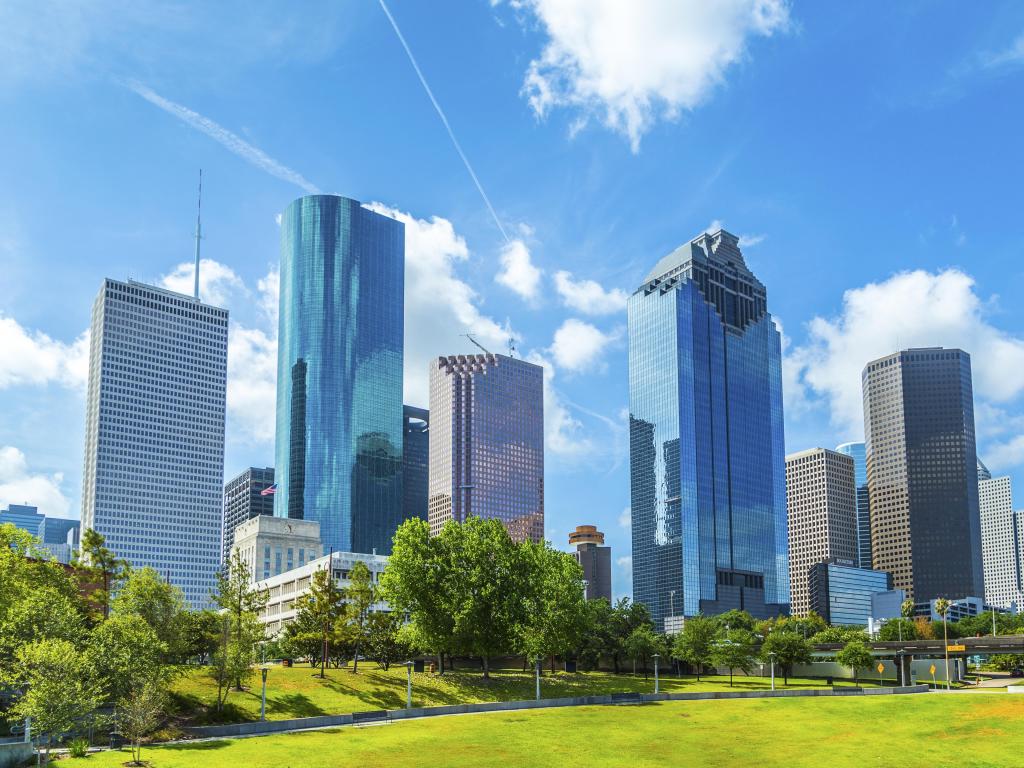 How far is Texas from New York, and how long will the road trip take?
Before you even get to Texas, you'll have to make the significant drive from the east coast of New York to the southern states. It takes 21 hours and 30 minutes to drive the 1,430-mile journey from New York to Caddo Lake in Texas.
We'd recommend following the suggested round trip route below - starting at Caddo Lake it's a 1,080-mile loop around the major cities, attractions and points of interest in Texas, which will take 18 hours and 20 minutes to drive around in total.
Add on the drive back to New York and you're looking at a whopping total time of 61 hours and 20 minutes for this epic American road trip. This is an epic road trip that will take you to the top attractions and cities as we listed below.
Distances and driving time from New York to popular destinations in Texas

| Destination City/Landmark | Distance | Driving Time |
| --- | --- | --- |
| Caddo Lake | 1,430 miles | 21 hours 30 minutes |
| Dallas | 1,630 miles | 25 hours |
| Waco | 1,720 miles | 26 hours |
| Austin | 1,820 miles | 28 hours |
| Hamilton Pool | 1,770 miles | 28 hours |
| Bandera | 1,960 miles | 30 hours |
| San Antonio | 2,010 miles | 31 hours |
| Lockhart | 2,080 miles | 32 hours |
| Houston | 2,240 miles | 35 hours |
If you're short on time and keen on driving, you could probably complete the whole trip in 8 days, comprising 4 days to drive from New York to Texas, and four days to discover Texas.
However, in order to really soak up southern culture and include overnight stays in different cities, we recommend taking a total of 12 days for your tour. Giving yourself more time means that you'll spend less time on the road and more time swimming at Hamilton Pool or exploring cowboy culture in Bandera or Fort Worth.
Best trip route from New York to Texas
The road trip from New York to Texas crosses state lines just before Caddo Lake, the first attraction on the circuit and a great place to cool off after the long drive.
The lake is an ideal entry point to the trip as it's half in Louisiana and half in Texas, making it a practical first stop when arriving from New York.
From here, you'll drive straight onto Dallas, the first big city on the route and have a chance to immerse yourself in the buzzing metropolis and iconic skyline. You'll then head up to Fort Worth for a taste of the Wild West.
The next stop is the smaller city of Waco, a charming contrast to the vibrant hub of Austin. Pause for a dip in Hamilton Pool, and drive through Pedernales National Forest before entering cowboy land in Bandera.
The southernmost point of the trip is San Antonio, where you can delve into the history of the Alamo and the promenade along the River Walk. Cast your mind to the stars at the Houston Space Center, before heading north through some gorgeous national forests where you can camp, hike and stretch your legs.
You'll travel through some vibrant modern places steeped in the historical and colonial past, from the Wild West and the Spanish conquistadors to the Civil War. Combined with miles of untouched woodland, unexpected watering holes and a few quirky spacecrafts and you've got yourself a uniquely Texan adventure.
Road trip route around Texas
(Starting from Caddo Lake, your entry point to the Texas when driving from New York)
Leave New York by heading west on Interstate 75 (I-75) to enter New Jersey. Then get onto I-81 heading south - you can follow this road all the way to Knoxville for a direct journey, but we recommend making a few detours to keep things interesting.
You can stop in Hershey to see where the famous chocolate is made and go hiking in the George Washington & Jefferson National Forest which is just off the interstate.
Another short diversion via Roanoke offers access to the heart of the Blue Ridge Mountains. Once you've enjoyed a scenic detour, take I-40 and drop by Nashville and Memphis to lose yourself in music.
If you prefer, you can instead take a southern detour at Knoxville and visit Chattanooga to get a view from Lookout Mountain, and then go via Birmingham to immerse yourself in Civil Rights history.
At Little Rock, merge onto I-30 and follow this road south to Texarkana, before taking I-49 south and following signs for the exit to Caddo Lake. If you've taken the southern route, continue on through Jackson and Shreveport before following LA-1 north to Caddo Lake.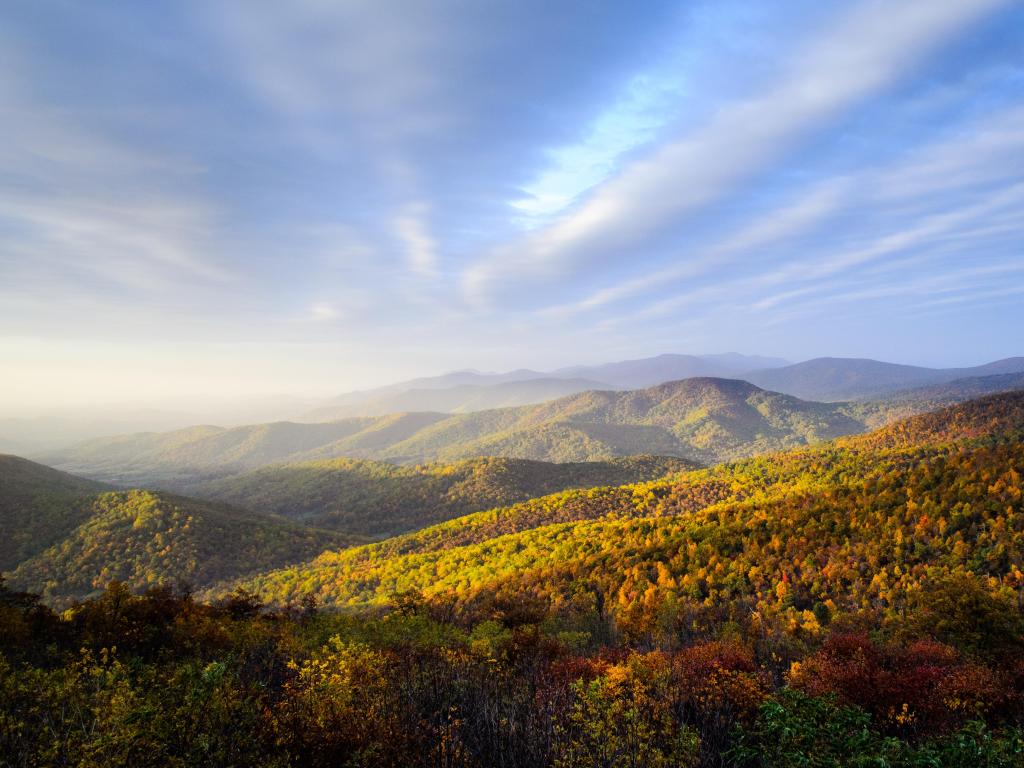 Road trip route around Texas
From Caddo Lake, take I-20 west to get to Dallas. Drive west on I-30 past Six Flags Over Texas theme park and head to Fort Worth.
Get on I-35 going south and cross the Brazos River and enter Waco. Rejoin the interstate and make a detour via Moody, before arriving in Austin.
Take TX-1 Loop south to join State Highway 71 heading west. Follow Hamilton Pool Road to arrive at the natural swimming hole. Follow signs for US-281 and US-290, then keep heading west to get on TX-16, then follow TX-173 to Bandera.
Head south on State Highway 16, then follow signs for I-10 to take you to San Antonio. Follow signs to get back on the interstate and continue towards Lockhart.
Follow US-183 south and get on I-10 east to take you across the Colorado River and all the way to Houston. Head north on I-45 past Lake Conroe, and take US-19 and US-94, then turn onto US-59 to reach Nacogdoches.
Take US-259 and US-315 north and continue onto US-59 at Carthage. Follow signs to Marshall and take a right to retrace your steps back to Caddo Lake before heading back to New York.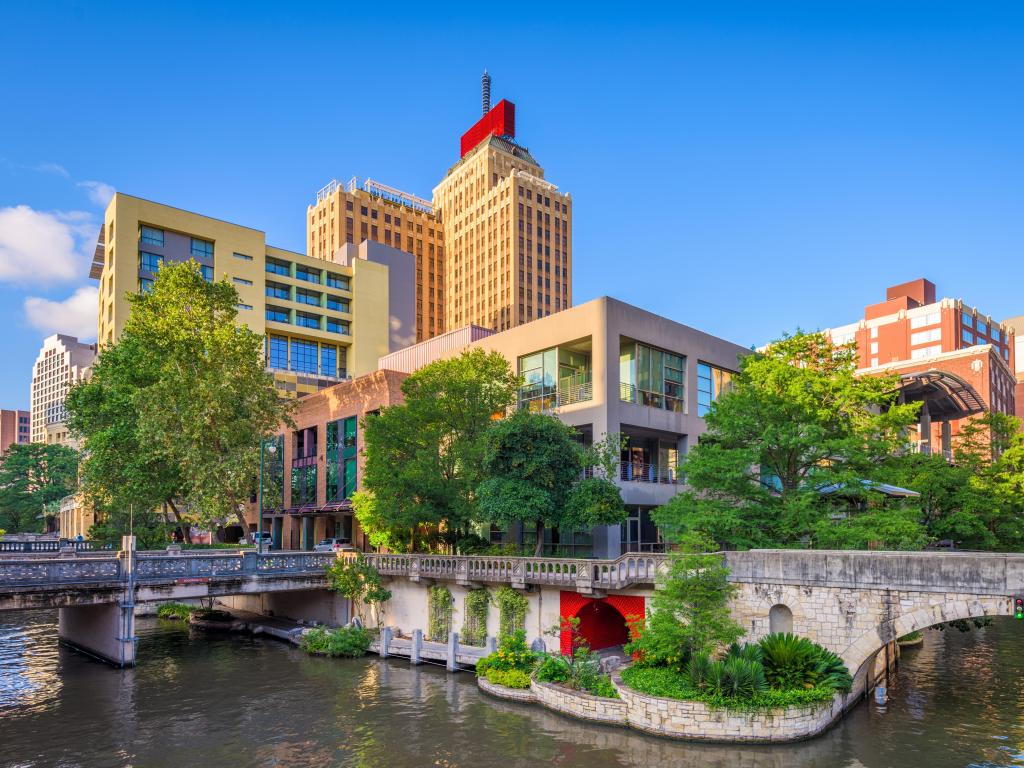 Best places to stop between New York and Texas
Considering you have over 60 hours of driving to cover, you'll need to make several overnight stops on the way there and back, as well as spend a few nights in Texas.
With so many great places along the way, the biggest challenge is deciding where to park your car and rest up.
Discover downtown in Knoxville
Exactly halfway between your journey from New York, Knoxville is a great option for an overnight stay if you're keen to frontload the driving and spend the majority of your trip in Texas itself.
Knoxville is the third-biggest city in Tennessee, but the attractions are near enough to each other that it is walkable and offers a break from the car. It's a chance to stretch your legs and enjoy history, museums, shopping and parks.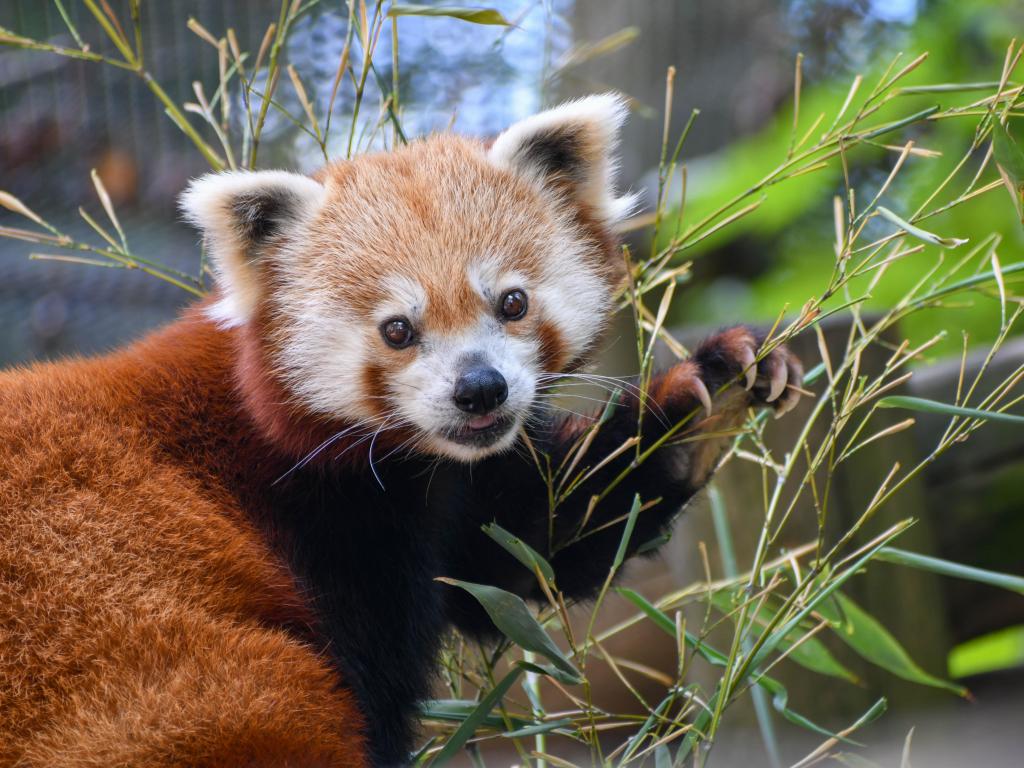 After such a long drive, take advantage of the private parking at The Tennessean Personal Luxury Hotel and ditch the car for a while. The rooms here have extra large beds, so you'll get a proper night's rest, and the marble bathrooms pay homage to Knoxville's nickname, The Marble City.
The hotel also offers a shuttle to Market Square, which is a bustling downtown district to enjoy southern food and nightlife. Try to plan your visit to coincide with the first Friday of the month to join in with the First Friday Artwalk.
Another downtown attraction is the World's Fair Park which is home to the Sunsphere, a 266-foot tall structure, topped with a huge gold-colored sphere. You can ride up the elevator to the top!
If you want to head out into the outdoors, the Ijams Nature Center has 10 miles of trails to explore with wetlands and classic Tennessee rock formations. For wildlife lovers, the Knoxville Zoo houses tigers, elephants and gorillas.
Get artsy in Dallas
The first big city on the Texas route, Dallas is around 2 hours and 40 minutes from Caddo Lake and is an ideal city for your first overnight stop.
Dallas is famous for many things, including the site of JFK's assassination. Nowadays, it's known for its cosmopolitan downtown with tall skyscrapers and abundance of restaurants and shops.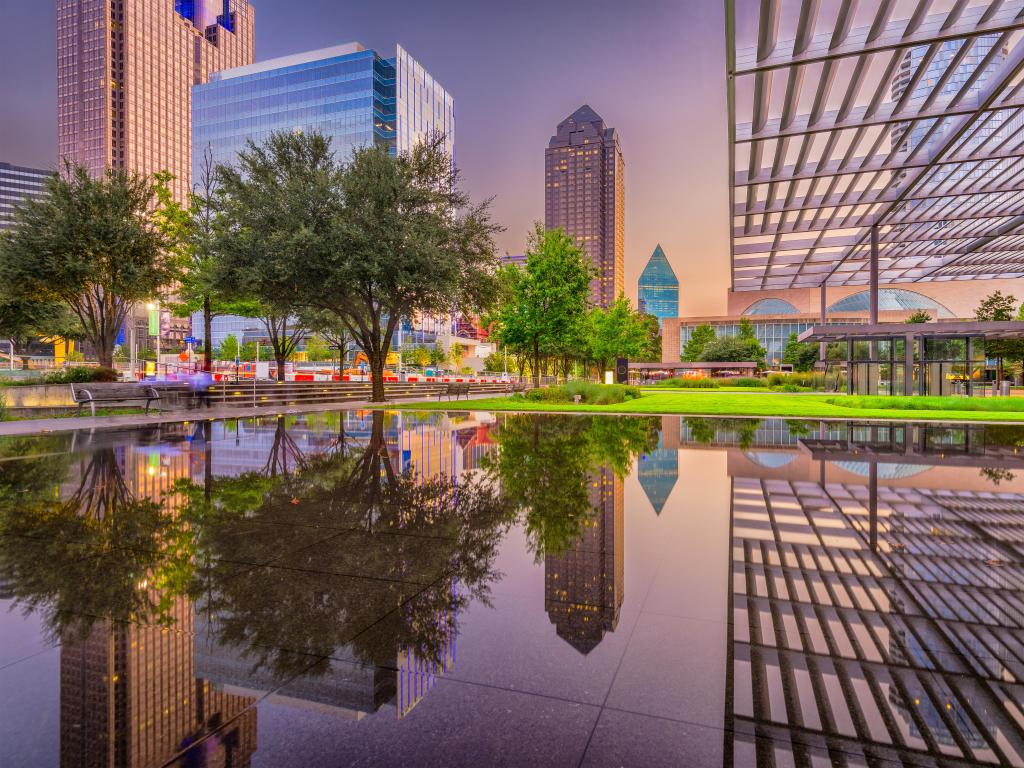 One of its standout attractions is the location where Lee Harvey Oswald assassinated JFK, and at the Sixth Floor Museum, you can learn more about the tragic event.
There are plenty more museums to delight visitors, including one of the biggest art museums in the US, the Dallas Museum of Art, which has vast contemporary and African art collections. Afterwards, the Dallas Holocaust and Human Rights Museum is a sobering but important visit to learn about the history of the Holocaust.
Dallas has plenty of districts, but the Arts District in particular stands out for its urban hub of over twenty blocks filled with fun and creativity. To fit in with the aesthetic vibe, spend a night at HALL Arts Hotel, which has a rooftop pool for the ultimate scenic relaxation.
The hotel boasts stylish rooms and is within walking distance to downtown with both the Sixth Floor Museum and Holocaust Museum a stone's throw away.
Immerse yourself in state history in Austin
Around 190 miles from Fort Worth, Austin is the ideal next stop after visiting Dallas and Waco. The vibe is so good that you'll want to get out after a day's driving to enjoy the live music and vibrant nightlife.
Austin is known as the capital of Texas and has plenty of restaurants to try famous Texas BBQ. It's thought of as the live music capital of the world, and the SXSW Festival brings music industry bigwigs from all over to the city in March, though there is plenty going on year-round.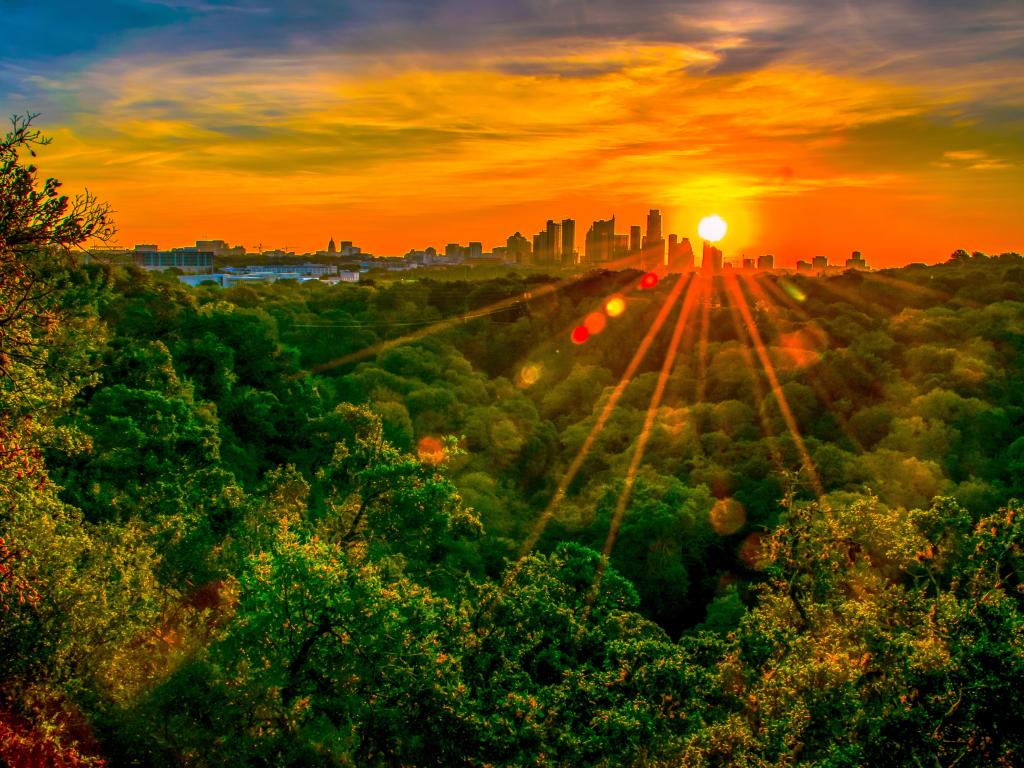 Stay in an Austin landmark by booking a night at The Driskill. Built in 1886, it's a legendary building combining both old-world charm and contemporary decor. There are options for all budgets, and you can take advantage of a massage parlor and steam room.
The hotel is in the midst of all the action, just 1,000 yards away from the State Capitol where you can take some time to visit some important landmarks here.
The Bullock Texas State History Museum will teach you everything you need to know about the Lone Star State, while the Texas State Capitol is a granite and marble structure dating back to 1888.
If you're in Austin for the nightlife, check out Rainey Street, or head to 6th street for live music and entertainment with its bustling variety of bars. For a quick trip outside of Austin, McKinney's Falls State Park is a stunning backdrop for biking and hiking and is around 10 miles from downtown.
Things to see on a road trip from New York to Texas
Texas has so many famous cities and landmarks that it might seem overwhelming, but with a solid plan you can squeeze as many as possible into your trip.
We've pulled together a list of some highlights to look out for on the way there and once you're on the route - you can customize your itinerary according to whether you're a foodie, music-lover, or love the outdoors.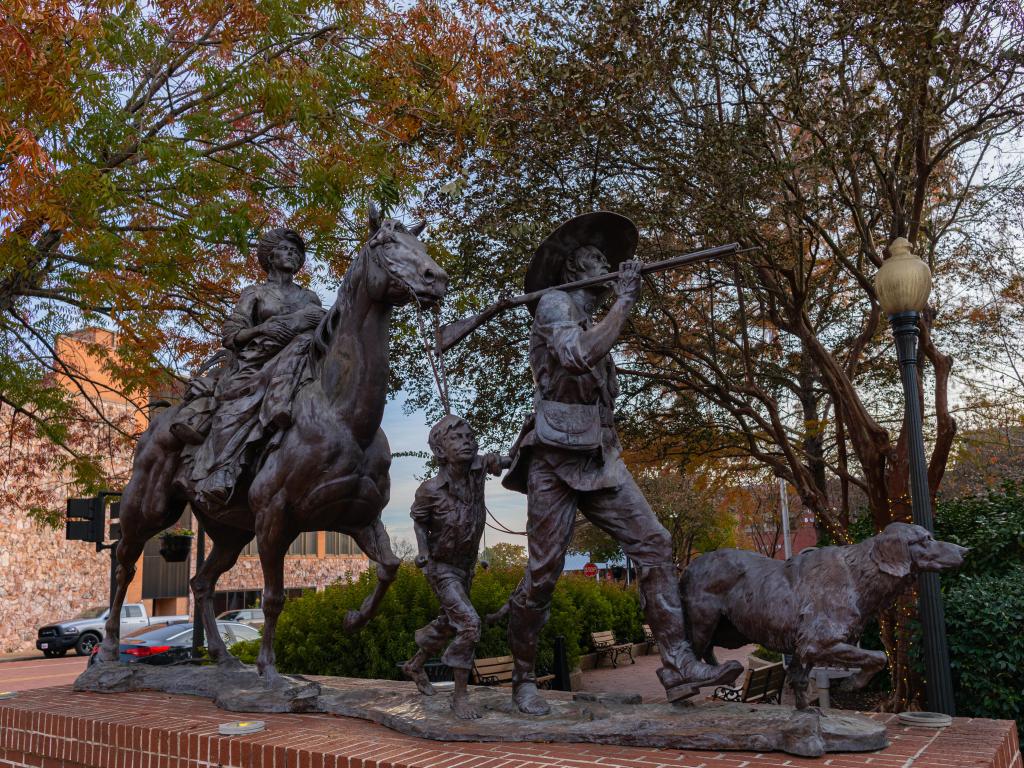 Things to see on the way to Texas
Hershey, Pennsylvania - Visit Hersheypark, a chocolate-themed amusement park, then go to Hershey's Chocolate World Attraction for one-of-a-kind sweet treats.
George Washington & Jefferson National Forest - Hike through the forests and admire scenic streams. The Natural Bridge is a geological wonder that requires no major detours.
Roanoke, Virginia - Get insider information at the visitor center where you can learn the best hikes and drive through the Blue Ridge Mountains.
The Island in Pigeon Forge - The Island is a free-to-enter entertainment complex, with shops and restaurants alongside rides and arcades.
Chattanooga, Tennessee - For stunning views, Lookout Mountain is a must. Take the incline railway to the top to see Rock City and Ruby Falls.
Birmingham, Alabama - At the Birmingham Civil Rights Institute, see a replica of the Freedom Riders bus and the authentic jail cell in which Dr. Martin Luther King Jr penned 'Letter from a Birmingham Jail'.
Tuscaloosa, Alabama - For a day on the water, visit Lake Tuscaloosa and spend a day fishing or relaxing on a boat on the huge nine-square-mile lake.
Bienville National Forest - With over 86,000 acres of lush forest and picnic tables, the forest is a tranquil spot for a scenic picnic.
Jackson, Mississippi - Spend a few hours in the Fondren District, a quaint part of Jackson with art galleries, local shops, cafes and restaurants.
Shreveport, Louisiana - Not only will you see alligators at Gator and Friends Alligator Park, but you can zipline over them!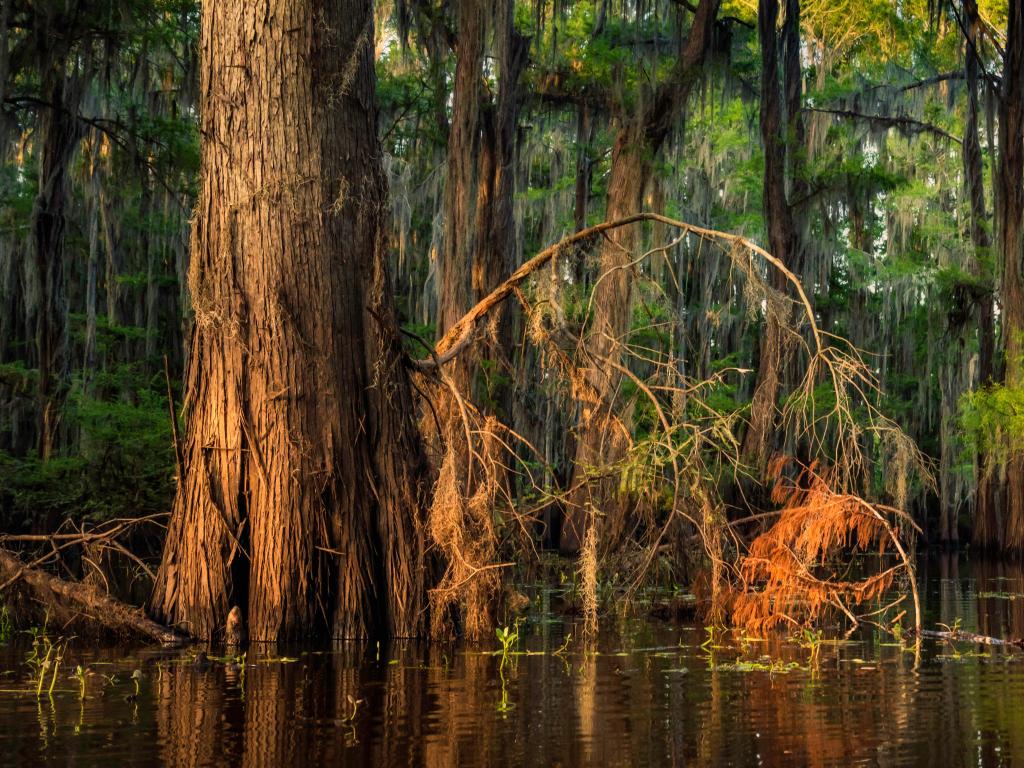 Things to see a road trip around Texas
Caddo Lake - Caddo Lake has mysterious Spanish moss-covered cypress trees and bayous. Take a swamp tour to find gators and learn about the lake.
Fort Worth - Go to the Old Stockyards to watch the cattle drive and enjoy Wild West-style shops and bars.
Waco - See the remains of a mammoth at the Waco Mammoth National Monument, or take the guided tour where you'll walk on an elevated path to look over the dig site at the remains.
Hamilton Pool - Hamilton Pool Preserve is a natural swimming hole with stunning emerald-green water, a limestone grotto and a cascading waterfall.
Johnson City - At Pedernales Falls State Park, take a short 10-minute hike to the riverside, though you should book in advance to avoid disappointment.
Fredericksburg - Fredericksburg is a quaint city where you can shop for one-of-a-kind treasures and delve into history at the Pioneer Museum.
Bandera - Bandera is known as the Cowboy Capital, where you can visit the 11th Street Cowboy Bar to absorb the culture.
San Antonio - Explore the Riverwalk and jump on a boat taxi. Just blocks from the river you can see the famous missions, including The Alamo.
Lockhart - The Caldwell County Courthouse is one of the Lone Star States' most amazing buildings, and worth a trip inside to see the vintage interior.
Houston - The Houston Space Center is a must when in town. Home to used spacecrafts, you can get up close and personal with NASA's high-tech creations.
Davy Crockett National Forest - Hike through the forest, or for an adventure on the water hire a kayak on Ratcliff Lake.
Nacogdoches - Nacogdoches is the oldest town in Texas. Visit Main Street for live music, boutique shops and historic buildings.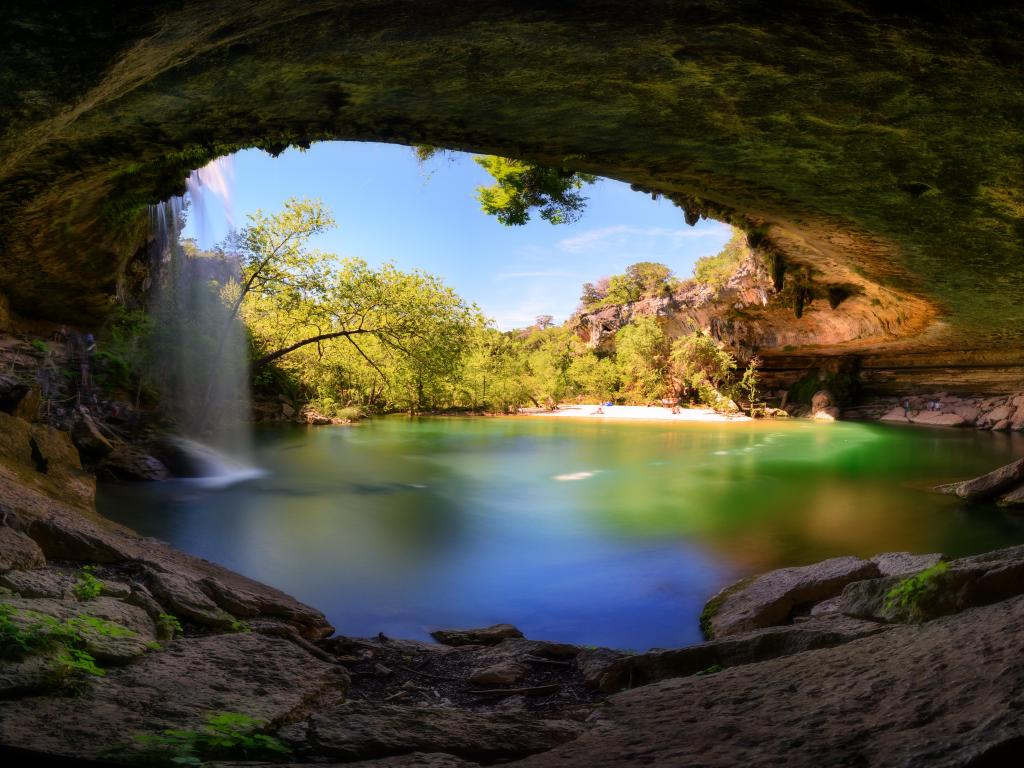 Best time to go on a road trip from New York to Texas
You can visit Texas all year round, so choosing when to travel should depend on the kind of vibe you're after and if you like your summers sizzling hot or prefer a milder temperature.
Summers are hot in Texas, ranging from 90 degrees to 113 degrees Fahrenheit, so most tourists tend to avoid traveling in May to August. If you want to do outdoor activities like hiking, summers are best avoided, though museums and indoor attractions are well-air-conditioned.
Winters are colder but manageable, with temperatures ranging from 75 degrees to 90 degrees Fahrenheit. However, there can be unpredictable cold and winds, though from February onwards the weather starts to improve.
April, May and September are the best times to visit Texas, as the weather is good but without the overbearing heat. Although there is no low season as such, these months will offer the best prices. However, you should note that tornado season is April, May and June.
When in Dallas, keep track of the football season, as Dallas Cowboys football fixtures can affect hotel prices. For Austin, avoid October and March as there are two major music events.
Austin City Limits takes place over two weekends in October, while SXSW runs for a fortnight in March when the worldwide music industry converges on the city. Plan your trip around these events (or avoid the area completely!) at these times, depending on your preferences.