Road Trip from New York to the Hamptons
Trade the colorful energy of the Big Apple for serene sophistication on this unforgettable road trip from New York to the Hamptons. Immerse yourself in a world of picturesque seaside villages, upscale boutiques, historic charm, and breathtaking beaches.
The 100-mile road trip from New York to the Hamptons will take about 2 hours to drive. You will get to visit Long Beach, Quogue, Jones Beach State Park, Southampton, East Hampton, Water Mill, Bridgehampton and Fire Island National Seashore.
Enjoy a scenic day trip from New York to the Hamptons or relax, rejuvenate, and revel in the coastal Hamptons magic for a little longer. Read on to find out about the best routes, amazing places to visit, where to stay, what to see and the ultimate time to set off on this journey.
Best day trip from New York to the Hamptons
Comparison of road trip routes between New York and the Hamptons

| Route | Distance | Driving Time |
| --- | --- | --- |
| The Direct Route | 100 miles | 2 hours |
| The Great South Bay Route | 130 miles | 3 hours 40 minutes |
If you opt for the quick and straightforward Direct Route on a day trip from New York to the Hamptons, you'll cover approximately 100 miles in just about 2 hours, provided that traffic is minimal.
If you choose the scenic Great South Bay Route, your journey will stretch a bit longer. This route covers around 130 miles and takes roughly 3 hours and 40 minutes.
If you aren't making a day trip from New York to the Hamptons, we recommend allowing at least two days to enjoy this scenic journey to the fullest, with time to stop and enjoy the many attractions and beautiful scenery along the way.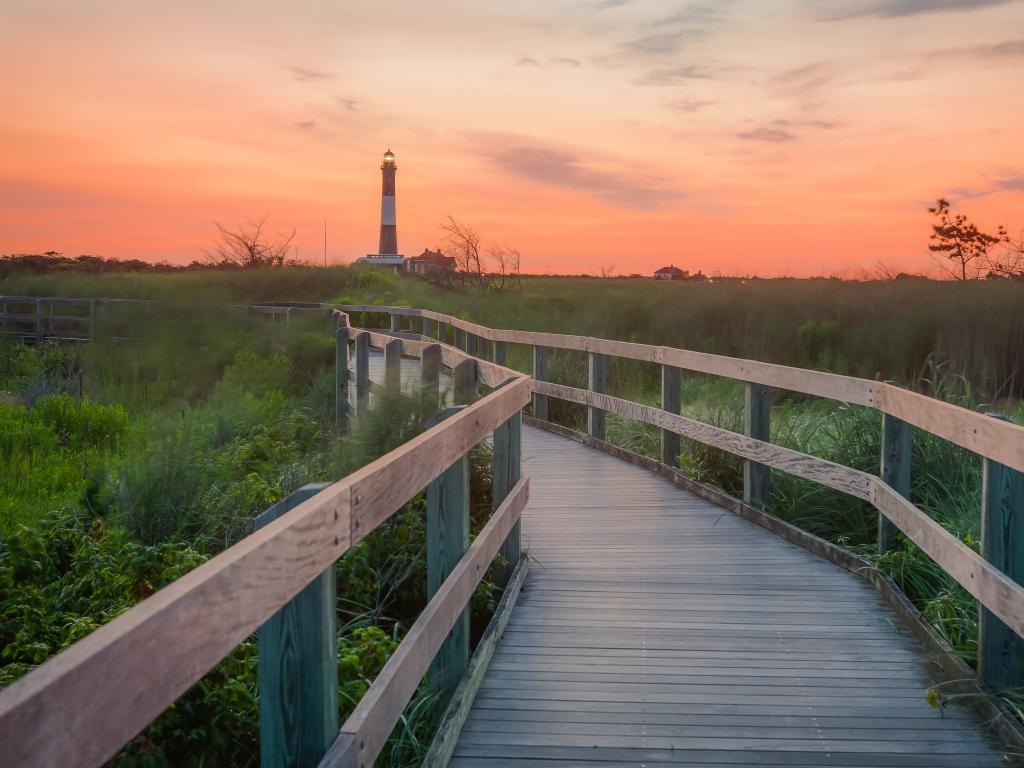 Road trip route from New York to the Hamptons
The decision to embark on the Direct Route or the Great South Bay Route from New York to the Hamptons truly depends on your preferences and how much time you want to spend in the Hamptons.
If you wish to make a day trip from New York to the Hamptons, you can follow our suggested Direct Route for a quick drive. This journey will guide you directly through the heart of Long Island, passing by beautiful vineyards and charming antique stores.
Opt for the alternative Great South Bay Route and you'll be in for a treat on a breathtaking coastal adventure. This journey offers a marvelous blend of beachfront views, historical sites, and wildlife exploration, such as the incredible Fire Island National Seashore and the vibrant nightlife of Long Beach.
How to drive from New York to the Hamptons
The map above shows our suggestions for the best road trip routes between New York and the Hamptons. Keep reading for detailed descriptions of both routes, where to stay on either, and the best things to do on the way.
The Direct Route
Start your journey from New York by driving east on Interstate-495 (I-495). Along the way, you could make a quick stop at Flushing Meadows Corona Park, the largest park in Queens, where you can take a leisurely walk and explore the Unisphere.
Continue on the interstate, heading east towards Long Island. You could take a break in the town of Melville for a bite to eat or visit the Walt Whitman Birthplace State Historic Site in nearby Huntington Station, which preserves the birthplace of one of America's great poets.
Continue heading east through Manorville and you will soon arrive in the charming town of Southampton. This is the perfect spot to soak in the beach town vibes, explore high-end shops, or relax at Coopers Beach, renowned for its white sandy shoreline.
Once you have enjoyed all that Southampton has to offer, continue eastward to East Hampton. Along the way, you will drive through scenic coastal areas and charming small towns like Water Mill and Bridgehampton. Finally, you will arrive in the heart of the Hamptons.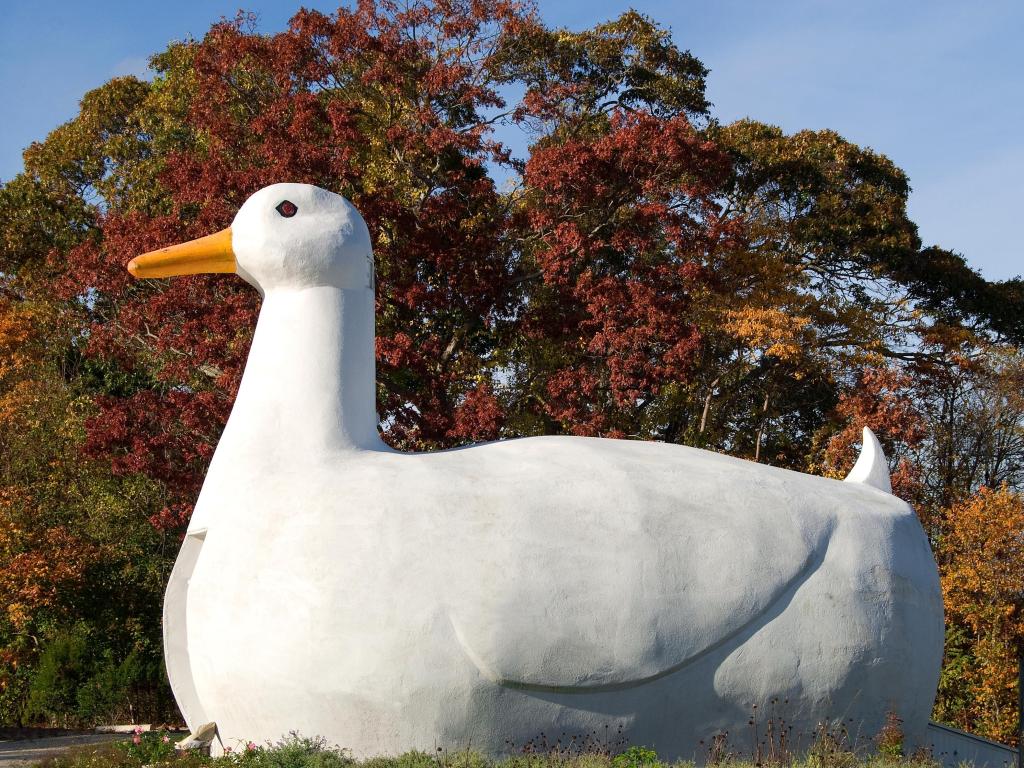 The Great South Bay Route
Similar to the Direct Route, head out of New York on I-495 East, veering south. You'll soon reach Long Beach, where you can stroll the famous boardwalk, take in the stunning ocean views, or relax on the sandy beaches.
From Long Beach, continue your journey to reach Jones Beach Island. It's an outdoor paradise where you can unwind on the sprawling beach, take a walk on the nature trails, or enjoy a concert at the renowned Jones Beach Theater.
Next, head through Jones Beach State Park and soon you will reach the vibrant town of Patchogue. Here, you can immerse yourself in the local arts scene at the Patchogue Theater for the Performing Arts or take a calming boat ride on the Patchogue River.
As you continue your drive, the highway will lead you towards the charming village of Quogue. This village is a hidden gem with beautiful beaches and stunning homes. It's the perfect place for a leisurely stroll or a picnic.
After Quogue, proceed to Southampton and follow the same directions as the Direct Route to reach your destination in the glorious Hamptons.
Best places to stop between New York and the Hamptons
Sometimes, the journey truly is the destination and a day trip from New York to the Hamptons is the perfect opportunity to get away from the hustle and bustle of the Big Apple. However, you might want to extend your stay and unwind in style for a little longer.
As you swap skyscrapers for sea spray, we've handpicked an assortment of gorgeous stopovers and hidden gems for you to explore.
Coastal relaxation in Quogue
Nestled in the heart of Long Island, Quogue is an enchanting village that is a perfect stopover on the Great South Bay Route from New York to the Hamptons only about 3 hours into the drive.
The must-visit location here is the Quogue Wildlife Refuge, an oasis of peace, nature, and serenity spread over 300 acres of protected land. It's home to a vast array of flora and fauna and is home to nature trails and beautiful views of the Old Ice Pond.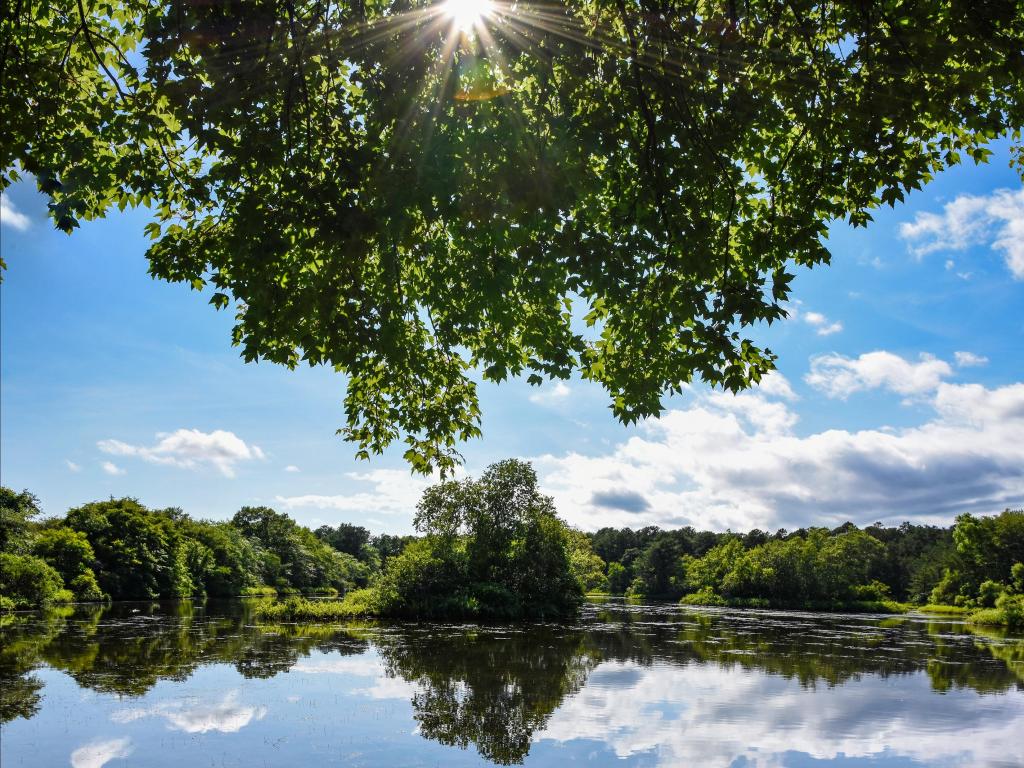 The Quogue Historical Society is the guardian of the village's rich history and legacy. The Society manages several historic structures, including the 1822 Quogue Schoolhouse, which serves as a snapshot of 19th-century school life.
A visit to the charming Quogue Village Beach is a must for anyone who is looking to work on their tan, accompanied by beautiful seaside views. This serene beach, with its soft sand and gentle waves, is the ideal place to enjoy a quiet stroll, sunbathe, or enjoy a book.
While visiting Quogue, look no further than the stunning Quogue Club for a luxurious stay-which is the main theme of this road trip! The beautiful property features stylish rooms that highlight the chic Long Island's nautical aesthetics.
You can enjoy a game of golf or a tennis match at Westhampton Racquet Club and Laurel Links Golf Club. If you are looking for more ways to stay active, the hotel offers free bicycles. You will also find Riverhead and Greenport a short drive from the property.
Visit a beach or two in Southampton
If you are looking to extend your day trip from New York to the Hamptons and immerse yourself in the coastal vibes of the area, Southampton is a fantastic place to stop. A summer playground for New York locals, Southampton has long been a coveted vacation spot and it's easy to see why.
Art aficionados should head to the Parrish Art Museum, featuring a comprehensive collection of work from American artists influenced by the area.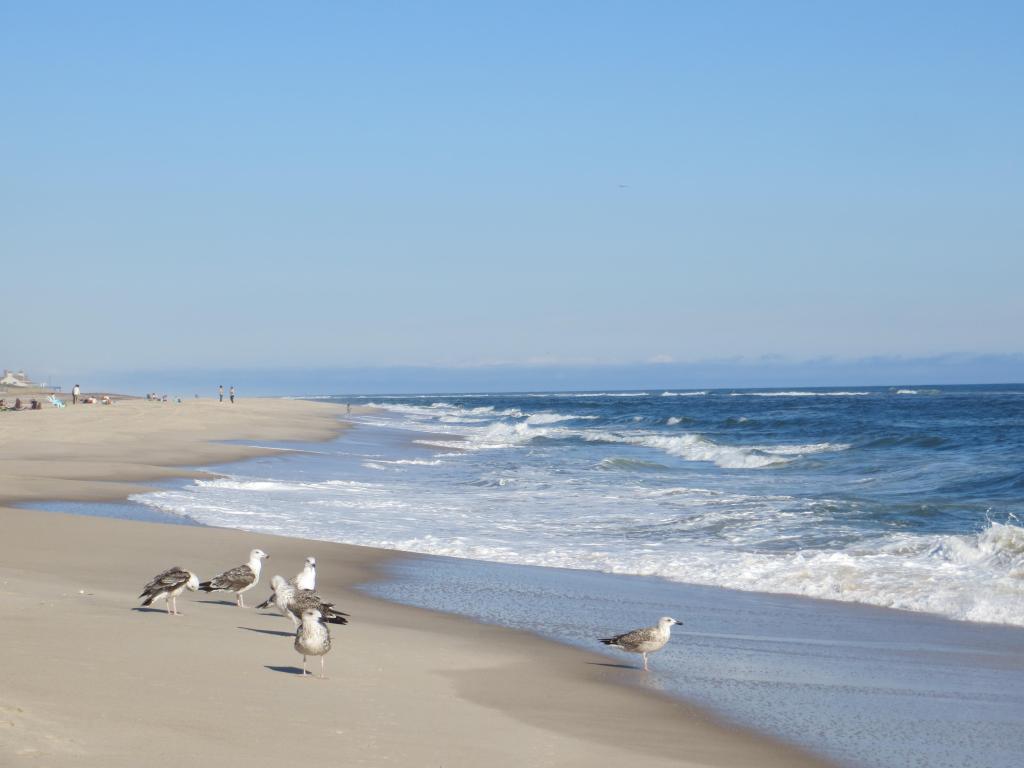 The real star of the show, though, is Cooper's Beach. Consistently ranked as one of the top beaches in the US, it's a haven of soft white sand, gentle waves, and stunning views of the Atlantic Ocean.
If you are looking for the genuine Southampton experience, there is no place better to stay than the stunning 1708 House. This beautiful bed and breakfast is located a short distance from Gin Beach, Cryder Beach, and Little Plains Beach.
Make sure to sample the delicious breakfast options on offer here before heading out to explore the beautiful Hamptons.
A luxurious stay in East Hampton
East Hampton is a gem nestled in the Hamptons with a stunning coastline, thriving arts scene, and buzzing summer community.
Main Beach is an iconic landmark that you just can't miss, often securing its place among the country's top beach rankings. With its golden sand, clear waters, and inviting sun, it's the perfect place to relax, take a dip, or just soak in the panoramic ocean views.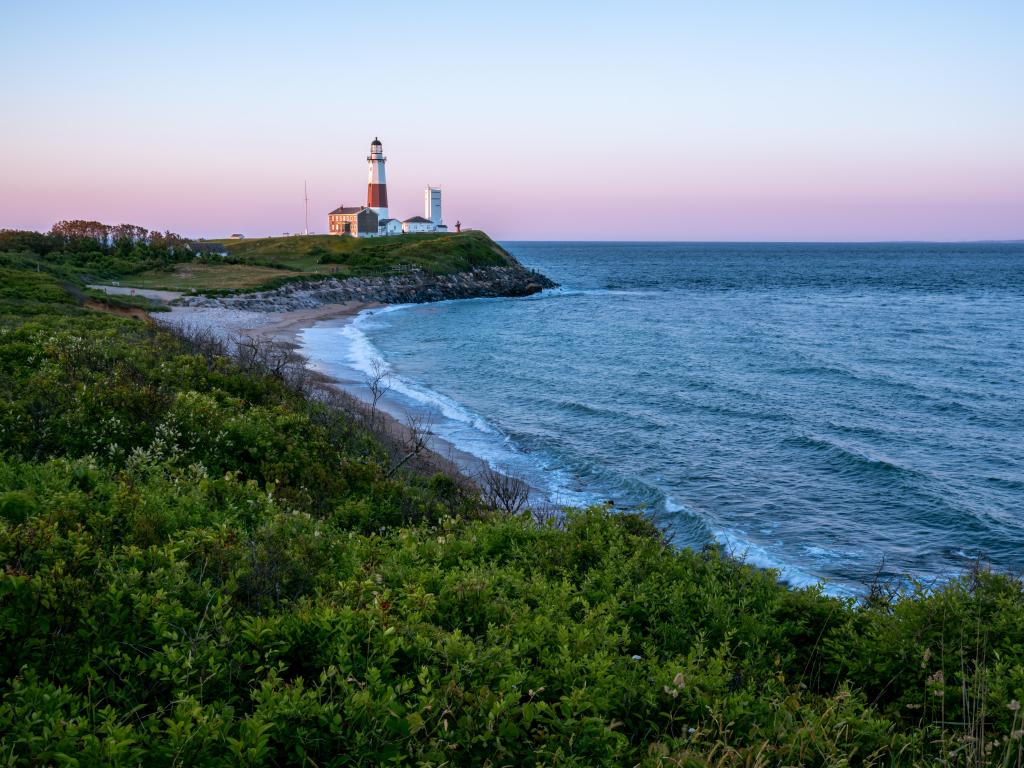 Make sure to pay a visit to the Pollock-Krasner House and Study Center. Once home to the artists Jackson Pollock and Lee Krasner, it now serves as a unique window into their life and work.
And it's not all about the beaches or the art in East Hampton. You'll find yourself surrounded by stunning natural preserves and an array of hiking trails like Cedar Point County Park, making it a perfect retreat for nature lovers.
After your excursions, take a break and relax at The Baker House 1650. This beautiful inn has a beautiful outdoor pool, which sits in its manicured garden. Don't forget to treat yourself to the spa center and sauna on-site for that ultimate Hamptons pampering.
The property is within walking distance of Atlantic Avenue Beach and the North Main Street Historic District. However, you might just want to cozy up with a drink in front of your room's fireplace-we don't blame you!
Things to see on a road trip from New York to the Hamptons
Set off on an adventure where the Atlantic Ocean meets the classic charm of Long Island's towns, where history rubs shoulders with high-end glamor and quirky surprises tucked away at every corner. This short and sweet drive is the perfect day trip from New York to the Hamptons.
Read on to find out about the fantastic places you can visit on a road trip from New York to the Hamptons.
The Direct Route
Walt Whitman Birthplace State Historic Site, Huntington Station - This historic site was the birthplace of renowned American poet Walt Whitman. The restored house provides a glimpse into 19th-century Long Island life and celebrates Whitman's contribution to American literature.
The Big Duck, Flanders - This is a charming piece of roadside architecture in the shape of a giant duck, originally constructed to sell duck eggs. It's now a local gift shop and often hosts educational programs about Long Island's duck farming history.
Long Island Aquarium, Riverhead - This expansive aquatic center is home to numerous species of marine life. With its interactive exhibits and experiences like shark diving and sea lion shows, it's a fun-filled visit for all ages.
Hampton Bays - This small hamlet in the town of Southampton is known for its beautiful beaches, marinas, and seafood restaurants. The Shinnecock Canal, connecting the Great Peconic Bay and Shinnecock Bay, is a local highlight.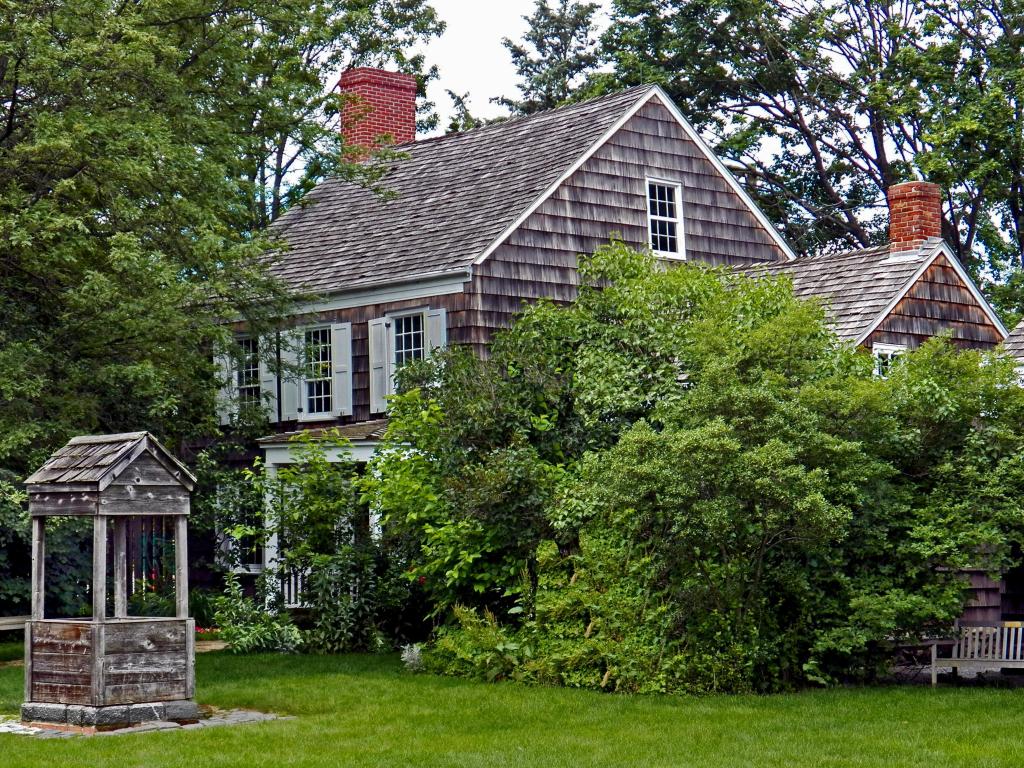 The Great South Bay Route
Long Beach Boardwalk, Long Beach - This 2.2-mile-long boardwalk, overlooking the Atlantic Ocean, offers serene ocean views and a beautiful sandy beach. It's perfect for a leisurely walk, run, or bike ride.
Jones Beach State Park - Famous for its beautiful 6.5-mile white sand beach, this park also features a two-mile-long boardwalk. It's an ideal spot for swimming, picnicking, and sunbathing.
Jones Beach Theater - A premier outdoor amphitheater located within Jones Beach State Park, offering a summer series of concerts and events. The theater provides an incredible atmosphere with the ocean as a backdrop.
Patchogue Theater for the Performing Arts, Patchogue - A renovated historic theater in the heart of Patchogue, offering diverse programming including music, dance, theater, and cinema. The theater's stunning interiors and quality performances make it a cultural gem.
The Gateway's Haunted Playhouse, Bellport - If you're passing through during the Halloween season, this is one of the best haunted houses around. Its scary, creative, and immersive experience will give you goosebumps.
Fire Island National Seashore - Accessible from Patchogue, this barrier island features high dunes, maritime forests, and a historic lighthouse. It's a haven for nature lovers and beachgoers alike.
Quogue Wildlife Refuge, Quogue - A nature and wildlife sanctuary, the refuge offers trails through diverse habitats including forests, ponds, and pine barrens. It's perfect for bird watching and serene nature walks.
Both Routes
Flushing Meadows Corona Park, Queens - This expansive park is home to iconic New York structures like the Unisphere, a massive stainless steel globe. It also hosted two World Fairs and currently houses various recreational facilities and museums.
Southampton - This prestigious town is known for its stunning beaches, historic architecture, and high-end shops. Coopers Beach is a local favorite, renowned for its pristine sand and clear waters.
Shinnecock Indian Nation Cultural Center and Museum, Southampton - This museum is dedicated to preserving and showcasing the history of the Shinnecock Indian Nation. The exhibitions highlight the art, culture, and history of this Native American tribe.
Southampton Arts Center, Southampton - This dynamic center hosts a variety of cultural events and exhibitions. It's a great place to experience local and international art.
Parrish Art Museum, Water Mill - This modern and contemporary art museum boasts a wide collection of American art. Its striking architecture, along with a beautifully landscaped sculpture garden, make it a must-visit.
Water Mill Museum, Water Mill - This historic grist mill dating back to the 17th century is a charming testament to Long Island's past. Inside, you can see original mill equipment and learn about the area's history.
Bridgehampton - Known for its luxury real estate, this hamlet offers a serene, beach-town vibe. Check out the local restaurants, shops, and the Bridgehampton Historical Society and South Fork Natural History Museum.
Elizabeth A. Morton National Wildlife Refuge, Sag Harbor - A short detour from both routes, this wildlife refuge is home to a large variety of animals, but the quirky part is the friendly birds that will eat right out of your hand. It's a unique and endearing experience.
Best time to go on a road trip from New York to the Hamptons
The road trip from New York to the Hamptons can be done year-round. However, the best time to embark on this journey would arguably be in the late spring, summer, or early fall when the weather is most favorable.
The Hamptons in summer are vibrant, bustling, and lively. From June through August, the weather is warm, typically ranging from the high 70s to mid-80s degrees Fahrenheit, making it the perfect beach weather.
While summer is undeniably the peak season in the Hamptons, spring and fall are also popular among those who appreciate a more relaxed, less crowded environment. These "shoulder seasons" can offer a greater sense of tranquility, while still providing a wealth of experiences.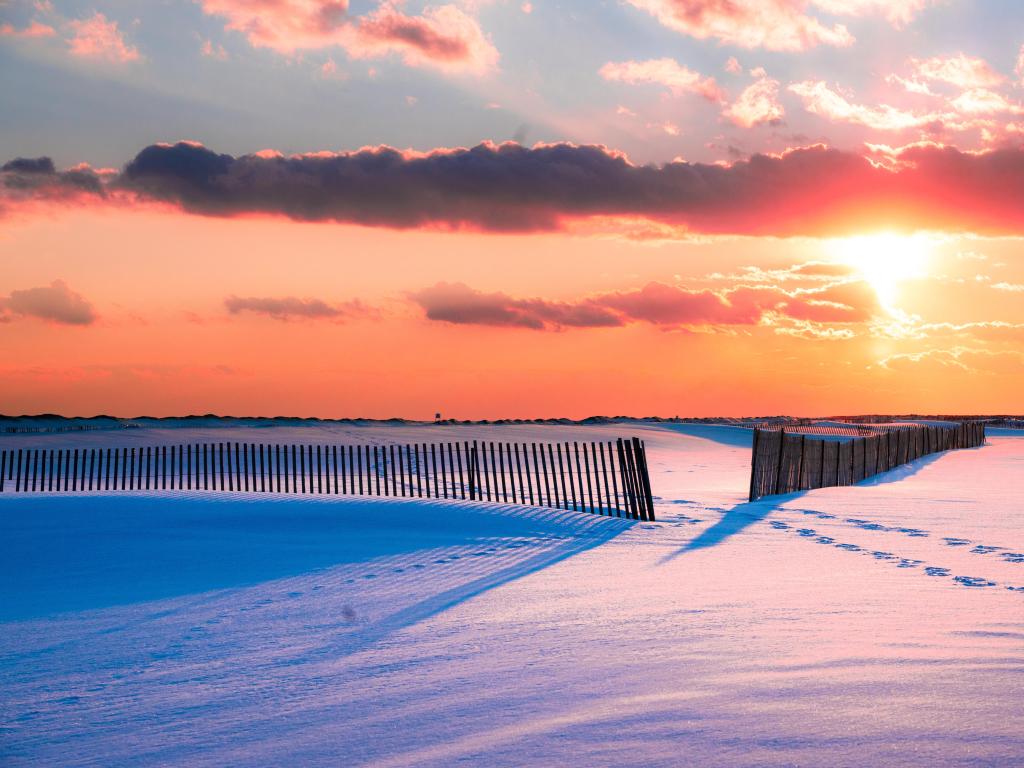 The temperatures during these seasons are mild, with highs typically in the 60s and 70s degrees Fahrenheit, and you enjoy fabulous attractions such as wineries, parks, and art galleries.
If you are visiting in May and want to make a day trip, Montauk hosts the Montauk Music Festival, a grassroots live music event that showcases talented up-and-coming independent artists, set against the backdrop of one of the most idyllic beach communities on the East Coast.
Visiting in early fall? Don't miss out on the glitzy Hampton Classic Horse Show and embrace the glamorous atmosphere the Hamptons is known for first-hand.
In the late fall and winter months, the temperatures can drop between the low 30s and high 40s degrees Fahrenheit. Winter activities might include wine tasting, walks on the beach, and exploring the historic towns.
Remember, the Hamptons is often seen as a summer destination, so some attractions and amenities may indeed be seasonal. It's always best to check ahead with each location for their operating hours and seasonal schedules to avoid any disappointments.