Road Trip from New York to Toronto
There's no denying that the road trip from New York to Toronto is one that you can't afford to miss. The journey between two of North America's biggest cities lets you appreciate the beauty of nature and experience the vibrance of some sensational smaller cities.
The 500-mile road trip from New York to Toronto takes about 8 hours 30 minutes, and you can visit Woodstock, Albany, Syracuse, Rochester and Buffalo, plus the stunning natural sights of the Hudson Valley and Niagara Falls.
For a relatively short road trip there's so much to do on the route between New York and Toronto, so read on to discover what you could enjoy on this fantastic journey, plus where to stay and the best time of year to travel.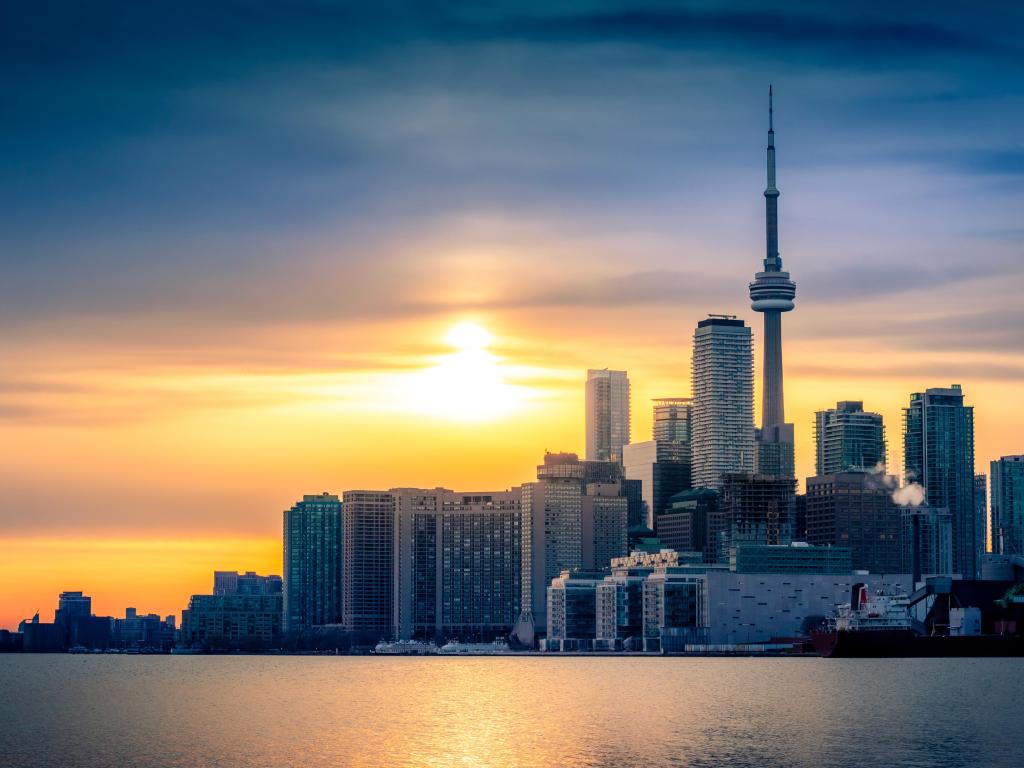 How far is Toronto from New York, and how long will the road trip take?
Comparison of road trip options between New York and Toronto

| Route | Distance | Driving Time |
| --- | --- | --- |
| The Syracuse Route | 500 miles | 8 hours 30 minutes |
| The Hudson Valley Route | 550 miles | 9 hours |
The road trip from New York to Toronto is largely an Interstate drive that takes you through a number of cities. You will cover the entire 500-mile route in about 8 hours 30 minutes – if you don't make unexpected stops along the way. This means you could complete the trip in one day.
However, breaking up your trip over a few days will give you the chance to experience all that the road trip has to offer, from the beautiful Catskills and Hudson Valley, to the awe-inspiring views of Syracuse and Rochester and the exhilarating rush of Niagara Falls.
There are two possible routes for this trip. The quickest takes 8 hours 30 minutes and heads through Syracuse. This route lets you check out some iconic landmarks like the Erie Canal Museum or the historic city of Rochester.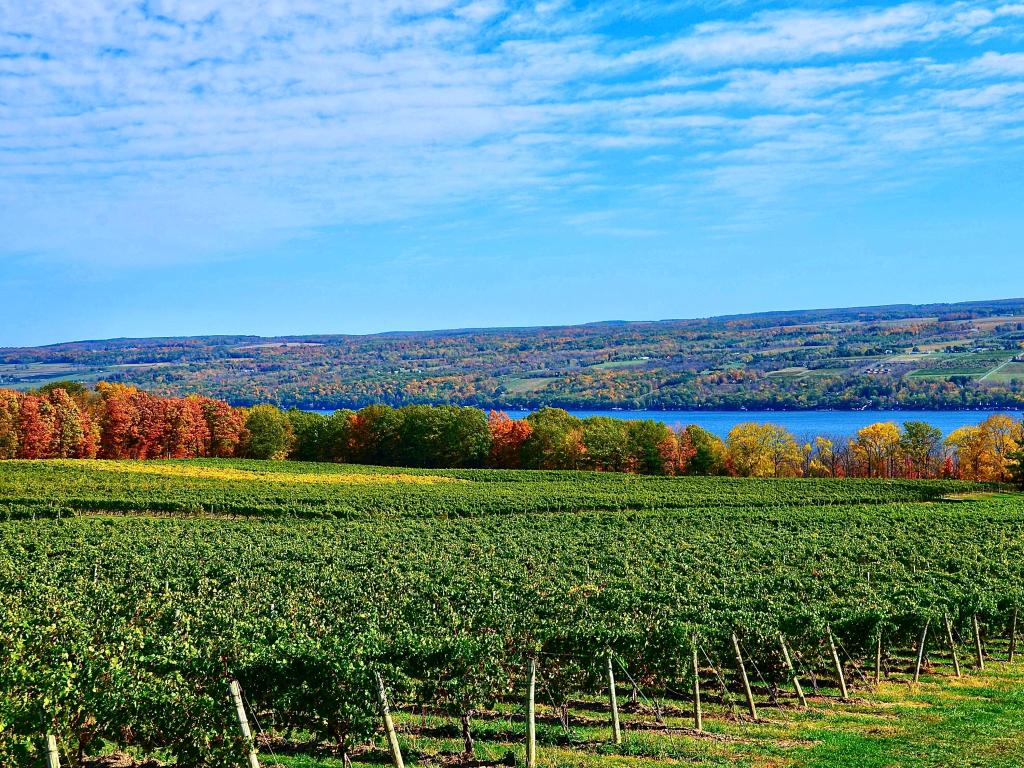 Alternatively, you could travel along the Hudson Valley to Albany before meeting up with the Syracuse route in the north of New York State. This route is slightly longer, at 550 miles, and takes around 9 hours to drive.
Since the highways in North America are wide, well-signposted, and well-maintained, you can expect to have a smooth and memorable drive full of great experiences, no matter which route you take.
Best road trip route from New York to Toronto
With two fantastic route options available, the choice of which route to take depends largely on personal preference. Both of the routes we've described here take you largely along the Interstate, however they offer different stop offs along the way.
If you're looking to explore some of the stunning countryside outside New York then the Hudson Valley Route is a better bet. However, if you're more interested in visiting the cities of upstate New York then you might prefer to skip this and power on up the Interstate via the Syracuse Route.
Whichever route you take, make sure to check in advance whether you require travel documents. These are dependent on your nationality and any visas or permits you might already hold - plan ahead to avoid hold ups when crossing at Niagara Falls.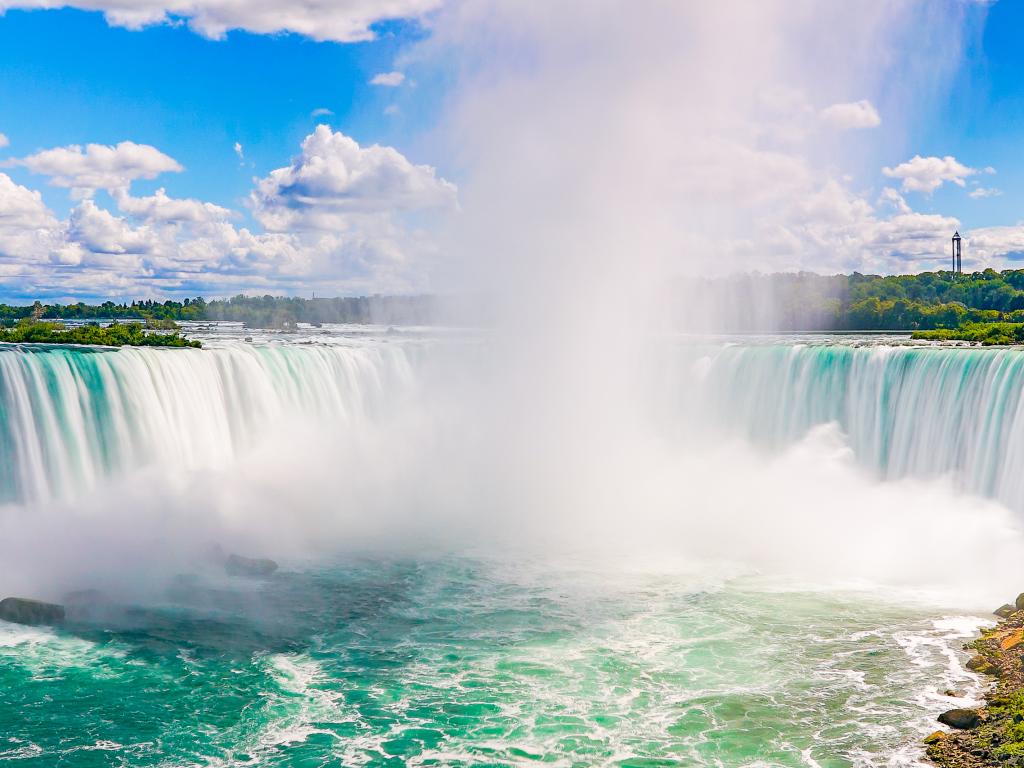 How to drive from New York to Toronto
The map above shows our suggestions for the best road trip routes between Quebec and Toronto. Keep reading for detailed descriptions of both routes, where to stay on either, and the best things to do on the way.
The Syracuse Route
Take Interstate 78 out of New York, passing through the Holland Tunnel, then join NJ-24 towards Morristown. After around 13 miles merge onto the I-287 N which leads you onto Interstate 80.
Stay on the I-80 until Exit 293 then turn onto I-380 which takes you onto Interstate 81 at Dunmore.
Continue along the I-81 all the way to Syracuse, going through Otsiningo Park and Fingerlakes Trail along the way. You can stop here to see some iconic landmarks such as the Erie Canal Museum and Destiny USA.
From Syracuse, follow Interstate 90 and stick to the Interstate until you reach the outskirts of Buffalo. If you want to take a detour into the historic city of Rochester along the way, simply head in and out of the city along I-490 before rejoining the main route.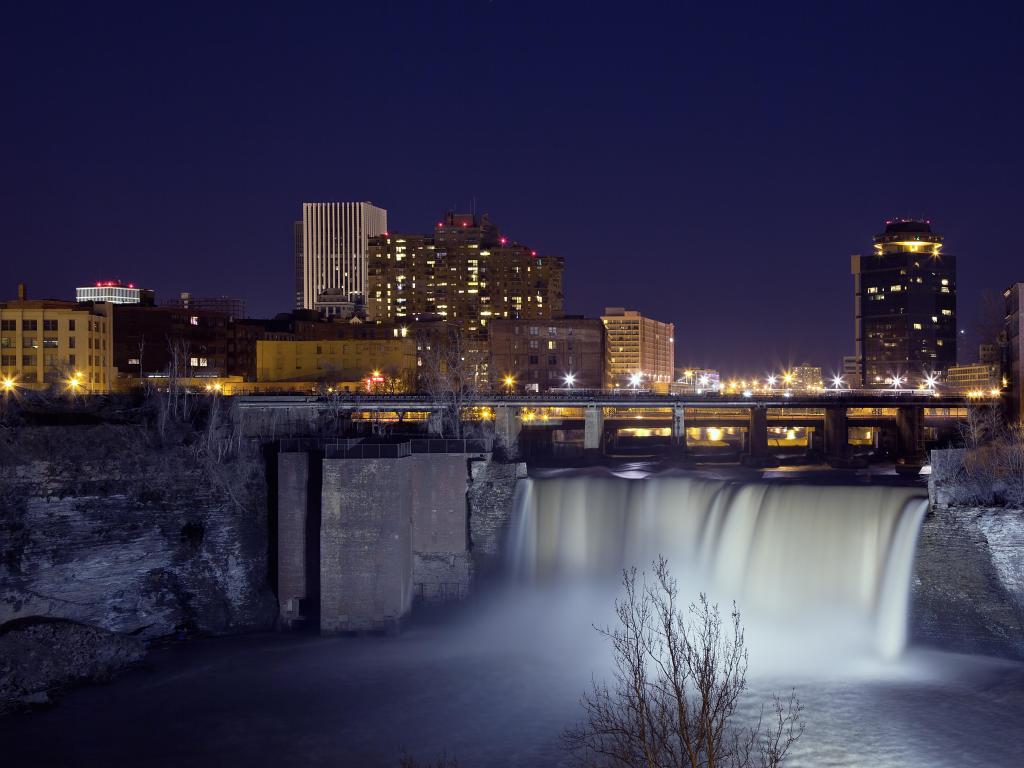 Once you approach Buffalo, leave the I-90 at Exit 50 to join the I-290, then merge onto the I-190 in the direction of Niagara Falls. Follow this road across Grand Island, then take Exit 21 to follow the Niagara Scenic Parkway to the Rainbow International Bridge. Don't forget to stop to enjoy the view at Niagara Falls as you pass through.
On arrival in Canada, follow ON-420 for a short distance before turning onto Queen Elizabeth Way, which leads you up to Lake Ontario. At Burlington, continue to follow Queen Elizabeth Way (ON-403) which takes you right the way into Toronto.
The Hudson Valley Route
Leave New York through the Holland Tunnel, following NJ-139, US-1 and NJ-3 each for a mile or two before you join NJ-17 heading north.
Follow NJ-17 as far as Hillburn, where you'll join Interstate 287 - crossing back from New Jersey into New York State - and then merge onto Interstate 87 heading north.
The I-87 takes you along the historic Hudson Valley all the way to Albany. Along the way you can leave at Exit 19 to visit Woodstock, before returning to the Interstate along NY-212.
As you travel through the Hudson Valley you also have the option to explore the beautiful Catskills, or some of the historic towns and villages along the way.
When you arrive in Albany, I-787 will take you through the center of the city. When you're done seeing the sights here, leave the city along the I-90. Once you reach Syracuse, simply follow the directions above to travel through Buffalo and Niagara Falls before arriving in Toronto.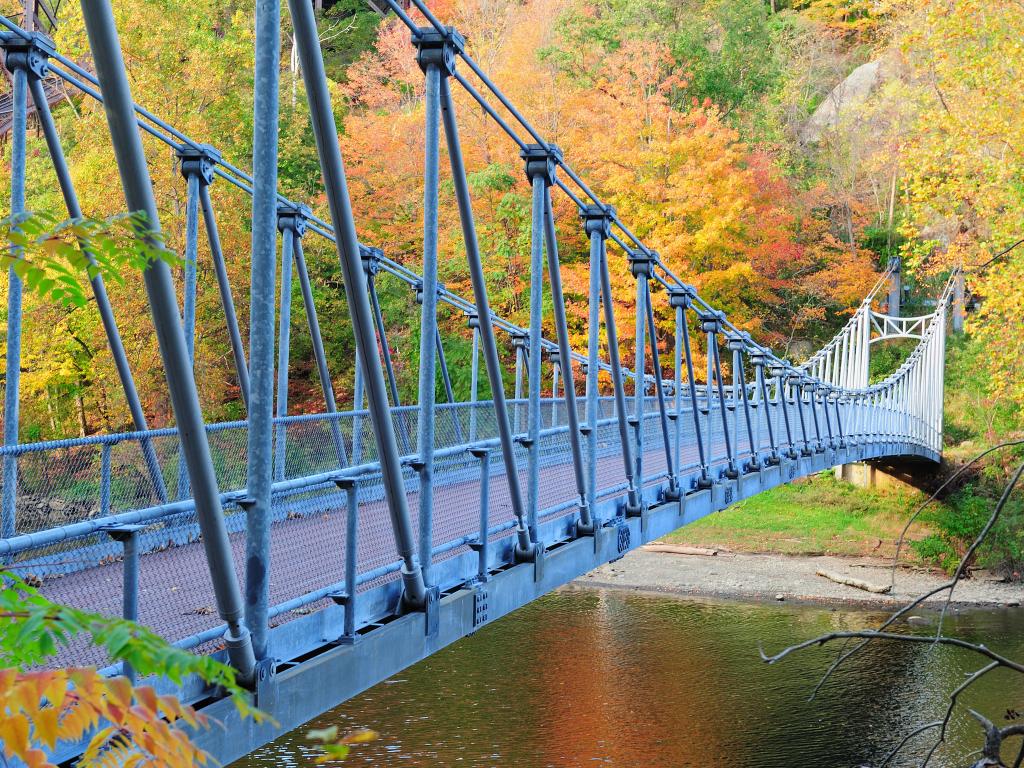 Best places to stop between New York and Toronto
The road trip from New York and Toronto is filled with some amazing sights to see, so you should consider getting a hotel room so that you can spend more time sightseeing. Here are some resort options you should try out:
Find yourself in Woodstock
Although it's only a couple of hours out of New York, bohemian Woodstock is a welcome contrast to the hustle and bustle of the Big Apple, making it a great first stop if you're taking the Hudson Valley Route.
If you're seeking self-discovery and calm after escaping the city, a visit to Woodstock's Tibetan Buddhist Monastery, KBD, is just the place to start.
The town is of course most famous for the legendary music festival of the same name - visit the independent stores and restaurants on Tinker Street to get a feel for the town's alternative vibe.
As you'd expect, Woodstock has its fair share of creative venues, with art, theatre and live music all on offer. Plus, it's a great place to base yourself if you plan on spending some time hiking through the stunning Catskills.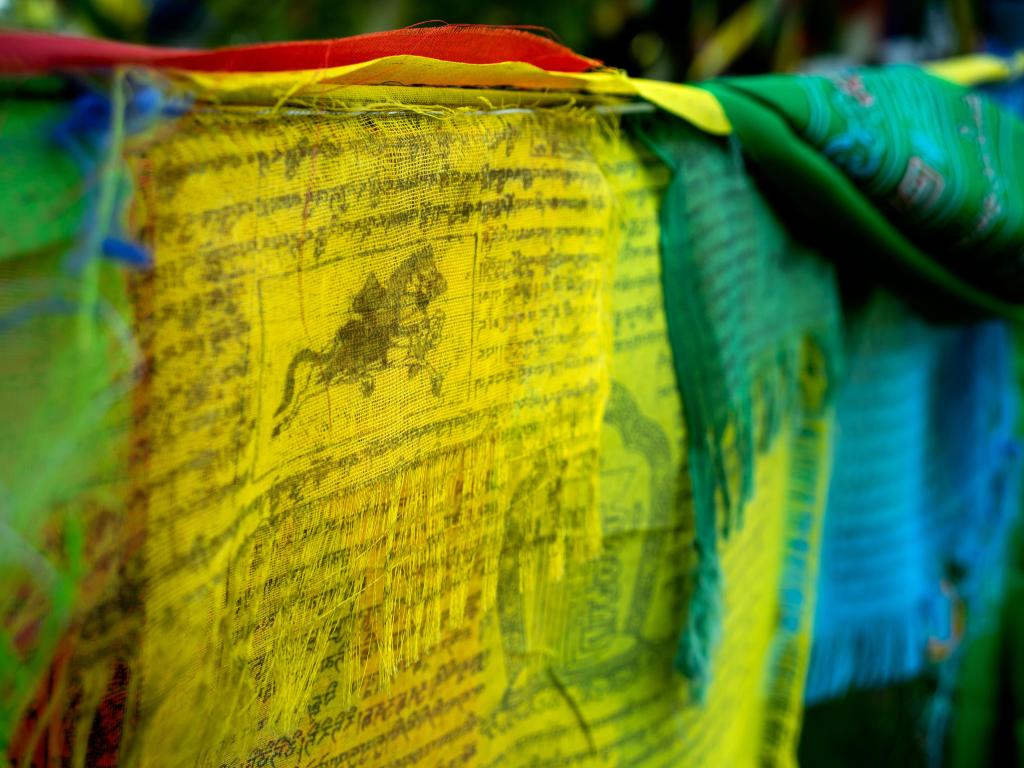 The centrally-located river-side cabins of Woodstock Way Hotel are a fantastic accommodation option while you're in Woodstock. You can ditch the car for a day or two and walk to most of the town's eateries and attractions from here.
Cabins which merge seamlessly with their peaceful woodland setting cleverly combine a traditional rustic feel with exceptionally comfortable and modern presentation. It really is the perfect place to escape for a night or two.
Bask in the wonder of Mother Nature in Syracuse
Syracuse is located about halfway between New York to Toronto, and you'll pass it on both of these routes, but that's not what makes this city the perfect detour.
With an abundance of valleys, hills, streams, and lakes, Syracuse is an artwork of Mother Nature. Add to this attractions including the Eerie Canal Museum, the Everson Museum of Art, and a number of historic buildings, and you have a small city that's a great place to spend a day or two on your trip.
If you're staying in Syracuse, the popular Hotel Skyler Syracuse comes fully packed with everything you need to have an enjoyable stay in the city.
This fantastic hotel showcases the design features of the historic building it's situated in, which used to be the city's synagogue. It's just a short walk from the downtown area and the city's main sights, so you can really make the most of your time in Syracuse.
Another bonus for travelers on a road trip is that it's just a couple of blocks off the Interstate and offers free parking, which takes away another hassle when you arrive in town.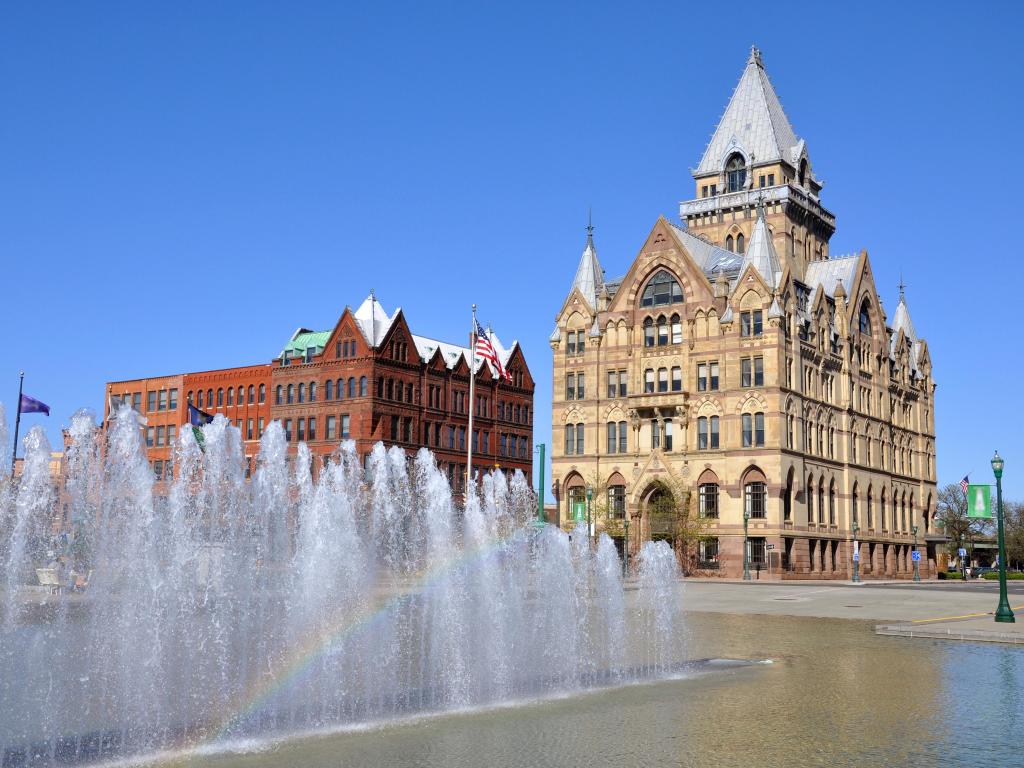 Feel the pull of the Falls in Niagara Falls
The magnificent Niagara Falls hardly needs an introduction - it will be one of the highlights of your journey that you definitely should not skip.
It's only a couple of hours from Niagara Falls to Toronto, but spending a night here allows you to take your time seeing the Falls, and means you're not rushing to get to Toronto if you're held up while crossing into Canada.
If you want to stay in a place which really showcases the town's most unmissable feature, the Hilton Hotel and Suites Niagara/Fallsview provides a stunning floor-to-ceiling view of the Falls.
On top of this, the hotel's indoor pool and stylish bars offer the perfect opportunity for relaxation before you reach the end of your trip from New York to Toronto. It's also connected via a glass walkway to the Fallsview Casino's Entertainment Center.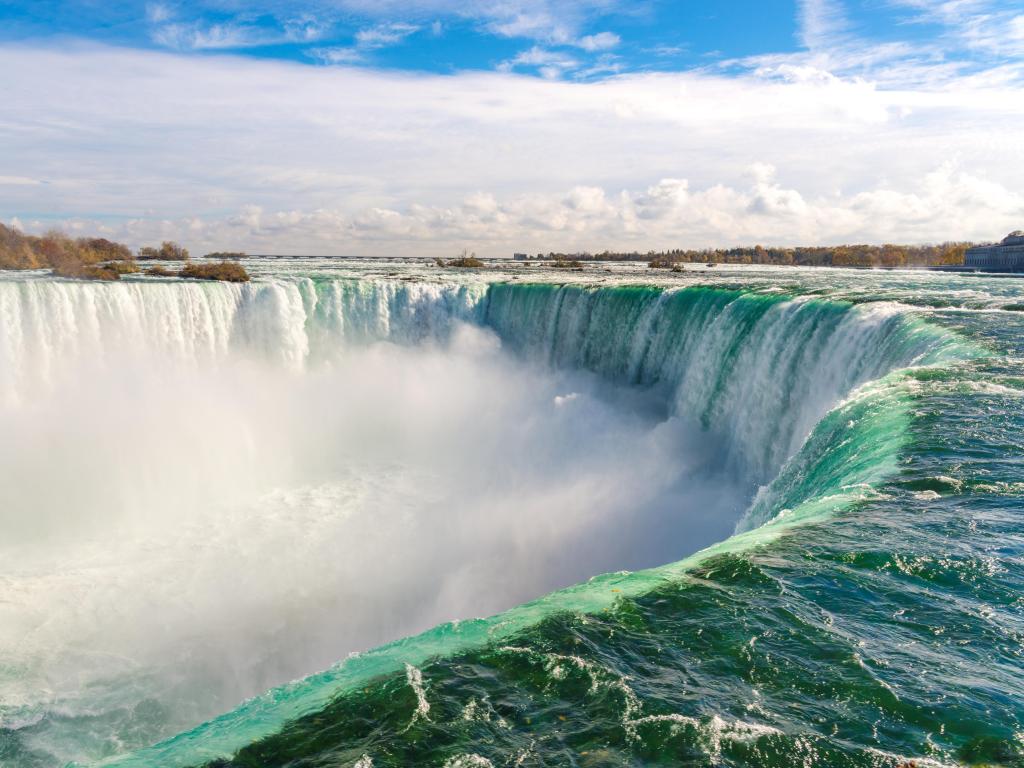 The hotel is in walking distance of Falls-related attractions including Journey Behind the Falls, or take a tour for even more stunning views - cruise, white water and helicopter options are all available depending on your preference and budget.
The town's history is about so much more than just the Falls though. While you're here you could visit the Niagara Falls Underground Railroad Heritage Center to learn about the part this border town played in helping former slaves reach freedom. Or take a trip to Old Fort Niagara to appreciate the battle for control between British, French and Native American forces.
Things to see on a road trip from New York to Toronto
The best part of the road trip from New York to Toronto is that there are many interesting things to see, feel and experience.
You don't have to be in a hurry – take your time on the way so that you can get to enjoy some of the wonderful locations listed below.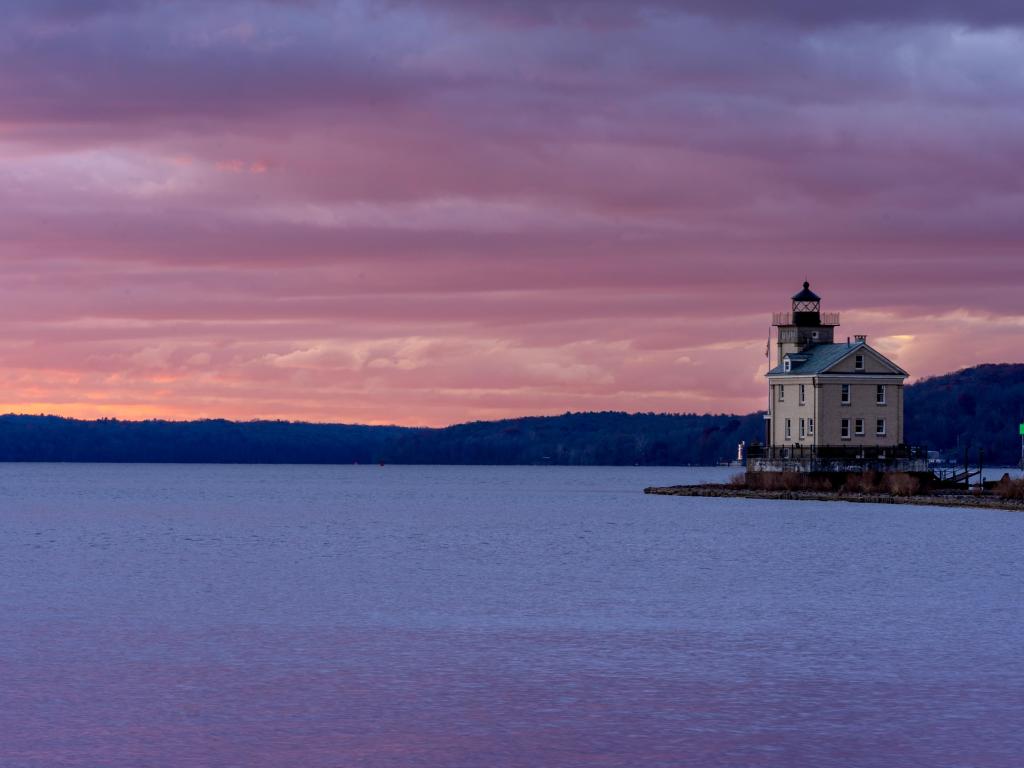 Both Routes:
Newport Green Park – A lovely public park with an amazing view of Manhattan.
John V. Lindsay East River Park – Considered one of the finest places to play in New York, this park has tracks, fields, and courts for sports lovers and offers waterfront pathways for pedestrians and bicyclists.
Chrysler Building – Once recognized as the tallest building in the world with its sky-piercing spike, you wouldn't want to miss seeing the luxurious interior of this large-scale city building.
Museum of the City of New York – This museum provides a natural history of the Big Apple, with its wide collection of art and artifacts.
Alpine Lookout – Take a hike around the Alpine Lookout and get amazing views of the Enchantments, Glacier Peak, and more.
Erie Canal Museum – You wouldn't want to miss seeing artifacts that tell the story of the Erie Canal in Syracuse.
Montezuma National Wildlife Refuge – This refuge is home to several marsh and water birds, including mammals such as coyotes, fox, and chipmunk.
Seneca Falls –A charming town that provides a history of the Erie Canal.
Finger Lakes – This area is famous for its boat cruises, wine vineyards, and several museums.
Rochester – Nothing beats visiting a city full of history and heritage and several iconic landmarks like the National Museum of Play and Mount Hope Cemetery.
Rosamond Gifford Zoo – Home to over 700 animals, you can connect to the natural world with exciting experiences and information that encourages global wildlife conservation.
Richmond Aqueduct Ruins – Follow the historical trail of Erie Canal down to the Richmond Aqueduct Ruins and enjoy the amazing stonework and well-maintained trails.
Beyond Van Gogh Buffalo – Get a 3D viewing experience on art exhibitions at Beyond Van Gogh Buffalo exhibit.
Niagara Amusement Park and Splash World –Niagara Amusement Park and Splash World features a water park and a theme park that will keep you entertained for as long as you're there.
Grand Island Fun Center – Here's an all-in-one entertainment center that offers various games for people of different age groups, from mini-golf to video game arcade and laser tag courses.
Niagara Falls – This beautiful Canadian city offers a spectacular view of the famous waterfalls alongside several other attraction sites.
Beamer Memorial Conservation Area – This conservation has some of the most breathtaking views of Niagara, including the Lake Ontario shoreline and the Niagara Escarpment.
Etobicoke – This Canadian district is home to various golf courses, lakefront parks, and historic buildings.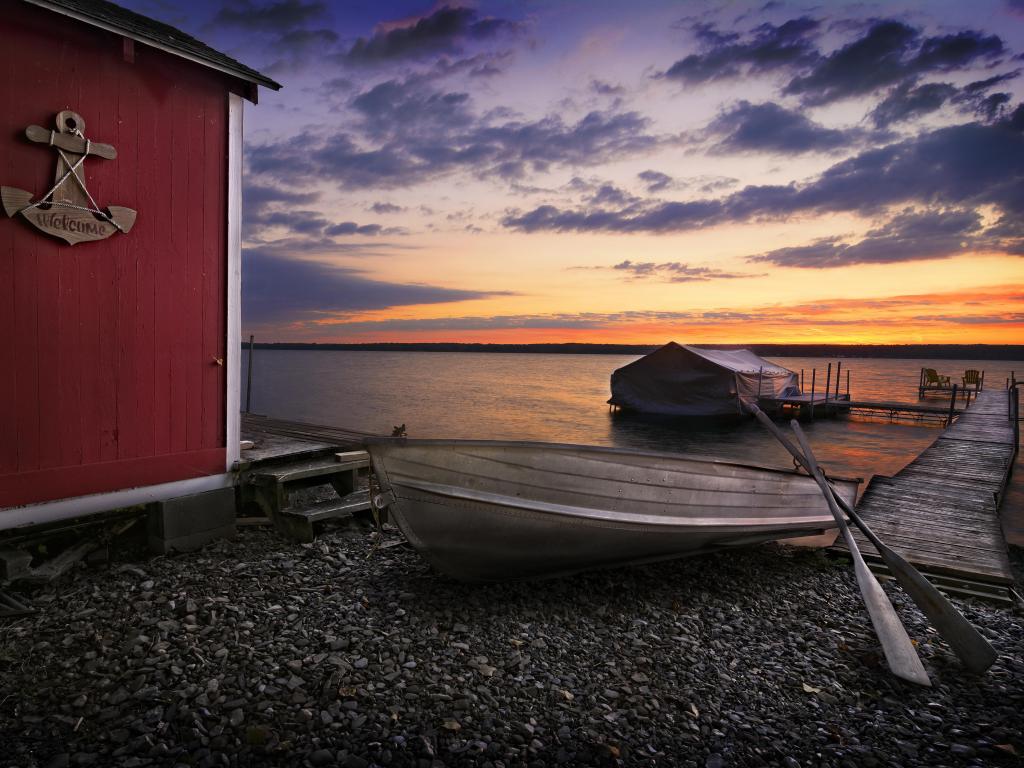 Hudson Valley Route only:
Historic Huguenot Street, New Paltz - French settlers came to the Hudson Valley centuries ago, and this museum built around some of their stone houses gives a fascinating glimpse into their lives and those of the Indigenous communities they encountered.
Staatsburg State Historic Site - There are many impressive, historic mansions along the Hudson Valley. This one is still decorated as it would have been in the early 1900s - America's 'Gilded Age'.
Opus 40 Sculpture Park, Saugerties - Explore the impressive landscape of reclaimed quarries where sculpture is artfully displayed across the site. Check opening dates before visiting.
Karma Triyana Dharmachakra - The Tibetan Buddhist Monastery in Woodstock offers tours for visitors, or you're also welcome to join daily practices.
Harriman State Park - Set out to explore some of the 200 miles (320 km) of trails which will let you reconnect with nature and soak in stunning views as take you hike past lakes and rivers.
Zipline New York - See the Catskills differently as you race along one of the fastest ziplines in the USA.
Albany, New York - Take a stroll through New York's state capital.
The list is endless, and you can be sure that you're in for one exciting trip!
Best time to go on a road trip from New York to Toronto
The road trip from New York to Toronto can be made at any time of the year, thanks to the fact that most of the journey is mostly Interstate.
That being said, note that there are many attraction sites between New York and Toronto, which might attract tourists, especially between June and August – the typical peak tourist season – so you should monitor traffic as you go.
The border crossing into Canada can also experience delays over the peak period.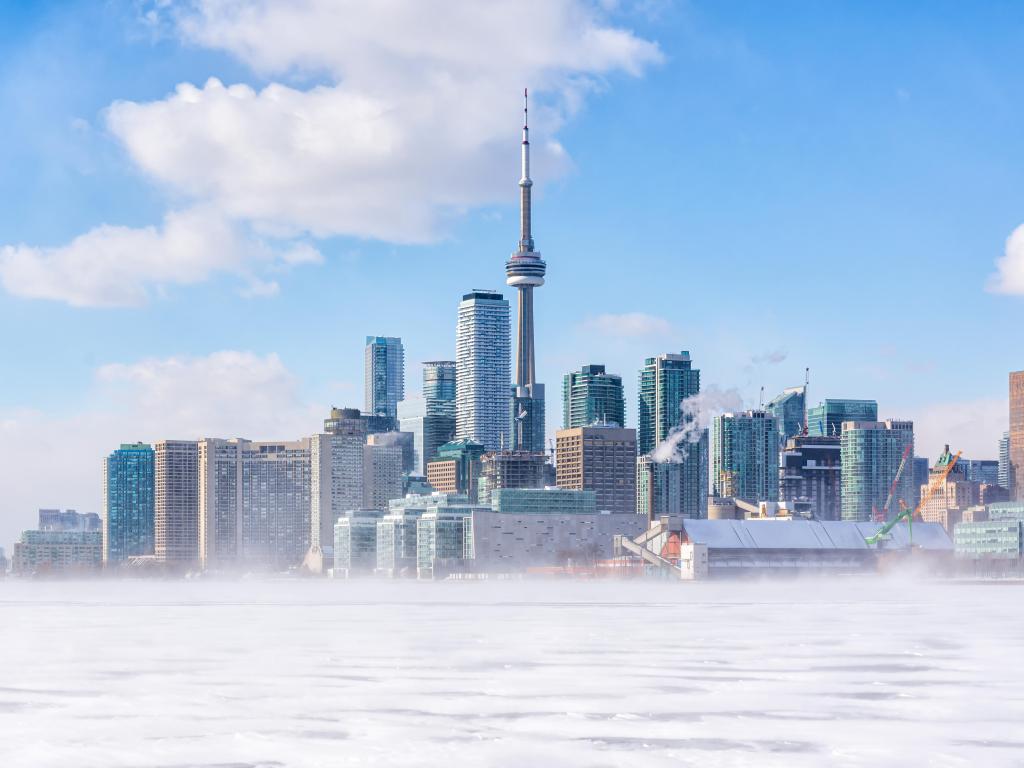 Spring and fall are generally the times when you'll catch the most comfortable weather. Temperatures in May/June and September/October usually sit around 70 degrees, or if you travel a little later in the fall you'll be able to enjoy the magnificent changing colors of the region.
This isn't to say you can't also take this trip in the winter - see New York's sparkling Holiday decorations, ride through Central Park in the snow, and catch stunning, wintery views of Niagara Falls.
However, some of the outdoor attractions along the route won't be accessible, and you would need to pack serious cold weather clothing.
In general, summer would be a great time to take a trip from New York to Toronto. If you prefer something different, you can go in the winter, as Niagara Falls is especially beautiful at that time of the year – if you can brave the cold weather.