Road Trip from Ottawa to Toronto
If you are looking for a weekend getaway that involves an enticing mixture of outdoor activities, history, heritage, and leisure, look no further than a road trip from Ottawa to Toronto. This journey will take you to charming ports on the lakeside, stunning parks and historic cities.
The 500 km road trip from Ottawa to Toronto will take about 6 hours to drive with opportunities to visit Prince Edward, Barrie, Oshawa, Algonquin Provincial Park, Golden Lake, Wolfe Island, Horseshoe Resort and 1,000 Islands Tower and Parc Brébeuf.
Keep reading to find out our suggestions for the best route options and how you can view scenic lakes, visit secluded islands, and take in some much-needed relaxation on your road trip from Ottawa to Toronto.
How far is Toronto from Ottawa and how long will the road trip take?
Comparison of road trip routes between Ottawa and Toronto

| Route | Distance | Driving Time |
| --- | --- | --- |
| The Lake Ontario Route | 500 kilometers | 6 hours 20 minutes |
| The Algonquin Provincial Park Route | 650 kilometers | 7 hours 50 minutes |
The shorter route will take you to Toronto following the shores of Lake Ontario, covering 500 km. The Lake Ontario Route will take 6 hours and 20 minutes to drive without accounting for any stops.
The Algonquin Provincial Park Route will take slightly longer to drive at 650 km but will pass through beautiful natural scenery to make up for the extra kilometers. This route will take you 7 hours and 50 minutes if you don't make any extra detours.
Both of these routes can be completed within a day, but we suggest taking at least 3 days to appreciate how beautiful and historic the sights and cities en route are.
Best road trip route from Ottawa to Toronto
There are two great options for road trip routes between Ottawa and Toronto. Both routes offer incredible access to natural wonders, outdoor activities, and city life, but there are a few key differences that can help you decide the best route for your trip.
On the Lake Ontario Route, you will get to visit the historic cities of Kingston and Oshawa, as well as get an opportunity to visit beautiful Belleville and Prince Edward on the lakeshore.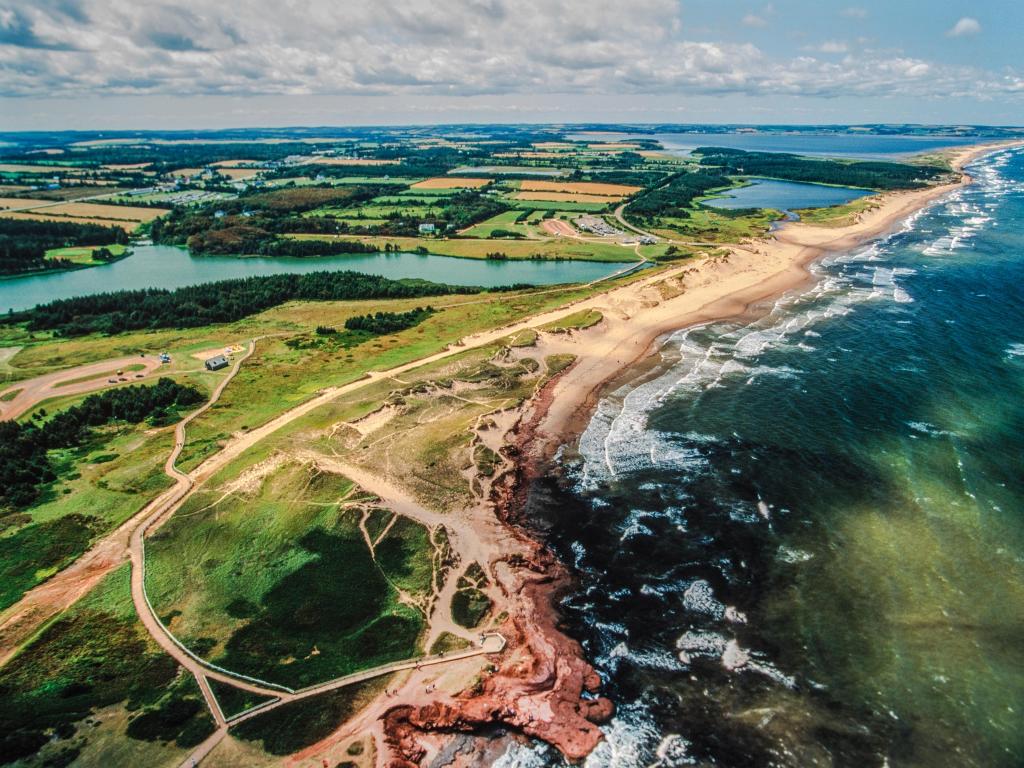 Optional stops include the lovely sandy beaches of Alexandria Bay, the rugged natural beauty of Wolfe Island or Amherst Island, and the many historical and heritage attractions in the city of Markham.
If you would like to follow a longer but scenic route, you can head towards Golden Lake and Algonquin Provincial Park, situated between the Georgian Bay and Ottawa River, to marvel at their stunning scenery and stop by picturesque Orillia and Barrie, as well as Lake Simcoe.
The Lake Ontario Route
If you choose the Lake Ontario route, you will want to take Trans-Canada Highway/ON-417 W from Ottawa to ON-416 until you reach Johnstown.
Just before Johnstown, take ON-16 to ON-401 to Kingston, where you can link up with ON-33 on your way to the Adolphustown-Glenora Ferry to Prince Edward.
After enjoying your ferry ride on Lake Ontario, jump on to ON-62 N for a short drive to Belleville. From there, you will use ON-401 W to head towards Toronto via the town of Oshawa.
The Algonquin Provincial Park Route
For this route, take Trans-Canada Highway/ON-417 and ON-60 west from Ottawa. Once you reach the city of Golden Lake, turn onto ON-60 W and get ready to take in the beautiful sites of Algonquin Provincial Park on your right.
At Algonquin Park, keep heading west on ON-60 until you see signs for ON-11 S/Toronto. After merging onto ON-11 S, you will drive through or take a detour in Orillia and Barrie and be at your destination in Toronto in no time!
Best places to stop between Ottawa and Toronto
Full of interesting sights and beautiful natural wonders, you might want to take a break to reenergize on the road trip from Ottawa and Toronto.
If you would like to stop overnight for some rest and relaxation after a long day of traveling on the road, check out our suggestions for where to stay below:
Spend a relaxing evening on the shores of Lake Simcoe
If you have chosen the northern Algonquin Provincial Park Route, the best place to spend overnight is in Orillia. Only about 2 hours from your destination in Toronto, Orillia offers beautiful scenery as well as recreational and leisure activities on the shores of Lake Simcoe.
The city is known as the home of the renowned artist Elizabeth Wyn Wood, and both the Orillia Museum of Art and History (OMAH) and the Peter Street Art District will appeal to visitors interested in the arts and culture.
Likewise, the Peter Street Art District gallery displays original works by incredibly talented artists in a variety of mediums, including watercolor, acrylics, oils, and even woodturning.
When in Orillia, the best choice for a place to stay is the Fairfield by Marriott Inn & Suites. This hotel is an excellent choice because of its proximity to the city center of Orillia, its numerous amenities, and the spectacular view of Lake Simcoe.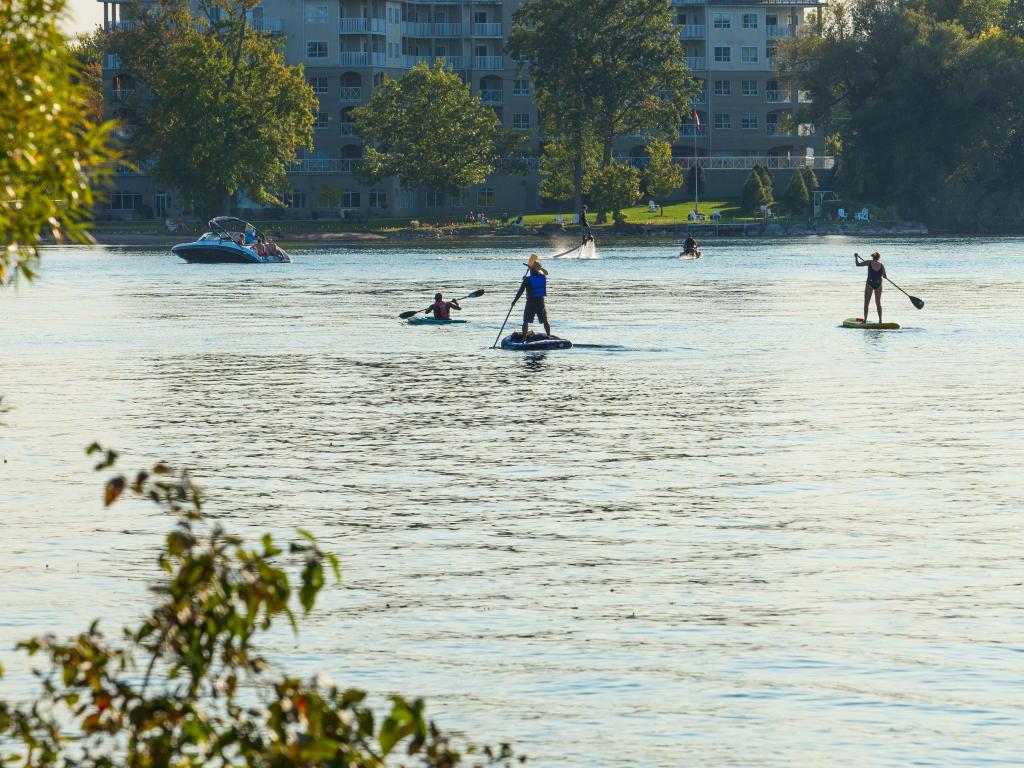 For visitors who want a little more activity, the Fairfield Hotel offers free bikes that you can use to explore the city. An awesome indoor pool and a sun terrace can also help you relax and recuperate after a long day on the road.
If you would like to explore more of the town but not stray too far from the Fairfield Hotel, the nearby Northern Joinery Makers Market is a neat place to shop for local goods. At just a short drive away, the new Sports Complex and Casino Rama & Entertainment Center is another great option for visitors who love sports and action.
Enjoy the outdoors, history, and small-town living in Belleville
About halfway along the Lake Ontario Route from Ottawa to Toronto lies the picturesque and tranquil city of Bellville. Known for its unique combination of both small-town appeal and big-city amenities, Belleville is an amazing and extremely convenient option for an overnight stop on your road trip.
The Tyendinaga Cavern and Caves is a popular destination in Ontario. The cavern and caves are enormous, and their integrity, history, and geology give visitors a spectacular example of the natural wonders of the world.
For visitors looking for a variety of outdoor activities, the Vanderwater Conservation Area is the perfect spot. Located along the banks of the Moira River, you will find plenty of parking, spaces for picnics, and a variety of trails for hiking, biking and other cross-country treks.
When stopping overnight in Belleville, the best place to stay is the modern-style TownePlace Suites by Marriott situated right in the heart of the city. With multiple gardens for visitors to relax and enjoy the beautiful natural surroundings, the TownePlace Suites is a wonderful spot to unwind after a long day of driving.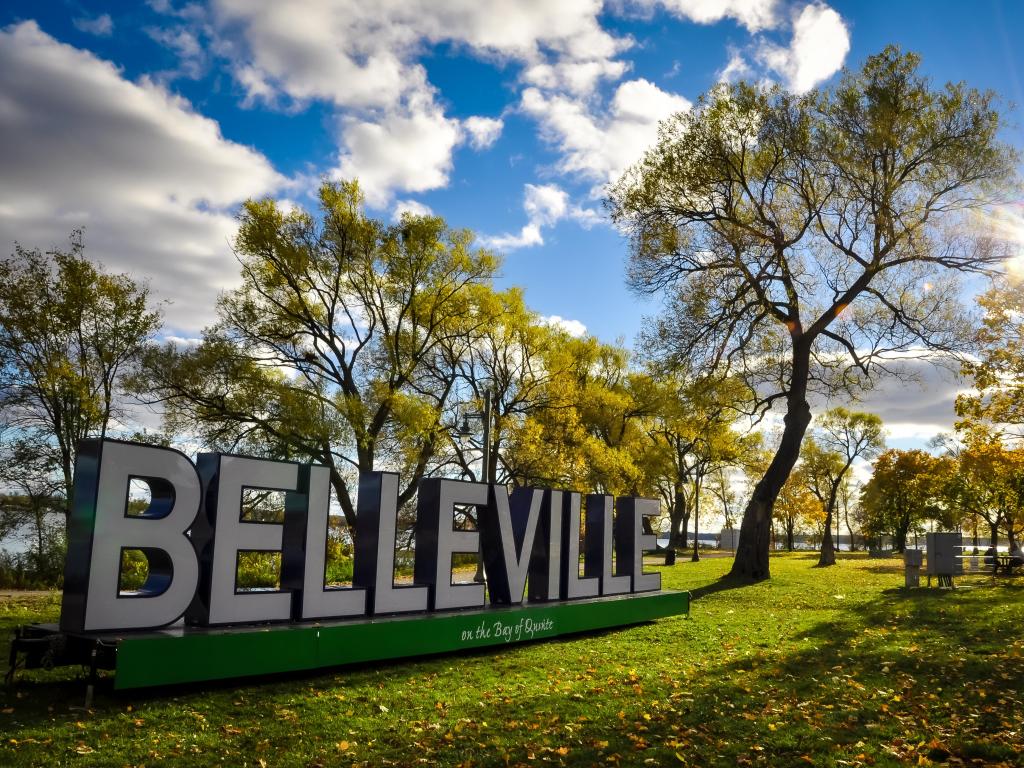 The TownePlace Suites offers a three-course High Tea for visitors looking for a refined dining experience. All of the sandwiches and baked goods served at the hotel are freshly prepared using delicious, high-quality ingredients.
The hotel is centrally located with easy access to a variety of nearby attractions and places to eat, such as Riverside Park, Zwick Centennial Park, Glanmore National Historic Site, and Burger Revolution.
Where to stay when you reach Toronto
If you are looking for a wonderful combination of luxury amenities, a comfortable atmosphere, and award-winning customer service in Toronto, look no further than the best place to stay in the city: the One King West Hotel and Residence.
Located at the junction of King and Yonge streets in downtown Toronto, the One King West Hotel and Residence offers private limousine pick-up and drop-off services to and from Pearson International Airport, so you can enjoy your trip without worrying about parking.
If you would like to have more freedom to get around the city, however, the hotel also has daily valet parking with in and out privileges so you can see all of Toronto's best sites while popping in and out of the hotel for rest, meals, and relaxation when needed!
The One King West Hotel and Residence has a variety of suite types to satisfy every visitor's needs. For those who would like to keep up their exercise routine even while on vacation, the hotel also has a Rooftop Fitness Center so you can work out on cutting-edge fitness equipment while enjoying spectacular views of downtown Toronto.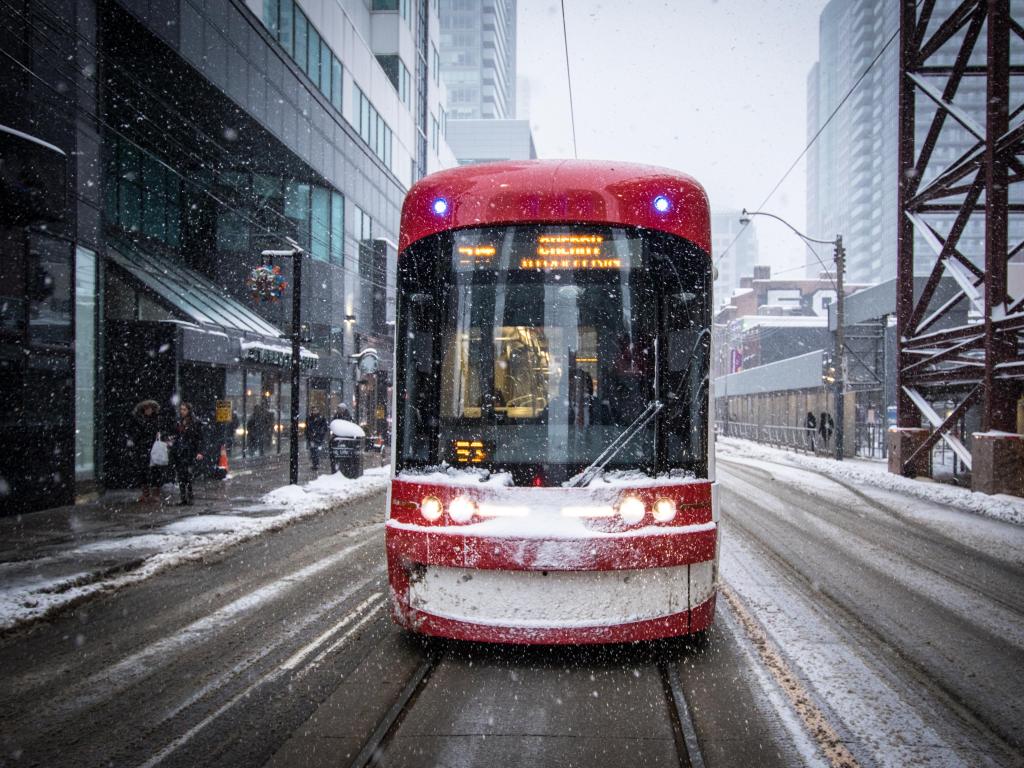 Things to see on a road trip from Ottawa to Toronto
There are so many interesting cities, sights, and natural wonders to make your drive from Ottawa to Toronto even more interesting. You will find a variety of amazing things to see on both the Algonquin Park Route and the Lake Ontario Route, giving you lots of options to tailor your road trip to your preferences.
Algonquin Park Route
Casino Rama Resort – A popular casino opened in 1996 by the Chippewas of Rama First Nation and the Ontario Lottery and Gaming Corporation, this destination offers fun and excitement at just a short drive from downtown Orillia!
Couchiching Beach Park – This 14.5-acre park encompasses the town dock, the historic Champlain Monument, and the surrounding sandy beach areas of Orillia. Special events are often held at the park, so make sure to check and see what is happening when you go.
Port of Orillia – Nicknamed the Jewel of the Trent, the Port of Orillia attracts boaters and water enthusiasts galore in the summer months.
Stephen Leacock Museum – Also located in Orillia, this spacious 19-room mansion was the summer home of Stephen Leacock which he described as a mythical Mariposa in his famous work Sunshine Sketches of a Little Town.
Horseshoe Resort – This resort hires over one hundred ski instructors for their ski school, making it the perfect destination for first-time or inexperienced skiers.
Barrie's Waterfront - Barrie's Waterfront district is a popular spot for cyclists and also connects to the nearly 40-km long Oro-Medonte Rail Trail that links Orillia and Barrie.
Spirit Catcher – This iconic landmark in Barrie is located along the Waterfront between Heritage Park and the marina boardwalk. It is the perfect place for a photo op!
MacLaren Art Center – Beginning with the 1989 donation of a Victorian home, the MacLaren Art Centre is a home for the arts and one of Central Ontario's most important galleries.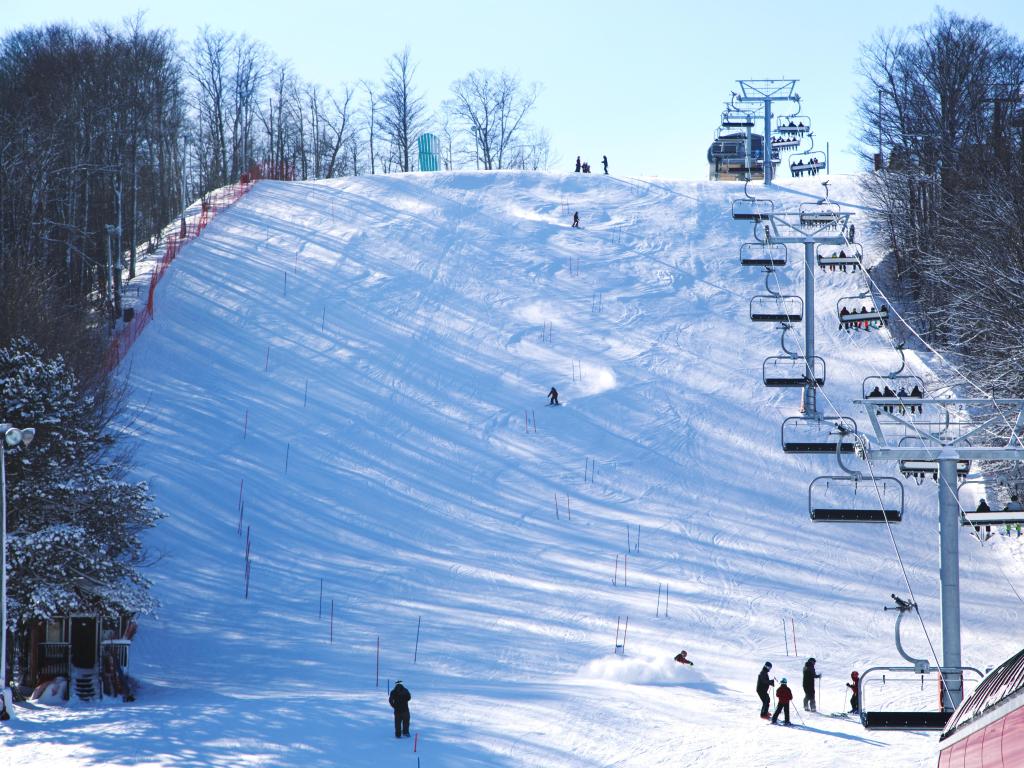 Lake Ontario Route
1,000 Islands Tower – Located halfway between Canada and New York, this tower offers a spectacular view of the 1,000 islands from three angles!
The Historic Sites of Prescott and Vicinity – These sites were the location of many battles between British and French troops and British and American troops over the possession of Canada.
Fort Henry National Historic Site – Built in the 1930s, these awe-inspiring castles were constructed in the 1930s and named after a former Lieutenant-Governor of Quebec. The castles were built on the site of a walled city constructed during the war with America in 1812.
Bellevue House – A carefully-preserved example of Victorian-era architecture, the Bellevue House is the former home of Canada's first Prime Minister Sir John Alexander Macdonald. It also showcases the historic lifestyles of the country's most wealthy citizens.
Sandbanks Provincial Park – Only a 20-minute drive from the town of Picton, the Sandbanks Provincial Park encompasses a desert dune that separates East Lake from Lake Ontario and is the world's most significant freshwater bay mouth barrier.
National Air Force Museum of Canada – This interesting museum showcases Canada's air force through a 16-acre "Airpark" of static aircraft displays, as well as many artifacts, memorabilia, photographs, and aircraft-related artwork.
Oeno Gallery – Close to the Huff Estates Inn and Winery, this art gallery exhibits collections of contemporary art by artists from all over the world. There is something for every art lover here, including paintings, sculptures, photography, and glass.
Canadian Automotive Museum – If you are interested in the automotive history of Canada, check out this independent museum that has been open since 1962!
Oshawa Zoo – Opening in July of 1993, the Oshawa Zoo had a goal of creating a healthy and environmentally friendly zoo that held both exotic and domestic social animals. This is a great family-friendly destination for kids and people of all ages!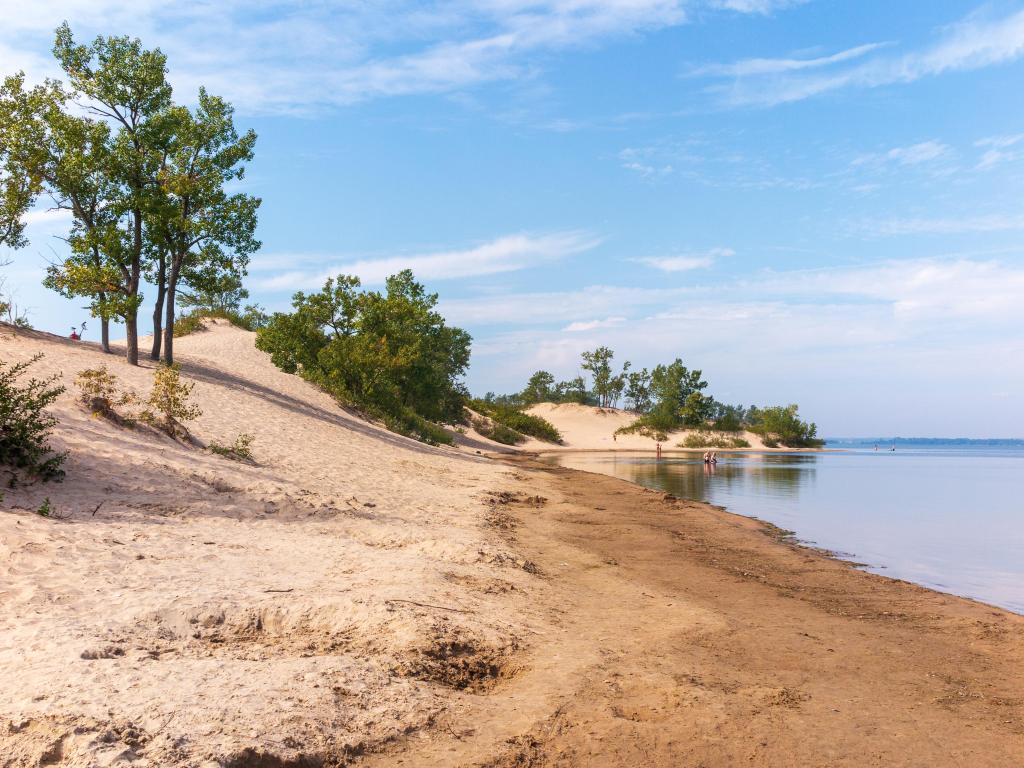 On Both Routes
Journey Behind the Falls – This year-round destination gives visitors a unique view of the underside and backside of the Falls. A 125-foot journey down an elevator and a short tunnel grants access to two outdoor observation decks and two portals directly behind the Falls for a truly spectacular encounter.
Parliament of Canada – Canada's Parliament buildings offer a stunning example of historic neo-Gothic architecture and a beautiful view from their location on a hill overlooking the Ottawa River. Do not forget to reserve your tickets online for the free tour!
Byward Market – This attraction is a premier destination for shopping, dining, arts, entertainment, and professional services for both residents and visitors to Ottawa. Bringing in an average of 50,000 visitors each weekend during the summer, the Byward Market hosts a local farmer's market, numerous artisans' stands and more than six hundred businesses!
Parc Brébeuf – With direct access to the Ottawa River from the west side of the Champlain bridge, the Parc Brébeuf is a fantastic location for cycling around town to sites such as the War Museum.
CN Tower – The Canadian National Tower, or CN Tower for short, functions as a broadcast and telecommunications tower for the city of Toronto. It is impressive 553-meter height made it the world's tallest freestanding structure until 2007.
Best time to go on a road trip from Ottawa to Toronto
Toronto is a year-round destination with a variety of activities and festivals depending on the season and time of year. That said, there are a few things you should keep in mind when deciding the best time for your road trip.
The city is normally hot and humid during the summer months, with the average July temperature reaching 70 degrees Fahrenheit. Summertime can also be a popular time to visit Toronto, so if you are looking to avoid big crowds, you may want to find another time to visit Toronto.
During the winter months, Toronto's average temperature is only a chilly 25 degrees Fahrenheit. Snow and other winter precipitation caused by nearby Lake Ontario and Lake Huron can make driving conditions during this season difficult.
Make sure to double-check weather and road reports before leaving to hopefully avoid any storms or severe wintry conditions.
The weather and driving conditions are much more pleasant in the spring and autumn months. Spring in Toronto usually lasts between March and May, with temperatures usually sitting between a comfortable 50 and 64 degrees.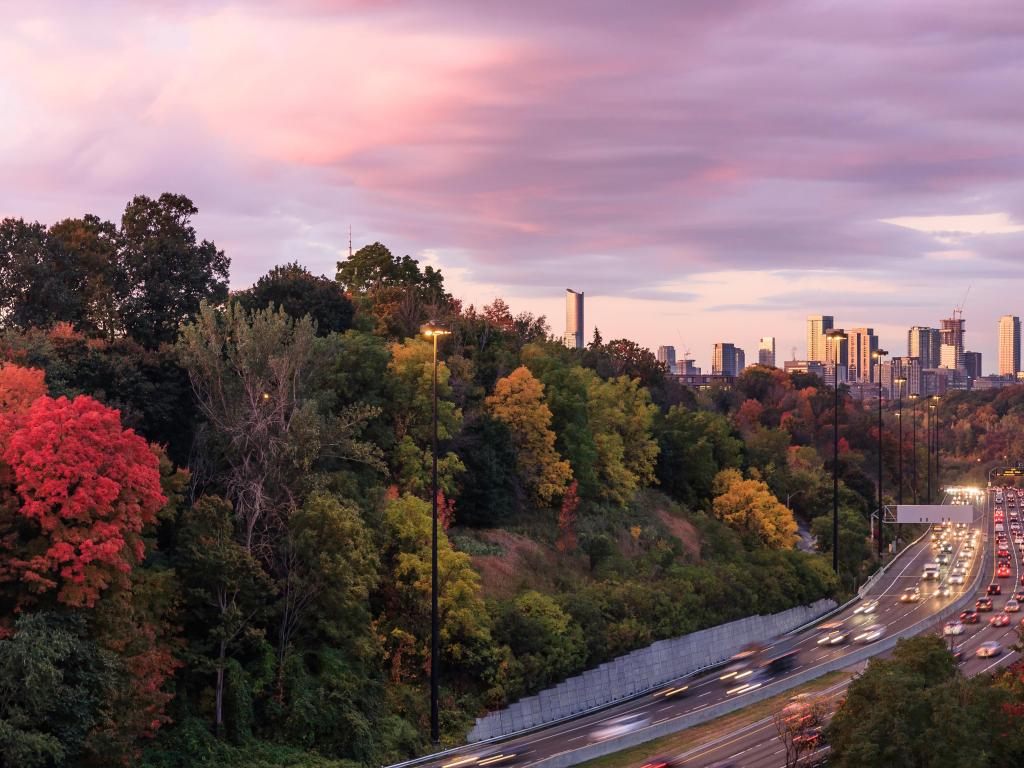 From September to November, the autumn season in Toronto is beautiful. The temperatures are typically between 35 and 50 degrees, so it is not too cold to enjoy outdoor activities and the leaves changing color.
However, autumn and spring are the most popular times to visit Toronto, so you might want to choose another time of year to visit if you dislike large crowds.
Other things to consider when choosing a time to visit Toronto is the many festivals and events that highlight the city's multiculturalism and diversity. In early October, the city hosts a Nuit Blanche (White Night) that begins at dusk and showcases a variety of art displays until dawn.
Towards the end of summer, the Caribana festival celebrates Caribbean culture with food, music, and dancing! In September, the Toronto International Film Festival screens new and exciting films to be released the following year.