Road Trip from Perth to Esperance
The southwestern tip of Australia is packed with stunning beaches, outdoor adventures and unforgettable views - and a road trip from Perth to Esperance checks all the boxes for the perfect combination on an exciting journey.
The road trip from Perth to Esperance takes 14 hours 20 minutes to cover 1,250 km, taking you past Eagle Bay, Margaret River, Hamelin Bay, Elizabeth Quay, Lucky Bay and Albany along the stunning Western Australia Coast, or inland past Wave Rock.
With so many amazing places to visit along the way, read on to discover how to make the most of your journey between white sand dunes, national parks, caves and cliffs.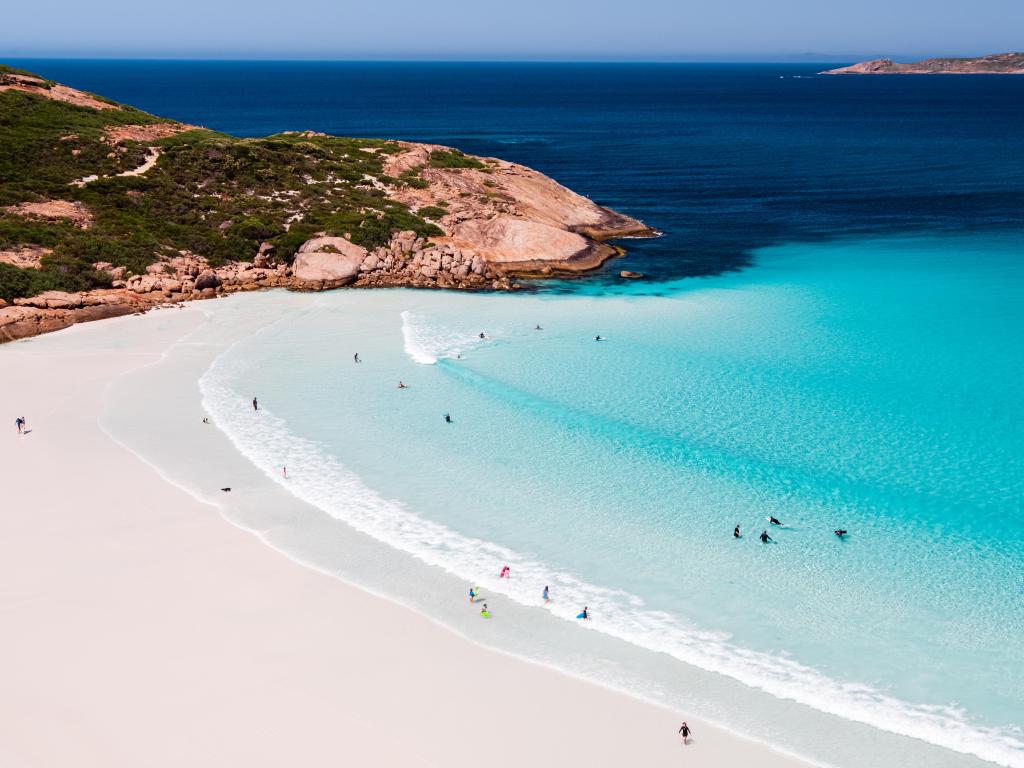 How far is Esperance from Perth, and how long will the road trip take?
Comparison of inland and coastal routes between Perth and Esperance

| Route | Distance | Driving Time |
| --- | --- | --- |
| The Coastal Route | 1,250 km | 14 hours 20 minutes |
| The Inland Route | 750 km | 8 hours 30 minutes |
If you drove directly you could get from Perth to Esperance in around seven and a half hours. However, we'd recommend taking a longer route to get the most out of this road trip.
Between Perth and Esperance are hundreds of kilometres of fabulous coastline, and our Coastal Route is a great way to explore the beaches and lookouts of the southwestern corner of Australia.
This route is significantly longer than traveling directly. At 14 hours 20 minutes and 1,250 km, the Coastal Route is a more serious undertaking. But if you have the time, it's well worth it.
Alternatively, you could travel inland via Wave Rock, near Hyden, which will take you around 8 hours and 30 minutes. This route is much shorter, at only 750 km.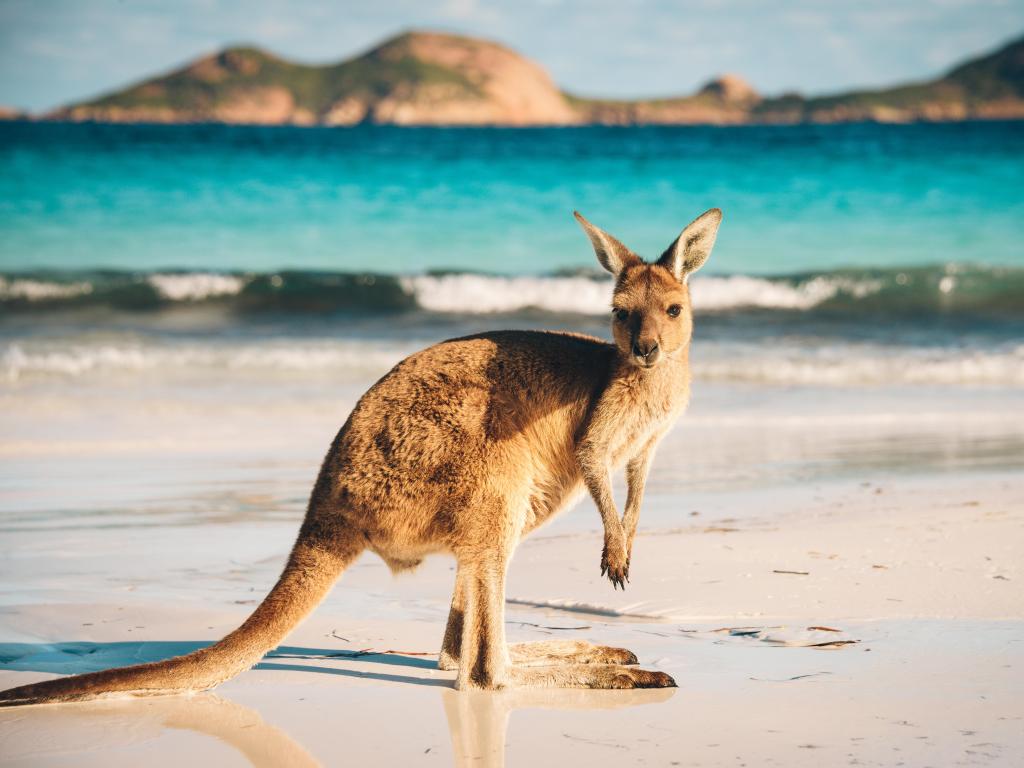 Best road trip route from Perth to Esperance
As you'll see, you have two really different options for your road trip between Perth and Esperance. Your choice of route will most likely come down to how much time you have available, and whether you prefer to travel via the ocean or through Australia's iconic Outback.
The Coastal Route takes you to some truly stunning beaches and the varied landscapes of this beautiful part of Australia. As a bonus, you can even see dolphins and whales making their way along the coastline if you travel at the right time of year.
If you don't have time to make such a long drive, the shorter Inland Route makes a great alternative.
The Inland Route doesn't have as many stopping points as the Coastal Route, but spectacular Wave Rock makes up for this. Although you won't get to spend as much time by the water, you'll be able to experience the striking Outback landscape.
Whether or not you've already decided which route to take, read on for information on which roads to follow, when to travel, and what you can see along the way.
The Coastal Route
To get started on your road trip, leave Perth on State Route 2, the Mitchell Freeway, which joins up with National Highway 1 after a few kilometres.
As you travel south, you'll pass Yalgorup National Park and Myalup State Forest before reaching Bunbury, where you might like to visit the Bunbury Dolphin Centre.
From Bunbury, take State Route 10 to follow the coast towards Busselton. Turn right at the roundabout onto Causeway Road to visit Busselton, with its beautiful white sands and famous jetty.
Take the Bussel Highway out of Busselton, then turn onto Caves Road towards Dunsborough. From here, take Cape Naturaliste Road up to Eagle Bay or to visit the lighthouse.
Return along the same road, passing Dunsborough again, before turning right onto Chain Avenue just before you reach Marybrook. This joins back up with State Route 10, which you'll follow past Metricup and Margaret River.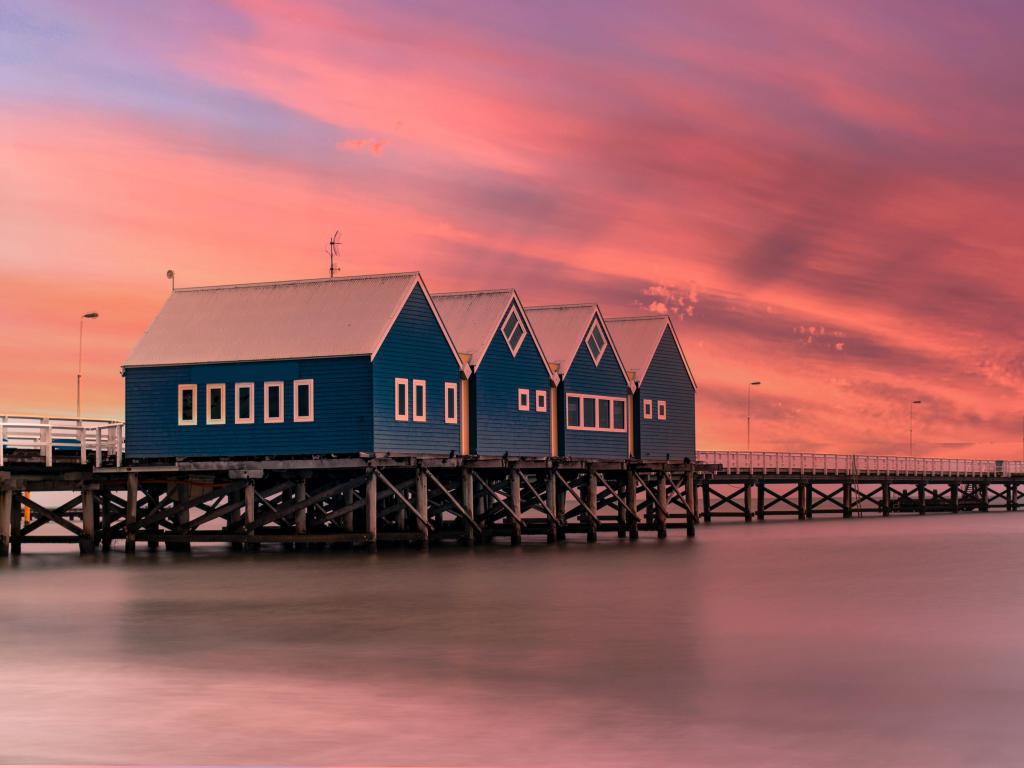 As you leave Margaret River via State Route 10, turn right at the roundabout onto Boodjidup Road. This takes you past a selection of wineries before turning left onto Caves Road in the direction of Augusta.
There are plenty of places to stop on this section of the drive, including Mammoth Cave, Lake Cave and Boranup Lookout, as well as some sweeping, sandy bays.
To pick up the pace again and return to the route, look out for a left turn along Chapman Road, signposted towards Karridale, then turn left onto State Route 10 after a couple of km.
At Karridale, take the right fork of State Route 10, the Brockman Highway, in the direction of Nannup. You'll follow this road past Alexandra Bridge and through a mostly forested area, before turning right onto Stewart Road, after around 40km.
When you reach the end of Stewart Road, turn right towards Pemberton, rejoining State Route 10. After driving past Greater Beedelup National Park, turn left onto Vasse Highway/Brockman Street which takes you through Pemberton and up to National Route 1.
From here you could follow National Route 1 all the way to your destination in Esperance, but we'd recommend a few more detours along the way if you have time.
Albany, a waterfront town with a beautiful bay, is just off the main route. Then, to explore the area around Fitzgerald River National Park, turn right at Ravensthorpe to follow the Hopetoun-Ravensthorpe Road.
Return along the same road before turning right towards Jerdacuttup and then continuing until you rejoin Route 1.
From here, it's a simple drive along Route 1, right into the heart of your destination, Esperance.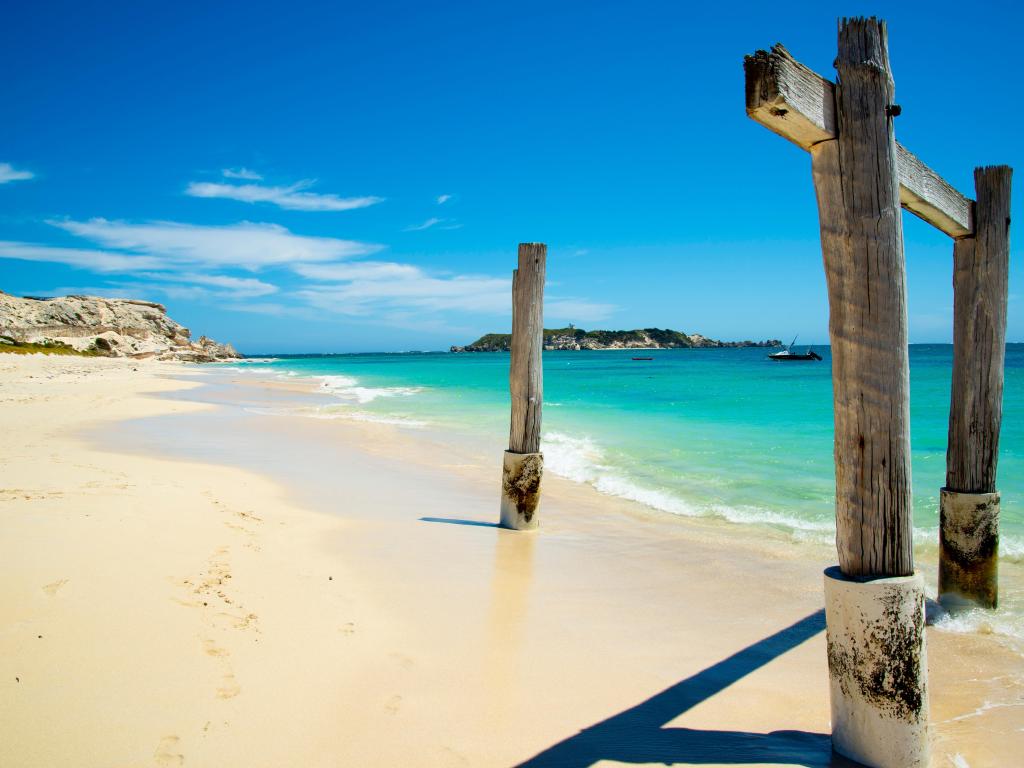 The Inland Route
Leave Perth via State Route 8, then turn right onto State Route 41 after driving for 35 km.
State Route 41 takes you towards Karragullen, but instead of driving straight through the town, we'd recommend heading out to a couple of interesting sights.
As you approach Karragullen, turn left onto O'Meagher Road, right onto Illawarra Road then left onto Dale Road to enter Korung National Park.
You'll turn right and then left again to continue along Dale Road, which takes you to Mount Dale Lookout for some spectacular views across the National Park. We'd recommend paying close attention to the map as you navigate along this short detour, as there's very limited signage.
Return along Dale Road then turn left onto Ashendon Road, then turn left onto State Route 40 which you'll follow for almost 500 km as you make your way towards Esperance.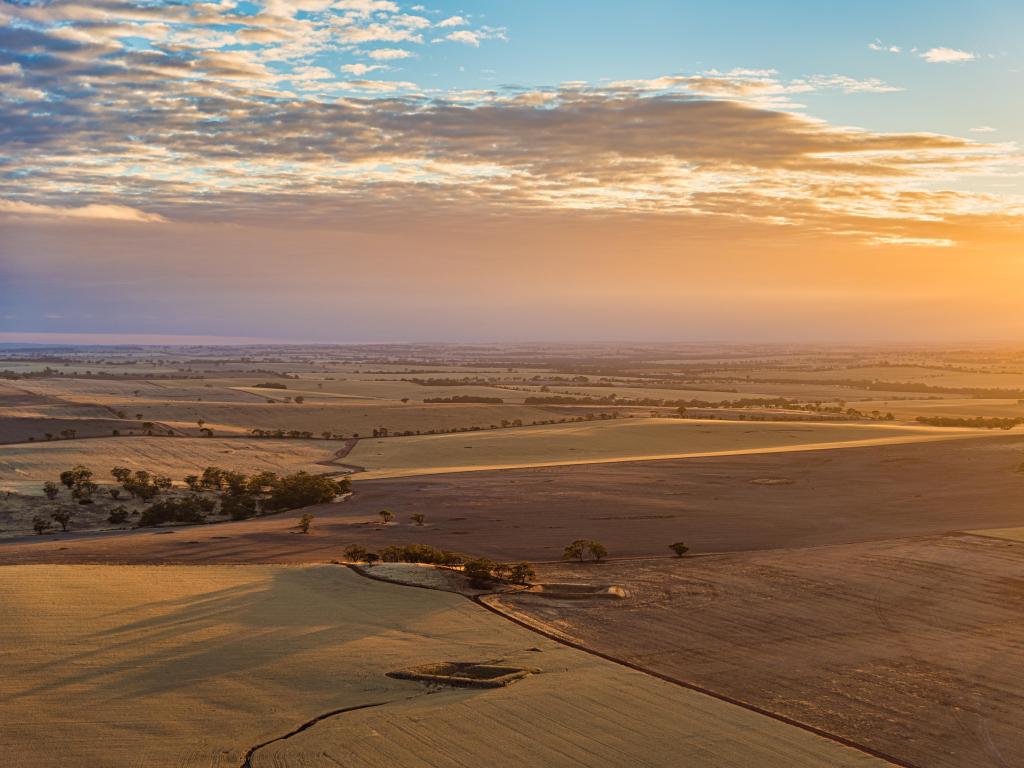 There's no escaping the fact that this is a long stretch of driving with few landmarks along the way until you reach the clearly signposted left turn towards Wave Rock.
Here, you can admire the spectacular rock formation, or follow one of the trails to explore the nearby area with its lakes and views across the Wheatbelt.
When you're ready to continue your journey, simply return to State Route 40. You'll now follow it past Lake King Nature Reserve and into Ravensthorpe, before turning left onto National Route 1 which takes you to Esperance in around an hour.
Best places to stop between Perth and Esperance
Whichever route you take, you'll probably need to make at least one overnight stop in order to enjoy the sights along the way - or more if you plan on taking your time to explore the beaches along the Coastal Route.
Ride the waves at Margaret River
3 hours out of Perth on the Coastal Route you'll find Margaret River, a beachside town that's also known for its vineyards, walking trails, and some of the country's best surf breaks.
You can easily spend a day or two here, enjoying the water or heading to Margaret River Wine Estates for a tasting.
If you have time for some rest and relaxation, Indijup Natural Spa is a fantastic option in the area. Or if you're in the mood for a little more driving, Hamelin Bay's historic jetty is a beautiful place to head to.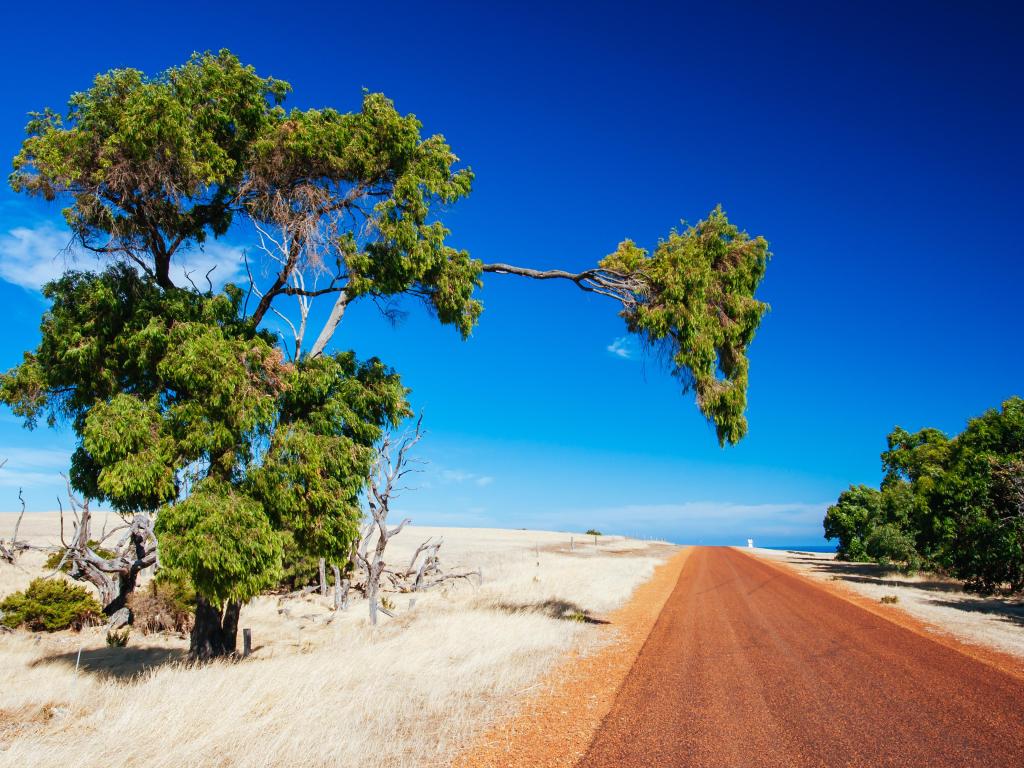 A short walk out of the centre of Margaret River, you'll find Heritage Trail Lodge nestled among beautiful gardens on the edge of the forest. You'll be able to enjoy breakfast to the sound of birdsong, before heading out along the walking trail that starts at the property.
The friendly and welcoming staff at Heritage Trail Lodge can also book whale watching tours for guests, or even arrange for spa treatments on site.
Explore the maritime history of Albany
Albany, located another 4 hours 30 minutes from Margaret River on the Coastal Route, is perfectly located to split the driving into manageable sections, as well as being close to some places you'll definitely want to spend some time at.
As you'd expect from its location right by the ocean, Albany's maritime history has played a key part in shaping this town and nearby area. Nearby you can enjoy the fresh air at Torndirrup National Park, before heading to Little Beach, Elephant Rocks and Greens Pool.
This is also an excellent place to take a whale watching tour, especially if you're traveling between June and October when whales regularly pass along this stretch of coast.
Only a short distance from the beaches, and with free parking, Quality Apartments Banksia Gardens are a fantastic option for an overnight stay in Albany.
The rooms here are spacious and comfortable, and you'll have cooking facilities if you'd prefer to self-cater. If not, there's an on-site restaurant, or seeing as you're right by the ocean, you could head out into Albany to enjoy a seafood feast.
Check out Wave Rock
If you're taking the Inland Route, the obvious place to stop is near Wave Rock, which is roughly halfway along the route and its main attraction.
Stopping here gives you plenty of time to explore the amazing rock formation, nearby trails and Lake Gounter Nature Reserve.
Accommodation options are limited along the quiet State Route 40, but check out Erindale Apartments, a short drive off the main route at Kulin. Follow signs towards the town as you head through Kondinin on State Route 40.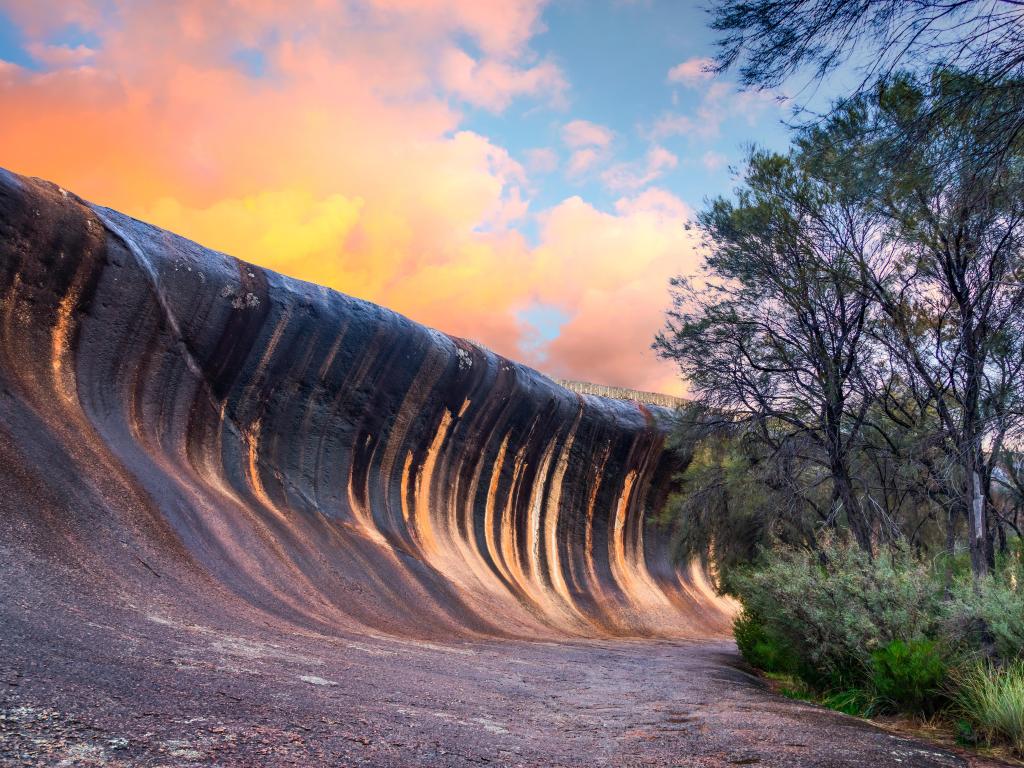 The apartments are newly renovated, with everything you need for a comfortable overnight stay, and you'll get a glimpse of life in this rural community during your stay.
Kulin also has a fantastic waterpark, which is well worth a visit if you want to cool down and relax on your drive across regional Western Australia.
Chill out in Esperance
After your long drive you'll be ready to relax by the time you reach Esperance, and with a pool, ocean views and on-site restaurant, where better to start than Hospitality Esperance, SureStay by Best Western.
It's just a short walk to Esperance Bay Beach, which has to be the main attraction of this lovely waterfront town, so you'll be able to enjoy the sparkling blue ocean water within minutes of your arrival.
At the end of the day, head over to Main Street to enjoy a meal or a drink. Or take advantage of the hotel's outdoor barbeque facilities while you watch the sun set over the ocean.
Things to see on a road trip from Perth to Esperance
Although this is far from the longest road trip you could take across Australia, it's still packed with plenty of things to do.
Whichever route you take, you'll be able to enjoy coastal views, craft brews and some unforgettable attractions.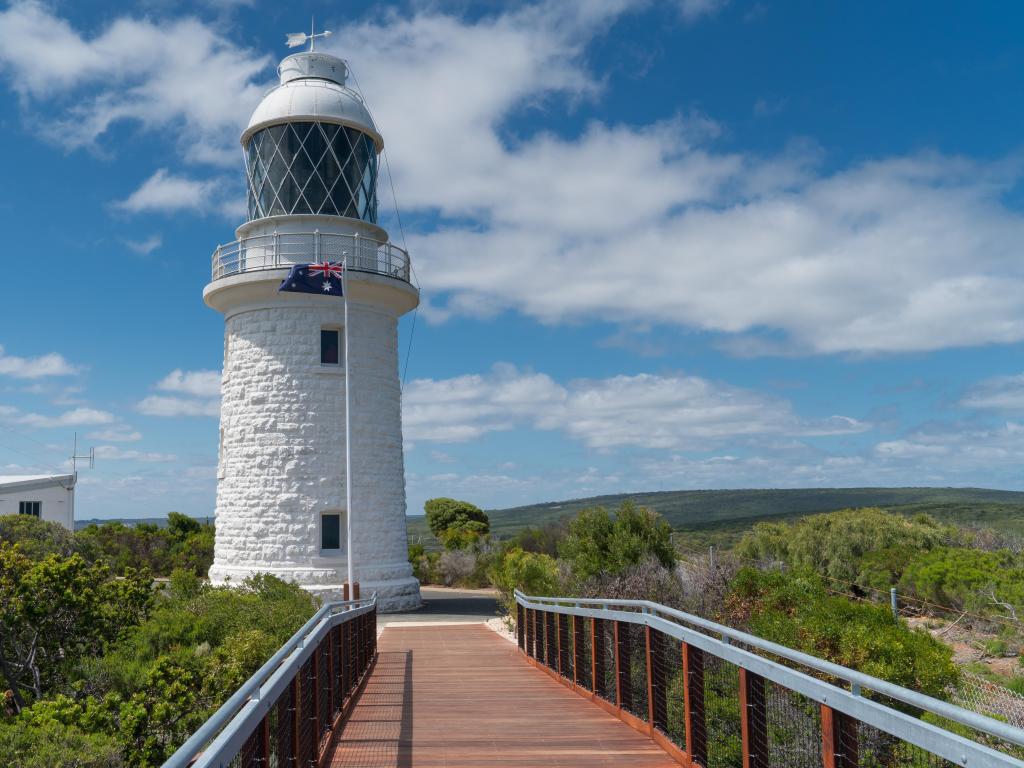 Coastal Route:
Bunbury Dolphin Centre - Learn about these fascinating and intelligent mammals at this great attraction in Koombana Bay.
Busselton Jetty - Stretching out a magnificent 1.8 km in beautiful Geographe Bay, you can walk or take the miniature train to the end of this jetty to enjoy views along the coast.
Cape Naturaliste Lighthouse - Take a guided tour up to the top of the lighthouse for more views across the cape, then enjoy the nearby beaches before continuing your road trip.
Dunsborough Bakery - Pack a picnic for the next part of your trip at this bakery, which is reportedly one of the best in the region.
Eagle Bay Brewery - Enjoy craft beers, regional wines and locally produced food at this brewery with a view.
Meelup Beach - A fantastic place to swim or enjoy the beach, with walking trails right off the beach.
Wilyabrup Sea Cliffs - This section of the Western Australia coast is rugged and rocky, with stunning views. If you're lucky you might even spot migrating whales from the clifftop.
Indijup Natural Spa - This fantastic beach-side retreat is a must for lovers of natural treatments and relaxation.
Gracetown Beach - Surfers should be sure to check out Gracetown, where you can catch some world-class waves. There are a couple of options in the town - South Point is recommended for an easier ride.
Sugarloaf Rock - Hike up to this interesting rock formation near Margaret River, part of Leewin-Naturalise National Park.
Hamelin Bay - Another beautiful beachside stop-off, where you can also enjoy a fantastic range of restaurant choices.
Inland Route:
Wave Rock - This 2,700 million-year-old rock formation is the main attraction on the Inland Route. While you're here you can also check out the nearby nature reserve and hiking trails.
York - The first inland settlement in Western Australia still contains some beautiful historic buildings. Head to York Visitor Centre in the former Town Hall to learn more about the area.
Both Routes:
Treetops at Kings Park and Botanic Garden, Perth - Enjoy views out across the Swan River and nearby Darling Range before you head on out of Perth.
Elizabeth Quay, Perth - This waterfront district is an enjoyable place for a meal or a drink before you set out on your road trip.
Art Gallery of Western Australia, Perth - As well as a great collection of international and Australian art, this gallery showcases artists from Australia and the Indian Ocean Rim.
Cape Le Grand National Park - Explore the white sand beaches and mountain views of this vast national park, where you can also hike, camp or fish.
Lucky Bay - Part of Cape Le Grand National Park, you might find yourself sharing this long, white-sand bay with resident kangaroos.
The Great Ocean Drive - Extend your road trip with this one-hour drive that lets you explore some of the beaches and towns near Perth. This is a great option if you'd like to spend some time at the beach before heading out on the Inland Route.
Twilight Beach - A golden sand beach that you'll find along the Great Ocean Drive, not far out of Perth.
Lucky Bay Brewing - Learn about the microbrewing process then taste some of the local craft beers made on-site.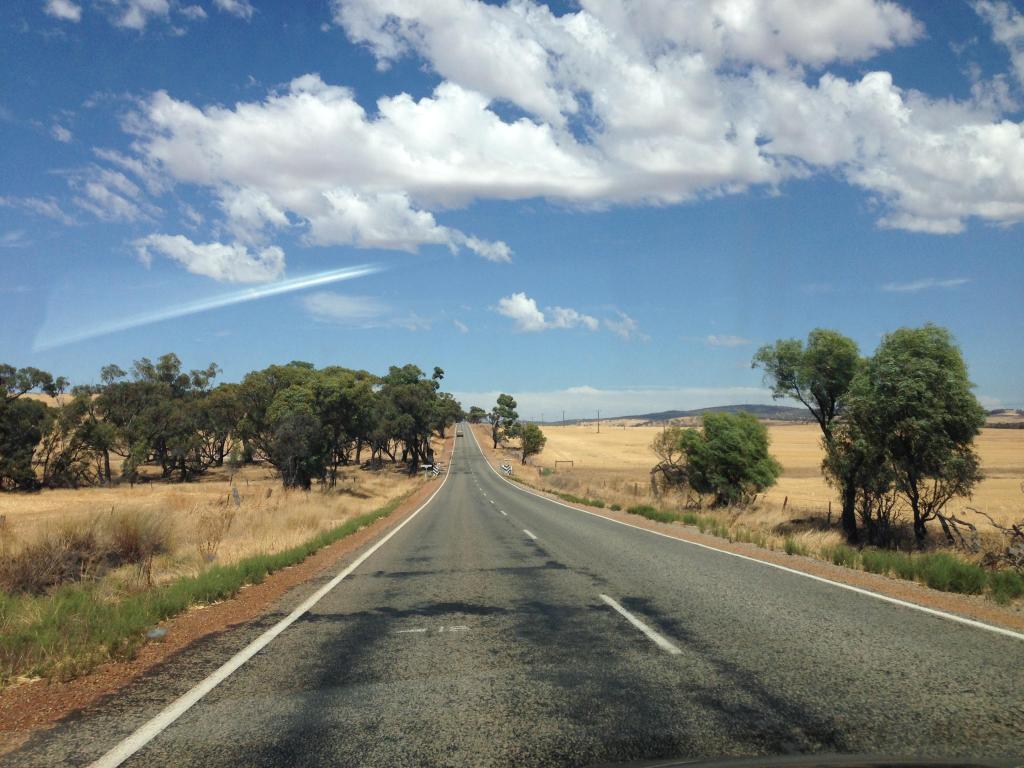 Best time to go on a road trip from Perth to Esperance
It never gets really cold in this part of Australia, so one of the best things about a trip to Western Australia is that you can enjoy the region all year round.
You'll find significant variation in temperatures and rainfall along different parts of the route though, so your decision about when to travel will probably be based on the route you take, and how much you enjoy the summer heat.
Perth is known for its summer heat, with temperatures sitting around 30 degrees Celsius between December and February. You'll also occasionally experience short but heavy rainstorms. It's a similar picture along the Inland Route, but with much less chance of rain.
The Coastal Route is a little cooler in the summer, but still perfect for enjoying the beaches and ocean scenery you'll pass by along the way. Temperatures usually sit comfortably in the mid-to high-20 degrees Celsius from November to April.
If you'd prefer to avoid the hottest months, there are some benefits to taking this trip at other times of year too. You will also avoid the bushfire season this way.
June to October is whale watching season in Esperance, so if you don't mind the cooler weather and a higher chance of rain then this could be a great time to travel.
You could even time your trip to catch the Esperance Wild Flower Festival which runs in late September.
With temperatures along both routes sitting at roughly 8 to 18 degrees Celsius during this period, this won't be every traveler's first choice, especially if you're planning on spending time at the beach.
Whatever time of year you choose to travel, the road trip from Perth to Esperance has plenty going for it and will be a fantastic experience to remember for a lifetime.