Road Trip from Perth to Albany
This short but stunning road trip across Western Australia from Perth to Albany is a fantastic way to get a feel for the region. You will have the choice of traveling via the stunning coastline or inland across the region's former coalfields-both of which will make fantastic drives.
The road trip from Perth to Albany follows the coast for 690 km and takes 8 hours to drive. You'll pass Bunbury, Margaret River and Augusta, plus Greater Beedelup National Park. Or swing inland to explore Myalup State Forest, Collie and Katanning.
With such different routes on offer, and only a few days to explore them, you'll want to get the most out of your journey. So read on to discover which route across Western Australia is calling your name.
How far is Albany from Perth, and how long will the road trip take?
Comparison of road trip routes between Perth and Albany

| Route | Distance | Driving Time |
| --- | --- | --- |
| The Coalfields Route | 540 km | 5 hours 50 minutes |
| The Coastal Route | 690 km | 8 hours 10 minutes |
As Australian road trips go, Albany isn't too far from Perth. In fact, you can make the more direct 540 km journey via the Coalfields Route in just 5 hours and 50 minutes of driving.
The Coastal Route is longer, coming in at just over 8 hours of driving and covering around 690 km. However, the gorgeous sights of the beaches you will drive past, and the Indian Ocean will surely make up for the extra miles.
In theory, you could complete either route in a single day, but that won't leave much time to stop and enjoy the stunning ocean views, charming cities and lush national parks that you'll pass along the way.
For this reason, we'd recommend taking at least 2 or 3 days for your road trip, or longer if you want to kick back and relax on the beautiful beaches of Western Australia.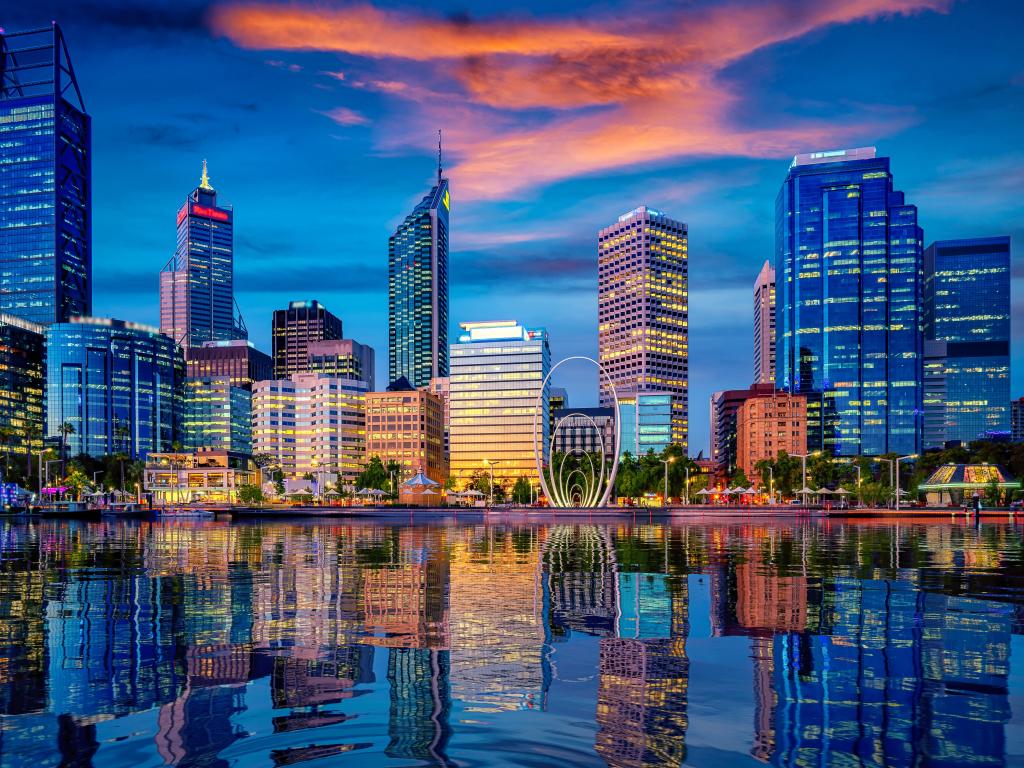 Best road trip route from Perth to Albany
When it comes to the "best" road trip from Perth to Albany, we suggest two equally inspiring alternatives and these options couldn't be more different when it comes to what you will see and do on the way. This is a fantastic road trip as it's full of variety, while not being too long.
The more direct Coalfields Route really highlights the history and architecture of the region, whereas you will feast your eyes on where turquoise waters meet the greenery of the stunning parks on the Coastal Route.
In fact, as you won't be covering too many miles, you also have the option of taking one route out to Albany and the other back into Perth, turning this road trip into a fantastic circuit that offers you the best of both.
But in case you do have to decide between the two, we've put together all the information you need to settle on the best route for your trip.
The Coalfields Route
To take the shorter of our two routes, leave Perth via State Route 2, the Mitchell Freeway, following it south until it joins up with National Route 1 near Preston Beach.
The road then takes you past Myalup State Forest and Leschenault Peninsula Conservation Park, before you turn left onto Raymond Road outside Australind.
After a short while, you'll turn left onto State Route 20 then immediately take a right turn onto State Route 107, Coalfields Road. This first takes you past Wellington National Forest and then on through Collie before you turn right at Bowelling onto the Bowelling-Duranillin Road.
Follow this road through wide open agricultural land until it ends with a right turn onto Darkan Road S. Turn left at the crossroad when you reach the left turn signposted towards Arthur, then right towards Changerup and Kojunup.
When you reach State Route 30, turn right towards Albany, then left towards Katanning as you pass through the town of Kojunup.
If you're stopping in Katanning, make your way into the centre of the town along Clive Road, before heading out southwards via Cornwall Street. This joins up with State Route 120, which takes you south as far as Cranbrook.
Next, turn left onto State Route 30. From here it's easy to navigate the last stretch of the trip - State Route 30 takes you past Tenterden and Mount Barker, before leading you right up to your destination, Albany.
The Coastal Route
Start out from Perth along State Route 2 then State Route 1, as with the Coalfields Route, but continue south along State Route 1 from Australind.
This will take you past the coastal town of Bunbury, where you'll continue straight ahead onto State Route 10 where it splits off from State Route 1.
Continue following State Route 10, the Bussell Highway, past Capel and Yalyalup, before you come across a roundabout on the edge of Busselton where you can detour into the town via Causeway Road.
When you're ready to continue your journey, head back to the Bussell Highway via Strelly Street then continue west towards Vasse.
You'll leave the Bussell Highway again at Margaret River, following signs onto Boodjidup Road as you begin to exit the town. Take the chance to stop and enjoy one or two of the cellar doors you'll pass along this stretch of the route.
At the end of Boodjidup Road, turn left onto Caves Road. As its name suggests, this road takes you past a series of impressive caves which are well worth a visit. You can also pause at Boranup before returning to Caves Road to continue along your route.
Eventually, Caves Road will take you through Hamelin Bay, where you can stop to enjoy the stunning expanse of beach which stretches right up to Boranup Beach.
Next, continue along Caves Road past Deepdene and Jewell Cave, before you meet up with the Bussell Highway once again. Turn right here and follow the road down to Augusta for another opportunity to explore the inlet and ocean.
Head back along the Bussell Highway as far as Karridale, where you'll turn right onto the Brockman Highway.
You'll follow this road, which is a continuation of State Route 10, past Alexandra Bridge and the Brockman Stewart Rest Area, then turn right onto Stewart Road. This takes you past Hilliger National Park before bringing you back onto State Route 10.
Turning right, you'll soon pass Greater Beedelup National Park. From here, continue along State Route 10, now the Vassel Highway, turning left at the T-junction to follow the same road through Pemberton.
Next, take the right turn onto State Route 1, signposted towards Albany. This road will take you the whole of the rest of the way to Albany, passing Mount Frankland National Park, Bellanger Beach, Walpole-Nornalup National Park and Denmark before you complete your trip.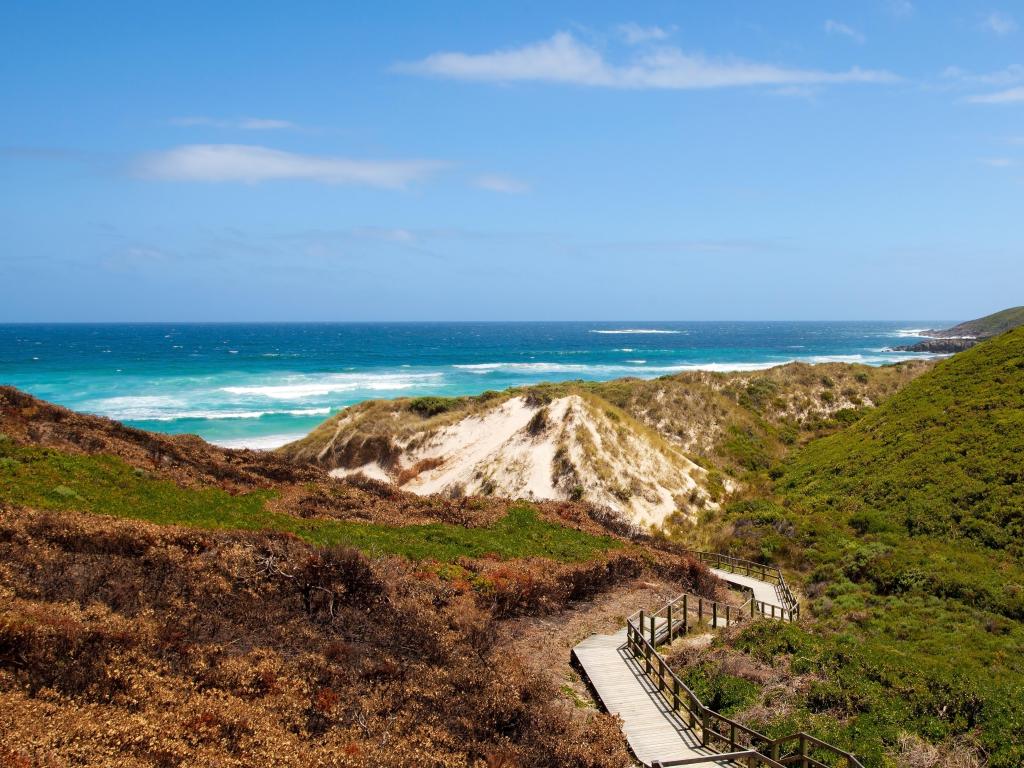 Best places to stop between Perth and Albany
Although you could just power straight on through to Albany from Perth, you'd miss out on the opportunity to really get beneath the skin of this fascinating part of Australia.
We've picked out some highlights if you're planning on turning this journey from a straightforward drive into a memorable road trip.
Immerse yourself in local history at Katanning
If you're taking the Coalfields Route, you should consider stopping for the night at Katanning, a small community known for its interesting cultural and historical links that is located less than 2 hours from Albany.
After a hot day on the road, you could head to the Heritage Rose Garden for a breath of fresh air and some shade. Or if you'd prefer a picnic with some beautiful scenery, you can drive 15 minutes east of town to Lake Ewlyamartup.
While you're in town, our top pick for accommodation is the Premier Mill Hotel, situated in one of the town's most significant historical buildings. The property has been lovingly and stylishly restored and boasts rooms with stunning design elements.
Everything in the town is within walking distance, although with a fantastic on-site restaurant and elegant communal areas where you can enjoy reading a book across the fireplace, you might just want to relax and take in the hotel's ambience.
The hotel is one of the town's main historical attractions, but other historically and architecturally significant buildings include the former F&C Piesse Store and the Katanning Hotel, where you can admire the town's famous murals, painted as part of a project to celebrate street art.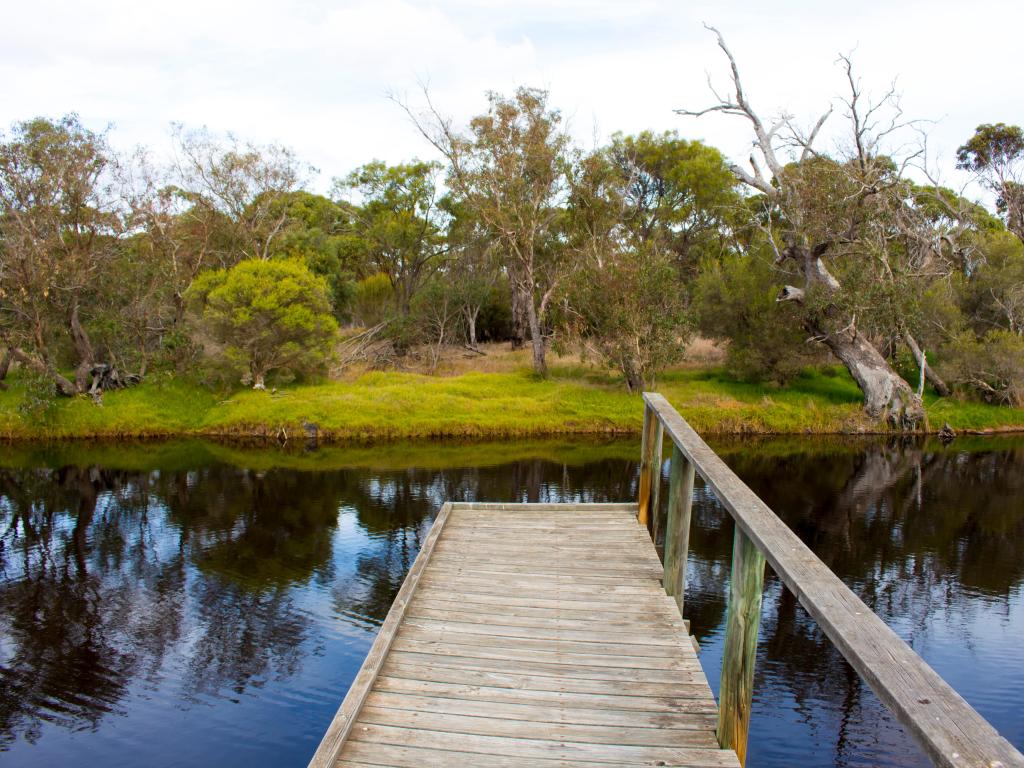 Get closer to nature at Pemberton
If you're taking the Coastal Route you'll find Pemberton around 5 hours into your drive. This puts it a little over the halfway point, with 3 more hours to drive before you reach Albany.
You can really enjoy your natural surroundings in Pemberton, which is renowned for the tall karri trees seen in Gloucester National Park. If you are feeling adventurous, you can even climb the famous 52-metre high Gloucester Tree, for amazing forest views from the top.
Another place with stunning views is Forest Lodge Resort, a fabulous place to stay while you're in Pemberton. The property is home to wild kangaroos and native birds, meaning that you can enjoy the tranquil beauty of the region while you get some rest and recuperation.
Next, ride on the historic tramway (only two trips per day, so check times in advance) at the Pemberton Tramway Company.
If you can stretch your trip out a little longer, Pemberton is also a great place to base yourself while you explore the surrounding national parks and forests. Hawke National Park, Big Brook State Forest and Greater Beedelup National Park are all accessible from here.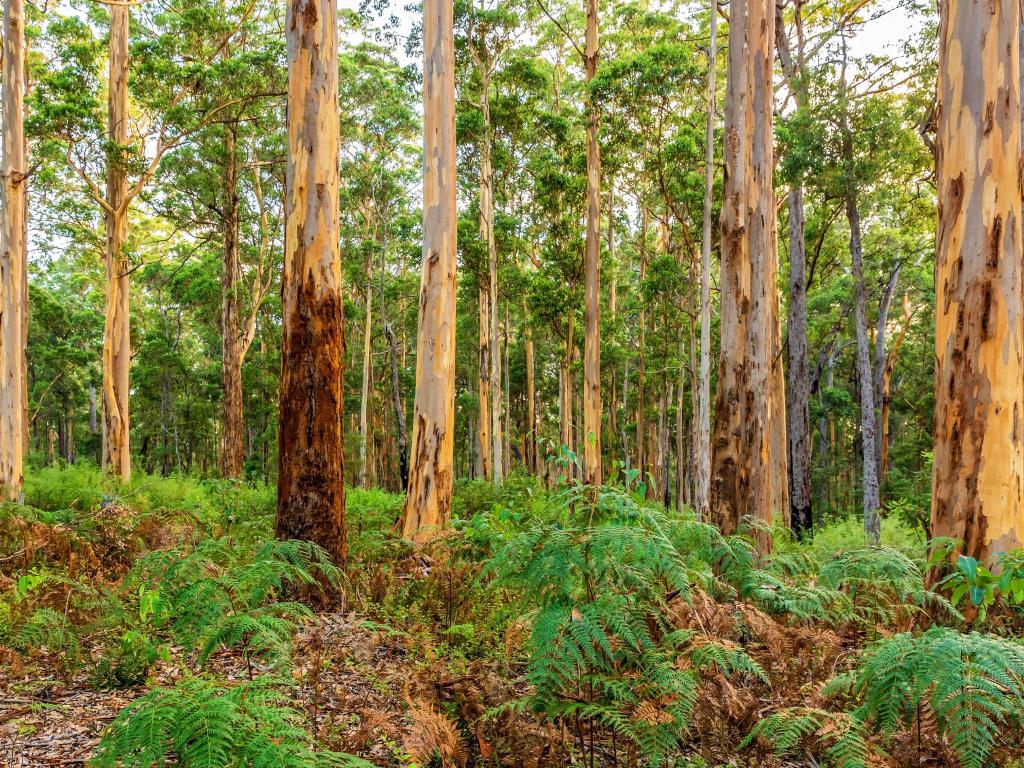 Where to stay when you reach Albany
When you arrive at your destination in Albany, you will want to relax in luxury and comfort. When it comes to where to stay, you can't go wrong with a stay at the Beach House at Bayside.
This absolutely stunning hotel is set in tranquil rural landscapes and is located just minutes away from Middleton Bay and the beach. It's also located nearby the historic Albany town centre, so it will be a fantastic finale to a wonderful road trip.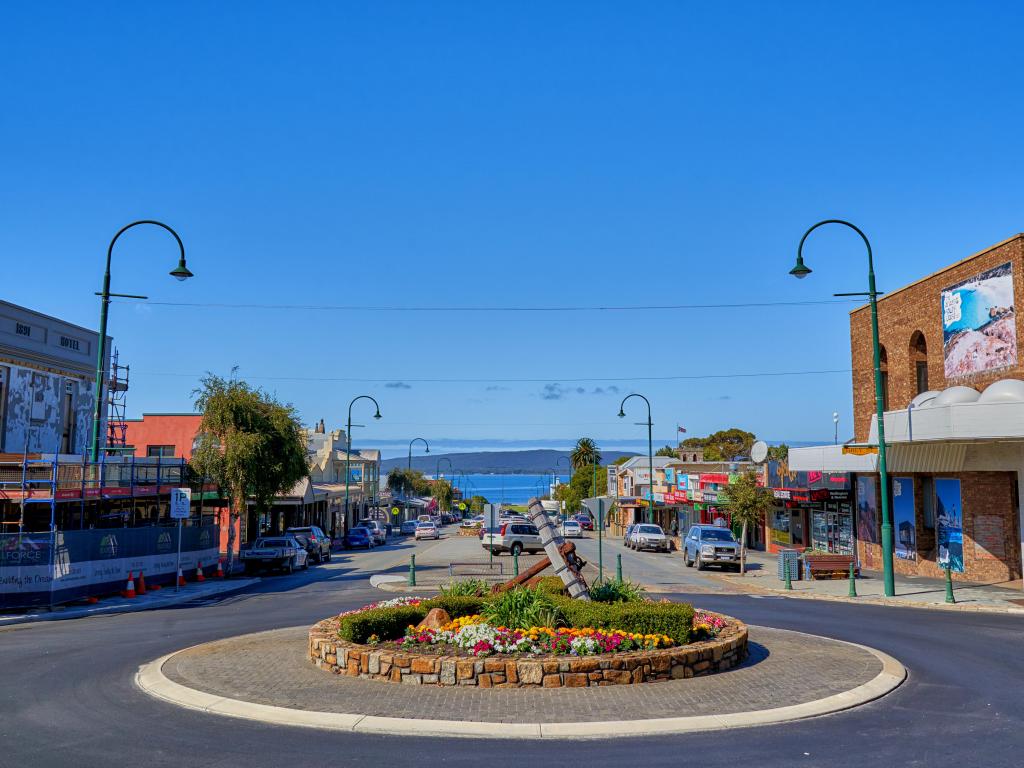 Things to see on a road trip from Perth to Albany
You will drive through some inspiring scenery and exciting attractions on this road trip from Perth to Albany, no matter which route you choose to follow.
It's easy to miss some of the hidden gems on our recommended routes, so read on to make sure you get the most out of your road trip.
The Coalfields Route
Black Diamond Lake - A striking blue lake surrounded by native bushland with clear waters that are just perfect for a dip. You can also enjoy a tranquil picnic by its shores.
The Kodja Place - Created by the Kojonup community, there is an interactive museum to wander through, a rose maze, a gift shop and great coffee from the café.
Gallery Aura - This quirky gallery is a brilliant example of how mixing styles can create a visually dynamic effect.
Trevelen Farm - A quiet and friendly award-winning winery, full of character and offering personalized tastings is renowned for its Riesling.
Katanning Regional Sheep Saleyards - The largest sheep sale yards in the Southern Hemisphere, spanning more than 4 hectares with 1008 selling pens. Come here to take in a live auction – quite an experience!
Mount Melville Lookout Tower - An easy climb to stunning 360-degree views across Albany and Princess Royal Harbor, a perfect place to watch the sunset.
The Coastal Route
Busselton City - Known for its sheltered beach and striking 19th-century jetty - with a wooden pier extending 2 km out to an underwater observatory. It's also home to humpback whales.
Margaret River Region - An area (and small town) known for a vibrant craft beer scene, as well as numerous wineries and great local boutiques. This is a good area for an upmarket hotel stay.
Augusta - Nestled in the southwest corner of WA, this town is a great spot for whale watching and a spot of surfing.
Greater Beedelup National Park - Home to grand, imposing Eucalyptus trees, this national park is a regional favourite, with its great sense of tranquillity. Be sure to check out the cascades.
Mount Frankland National Park - This huge national park (31,000 hectares) set within the Walpole Wilderness, is dominated by an impressive granite peak
Bellanger Beach - A peaceful and pristine beach with easy access, just south of Walpole-Nornalup National Park. Head 20 minutes down the road to Conspicuous Cliff for an incredible array of lookout points over the ocean
Valley of the Giants Tree Top Walk - Fun for all the family, this collection of guided tree top walks is complemented by educational programs and a discovery center.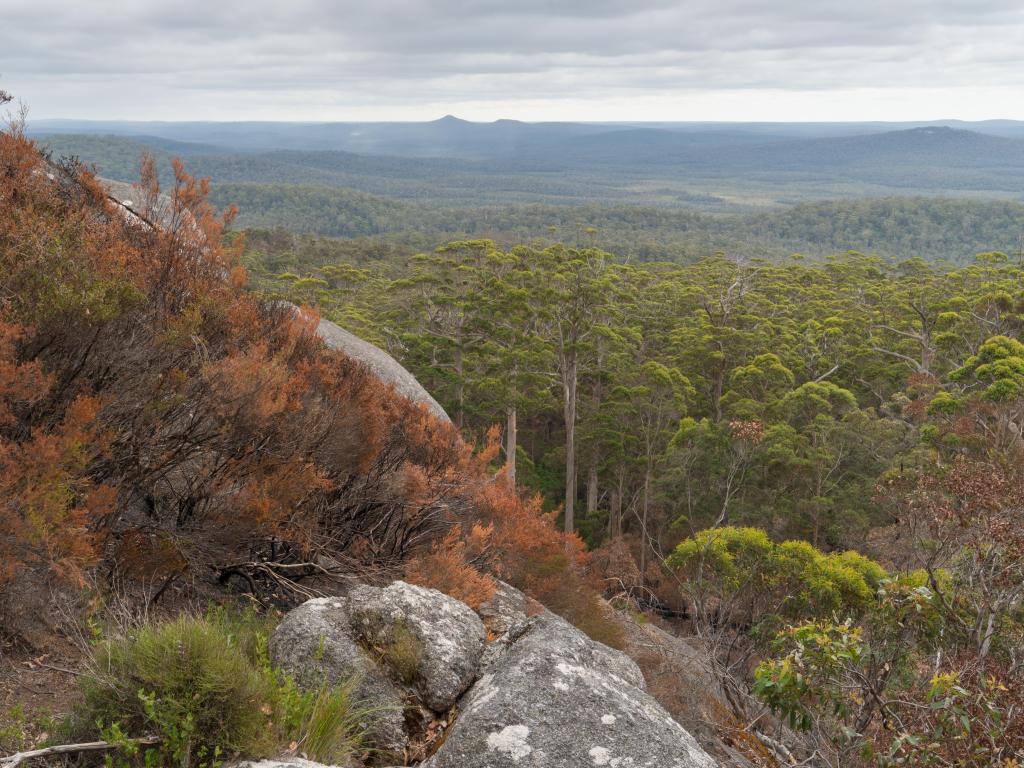 Both Routes
Yalgorup National Park - The visually striking scenery here is full of thrombolites - clotted structures formed from sedimentary grains by microorganisms. They make for a truly unusual sight.
Bunbury - This conveniently located port city provides another opportunity for spotting wild bottlenose dolphins (head for Koombana Bay for this). Bunbury Wildlife Park is also worth a visit while you're here.
Collie - A small detour if you're taking the Coastal Route, but one that's worth the time. Collie is an town rich in history, thanks to its instrumental role in the area's coal mining industry.
Coalfields Museum and Historical Research Centre - A wonderful museum situated in Collie, displaying the history of the town, including but not limited to coal mining.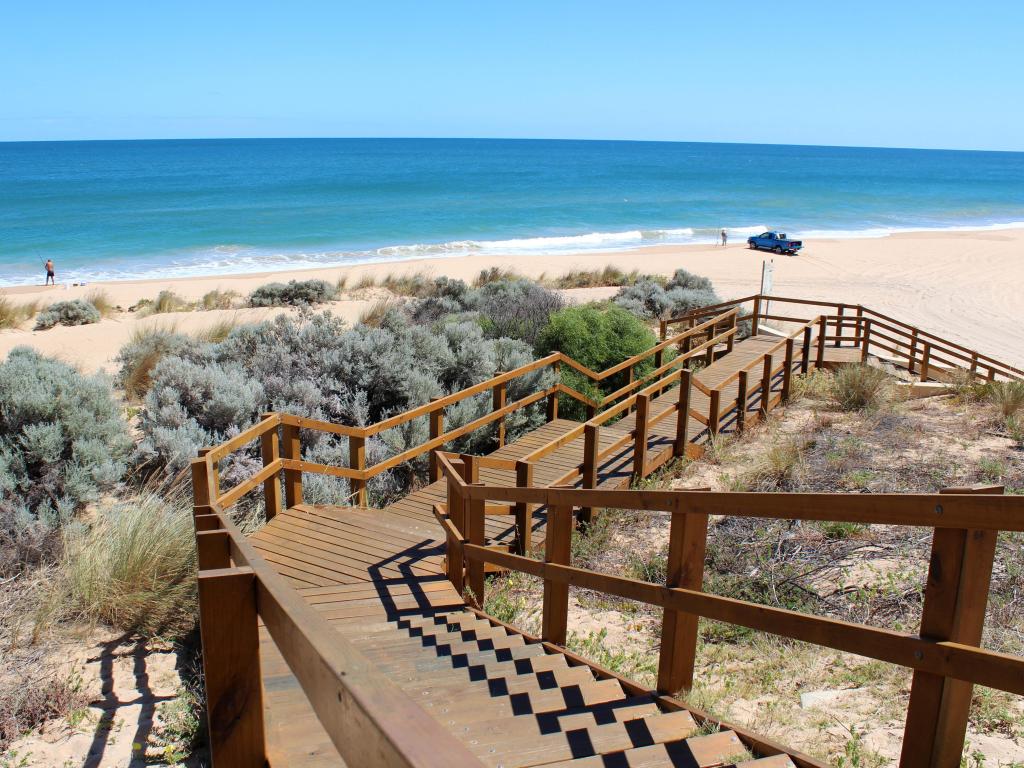 Best time to go on a road trip from Perth to Albany
Depending on what time of year you take this road trip, you might have some very different experiences. Albany can be wet and cold in winter, and it's the slowest season for tourism, meaning that attractions en route may not be open at this time of year.
However, if you're passing by from May to September, you'll find the best time for watching Orca whales in the nearby waters.
Foodies should head to Albany in May for the annual Albany Food Festival, which celebrates local produce and culinary talent over several days. You will also get to sample some local wine, produced by the famed Australian vineyards.
In contrast, summer is a fantastic time to enjoy the warm weather and beautiful setting of Albany. The climate is still fairly mild (especially by Aussie standards) with high temperatures averaging 23 degrees Celsius in January and February.
If you're taking the Coalfields Route, you'll find things a little warmer but still pleasant for travelling, with summer temperatures in the high 20s and low 30 degrees Celsius from December to February,
Both fall and spring also offer some warm weather, and because tourism is much slower in spring it's likely to be more affordable. Just be aware that Albany still experiences an average of 13 days of rain in September, although this drops to just 7 days by November.
Whatever time of year you decide to travel, there's so much to see along this route that you're guaranteed to arrive at your destination with some great new memories of your trip.