Road trip from Perth to Exmouth
Get ready to experience the unique landscape of Western Australia on this fantastic road trip from Perth to Exmouth. Along the way, you will enjoy some wonderful natural highlights, whether you travel inland through the outback wilderness or up the beautiful coast, ending up at Exmouth's picture-perfect beaches.
The 2,000-kilometre road trip from Perth to Exmouth takes over 35 hours to drive. Coastal highlights include Yanchep National Park, Shark Bay, and Ningaloo, with Karijini National Park, Mount Magnet and Charles Knife Canyon on our Inland Route.
We've selected the best routes, attractions, and overnight stops to help you get the most from your Western Australian adventure. So, join us as we hit the road on this memorable road trip from Perth to Exmouth.
How far is Exmouth from Perth, and how long will the road trip take?
Comparison of road trip routes between Perth and Exmouth

| Route | Distance | Driving Time |
| --- | --- | --- |
| The Coastal Route | 1,890 miles | 40 hours |
| The Inland Route | 2,050 miles | 35 hours |
There are two great routes for this road trip, both of which have plenty to enjoy, especially for nature lovers.
The Coastal Route is the slightly shorter by distance, at 1,890 kilometres, with a direct driving time of 40 hours. On this route, you can meander up the coast and take regular detours to discover Western Australia's beautiful beaches.
Alternatively, the Inland Route is 2,050 kilometres, but has a shorter non-stop driving time of 35 hours. This route takes you deeper into Western Australia to explore the desert landscape and some stunning national parks.
For both routes, the minimum time needed to complete the trip would be four days. However, we recommend taking six days to allow for regular breaks from the road and to enjoy all the sites and attractions along the way.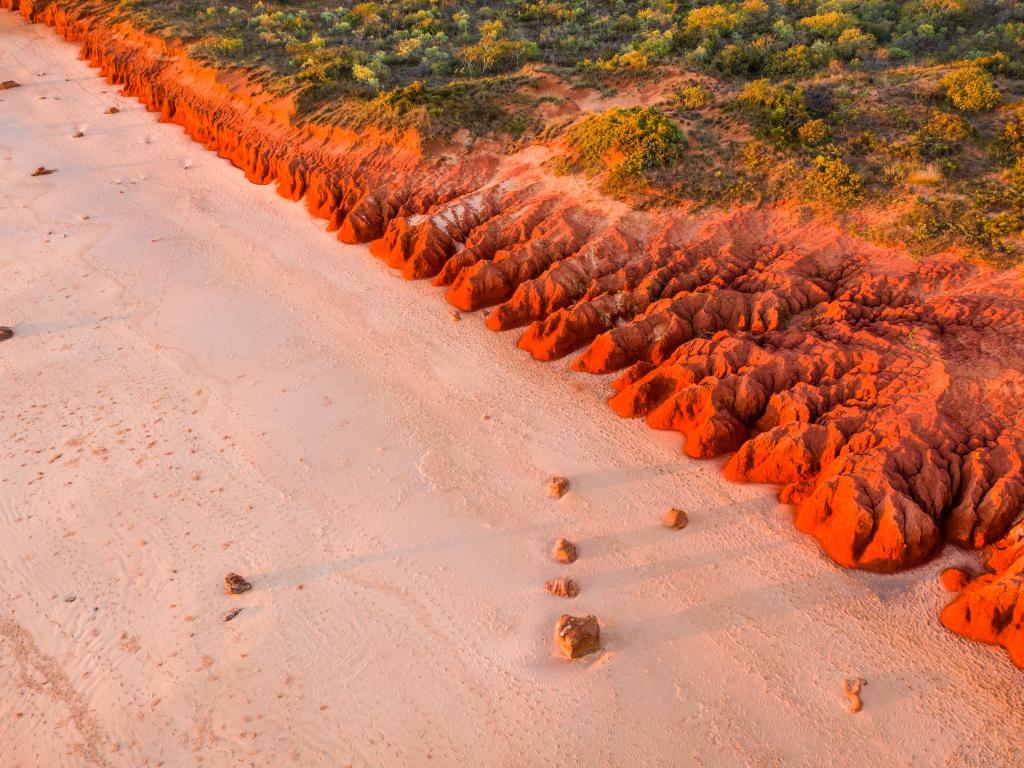 Best road trip route from Perth to Exmouth
Our routes are diverse and offer contrasting experiences. Your choice will therefore really come down to your preference for a desert or coastal landscape.
The Coastal Route runs parallel to the Indian Ocean. As such, there is ample opportunity to enjoy the beaches and small coastal towns, as well as to take in the sights of Yanchep National Park and Kalbarri National Park. Additional highlights include Shark Bay, Coral Bay, and Turquoise Bay.
Meanwhile, our alternative route takes you inland from Perth for a drive along the Great Northern Highway through the heart of Australia's Golden Outback. Highlights of the Inland Route include the gold mining town of Mount Magnet, as well as Karijini National Park.
Of course, even if you opt for the Inland Route, once you reach the destination stop, you can enjoy the lovely beaches around Exmouth.
Whichever route you choose, be aware that this trip involves long stretches of driving where there will be little (if any) amenities. So, fill up the fuel tank before departing, carry enough water and food, and take a physical map in case you lose phone service.
The Coastal Route
For this route, drive north from Perth and, shortly after, enjoy your first stop in the city of Joondalup. From here, continue north for Yanchep National Park.
Once you've explored the park, head north once more. Just past Moore River National Park, turn right and pick up Highway 1. Take a detour left on to Cooljarloo Road for The Pinnacles Desert and Nambung National Park.
Rejoin Highway 1 and drive north. Stay on this road as it takes you back towards the coast at the town of Dongara. From here, continue to follow the coastline as you make your way towards the city of Geraldton.
Leave the city via Highway 1, which snakes north, taking you to Kalbarri National Park.
From the park, take Highway 1 and keep your eyes out for the left turn on to Shark Bay Road, which is clearly marked "Shark Bay World Heritage Area". Follow the road to Monkey Mia within the Shark Bay UNESCO World Heritage Site.
Once you've enjoyed time at Shark Bay, rejoin Highway 1 for the drive north to the coastal town of Carnarvon. From here, travel north once more.
At Minilya, leave Highway 1 and follow Minilya-Exmouth Road north. Take a left on to Coral Bay Road to explore the coastal town of Coral Bay, then continue north for the Ningaloo Coast.
From here, enjoy the final stretch of coastal scenery as you make your way around the peninsular, finally arriving at your destination, Exmouth.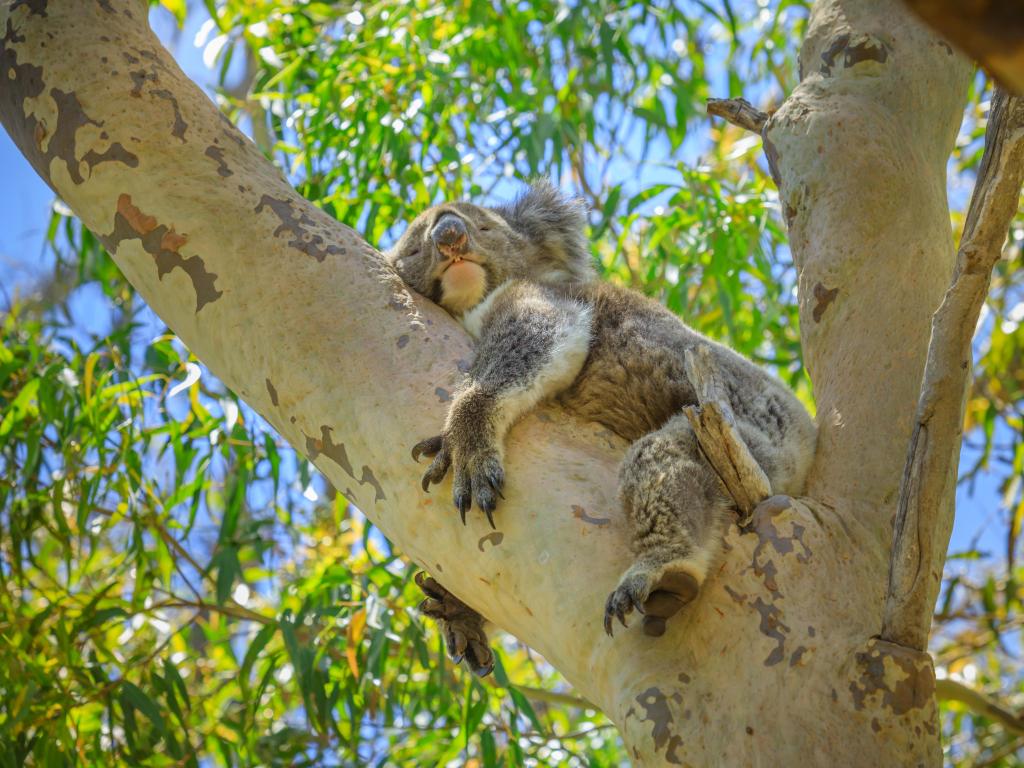 The Inland Route
Drive north from Perth, this time heading to the suburb of Bullsbrook. Continue north on National Highway 95, known as the Great Northern Highway, as you make your way to the farming town of Wubin.
Drive inland via National Highway 95, past Karroun Hill Nature Reserve, as you continue on to Mount Magnet and Lake Austin.
From here, travel north on the Great Northern Highway through the heart of the Golden Outback, maybe stopping at the towns of Meekatharra and Kumarina before arriving at Newman.
From Newman, the road curves towards the coast. Take the signposted left turn on to Karijini Drive for Karijini National Park. Once you've explored the park, keep heading left towards the coast.
Take a left on to Highway 1, signposted for Nanutarra. When you see the sign for Exmouth take the right on to Burkett Road. Join up with Minilya-Exmouth Road heading north for the final stretch of the journey to Exmouth.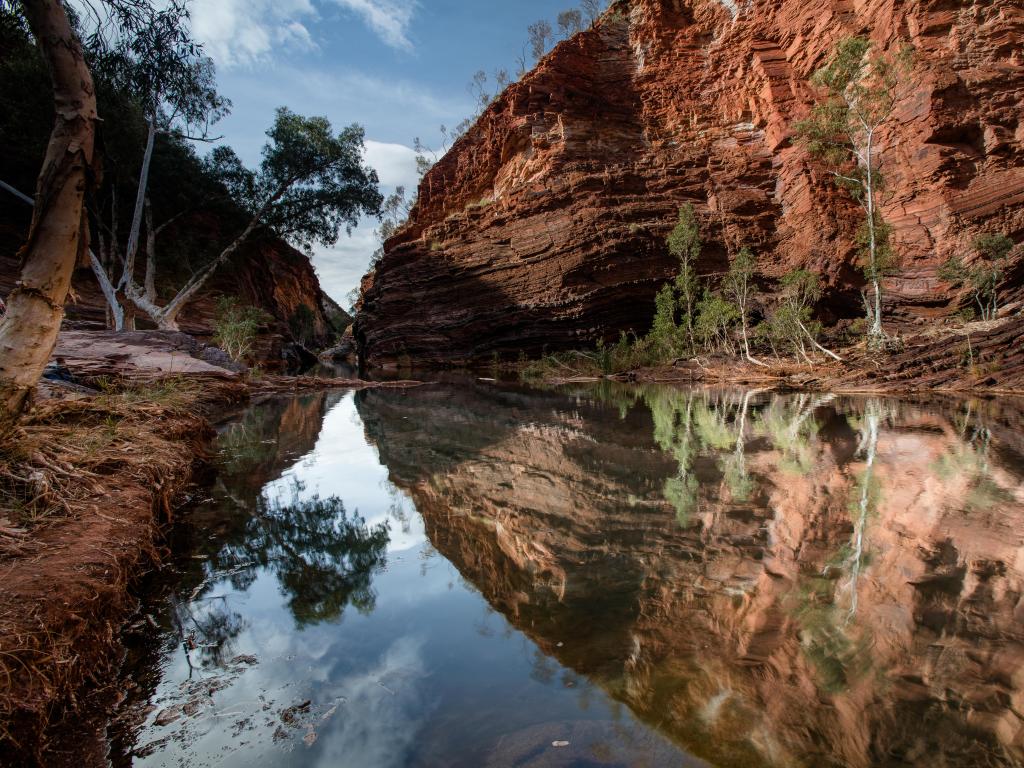 Best places to stop between Perth and Exmouth
With plenty of kilometres to cover and long stretches of "wilderness" driving, frequent stops are a must on both our routes. Fortunately, there are some great options for taking a long break from the road.
Here are just two places that are worthy of an overnight stop, plus a suggestion for a hotel in Exmouth.
Get up close to nature at Shark Bay
On our Coastal Route, we strongly suggest a lengthy stop at Shark Bay, which is about 800 kilometres from Exmouth.
A UNESCO World Heritage Site set on the most western point of Australia; Shark Bay has sheltered coves with large seagrass beds. The area is home to marine wildlife, including the endangered green and loggerhead turtles, dolphins, and sharks.
While you're here, visit Francois Peron National Park with its clear blue seas and red cliffs. Walk to Skipjack Point to spot marine wildlife or go sea kayaking. Famous for its snorkelling, you can check out corals through the clear and shallow waters.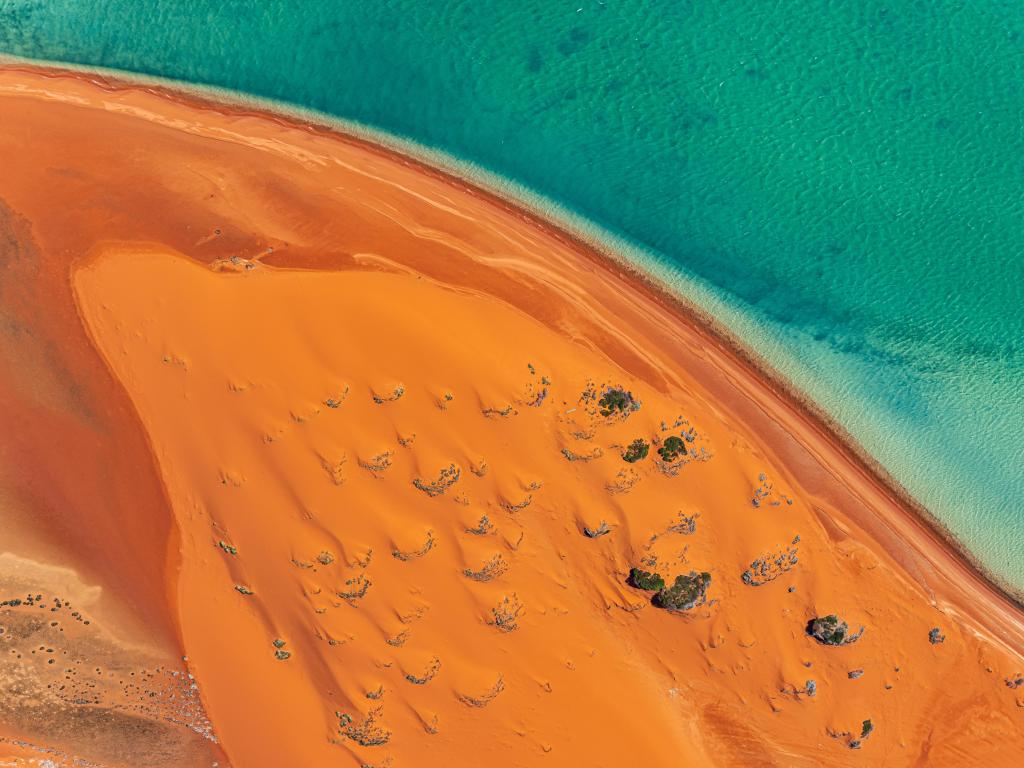 Another of the area's attractions is the eco-friendly Ocean Park Aquarium, where you can enjoy the marine wildlife, including the hourly shark feeding.
Shark Bay is popular for camping, but for a more luxurious overnight stay, we highly recommend the beachside RAC Monkey Mia Dolphin Resort. The leading hotel in the area, it features a welcoming swimming pool and hot tub, both of which are open year-round. There is also a bar and restaurant on-site.
Look forward to relaxing in one of the comfortable rooms, with options to suit all budgets. If you want extra space and a nice view, the Garden View Rooms and Beach View rooms offer apartment and studio-style accommodation.
A short drive away, you can find pretty Shell Beach and the Ocean Park Aquarium. However, with the beach literally on your doorstep, you might just want to leave the car behind and explore the beautiful location on foot.
Modern comfort in Newman
Our recommended Inland Route stop is the town of Newman, which, again, is about 800 kilometres from your destination.
One of the larger towns on the route, Newman makes a convenient stop. The modern town was inhabited by Europeans in the 20th century, so it's a good place to learn about, and see firsthand, the changing face of Australia. Famous for mining, the area around Newman has two mines, the largest of which is Mount Whaleback.
While you're here, visit Radio Hill Lookout. There are roads to drive up, or if you fancy walking, there are paths. At the top, you'll get great views of Newman, especially at sunset.
Drop by Newman Visitor Centre to ask about a four-wheel drive tour to go off-roading and to swim at hidden waterholes and gorges. You could also hike to the summit of Mount Newman, in the Pilbara area, for panoramic views of the Ophthalmia Ranges and adjacent plains. If you want something a little less active, visit Martumili Artists, which displays aboriginal art.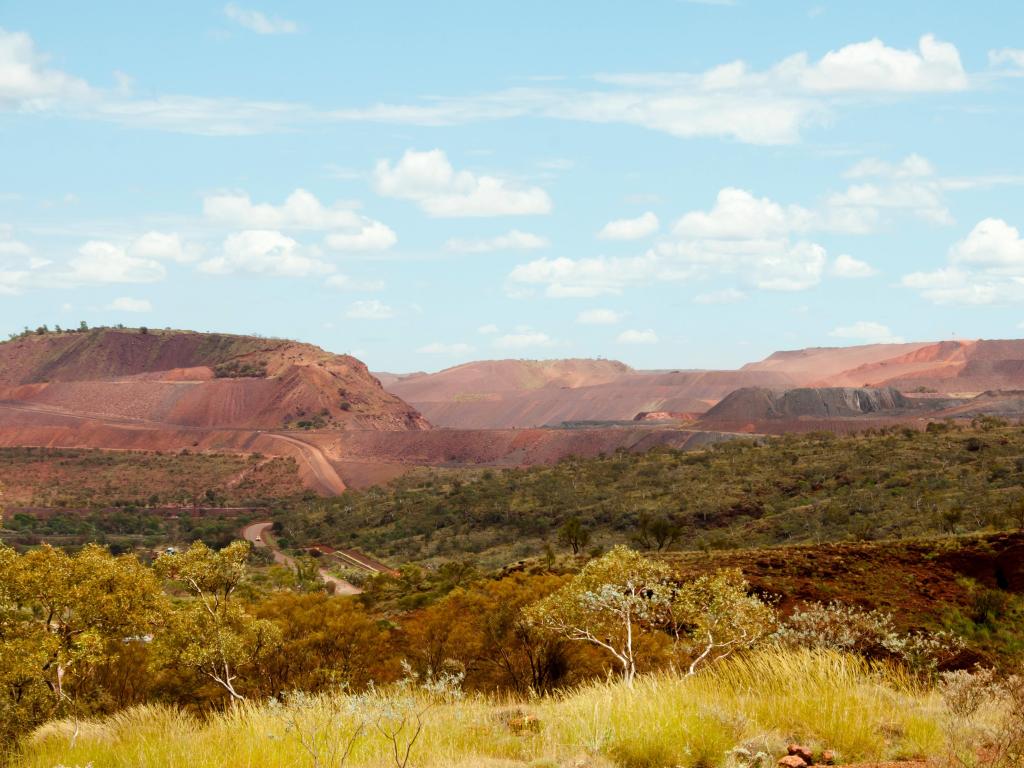 A superb option for an overnight stay in Newman is the modern Mia Mia House in the Desert. Located about a kilometre from the visitor centre, the hotel is a terrific base during your time in Newman. Radio Hill Lookout is around six-minutes' drive away.
At the hotel, you can use the fitness centre or unwind in the lovely garden with its outdoor fireplace, before enjoying a restful night in one of the well-appointed guest rooms.
You will find a bar and a restaurant on-site or you may prefer to take advantage of the free parking and stroll into town to find a selection of food and drink options.
Where to stay when you reach Exmouth
Once you reach your destination, treat yourself to some luxury and home comforts at the Exmouth Escape Resort. Take a well-deserved dip in the large outdoor swimming pool or stroll on the beach, which is just yards away. Exmouth Marina is also within easy reach.
The accommodation comprises spacious and well-equipped apartments, which feature kitchen and BBQ facilities. Dine al fresco on the private patio or relax inside and enjoy the air-conditioning. There is also a comfortable living room area.
You'll find that this setup gives you the perfect balance of style, convenience and home comforts. Hotel facilities also include free parking and an on-site bar.
Things to see on a road trip from Perth to Exmouth
There are plenty of highlights on this road trip. To help you plan your travels, we've picked out a selection on each route.
The Coastal Route
Joondalup - Located on charming Hillarys Boat Harbour, here, you can visit the AQWA aquarium where you can dive and snorkel with sharks.
Yanchep National Park - A great place for wildlife-spotting. Enjoy a picnic as kangaroos jump nearby, then walk along the koala boardwalk or take a Crystal Cave Tour for some underground exploration.
The Pinnacles Desert - Spend time at one of Western Australia's most frequented nature spots. You'll find native wildlife and the natural limestone formations known as The Pinnacles, located within Nambung National Park.
Dongara - Take a distillery tour at the Illegal Tender Rum Company to learn more about this award-winning rum. Book your tickets online.
Geraldton: Enjoy a visit to the Museum of Geraldton and take a look inside the impressive St. Francis Xavier Cathedral.
Kalbarri National Park - Marvel at the gorge created through the red sandstone by the Murchison River. You can hike down to the river, but the star attraction is the Kalbarri Skywalk.
Carnarvon - Carnarvon has plenty of natural beauty spots, including the Carnarvon Blowholes. The force of the tide travelling through caves causes small holes to erupt with jets of seawater.
Coral Bay - A popular destination for snorkelling, at Coral Bay, you can also visit the coral gardens and enjoy views of the lovely white sandy beaches. Try Bills Bay or take a four-wheel drive tour to other snorkelling hotspots.
Ningaloo - Famous for its UNESCO World Heritage-listed reef, here you can swim with whale sharks, manta rays and humpback whales. If that's a little too close for comfort, take a glass-bottom boat tour instead.
Turquoise Bay - Swim, drift snorkel or take a stroll at the outstanding beaches of Turquoise Bay, which often appear in surveys of the best beaches in Australia. It's famous for the sea's striking deep turquoise colour.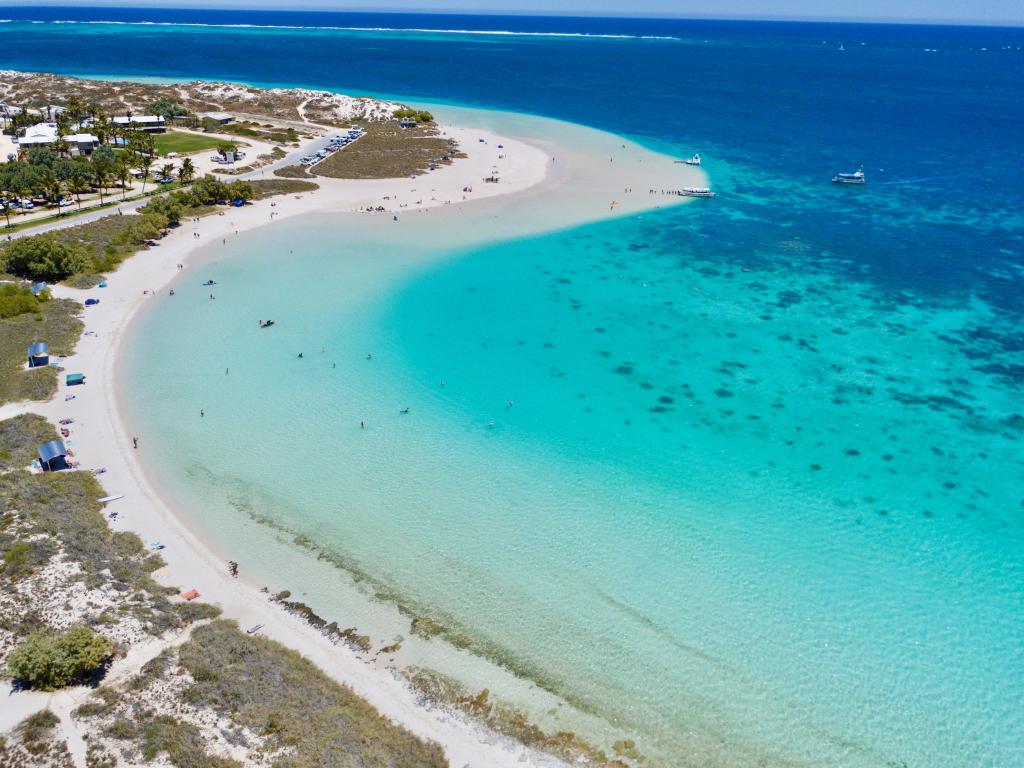 The Inland Route
Bullsbrook - Spend time at Perth's Outback Splash water park. You can also take a slight detour to Walyunga National Park and walk the Aboriginal Heritage Trail, enjoy a peaceful picnic, or have fun canoeing.
Wubin - Stop at this town located deep in the Golden Outback for a picnic at Wubin Rocks, with its pretty wildflowers.
Mount Magnet - Follow the Tourist Trail, a 37-kilometre trail from the town centre that passes through new and abandoned goldmines. You can also take in the views at Warramboo Hill, with a cave and natural amphitheatre.
Lake Austin - Austin is an abandoned town located on an island surrounded by Lake Austin, where you can experience the wilderness of the outback.
Cue - Explore the historical buildings of Cue and discover its relevance in gold production. There's also rock art created by aborigines at Walga Rock, which is said to be 10,000 years' old.
Meekatharra - Visitors can try their hand at prospecting in this former gold rush town. The Meeka Town Heritage Walk and Creek Trail showcase the territory and its history.
Kumarina - Experience the Golden Outback wilderness at Kumarina. The town has a population of just over 50 and comprises a roadhouse, tavern, motel, restaurant, camping and wildlife sanctuary.
Karijini National Park - Here, you can discover gorges surrounded by ancient rock, cascading waterfalls, and small swimming holes.
Ex Giralia - Well-known for its fossils, this is also a popular site for viewing the flora and for birdwatching. Travel north to the "mouth" of the Gulf of Exmouth, where the outback meets the coast.
Charles Knife Canyon - Reachable by Charles Knife Road, the canyon features a 22-kilometre drive with dramatic views. There's a lookout en route with picnic tables, and from Thomas Carter Lookout, there's a six-kilometre trail.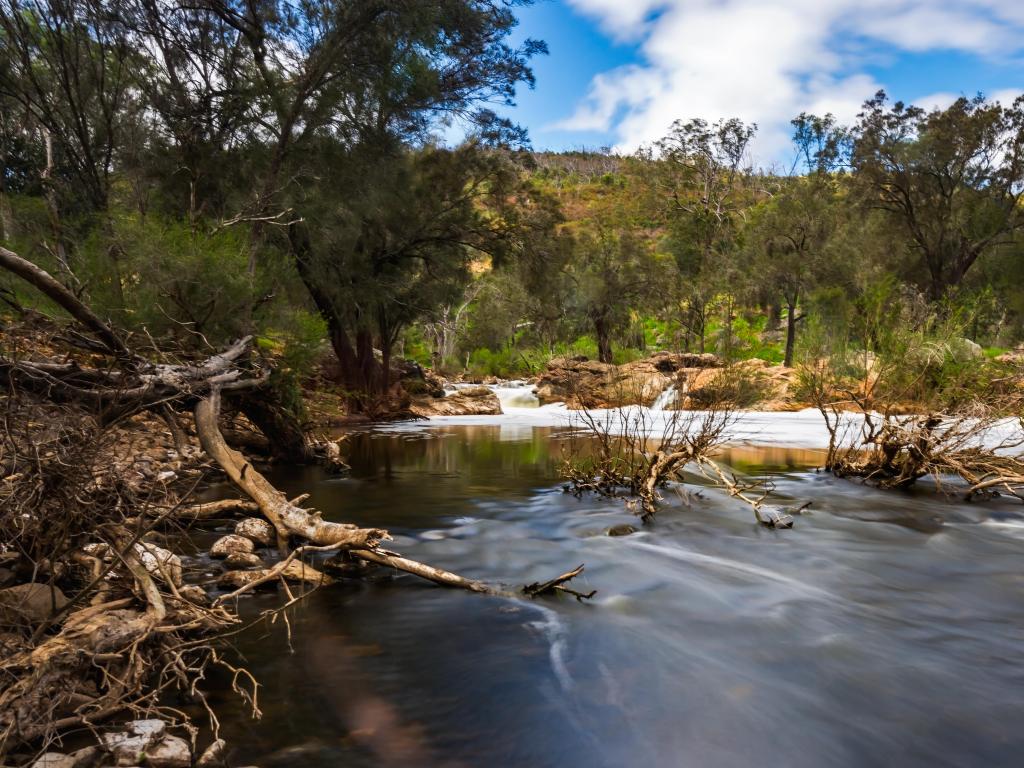 Best time to go on a road trip from Perth to Exmouth
Exmouth is a year-round destination, with a hot desert climate and mostly clear conditions throughout the year. Although temperatures drop during winter, it remains pleasant.
The hottest month is usually January, with average highs of 38 degrees Celsius. The summer months between December and February are extremely hot.
Given the amount of "wilderness" driving involved on this trip, we strongly suggest checking the weather conditions prior to setting off. Travelling in the extreme heat can be dangerous, so stay tuned to local advisories.
The coldest month in Exmouth is July. Daytime temperatures reach 24 degrees Celsius, but the open landscape brings a night-time chill, when temperatures drop to around 11 degrees. Winter is from May to August.
In March and April, expect average highs of between 33 and 36 degrees Celsius. It rarely drops below 20 degrees at night. October is the most temperate time to visit, ranging between 16 and 33 degrees.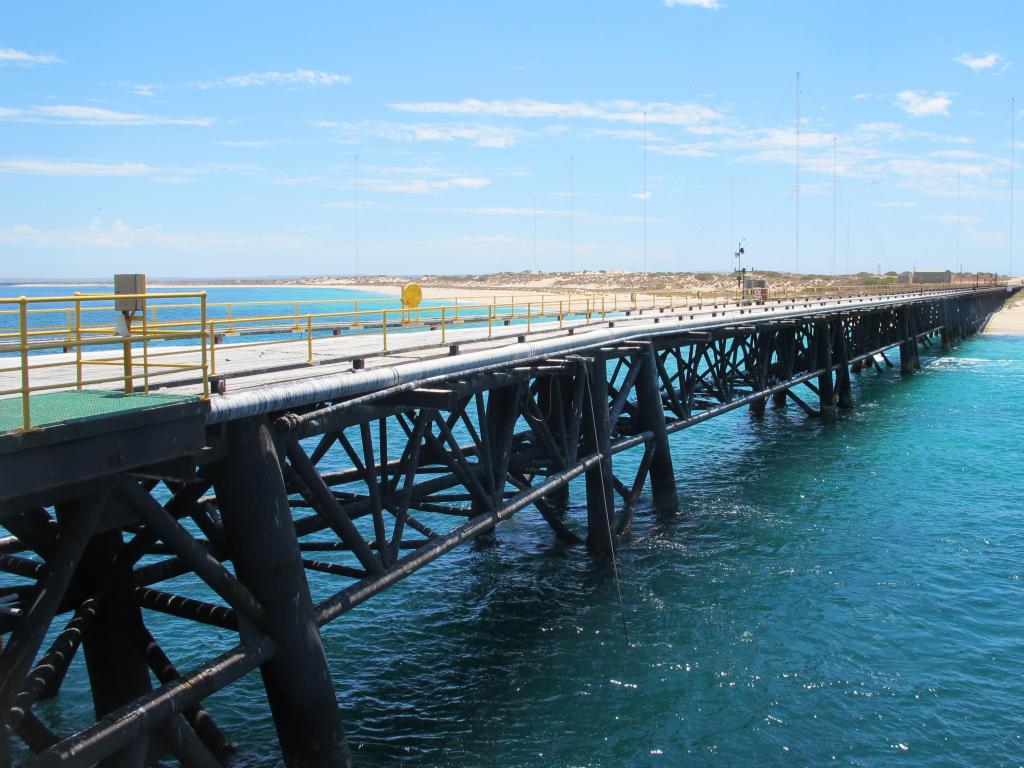 If you're looking to take in the festivities of a local event during your trip, consider timing your travels around "Shore Leave", which is typically held in April each year in Geraldton. Traditionally the name given to time off for naval workers, Shore Leave is now an annual four-day event that celebrates the food, culture and the sense of adventure that makes this a region like no other. The name Shore Leave is also reminiscent of the area's rich seafaring history and the traditions associated with coastal life.