Road Trip from Portland to Denver
The majestic Rocky Mountains separate the cities of Portland and Denver. If you want to go on a memorable adventure driving through the heart of this famous mountain range, consider a road trip from Portland, Oregon to Denver.
The 1,600-mile road trip from Portland to Denver takes 29 hours of pure driving. Notable attractions include Umatilla and Payette National Forests, Craters of the Moon Monument and Preserve, Rocky Mountain National Park, and Salt Lake and Twin Falls.
If the sound of a mountain road trip intrigues you, read on for more details about where to stop, the best route to take, and what to see along the way.
How far is Denver from Portland and how long will the road trip take?
The road trip from Portland to Denver is approximately 1,600 miles. You could drive this in as little as three or four days, although it would be better to take at least a week if not more. Try to factor in at least one extra day for every city or town you might want to stay in.
The route encompasses dramatic mountain scenery and interesting cities, so it would be a shame to rush the trip - all the prettiest forests and parks come in quick succession on this trip, so slowing things down will definitely be rewarding.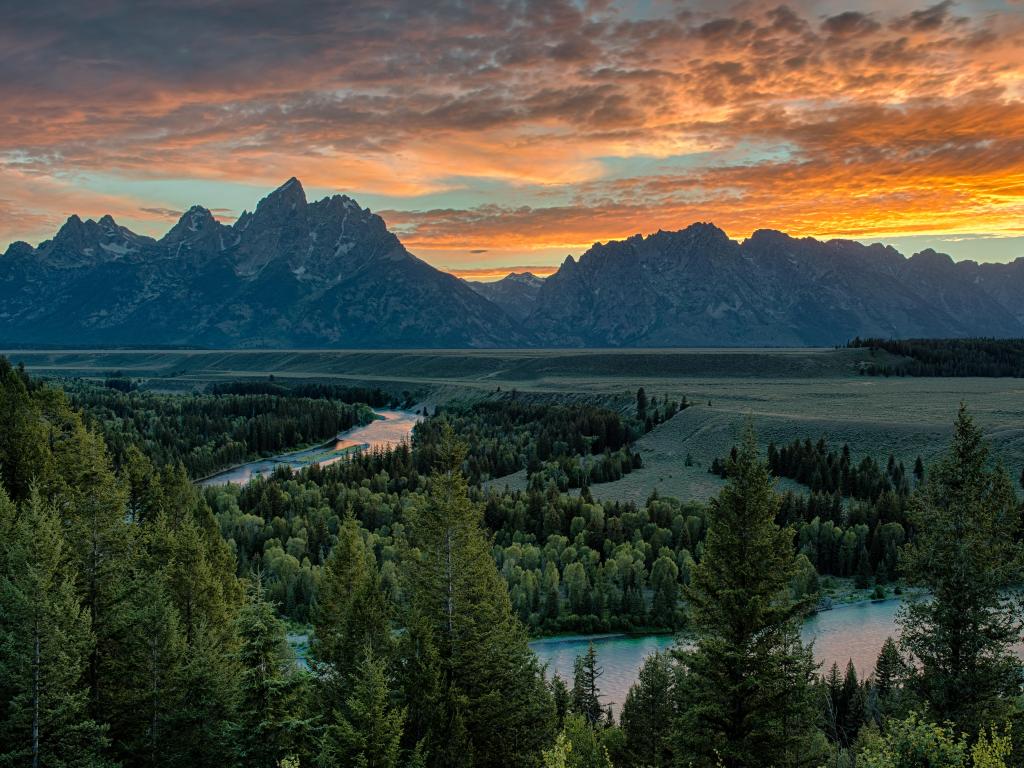 There are a few areas where traffic could be a problem, notably Boise, Salt Lake City, and the outskirts of Denver. The best advice would be to avoid these areas at rush hour, so consider your timing before you set off.
With all that said, Salt Lake is technically an optional stopover along this route anyway, so all things considered, you can expect the majority of the drive to be relatively free of congestion.
The route mainly consists of interstate driving, which makes it a very quick and easy route. This also makes the route suitable for winter driving, and many of the destinations on this road trip are popular winter sports places.
Best road trip route from Portland to Denver
The best road trip route from Portland to Denver will take you across the breathtaking Rocky Mountains, past the Great Salt Lake, and into Denver. This route also happens to be the one packed with the most scenery, making it your best pick by default.
There is a small fork in the road in the second half of the route that offers some variation depending on the time of year you visit - neither pick is 'better' than the other, so consider taking one on the way to Denver and the other during the return trip to change things up.
Road trip route from Portland to Denver
Take Interstate 84 out of Portland, driving between Mt Hood and Gifford Pinchot National Forests. Just before reaching Snake River, the route is flanked by Umatilla, Malheur, and Wallowa Whitman National Forest - explore these places before pulling into Idaho.
Next up are Payette, Boise, Sawtooth, and Salmon-Challis National Forests, followed by Twin Falls. Take a break here, then move on to visit Craters of the Moon Monument and Preserve just north of town.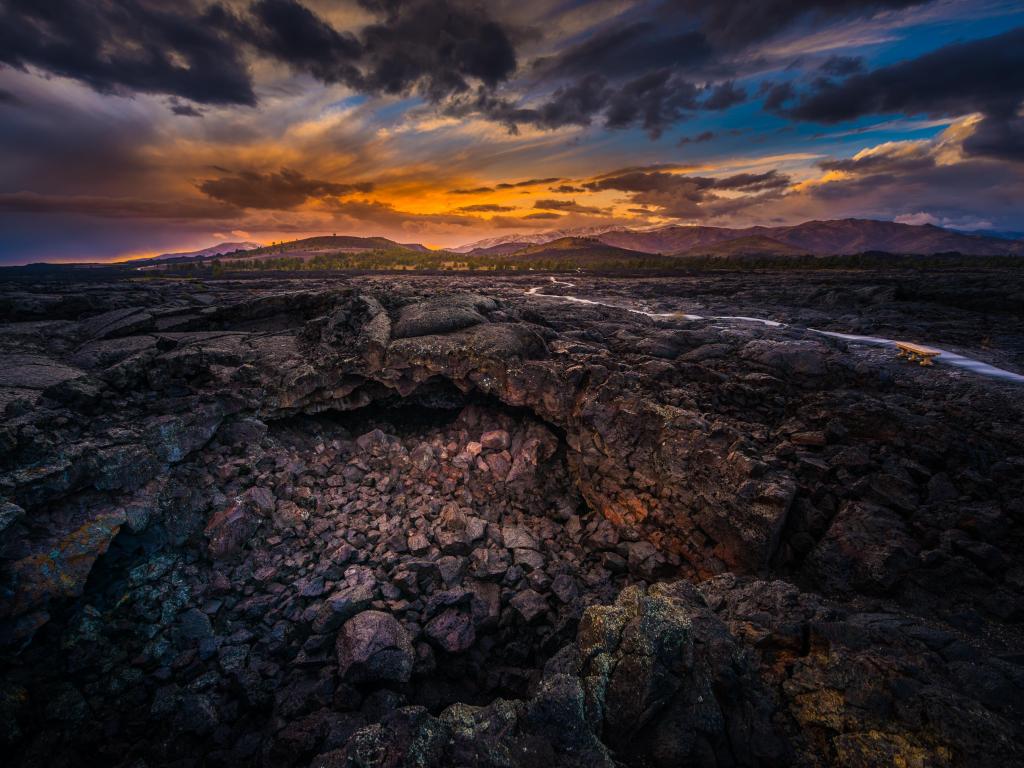 Once you're done there, you have two options for the rest of the drive - one thing you can do is stick to Interstate 84, then taking Interstate 15 through Salt Lake, followed by Route 40 past Ashley State Forest in Utah.
Past Manti-la Sal National Forest, get onto Interstate 70 and travel east, passing the likes of Uncompahgre, Gunnison, and White River National Forests before finally arriving in Denver.
For something a little different, back at Twin Falls, you can switch to Interstate 86 instead and cut through Wyoming - this gives you the option to detour to Idaho Falls, Bridger-Teton National Forest, or even Yosemite National Park if you have the time.
Once you're done there, Get to Pocatello, then follow Routes 30, 129,28, and 287 to Interstate 80 in Rawlins. Take the interstate and drive past Medicine Bow-Routt National Forest and Pawnee National Grassland before pulling into Denver.
Best places to stop between Portland to Denver
As the route winds its way through the Rocky Mountains there is an abundance of beautiful places to stay on your road trip from Portland to Denver. To help you plan your stops we have recommended a few fabulous hotels below.
Stay at the world-renowned town of Vail
Known as one of the best ski resort towns in America, you absolutely have to visit Vail. The Arrabelle at Vail Square offers a host of luxury amenities with one of the best locations in town, not to mention the most epic view of said town!
Every room comes equipped with the furnishing you might require during your stay. Some even have working fireplaces to create a cost ambiance on cold days. The rooms are all very modern and spacious, guaranteeing a comfortable stay.
The Arrabelle has a great set of amenities for you to enjoy, including a rooftop pool, hot tubs, fitness, and business centers. There is also an on-site restaurant and bar serving breakfast, lunch, and dinner.
If you are looking for somewhere to enjoy an apres-ski drink, the terrace offers wonderful views in a relaxed atmosphere. Guests of the Arrabelle have Vail on their doorstep, and all the places you could want to visit in town are right around the corner.
If you are planning to stay in the winter this hotel has ski in and out access. It is also only a few minutes' walk away from a number of lifts and gondolas. This hotel is expensive, but staying here is sure to be a highlight of your road trip.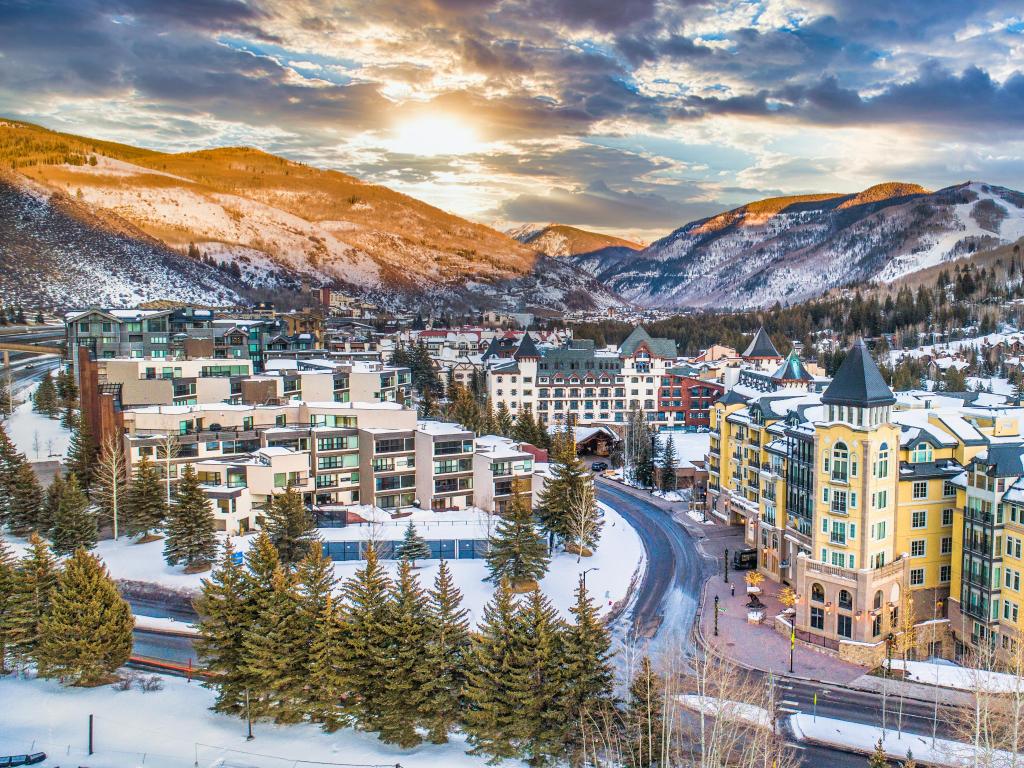 Enjoy luxury at the Grand Hotel in Salt Lake City
The fancy and colorful Grand America Hotel in Salt Lake City offers luxury and class at every turn. Set in the city's downtown area, the location alone is a great reason to stay, but when combined with the amenities available and the reasonable price, the Grand America Hotel is an unbeatable deal.
The rooms at the Grand America Hotel offer great views of the surrounding city. The classic décor and flawless marble bathrooms add to the lavish feel of the hotel. All rooms have a balcony, giving you the chance to relax and take in the view.
A full-service spa, indoor and outdoor pools, and a gym ensure you have plenty to do during your stay. The hotel has two on-site restaurants, called the Garden Café and the Lobby Lounge - between these two picks, you're sure to stay energized for a full day of exploring the city.
Downtown Salt Lake is on your doorstep at the Grand America Hotel, offering you a wide variety of dining and recreational activities to keep you occupied. With all this in mind, you'd be hard-pressed to find a better place to call home while visiting Salt Lake City.
Things to see on a road trip from Portland to Denver
On your road trip from Portland to Denver, you will encounter some of the most breathtaking scenery in America, so you should consider taking at least a week or two to complete this trip.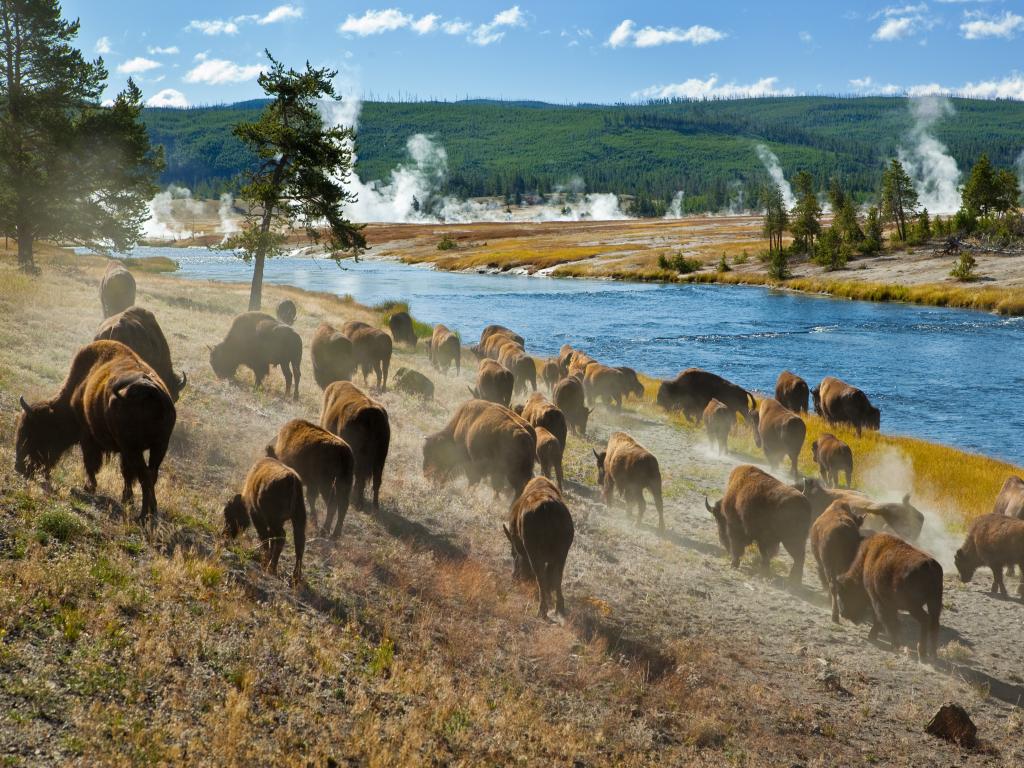 To help you plan your sightseeing, here is a quick list of some of the best attractions the route has to offer:
Gifford Pinchot National Forest -This iconic forest is perhaps best known for its distinctive lava tubes.
Mt. Hood National Forest - Located just outside of Portland, this legendary area offers countless activities year-round. from skiing in the winter to camping and hiking in the warmer months.
Idaho-Oregon Interstate Forest Chain - Several hundred miles of interstate road surrounded by beautiful forests from all sides.
Morley Nelson Snake River Birds of Prey National Conservation Area - This mouthful of a location is home to some of the most interesting avian species you can ever hope to see.
Twin Falls and Idaho Falls - Beautiful cites known for spectacular trails along Snake River and The Greenbelt's waterfall, respectively.
Yellowstone National Park - Arguably one of the most iconic locations in The States, this park truly needs no introduction.
Bridger-Teton National Forest - A gigantic forest offering some of the best terrain for hiking and sightseeing in all of Wyoming.
Craters of the Moon National Monument & Preserve - This beautiful geological formation is a byproduct of volcanic activity.
Ashley National Forest - An iconic blend of forest greens and desert grays, this is the place to go if you're interested in river-based activities.
Salt Lake City - This iconic student town boasts a lively nightlife and a beautiful mountain backdrop.
Colorado Interstate Forest Chain - A barrage of scenic forest after scenic forest sprawled along Interstate 70.
Rocky Mountain National Park - The crowning jewel of Colorado is one of the most beautiful mountain parks in the entire world.
Vail - Located just outside of Denver, this town is the bottleneck leading you to Colorado's most iconic forests and skiing resorts.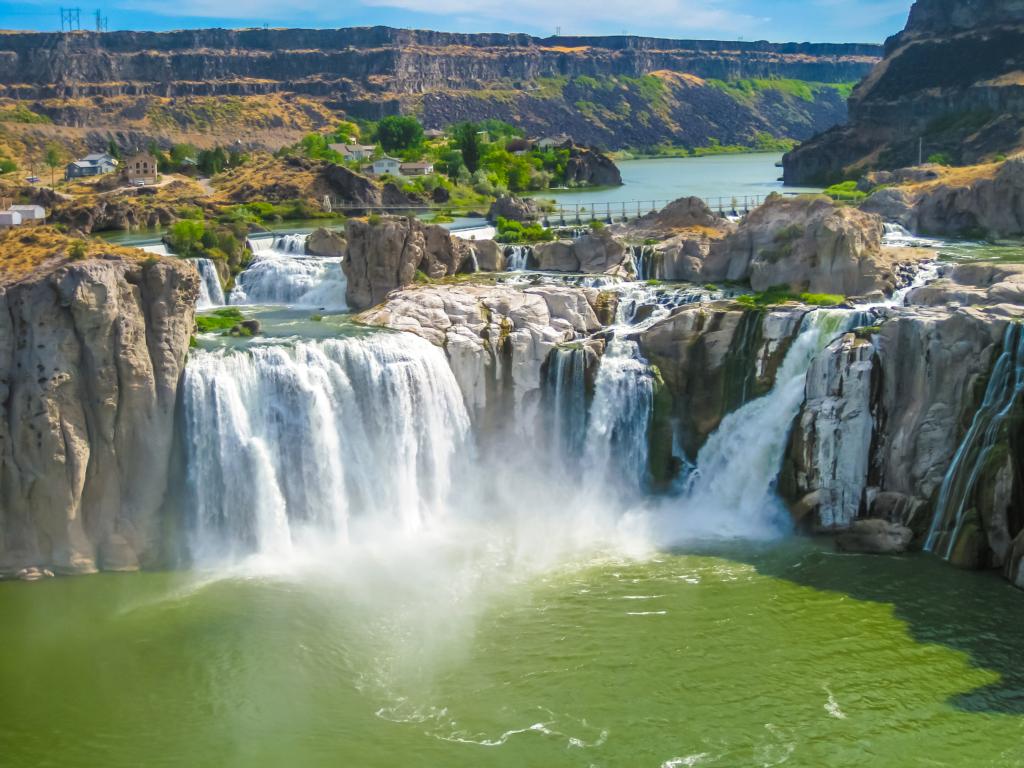 Best time to go on a road trip from Portland to Denver
One of the best aspects of this road trip from Portland to Denver is that you can go at any time of year. While the mountains will get cold in winter, there is still plenty to do, and the roads remain drivable.
One thing that's amazing about the drive itself is that, with so much to see on the way, you can find something to enjoy no matter the season - for example, even if the forests are closed in the winter, you'll be passing by countless mountains and skiing resorts you could access.
Speaking of which, winter in some of the mountain resorts can be as busy as summer, particularly places like Vail. This means the hotels remain expensive year-round so travel when best suits you.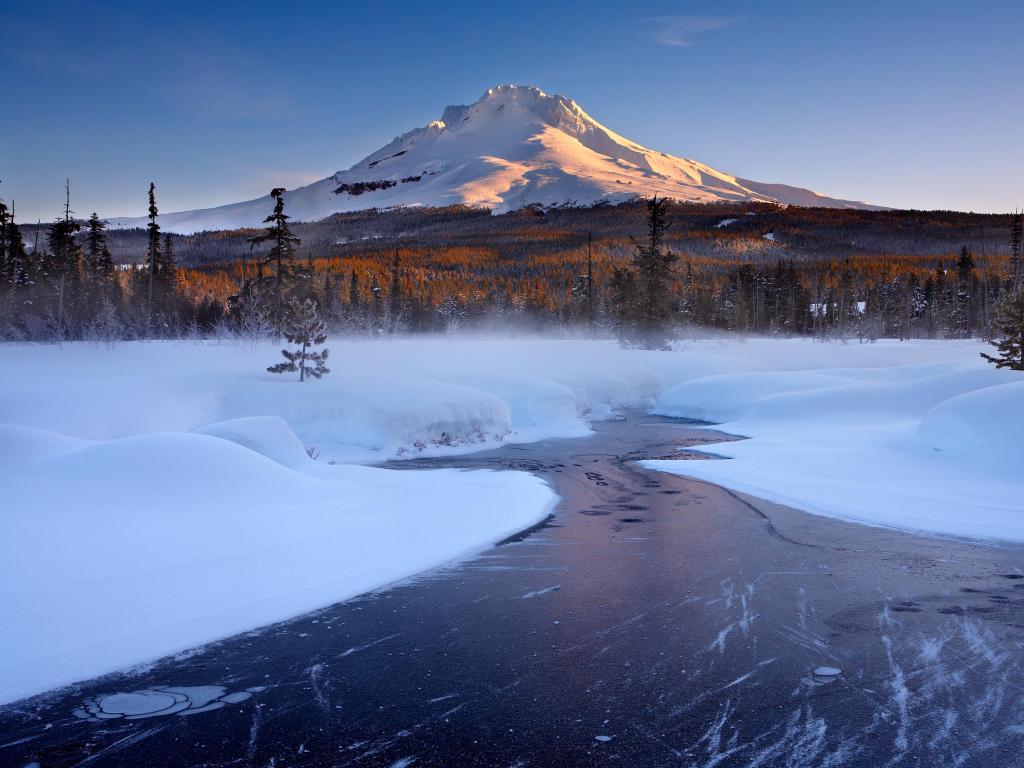 Denver is very cold and gets regular snowfall in winter. Comparatively, in summer, it is very warm and sunny, although Colorado isn't generally the kind of place people visit to bask in the sunshine!
If you enjoy skiing and winter sports, then I would recommend a winter road trip. However, if you detest the cold and enjoy going hiking, summer or the shoulder seasons are a better time of year for you.
Whenever you choose to go, be sure to pack lots of warm clothes - mountain climate can be unpredictable, so you won't want to have your stay ruined by an unexpectedly cold day.