Road Trip from Portland to Glacier National Park
This breathtaking road trip from Portland to Glacier National Park is an amazing way to take in the natural beauty of the Pacific Northwest. Along the way, you will experience breathtaking views, stunning waterfalls, and rural towns as well as bustling cities with
The 740-mile road trip from Portland to Glacier National Park takes around 12 hours of nonstop driving. Key stops are Seattle, Spokane, Sandpoint, Whitefish, Kaniksu and Kootenai National Forests, Spokane Falls, Flathead Lake and Blue Heron Park.
There are so many great places to see along this beautiful journey, read on to learn about the best routes, places to stop, things to see and the best time to set off on this adventure to get the most out of your trip.
How far is Glacier National Park from Portland and how long will the road trip take?
Comparison of road trip routes between Portland and Glacier National Park

| Route | Distance | Driving Time |
| --- | --- | --- |
| The Seattle Route | 740 miles | 12 hours 10 minutes |
| The Columbia River Route | 720 miles | 13 hours |
Our first suggested route takes you through Seattle, and this 740-mile route will take you 12 hours and 10 minutes to drive non-stop. This route takes you through Seattle, while also showcasing some of the rural beauty that the Pacific Northwest has to offer.
The Columbia River Route offers more rural destinations along the way and will take about 13 hours to drive, covering a shorter distance of 720 miles.
While the trip can be done in two days for each route, we recommend taking around 4-5 days to make sure that you can see the most of the beautiful scenery and enjoy everything that each town has to offer.
Best road trip route from Portland to Glacier National Park
There are two great routes to get from Glacier National Park to Portland. These routes differ in around an hour of drive time but differ in what kind of stunning landmarks and beautiful cities they take you through. So the best route will depend on what you want to see and do.
If you are looking for a more buzzing vibe through a higher populated area, the Seattle route may be the way to go. However, if you are looking for complete escapism, the Columbia River Route would be the way to go.
The Seattle Route really offers a little bit of everything. You can pass through the busy metropolis of Seattle, while also stopping in different small towns such as Spokane and Sandpoint. This route also allows you to see a lot of the natural and rural beauty that these states you will pass through have to offer.
The Columbia River Route is a more scenic route that allows you to take in everything that the Columbia River has to offer. There is so much beauty in the drive alone, or you can spend time finding the various waterfalls and wineries that stretch along the river.
While visiting, keep in mind that Glacier National Park implements a vehicle reservation system from May 26th to September 10th, from 6am to 3pm (at the time of writing). Before visiting, please check online whether you might need a reservation.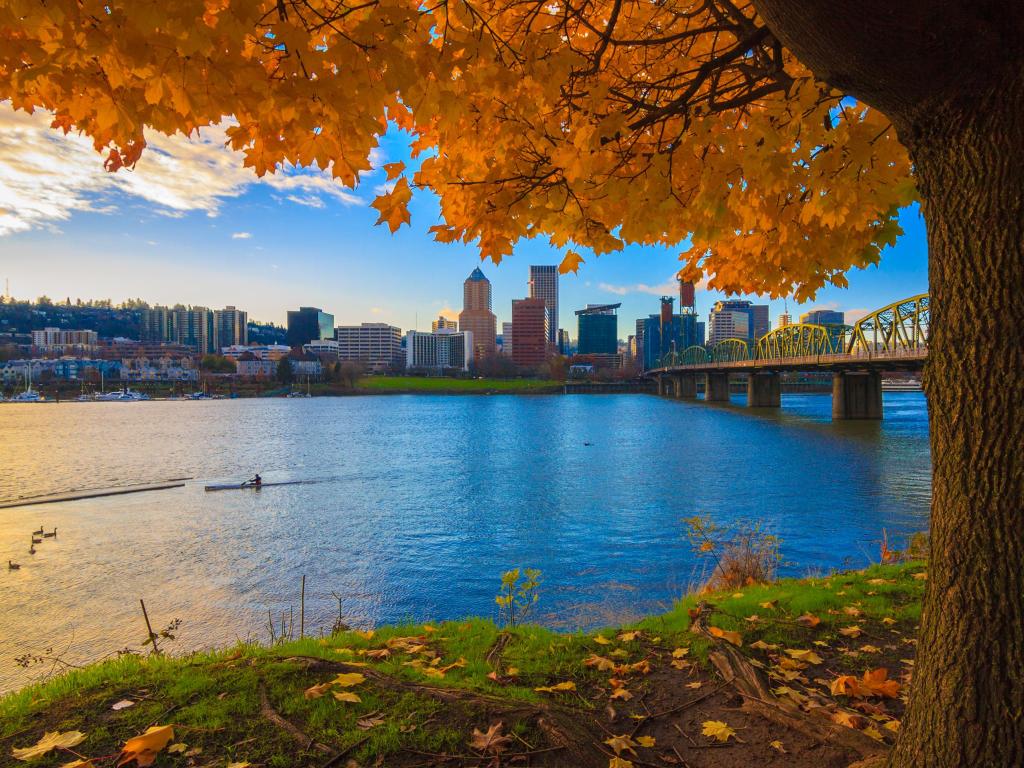 The Seattle Route
Leaving Portland, you will take Interstate 5 (I-5) N until you reach Seattle. Here you can experience the city of Seattle and take in everything that it has to offer.
From Seattle, you will follow the I-90 E through Washington until you reach Spokane, where we suggest staying for a night and experiencing everything this town has to offer.
After stopping in Spokane, follow the interstate once again until you reach US-95 N heading to Sandpoint, Idaho on the shores of Lake Pend Oreille.
From Sandpoint, you will then head through Kaniksu National Forest to our next recommended stop in Whitefish. For this stretch, you just follow US-95 N until you reach Whitefish.
Next, you will head through Montana. You will start by hopping onto US-93 S until you reach MT-40. From there, the final stretch is on the US-2 E which you will follow until you reach Glacier National Park.
The Columbia River Route
Leaving Portland, you will get on I-84 E until you get to I-82 W until you reach Richland. During this stretch, you will find some beautiful scenery, as well as waterfalls off the road if you decide to make any stops along the way.
After exploring Richland for a night, you will hop onto I-184 E and head to US-395 N and I-90 E until you reach Spokane.
After exploring the town of Spokane, you will take I-90 E through Idaho and into Montana, until you reach Missoula.
After Missoula, you will drive the final stretch to Glacier National Park past Lolo National Forest and Flathead Lake. For this stretch, you will take US-90 N to Montana Highway 35 W until you reach the park.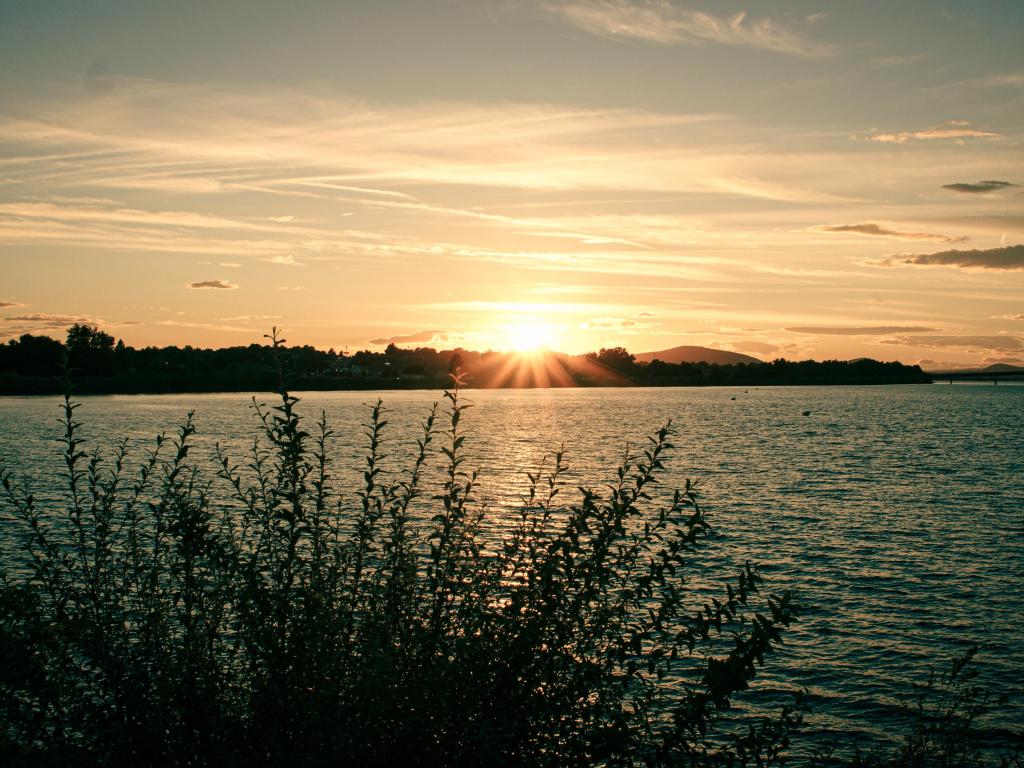 Best places to stop between Portland and Glacier National Park
Both routes feature some wonderful places to stay overnight. We have chosen two places to help take a break from the road, alongside a great choice to stay once you have reached your final destination.
Marvel at the natural beauty in Spokane
Spokane is known for its rugged, natural beauty and is located a little over halfway on the Seattle Route, which makes a great stop to take a break from driving. This scenic city is the home of Riverside Park, which is one of the largest state parks in Washington.
While there is so much to do here, you must make sure to visit Spokane Falls and the Pavilion which features light shows every weekend during your visit.
Another place that you cannot miss in Spokane is the Numerical Ride. This is a scenic cable car ride that takes you over all the city sights. This attraction is available through all seasons and lasts about 20 minutes per ride.
For an overnight stop in Spokane, we recommend that you stay at the Historic Davenport Hotel. This historic building has been restored to give the stunning hotel a touch of 'timeless elegance.'
This hotel also features an award-winning spa, indoor pool, as well as all-day dining from numerous different food options, so you will never have to venture too far to have an upscale and relaxing meal.
This hotel is also conveniently located along the route, so it adds no additional travel time. It is also located conveniently in the popular downtown area and is only a 10-minute walk to the River Front Park.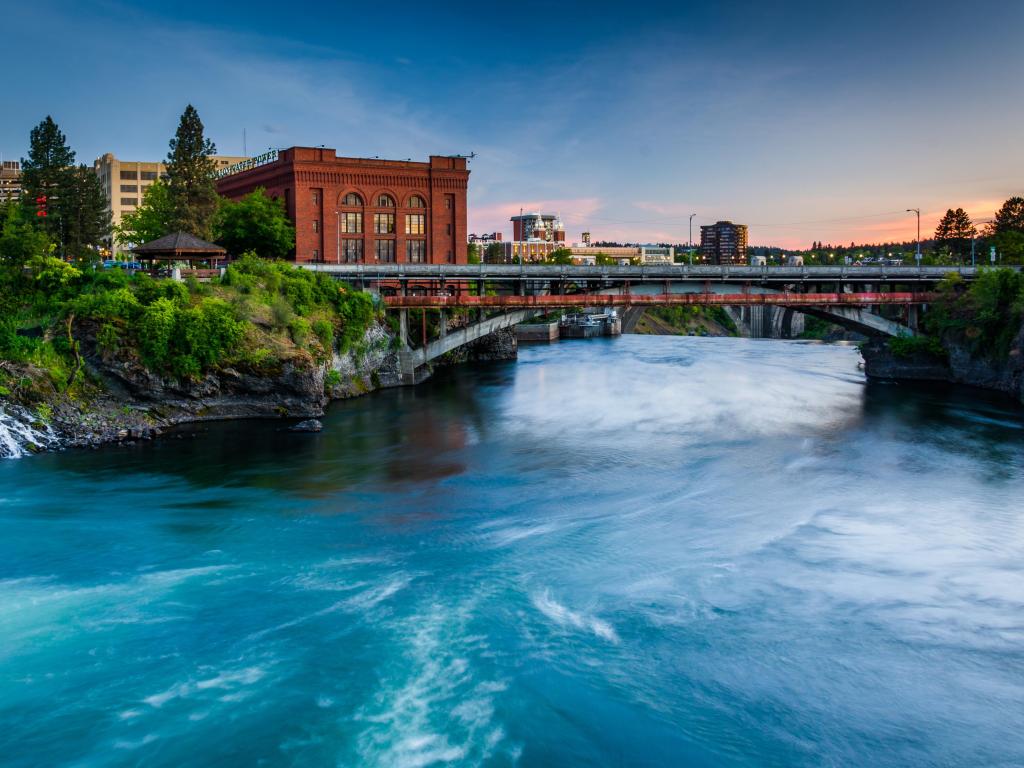 A luxurious stay in Richland
Richland is a beautiful, culture-rich city, and is the perfect place to stop after exploring the Columbia River Highway's waterfalls and the Hood River area on the Columbia River Route.
This city, which makes up the "Tri-Cities" of the Washington state along with Kennewick and Pasco, is mostly known for its music festivals and art shows. There are also many different aquatic opportunities as it is located near the convergence of three of Washington's main rivers.
This town is also great for astronomy enthusiasts, as it is home to the LIGO Hanford Observatory. You can take a tour of the observatory as well as understand how gravity is detected and measured in the area.
There are several accommodation options in the city, but our top choice is The Lodge at Columbia Point. This hotel features beautiful lakeside views. This hotel features a fantastic restaurant that offers breakfast and dinner daily.
If you are looking to unwind after the long drive, look no further, as the hotel boasts an open-air pool and jetted hot tub with stunning views of the Columbia River.
The property is only an hour away from Trendy Walla Walla, with its boutique downtown area, so you may want to spend a few nights here and explore locally.
Where to stay when you reach Glacier National Park
Once you reach your destination, one of the best places to stay the night is the Lodge at Whitefish. This lodge is a wonderful place to relax after a long day of exploring the park.
It is only a 40-minute drive from West Glacier, making it an ideal spot to stay. Depending on what time of year you visit, there is both an indoor and outdoor pool that overlooks the lake. In the winter, you can also spend your time relaxing in the lake-front hot tub.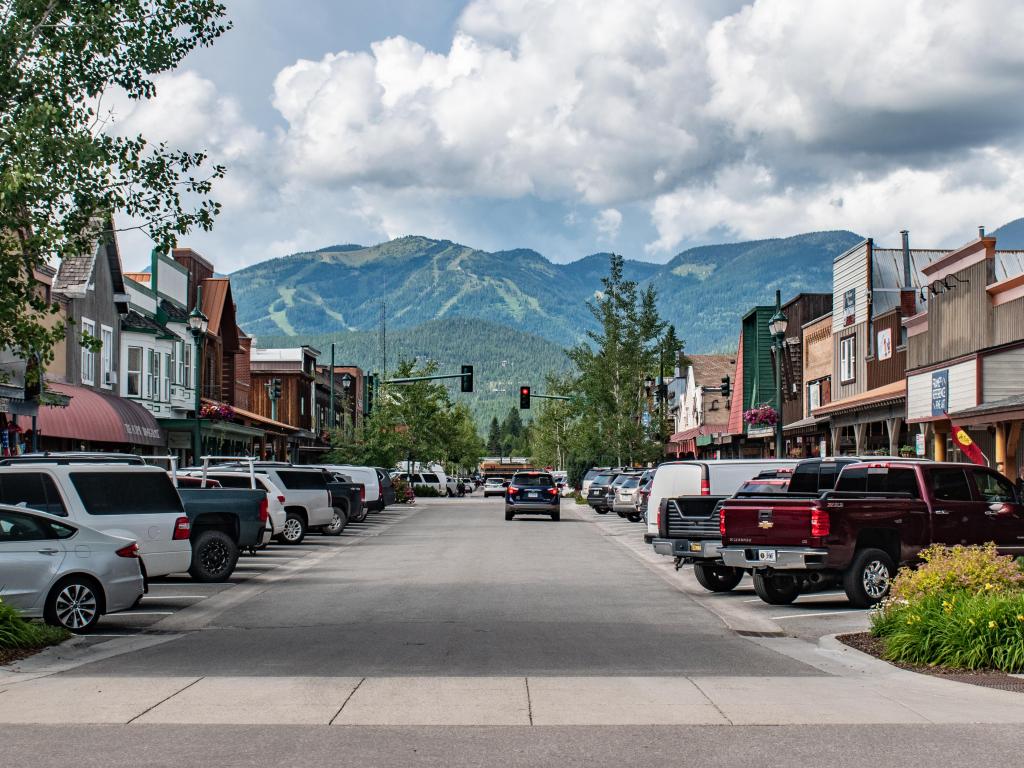 Things to see on a road trip from Portland to Glacier National Park
There are many beautiful things to see on your trip, so we have picked some of the best ones to help you best plan your itinerary.
The Seattle Route
Chehalis-Centralia Railroad and Museum – Be taken back in time for a memorable experience on vintage locomotives. Dining on board is highly recommended.
Beneath the Streets – Immerse yourself in Seattle's history on this spectacular guided tour. It takes you along the 120-year-old underground pathways and through the city's original neighborhood.
Weeks Falls – Beautiful waterfalls outside of Seattle, picturesque with a gentle walk where you can take a break from driving and enjoy the scenery.
Blue Heron Park – A small grassy parkland with swimming areas and a dedicated fishing bridge in Moses Lake, which makes this the perfect stop for all fishing enthusiasts.
Nishinomiya Tsutakawa Japanese Gardens – A beautiful garden in Spokane, parts of which were built in Japan and transported to, then reassembled in the area.
Spokane Falls – Beautiful falls in Spokane's Riverside Park, which is a must-visit during your stay in Spokane.
Lasting Legacy Wildlife Museum – A large museum in Ritzville dedicated to many animals from all over the world through the times. Come face to face with lifelike replicas
Tree to Tree Idaho Adventure – A zip-line park near Atholl that is fun for guests of any age, where you can get your adventure fix
Boundary County Museum – An old-fashioned museum showcasing the history of North Idaho, which is a great stop for any history buff
Kootenai Falls Suspension Bridge – Enjoy scenic views after a short hike from this swinging bridge over the river Kootenai. Make sure to bring your camera!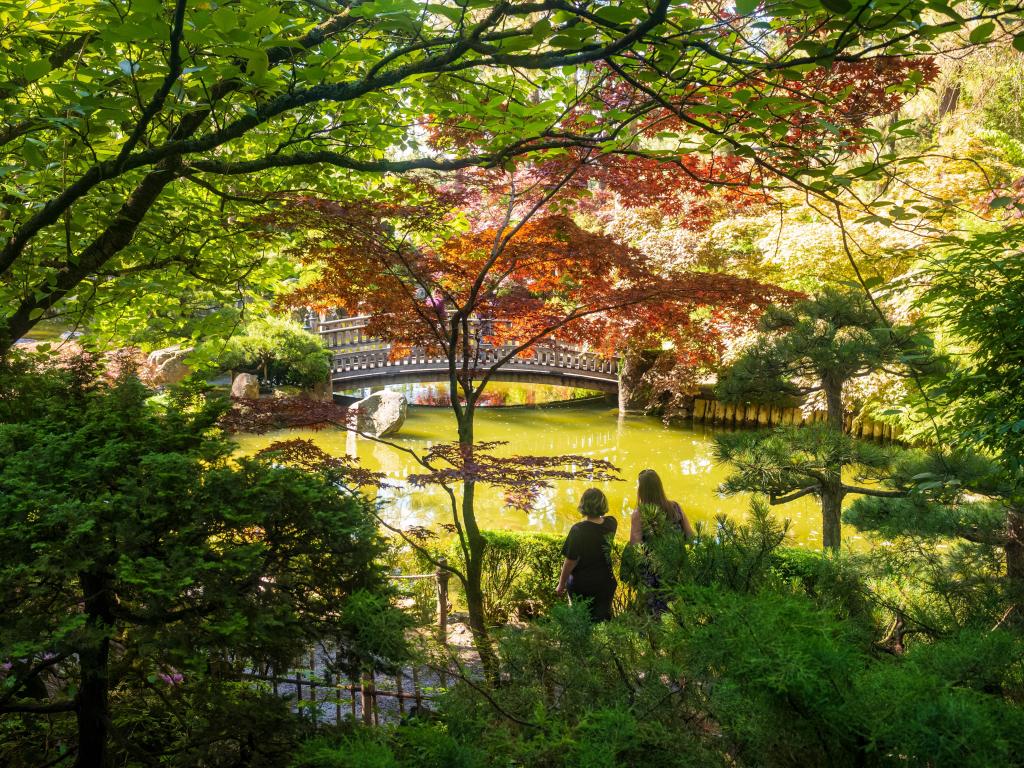 The Columbia River Route
Columbia River Highway – A jaw-dropping stretch along the Columbia River. Whether you want to just soak up the scenery as you drive along, or search out every waterfall you can find, you won't be disappointed.
Hood River – Oregon's windsurfing capital. Despite being inland, the enormity of this tidal river means that people flock to surf here. Food and drink festivals are hugely popular in the culinary destination.
Rowena Crest Viewpoint – A beautiful viewing point to take in the breathtaking sights of the Columbia River Gorge, Mt. Hood, and Mt. Rainer. Summer visitors can enjoy the wonderful wildflowers.
Maryhill Museum of Art – An incredible, large eclectic art and sculpture museum, hidden away in an old mansion with stunning views.
Nez Pearce County Historical Society – A wonderfully informative museum showcasing well-preserved history. Scavenger hunts are available for younger visitors, and reviews state the staff on hand are brilliantly kind and helpful.
Timberline Adventures – Incredible zip-line tours through the mountains in the Coeur d'Alene area, high praise from reviews say it was a wonderful, safe, and informative way to view the beautiful scenes.
Flathead National Forest – Home to a beautifully deep-water lake, there are scenic routes to walk or cycle and plenty of wildlife to see.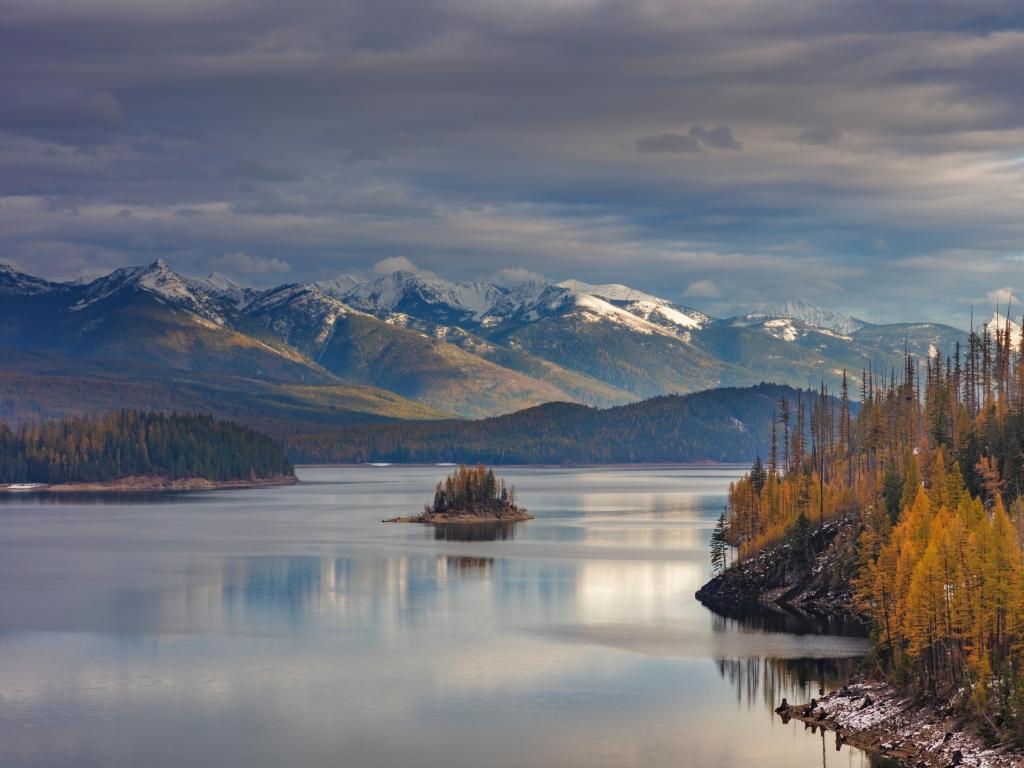 Best time to go on a road trip from Portland to Glacier National Park
The Glacier National Park is an interesting area for weather since it sits on the Continental Divide creating a constant changing of conditions. While this road trip can be taken all year round, the visitors should prepare for all types of weather regardless of the season.
July and August are the peak summer months at Glacier National Park. The summers have a wide range of temperatures, where guests can see highs in the 80 degrees Fahrenheit and lows in the 40s.
Those who want to drive the legendary Going-to-the-Sun Road should plan to visit in July or August, as it is often impassable at other times of the year. When summer is over, the temperatures tend to lower quickly, and as soon as October you can expect highs to drop to 55 degrees Fahrenheit.
The park will be covered in snow throughout the long winter months making the park beautiful and challenging in equal measures. Due to these conditions, winters tend to be quiet so it is a great time to visit if you are prepared.
Temperatures can drop way below the freezing point on occasion but can go up to mid-40 degrees at other times.
If you are looking to experience the Northern Lights, spring is the best time to visit since the sky is at its clearest.
There are two large festivals on the trip that you might want to consider planning your trip around. Whitefish holds the Under the Big Sky Festival, while Flathead hosts the Fall Fest.