Road Trip from Portland to Napa Valley
There aren't many Pacific Northwest adventures that take in all the beauty of Oregon and California at one go like the road trip from Portland to Napa Valley. On this stunning drive, you will drive past majestic mountains, cobalt-blue lakes, fabulous vineyards and some of the most beautiful coastal towns.
The 650-mile road trip from Portland to Napa Valley will take 11 hours and 20 minutes to drive. Highlights en route are Bend, Sunriver, Klamath Falls, Mount Shasta, Lincoln City, Newport, Redwood National and State Parks and Crater Lake National Park.
This drive from Portland to Napa Valley will be one to remember and set the bar high for many more adventures to come. Continue reading below to learn more about our recommended routes, top highlights, places to stay, and the best seasons to travel.
How far is Napa Valley from Portland, and how long will the road trip take?
Comparison of road trip routes between Portland and Napa Valley

| Route | Distance | Driving Time |
| --- | --- | --- |
| The Crater Lake Route | 650 miles | 11 hours and 20 minutes |
| The Pacific Coast Route | 710 miles | 14 hours and 50 minutes |
The Crater Lake Route on a road trip from Portland to Napa Valley covers a distance of 650 miles and takes approximately 11 hours and 20 minutes.
Alternatively, the Pacific Coast Route, stretching 710 miles and taking around 14 hours and 50 minutes, offers a different but equally stunning experience.
Both routes offer plenty of sights and experiences, making a simple road trip an adventure. While it's possible to drive these routes within a day or two, we recommend taking 3-4 days to fully enjoy the experience.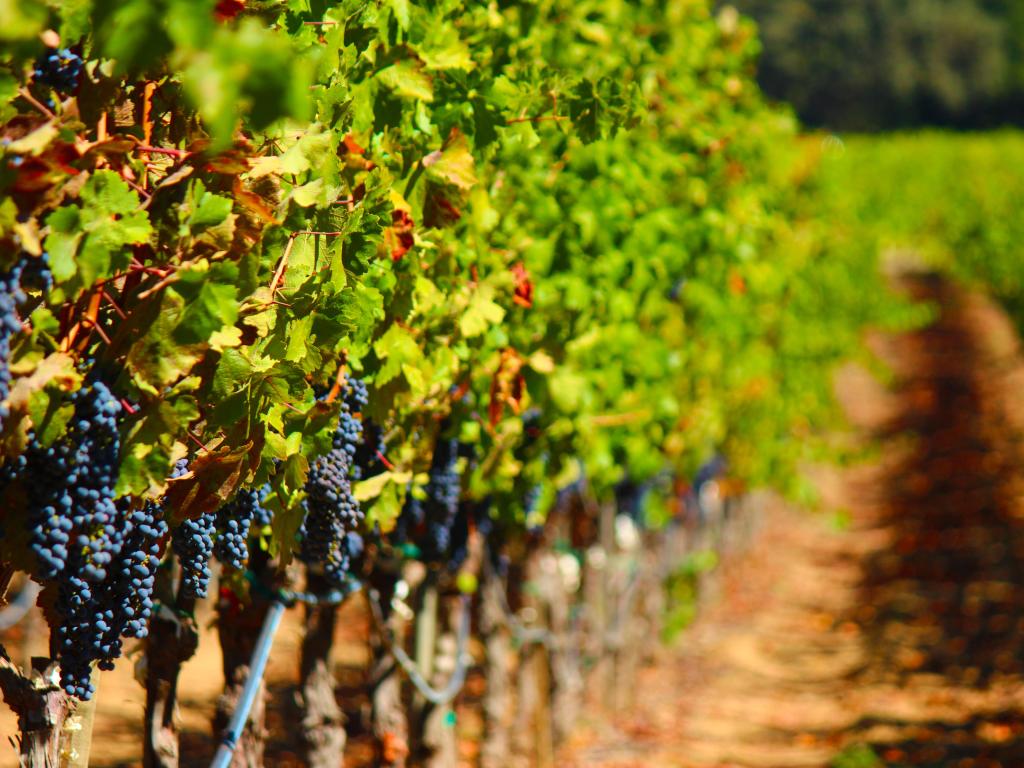 Best road trip route from Portland to Napa Valley
While both the Crater Lake Route and the Pacific Coast Route are dotted with beautiful places to visit and incredible scenery to marvel at, they are quite different in what they offer.
The Crater Lake Route is an inland journey through the heart of Oregon and California. This route allows you to explore a range of national forests, stunning lakes, rivers, and waterfalls.
The highlight of this route is the awe-inspiring Crater Lake, one of the most stunning natural landmarks in the country. This route also passes through picturesque towns such as Klamath Falls and Mount Shasta, offering a blend of natural beauty and small-town charm and fun.
The Pacific Coast Route offers a dramatically different experience. As you drive through Redwood National and State Parks, the towering redwood trees will leave you in awe of nature's grandeur.
This route takes you along the iconic Highway 101 and a portion of the Pacific Coast Highway, where you'll see the rugged beauty of the California coastline. Along the way, you'll encounter historic small towns, harbors, and picturesque lighthouses.
Coastal towns like Lincoln City, Newport, and Coos Bay add a charming touch to your journey, offering unique experiences of Oregon's coastal life.
If you're drawn to an inland adventure with a mix of forests, mountains, and volcanic wonders, the Crater Lake Route is your ideal choice. But if a coastal drive with giant redwoods and breathtaking ocean views is more your style, then the Pacific Coast Route will be one of a kind.
How to drive from Portland to Napa Valley
The map above shows our suggestions for the best road trip routes between Portland and Napa Valley. Keep reading for detailed descriptions of both routes, where to stay on either, and the best things to do on the way.
Crater Lake Route
Starting in the city of Portland, take US-26 southeast past Mt. Hood, one of the largest and most striking volcanoes in the USA and Mt Hood National Forest.
From here, head south on US-97 to the winter wonderland of Bend. Here, you can experience some of the best outdoor wonders in America, from skiing to even river surfing.
After Bend, drive a short distance south and take a detour to Sunriver. After Sunriver, get back on route and drive south to the stunning Crater Lake National Park.
From here, get back on US-97 and continue on south to the city of Klamath Falls. This small city is perfect for a fun night out at its popular restaurants.
After Klamath Falls, return on the route and drive south to Mt Shasta, another dramatic natural landmark worth visiting. Merge south on Interstate 5 (I-5) to Redding. This beautiful city is full of museums and fun urban excitement to break up the drive through nature.
After Redding, head back on I-5 south and soon you'll wind your way around the mountains and vineyards to Napa Valley.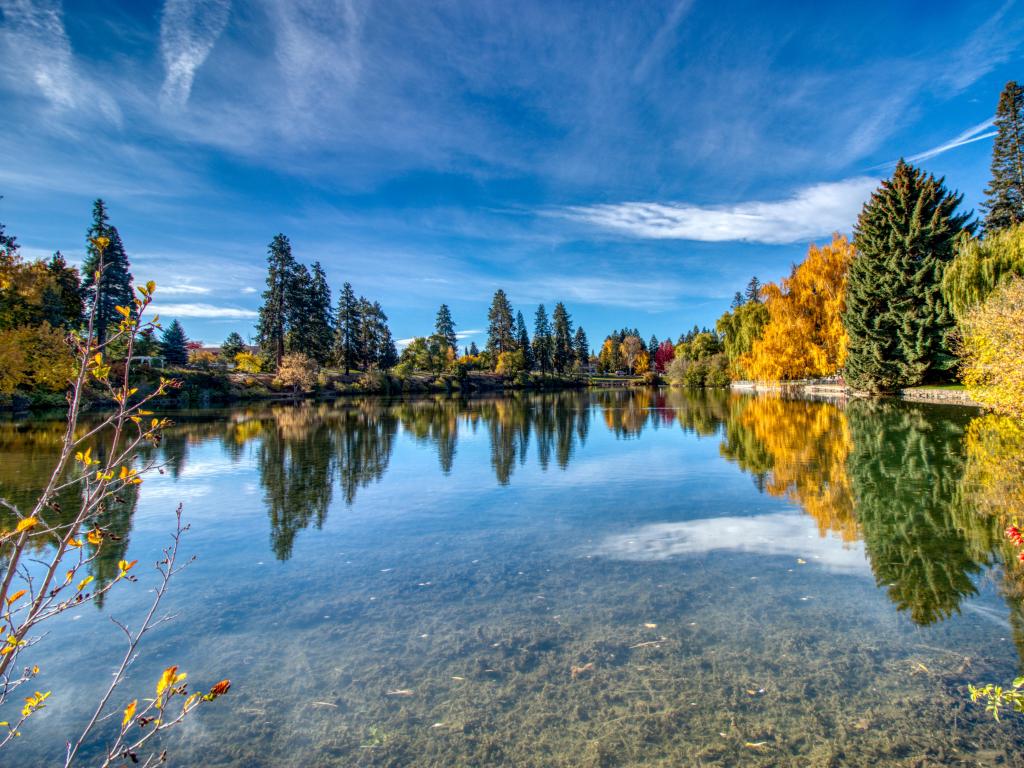 Pacific Coast Route
Starting in the hip city of Portland, make your way southeast to Lincoln City. This coastal paradise is famous for its stunning but rugged beaches and seafood.
After Lincoln City, head south on US-101. Continue south to the city of Newport. This wonderful stop is home to the Oregon Coast Aquarium and plenty of amazing restaurants.
Once you get your fill of Newport, continue south on the highway to Coos Bay. Here, you can enjoy the Coos History Museum and the gorgeous bay.
From Coos, head south further on US-101 to the California border. From here, you'll cross the Klamath River and enter the towering redwoods in Redwood National and State Parks and around Eureka.
Take your time exploring this majestic part of the world before heading south to the city of Trinidad. Then, continue south to the beautiful town of Glass Beach.
From here, make your way further south and then turn inland east. You'll drive through the vineyards of Sonoma and then make your way to your destination of Napa Valley.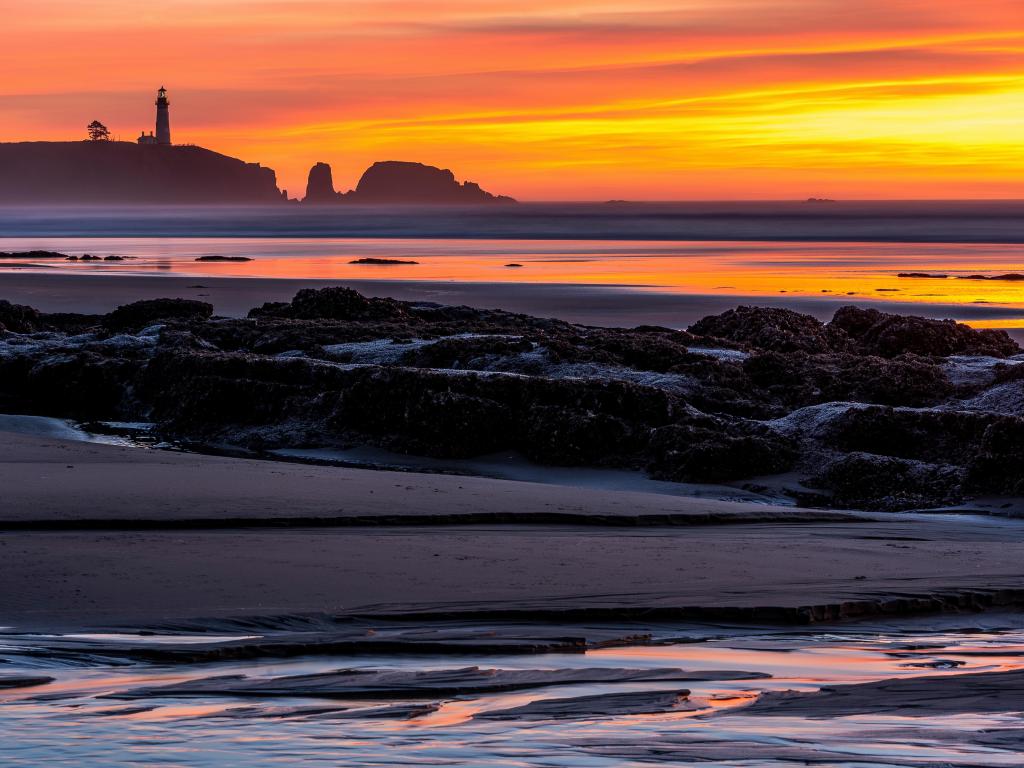 Best places to stop between Portland and Napa Valley
Because there is so much to see and do in this part of America, you'll want to stay in one of the beautiful destinations below. This will give you the time and freedom to enjoy all the highlights on the way.
Relax and unwind in scenic Sunriver
Sunriver, Oregon, is an idyllic spot for an overnight stop on the Crater Lake Route, located about 3 hours and 30 minutes into the drive. This postcard-perfect resort town, with its stunning mountain backdrop and a serene river, offers a breathtaking setting to unwind and recharge.
A must-visit attraction is the Oregon Observatory at Sunriver. Here, you can gaze at the stars and learn about the cosmos. If you enjoy nature walks, the Fall River Trail offers a peaceful and scenic hike through the area's lush landscapes.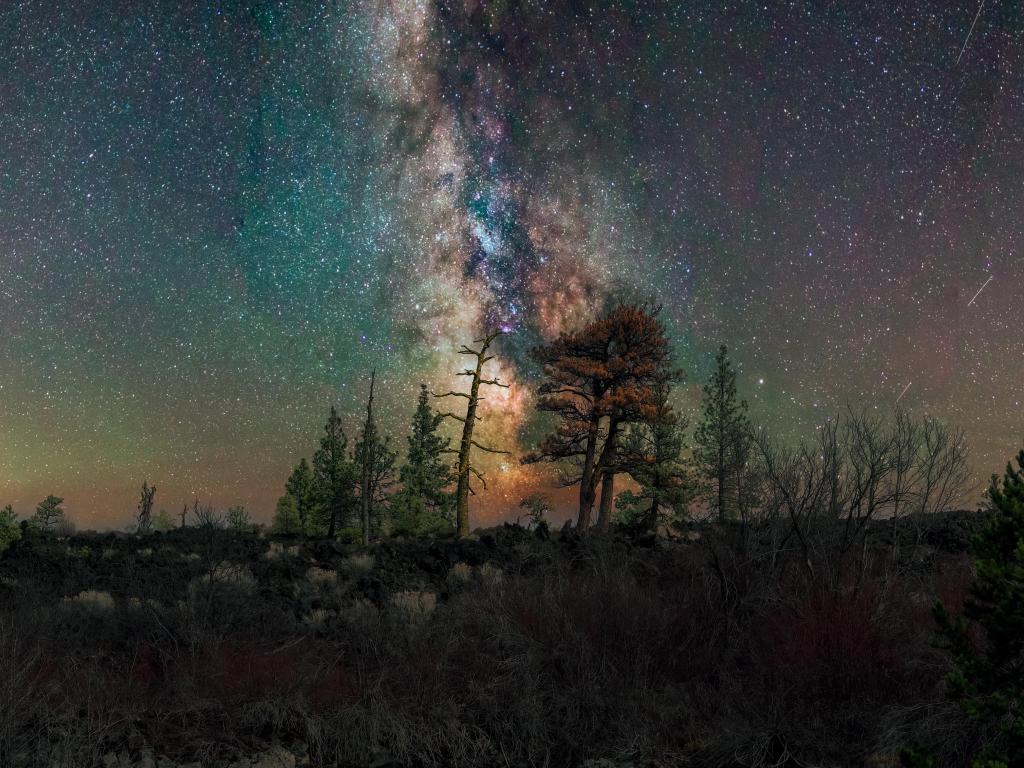 For your stay, we recommend the Sunriver Resort, a luxurious retreat that beautifully integrates with its natural surroundings. The resort has a stunning location by the river, complete with two outdoor pools and a full-service spa, perfect for relaxation.
On weekends, enjoy live music that adds a fun touch to the serene environment. You can also have exclusive access to the Cove Aquatic Center, where you can swim all year long.
Nearby, the Sunriver Nature Center & Observatory is just a 5-minute drive from the resort, offering an educational and entertaining visit for all ages. Equally close is the Sunriver Homeowners Recreation and Aquatic Center, providing additional options for leisure and relaxation.
Explore the magical redwood forests near Trinidad
Trinidad, California, is an ideal stopover on the Pacific Coast Route, about 8 hours and 30 minutes into your journey. Renowned as a California Coastal National Monument Gateway, Trinidad is home to 10 public beaches, each offering a unique and awe-inspiring experience.
As its status suggests, Trinidad is an amazing gateway to the natural wonders of the area, including the beautiful Redwood National and State Parks and Arcata Bay nearby.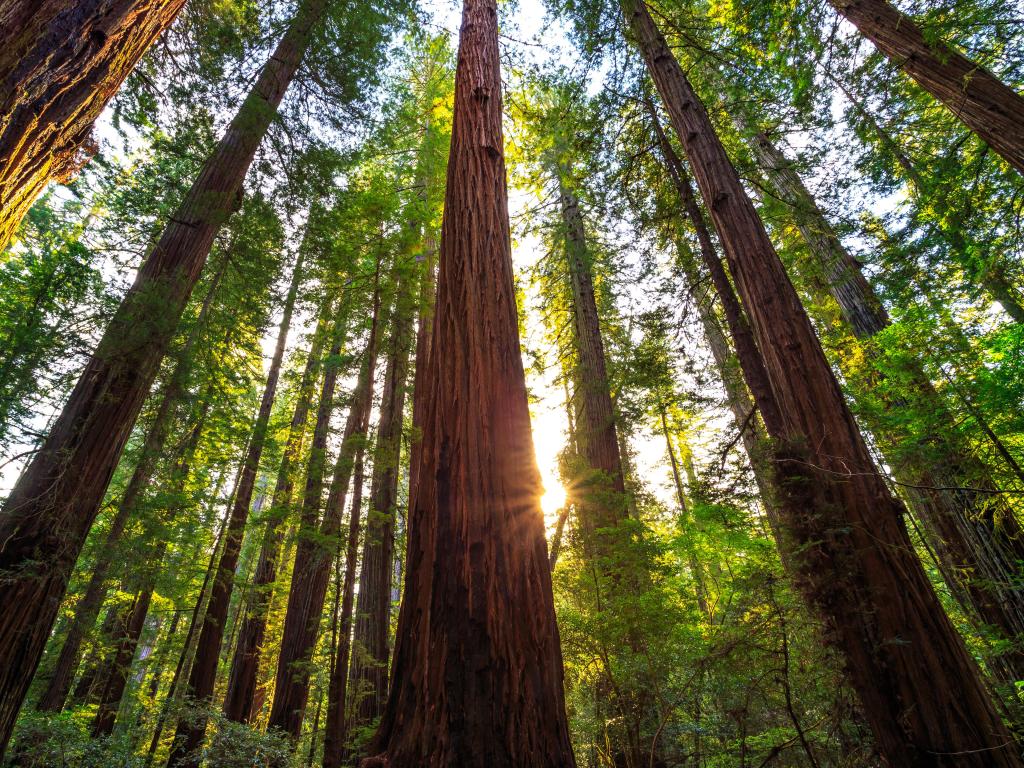 Among the must-do activities is checking out these diverse beaches, each with its distinct charm and 'wow' factor. After you enjoy a dip in the sea or a peaceful stroll at the beach, you can head to Moonstone Crossing Winery Tasting Room and indulge in local wines in a beautiful setting.
For your stay in Trinidad, you cannot go wrong with the highly-rated View Crest Lodge. Nestled amidst natural beauty, these comfortable cottages offer a serene retreat close to the area's beaches and hiking trails.
The cottages are spacious and some offer mesmerizing ocean views. You'll also get to enjoy an amazing breakfast to start your day. The lodge is popular for its tranquility, with the occasional sound of sea lions in the background to remind you that you're on the California Coast.
Nearby attractions include Agate Beach, just a 5-minute drive from the lodge, offering a peaceful beach experience. Also, a 15-minute drive away are the Redwood National and State Parks, where you can experience the world's tallest trees.
Where to stay when you reach Napa Valley
Napa Valley is celebrated worldwide for its exquisite wineries and tasting rooms, with over 400 unique destinations making it a premier wine region and producer.
Napa Valley is special for winemaking because of its dry, Mediterranean climate. For a taste of the area's wine culture, a visit to Castello di Amorosa and Chateau Montelena is a must.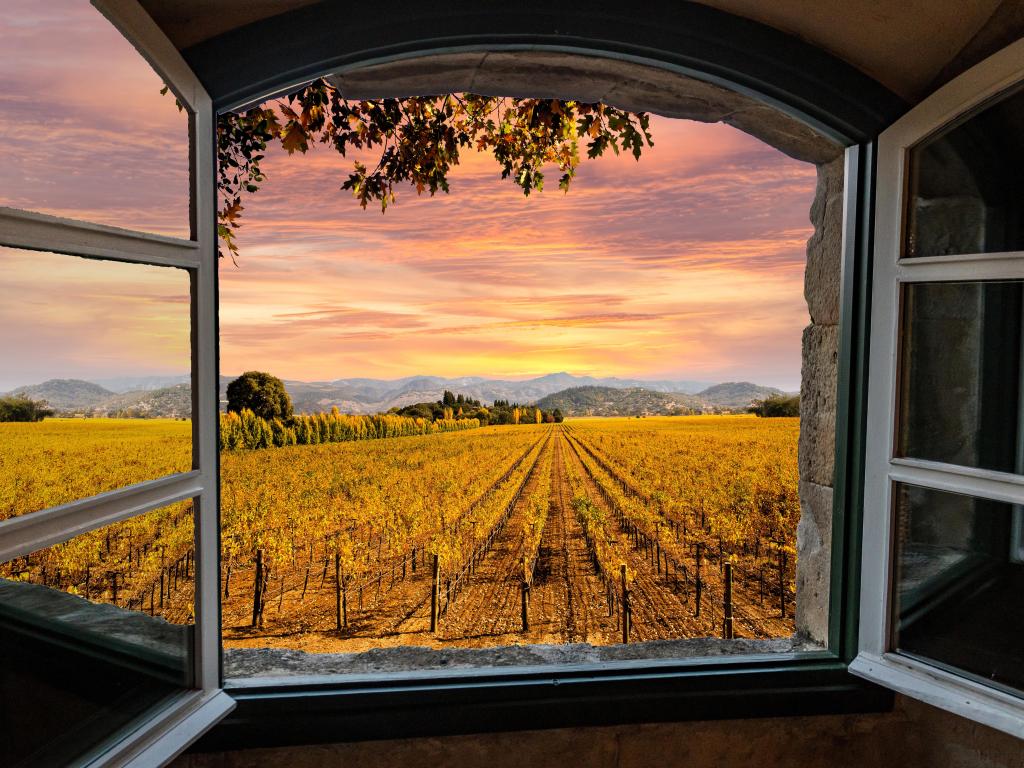 In the heart of this wine lover's paradise, the Archer Hotel Napa is the perfect place to stay. Its welcoming five-star comfort will be perfect for relaxing after your drive.
Perfectly situated in the center of vibrant downtown Napa, the hotel offers easy access to many walkable attractions, including fine dining and local boutiques.
A standout feature of Archer Hotel Napa is its rooftop spa, providing you with a tranquil oasis to relax and rejuvenate. If you're looking to unwind with a view, the rooftop bar has a breathtaking panorama of the valley, making it the perfect spot to savor a glass of local wine.
To fully experience Napa Valley's charm, explore the surrounding wineries. Castello di Amorosa, a medieval-inspired castle winery, offers a unique and immersive wine-tasting experience.
Things to see on a road trip from Portland to Napa Valley
Planning a trip like this will take some time. To make your job easier, we've made a list of our favorite highlights along the way so you can have the time of your life.
Crater Lake Route
Mount Hood National Forest - A vast expanse of wilderness near Portland, Mount Hood National Forest offers a variety of recreational activities amidst picturesque landscapes, including hiking, skiing, and scenic drives around Oregon's highest mountain, Mount Hood.
Redmond Caves - Located in Redmond, Oregon, these volcanic cave formations offer a unique spelunking experience, showcasing the area's geological history and providing a natural playground for cave explorers.
Bend Blockbuster, Oregon - The last remaining Blockbuster store in the world, located in Bend, Oregon, is a nostalgic throwback to the era of video rentals.
High Desert Museum - Near Bend, this museum offers an immersive experience into the natural history, culture, and art of North America's high desert region, with live animal exhibits and interactive displays.
Newberry National Volcanic Monument - This monument encompasses a striking volcanic landscape near Bend, featuring lava flows, cinder cones, and the stunning Paulina and East Lakes, offering opportunities for hiking, fishing, and exploring.
Lava River Cave - Part of the Newberry National Volcanic Monument, the Lava River Cave is a mile-long lava tube offering a unique underground adventure.
Crater Lake National Park - Known for its deep blue water and stunning cliffside views, Crater Lake National Park in Oregon is home to the deepest lake in the United States, formed by a collapsed volcano.
Train Mountain Railroad Museum - Located in Chiloquin, Oregon, this museum features the world's longest miniature hobby railroad track, offering train rides and a glimpse into railroad history.
Klamath Falls - A city in Southern Oregon, Klamath Falls is known for its outdoor recreational opportunities, including bird watching, hiking, and fishing, set against the backdrop of the Cascade Mountains.
Living Memorial Sculpture Garden - Situated near Weed, California, this outdoor sculpture garden serves as a poignant memorial to war veterans, offering a peaceful and reflective space amidst natural beauty.
Dunsmuir Botanical Gardens - Located in Dunsmuir, California, these gardens offer a serene setting with beautifully landscaped areas featuring native plants, flowers, and trees, perfect for a leisurely stroll.
Mount Shasta Sisson Museum - This museum in Mount Shasta City provides insights into the local history, natural environment, and volcanic activity of the Mount Shasta region.
Mount Shasta - Mount Shasta is revered for its majestic beauty and is a popular destination for hiking, camping, and spiritual retreats.
Shasta Lake - The largest reservoir in California, Shasta Lake is a hub for water sports and recreation, including fishing, boating, and camping, set amidst scenic mountainous landscapes.
Sundial Bridge - Spanning the Sacramento River in Redding, California, the Sundial Bridge is a striking architectural marvel and functional sundial, known for its unique design and pedestrian pathway.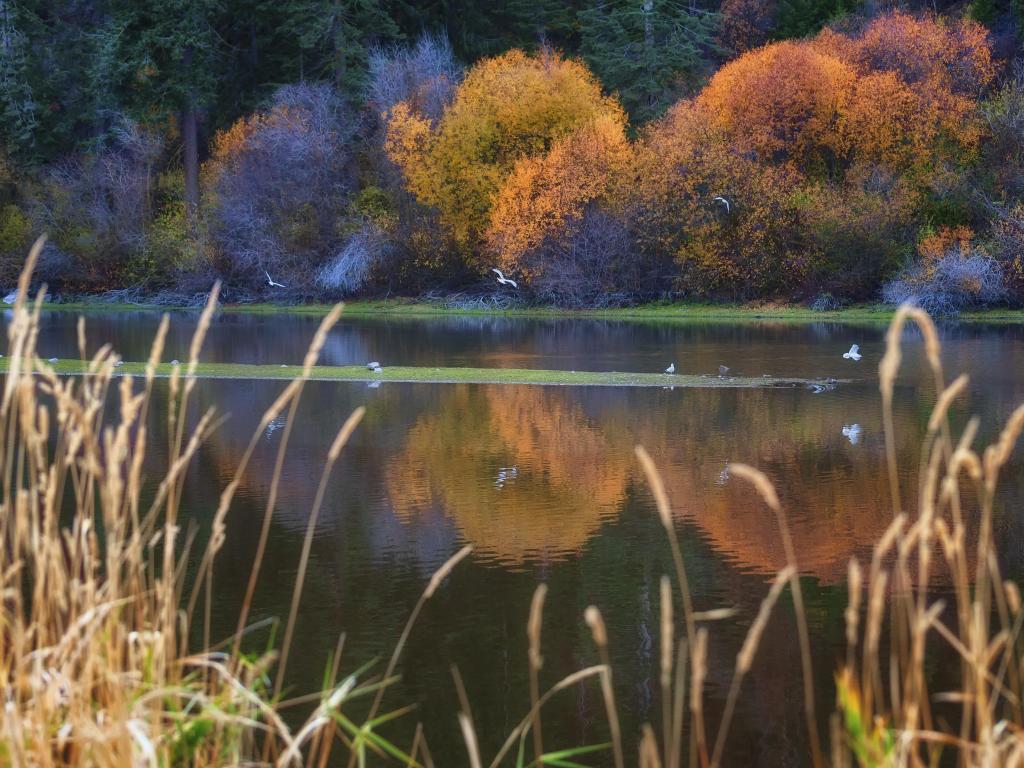 Pacific Coast Route
Evergreen Aviation and Space Museum - Located in McMinnville, Oregon, this museum showcases a vast collection of aircraft and spacecraft, including the famous Spruce Goose.
Yaquina Head Lighthouse - Situated in Newport, Oregon, this historic lighthouse offers breathtaking views of the Pacific Ocean and is a popular spot for whale watching and exploring tide pools.
Newport Historic Bayfront - A vibrant and picturesque waterfront district in Newport, Oregon, known for its seafood restaurants, eclectic shops, and opportunities to observe sea lions.
Oregon Coast Aquarium - An engaging aquarium in Newport, Oregon, featuring diverse marine life exhibits, including a walk-through shark tunnel and interactive experiences for all ages.
Thor's Well - A natural wonder near Cape Perpetua, Thor's Well is often referred to as a "sinkhole in the ocean," creating a dramatic scene as seawater surges and drains into it.
Sea Lion Caves - The largest sea lion cave in America, located near Florence, Oregon, where visitors can observe a colony of wild sea lions in their natural habitat.
Oregon Dunes National Recreation Area - Spanning 40 miles along the Oregon Coast, this area features one of the largest expanses of coastal sand dunes in North America, popular for hiking, off-roading, and photography.
Umpqua River Lighthouse Museum and Coastal Visitors Center - Located near Winchester Bay, Oregon, this site offers historical exhibits on the Umpqua River Lighthouse and panoramic views of the Pacific Ocean.
Coos Historical and Maritime Museum - Situated in Coos Bay, Oregon, this museum provides a comprehensive look at the region's maritime and cultural history, with interactive exhibits and historic artifacts.
Samuel H Boardman State Scenic Corridor - A stretch of rugged and scenic coastline in Oregon, featuring dramatic cliffs, secluded beaches, and natural arches, ideal for hiking and photography.
Trees of Mystery - A unique attraction in Klamath, California, offering a walk among giant redwoods and the famous SkyTrail gondola ride that provides aerial views of the forest.
Redwood National and State Parks - Home to some of the tallest trees on Earth, this park in Northern California offers a serene and awe-inspiring environment for hiking, camping, and wildlife viewing.
Eureka, California - A historic city known for its beautifully preserved Victorian architecture, vibrant arts scene, and the scenic waterfront along Humboldt Bay.
Avenue of the Giants - A famed scenic drive through Humboldt Redwoods State Park, offering a close-up view of towering redwood trees and access to several hiking trails.
Shine Drive Thru Tree - A unique attraction in Myers Flat, California, where visitors can drive their vehicle through a living redwood tree, creating a memorable experience in the heart of the redwood forest. You can learn more about the drive-through trees by clicking here.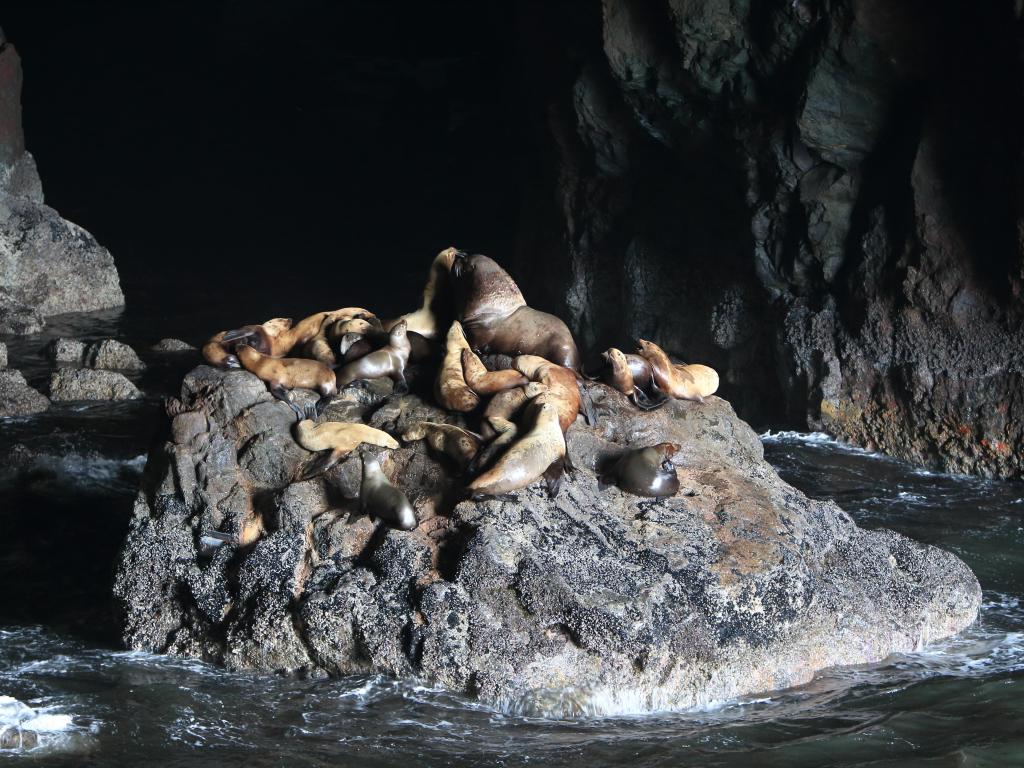 Best time to go on a road trip from Portland to Napa Valley
Napa Valley is a year-round enchanting destination. However, each route has its own unique experiences and challenges depending on the season.
Summer is a great time to visit Crater Lake National Park on the route that shares its name, as its key roads, including the popular Rim Drive, are typically closed in winter and don't reopen until late June.
Choosing the Pacific Coast Route, you'll find summer can be busy. However, you can experience the wonderful 4th of July Festivals and, on the Crater Lake Route, the Bend Summer Festival that same month.
In Napa Valley, the harvest season from August to October is the most vibrant, with temperatures in the warm 70s to 80s Fahrenheit, but it's also the peak tourist period.
Fall sees a slight dip in temperatures to the 70s, marking the picturesque harvest season. On the Pacific Coast Route, you can also participate the amazing Redwood Coast Music Festival in October.
Winter, with highs in the 50s and rare freezing nights, remains comfortable and less crowded. The Pacific Coast Route features the Newport Seafood and Wine Festival in February, while the holidays are fun in many of the stops along both routes.
Spring boasts mild temperatures ranging from the mid-50s to low 70s Fahrenheit, and is perfect for enjoying California's inland beauty, with wildflowers and clear skies. This season is also ideal for visiting Napa Valley to avoid the autumnal harvest rush.
During a spring road trip, you can experience local events such as the Redding Rodeo in May, the Napa Valley Film Festival in March, or the vibrant BottleRock Napa Valley in May.