Road Trip from Portland to Sacramento
If you want to go on the West Coast journey of a lifetime, consider a road trip from Portland to Sacramento. With two spectacular route choices, you can meander along the Oregon and California coasts or venture into the Cascades to marvel at towering granite mountains.
The road trip from Portland to Sacramento spans 730 miles and takes 11 hours to drive. The trip's signature stops include Cape Perpetua, Lake Shasta, Redwood National Park, Bend, Crater Lake National Par, and Umpqua and Williamette National Forests.
Read on to find out more about what routes you can take, where you should stay, and the best attractions along the way.
How far is Sacramento from Portland and how long will the road trip take?
Comparison of road trip route options between Portland and Sacramento

| Route | Distance | Driving Time |
| --- | --- | --- |
| The Coastal Route | 730 miles | 13 hours 40 minutes |
| The Inland Route | 600miles | 10 hours 20 minutes |
The coastal route for a road trip from Portland to Sacramento covers 730 miles and will take you at least 13 hours 40 minutes (best spread over at least three days) to drive once you have factored in breaks.
The coastal route offers rugged scenery and the chance to visit some of the Redwood Parks in northern California. I would recommend giving yourself at least a week for this road trip, so you have time to enjoy all the attractions along the way.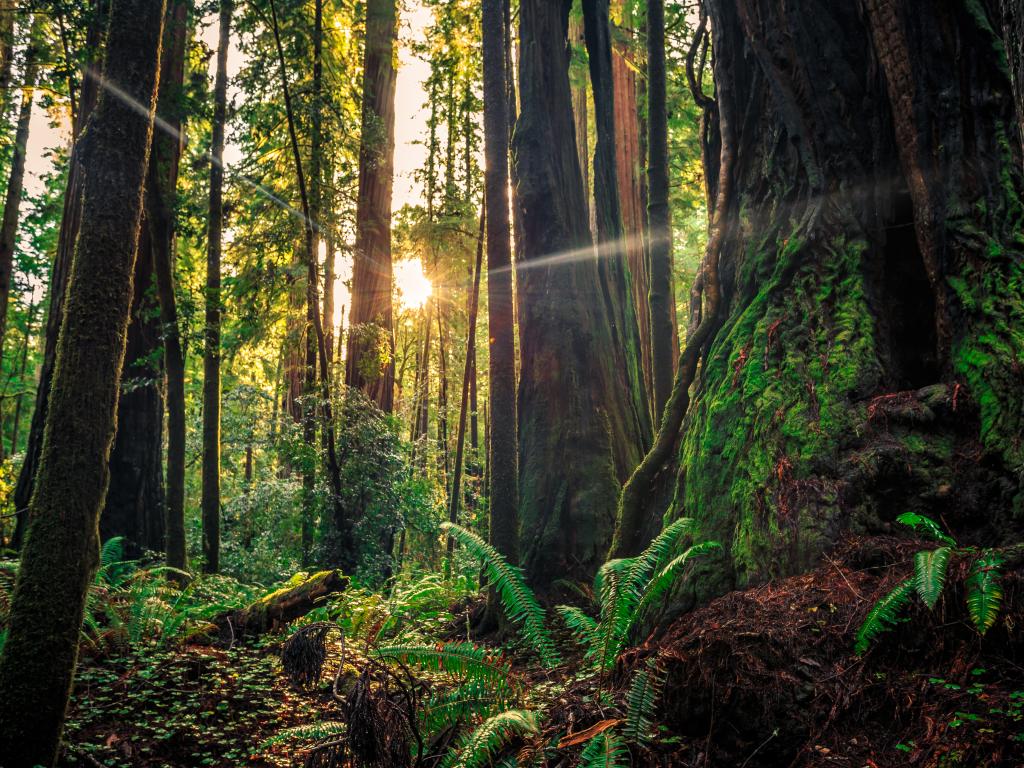 The inland route will provide beautiful mountain vistas and a chance to get active by going hiking and seeing more outdoor sights. The inland route is shorter, so if time is of the essence, that's the one you'll want to take.
Neither route encounters any particularly large cities, so there should be very few congestion issues. Both routes mainly follow major highways, which makes the drive easy but gives you plenty of opportunities to stop.
Best road trip route from Portland to Sacramento
The best road trip route from Portland to Sacramento depends on exactly what you are looking for. The inland route is faster than the coastal one (10 hours 20 minutes, as opposed to over 13 hours), but both offer a nice variety of things to see and do along the way.
If you have time, consider getting the best of both worlds by following one route on the way to Sacramento and the other on the way back.
How to drive from Portland to Sacramento
The map above shows our suggestions for the best road trip routes between Portland and Sacramento. Keep reading for detailed descriptions of both routes, where to stay on either, and the best things to do on the way.
The Coastal Route
Leave Portland on Interstate 5 heading south. You will quickly reach the city of Albany, where you will exit the interstate and join Highway 20, taking you towards the coast.
From there, you will leave Highway 20 and join Highway 101, heading south once again. You will remain on Highway 101 for some distance as it winds its way along the rugged Oregon coast.
After passing Gold Beach, you will cross the state border and enter California. Remain on Highway 101, which will take you past Crescent City and a handful of the famous Redwood Parks.
You will leave the coast after Eugene and begin heading inland - stay on Highway 101 until you reach Redwood Valley, near Lake Mendocino. Here, you will turn onto Route 20, which you will follow past Clear Lake, heading east.
Stay on this road until you get to the small town of Williams, then get onto Interstate 5. From there, all you have to do is follow the interstate the rest of the way to downtown Sacramento.
The Inland Route
Exit Portland on Highway 26, following it directly towards Mt. Hood National Forest. Follow the highway as you traverse past the base of Mt. Hood and continue south.
At the town of Madras, you will merge with Highway 97 and remain on this highway as it takes you through Redmond, Deschutes, and Bend. Highway 97 will eventually take you close to Crater Lake National Park - a short detour on Route 138 will take you into the park.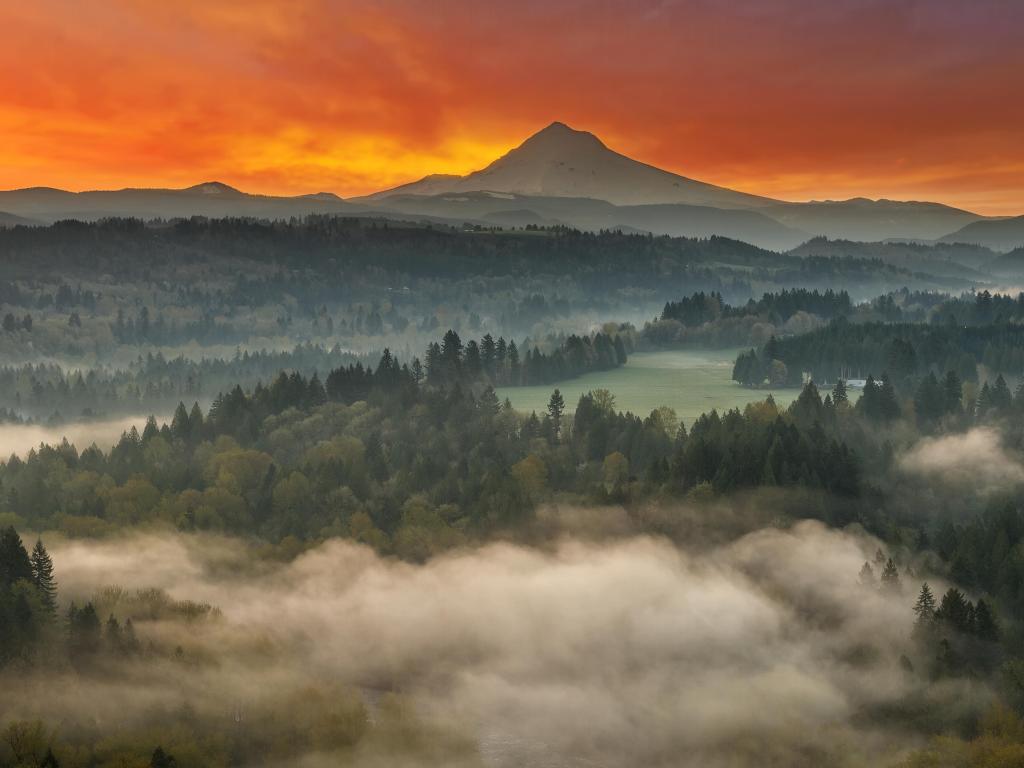 Return to Highway 97 to resume your journey south. The highway will lead you past Upper Klamath Lake before crossing into California. Mt. Shasta will dominate the horizon as you turn off Highway 97 onto Interstate 5.
Once on Interstate 5, simply follow it as it takes you through Shasta-Trinity National Forest, Redding, and into Sacramento.
Best places to stop between Portland and Sacramento
The road trip from Portland to Sacramento gives you plenty of stopover opportunities, despite the relative lack of major cities. Although there are plenty of good hotel options, these are some of the finest that the road trip has to offer:
Descend on Bend
The Tetherow Hotel is located right on the edge of Deschutes National Forest, offering a relaxing setting to spend the night and the most glorious sunrise you've ever seen. Set on a semi-private golf course, this hotel offers everything you need for a reasonable price.
The Hotel has two on-site restaurants, called the Row and Solomons. The Row is perfectly suited to casual dining, offering class American food, Scottish-inspired dishes, and even a great selection of wine and beer available.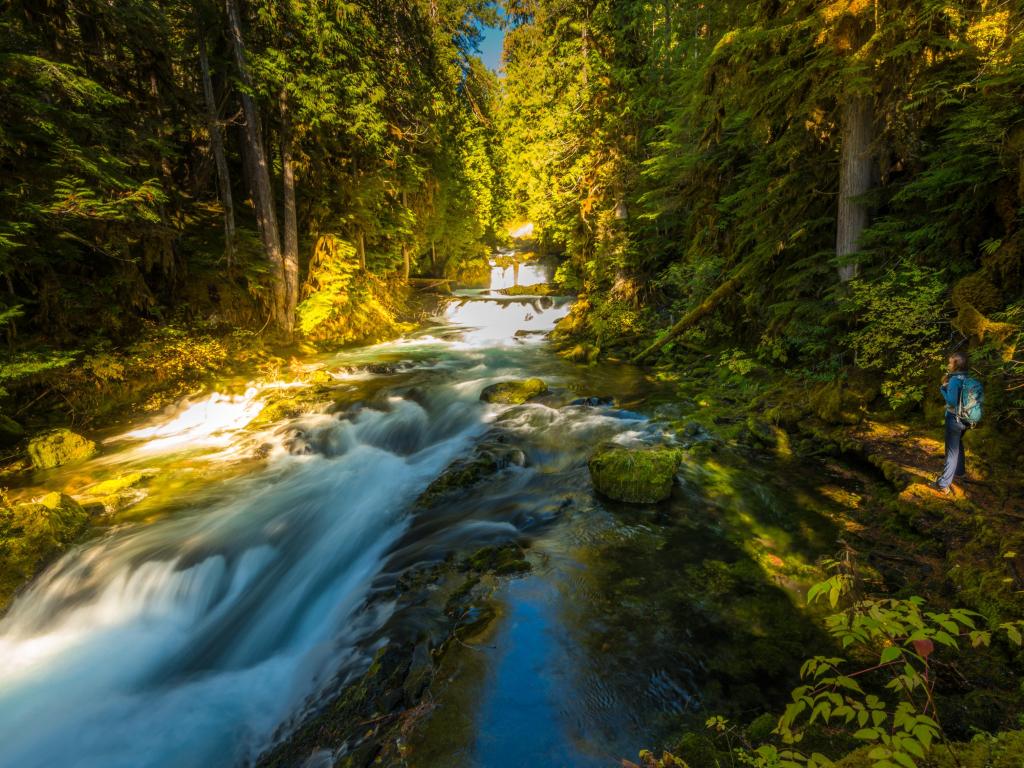 Solomons, on the other hand, is one of the best fine dining restaurants in Bend. They boast a menu that relies heavily on local ingredients, and the menu is guaranteed to impress.
All the rooms at the Tetherow Hotel are modern and stylish, boasting windows with impressive views of the surrounding area.
The resort also has a fitness center, steam room, and sauna, giving you plenty of recreational activities for your downtime. A complimentary shuttle will help you get into Bend should you want to explore what is on offer.
Enjoy the splendor of the Kimpton Sawyer Hotel in Sacramento
The Kimpton Sawyer Hotel is the epitome of luxury, class, and modern sophistication - its dazzling architecture, spacious rooms, and plentiful amenities are sure to leave a lasting impression.
You will be impressed from the minute you lay eyes on this hotel - the layout of the lobby and the rooms are sleek and modern, and the large windows make the already-spacious suites feel that much more open.
Essentials aside, the hotel has a fitness center, rooftop pool, and in-room spa service, rounding out a set of amenities you are sure to enjoy.
There are a number of dining and social spaces at the Kimpton Sawyer - the Revival Bar and Lounge is a trendy place to have a drink, Echo & Rig is a spectacular steakhouse, and the Punch Bowl Social is an excellent choice for a more casual affair.
All of this, on top of a great location, makes the Kimpton Sawyer impossible to beat if you are looking to spend an unforgettable weekend in Sacramento.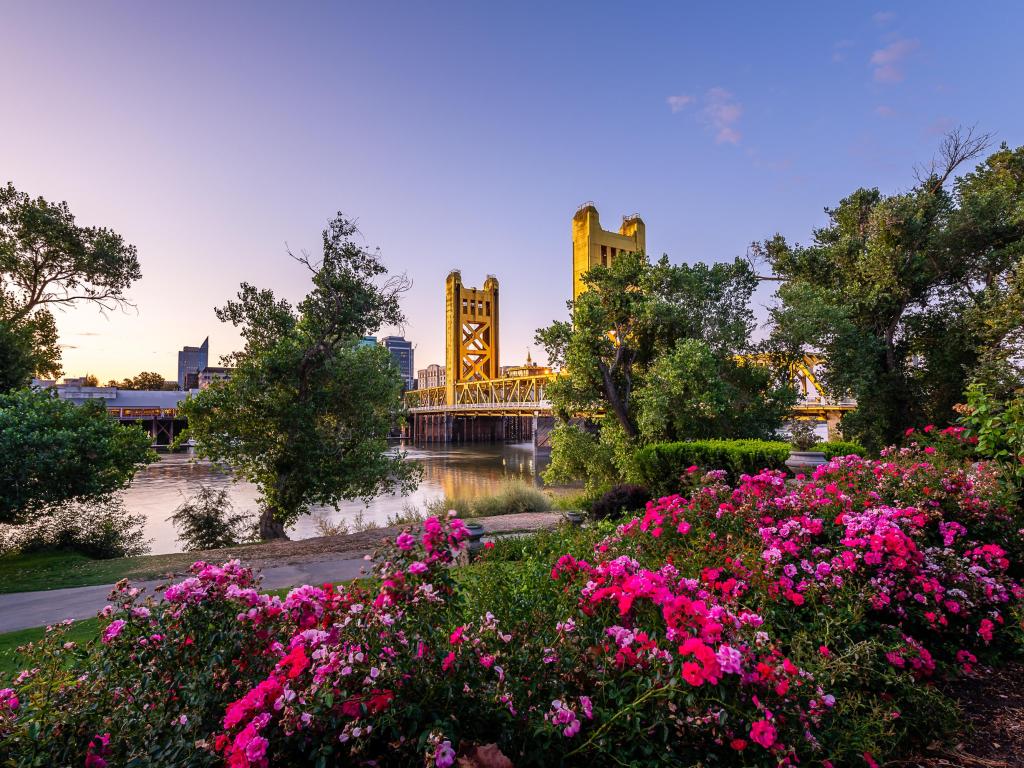 Things to see on a road trip from Portland to Sacramento
The road trip from Portland to Sacramento has no shortage of incredible places to check out. Although it's impossible to list everything, these are some of the places you'll want to pay attention to:
The Coastal Route
Cape Perpetua - A heavily forested and very impressive stretch of coastline.
Thor's Well - An intriguing natural feature that, at first glance, appears to be a large drain.
Heceta Head Lighthouse - A pretty little lighthouse perched on a rugged shoreline.
Sea Lion Caves - Explore one of the largest sea caves in America and the animals that call it home.
Cape Blanco State Park - Another stunning section of Oregon coastline, with great views south.
Jedediah Smith Redwoods State Park - The first Redwood Park you encounter, home to some of the biggest trees in the United States of America.
Prairie Creek Redwoods State Park - Another scenic park that's home to the iconic giant redwood tree.
Redwood National and State Park - Slightly further along than Jedediah Smith Park, but equally as impressive.
Eureka - Eureka is famous for its interesting Victorian Architecture and for being home to a beautiful Sequoia Park.
Humboldt Redwoods State Park - This is the last Redwood Park on this route, and it is just as exceptional as the rest. Worth a visit as you can drive through the trunk of a tree.
The Inland Route
Mt. Hood National Forest - A great place for outdoor recreation - you can go hiking and visit the famous Timberline Mountain Lodge.
Trillium Lake - This small lake offers one of the best mountain viewpoints along the West Coast.
Smith Rock State Park - This small park perched near Redmond is home to some beautiful, rugged scenery.
Tumalo Falls - The 6.5-mile, intermediate-level hike to Tumalo Falls is a great way to immerse yourself in the mountain scenery.
Crater Lake National Park - Crater Lake National Park is full of breathtaking views, which are best enjoyed when exploring on foot in the summer.
Williamette and Umpqua National Forests - These beautiful forests provide the perfect backdrop for the early portion of the drive.
Mt. Shasta - Another exceptional place for outdoor sports enthusiasts with an abundance of hiking trails for summer use and some skiing in winter.
Lake Shasta Caverns - Located on the McCloud arm of the lake, you can take a guided tour to enjoy this natural wonder.
Old Sacramento - This state historic park is located on the Sacramento River and was restored to reflect how Sacramento used to look during the Gold Rush.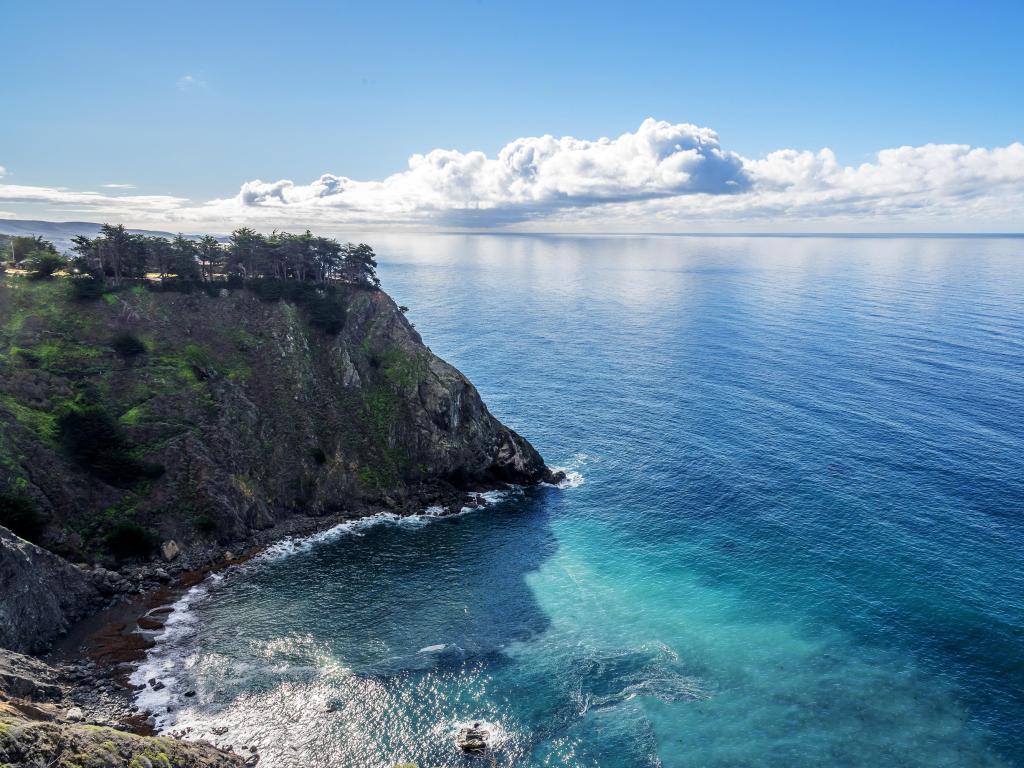 Best time of year to go on a road trip from Portland to Sacramento
There genuinely isn't a 'best' time for the road trip from Portland to Sacramento - the time you do the trip should depend on what you hope to get out of it.
Summer affords the most sunshine and warmest weather, so if you enjoy getting out to go hiking or other activities, then it may be the best time for you. However, summer also brings more tourists, larger crowds, and more expensive hotel prices.
If you prefer things a little quieter but dislike the cold of winter, the shoulder seasons of spring and fall may be a great time to go on a road trip. Just be careful with early or later snowfall, as some of the roads in Crater Lake do close if there is snow.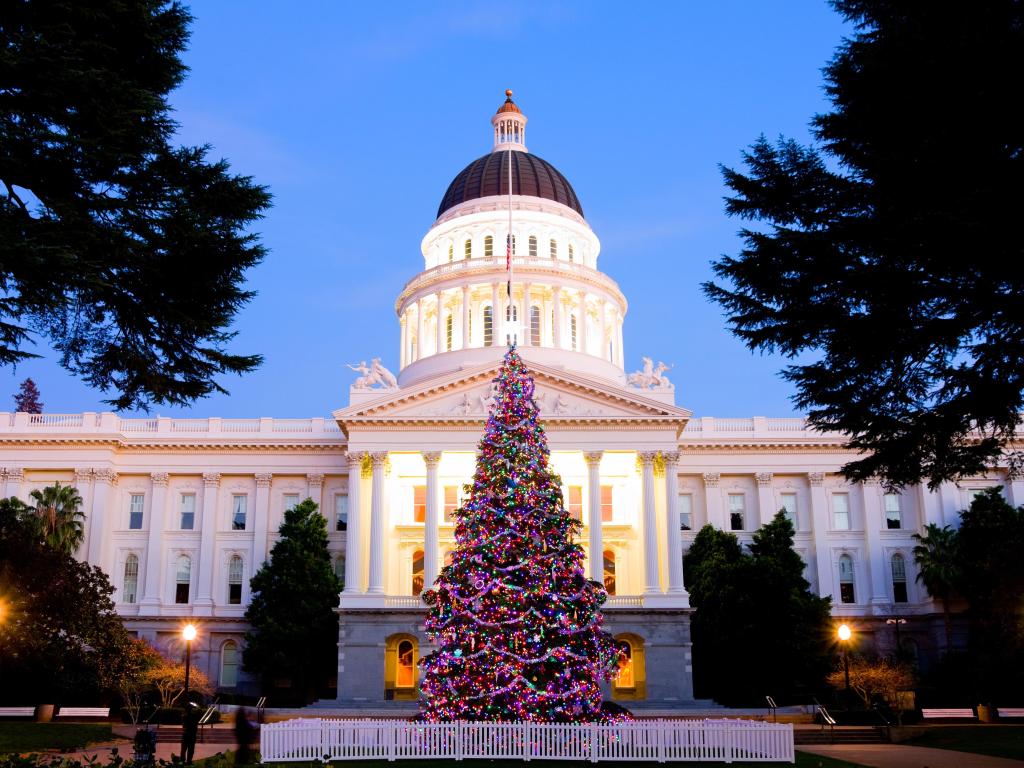 On average, winter is the quietest time of year to travel. You may be able to score a deal on a hotel, but you will also have to contend with colder temperatures and less sun. Crater Lake is open year-round, but some facilities and roads do close.
Sacramento is not an unpleasant place to visit in winter. While there is more rainfall and cloudier conditions, it doesn't get below 40 °F very often. If you are used to colder temperatures, then it may be a good time to go.